Easy Cheesecake
Busy days call for simple pleasures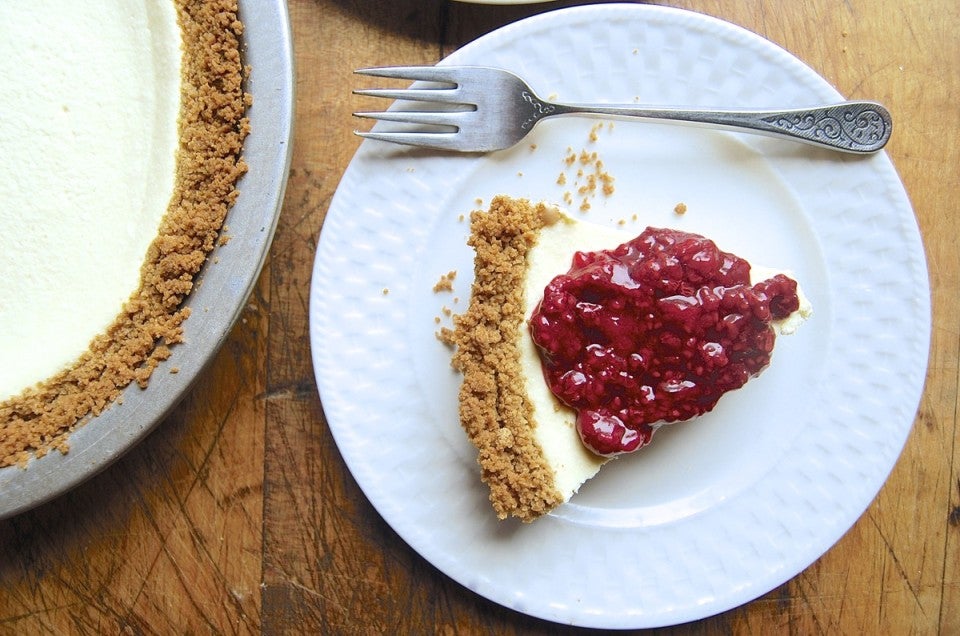 EASY. That's the four-letter word you long to hear! With so much going on in your everyday life, who has time to fuss over complicated desserts involving a laundry list of ingredients and lengthy instructions? 
With a simple graham cracker crust and just four ingredients — count 'em, four — in the filling, this rich, creamy Easy Cheesecake absolutely earns its name. Add that it bakes for just 30 minutes, and you can go from "What's for dessert?" to a cheesecake cooling on the sideboard in well under an hour.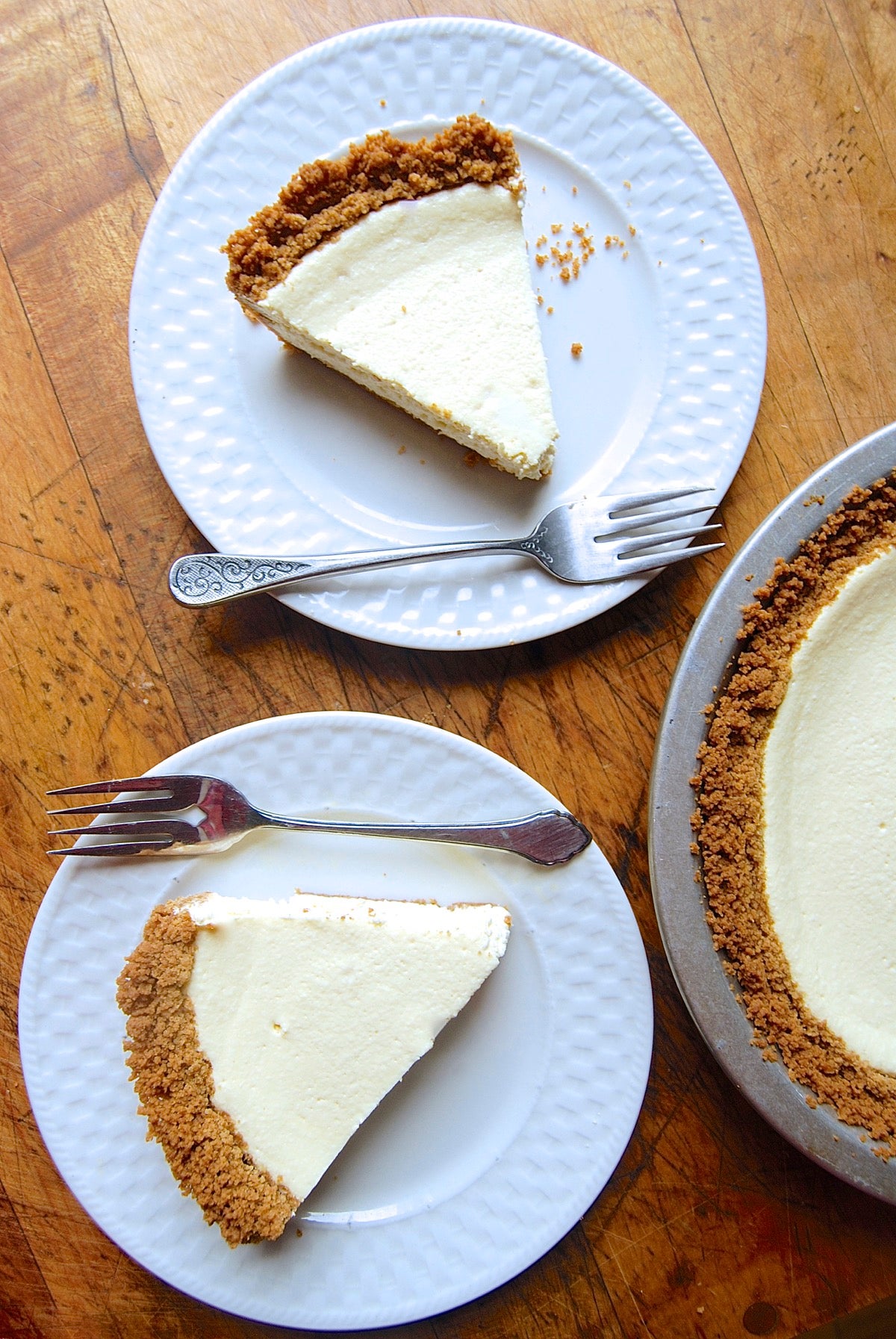 Now, easy as this dessert is, you do have to plan ahead a bit. You'll need a pound (two 8-ounce blocks) of cream cheese at room temperature. So unwrap the cheese and put it into your mixing bowl well ahead of when you want to make the cheesecake— at least several hours before (unless your kitchen is super-hot, in which case an hour or so should soften the cheese nicely).
You'll also need 2 large eggs at room temperature; eggs will come to room temperature much more quickly than cream cheese, but do take them out of the fridge ahead of when you want to make the cake.
Ready to make cheesecake? Select a pie pan whose inside top dimension is at least 9", and whose height is at least 1 1/4".
Preheat the oven to 350°F.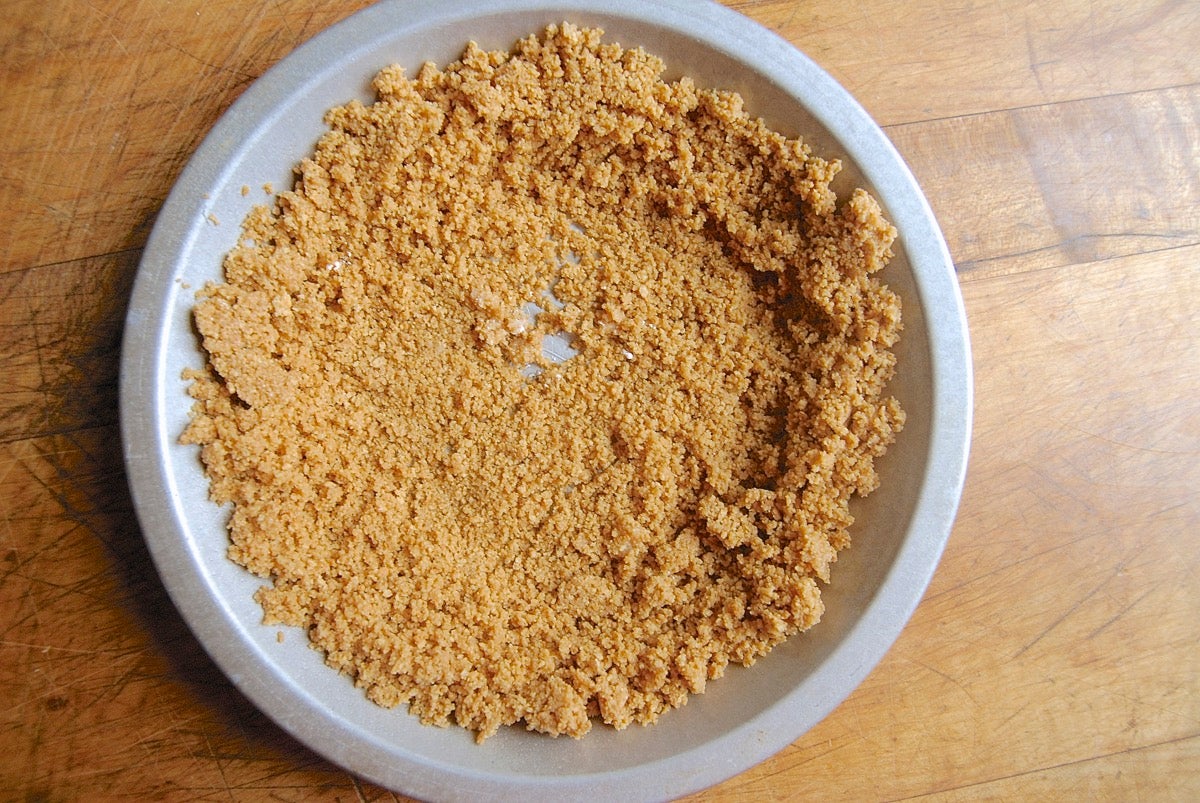 Make the crust
Mix the following ingredients:
1 1/2 cups (128g) graham cracker crumbs (9 to 10 whole graham crackers, crushed)
1/4 cup (28g) confectioners' sugar
5 1/3 tablespoons (74g) butter, melted
1/8 teaspoon salt
A food processor makes this easy; simply combine broken graham crackers with the remaining ingredients and process until uniformly crumbly.
For variety, substitute different cookies for the graham crackers: vanilla wafers, chocolate wafer cookies, and gingersnaps all make tasty crusts.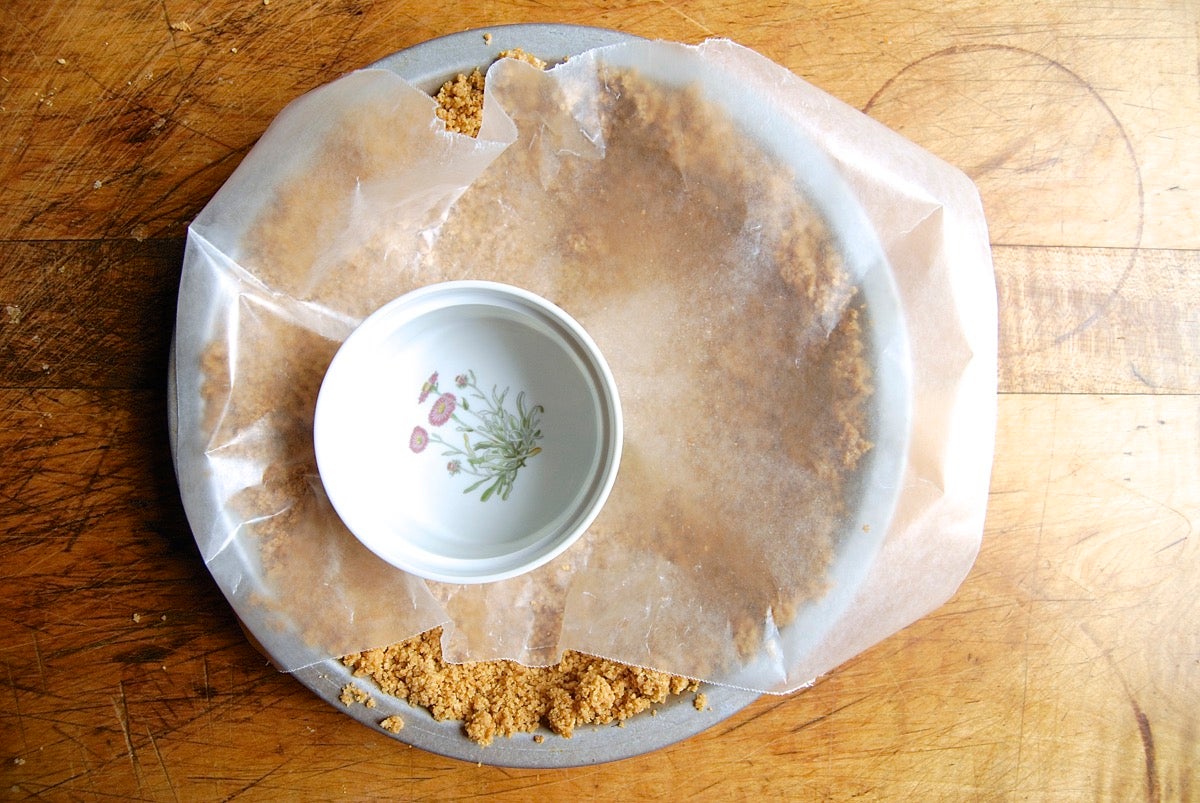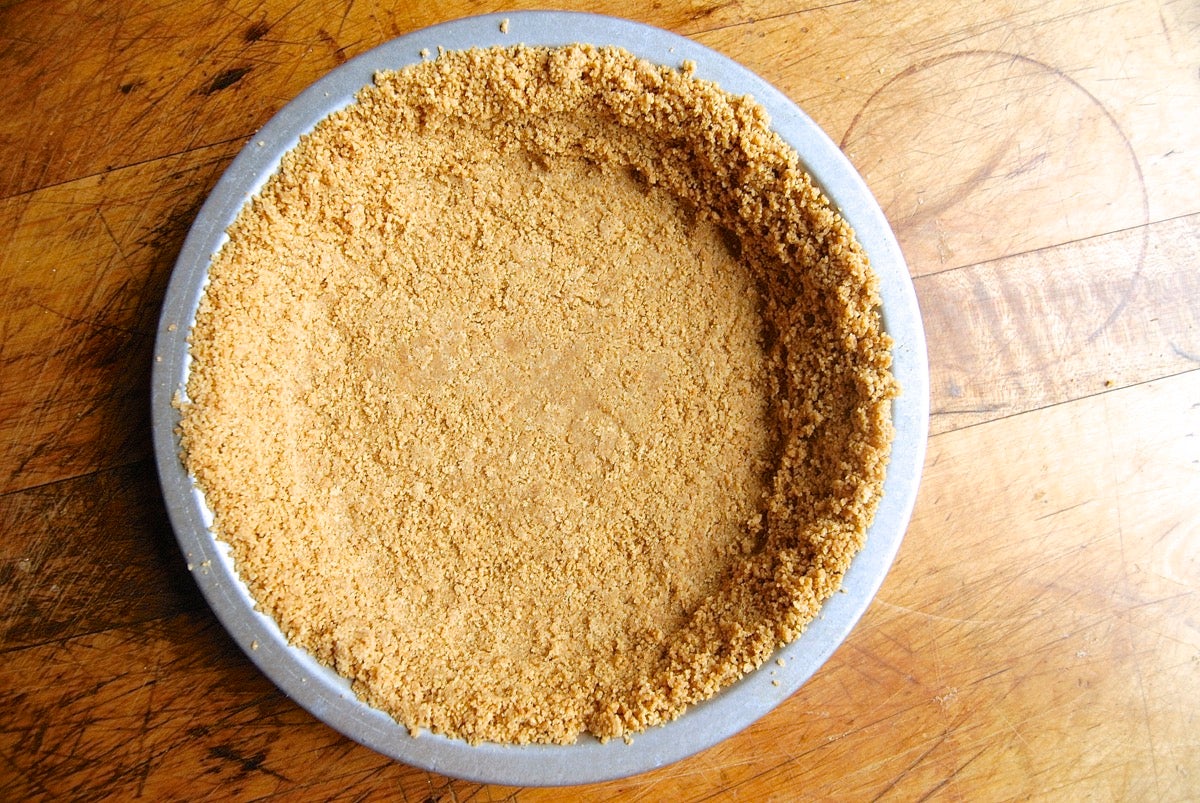 Press the crumbs into the pan
Press crumbs into the bottom and up the sides of the pie pan, making the bottom crust thicker than the sides. Using a piece of waxed paper or plastic wrap and a flat-bottom bowl or glass keeps any sticking to a minimum.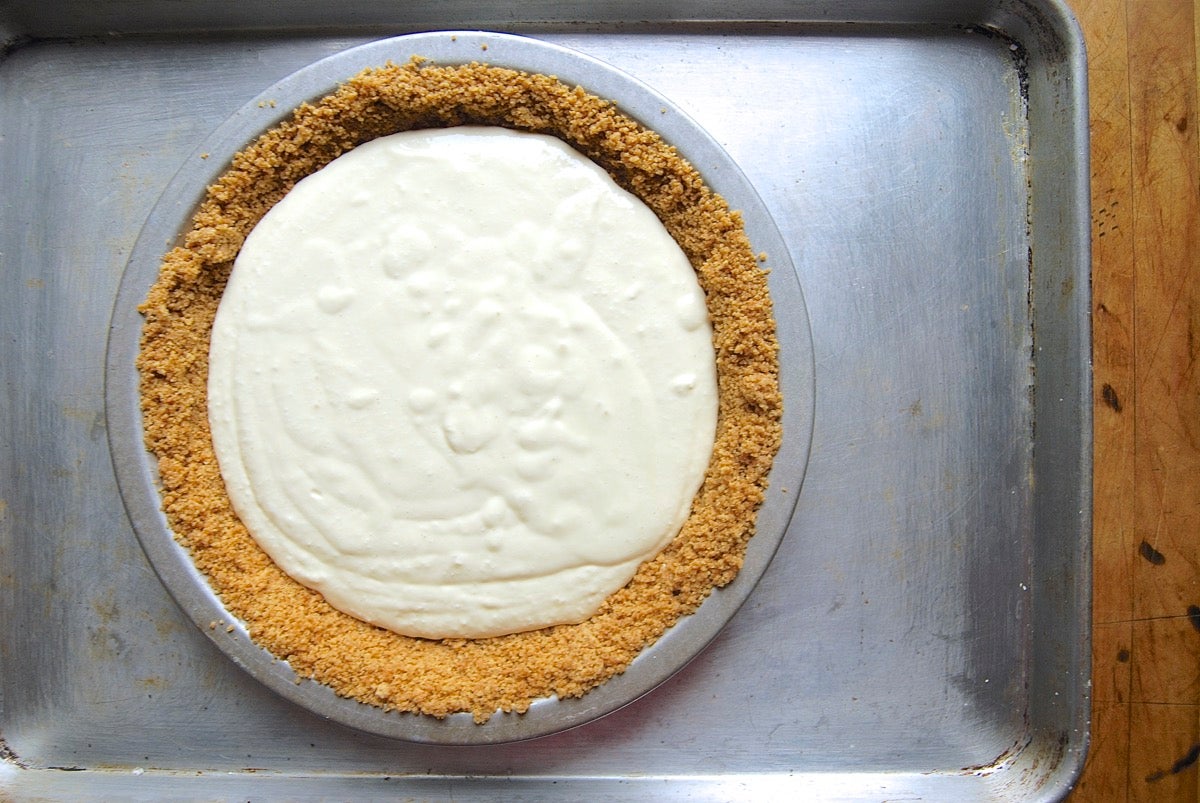 Make the filling
Gently beat together the following:
two 8-ounce packages (452g) cream cheese, at room temperature
2 large eggs, at room temperature
2/3 cup (152g) granulated sugar
1 teaspoon vanilla extract
It helps to mix the cream cheese and sugar first, to soften the cheese; then add the eggs and vanilla once the cheese and sugar are smooth and thoroughly combined.
If the mixture is excessively lumpy, you probably didn't have the cream cheese warm enough. Run the batter through a food processor, if you like. Or, especially if the lumps are small or not too numerous, just leave 'em be; they'll pretty much disappear once the filling is baked.
Pour the filling into the prepared crust, and set the pan on a baking sheet. This makes transportation into and out of the oven easier.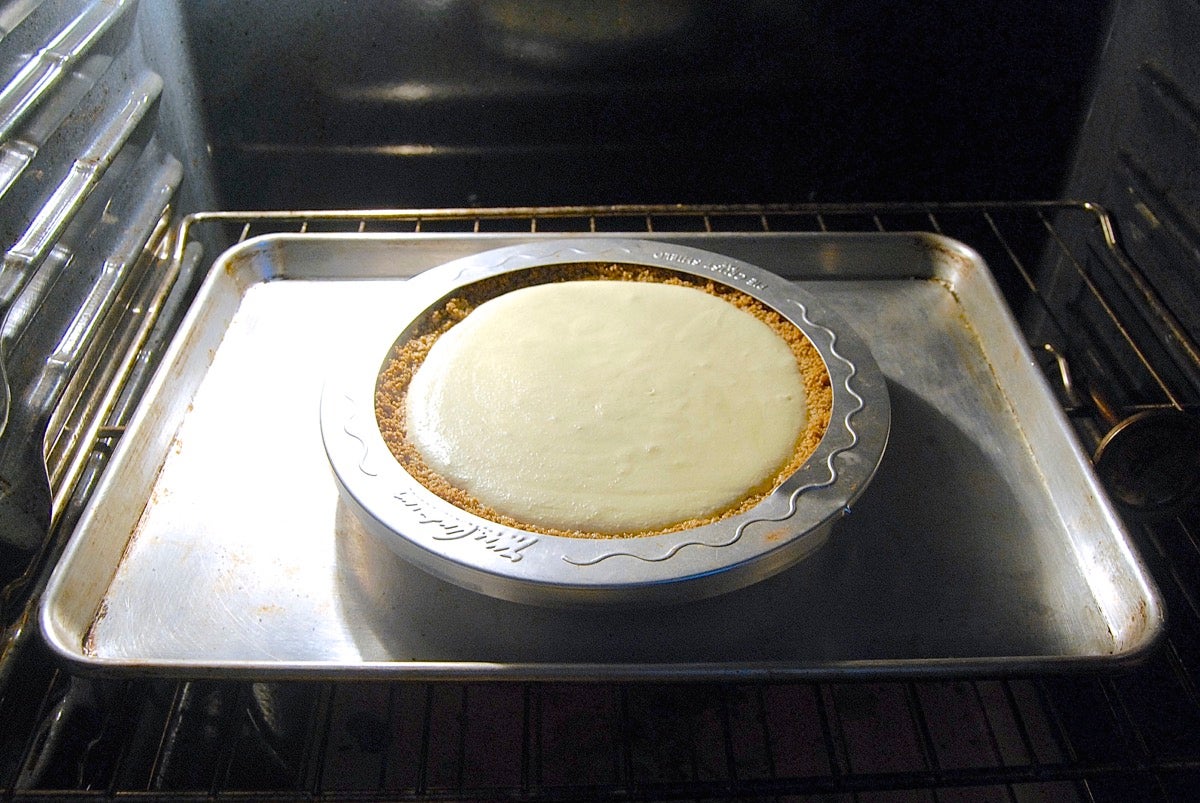 Bake the cake
Bake the cheesecake for 20 minutes, then add a crust shield; or shield the crust with strips of aluminum foil. Shield just the crust; laying a sheet of aluminum foil across the entire surface of the cake will result in filling sticking to foil.
Bake for an additional 10 minutes (for a total of about 30 minutes). A digital thermometer inserted into the filling 1" from the edge should read between 165°F and 170°F; the filling won't look entirely set in the center.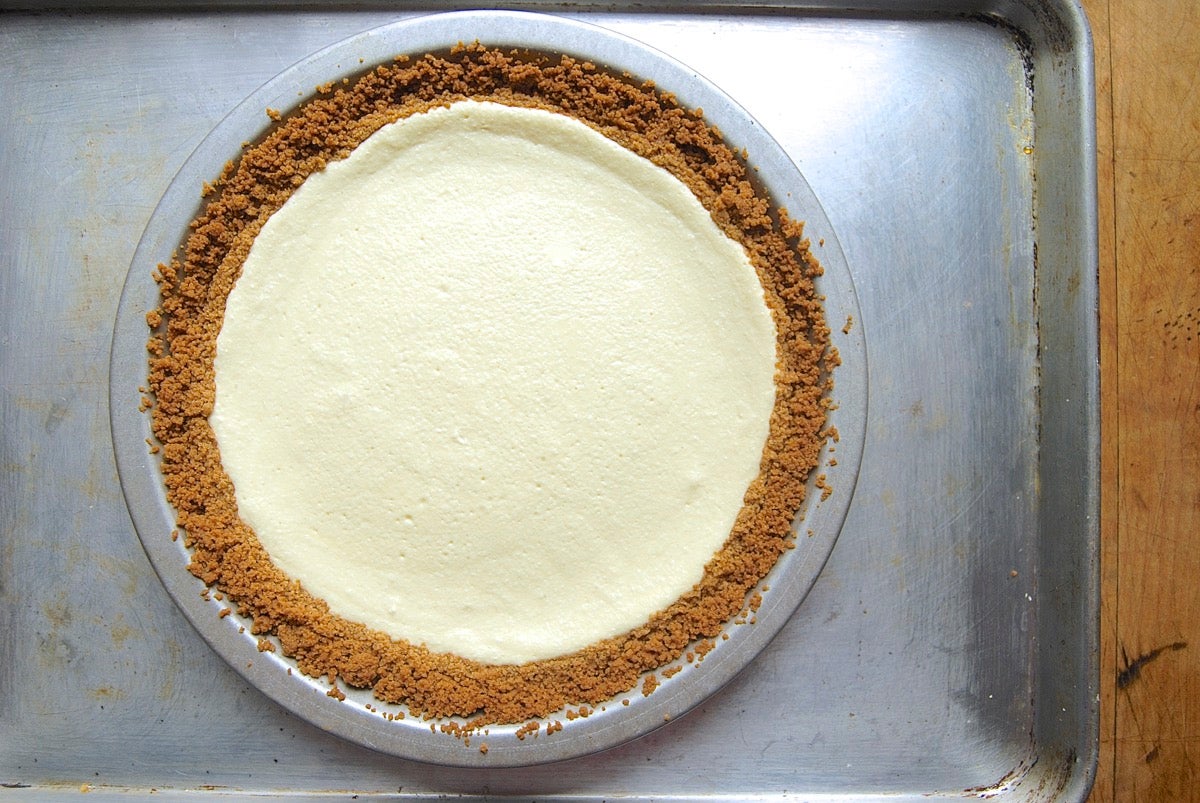 Let the cheesecake cool
Remove the cheesecake from the oven, and set it aside to cool while you make the topping. Once the cake is cool, refrigerate it, covered, until you're ready to serve it.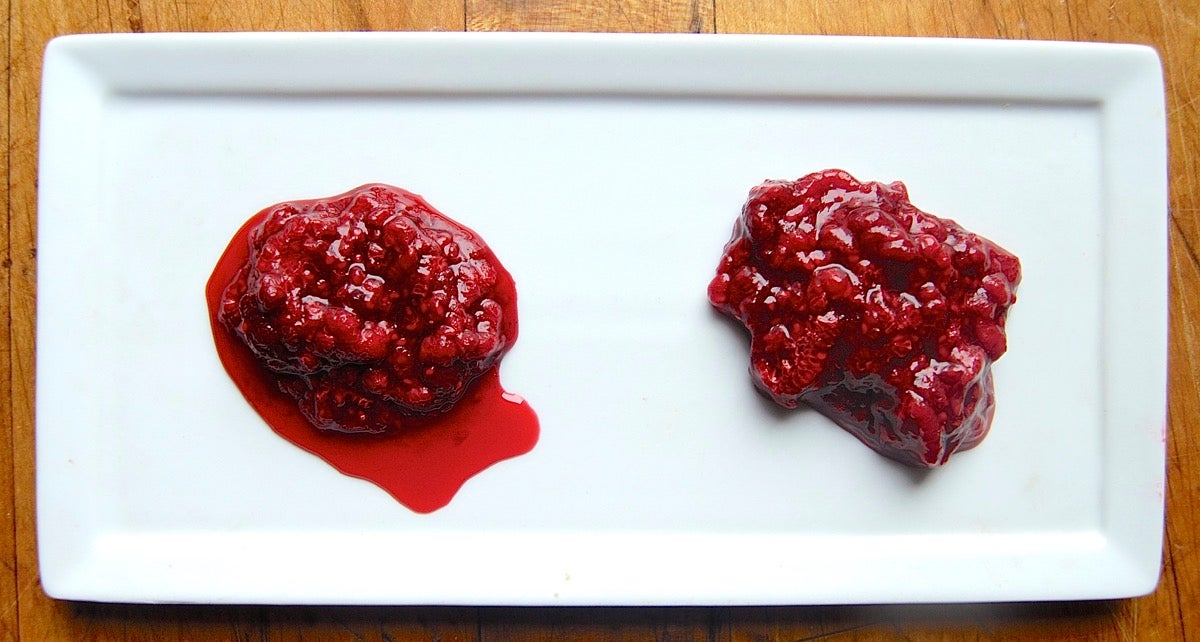 Make the topping
Here's what you'll need:
12-ounce bag frozen raspberries, a scant 3 cups
1 to 3 tablespoons sugar, to taste
1 to 2 tablespoons Pie Filling Enhancer, optional
pinch of ground cinnamon, optional
Place the frozen raspberries in a bowl to thaw. You can hasten the process with a quick trip through the microwave, but don't let the berries cook.
Add 1 tablespoon Pie Filling Enhancer, and stir until well combined. Is the topping as thick as you like? If not, stir in another tablespoon Pie Filling Enhancer. Add 1 to 2 tablespoons granulated sugar, to taste. Stir in a pinch of ground cinnamon, if desired.
What's Pie Filling Enhancer, anyway? A mixture of sugar, thickener, and ascorbic acid (for enhanced flavor). Don't have any? Stir raspberries with 2 to 3 tablespoons sugar, to taste; the filling will be looser (see photo above). Alternatively, top the cheesecake with fresh raspberries and a shower of confectioners' sugar.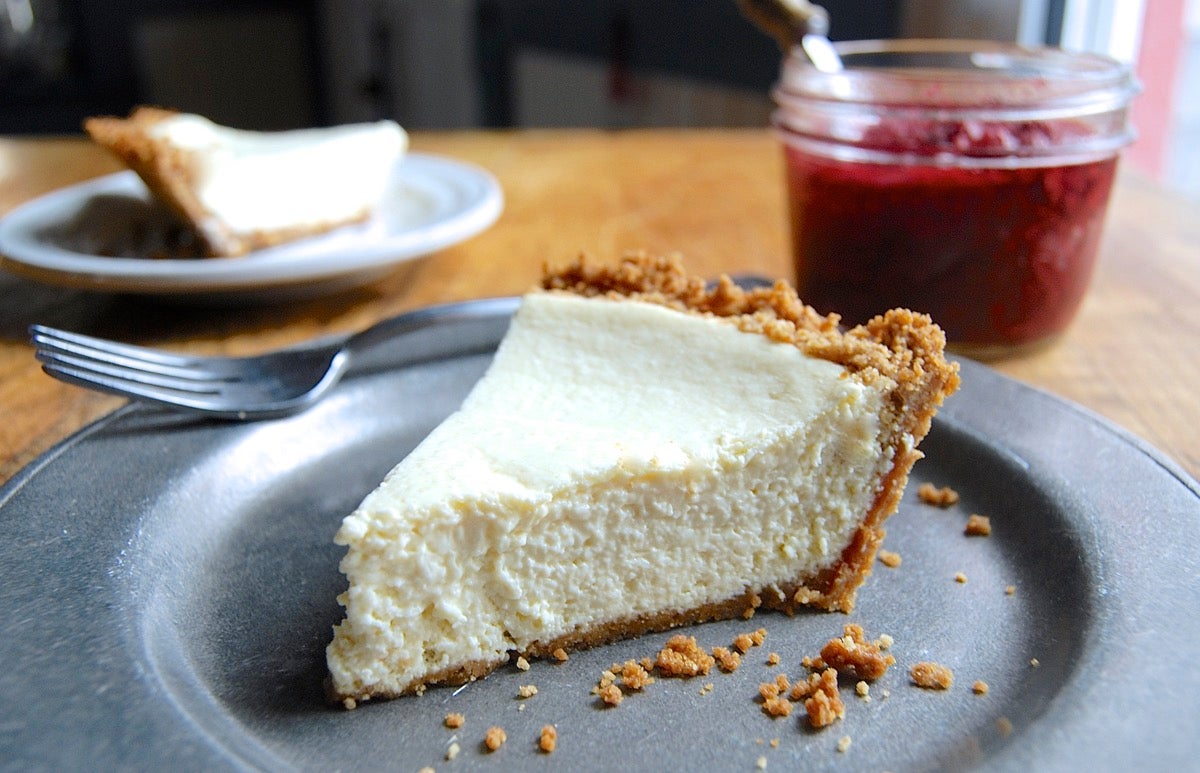 Celebrate!
Making cheesecake doesn't have to include farmer's cheese and sour cream, tin foil and a springform pan, a water bath, and angst over a cracked top crust. This quick and easy cheesecake is tasty proof that simplicity is often exactly what you need.
Please read, bake, and review our recipe for Easy Cheesecake.
Jump to Comments