If ever there was a time for strawberry shortcake – easy strawberry shortcake – it's now.
Night comes slowly these days, reluctant to push the sun out of the sky. We linger over a late dinner, then even longer on the deck, waiting for the last tiny smear of gold to leave the western horizon.
Here in New England, these longer days herald one of our favorite times of the year: strawberry season. Swathed in netting for protection against backyard critters of all stripes, our berries grow fat. Within days, they turn from an unpromising green to white, then pink, and finally brilliant red.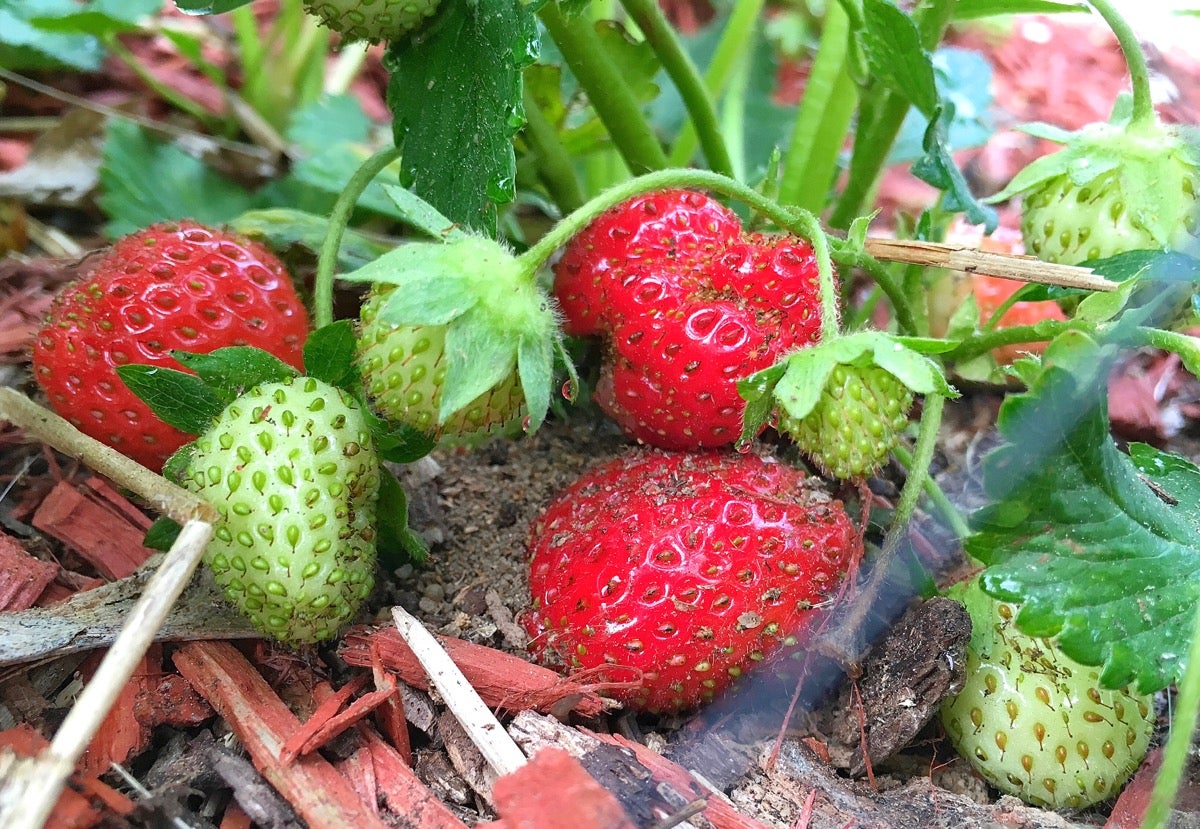 Walking out early one morning, we find four, five, a dozen or more perfectly ripe berries, needing only to be plucked, washed, hulled, and sugared in preparation for their ultimate destiny: strawberry shortcake.
At last! It's time to break out the strawberry shortcake recipe. And since no one wants to spend time in the kitchen during these ephemeral early-summer eves, we'll make easy strawberry shortcake.
What makes this shortcake easy? No cutting in butter, no rolling or patting – and just five simple ingredients.
1. Preheat the oven to 450°F.
Before turning on the oven, place a rack in the top third; the biscuits for this shortcake will brown better if they're nearer the top.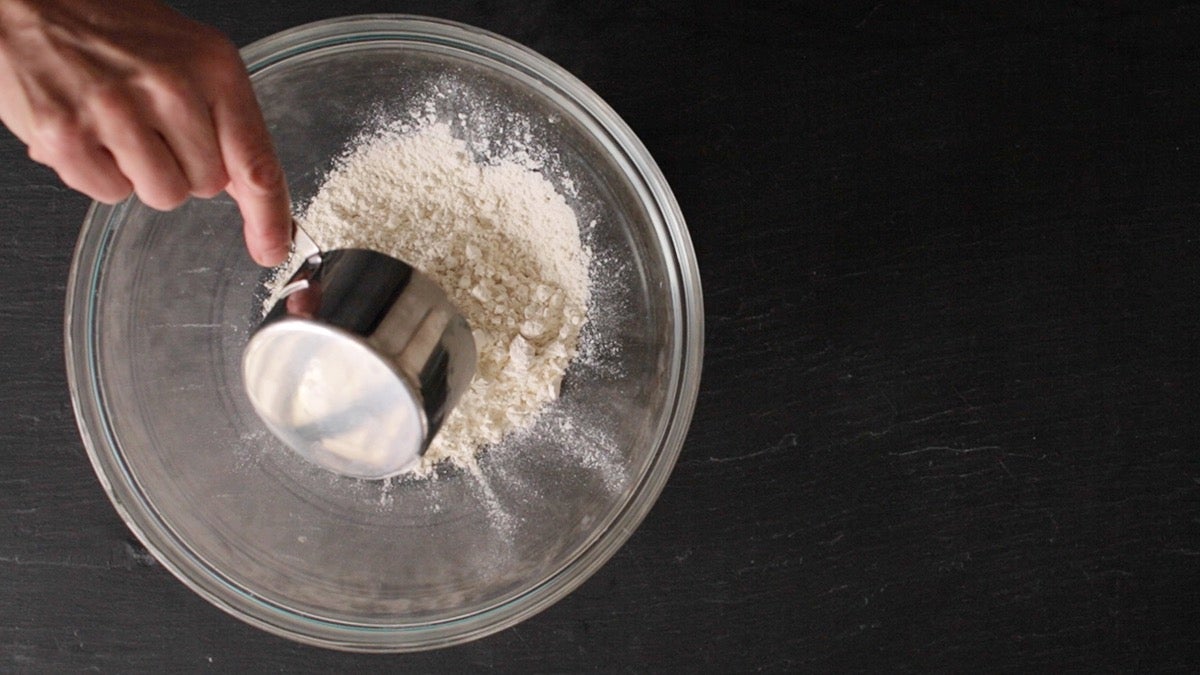 That's 6 ounces, if you have a scale. And if you do have a scale, this recipe is soooooo easy to scale up or down – to make more or fewer biscuits.
3. Whisk in 2 tablespoons granulated sugar.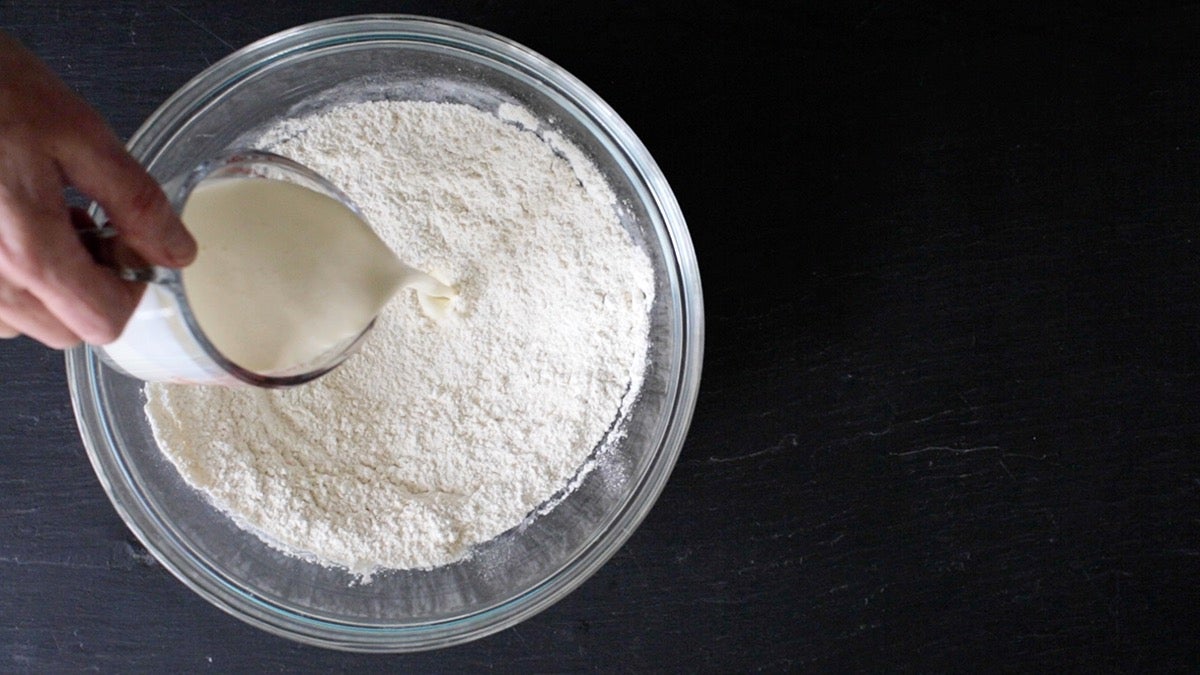 4. Add 3/4 cup heavy or whipping cream.
That's 6 ounces cream. Six ounces flour, 6 ounces cream. Easy to remember, right?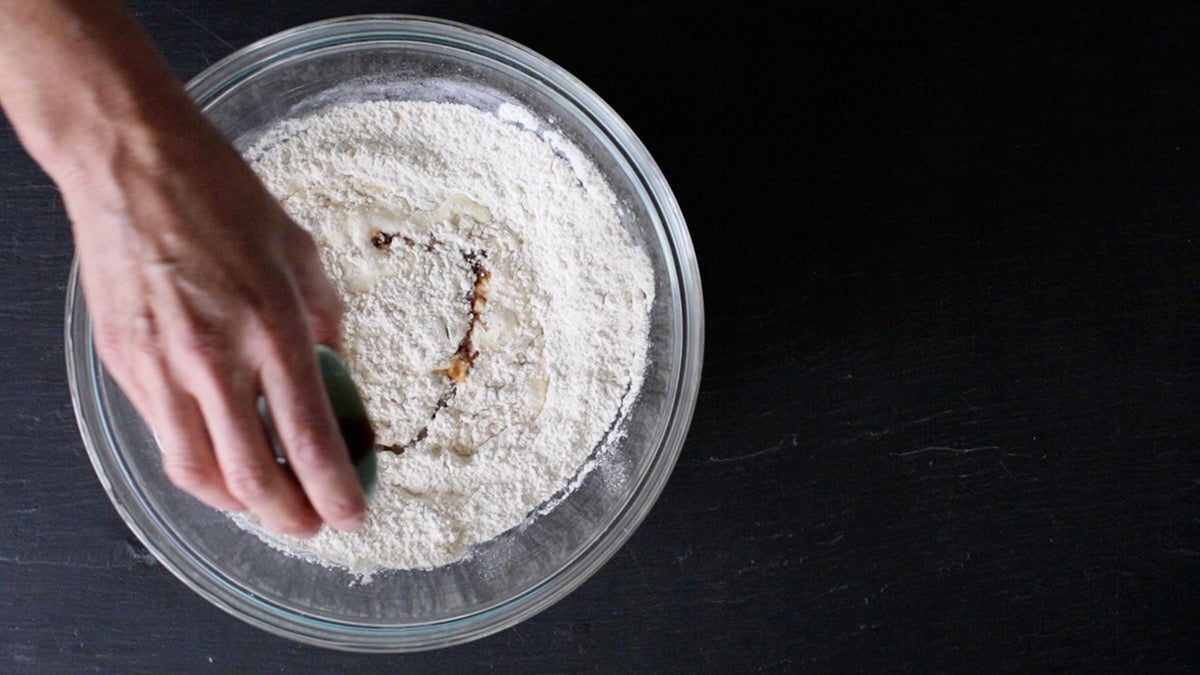 5. And 1 tablespoon vanilla extract.
It's optional, but hey – strawberries and vanilla go together like iced coffee and a hot summer morning.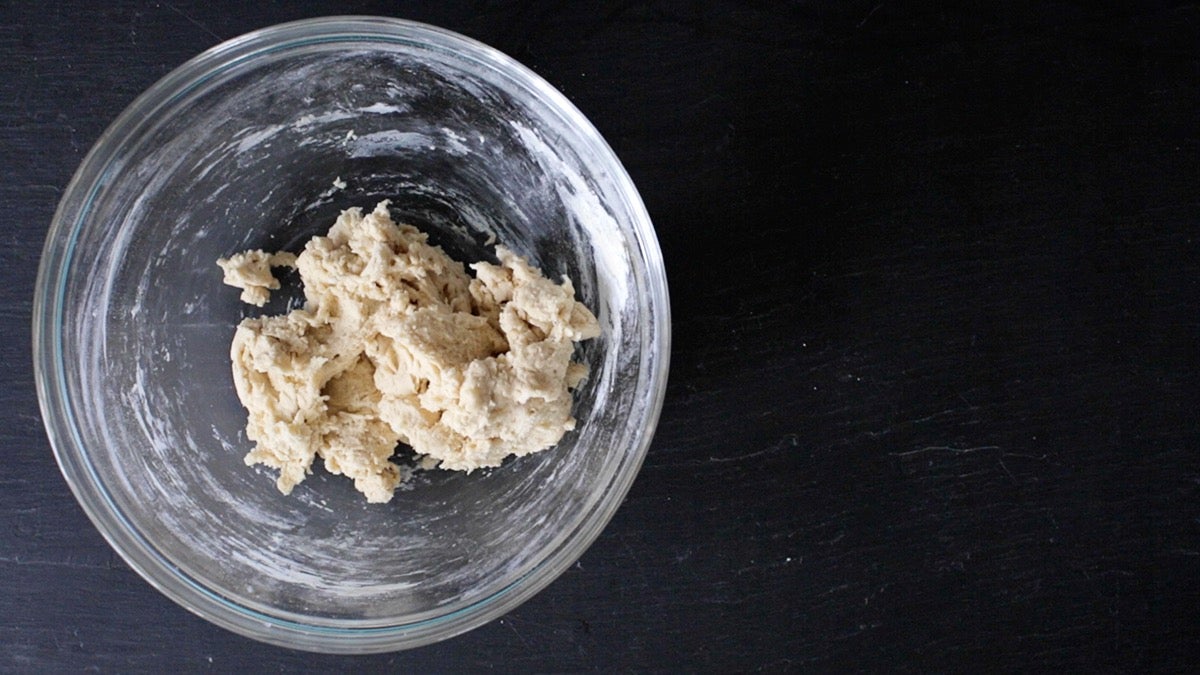 6. Stir to make a stiff dough.
Not rocket science so far, right?
7. Scoop out 8 big balls of dough.
A  jumbo cookie scoop works well here.
8. Brush with cream. Sprinkle with sugar.
Make that coarse-grained sparkling sugar, if you've got it. So pretty. And what wonderful crunch it adds to shortcake, perfectly complementary to the tender biscuit beneath – and the puff of whipped cream on top.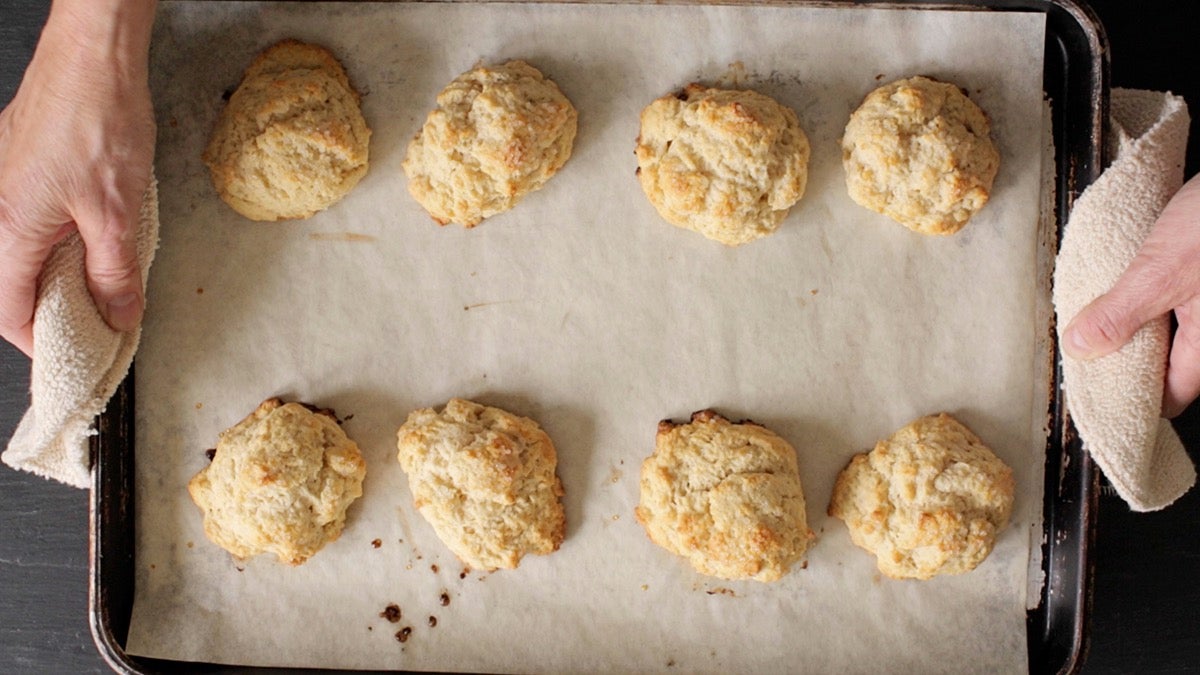 9. Bake for 10 minutes.
Or until biscuits are a very light golden brown. Remove from the oven. Break one open — it should be baked all the way through.
Split, top with sugar-macerated strawberries and whipped cream, and retreat to the deck.
Or that rocking chair, the one that faces directly into the sunset.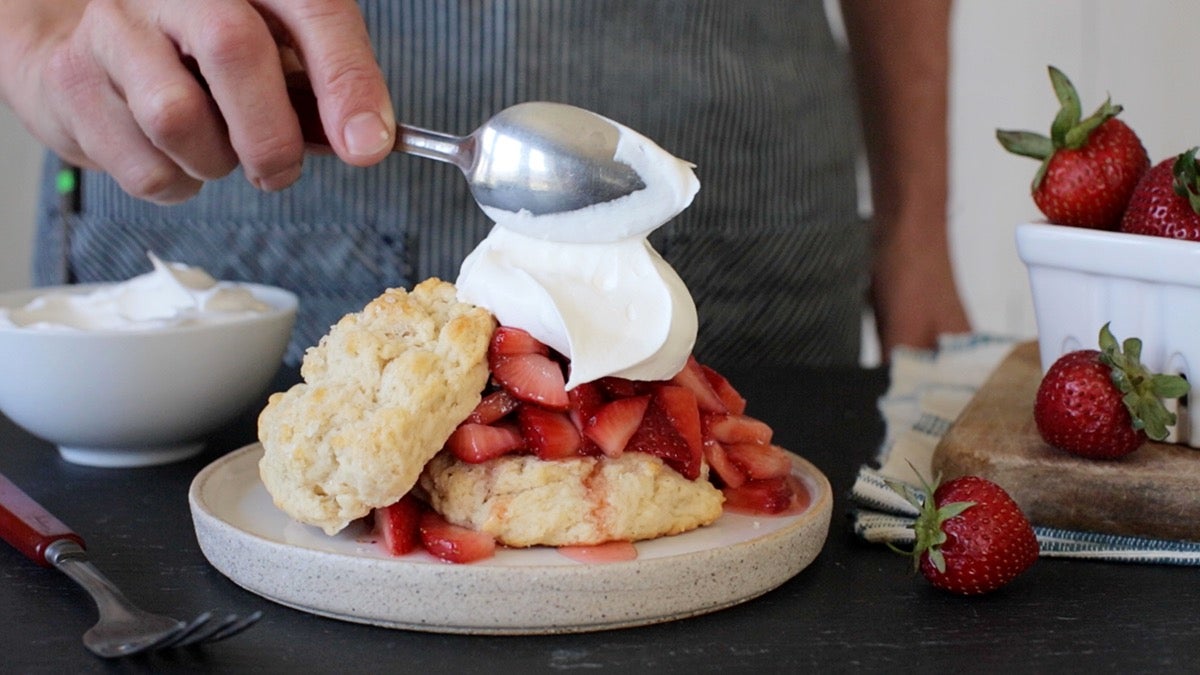 10. Enjoy!
Close your eyes. Take a bite. Let the cream dissolve on your tongue, the strawberries give under the slightest pressure, the biscuit crumble into juice-soaked morsels.
That's easy strawberry shortcake – summer's tastiest ambassador.
To see just how simple it is to make easy strawberry shortcake, watch our video.
Jump to Comments