Mission Fig Bread
Artisan bread baking at King Arthur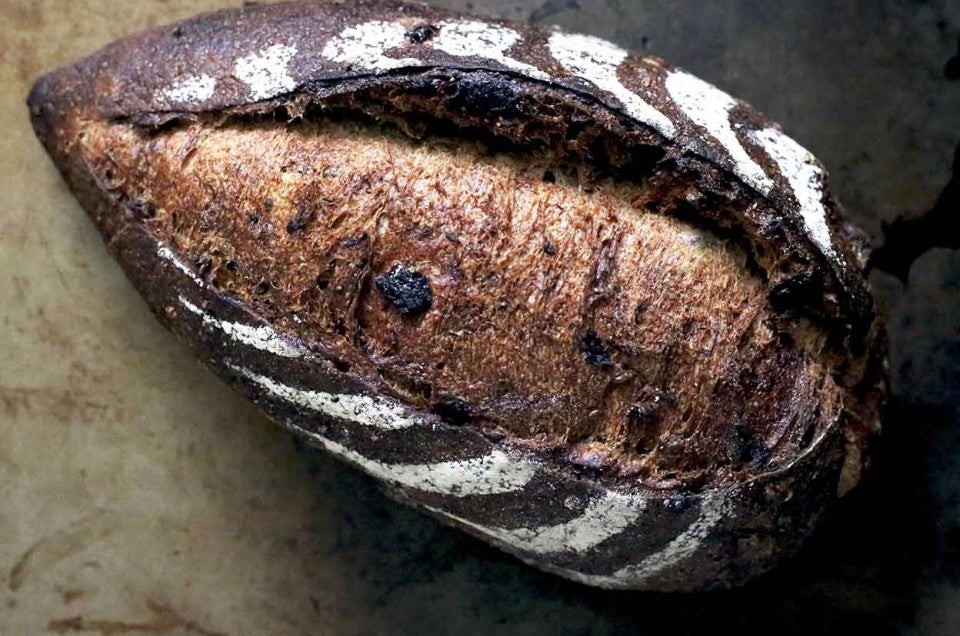 Ask Bakery director Jeffrey Hamelman what makes the baked goods at King Arthur Flour different, and he'll tell you it's the people.
Since the get-go, Hamelman has made a point to hire passionate, enthusiastic bakers, sometimes selecting them over more experienced competitors. His philosophy? Technique can be taught, a driving love for the craft cannot. The bakers at King Arthur Flour are encouraged to be creative and to push the boundaries – and as a result, they've been introducing new varieties of breads to customers for years, with new recipes constantly in the works.
Case in point – head bread baker Martin Philip was once a professional opera singer, but has spent the better part of the last decade working in King Arthur Flour's Bakery, where his creativity and talent for making bread have flourished.
Martin was recently a finalist in the American team trials for the 2016 Coupe du Monde de la Boulangerie (the "bread-baking Olympics"), and developed several new recipes for competition. One of the most popular among the staff (who gladly helped him "take care" of the goods created in practice runs) was his Mission fig bread.
We've received many requests to share our bakery's recipes over the years, but this can be a tricky task – large-batch recipes don't convert exactly, and many recipes cannot be replicated in a home oven.
But we know that many of you are serious about bread, and are comfortable tackling a recipe that includes not only a preferment and a soaker, but also requires metric measurements. Note: While metric measurements are most accurate, both volume and American weight measurements are provided in our Mission Fig Bread recipe.
Are we speaking your language?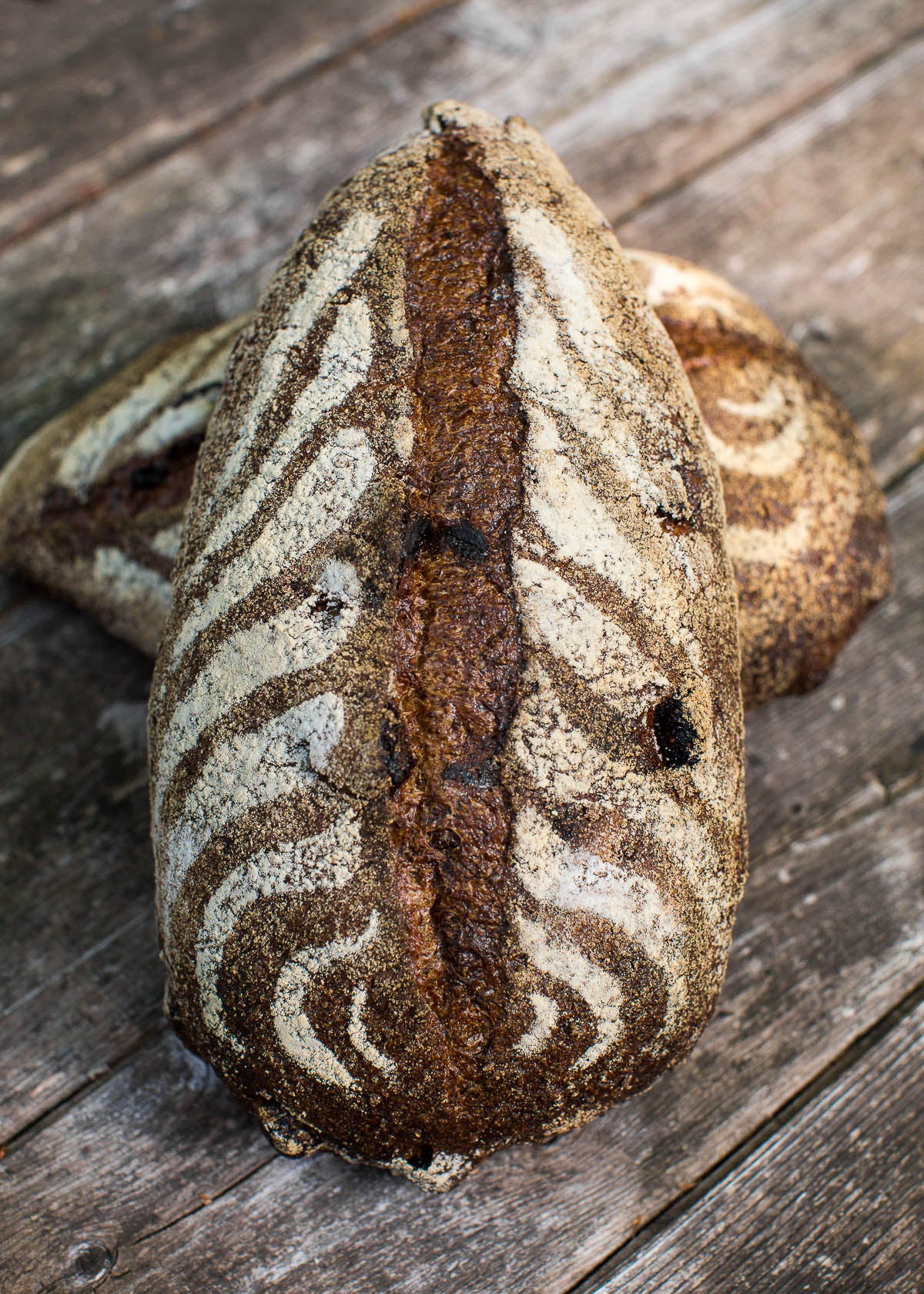 Martin is excited to share his recipe for Mission Fig Bread with those of you who want to try your hand at a next-level recipe, and has modified the scale for home bakers. It requires some time and patience, but trust us when we say that the final result will reward you for your effort.
Pro tip (from someone who has eaten A LOT of this bread) – not only does this make amazing toast, it also makes a killer grilled cheese sandwich, especially when paired with sliced apples and Vermont Creamery Cremont.
Preferment
132g King Arthur Unbleached All-Purpose Flour
44g King Arthur Whole Wheat Flour, White Wheat or Premium
111g lukewarm water
17g fed sourdough starter
Soaker
83g cracked wheat
83g water
Dough
207g King Arthur Whole Wheat Flour, White Wheat or Premium
119g King Arthur Unbleached All-Purpose Flour
1 teaspoon instant yeast
223g room-temperature water (about 70°F)
all of the preferment (above)
12g salt
all of the soaker (above)
150g Mission figs, stemmed and chopped slightly larger than marble size
1 1/2 teaspoons anise seed, toasted in a skillet until lightly browned
To make the preferment: Mix the flour, water, and sourdough starter until thoroughly combined. Cover and let rest at room temperature for 12 to 16 hours; the dough will be nice and bubbly.
To make the soaker: Toast the cracked wheat in a skillet set over low heat until the grains are lightly browned, and smell toasty. Combine the wheat and water, and let rest overnight.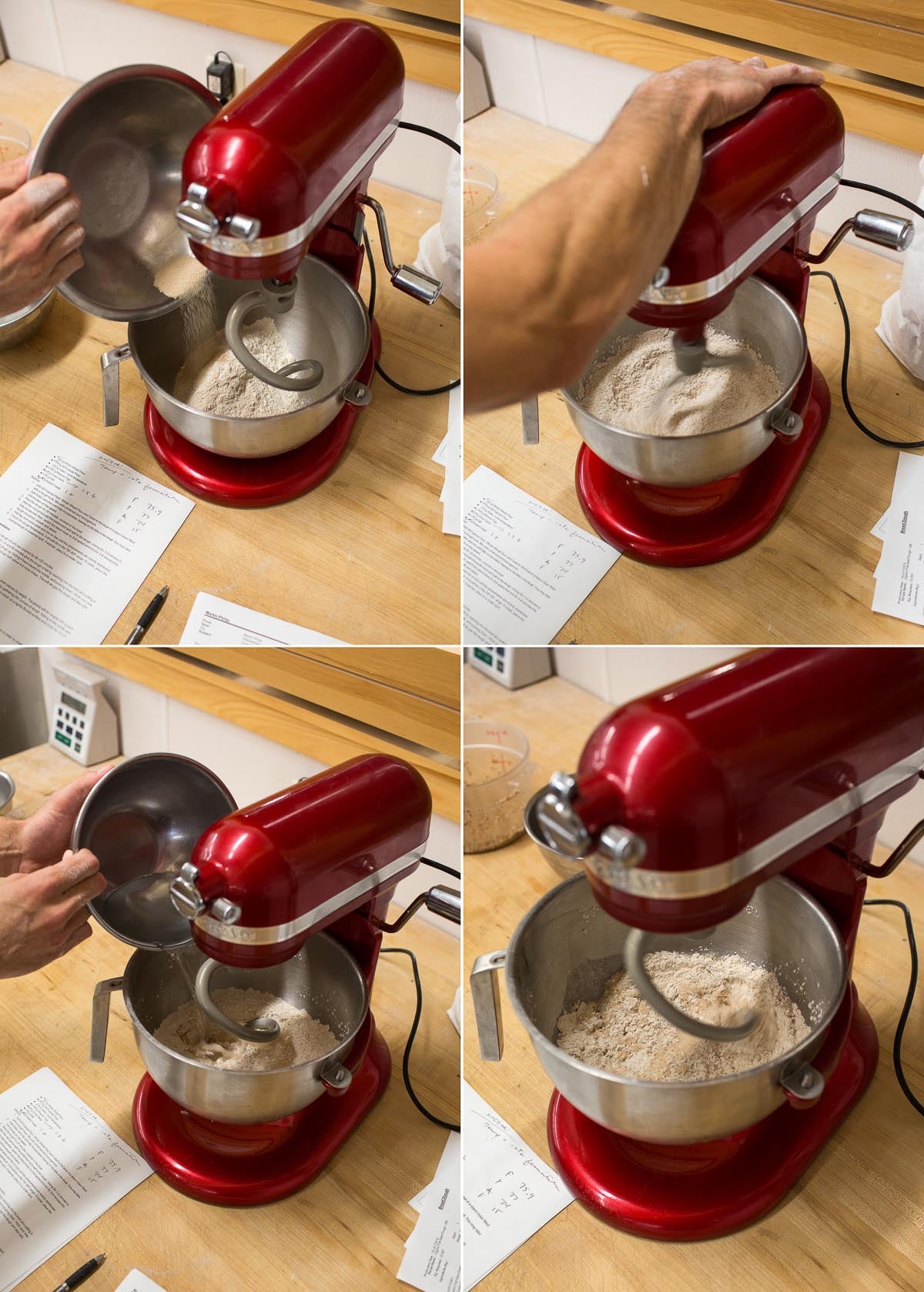 To make the dough: In a large bowl, combine the flours and yeast, then stir in the water, mixing until no dry bits remain.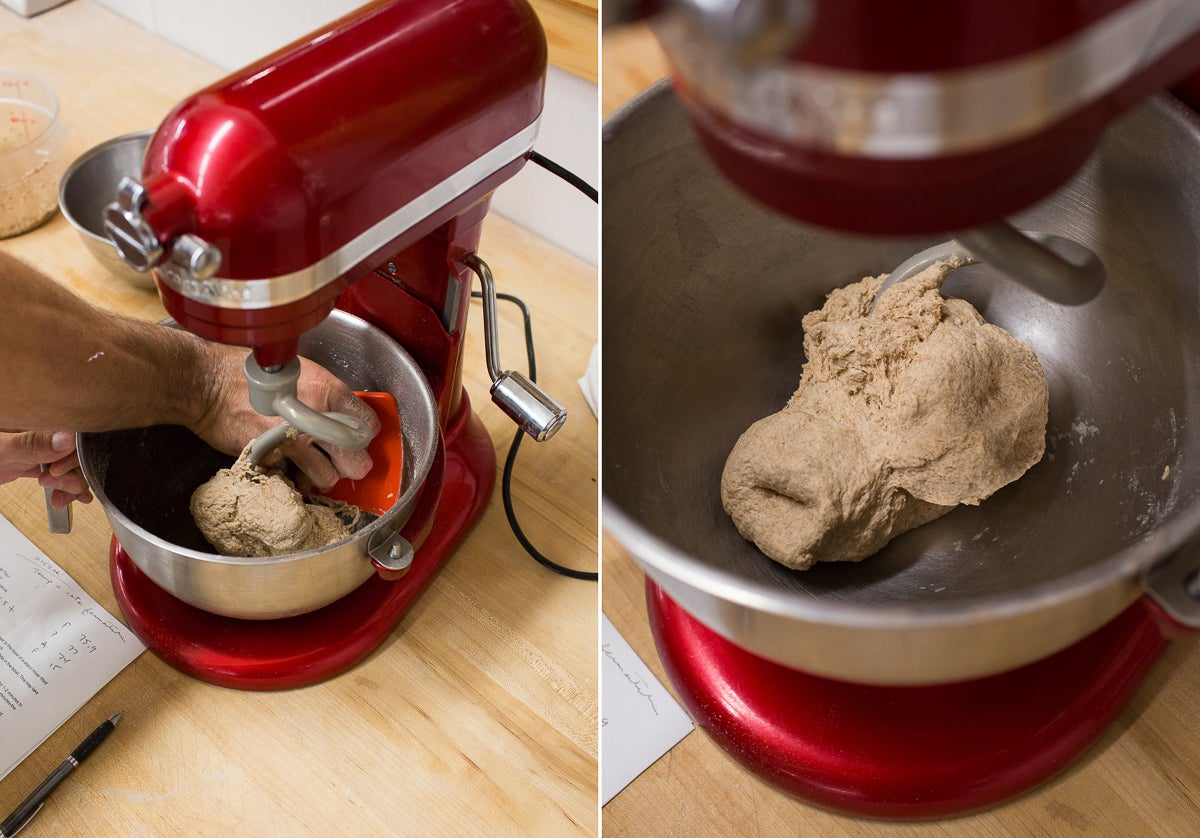 If you're using a stand mixer, this may take up to 3 to 4 minutes at low speed.
Let the dough rest in the bowl, covered, for 20 minutes.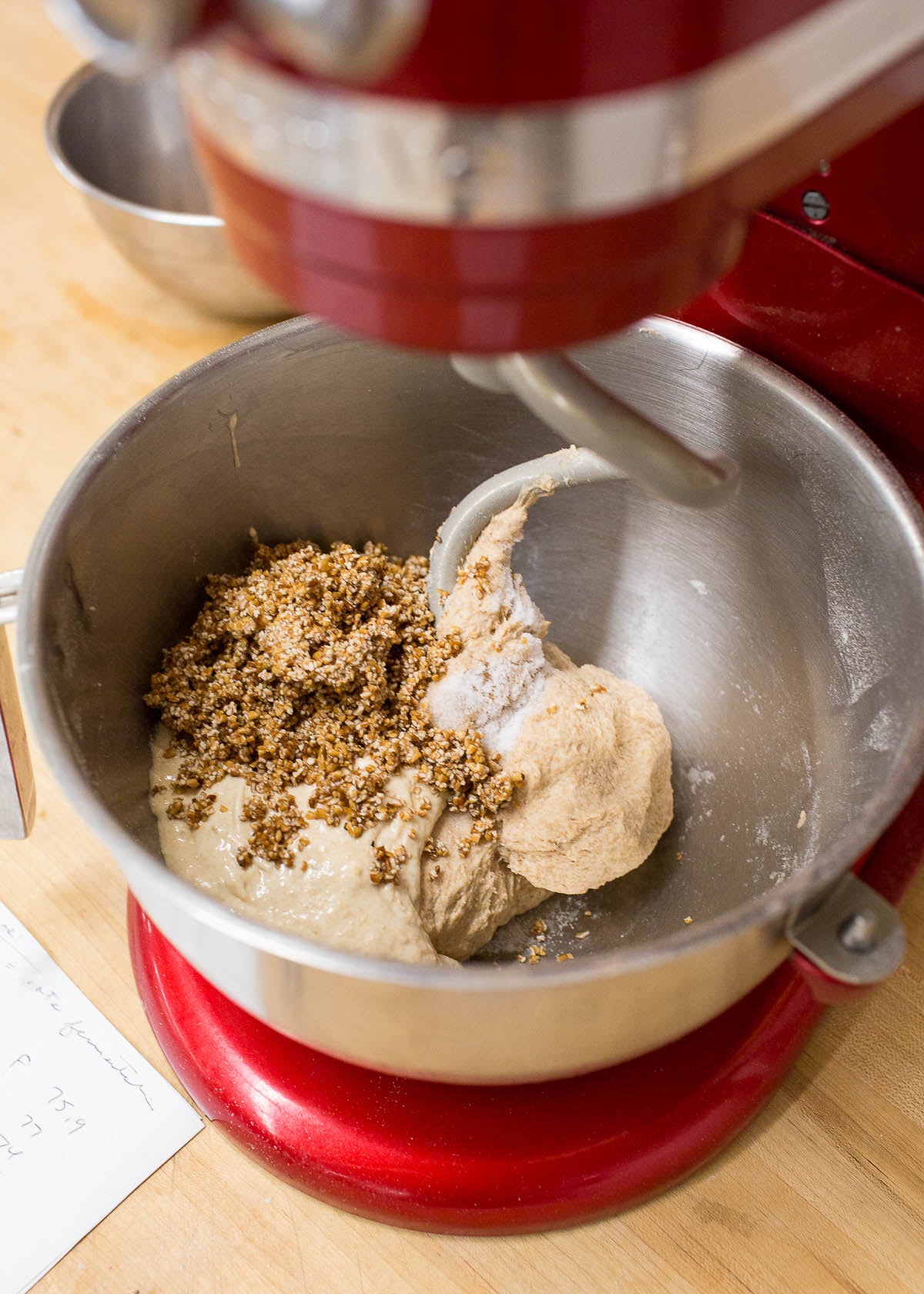 Add the preferment, soaker, and salt, mixing until fully incorporated.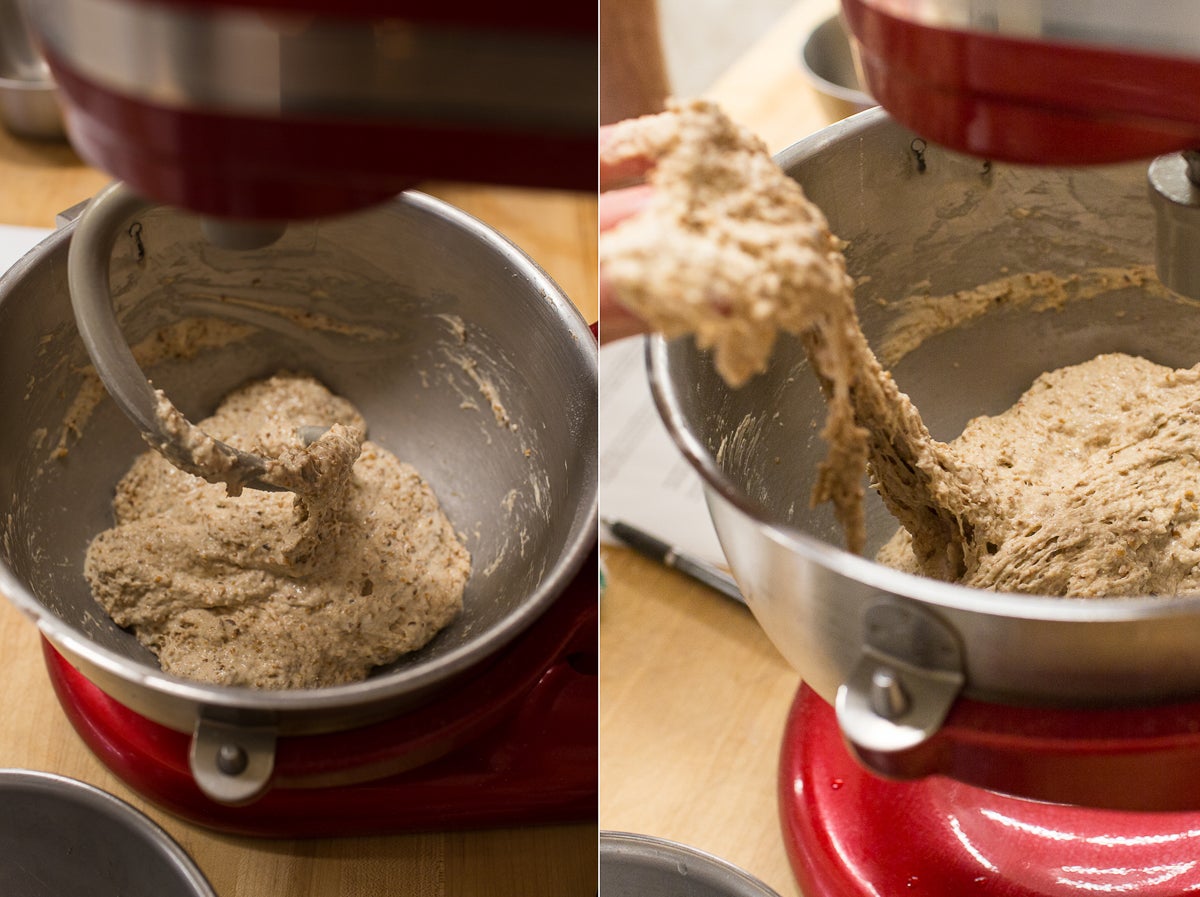 Mix for 6 to 7 minutes at medium-low speed; the dough should be smooth (aside from the cracked wheat) and elastic.
The dough will appear very wet. Above you can see a dough that hasn't been kneaded enough yet – the gluten is poorly developed and requires more time in the mixer.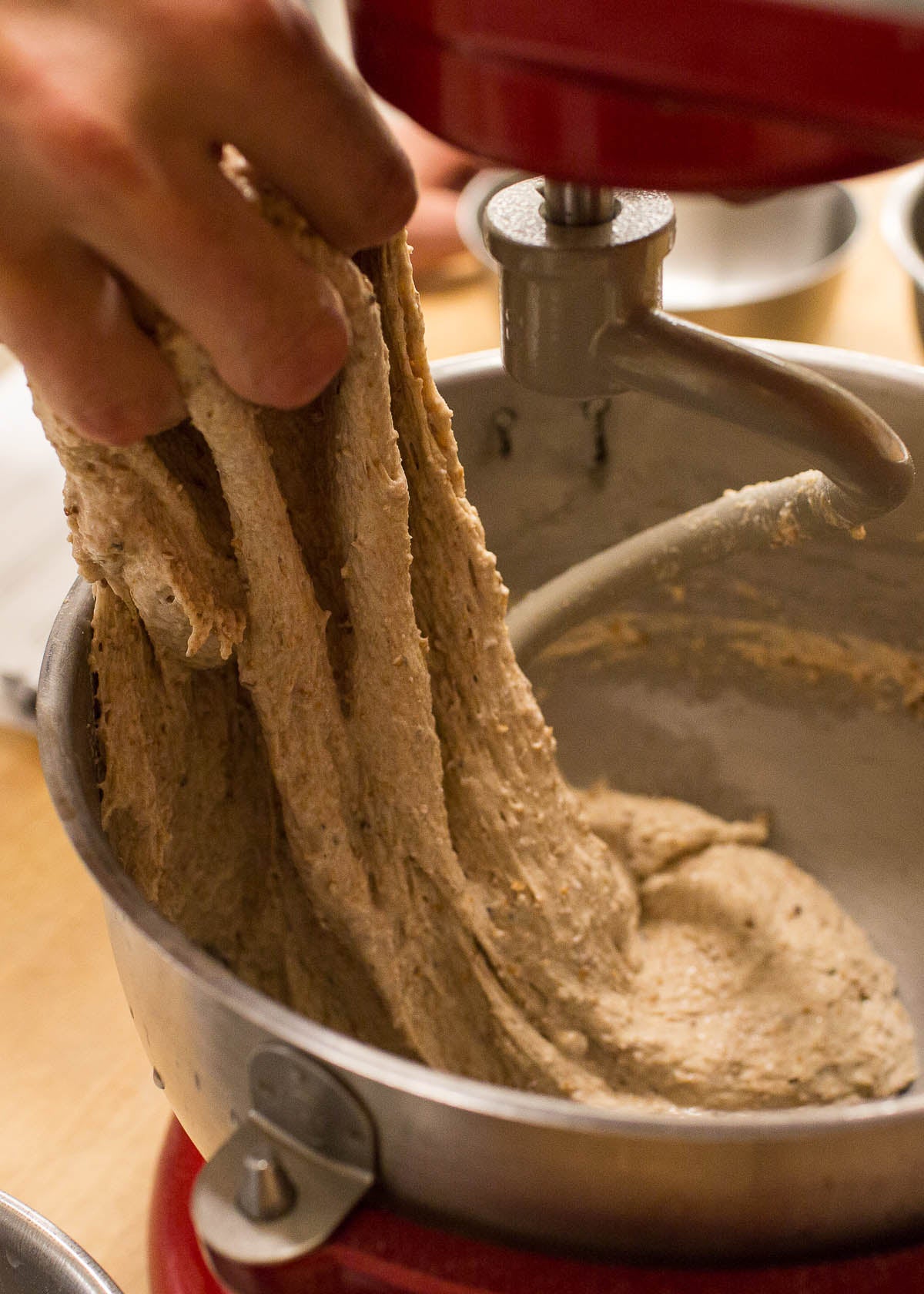 Once fully kneaded, you'll be able to both see and feel the elasticity of the developing gluten.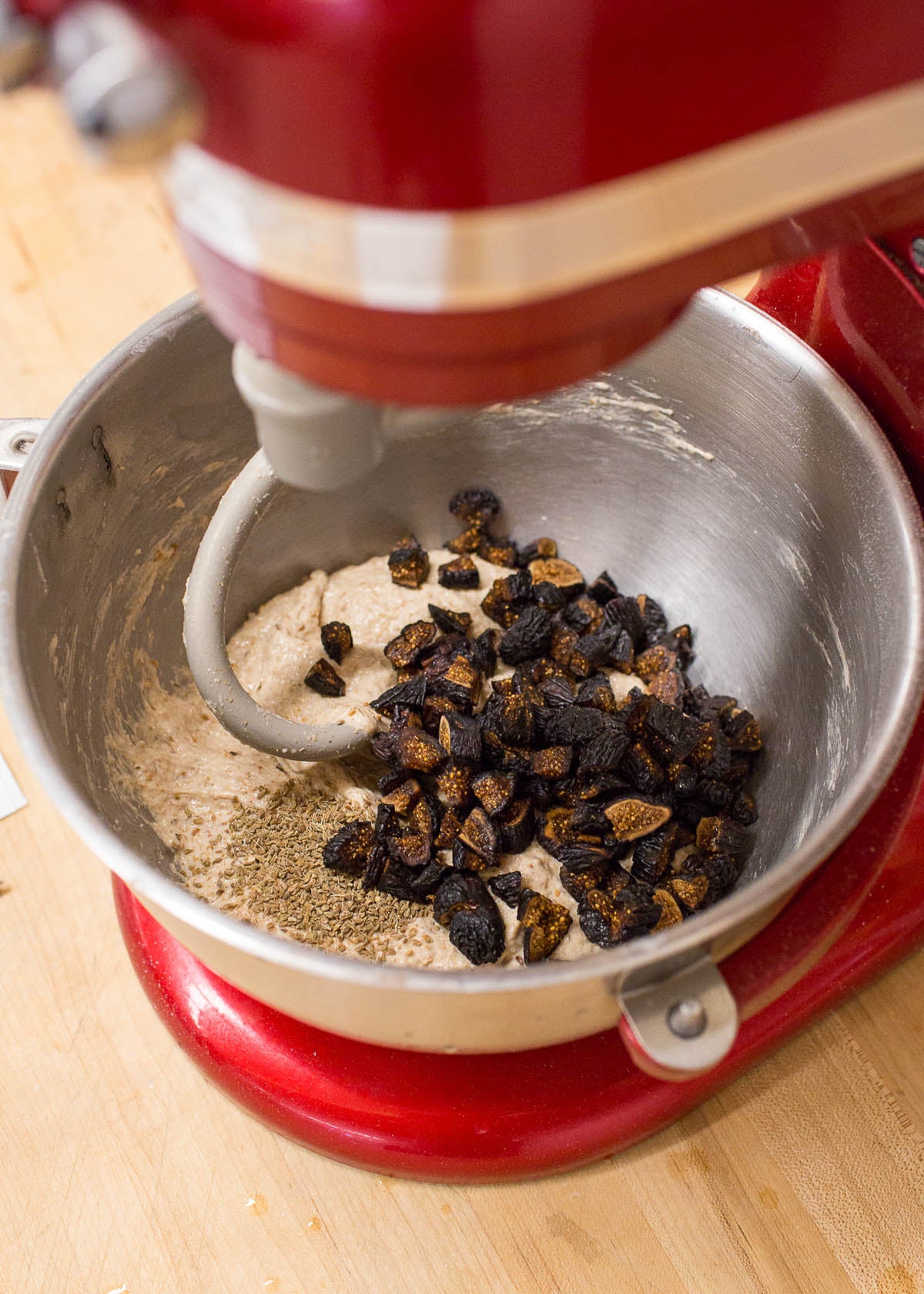 Add the fig and anise seed, mixing on low speed until evenly distributed.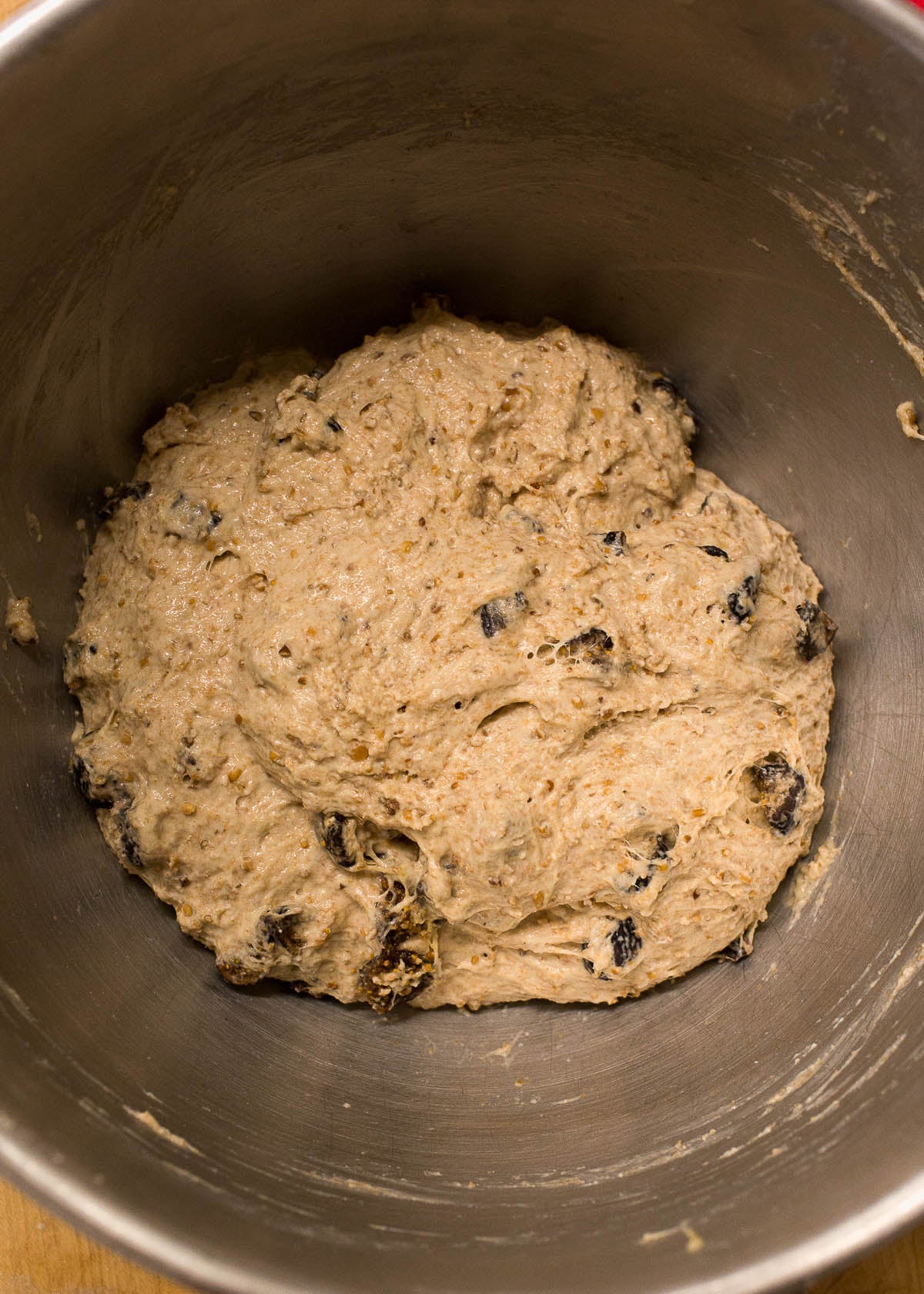 The dough is wet, but holding together well.
Check the dough temperature; it should be between 75°F and 80°F. This is the optimum temperature for rising dough, so try to find a spot that's around that temperature.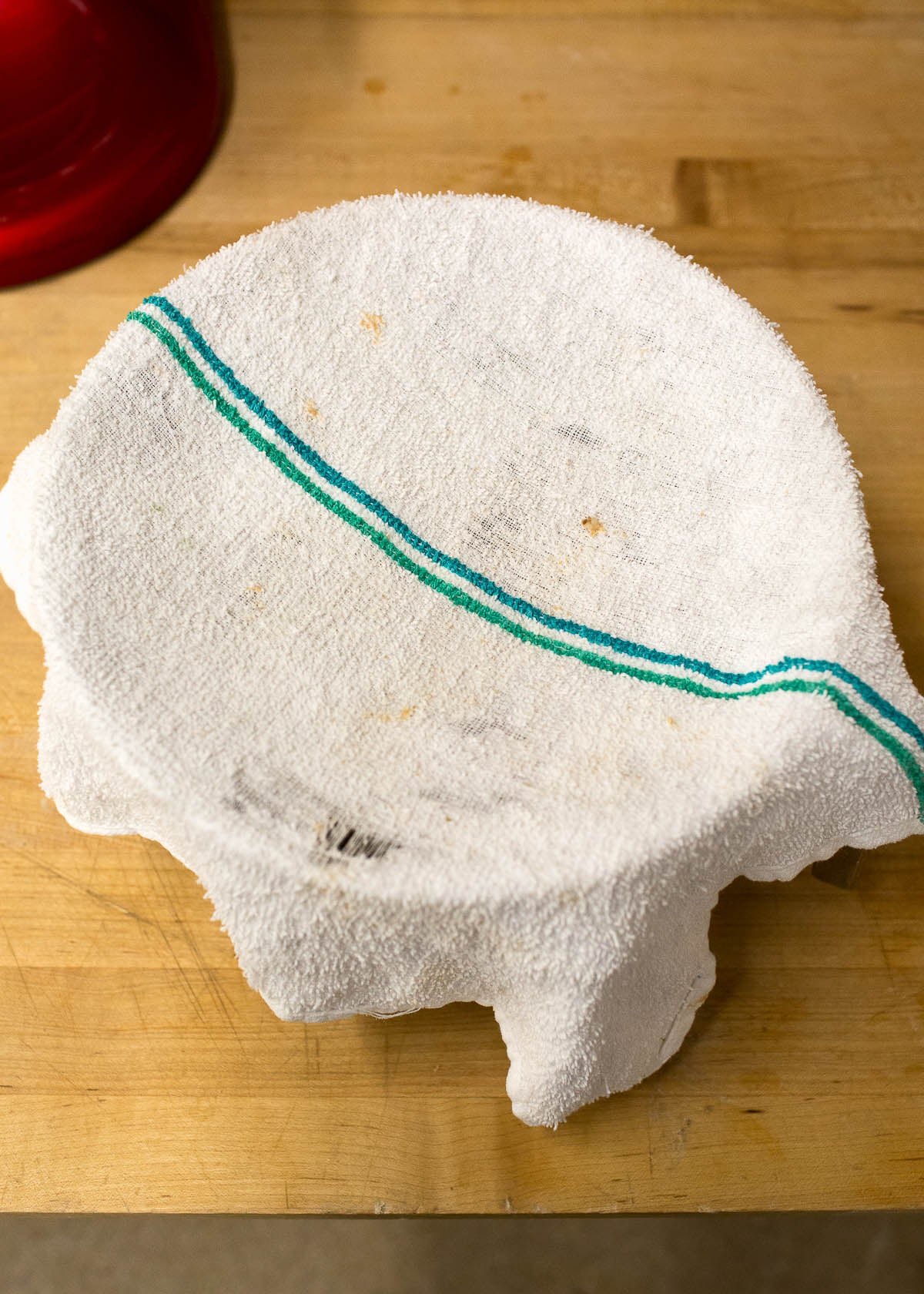 Cover the bowl, and let the dough rise for 15 minutes.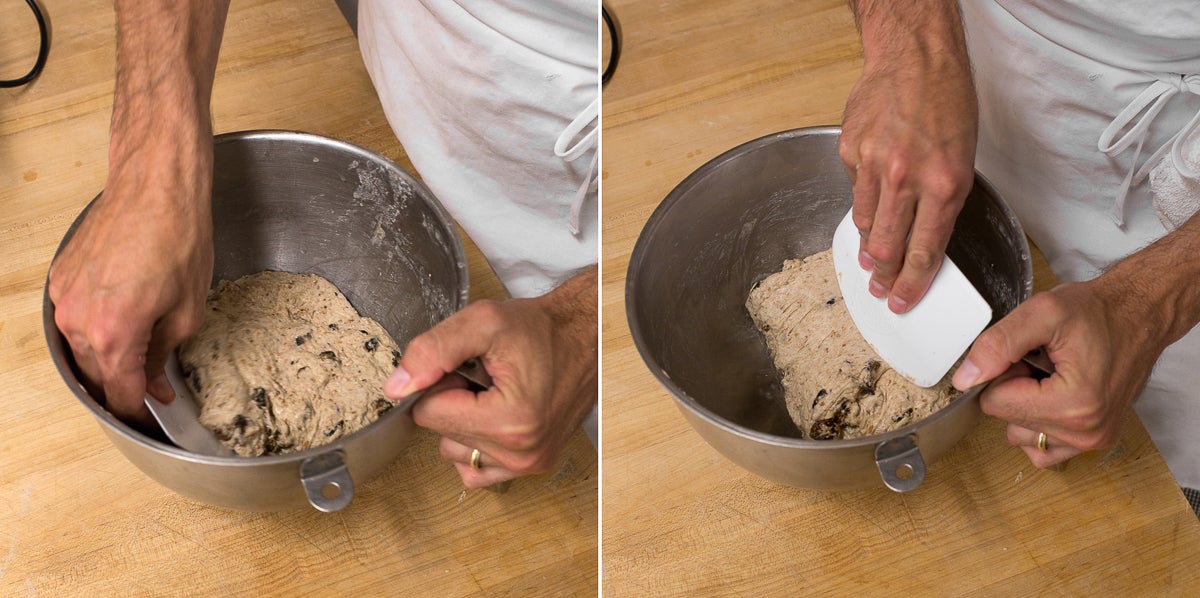 Give the dough its first fold by reaching into the bowl and pulling one corner of the dough up and into the center, pressing it down. Do this four to six times, working your way around the circumference of the dough. This will both de-gas the dough, helping the yeast to work; and strengthen the dough's structure.
You can see how much the gluten has developed after its initial 15-minute rise, followed by its first fold!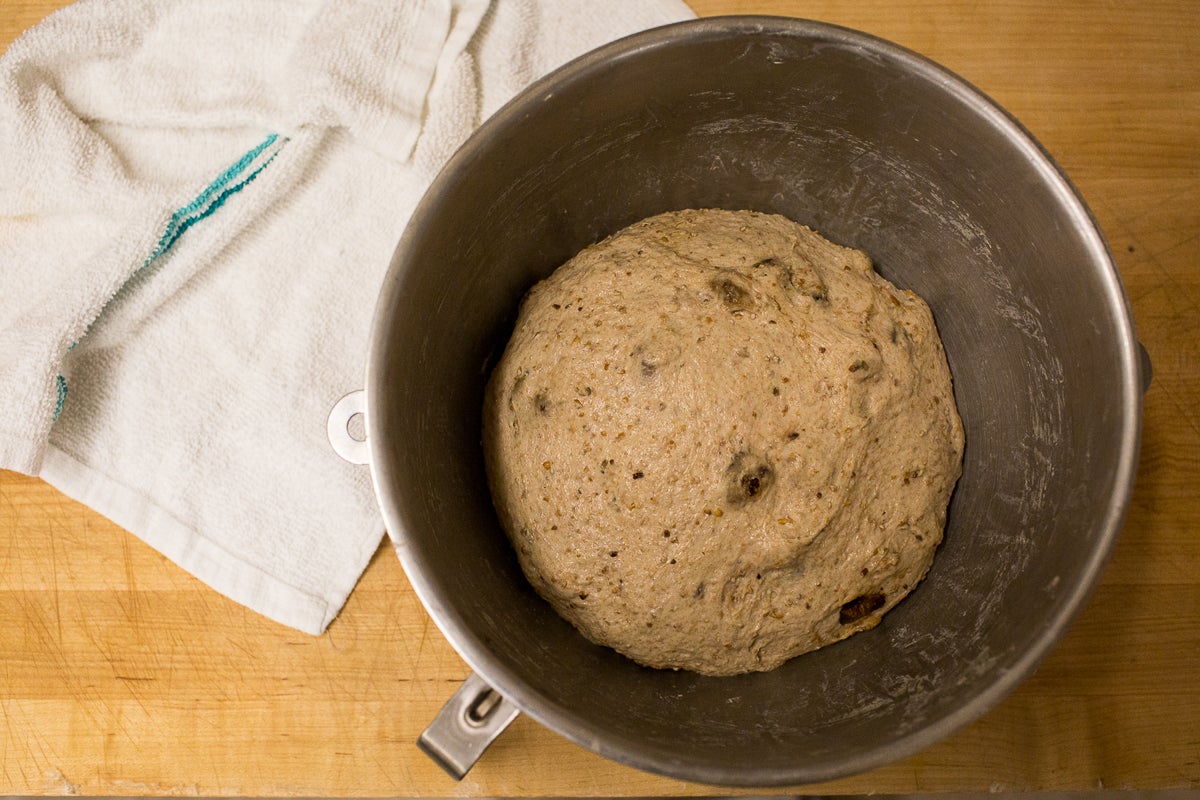 Repeat folding the dough after another 15 minutes (at the 30-minute mark since it started rising), and once more at the 45-minute mark. Keep the bowl covered in between.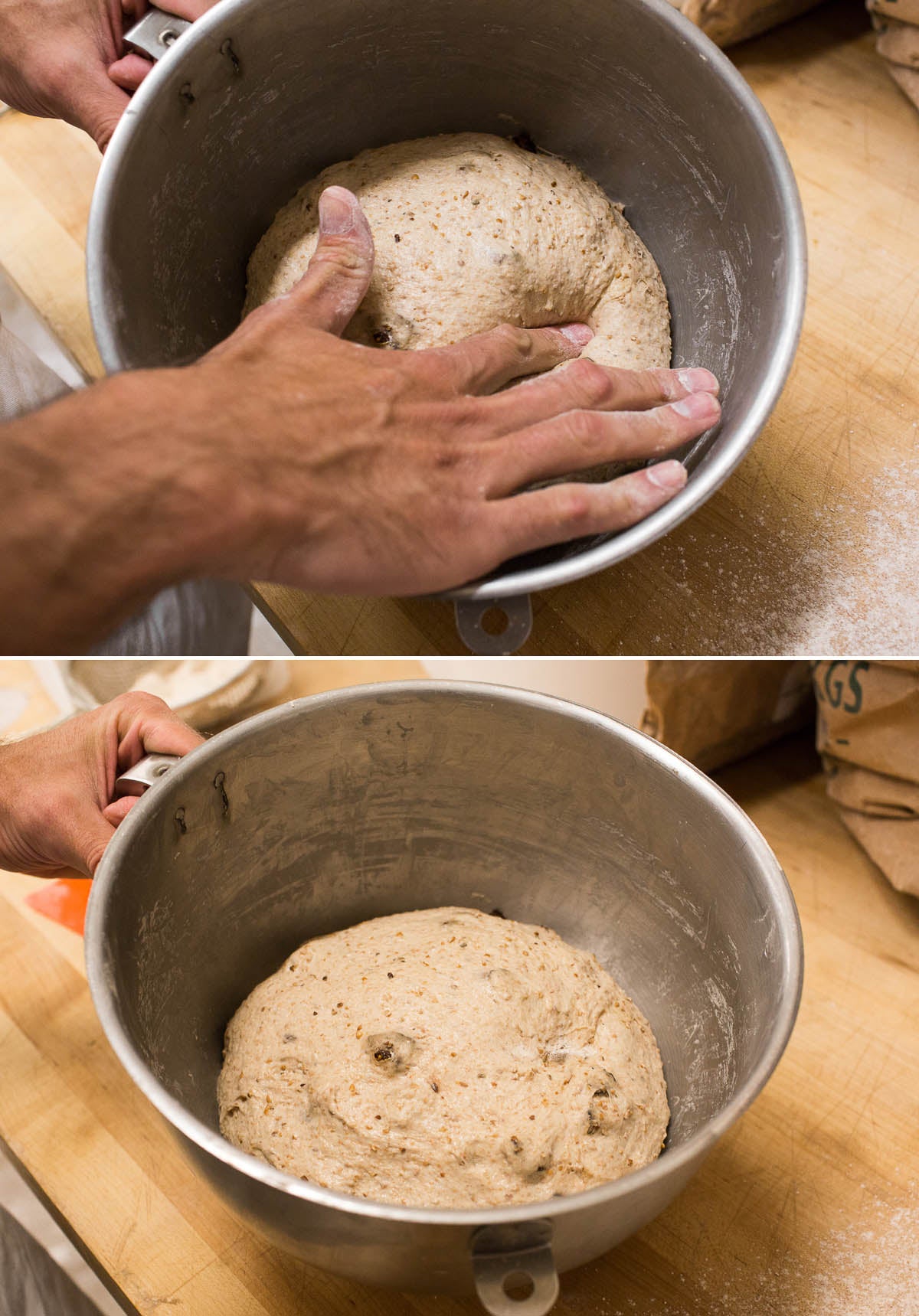 Dough that's sufficiently developed will feel bouncy and elastic, and will spring back when you poke it with your finger.
Cover, and let the dough rise for an additional 45 to 75 minutes without folding, or until it's noticeably puffy, though perhaps not doubled in bulk.
All together, start to finish, this folding/rising process should take about 90 to 120 minutes.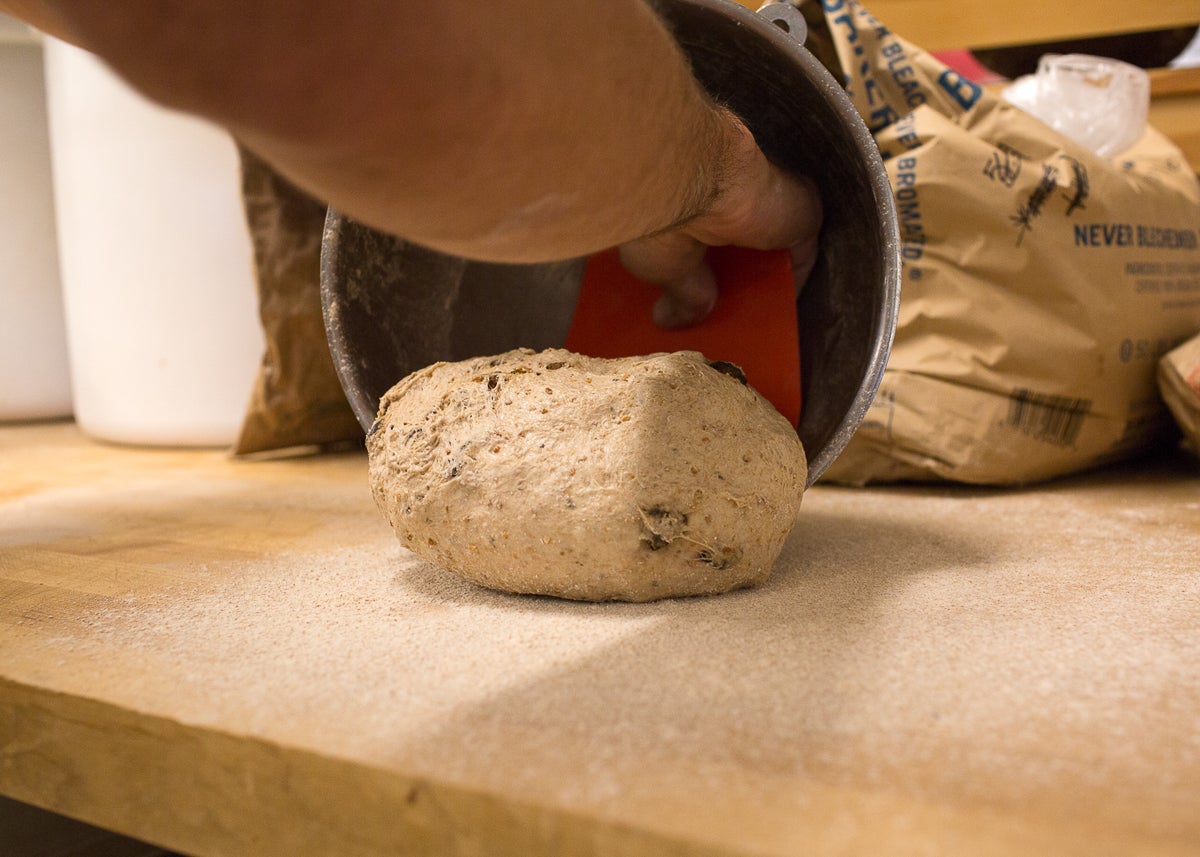 Roll the risen dough out onto a lightly floured board.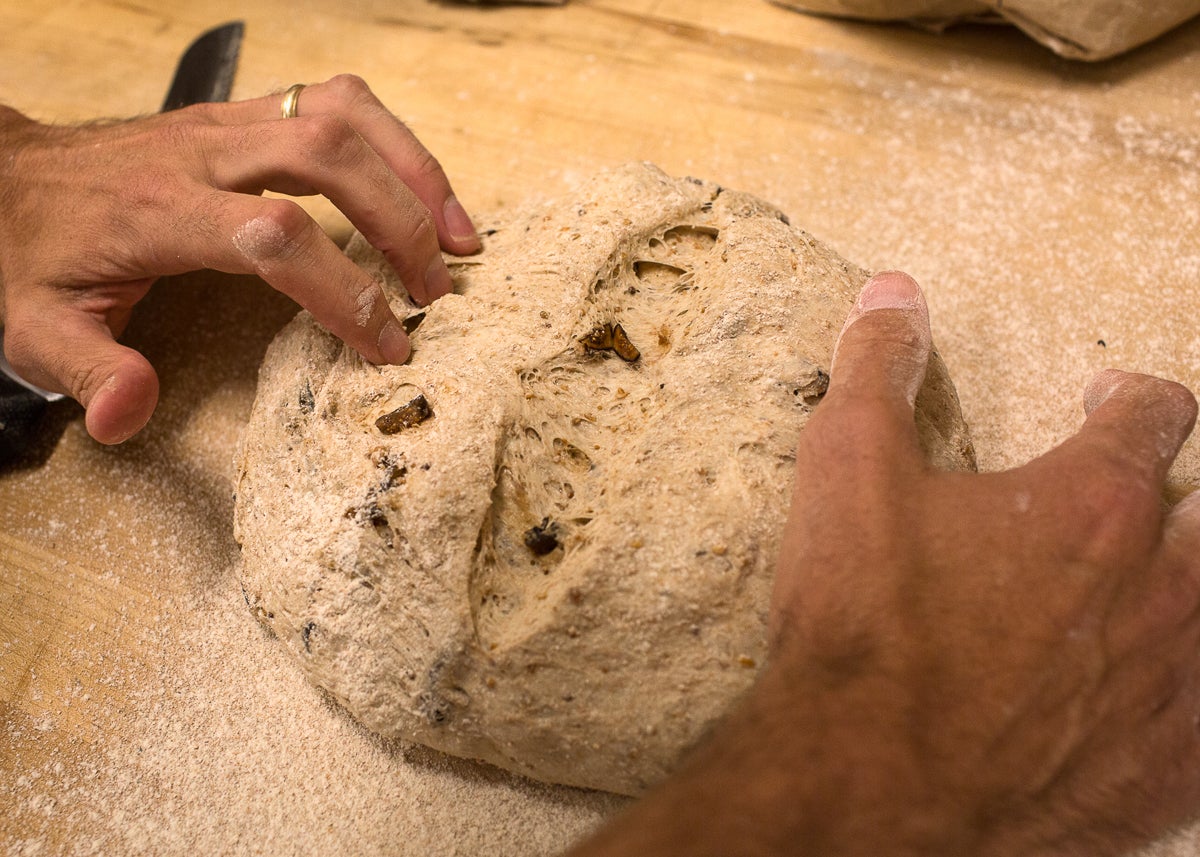 A cross-section slice reveals a beautiful dough structure.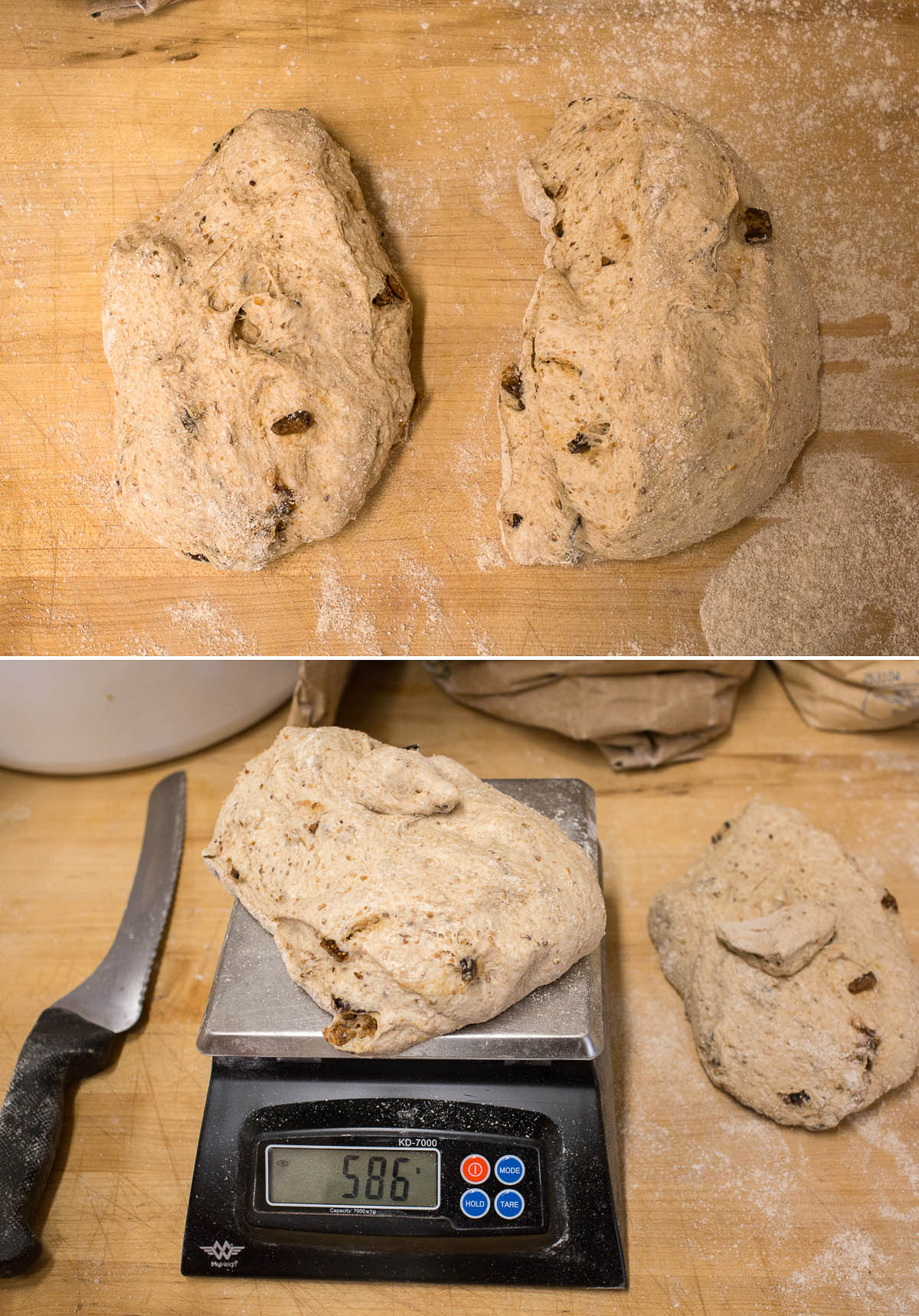 Gently deflate the dough, and divide it into two pieces about 560g each (if your dough weighs more or less, make sure the two pieces are equal.)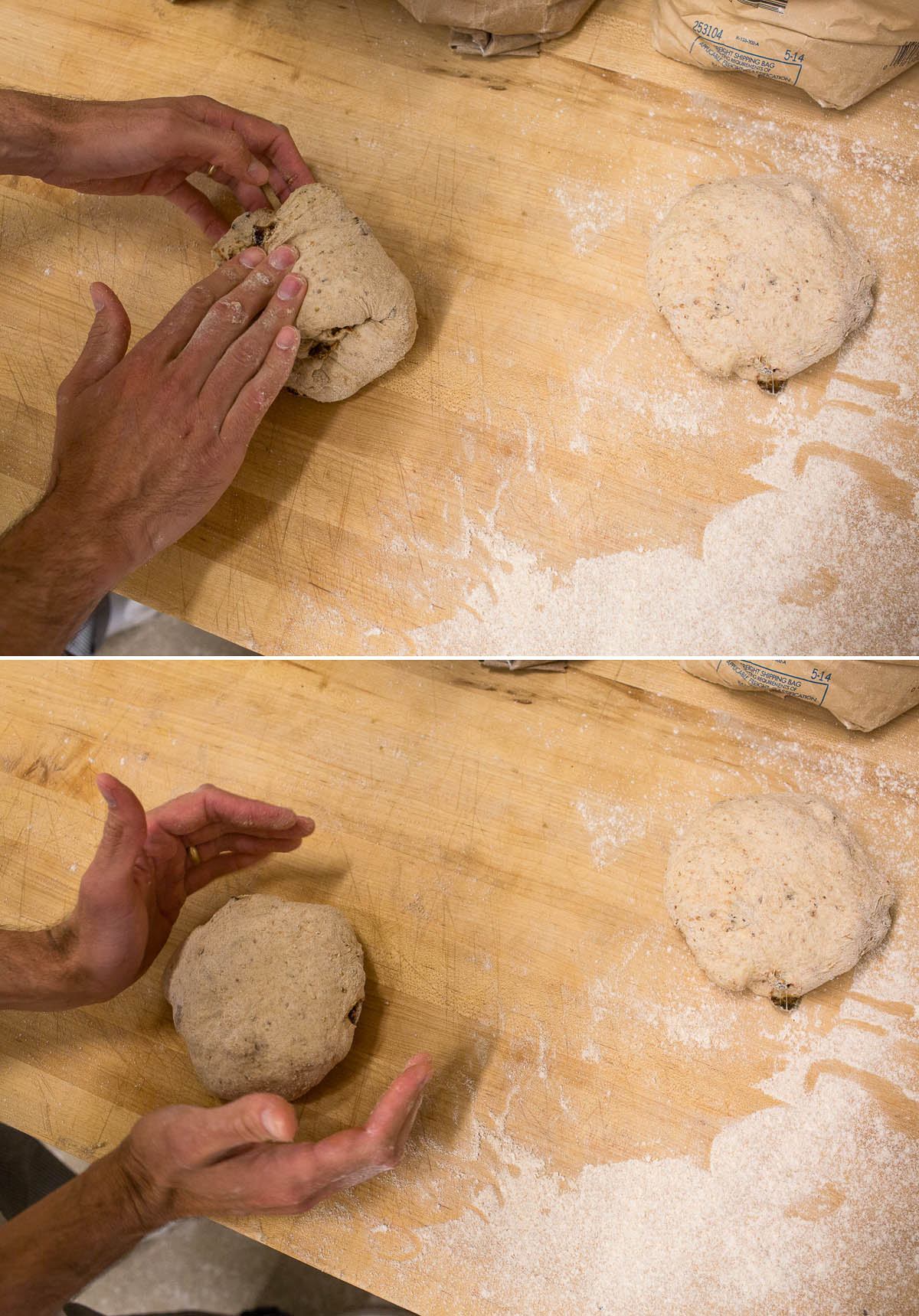 Gently pre-shape the pieces by gathering the corners of the dough and folding them to the center to form a loose ball. Place the balls, seam-side down, on a very lightly floured surface, cover, and let rest for 10 to 15 minutes.

Working with one piece of dough at a time, shape as a bâtard with tapered points. Tuck one end underneath to create a teardrop shape. Place seam-side up on a flour-dusted couche or smooth cotton towel. Repeat with the second piece of dough.
For more assistance, watch our video on how to shape a bȃtard.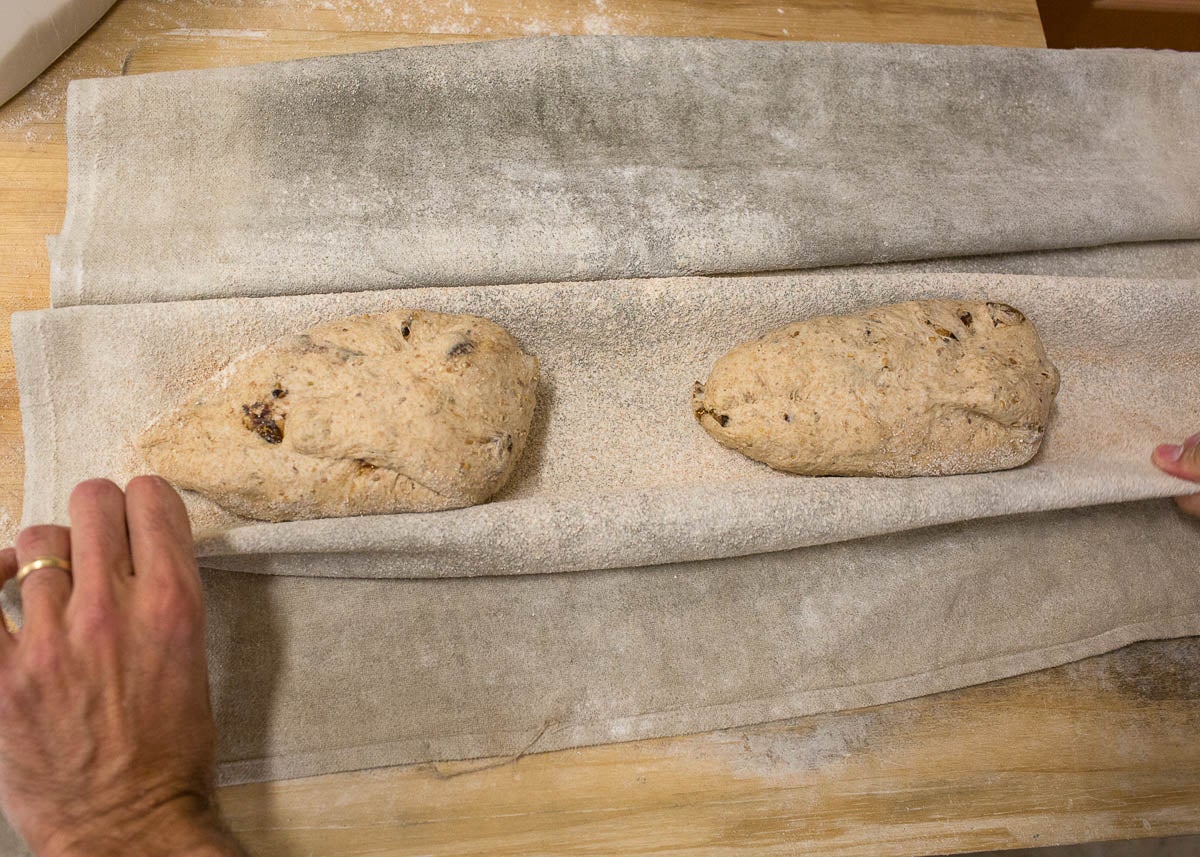 Gently cover the loaves, and let them rise for about 60 minutes, until they're puffy. Martin uses a couche to both cradle and cover his loaves, but if you don't have one, place your loaves on a clean towel and fold the towel over the top to cover.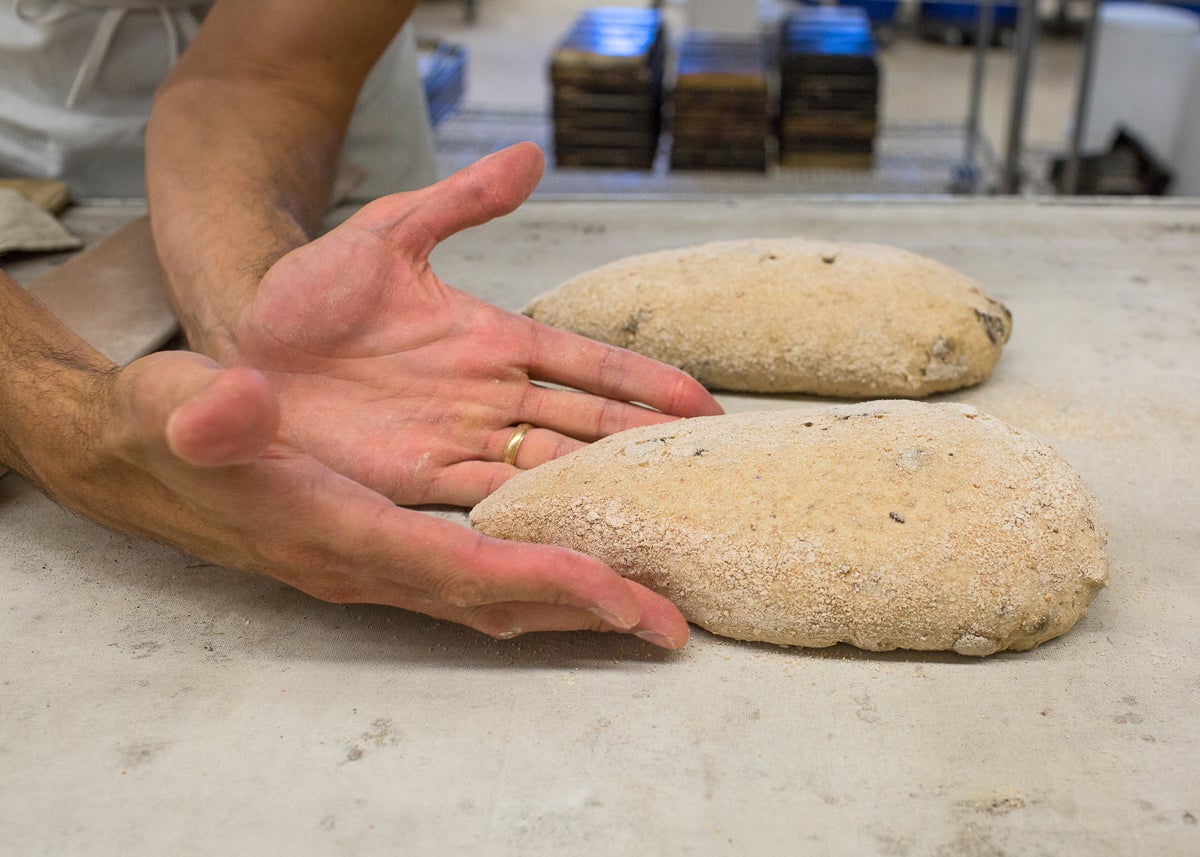 While the loaves are rising, preheat your oven to 450°F, with a baking stone on the middle rack. Place a cast iron pan on the oven's lowest rack; you'll use it to create steam. Above, Martin places loaves on a device that will feed them into the oven.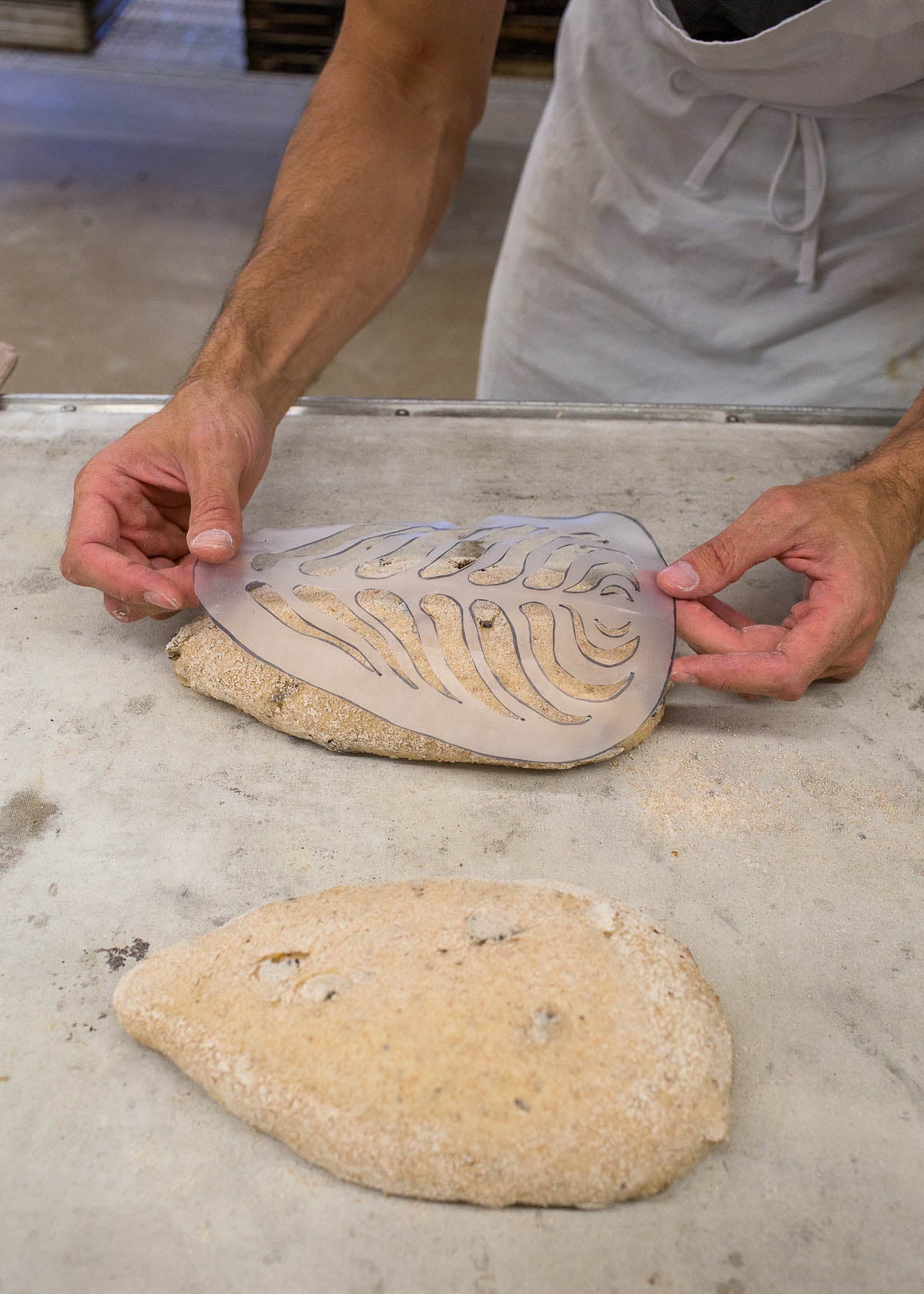 To bake on a stone or steel: Roll the proofed loaves, seam-side down, onto a peel dusted with semolina or whole wheat flour.
If you aren't using a stone, roll them onto a parchment-lined baking sheet, seam-side down (for best results, use a stone or steel.) For extra flourish, create a stencil using parchment paper, then dust the loaf with flour before baking!
Score the dough with a baker's lame or very sharp knife, cutting an arc from the midpoint of the tip to the midpoint of the base.
Add 1 cup boiling water to the cast iron pan. Quickly use the peel to load the loaves onto the stone (or place the pan in the oven), and close the door.
Bake the loaves for 32 to 37 minutes, or until they're a rich mahogany color. The top crust will feel firm, and the bottom crust will be robust, but not burned. If you have a digital thermometer, the loaf's center temperature should be about 200°F.
Remove the loaves from the oven, and transfer them to a rack to cool.
Like this recipe for Mission Fig Bread? Let us know in the comments!
Jump to Comments