Easy puff pastry appetizers
A fast and easy party shortcut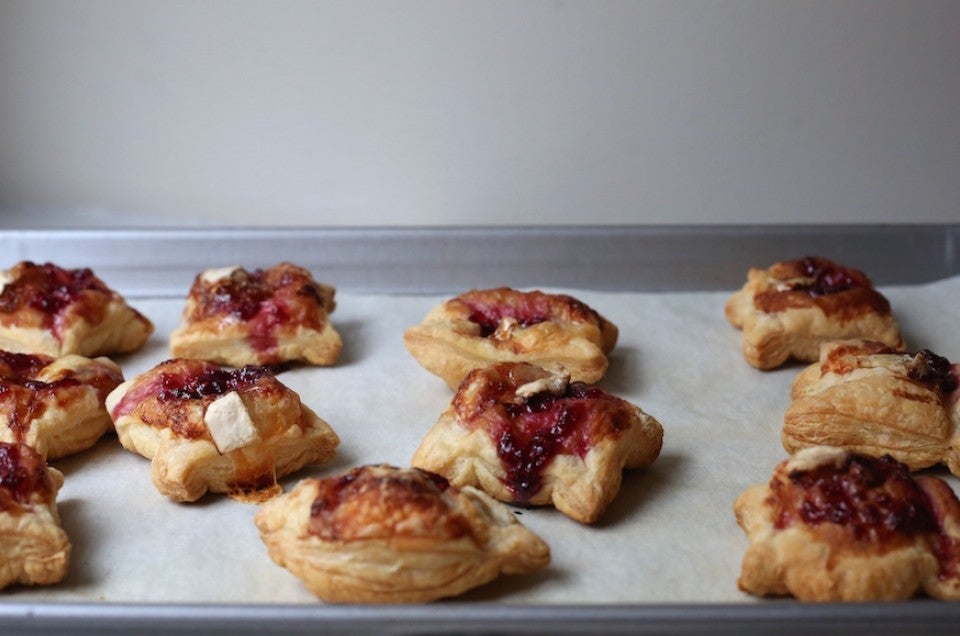 New Year's Eve is a fancy, go-all-out holiday. It calls for Champagne, glitter, and your best party outfit.
It's a celebration worthy of sophisticated food, like chocolate truffles and fancy cheese puffs. But after weeks of marathon holiday baking sessions (Christmas cookies and sweet breads, we're looking at you), putting a little extra effort into party food is the last thing we want to do.
Enter Fast and Easy Puff Pastry.
This brilliant recipe mimics the elegant, complicated texture of classic puff pastry with a fraction of the work.
The trick to the recipe is to leave your butter in very large chunks. You should have some dry spots and some large pieces of butter. They'll likely look too big the first time you try it, but these chunks get distributed as you fold the dough, giving the final pastry a layered puff. The recipe also relies on the help of baking powder to add to the rise.
Classic puff pastry relies on many more layers to create an ethereal flakiness to the dough. By cutting corners and making fewer layers, you'll get close to the same result. It's not quite as flaky as classic puff pastry, but it's pretty darn close.
Be sure to use very cold butter. Chilling ensures that the butter won't soften and melt, making a homogeneous (and therefore dense) dough.
Once you master this simple recipe, the (party) possibilities are endless. I suggest making a double batch and keeping some on hand in the freezer for last-minute entertaining.
On the savory side, you can make cheese straws, miniature vegetable tarts, spinach and pesto pinwheels, pigs in a blanket, sausage empanadas, and more. Or go sweet and try sugared elephant ears, fruit-filled turnovers, dark chocolate twists, or quick apple tarts.
Now let's walk through the recipe! I'll show you the steps, and then two of my favorite ways to use puff pastry for entertaining: Brie bites with jam, and cheese straws. Both are excellent New Year's Eve ideas! Just don't forget the Champagne.
The Master Recipe: Fast and Easy Puff Pastry
You'll need: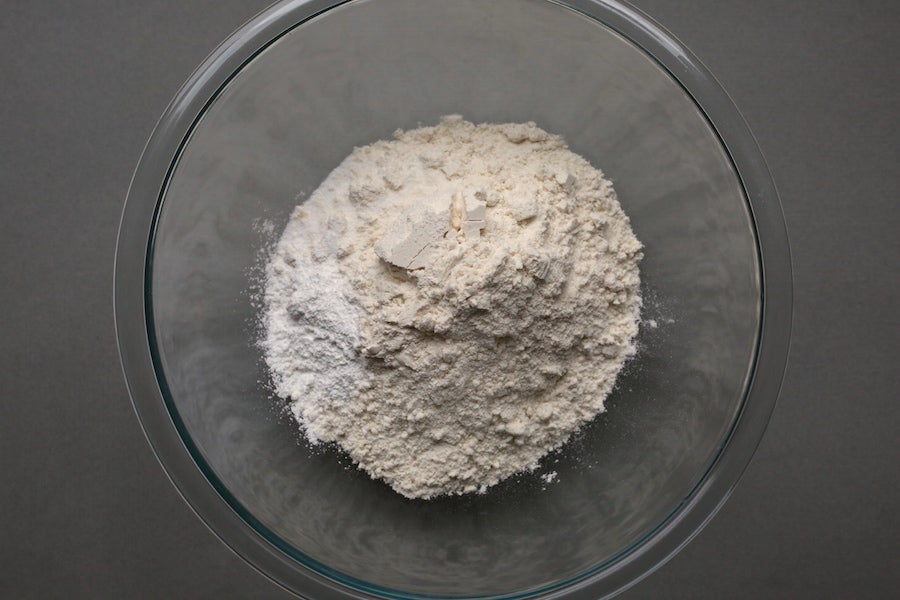 Whisk together the flour, salt, and baking powder.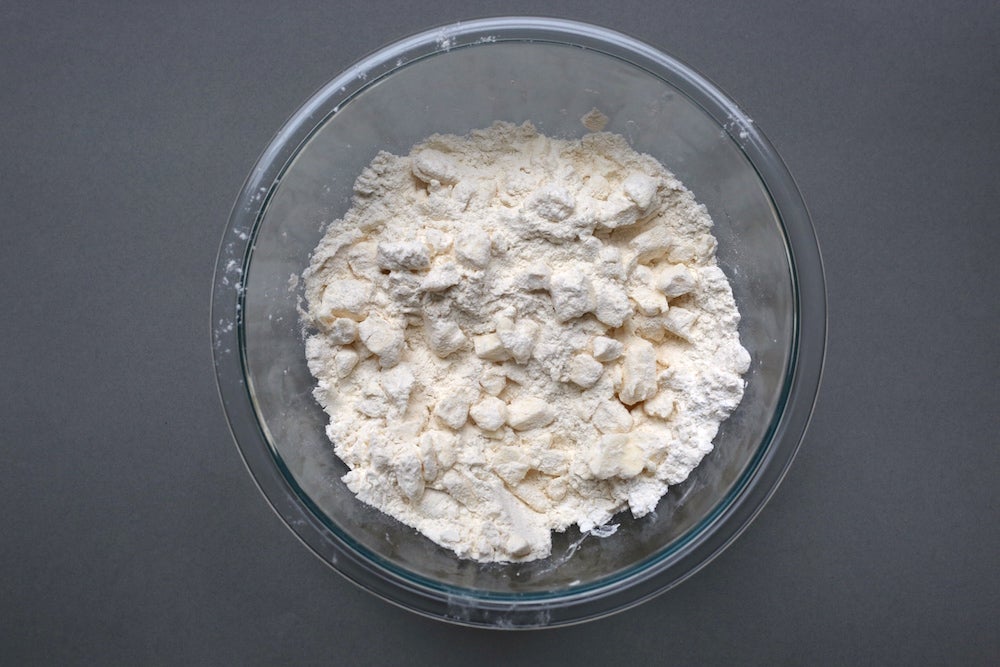 Add the butter, working it with your fingers or a fork to make a coarse mixture. Leave most of the butter in large chunks.
Stir in the sour cream. Don't worry about the dough being cohesive! You should have plenty of dry spots.
Turn the dough out onto a lightly floured surface and knead lightly a few times to bring it together.
Pat the dough into a rough log and roll it out to an 8" x 10" rectangle.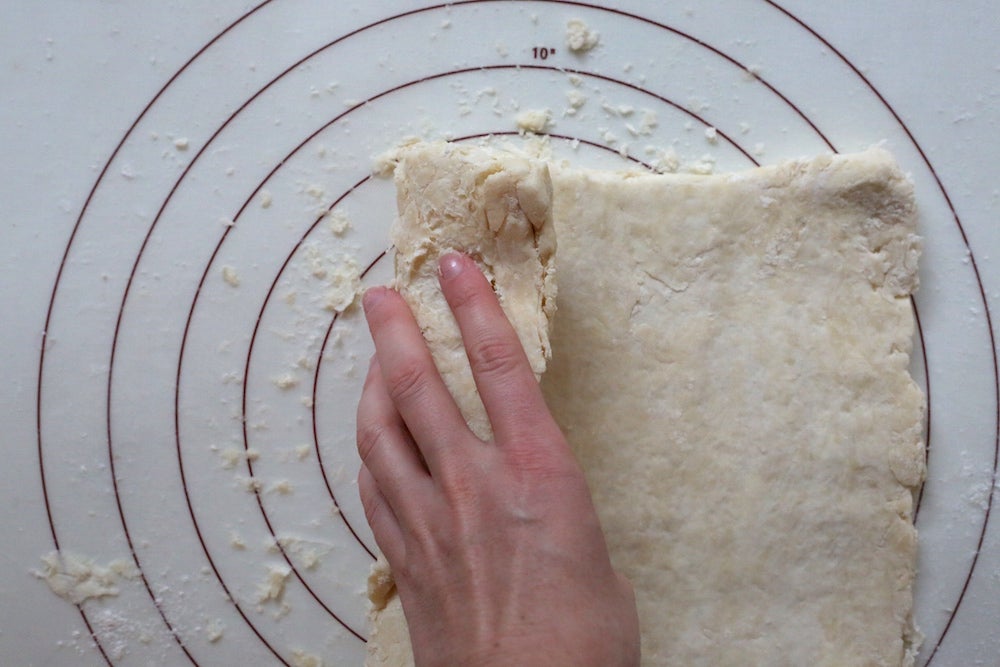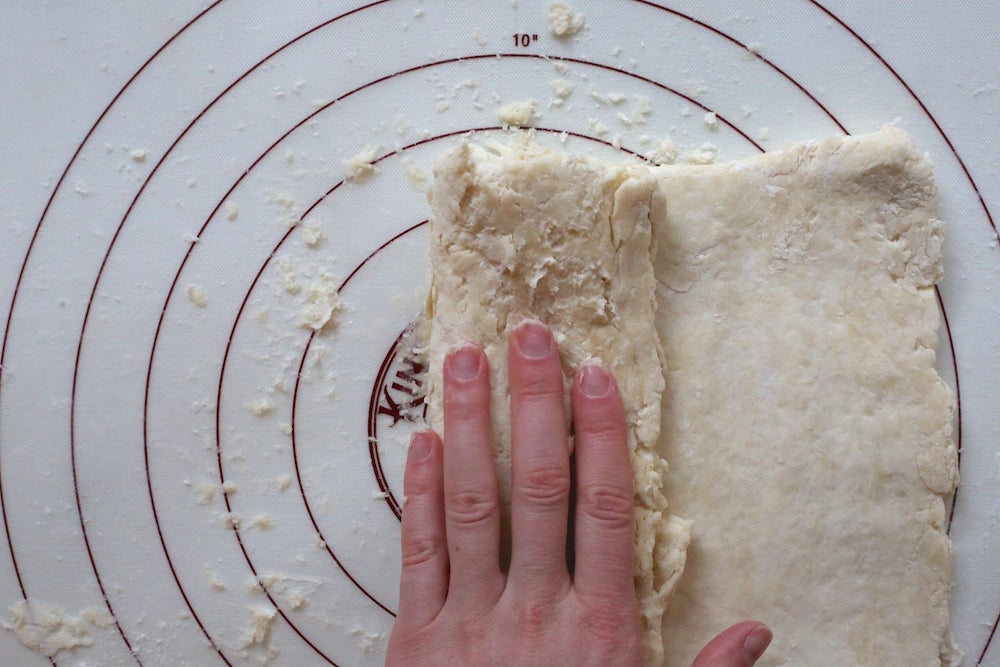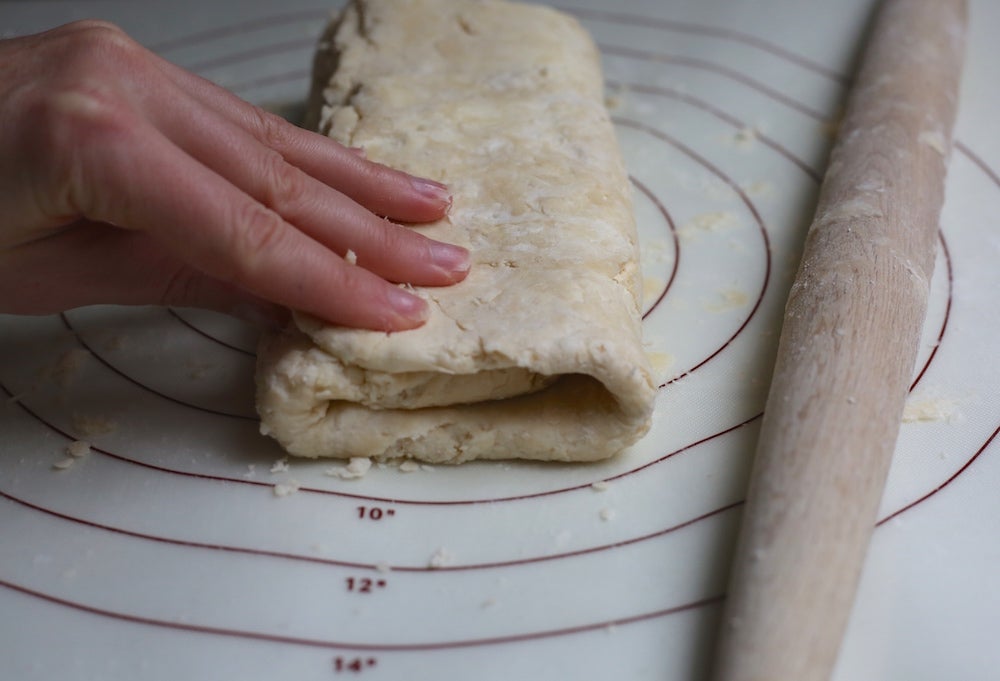 Starting with the shorter end, fold the dough in three like a business letter.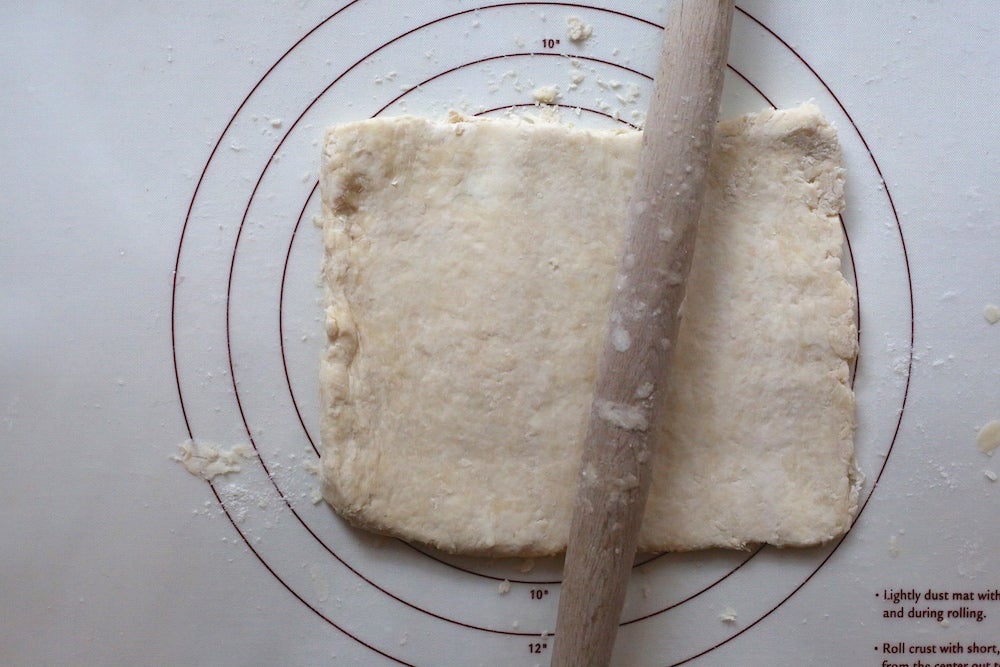 Flip the dough over, turn it 90 degrees, and roll it out to an 8" x 10" rectangle again.
Repeat the folding in three again.
Chill the dough for at least 30 minutes before using it. If you're making it ahead, you can freeze it at this point.
When you're ready to use it, thaw the dough if frozen. Roll the puff pastry out to your desired thickness and get creative!
Open-Faced Brie and Jam Puff Pastry Bites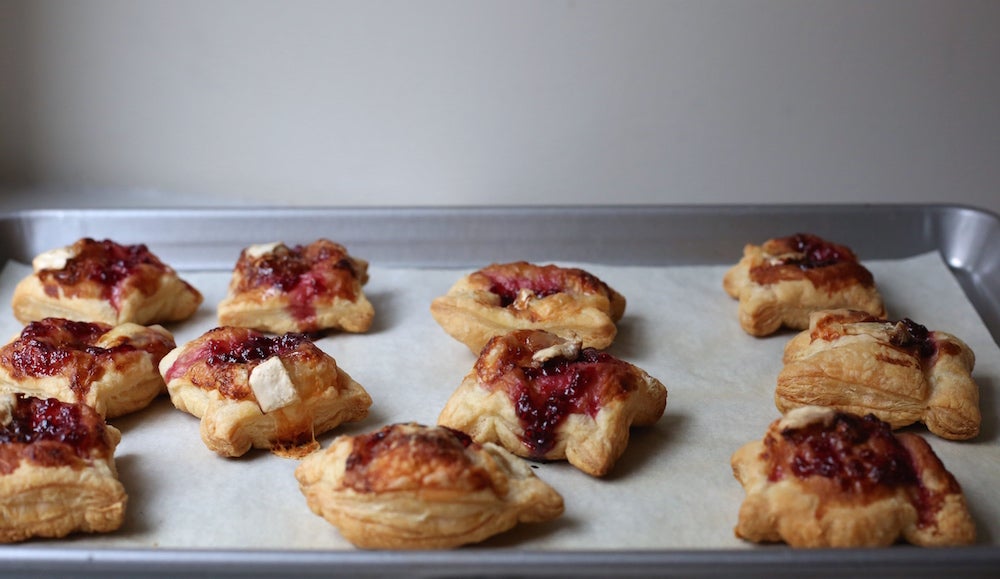 To make simple and pretty Brie and jam bites, start by rolling out your puff pastry to 1/2" thickness.
Cut your puff pastry into 3" squares. Place a dollop of raspberry jam and a small piece of Brie cheese on the center of each square. Pinch the corners up a bit to create a slightly scooped shape.
Bake the squares on a parchment-lined baking sheet at 375°F for about 10 minutes, or until golden brown and puffed. You can also bake them in miniature muffin cups to give them a more defined shape.
Flaky Cheese Twists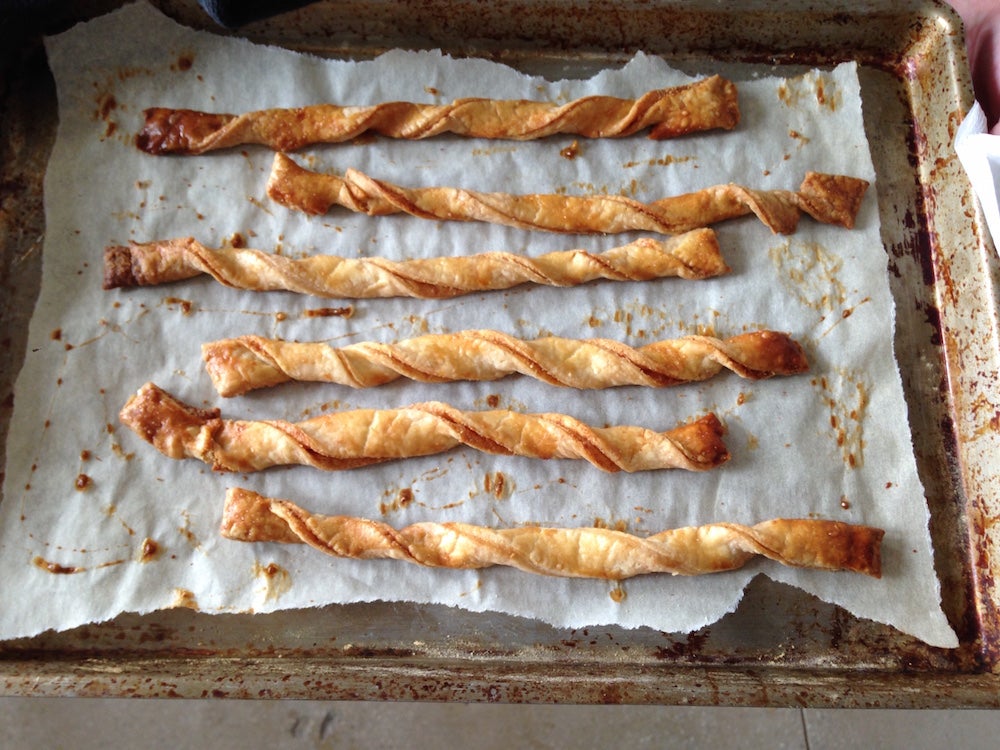 These appetizers are always the center of attention at a party.
Start by rolling out a single recipe of your puff pastry to a 12" x 24" rectangle.
Beat an egg with a tablespoon of water and brush this over the surface of the dough. Save the remainder for later.
Sprinkle 3/4 to 1 cup of grated Parmesan cheese over the dough with some freshly ground pepper (or paprika, for color; or cayenne, for heat). Lightly press the cheese into the dough using a rolling pin.
Fold the dough in half to create a 12" x 12" square. Gently roll until the two halves stick together; you'll now have a rectangle about 12" x 13".
Cut the rectangle in half lengthwise to make two rectangles, each 6" x 13". Cut each rectangle into 3/4"-wide strips using a sharp knife or pastry wheel.
Twist each strip gently and place it on a parchment-lined sheet. Brush with the remaining egg wash; sprinkle with salt, if desired.
Bake the twists for 12 to 15 minutes in a preheated 400°F oven, until they're golden brown. Remove them from the oven, and cool slightly on a rack before serving.
Now that you have the perfect New Year's Eve recipe, you can use all the time you've saved to make an extra batch of chocolate chip cookies. Because cookies are the ultimate party food (in our world).
Jump to Comments