There are so many things to love about summertime. At the top of the list? Fresh local fruit and warm sunshine. We here at King Arthur Flour are fortunate to be surrounded by farm stands, farmers' markets, and so many places to pick our own fresh fruit and vegetables.
Combine this plenitude with our love for baked goods, and you've got a recipe for success. There's always an overflow of tasty treats filled with fresh produce brought into our employee break room, for sharing and enjoying. That's actually how this recipe came about.
Charlotte, my dear friend and King Arthur recipe developer/food stylist, had made these berry star cookies and put them out in the kitchen. So good! So pretty! These absolutely needed to be shared on a larger platform... if I could manage to recreate them properly.
I don't have much of an eye for food styling. Honestly, I find myself hanging out in the "Pinterest fails" group more often than not. But hey, at least my friends and family get a good laugh out of it while they're chowing down. My goodies thankfully taste much better than they look!
So when I got to the decorating phase of these cookies, I wasn't expecting too much. I plopped myself outside at the picnic table and got to decorating. To my utter surprise, my husband came out after I'd finished a few and told me how great they looked. Success! Needless to say, these little gems are now my go-to for parties and BBQs.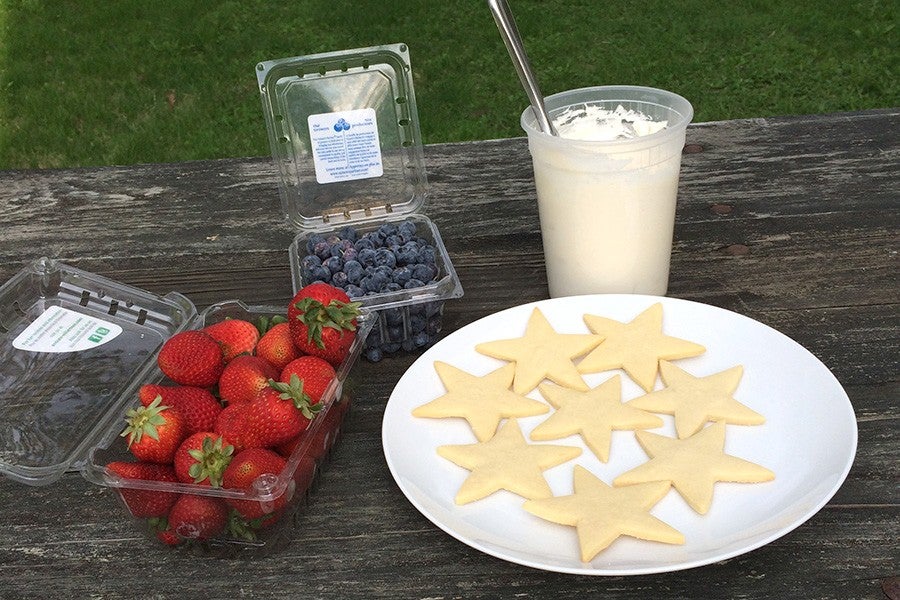 You're going to need a few things to create these tasty masterpieces.
1. Star-shaped sugar cookies. The Holiday Butter Cookies are the most popular cutout cookies on our website, and for good reason. The recipe makes 5 dozen buttery, crunchy, 2" cookies, so you'll have plenty to share. If that's too many, you can always bake up however many you want and freeze the rest of the dough for later.
2. A star cookie cutter. We used a 3" star to make these cookies. Feel free to use whatever you have on hand, and adjust your fruit sizes from there.
3. Soft Cookie Frosting. You can flavor the frosting however you'd like. We went with vanilla and almond extracts, which paired perfectly with the fresh berries. This frosting stays soft and fluffy like buttercream, even when left uncovered.
4. Strawberries. We won't tell you how many you need; just be sure it's enough to snack on while you work!
5. Blueberries. I bought a pint, which was more than enough. I kept dipping the extras in the cookie frosting while I worked. So good.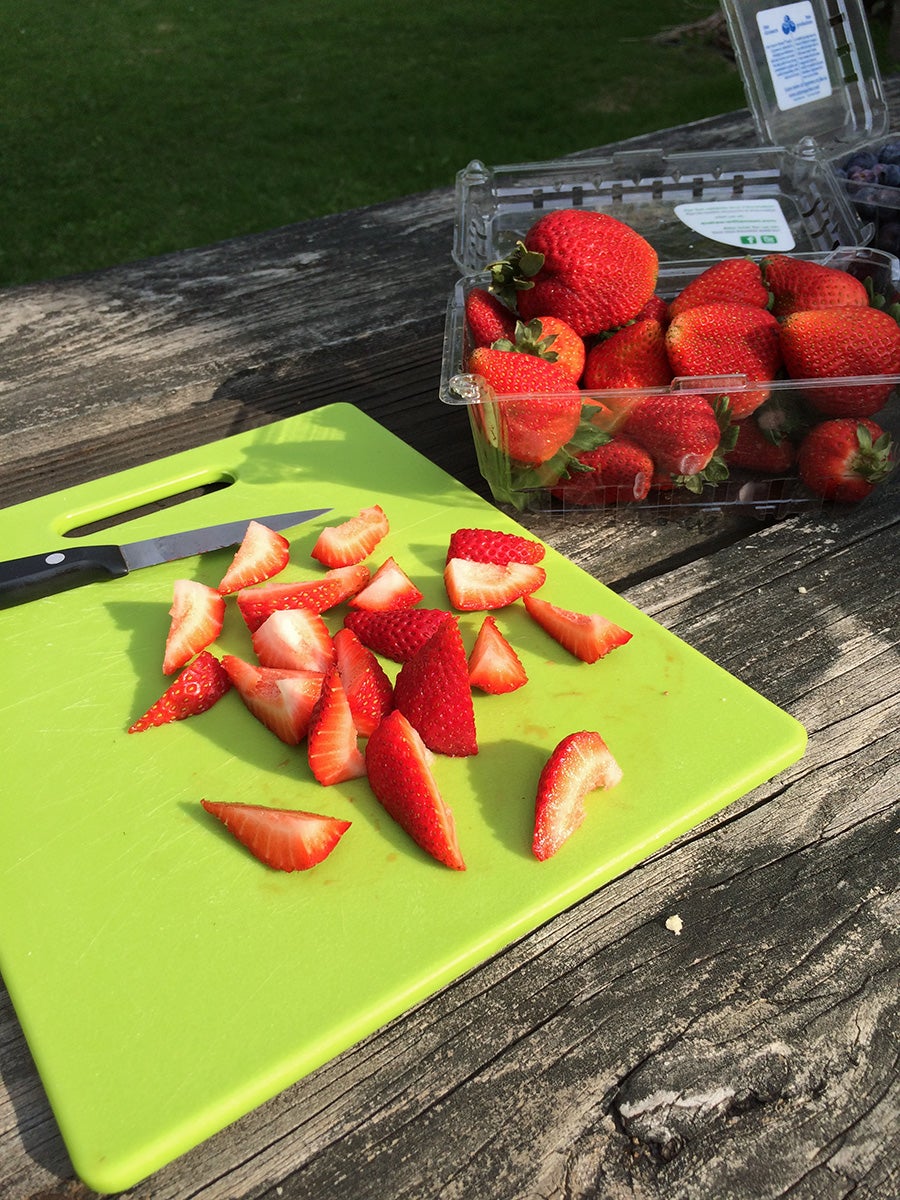 Cut the green tops off your strawberries, then cut each berry into 1/4"-thick slices. Cut the slices in half lengthwise. Play around with this; you may find that you like thinner or thicker slices.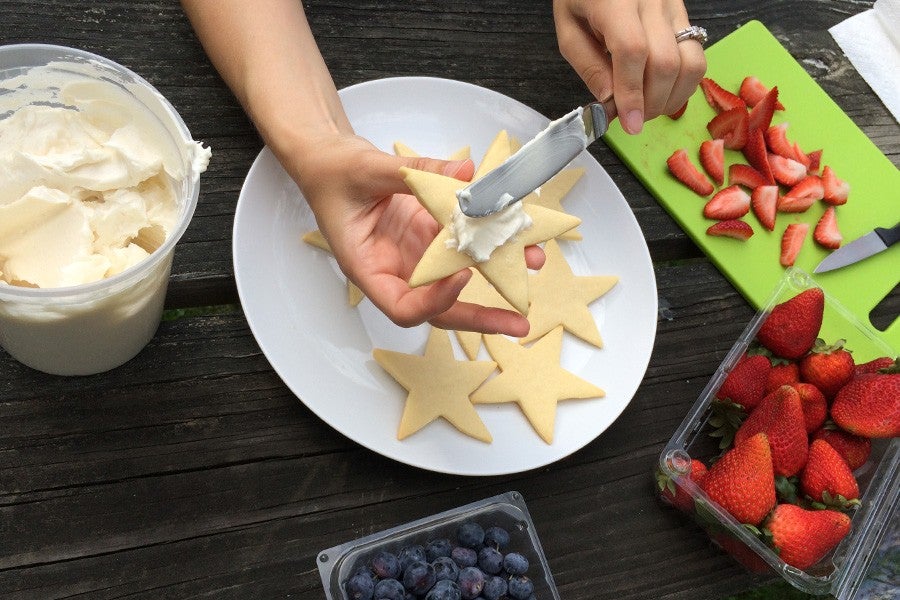 Spread a layer of frosting onto each star. Be as generous as you'd like; I found that I used 1 teaspoon per cookie. Just keep in mind that you'll be pressing berries on top, and the more frosting you use, the more likely it is to squish over the sides.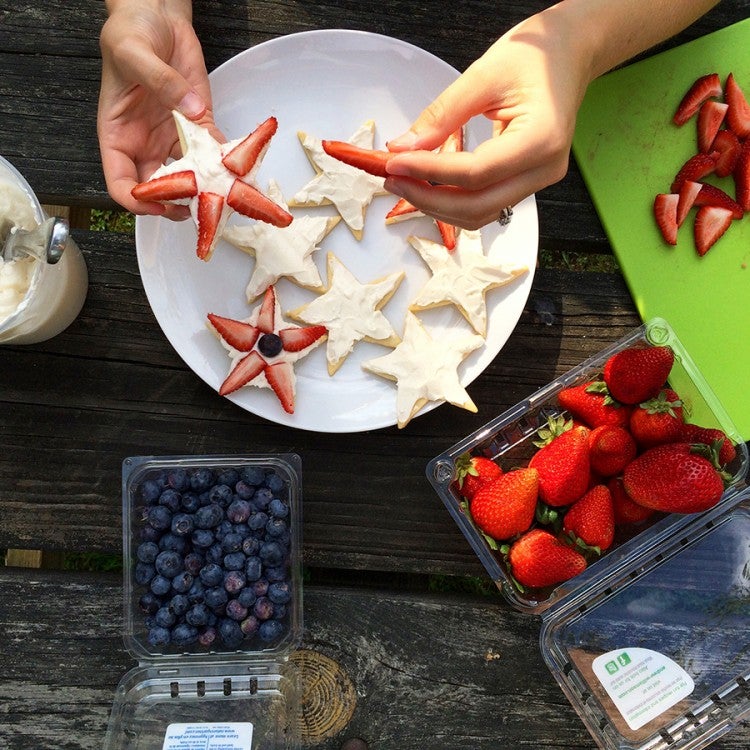 Arrange strawberry slices on the points of the star, trimming as needed. Finish with a blueberry in the center. Depending on how fancy you'd like to get, you may need to tidy up the frosting that crept over the edges while you were adding the fruit.
I did a little experiment and left a few cookies out on the counter for a couple days to see how they'd hold up. The juicy berries held up really well on top of the soft frosting, with no visible weeping. Which makes these the ideal little snack to make the night before the party, if you're looking to save some time.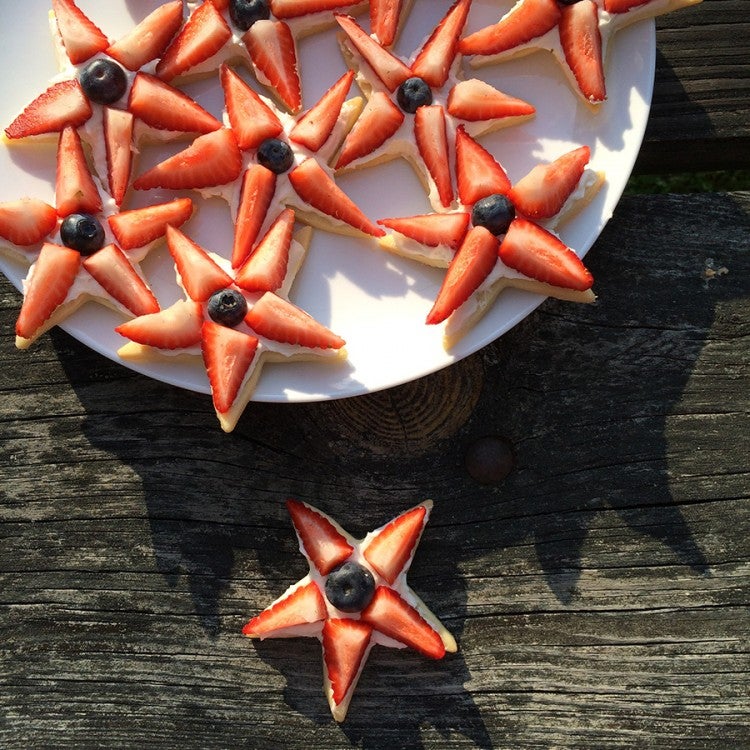 Have fun with it; bring all the pieces out to the picnic table and turn it into a family activity. Take lots of pictures and post these beauties all over social media as a baking "win!"
Be proud of your fancy new decorating skills. Simple yet stunning, these berry star cookies are the perfect dessert to bring to the table during these fabulous summer months.
Have you tried this? Let us know how it went in the comments, below! 
Jump to Comments