Mouthwatering, mind altering, maddeningly amazing maple syrup. That tree-grown sweetener that New England is proud to produce. For most of the country, maple is more of a fall flavor, right along with apple and pumpkin. For us East Coasters however, we wait impatiently for the flavor that's a surefire sign spring is finally here.
The topic of conversation around the water cooler shifts from "What did the thermometer at YOUR house say this morning?" to "Guys, I saw some lines out on my drive into work today. First of the year!"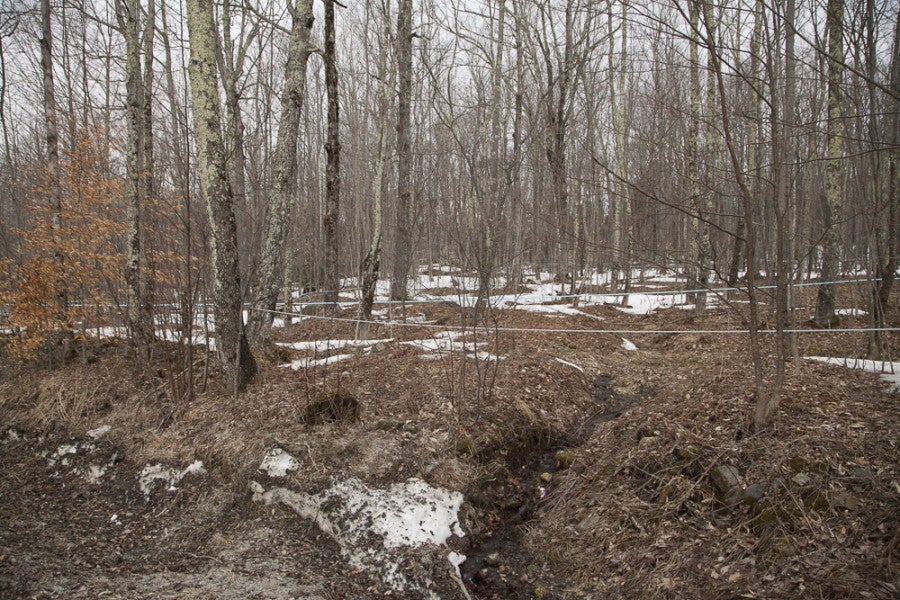 Tapped maple trees, with miles of white and blue hose line winding through the forest, transporting gallons and gallons of sap to the sugar shacks. There, it's carefully and painstakingly boiled down into the syrup that we love so much.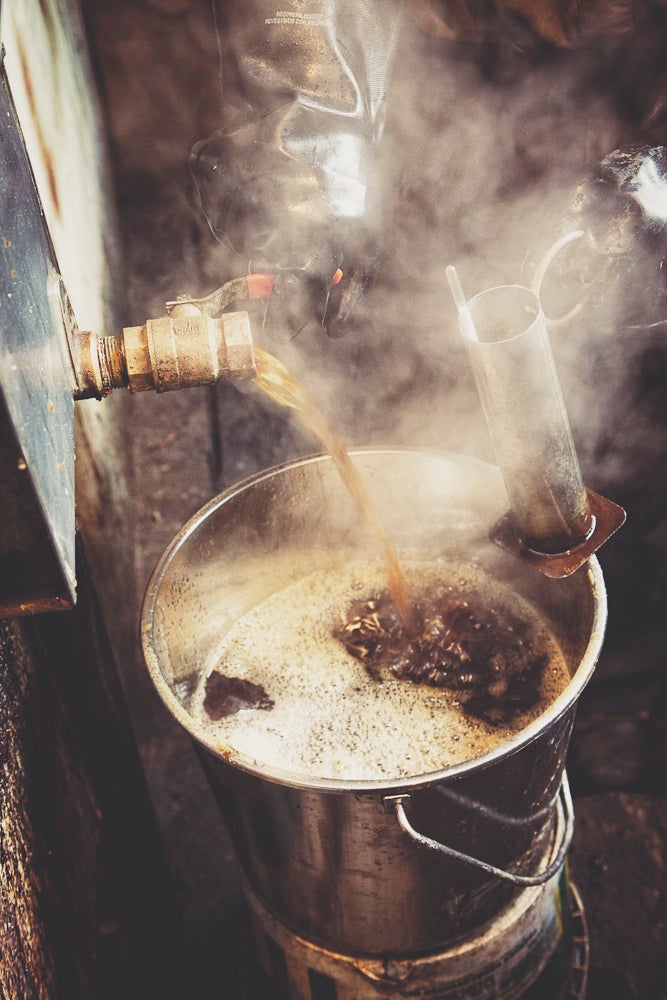 Maple sap will typically only flow if the days are warm, and the nights are below freezing. Those perfect conditions only occur in the springtime. Though sometimes, not even then.
For instance, if the snow melts too quickly and the temperatures don't get cold enough, the sap won't flow. If it warms up too quickly, the sap will dry up, as the tree uses that sugar to produce leaves. This premium product is at the mercy of Mother Nature, and sometimes she's awfully fickle.
We put it in everything: on top of our oatmeal, stirred into coffee, and of course drowning our pancakes. So why not into our pie? Combining sweet maple with creamy half & half creates a decadent pie that's sure to satisfy every maple craving you can possibly have. And if you're anything like me, you've had a lot!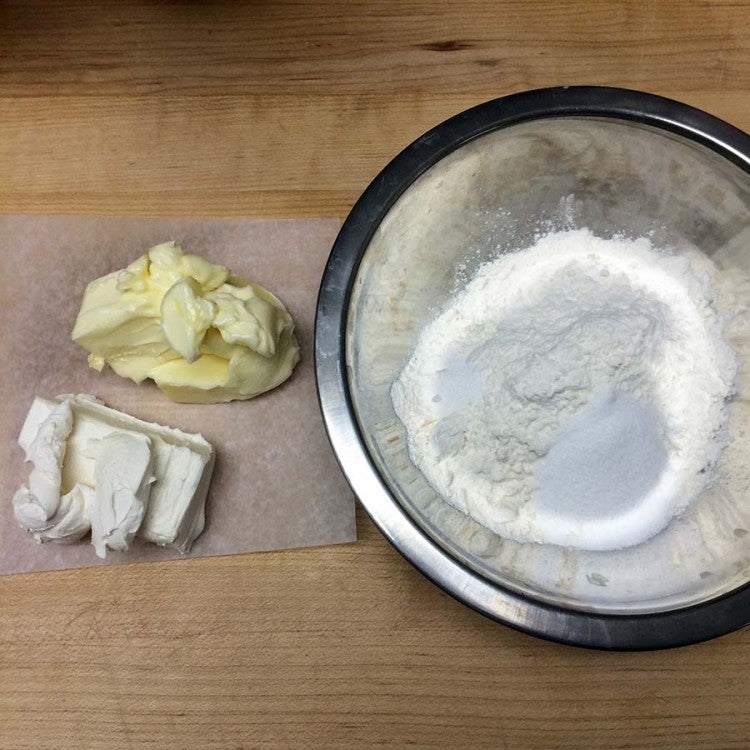 For the crust, mix together 6 tablespoons softened butter and 3 ounces softened cream cheese until well blended.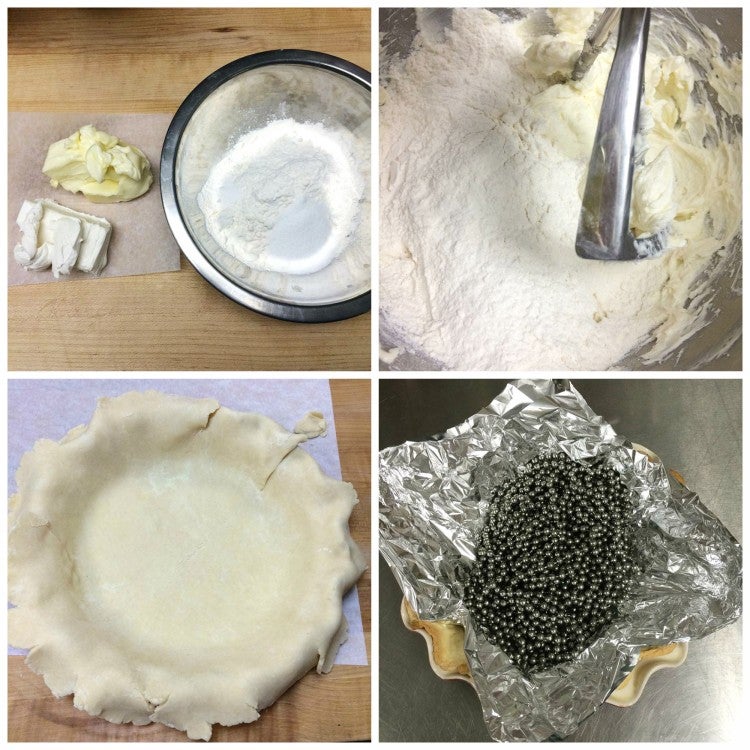 Add:
1 1/4 cups (5 1/4 ounces) King Arthur Unbleached All-Purpose Flour
2 teaspoons sugar
1/8 teaspoon salt
Mix until just blended. Pat into a disk, wrap with plastic wrap, and refrigerate for at least 30 minutes.
Preheat the oven to 375°F. Roll the dough out on a floured surface until it's 12" in diameter. Place into a 9" pie pan. Shape and crimp the crust, trimming the edges as needed. Line with aluminum foil and pie weights or uncooked beans.
Bake in the oven until the bottom of the crust is light brown, 20 to 25 minutes. Remove from the oven, and carefully lift the foil and weights from the crust and allow to cool.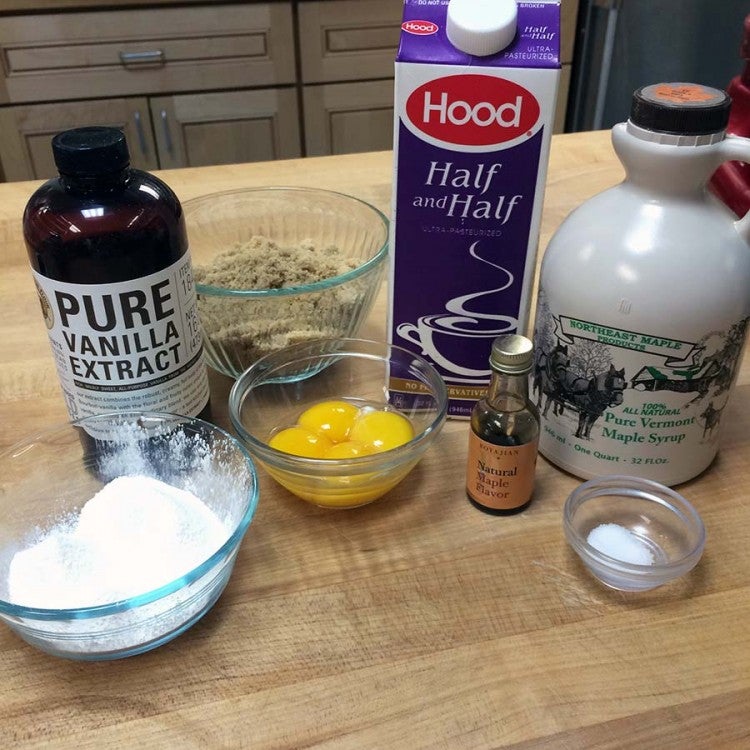 For the filling, mix together:
3 cups half & half
1 cup brown sugar
1/2 cup maple syrup
4 large egg yolks
1/3 cup cornstarch, sifted
1/4 teaspoon salt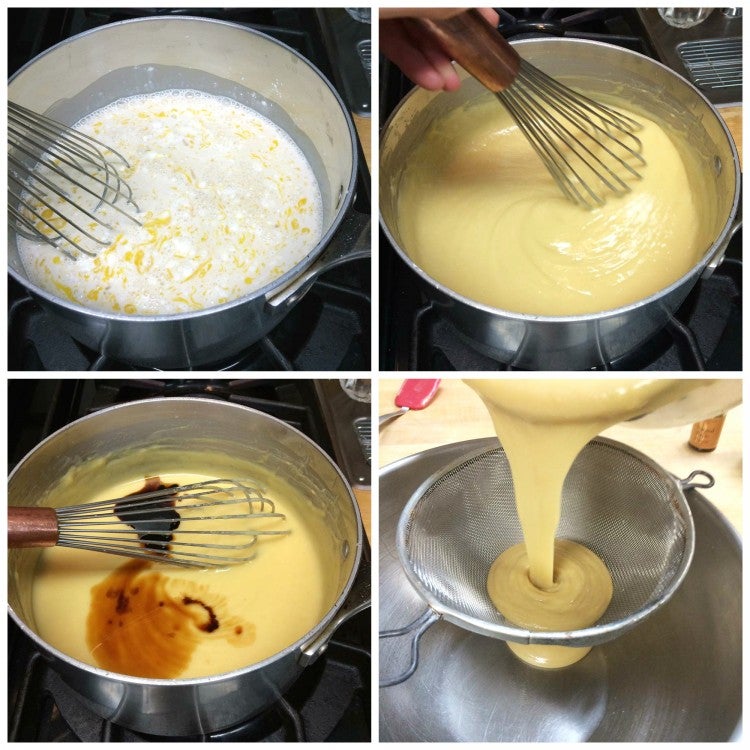 Combine all of the ingredients in a medium saucepan. Cook over medium-high heat, stirring constantly, until the mixture boils and thickens. It takes anywhere from 10 to 15 minutes, depending on what your stovetop's idea of medium-high heat is.
Remove from the heat and add 1 teaspoon vanilla and 1/4 teaspoon of maple flavor (optional). If you have it, I highly recommend adding the maple flavor. It really bumps up the taste!
Pour the filling into a mesh strainer to remove all of the pieces of cooked egg and other bits that are going to make your filling less creamy and delicious.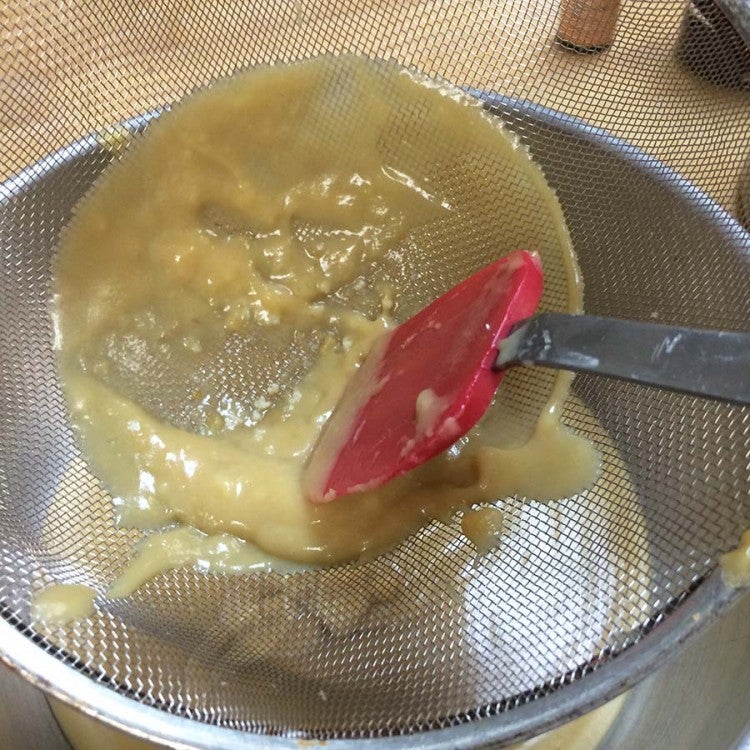 Pour the filling into the cooled pie shell. Cover and refrigerate for at least 4 hours, preferably overnight.
For the whipped cream, whisk together 1 cup heavy cream and 1 teaspoon vanilla extract.
Whip until stiff peaks form: the mixer should leave tracks in the cream that remain in a peak when the whisk is lifted.
Mix together 2 tablespoons confectioners' sugar and 1 teaspoon Instant ClearJel, and whisk into the whipped cream. You don't have to use ClearJel; but it helps the whipped cream to hold its shape longer. Pipe or dollop whipped cream onto the pie.
Can the recipe be made gluten-free? Sure thing! Our Gluten-Free Pie Crust would be the perfect base for this creamy pie.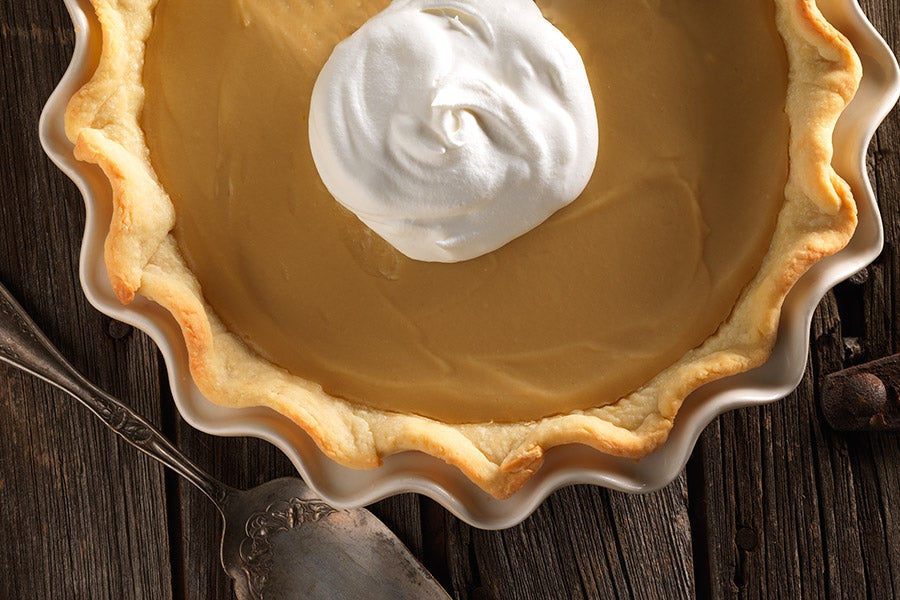 Please bake, rate, and review our recipe for Maple Cream Pie.
Print just the recipe. Don't forget, you can adjust the font size at the top left of the print page.
Spring has always been my favorite season. Yes, even when the snow melts away to reveal the feet of fragrant and car plastering mud beneath. It's the season of rebirth, green grass, and mouthwatering maple syrup. Time to celebrate with a nice, cool, creamy slice of pie.