Growing up, we always had Pancake Saturdays in my house. Unlike most kids, I jumped out of bed on Saturday mornings not to watch cartoons, but to eat my dad's famous blueberry pancakes.
Nope, there was no sleeping in for me, because I knew that when I wandered into the kitchen, sleepy-eyed and hair all wild, I'd be sitting down to a big stack of pancakes.
I still hold this tradition near and dear to my heart, and even though it's just two of us in my little apartment, we still enjoy whipping up a beautiful batch of pancakes on the weekend. And thankfully, when I'm visiting my parents in Vermont, they slightly alter their tradition and make me gluten-free pancakes instead.
Luckily for those of us living on a gluten-free diet, and those of you who enjoy cooking for someone who's gluten-free, pancakes are one of the easiest things to recreate at home.
Ever notice that when you're making pancakes, the directions say to not over-mix? Well that's because they don't want you to activate the gluten in the flour, which will lead to a stack of hockey pucks instead of fluffy pancakes. With gluten-free pancakes, you don't have to worry about that at all!
To make the ultimate stack of gluten-free pancakes, it's all about the flours you're using. You want a good blend of grain-to-starch, enough that your pancakes will be light and fluffy, but still have some texture to them. While some recipes you'll find on the web call for an assortment of different flours and starches, I've found that my favorite pancakes are made with our gluten-free flour. They're quick, easy, and guaranteed to be delicious – no matter what you choose to put inside!
To honor my childhood tradition, I'm making you a blueberry batch today. But as you'll see at the end of this recipe, you can really swap in anything you'd like. Strawberries? Bananas? Chocolate chips? Cinnamon chips? Or just plain? Go for it! Truly, you can't go wrong.
I've followed our gluten-free pancake recipe, but since I'm only cooking for two, I halved the proportions. I'm going to share the full recipe with you here, as I'm sure many of you are cooking for a full household; but know that the recipe is easily halved or doubled – just adjust your ingredients as needed.
And I hope these pancakes quickly become a staple on your weekend breakfast menu, just as they have on mine.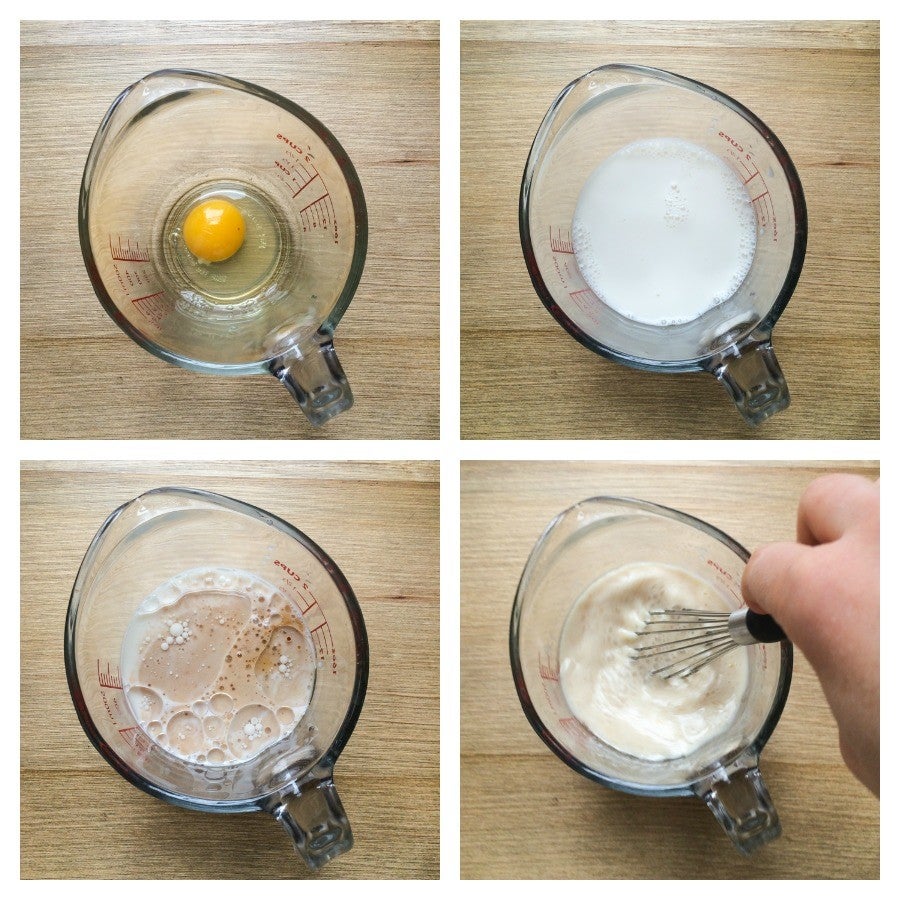 To get started, put the following ingredients into a bowl or glass measuring cup:
2 large eggs
1/4 cup (57g) melted butter or oil (I used coconut oil)
2 cups (454g) milk (I used almond milk)
1 teaspoon gluten-free vanilla extract
Whisk together until smooth.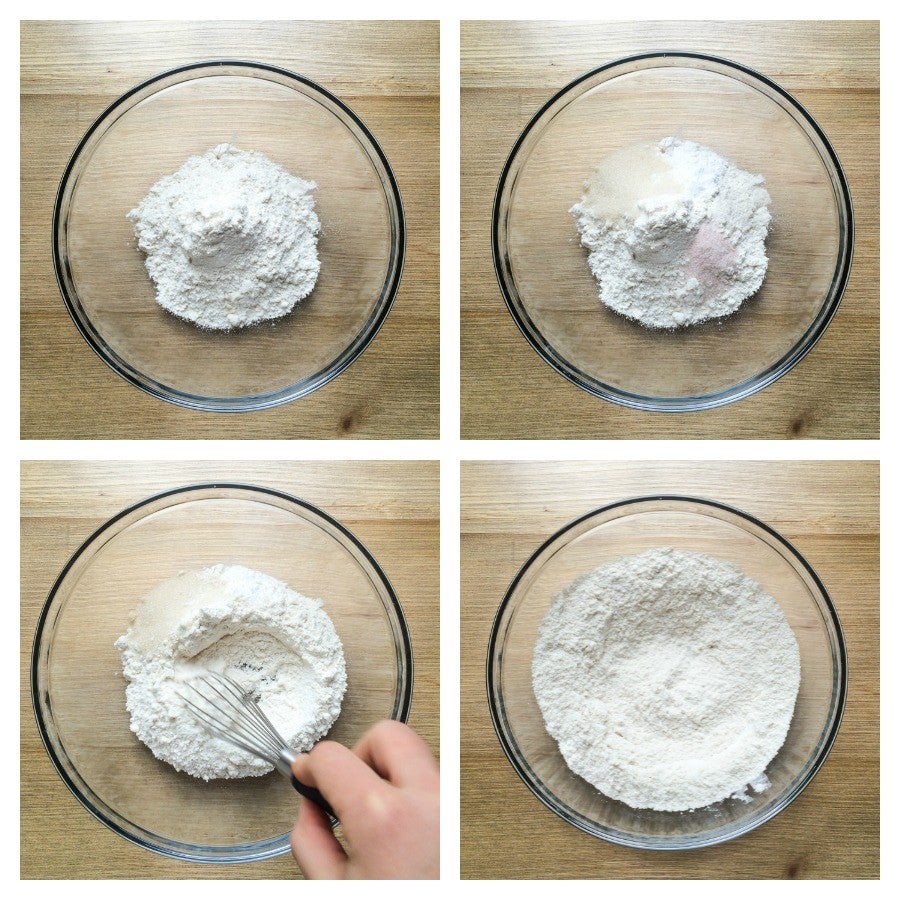 In a separate large mixing bowl, whisk together:
2 1/3 cups (347g) King Arthur Gluten-Free Flour
1/4 cup (36g) buttermilk powder (optional, I didn't use it)
2 tablespoons (25g) granulated sugar
1 1/2 teaspoons baking powder
3/4 teaspoon salt
3/4 teaspoon xanthan gum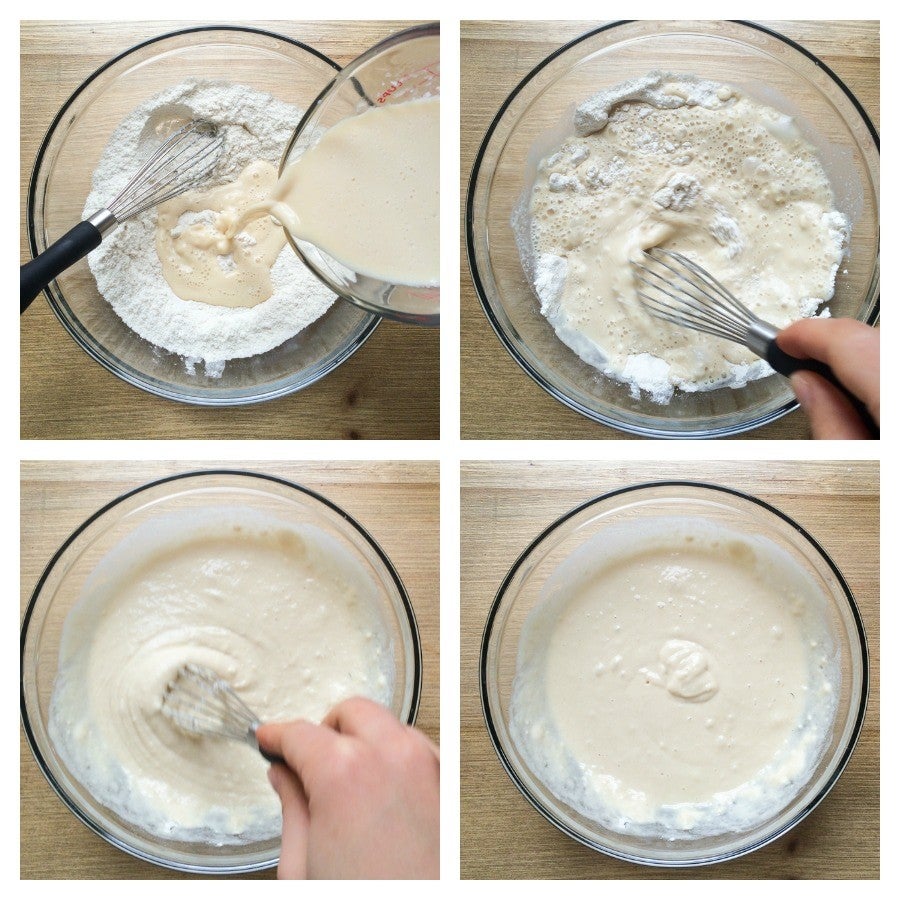 Add the egg mixture to the dry ingredients and whisk until the batter is smooth, with possibly just a few lumps.
Heat your griddle over medium heat (350°F) and grease it lightly with non-stick cooking spray or oil.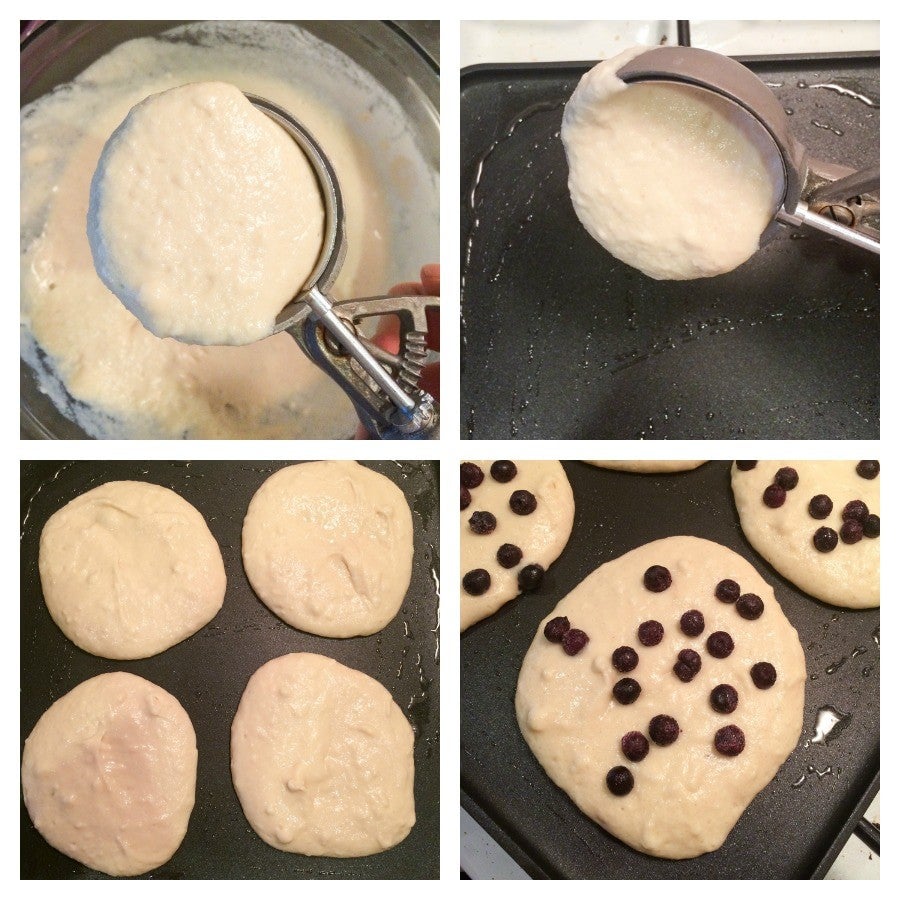 Scoop 1/4 cup of batter onto the pan (I like to use a scone/muffin scoop) and sprinkle your desired toppings (mine were blueberries) over the cakes. Remember, you can really use anything you want here, so go for what you and your family are craving!
Cook for 1 to 2 minutes, until little bubbles begin to appear and the underside is golden brown. Flip and cook for another 1 to 2 minutes.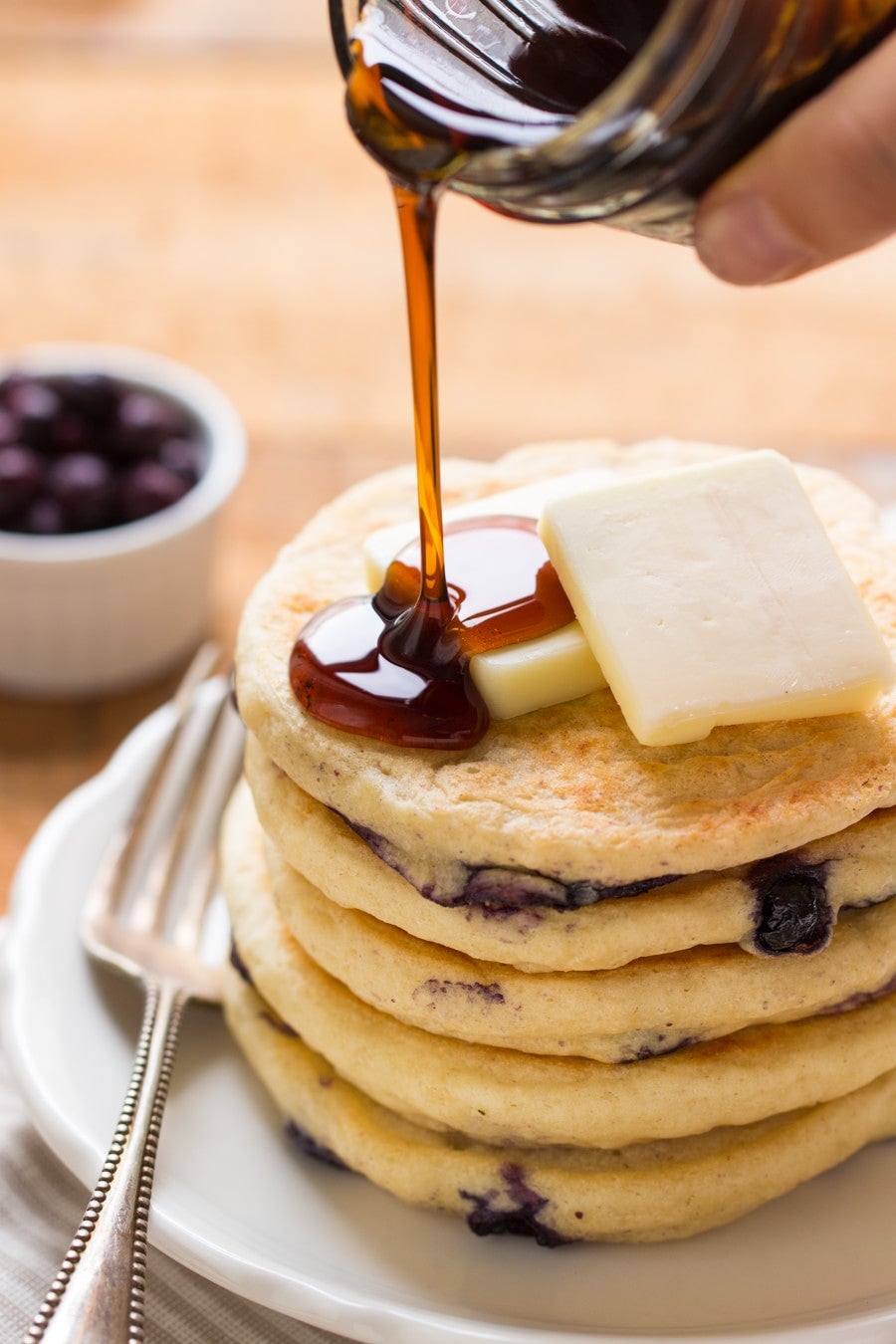 Serve the pancakes immediately, with a pat of butter and Vermont maple syrup – the real stuff is the key to a sensational breakfast treat!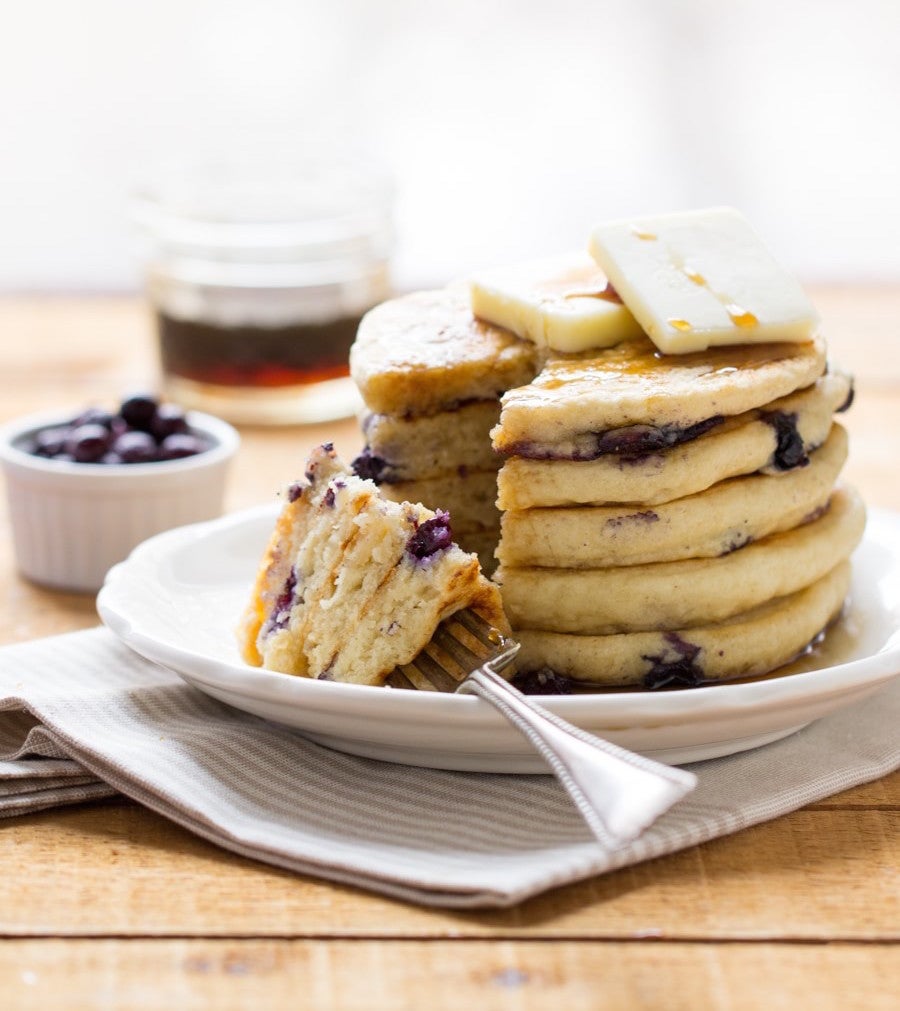 And of course, I beg you to dig into these fluffy stacks of heaven. I've even snapped a photo so you can see how glorious the texture is! Makes you wish you had a stack in front of you right now, doesn't it? Good thing they only take a few minutes to make!
Please make, taste and thoroughly enjoy our recipe for Gluten-Free Pancakes or Waffles.
Jump to Comments