With Super Bowl Sunday only 5 days away, and if your social media feed looks anything like mine, then I'm guessing you've been completely inundated with appetizers, snacks, and other game-day recipes.
Problem is, they're usually super unhealthy or loaded with ingredients that I can't eat.
We're headed to a friend's house to watch this year's game, but I'm certainly not one to show up empty-handed. Bringing my own dish is also a good way for me to make sure that I have something safe to eat, and I won't end up getting cranky because all I've had are a few celery sticks off the wings plate. (Yes, that's happened before and no, it wasn't fun.)
My goal with this recipe was to make something gluten-free that other people wouldn't think was "strange" or inedible. Sure, I could have brought a crudité platter or some sort of dip, but that seemed too easy. Instead, I wanted to recreate a classic, not-so-healthy dish and give it a gluten-free and nutritious twist.
I settled on chicken nuggets.
Chicken nuggets are always a crowd-pleaser. They're one-bite, dippable, and kid-friendly. Plus, they don't really take that much to make – just ground chicken and a breaded coating.
I knew they wouldn't be too hard to make gluten-free;it was the healthy part I was a little skeptical about. I've made baked chicken poppers before, but those had a coconut coating and weren't the "traditional" recipe I was going for.
Another challenge I gave myself was to make these without eggs and dairy, either. That way they'd be even more allergy-friendly, and every single one of my friends would be able to enjoy them.
It took a few attempts, but I'm excited to share my creation with you today. I used a coating of our almond flour, dredged them in a cornstarch slurry (to act as the egg wash), pan fried them in a little olive oil, and then baked them until done. Super easy and super tasty!
While these almond flour chicken nuggets are perfect for the big game, these little bites would be great any time. Pack them in your kiddos' lunch; serve them for fun and easy dinner, or keep them in the freezer to cook whenever you'd like. You could dunk them in ketchup, make your own aioli, or eat them as is. You really can't go wrong!
To start, we'll preheat the oven to 375°F. Place an oven-safe wire rack on top of a baking sheet and set aside.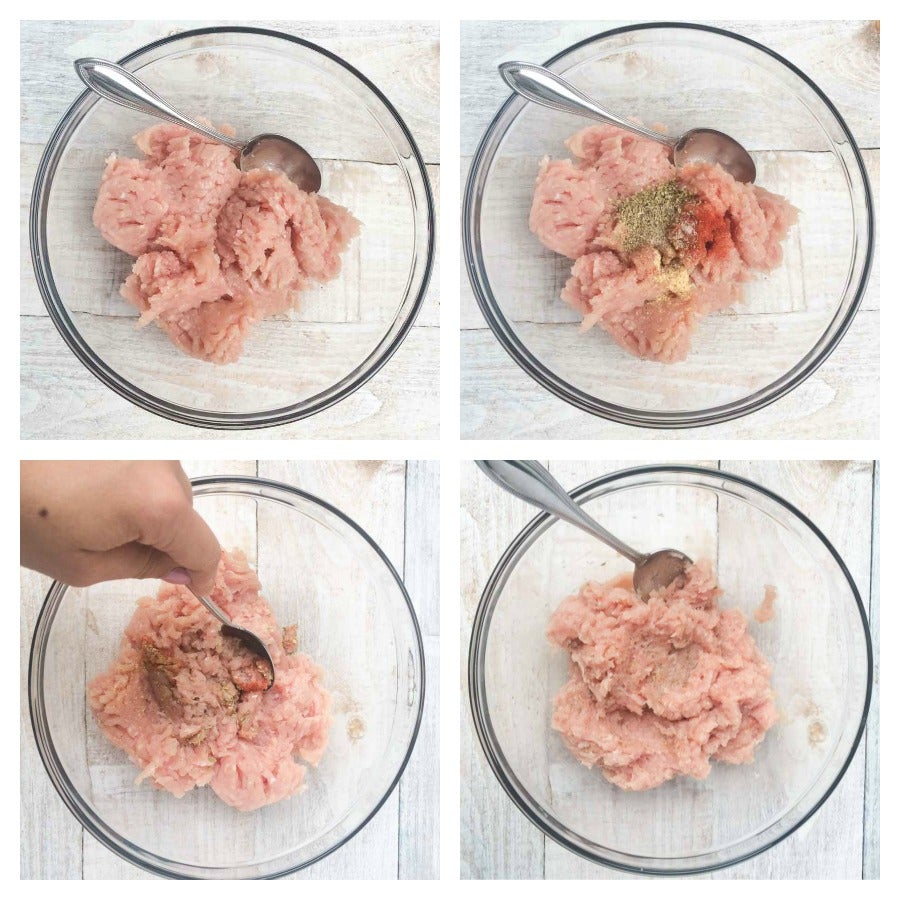 In a large mixing bowl, combine the following:
1 1/4 pounds (567g) ground chicken
1 teaspoon salt
1 teaspoon ground black pepper
1/2 teaspoon ground mustard seed
1/2 teaspoon paprika
1/2 teaspoon dried oregano
Mix together with a spoon until the spices are evenly distributed throughout the chicken. Set this mixture aside.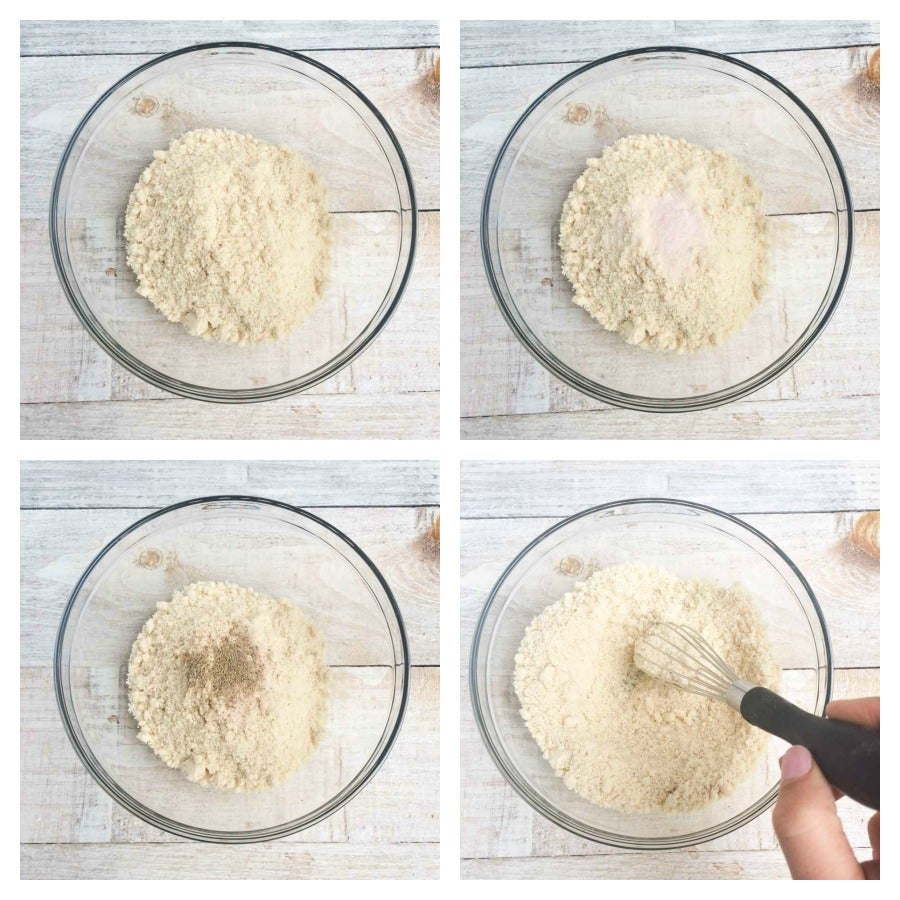 In another bowl, combine:
2 cups (192g) almond flour
1 teaspoon salt
1 teaspoon pepper
Whisk together and set the bowl aside.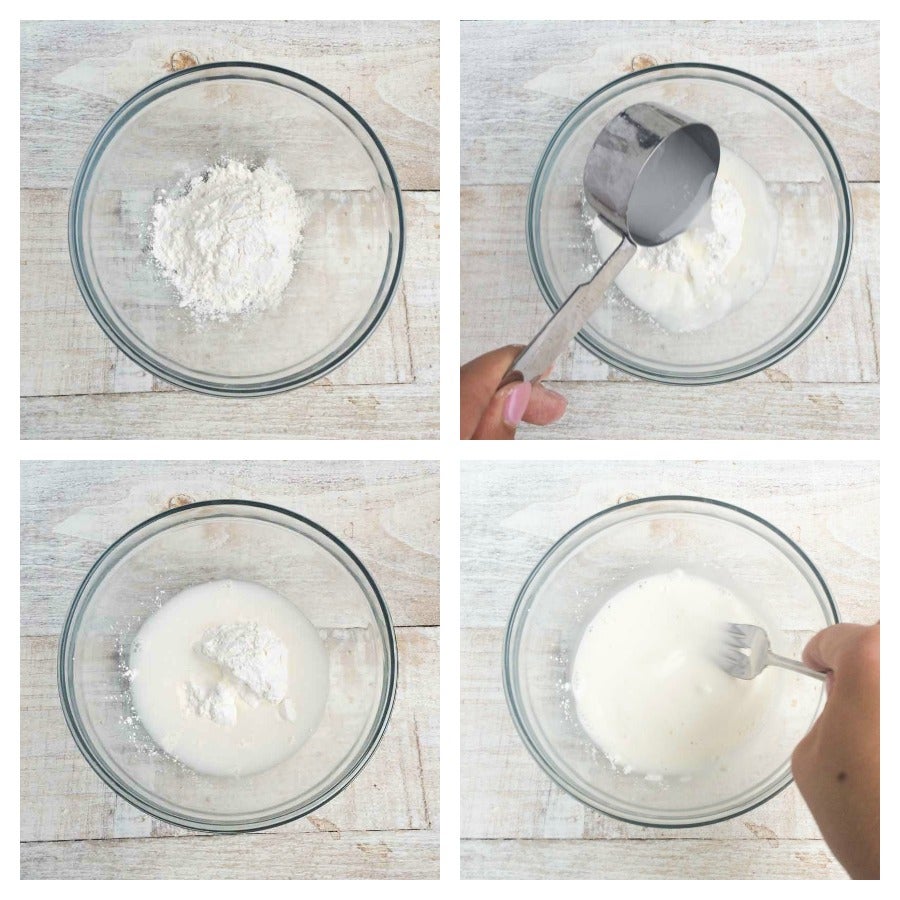 Finally, in a third bowl, beat together 1/4 cup (28g) cornstarch and 1/4 cup (57g) water to create a slurry.
Now it's time to set up your assembly line!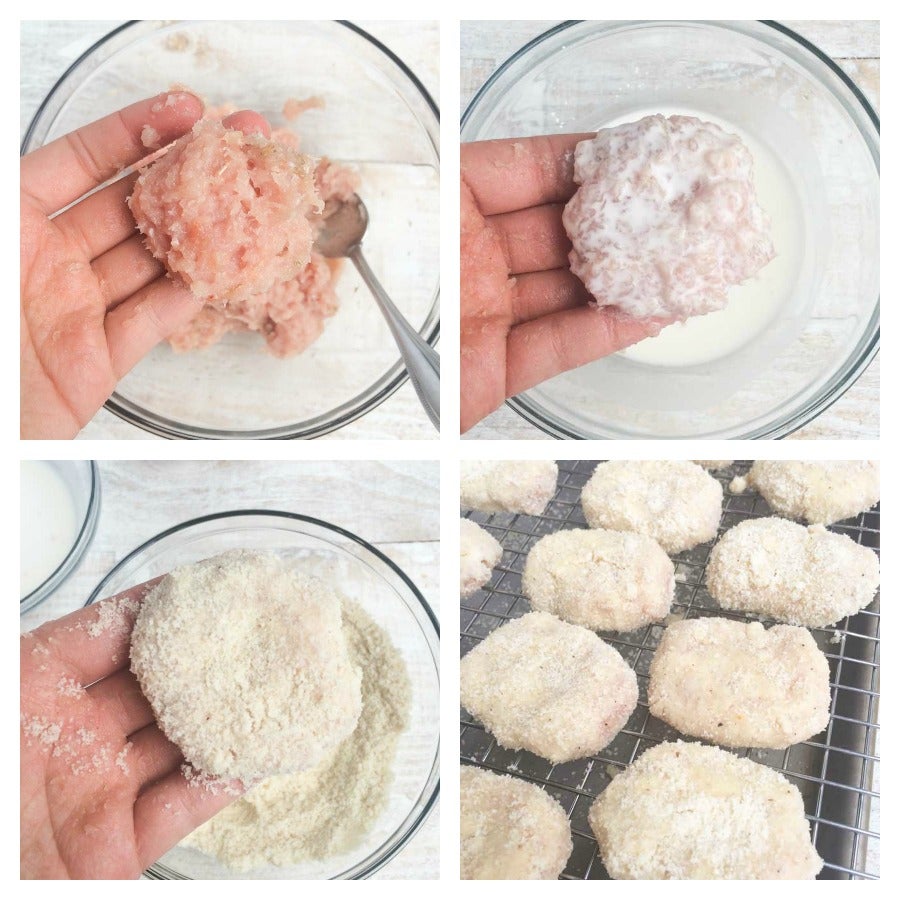 With wet hands, take about 2 tablespoons of chicken and shape it into a small disk. Coat first in almond flour, then dip in the cornstarch slurry, then coat again in almond flour and transfer to the wire rack.
Repeat this process until no chicken remains; this recipe yielded about 15 for me, but it will vary depending on the size of your nuggets.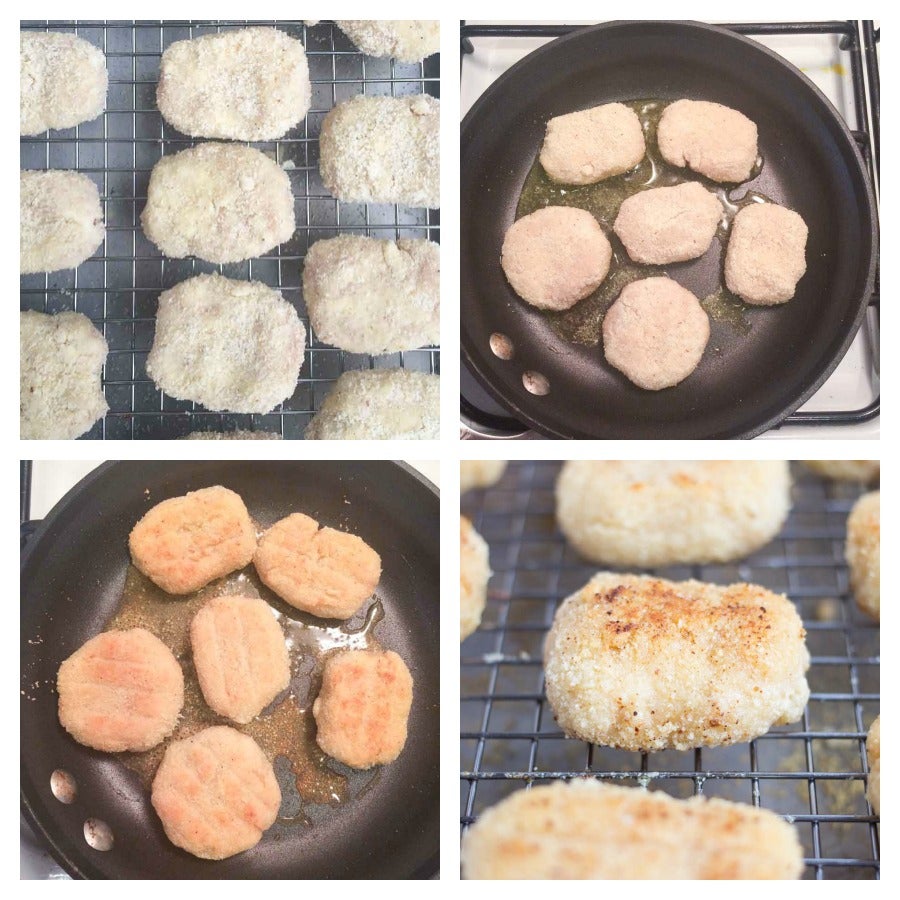 In a non-stick skillet, heat 2 tablespoons olive oil. When hot, add half your chicken nuggets to the pan. Cook for about 1 minute, until the bottoms begin to brown. Flip and cook for another minute to brown the other side. Transfer the chicken nuggets back to the wire rack.
Repeat this cooking process until all your chicken nuggets are browned. Place the baking sheet (including the wire rack on top) on the oven's center rack and bake for 10 minutes. Remove the baking sheet from the oven, flip the nuggets over, and let them cool.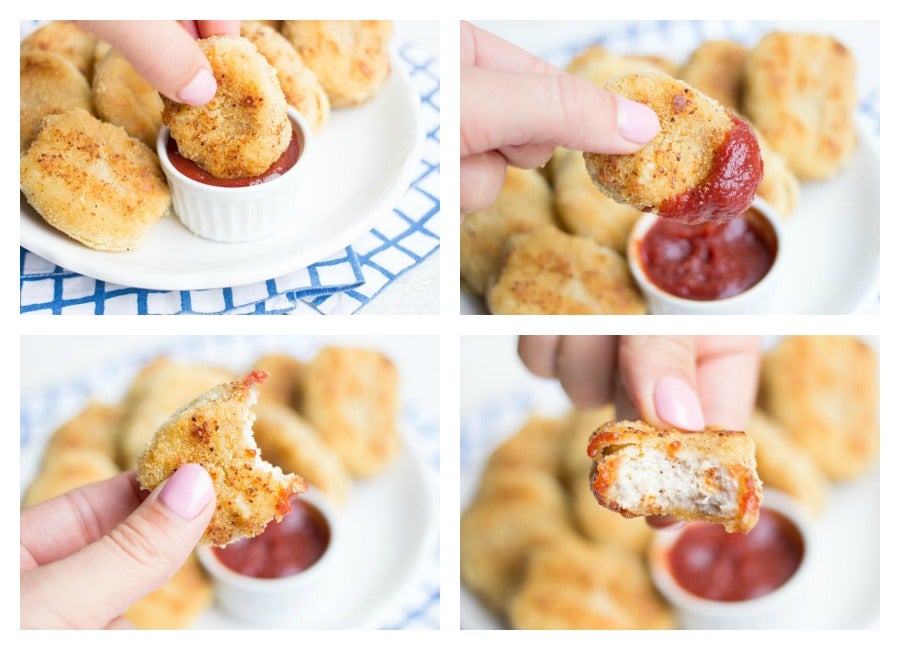 We'll be enjoying these bites with a few different sauces, but that's up to you!
What makes these extra-special is the crunchy coating and tender meat inside. They'll definitely remind you of those deep-fried ones everyone loves, but you can feel great about serving these because they're healthier and gluten-free!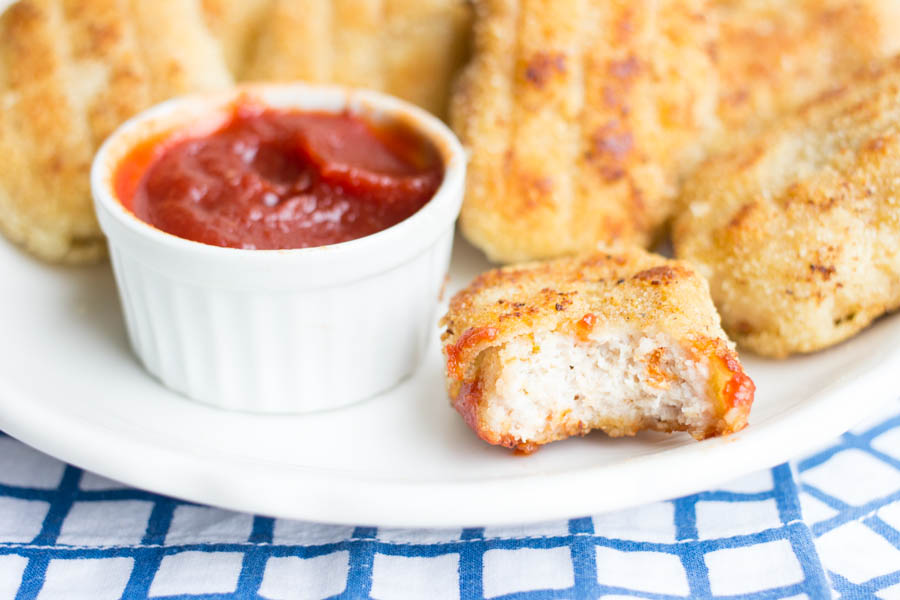 Please make, rate, and review our recipe for Almond Flour Chicken Nuggets.
Jump to Comments