Cherry-Zucchini Scones
The zucchini zombie apocalypse, or how to win the runaway vegetable war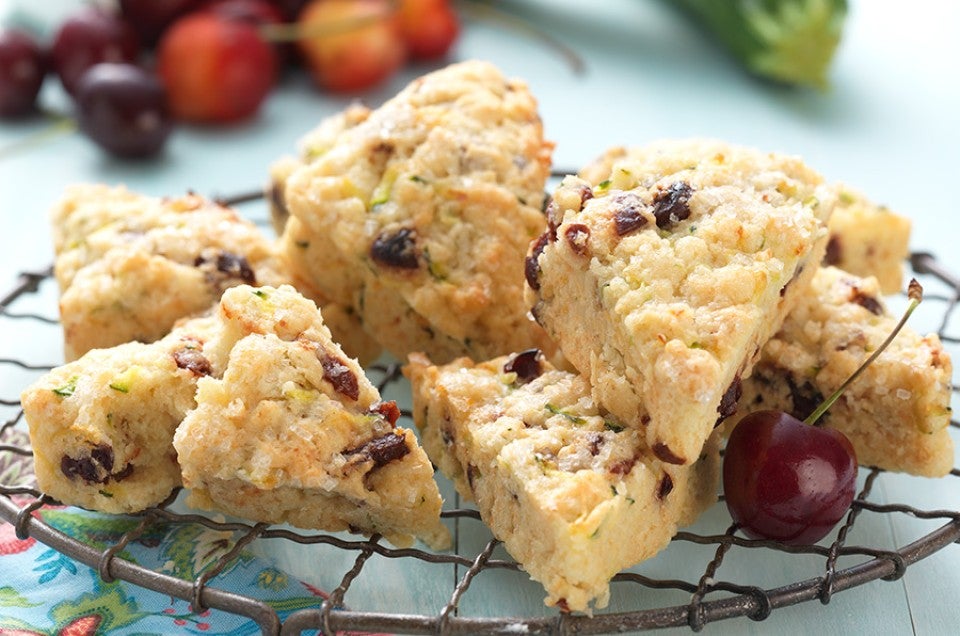 Despite your vigilance, despite your twice-daily visits to pick them in the garden, it happens every summer: the attack of the killer zombie zucchinis.
Any living thing that can increase its presence exponentially in a mere matter of hours can't be quite of this world, can it? You've tried everything to keep the population in check. Ratatouille. Caponata. Pickling it, grilling it, roasting it, turning it into bread, cake, frittata, appetizers, pie, muffins, disguising it with chocolate, even making pancakes with it. Obviously, we haven't enough meal occasions to cope with it all, so I'm here to add another weapon to your arsenal in the zucchini apocalypse wars.
Our team tasked me with a blog for "something zucchini." The idea of something tender, with a little bit of interest from some lemon zest and dried cherries, and maybe a bit of crunch popped into my head. Your new tool for keeping the zucchini zombies from taking over? Cherry-Zucchini Scones.
It wouldn't be me writing if I didn't talk a little food science first. When baking with fruits and vegetables, they'll often take the place of some of the liquid in the recipe. Pumpkin and applesauce work that way. Zucchini is a little trickier, because while it contains a lot of water, that water stays inside the vegetable's flesh until something draws it out. That something can be sugar, or salt, or heat.
Sometimes you'll see recipes that call for the zucchini to be drained or squeezed out. That's the recipe writer trying to level the playing field, because the amount of liquid in each particular squash can vary considerably, depending on its size, how much rain the garden has had, etc. When I had the idea for these scones, I was planning on getting about half the recipe's liquid from the zucchini. What could be simpler? Cut butter into dry ingredients, add zucchini and wet, stir, Bob's your uncle. But when I began testing, I got taken for a ride. Zombie vegetables can be pretty fickle.
It all started innocently enough: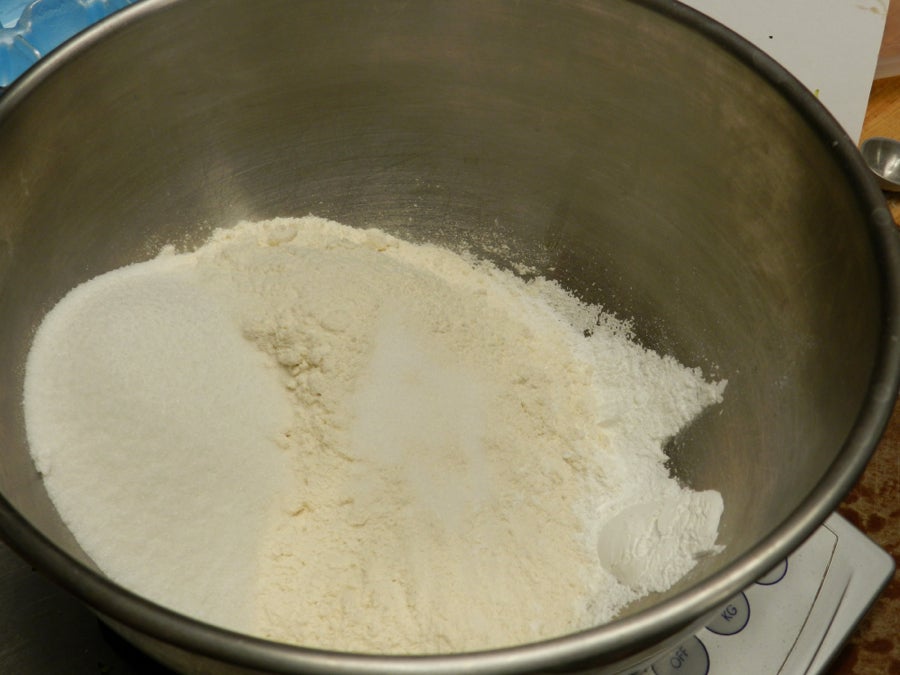 2 1/2 cups (298g) King Arthur Unbleached All-Purpose Flour
1/2 cup (99g) sugar
1 teaspoon salt
1 1/2 teaspoons baking powder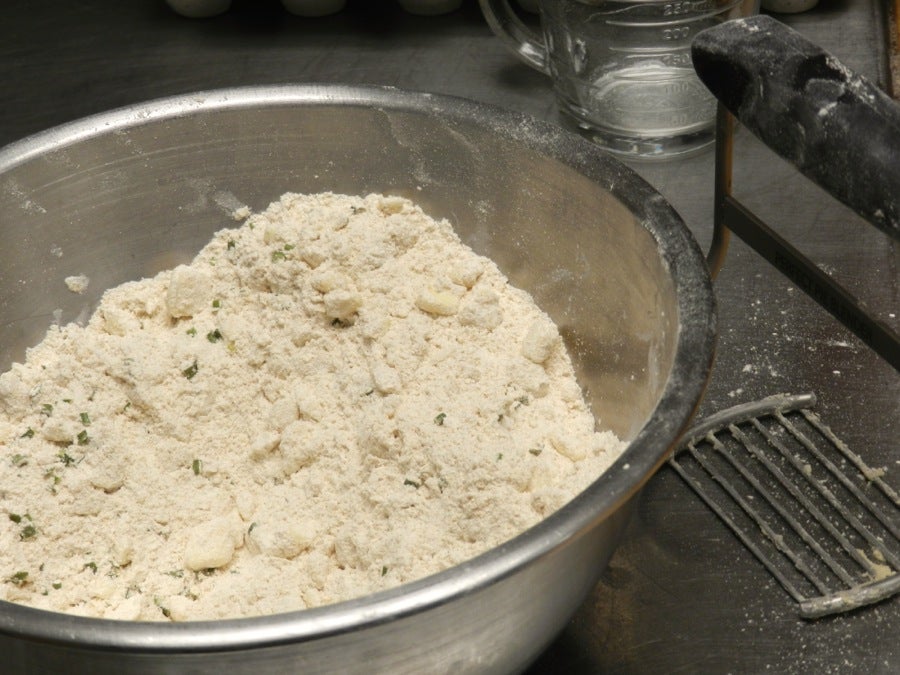 Whisked together, and 8 tablespoons (113g) cold butter cut in.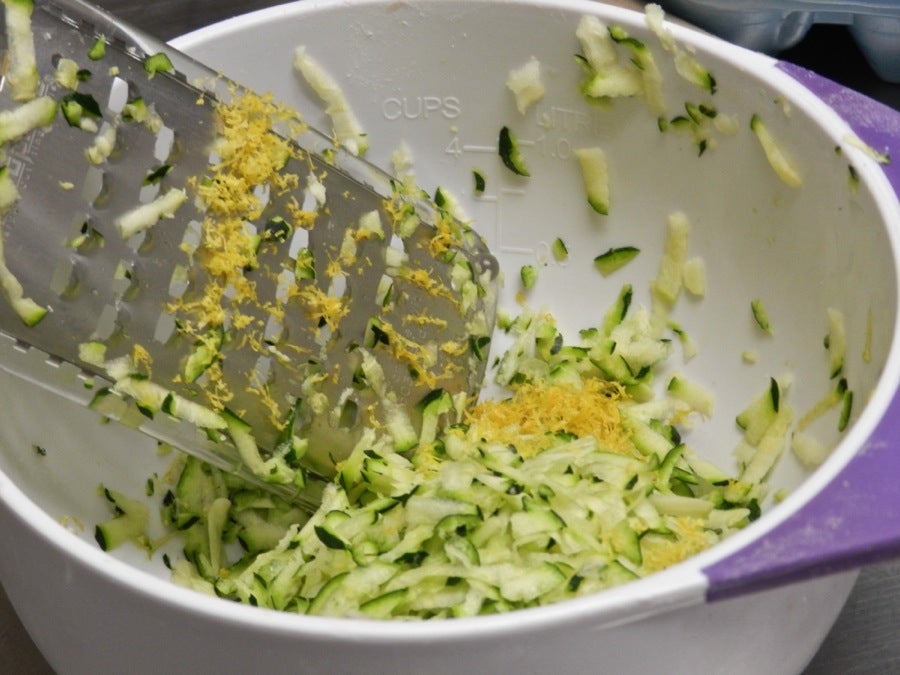 Next some lemon zest, 1 cup (121 to 150g) of grated zucchini, and 3/4 cup (106g) dried cherries, chopped up just a bit so they distribute more evenly.
Mix together 1/4 cup (57g) milk, an egg, and a teaspoon of vanilla, add, stir all together.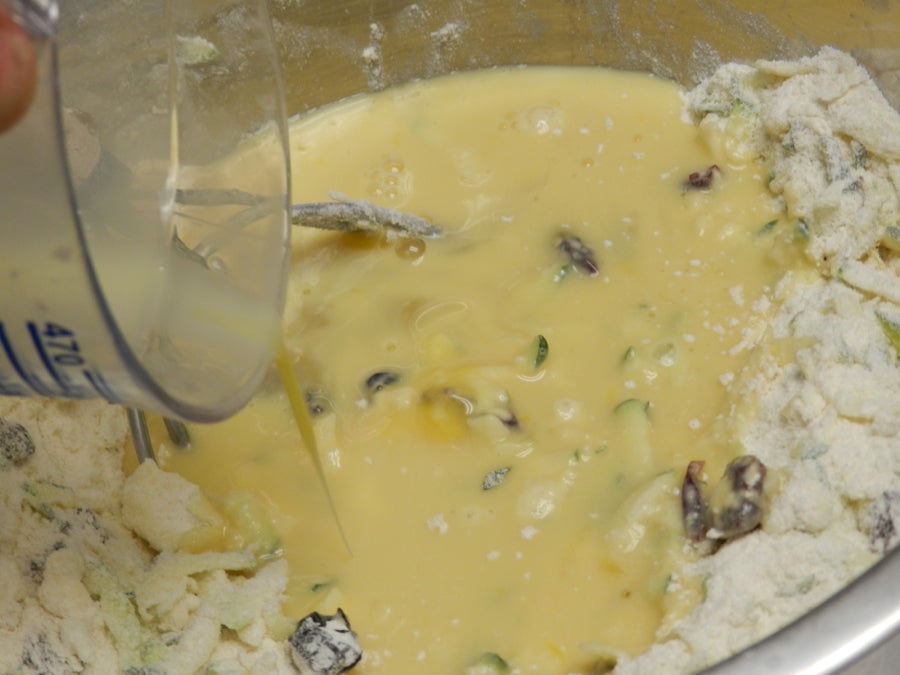 The first time I did this, it seemed after a few stirs that there was no way I had enough wet stuff. There was a lump of dough in the middle of the bowl, surrounded by what looked like the Sahara dessert.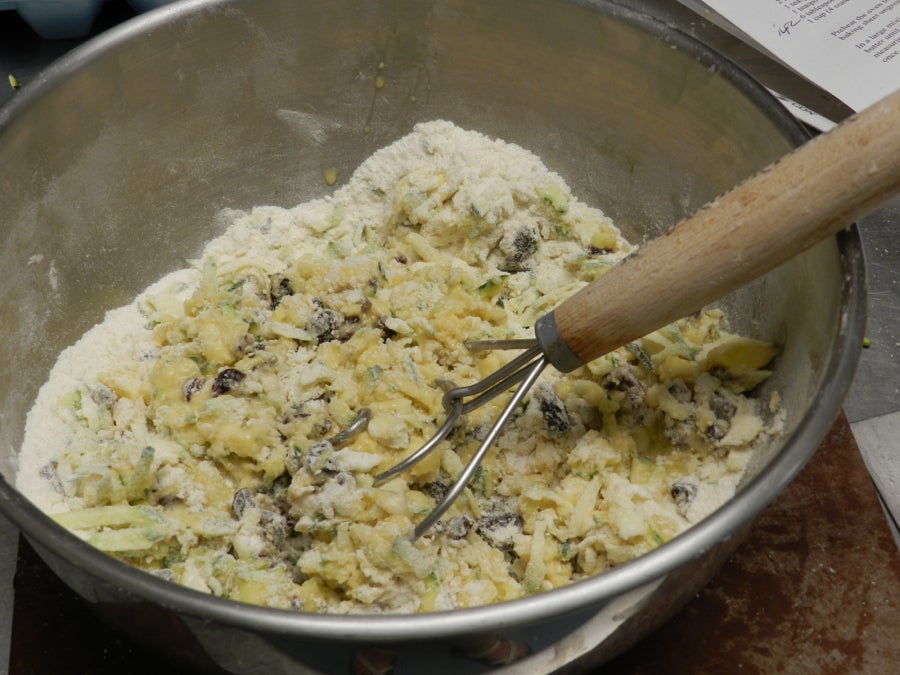 So I added more milk (like, 1/2 cup more) to make the dough come together, and that's when the zombie factor kicked in. The longer the dough was mixed, the wetter it got. The sugar was drawing the moisture out of the zucchini, and what at first looked like a dough that could be patted into place and cut started slumping and spreading in all directions in front of my eyes, like bad time-lapse photography.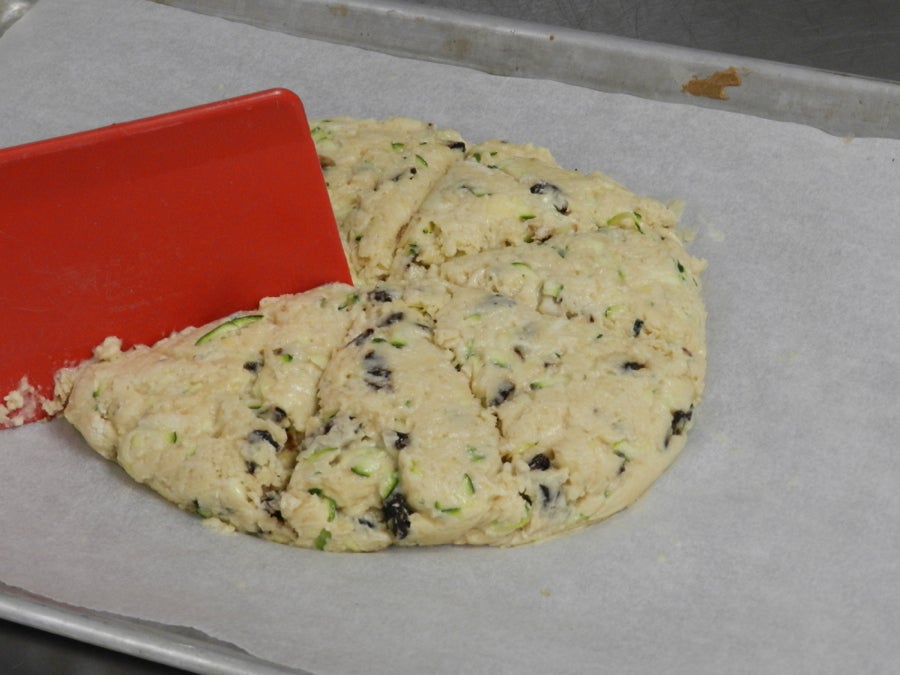 I baked it anyway, and liked the flavors very much, but knew this wasn't going to be the walk in the park I thought it was going to be.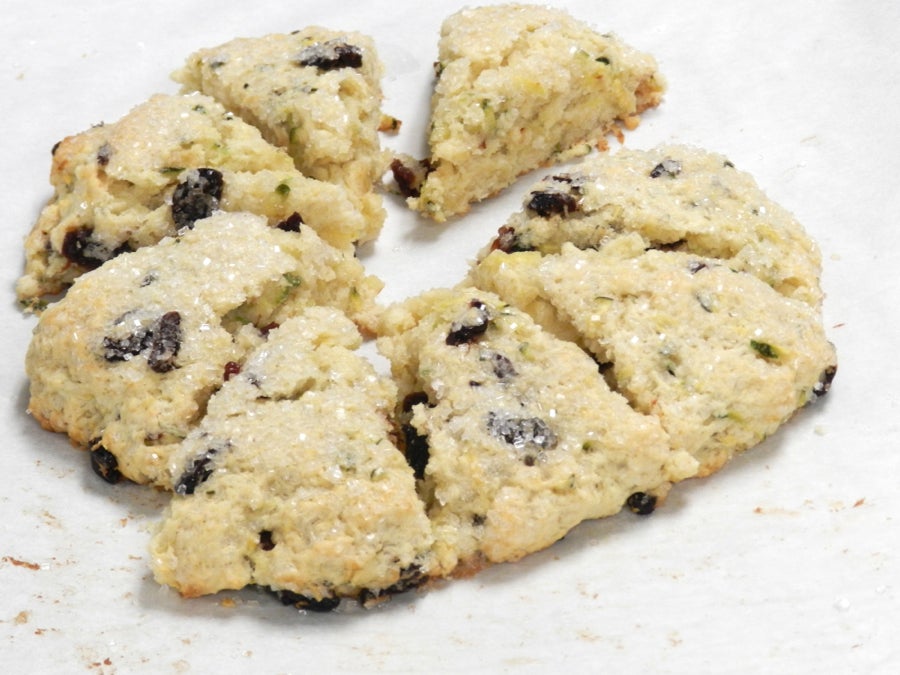 Never underestimate the zombie vegetable.
Being a stubborn sort, it took me about four rounds before I realized I had to accept the fact that in order to get the result I wanted I was going to have to work with the zucchini, and (sigh) be patient. I backed off on the liquid, from what was initially 3/4 cup back down to 1/4 cup, started over, and ended up here: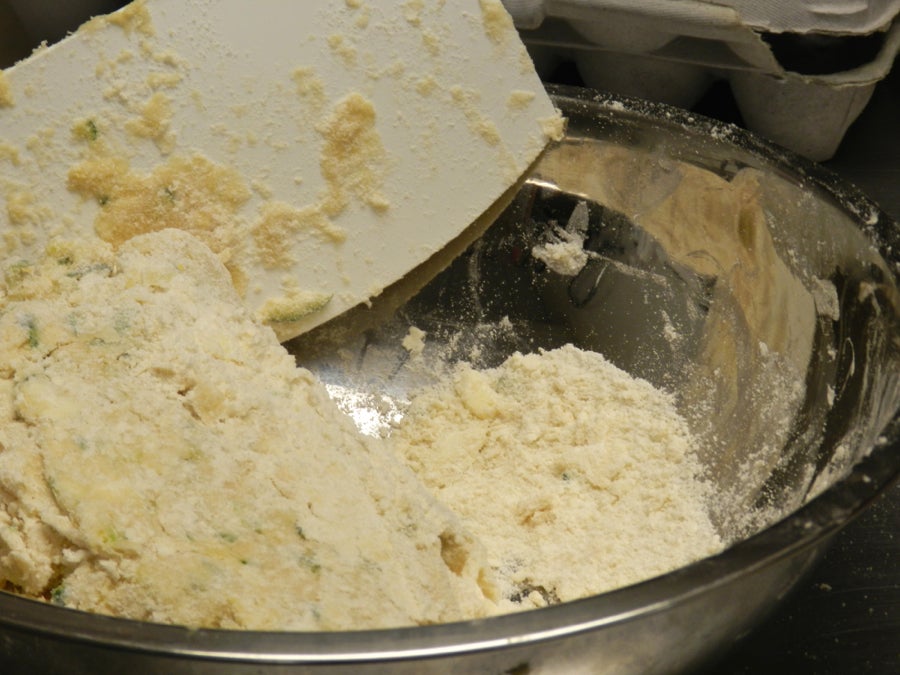 It's a leap of faith, but if you keep scooping the dry mixture into the dough and folding it over on itself, in short order you get to this: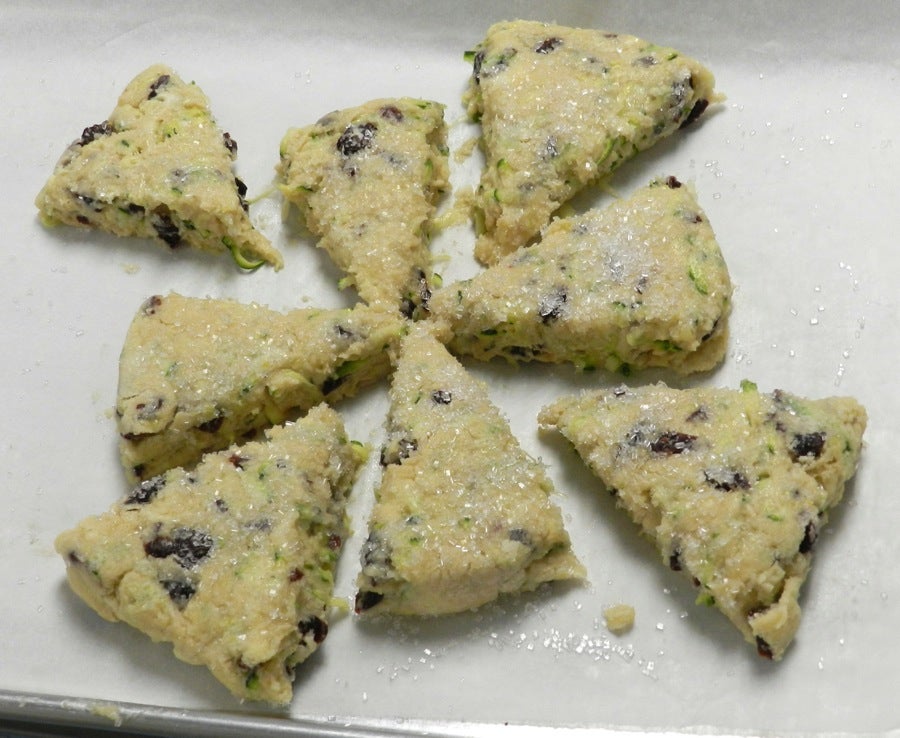 Dough that's ready for scooping or shaping. Since this recipe likes to expand when it bakes, I decided to confine my zombie mixture in a small scone pan.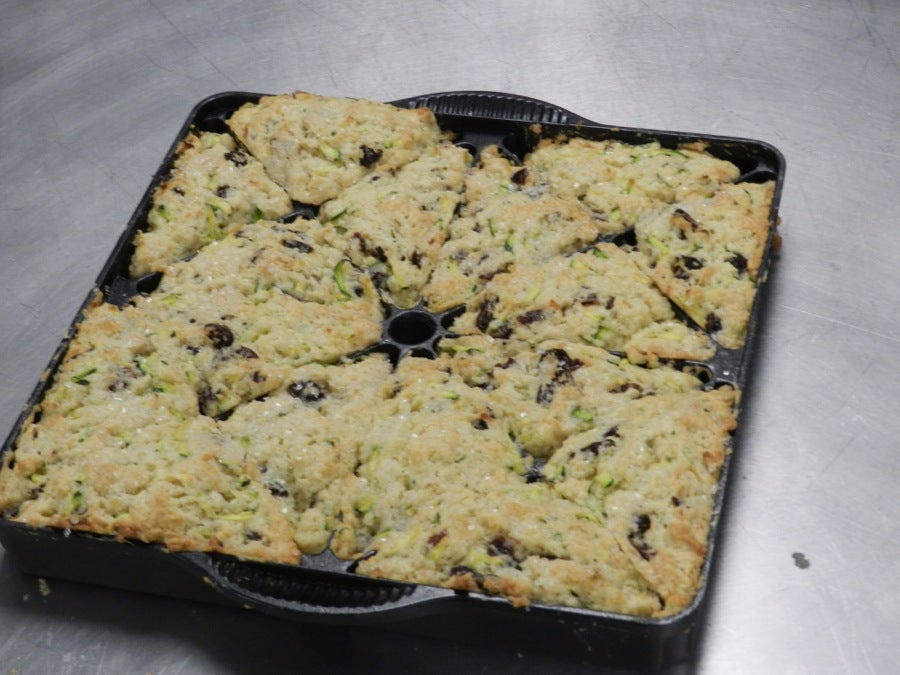 After a shower of sparkling sugar and some quality time in the oven, the battle was won, and a tasty new zucchini-based treat was here.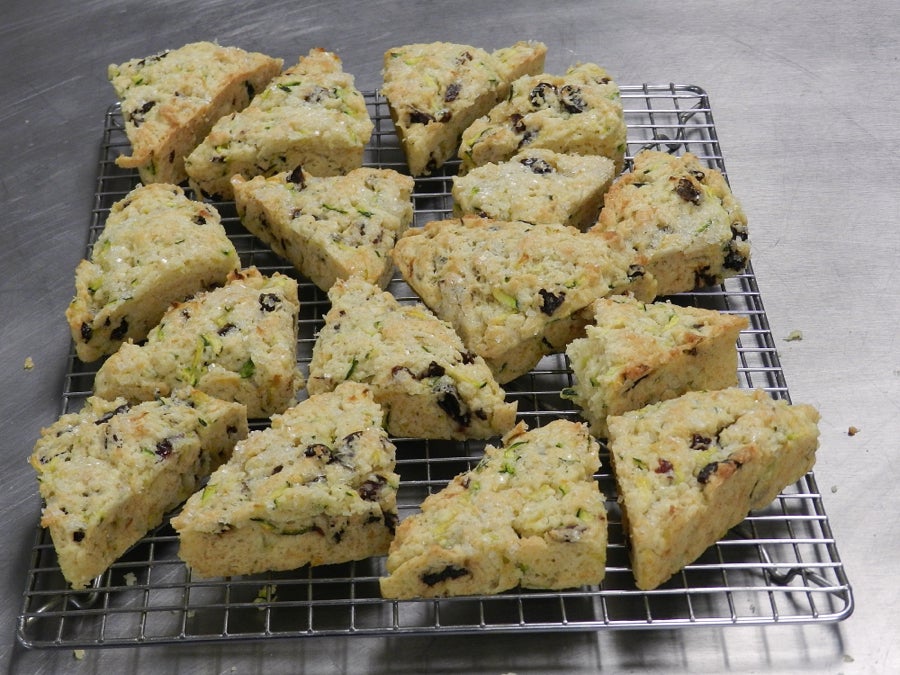 I confess to having trouble with eating just one of these. They're very yummy, and have been disappearing with alacrity every time I put them in the employee kitchen.
The moral of our story? Put some dried cherries and lemons on your next shopping list, and be ready for the squash invasion on the horizon (if it hasn't already started). You may not entirely win the zucchini war with this recipe, but you're sure going to enjoy trying.
Don't forget, you can mix and cut the scones, then freeze them for later. (Bake them right out of the freezer; they'll need another 5 minutes or so in the oven, but that's it.) There may come a time this winter when you're actually feeling wistful for some zucchini as a reminder of sunny summer days.
Please read, bake, and review our recipe for Cherry-Zucchini Scones.