Do you like cheesecake?
If the answer is yes, continue reading.
Do you like chocolate?
Yes? Continue.
How about chocolate cheesecake?
NO, you say?!
Join the club. I didn't like chocolate cheesecake, either – until I tasted this one. And became, as so many do in the face of revelation, a believer.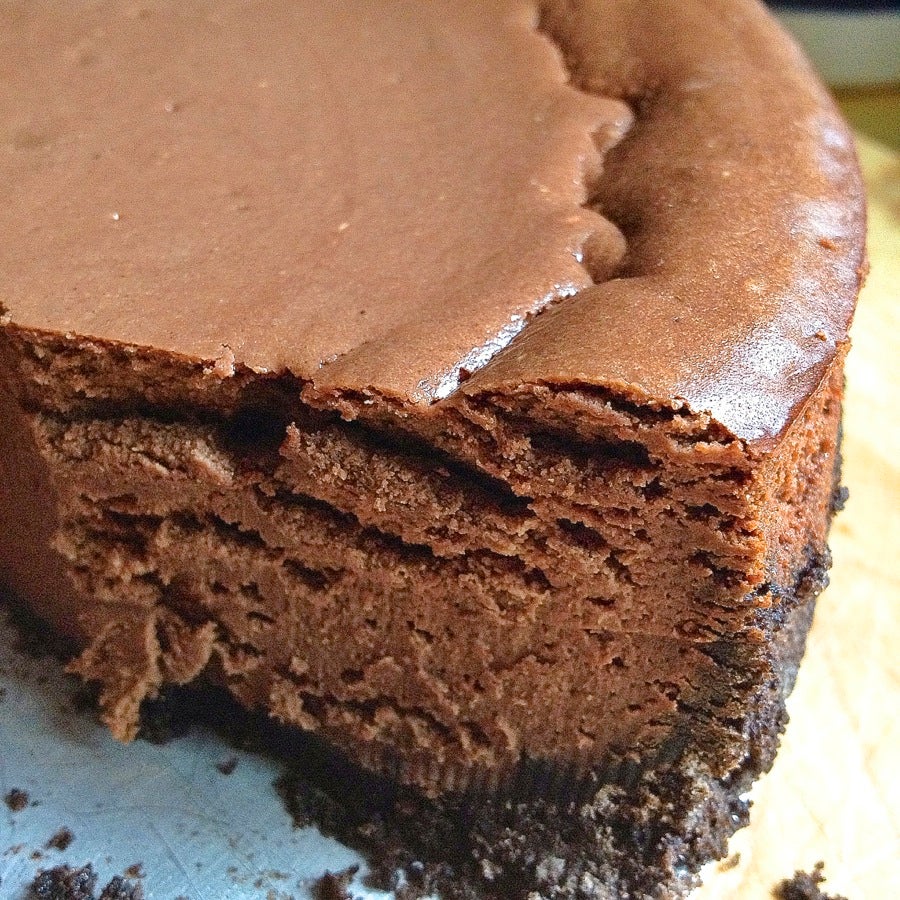 I like this chocolate cheesecake. I like it very much.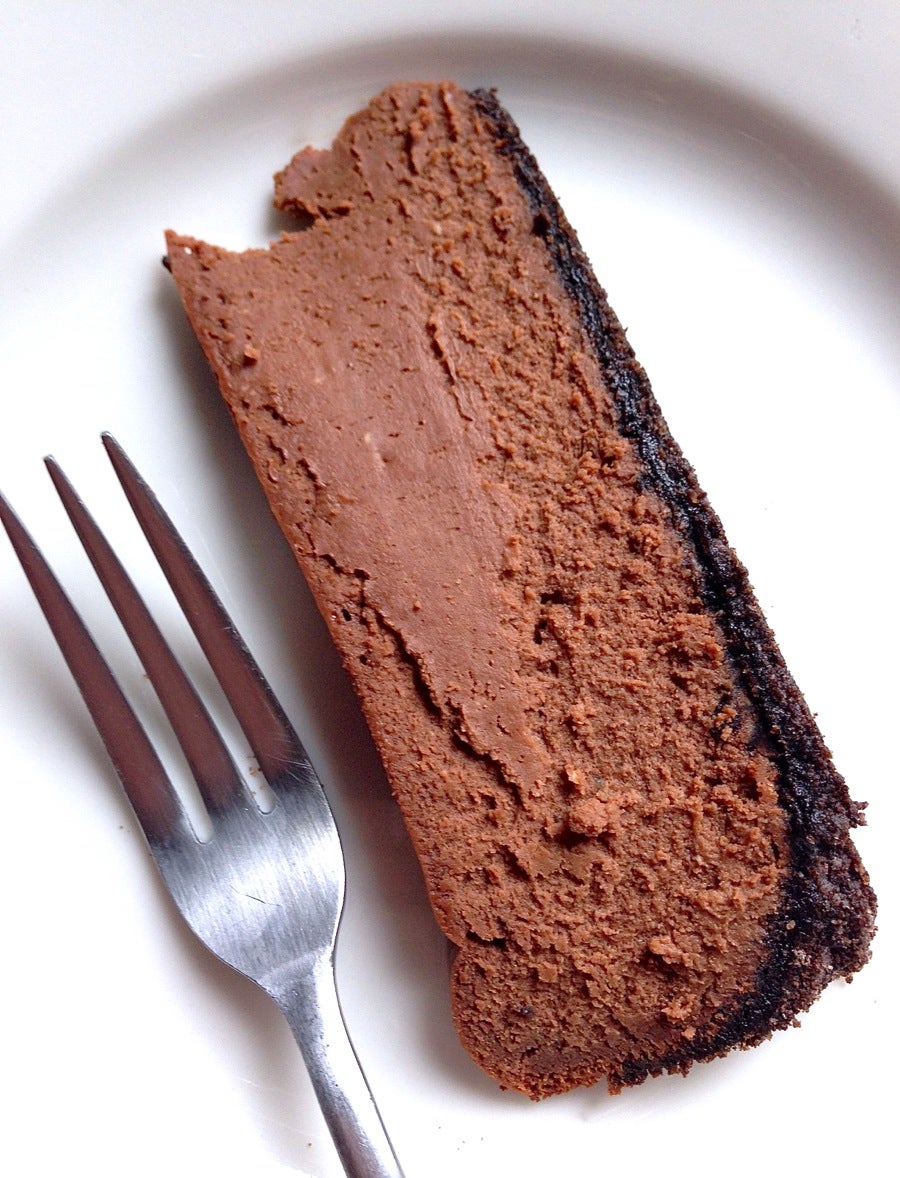 I like it so much that I've had to put it in the freezer and ration myself to daily pieces no thicker than an ultra-thin crust pizza. Think book-cover thin.
Which is just fine. This cake is so rich, a mere sliver can be savored long enough to satisfy the choco-jones of even the most devoted chocolate-lover.
What used to put me off about chocolate cheesecake was the odd marriage of tangy cream cheese and dark, acidic-yet-sweet chocolate. Somehow, tangy dairy and acidic cocoa didn't play nicely together – at least on my tongue.
But a few weeks ago, inspired by the fact that the entire month of May here has been devoted to cake, I thought I'd give chocolate cheesecake another try. After all, as I said a few paragraphs ago: chocolate. Cheesecake. What's not to like?
I perused a variety of vanilla cheesecake and chocolate cheesecake recipes, both here on our site, and elsewhere online. And I took the best bits of each and put them together like a sweet little jigsaw puzzle.
The added milk in this one. The downsized amount of sugar in that one over there. The absence of sour cream; the presence of the lightest hint of coffee, in the form of espresso powder.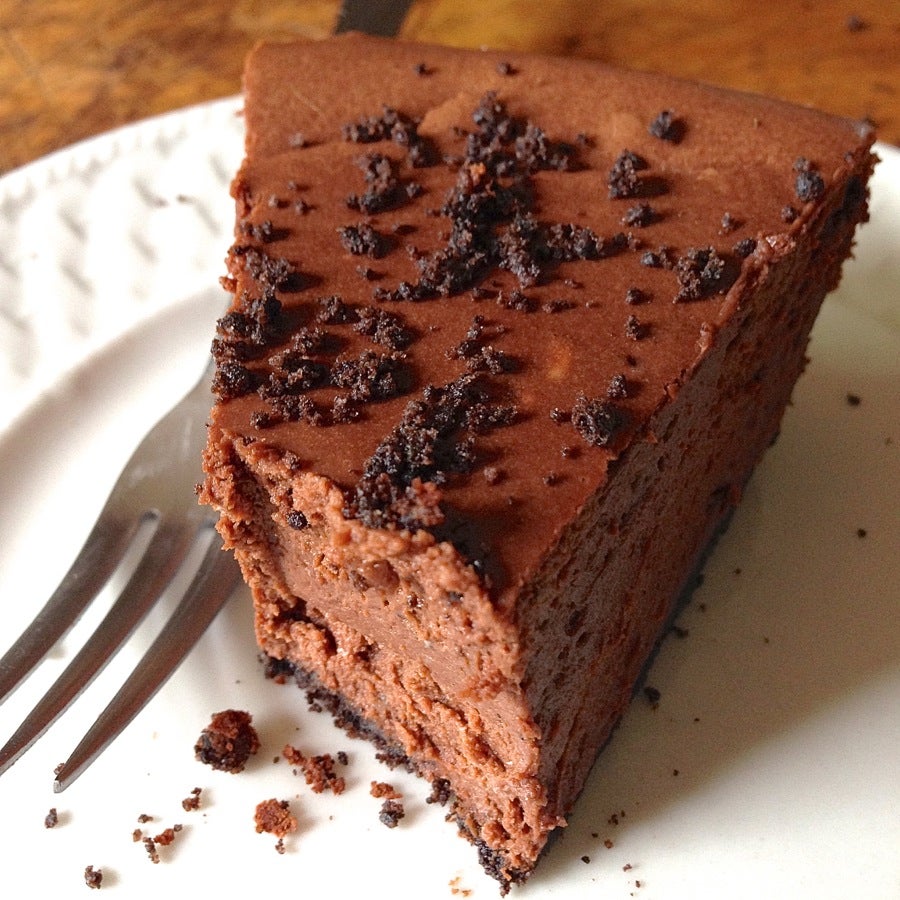 And, miracle of miracles, my very first attempt was a complete winner.
With its sweet-chocolate Oreo crust, the pleasing moist density of its filling, and its mild cream cheese flavor marrying seamlessly with not dark, but semisweet chocolate, I found I'm no longer averse to chocolate cheesecake.
In fact, I think I'll go have a sliver right now – just to be sure.
Want to join me?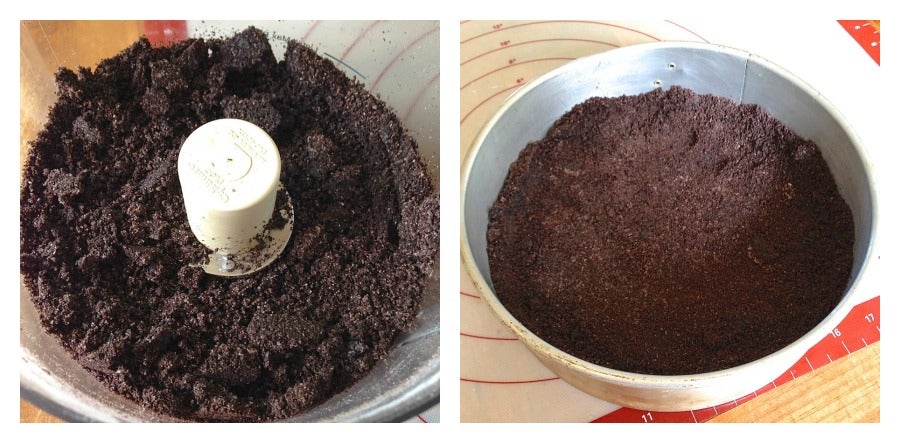 Let's tackle the crust first, since it has to bake a bit before getting its filling.
Preheat the oven to 375°F. Get out your 9" springform pan. Don't have a 9" springform? You can substitute a 9" round cake pan, if it's extra-deep – at least 2 3/4", counter to rim.
Can you make this in a regular pie pan? Maybe a 10" deep-dish, but I haven't tested, and sorry, my geometry isn't good enough to say for sure. At any rate, don't try this in a 9" pie pan; it's not big enough.
Crush, grind, or otherwise pulverize 24 Oreo cookies together with 1/4 cup confectioners' sugar; a food processor works well here. If you don't want to use Oreos, use about 9 1/2 ounces of any kind of chocolate cookie.
Add 4 tablespoons melted butter, processing briefly or stirring until the mixture is evenly crumbly. Press the moist crumbs into the bottom and partway up the sides of the prepared pan.
If you want, save out a couple or three tablespoons of the cookie crumbs to add to your finished cake when serving. As a simple garnish, they look nice, taste good, and add a bit of crunch.
Bake the crust for 15 minutes. Remove it from the oven, and set it aside as you make the filling.
Reduce the oven heat to 350°F.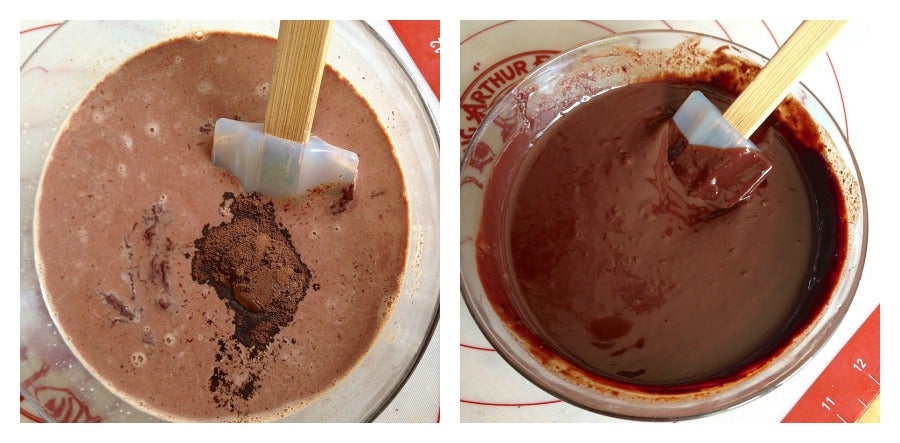 To make the filling:
Combine 1/2 cup milk and 2 cups (12 ounces) semisweet chocolate chips in a small saucepan, or in a microwave-safe bowl or large cup. Heat, stirring frequently, until the chips melt and the mixture is smooth. Remove from the heat, stir in 1 teaspoon espresso powder, and set the mixture aside.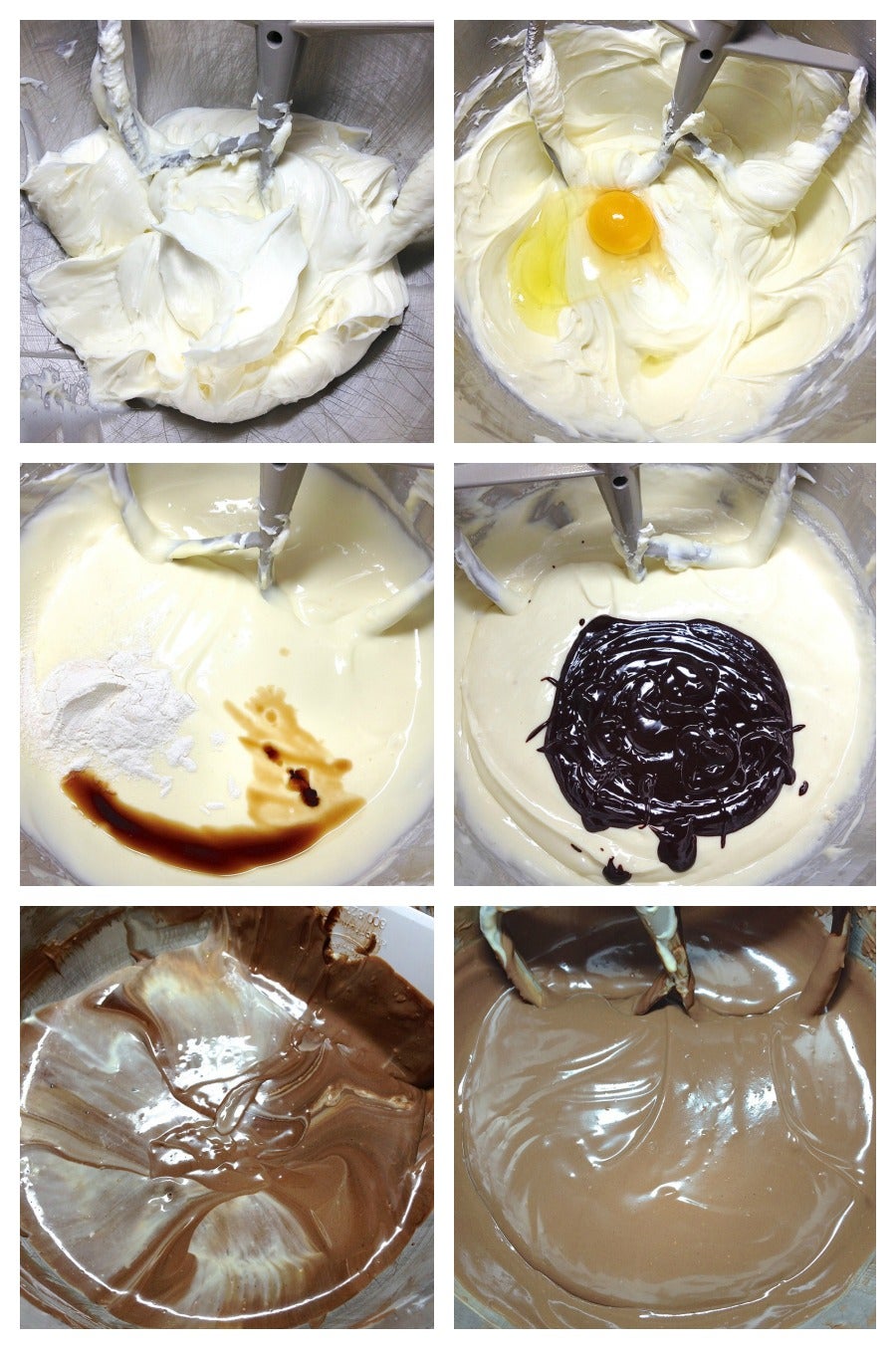 In a large mixing bowl, beat together 24 ounces room-temperature cream cheese (that's three standard 8-ounce packages) and 1 cup granulated sugar at low speed, until thoroughly combined.
Let me emphasize two things here: "room temperature," which will help insure a lump-free batter; and  "low speed"  – for cheesecake's signature dense texture, you want to avoid beating air into the cheese/sugar mixture.
Can you use reduced-fat cream cheese? Sure. How about nonfat? Don't know, haven't tried it; though nonfat cheesecake sounds rather oxymoronic to me...
Scrape the bottom and sides of the bowl, and beat briefly, just until smooth.
Add 4 large room-temperature eggs one at a time, beating to combine after each one. Scrape the bottom and sides of the bowl; beat briefly again.
Stir in 1 teaspoon vanilla extract, and 2 tablespoons King Arthur Unbleached All-Purpose Flour.
Add the chocolate/milk mixture, beating slowly until thoroughly combined. Scrape the bottom and sides of the bowl; beat briefly, just until smooth.
See the picture at lower left, above? That's what the batter looked like after I'd scraped the bowl. You'd be surprised how much solid stuff – in this case, cream cheese – the typical mixer leaves on the bottom and around the sides of the bowl. It's up to you to make sure it's incorporated. Call it due diligence.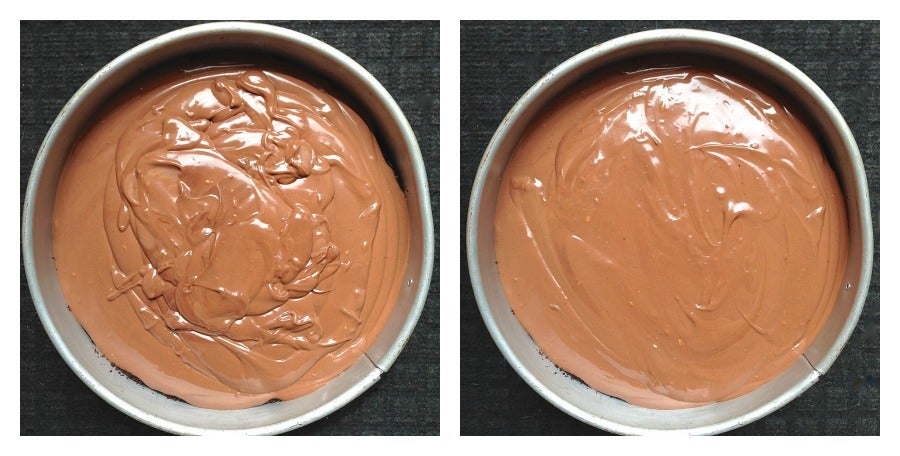 Pour the batter atop the crust in the pan. Smooth the top.
Bake the cake (remember, the oven temperature should be 350°F) for 45 to 50 minutes, until a toothpick inserted into the cake 1" from the outside edge comes out clean. A digital thermometer, inserted at the same point, should read 175°F. The center may not look set; that's OK.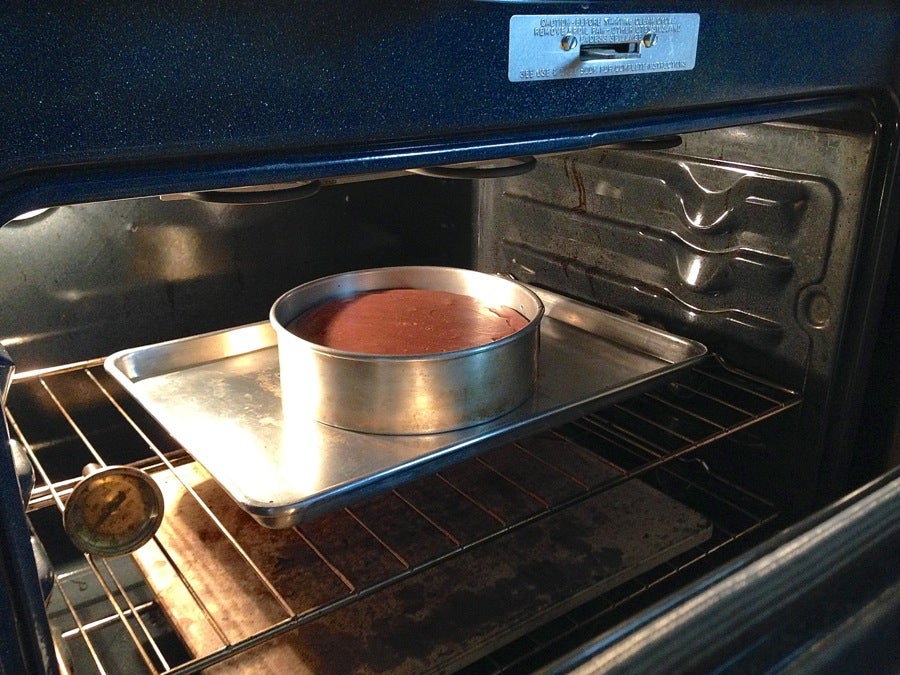 Turn off the oven, crack the door open several inches, and allow the cake to cool in the oven for 1 hour. Remove the cake from the oven, and set it on a rack to finish cooling. When it's completely cool, cover the cake, and refrigerate it until ready to serve.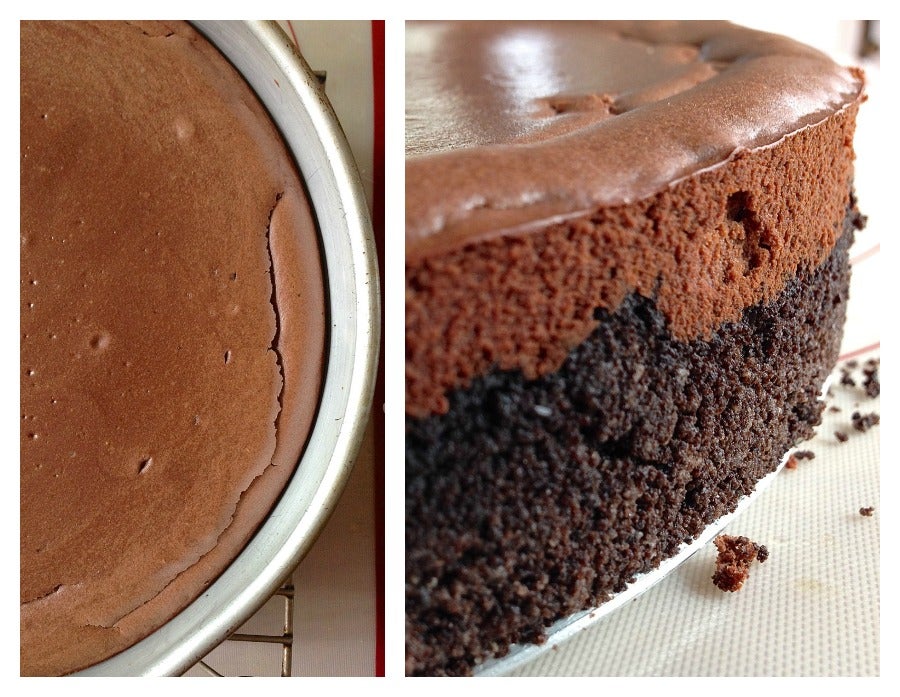 I'm really pleased this cake cracked just the tiniest bit.
And I love this side view – see how high the cookie crust reaches?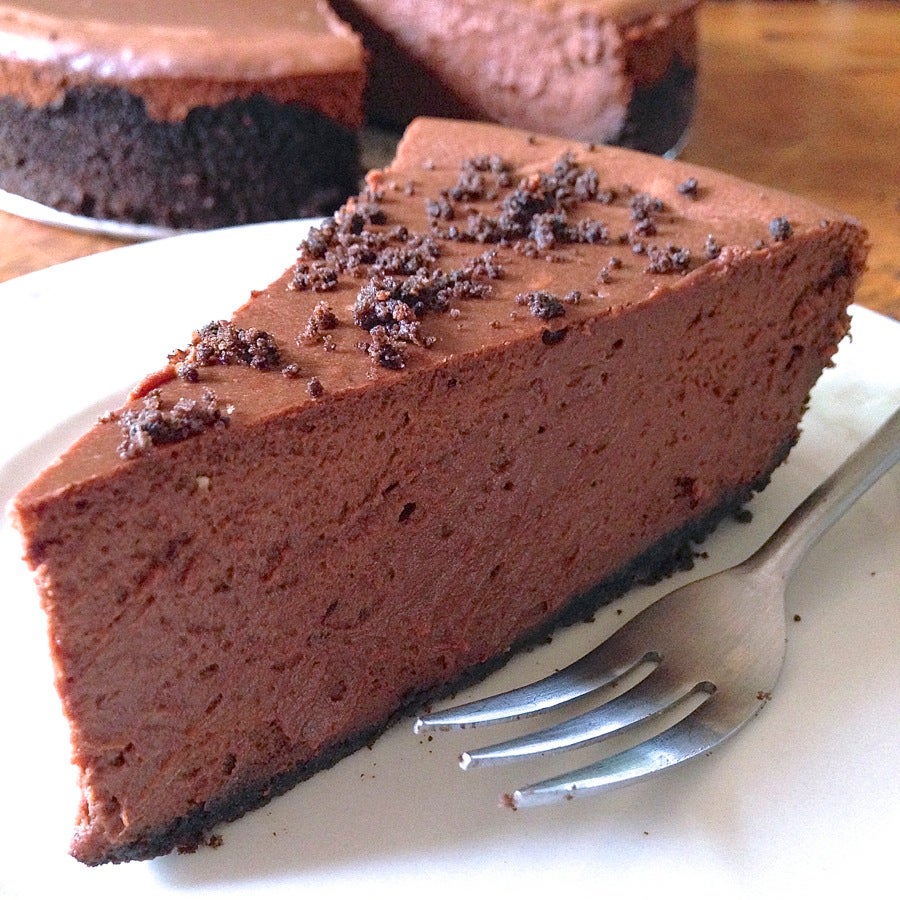 Serve the cake in small slices (or not-so-small slices).
You can add whipped cream and berries if you like, but I prefer to balance total chocolate abandon with a minimalist garnish: a few of those saved-out crunchy cookie crumbs.
So, fellow Boomers, you remember what the Monkees said, right?
I'm a believer.
Please bake, rate, and review our recipe for Chocolate Cheesecake.
Jump to Comments