You know how people say, "This is the best thing I've ever put in my mouth?"
These Caramel Apple Biscuits just might qualify.
Personally, I have quite a few candidates for this honor. The pâté de fois gras I enjoyed at one of Emeril's restaurants in New Orleans. My Aunt Dahlyce's sour cream-enriched mashed potatoes. Ultra-crisp bacon.
And on the sweet side, fudge brownies. The late and truly lamented Swiss chocolate almond sundae at Friendly's. Raspberry pie à la mode. Maida Heatter's lemon cake. I'd best stop there, because the list could go on, and on, and on...
I recently made these caramel apple biscuits for the first time, and immediately understood why the recipe qualified for this year's International Biscuit Festival biscuit bake-off – and, in fact, took second place in the sweet biscuit division.
Created by our own Susan Reid, test kitchen baker extraordinaire and editor of our print newsletter, The Baking Sheet, this combination of tender, cider-scented biscuit; sweet sautéed apples; homemade caramel sauce, and candied walnuts is ridiculously good.
Susan trekked to Knoxville, Tennessee, home of the biscuit festival, to compete in the 2013 bake-off last May. With over 20,000 biscuit fans in attendance, this was serious business. She worked long and hard perfecting the recipe here at King Arthur; and traveled to Knoxville fully prepared to kick some (buns).
But, with the caramel made, the nuts candied, the apples simmering, and the biscuits in the oven – said oven failed. When her timer went off, Susan opened the oven door to find white, soggy biscuits. And in the timed competition, she didn't have a chance to whip up another batch.
Even with half-baked biscuits, though, Susan's dessert nabbed second place. I'm thinking this dish, made with fully baked, crisp/tender biscuits, would have been far tastier than the top prize-winner: Lemon Lime Pecan Sticky Biscuits.
Once you taste these, I'm quite sure you'll agree.
This recipe has lots of parts, but don't worry; each one is quite simple and straightforward.
We'll start with some homemade caramel sauce.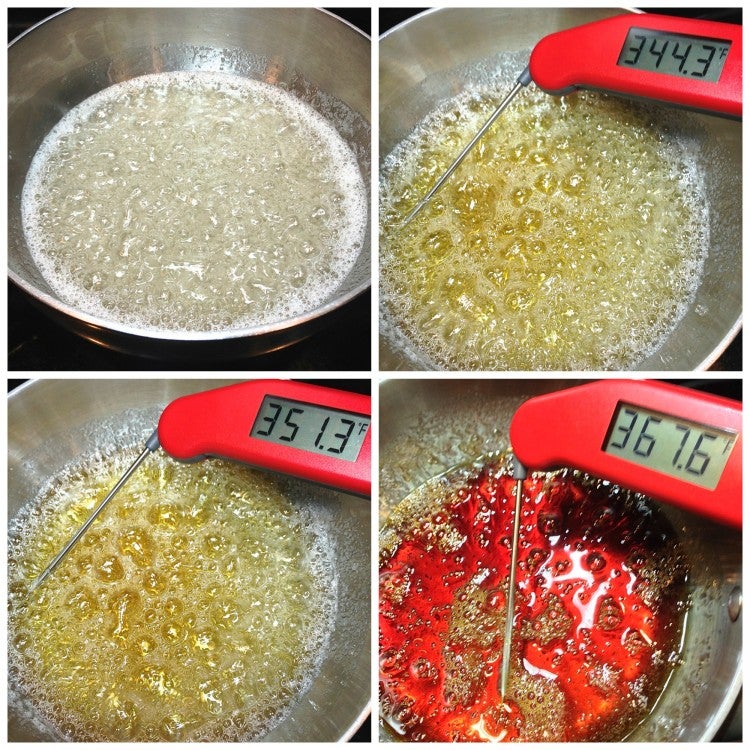 Combine the following in a 2-quart heavy saucepan (preferably light colored):
2 cups (397g) granulated sugar
1/2 cup (113g) water
1/2 teaspoon salt
Cook over medium heat, stirring once or twice, until the sugar is dissolved. Bring to a boil, and cook without stirring until the sugar begins to caramelize (become light to medium brown), which will take about 8 minutes. If you're using a thermometer, cook the sugar until it's between 350°F and 360°F.
Note the final picture in the sequence above: I let my caramel overcook, and it consequently became unpleasantly bitter. It happened quickly; there's less than a two-minute span between the final two pictures (351°F vs. 367°F). Be sure your caramel doesn't go above 360°F, and stays light to medium brown – NOT mahogany brown, as happened to mine. A digital thermometer is a huge help here.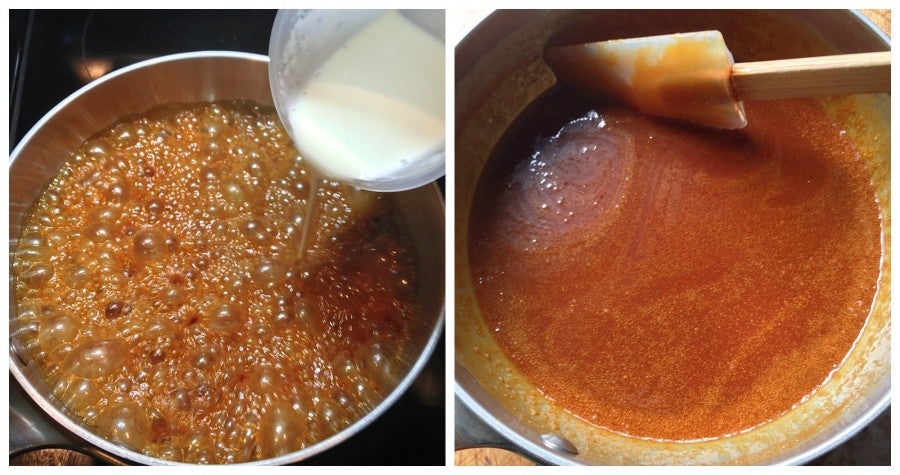 Remove the pan from the heat and slowly pour in 3/4 to 1 cup (170g to 227g) heavy cream; the mixture will boil up, so be careful. Return the pan to the heat briefly, stirring just until smooth. Use more cream for a thinner sauce, the lesser amount if you want it thicker. Understand that the sauce will thicken as it cools and chills; I used 7/8 cup cream, and it made a sauce that was spreadable when chilled, and nicely pourable when reheated.
Transfer the caramel to a heat-proof storage container, and let it cool to room temperature. Refrigerate the caramel if you're making it more than a day ahead. This recipe makes enough so you'll have some left over, which is a good thing; it's wonderful on ice cream, of course, or drizzled over brownies or cake, or into a milkshake, or...
Next: the candied nuts.
Place a medium skillet over medium heat.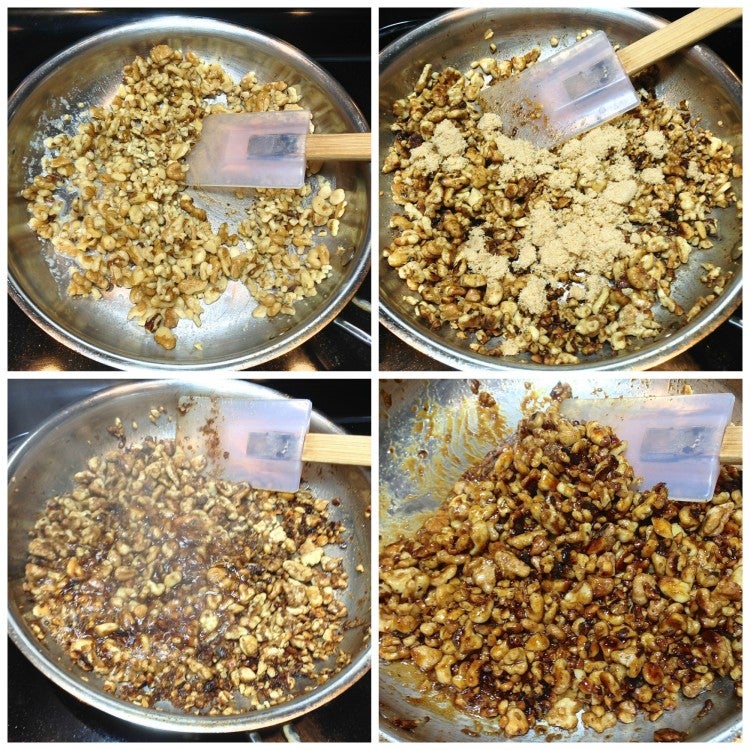 Melt 1 tablespoon (14g) butter and add 1 cup (113g) coarsely chopped walnuts. Cook, stirring occasionally, until the nuts are barely starting to brown; this can happen quickly, so keep an eye on them.
Sprinkle 1 tablespoon (14g) brown sugar over the nuts and stir; add 1 tablespoon (21g) boiled cider or maple syrup and stir again to coat the nuts. Sprinkle with 1/4 teaspoon salt and a pinch of cayenne (if desired).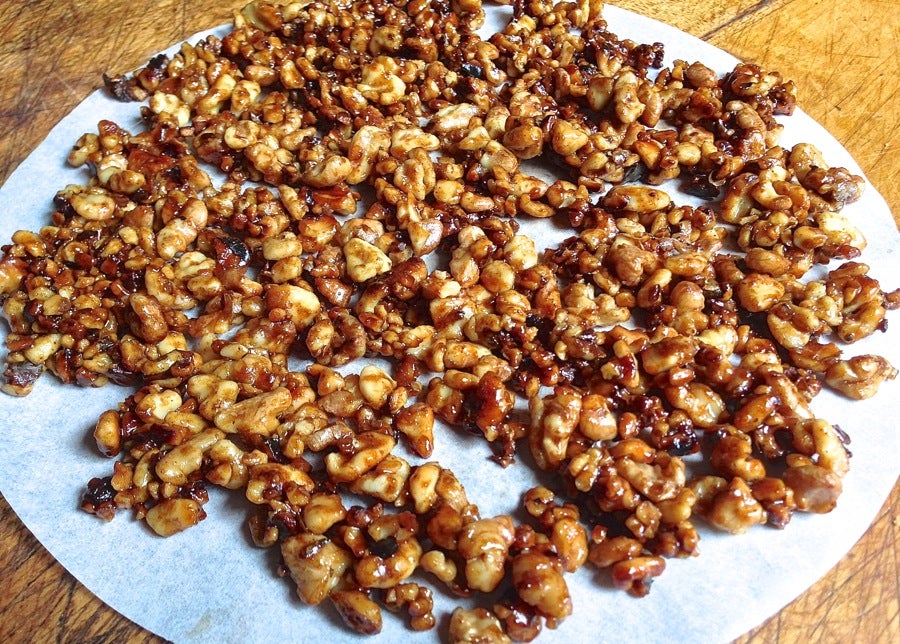 When the nuts are coated, remove them from the heat and spread them on a baking sheet or piece of parchment to cool.
Both of these steps can be done up to several days ahead. But for best results, the following biscuits should be baked the same day you plan on turning them into this dessert. Or if baked a day or so ahead, they should be rewarmed just before serving.
Preheat the oven to 425°F.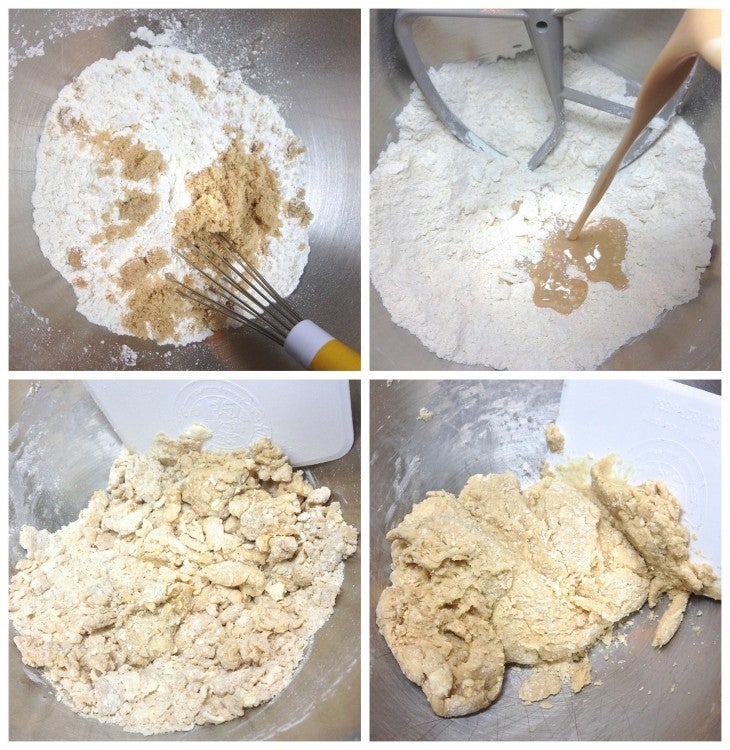 In a medium bowl, whisk together 2 cups (227g) King Arthur Unbleached Self-Rising Flour and 1/4 cup (53g) brown sugar.
Don't have any self-rising flour on hand? Make your own self-rising flour substitute. Or substitute our recipe for biscuits using all-purpose flour.
Work in 6 tablespoons (85g) cold unsalted butter until it's in small pieces.
Combine 2 tablespoons (43g) boiled cider or apple juice concentrate with 1/3 cup (74g) milk. Add to the flour mixture, stirring until the flour is evenly moistened. Dribble in more milk if the dough doesn't stick together when you squeeze a handful.
See the third picture in the sequence? I needed to add another 2 tablespoons milk to turn those dry crumbs into a cohesive dough.
Use a bowl scraper to fold the dough over on itself a few times to bring it together.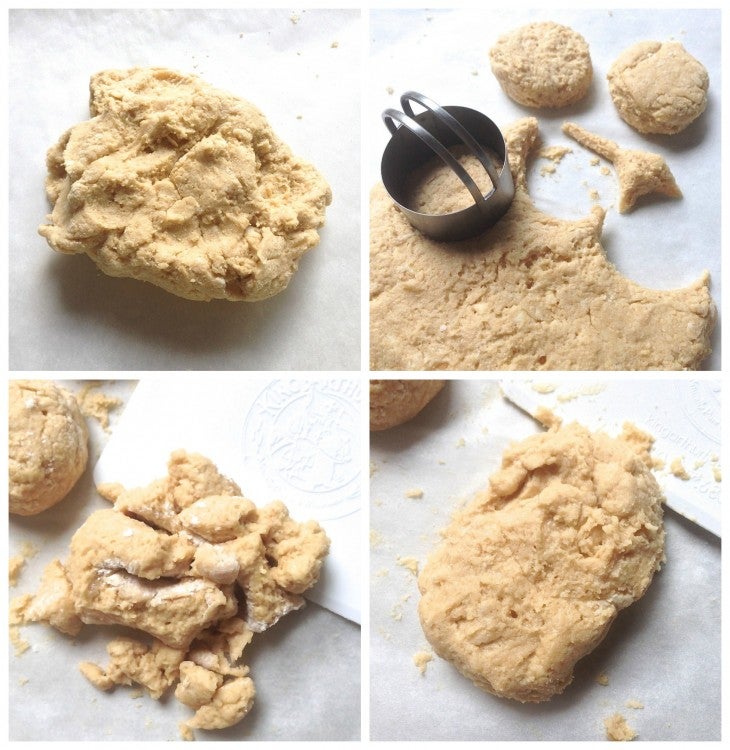 Turn the dough out onto a piece of parchment paper, pat it into a 6" to 6 1/2" circle (about 3/4" thick), and cut into circles with a 2" cutter. Pile any scraps on top of each other, fold twice to bring them together, and cut the remaining dough; you should get 8 to 10 biscuits.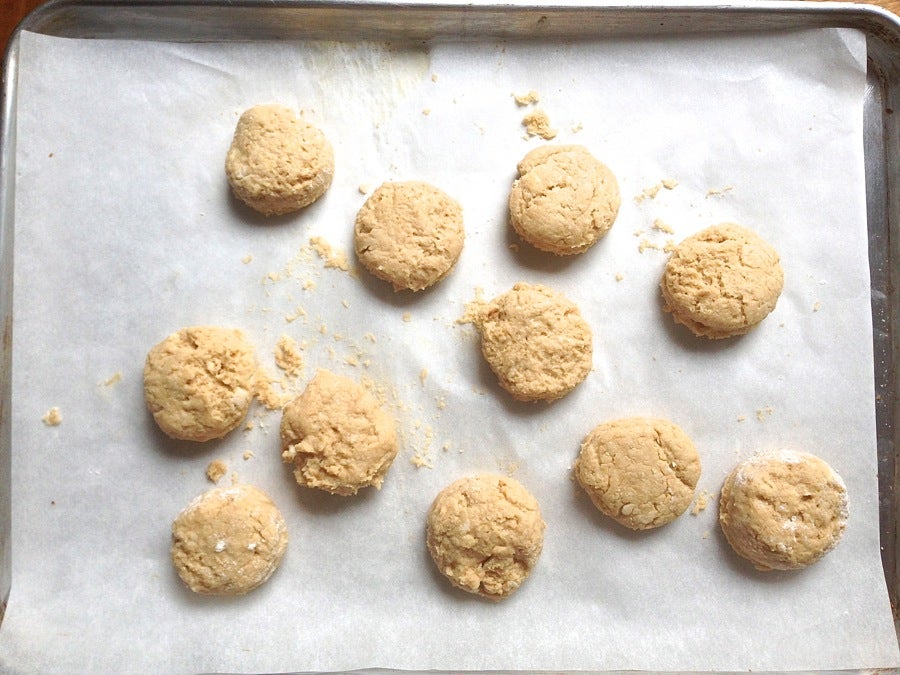 Place the biscuits and parchment onto a baking sheet, leaving 2" between them. If you're not using parchment, place the biscuits onto a lightly greased baking sheet.
Bake the biscuits for 14 to 16 minutes, until they're light golden brown. While they're baking, prepare the apples.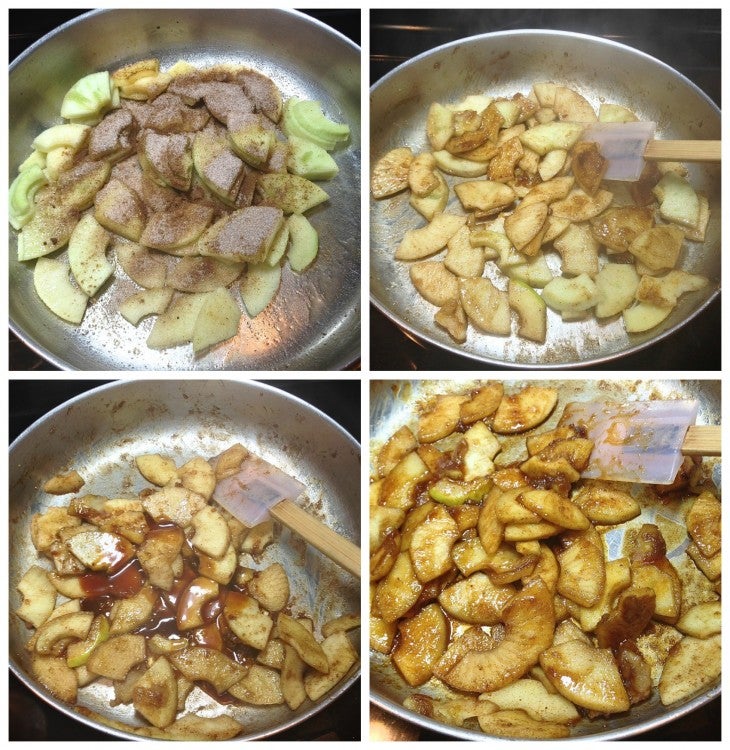 Place a skillet over medium heat. Add 1 tablespoon (14g) butter, and when it's melted, add 2 cups (227g) peeled, sliced cooking apples (about 2 medium apples) – Granny Smiths, Braeburn, or Galas are all good choices.
Add 2 tablespoons (25g) sugar, 1/2 teaspoon ground cinnamon, 1/4 teaspoon ground allspice, and 1/8 teaspoon each ground ginger and nutmeg. Cook for 2 minutes, stirring occasionally, then add 1 tablespoon of the prepared caramel sauce and 1 teaspoon boiled cider. Cook for 1 minute more, then remove from the heat.
OK, we're getting there!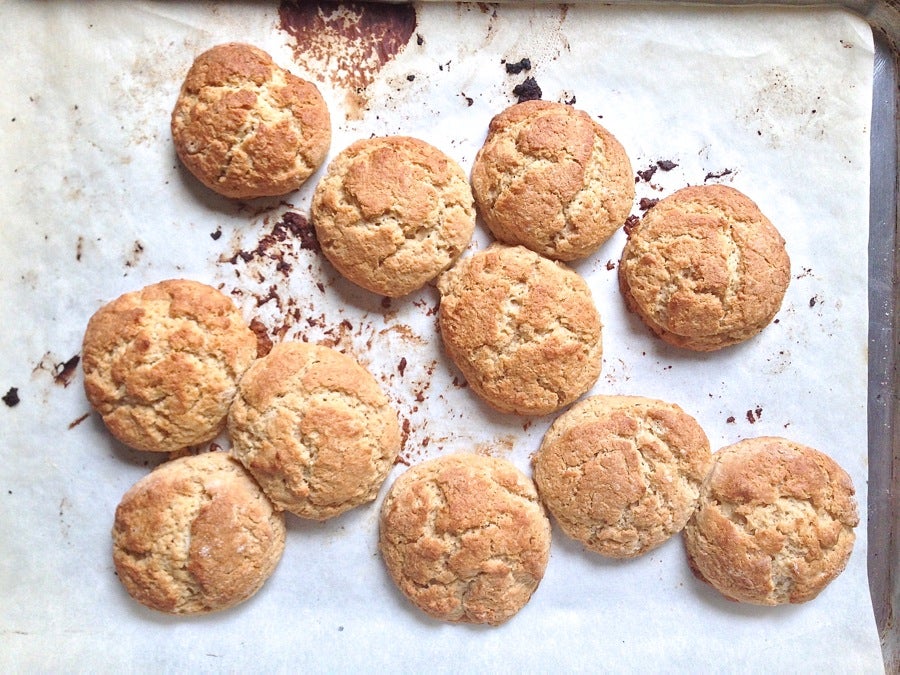 Take however many warm biscuits you're using, and split them around their circumference to make top and bottom halves.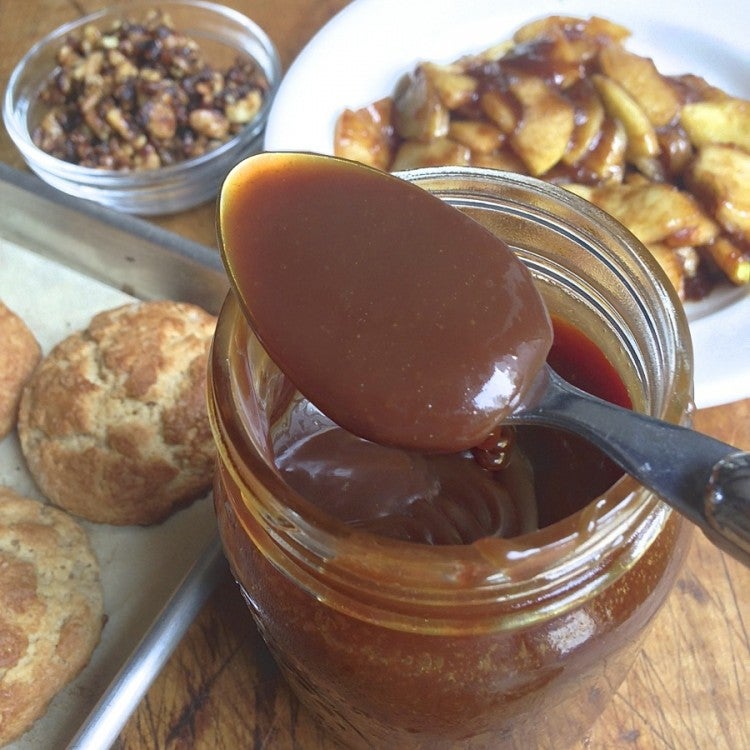 Gather together the nuts, apples, caramel, and biscuits. Gently warm the caramel until it's pourable.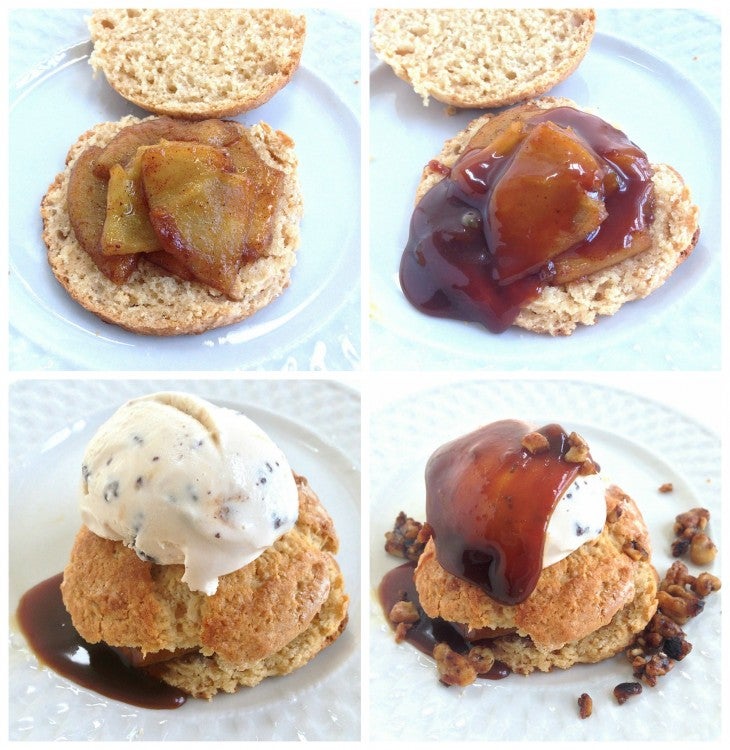 Spoon 5 to 6 apple slices over the bottom half of each biscuit. Drizzle with some caramel sauce, then place the tops of the biscuits over the apples. Add a scoop of ice cream, more caramel sauce, then sprinkle with the candied walnuts.
BTW, I'm using Häagen-Dazs caramel cone ice cream here – good choice!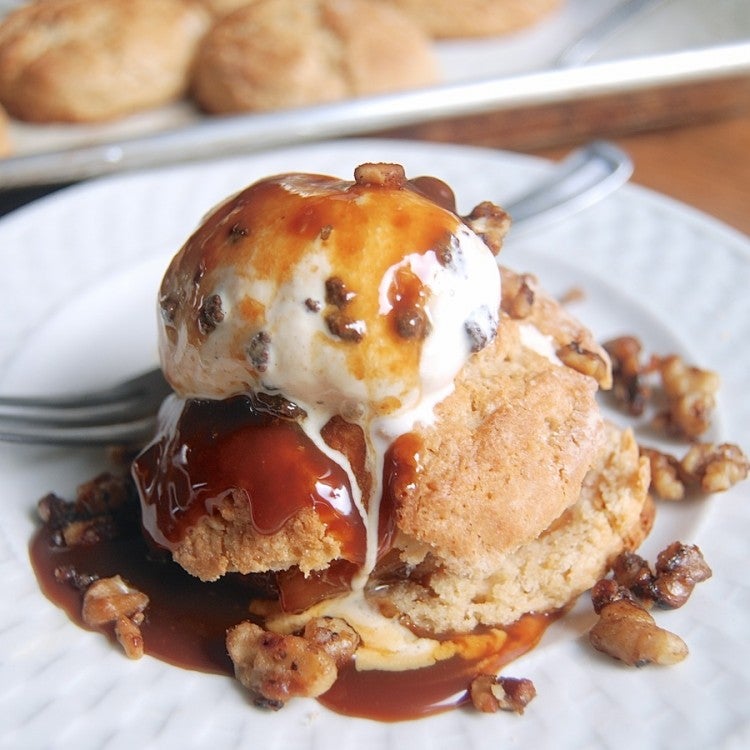 The hot biscuits and warm caramel melt the ice cream, creating... well, the picture speaks for itself, doesn't it?
And yes, it's every bit as good as it looks!
Read, bake, and review (please) our recipe for Caramel Apple Biscuits.
Jump to Comments