Gluten-Free Sourdough Flatbread
Lip-smackin' for dippin', stackin', and snackin'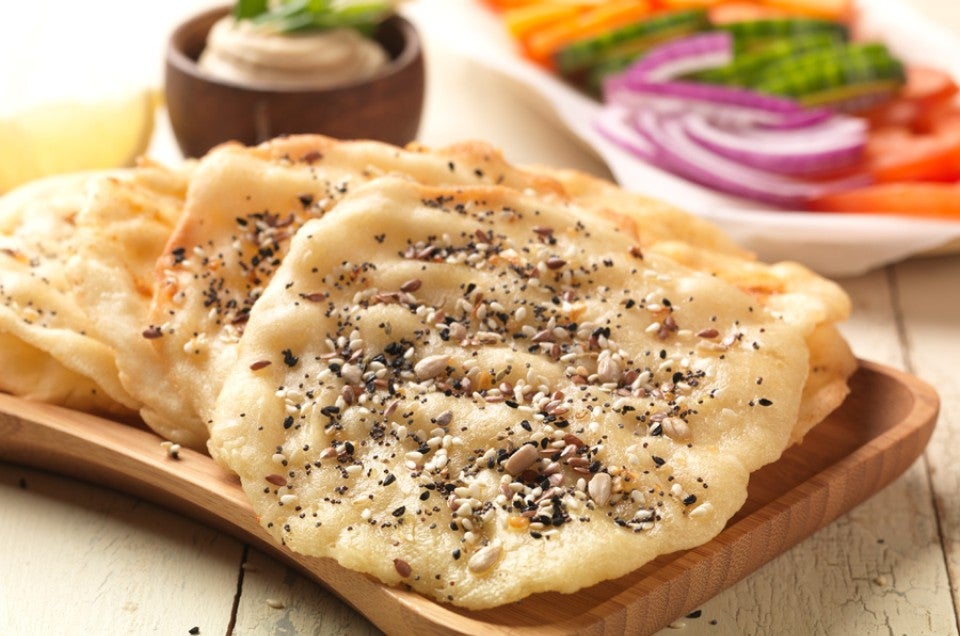 Wheat eaters have it SO easy, don't they?
They can grab any old cracker, chip or toasted bread when they want something to scoop up their favorite spread. We, the gluten-intolerant, have fewer choices when it comes to this mission. I myself often reach for the box of rice crackers, or make chips out of veggies such as carrots or kale.
Would it be too much to ask for something that would provide a little double-duty? One that could play the role of soft sandwich ends OR crispy snacker chip thingy if toasted to perfection?
How about something tangy that could be chewy or crunchy depending on the mood or needs? And better yet, haven't you been waiting for more excuses to use your gluten-free sourdough starter anyway? Think flatbread.
It should be easy, folks, right? I mean, flatbread is a simple, often unleavened bread, and was one of the earliest breads ever made in Egypt (as early as 2500 B.C.), baked in hot ashes or on hot stone slabs. People have been making flatbreads for well over 6,000 years – a skill that was passed on from the Egyptians to the Greeks and Romans.
Versatility is one of flatbread's greatest assets and most were designed either to hold other foods, or to serve as eating utensils. You can roll, wrap, toast, and fold 'em; scoop, dip or sauce 'em. And thankfully you don't need to travel the world these days to find your favorite. Look no further than your grocer's shelves for the likes of pita, naan, lavash, and tortillas!
Let's make some sourdough flatbread and leave out the gluten, shall we?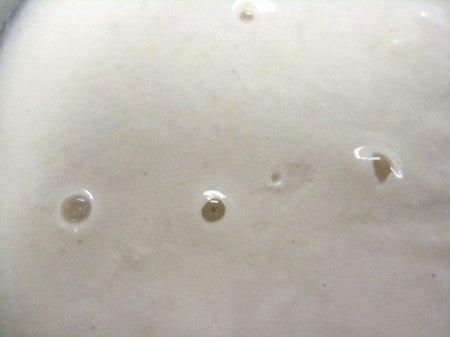 Begin by making your gluten-free starter fed and happy.
Drop 1 cupful (227g) starter in your mixer's bowl with 2 cups (312g) gluten-free multi-purpose flour.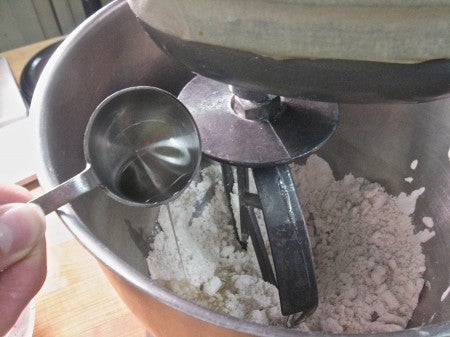 Stir them together until the mixture is sandy.
Add 1 1/2 teaspoons salt, 2 teaspoons sugar, 1 tablespoon (14g) olive oil...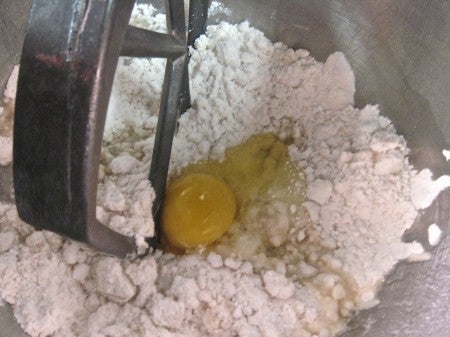 ...1 large egg, and 1/2 to 3/4 cup (113g to 170g) warm water. Mix on medium-high speed...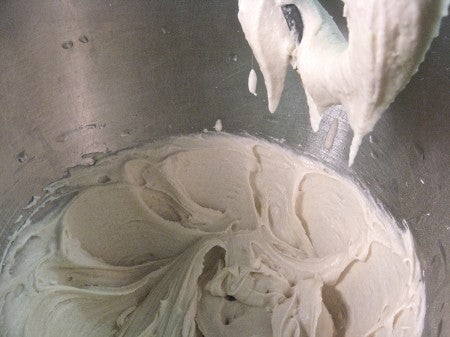 ...for 2 to 3 minutes. The batter will thicken and become paste-like.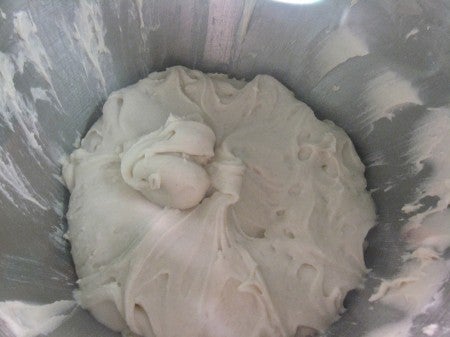 Allow the dough to rise, covered, in a warm place for 1 to 1 1/2 hours; or overnight in the refrigerator.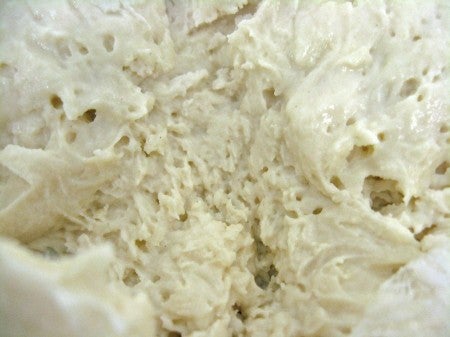 The rise won't be dramatic, but when you break into the dough, you should see the pockets of CO2 that have developed.
Preheat your oven to 500°F.
Stir the dough to deflate it.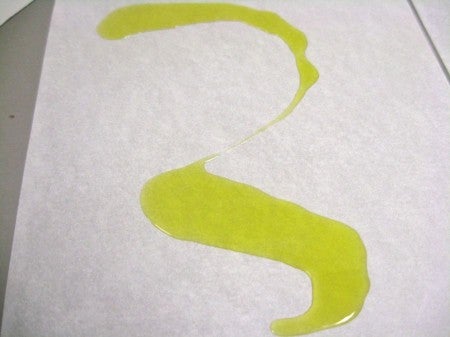 Brush three pieces of parchment paper with olive oil...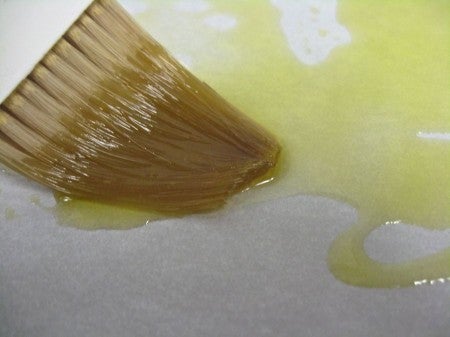 ...and set them on three baking sheets.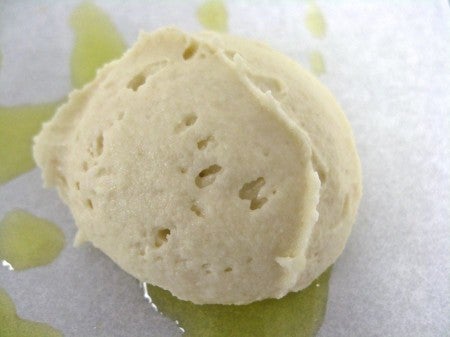 Using a jumbo cookie scoop (2-tablespoon scoop) to portion the dough onto the paper and, with oiled hands...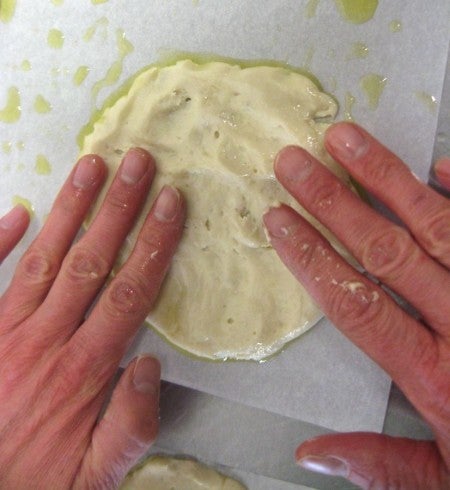 ...flatten it into a 4" to 5" round. Want a smoother finished look? You can use a pastry roller with an additional piece of oiled parchment over the top of the dough to shape your rounds.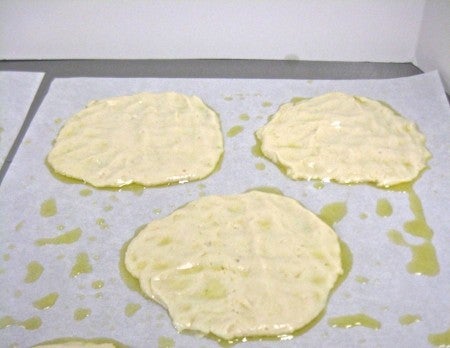 Repeat with the remaining dough; you should be able to get about 6 rounds onto each baking sheet. Sprinkle with seeds or topping seasonings if desired.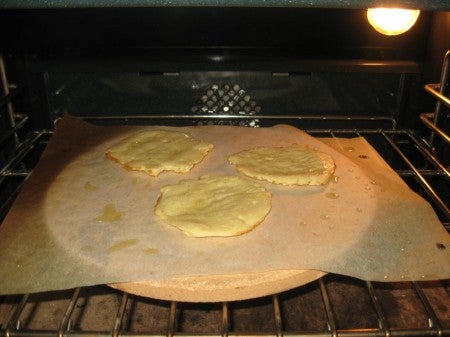 Place the baking sheet(s) into the oven, or transfer the parchment directly to a preheated pizza stone. Bake for 5 minutes; for crispier breads, bake an additional 3 to 5 minutes, until the edges are golden brown.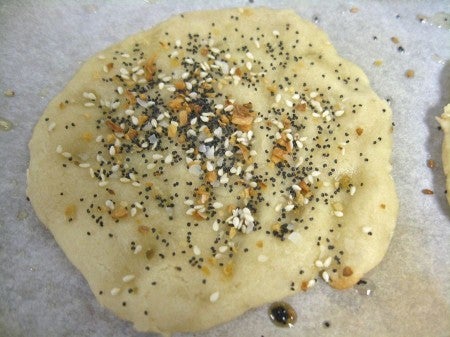 Cool on a rack; or serve warm from the oven.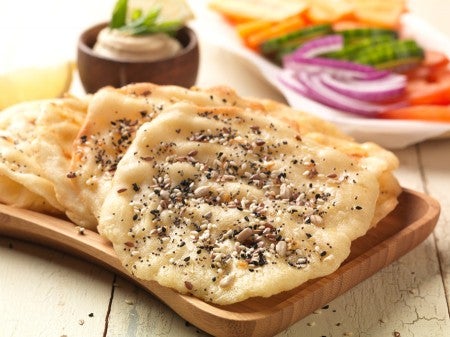 Move over, bread loaf – make some sandwiches and dig in!
I can promise that you won't have a huge mouthful of bread in the way of your favorite fixings – just enough for a perfect balance.
Feeling appetizery? Serve the breads toasted crispy and golden with hummus, salsa, or artichoke dip.
Please read, bake, and review our recipe for Gluten-Free Sourdough Flatbread.
Jump to Comments