Scalloped potatoes – gotta love 'em.
Potatoes, butter, and milk, baked into a bubbly, golden pan of "I'll have some more of those potatoes, please" – what's not to like?
When's the last time you made scalloped potatoes? Last week? Christmas?
Never?
With Easter on the way, now's the time to brush up your scalloping skills. Ham and scalloped potatoes? Homerun.
While most scalloped potato recipes have the potatoes baking in a simmering bath of milk or cream, I find that method sometimes results in a watery final product. That's why I like to substitute a thin white sauce for the milk.
Besides, that allows me to incorporate the flour and salt (often sprinkled on the potatoes, layer by layer); and some onion flavor, in the form of onion powder, right into the sauce.
First job: use the right potatoes for the job. Maybe your mama used baking potatoes, but I like boiling potatoes. After all, they're essentially boiling (in the sauce) as they bake, and I feel boiling potatoes hold their shape better than baking, in this dish. Round white, red-skin, Yellow Finn, or chef potatoes (not Russet) are your best choice.
How to make scalloped potatoes 
Preheat the oven to 350°F. Lightly grease a 9" x 13" pan or 2-quart casserole.
I find 4 pounds of potatoes fills a 9" x 13" x 2" pan nicely. Use a bit less if you use a smaller pan.
Peel the potatoes, and slice them 1/8" to 1/4" thick; if you have a Cuisinart food processor, use disk #4.
Place the sliced potatoes in a large saucepan with cold water to cover; add 1 teaspoon salt. Bring to a boil; as soon as the potatoes come to a full boil, set your timer for 1 minute. After 1 minute, remove them from the heat.
Drain the potatoes thoroughly, and layer in the prepared pan. Salt the layers as you go, if desired; the salt in the white sauce isn't assertive. If you're someone who likes a bit more salt on their food, then do sprinkle some onto the potatoes as you go.
Melt 4 tablespoons  (57g) butter in a medium-sized saucepan. Add 1/3 cup (39g) King Arthur Unbleached All-Purpose Flour, stirring until smooth.
Immediately start adding 3 1/2 cups (794g) whole milk, stirring constantly to prevent lumps. When all the milk is added, stir in 1 teaspoon onion powder (optional), and 1 teaspoon salt.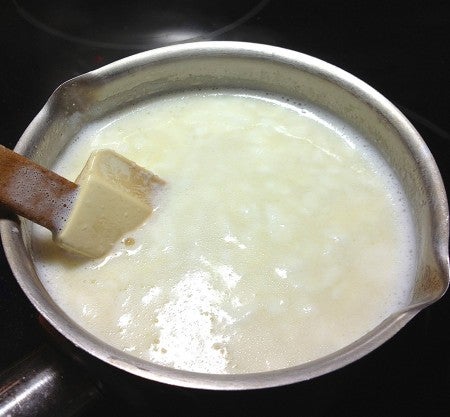 Cook over medium heat, stirring frequently, until the sauce thickens just a tiny bit; this won't be very noticeable, more like the difference in consistency between skim milk and heavy cream. Remove from the heat.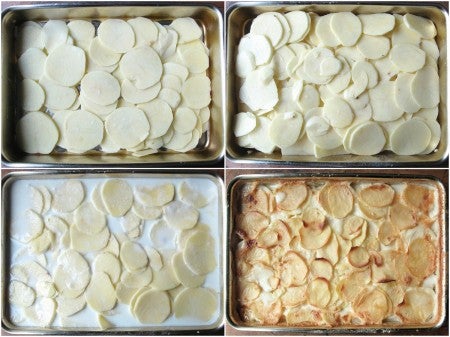 Pour the sauce over the potatoes, pressing them down so they're nearly covered.
Can you prepare the dish up to this point, refrigerate overnight, and bake the next day? Sure. Either take it out and bring it to room temperature ahead of time; or add about 15 minutes to the baking time, to account for the potatoes being chilled.
Bake the potatoes for 1 hour, or until they're bubbly and golden brown on top. A sharp knife inserted into the center of the potatoes should find little resistance.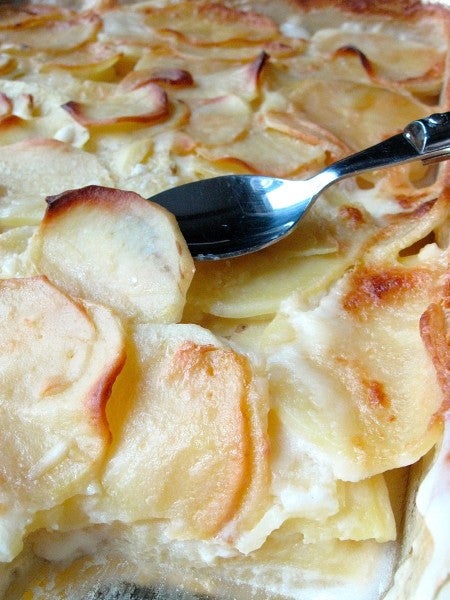 Remove the potatoes from the oven, and serve hot or warm.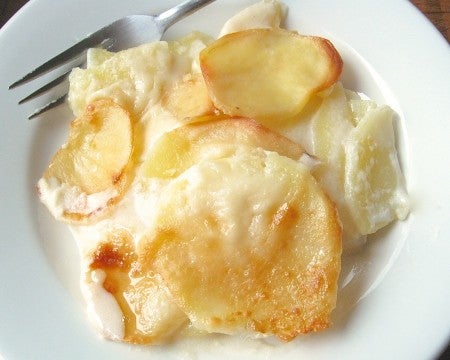 Yes indeedy, scalloped potatoes are comfort food at its best.
Now, if it's just the two (or four) of you, can you cut this recipe in half?
Sure. Use 2 pounds of potatoes, reducing the salt in their boiling water bath to 1/2 teaspoon. Prepare the white sauce as directed in the full-size recipe, reducing the milk to 2 1/2 cups, the butter to 3 tablespoons, the flour to 1/4 cup, and the salt to 3/4 teaspoon. Bake in an 8" x 8" pan, or smaller casserole, for 1 hour, until golden brown and bubbly.
Please make, rate, and review our recipe for Classic Scalloped Potatoes.
Jump to Comments