Sweet Potato Biscuit Bars
Creating lovely layers and fulfilling friendships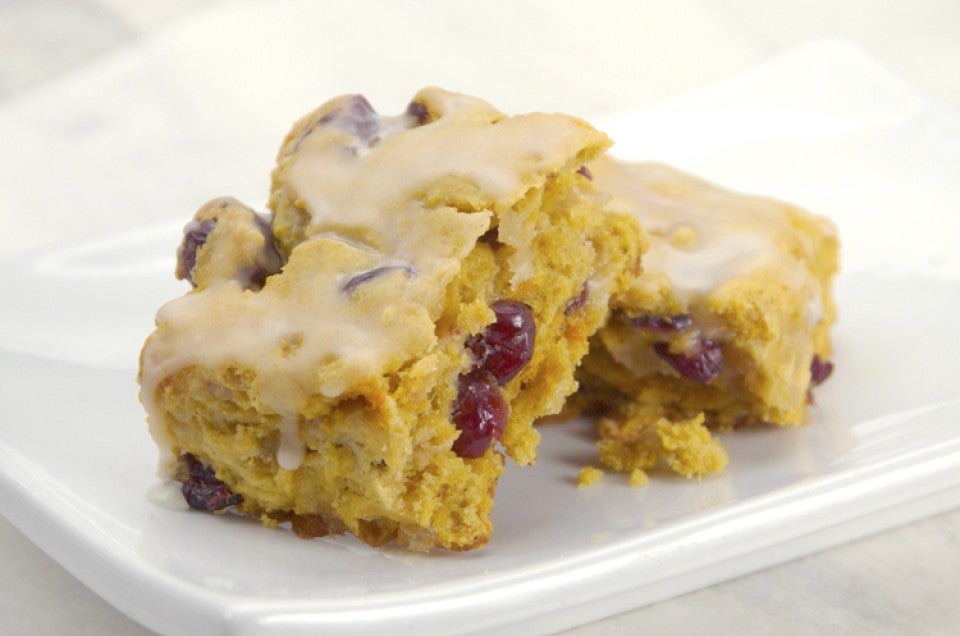 My dear friends and fellow bakers, where would I be without you? I hope you realize just how much you...
...affect, animate, commove, elate, and embolden me.
Your ideas enkindle, enliven, galvanize, hearten, imbue, and inflame my baking. Your questions invigorate, your comments motivate, and your friendships spark, spur, sway, and touch me. And thanks to my thesaurus, I've finally found some words to help me express how great it is to be part of this baking community.
Just like authors, bakers get "blocked" too. Some days I can wander about the kitchen, not really having any ideas about what to make. The urge to create is still there, but choosing something to create can stump even the best of us.
Enter you, my baking buddies, my fellow flour fans. A quick question on chat, a post on Facebook, or a well-timed Tweet can really make me sit up and say "HEY!" A phone conversation about cakes may have me itching to get to my pans. Even a chance meeting at the store or on the street can save my baking sanity, and some truly beautiful recipes are the result of such conversations.
This particular recipe is the brainchild of a conversation I had with someone, sometime in the last year. I may not remember who, or where, or exactly when, but the question really stuck in my mind and I just had to give it a try.
We were discussing puff pastry, and creating layers of flour and butter for flakiness when the other person asked me if I thought the same concept would work for biscuits. Hmm, could you in theory chill the biscuit dough and insert layers of butter, make classic folds and turns, and end up with a biscuit full of lovely layers?
A quick test with a basic biscuit recipe proved that yes indeedy, you can use the folds and turns to make butter layers. So the next step was to work the technique into a recipe that I felt would truly benefit from the different approach. These Sweet Potato Biscuit Bars had been in the works for awhile, but I wanted to take them just a bit further. A little butter, a little freezer time, a bit of folding, and I knew this was going to be something special.
Enough talk, let's get baking our Sweet Potato Biscuit Bars.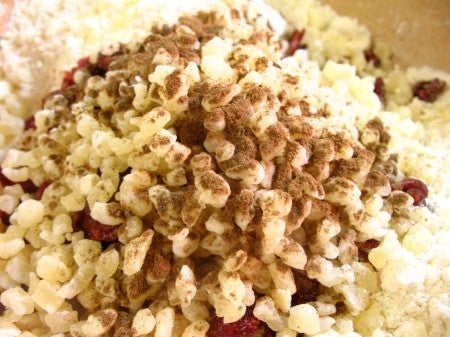 In a large mixing bowl, combine:
Mix until you have a coarse, chunky blend of ingredients.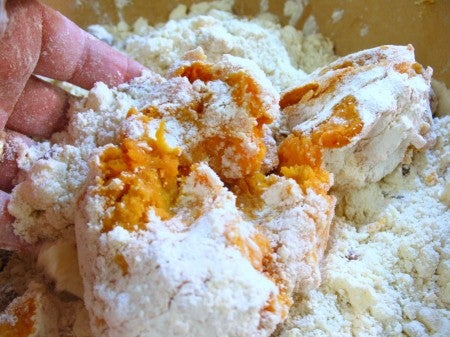 Mix in 2 cups cooked, cooled sweet potatoes.
Honestly, I found using my hands the easiest way to get this done. Just use a light touch and don't squeeze.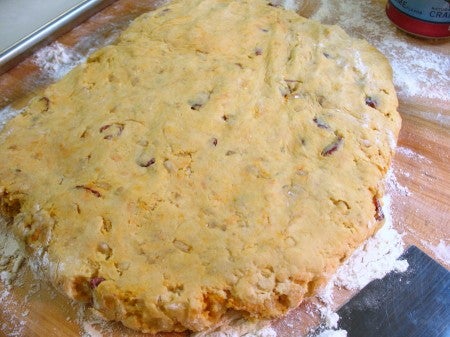 When the dough is just combined, turn it out onto a clean floured surface and knead 4 to 5 times to bring it all together.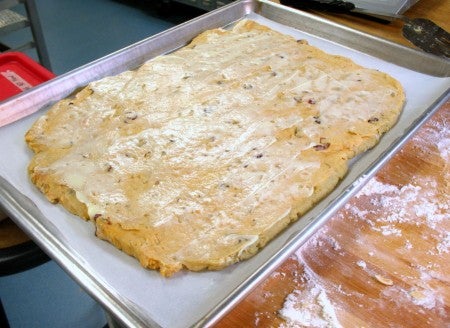 Roll or pat out the dough to a rough 8" x 10" rectangle on a parchment-lined baking sheet. Spread with 1 tablespoon of softened butter.
Place the pan in the freezer for 10 minutes to firm up the butter. What we're doing is creating thin layers of fat between layers of dough. When those thin layers melt and steam in the oven, the steam will puff up the dough layers creating, well, layers. Your biscuit bars will be incredibly light, fluffy, and tender.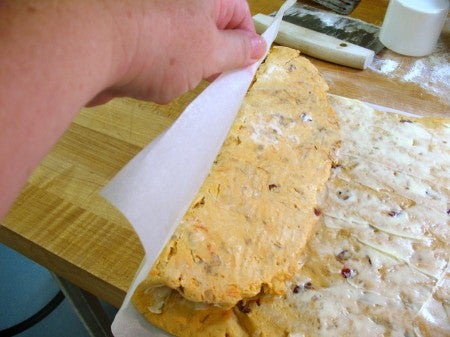 After 10 minutes, remove the dough from the freezer and use the parchment paper to help you fold the dough in thirds, like a business letter.  Repeat the rolling, buttering, freezing, and folding process once more.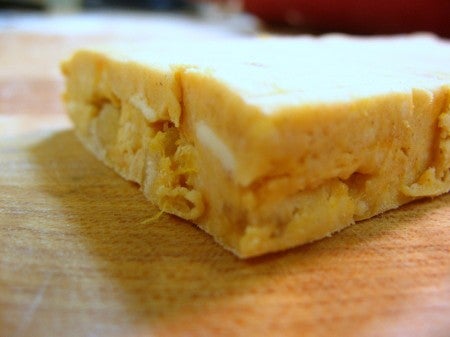 After the second business-letter fold, pat the dough out once more. It will be about 8" x 10", and about 3/4" thick. Cut into 8 bars.
And, just look at those nice layers of butter.
Seriously, can you skip the layering and freezing? *sigh* Yes, you can if you wish, but the texture of these bars is so heavenly, try to work it into your timetable. It's really worth it.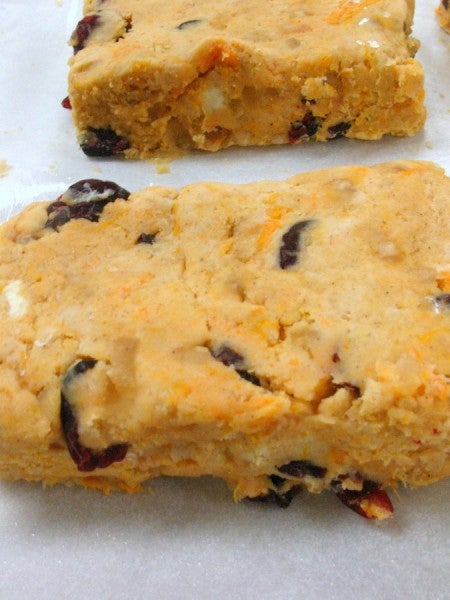 Separate the bars on the baking sheet, and bake for 20 to 25 minutes, or until golden brown on the edges.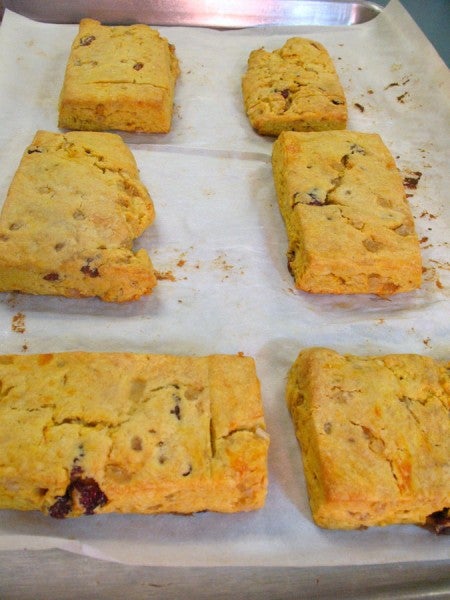 Check out the chunky, fruity goodness!
With the bars still on the parchment, combine 1 cup confectioners' sugar, 1 to 2 tablespoons  pineapple juice powder and 1 to 2 tablespoons of pineapple juice or cream until creamy and spread some over each bar. I really like using a pastry brush for this.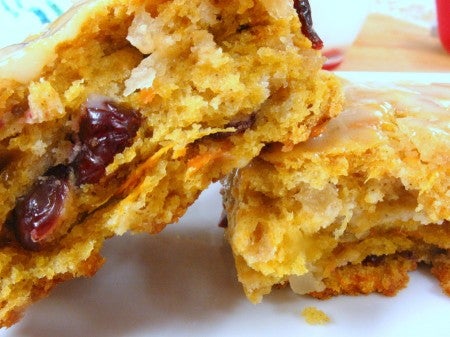 Each bar is just a flurry of flakiness, a landslide of layers. Flavors burst from the tangy cranberries and sweet pineapple as you consume each bite. These beauties will definitely be on my Thanksgiving table this year, and the next, and the next.
So once again I'm in your debt, my extended baking team, my family of cake creators and biscuit bakers. Keep those friendships flowing and those inspiring ideas comin'!
Please bake, rate, and review our recipe for Sweet Potato Biscuit Bars.