Did you ever hear of a Dutch Baby?
How about a Swedish Puff?
David Eyre's Pancake?
All three of these titles refer to a tender, eggy, oversized pancake, as wonderful to eat as it is spectacular to look at – and fast/easy to make.
This particular Lemon Puff Pancake recipe is based on one printed over 40 years ago in The New York Times. Called David Eyre's Pancake (Mr. Eyre, a Honolulu resident, had served it to Times writer Craig Claiborne at his home), it was the "most requested reprint" Times recipe ever run, up to that point.
And for good reason. A rather unprepossessing flour, milk, and egg batter is poured into a pan, and 20 minutes later emerges as a giant golden puff, awaiting a final anointing of lemon juice and sugar.
It's delicious; it's easy; and who cares if it settles back a bit from its glorious oven-fresh heights as it cools? Part popover, part crêpe, part pancake, it combines the best aspects of all three. We like to serve it on a lazy Sunday morning, garnished with fresh berries, Sunday paper (New York Times?) close at hand.
First, preheat the oven to 425°F. You want the oven good and hot, to encourage the pancake to rise to its full height.
Lightly grease a 9" cast iron skillet, or 8" round cake pan. The size of the pan matters here, so measure carefully. Too small, it'll overflow. Too large, it won't puff as high. If you're using a cast iron skillet, it should measure 9" across the top; its bottom diameter will be smaller.
Melt 1 tablespoon butter in the skillet; or melt 1 tablespoon butter, and pour it into the cake pan.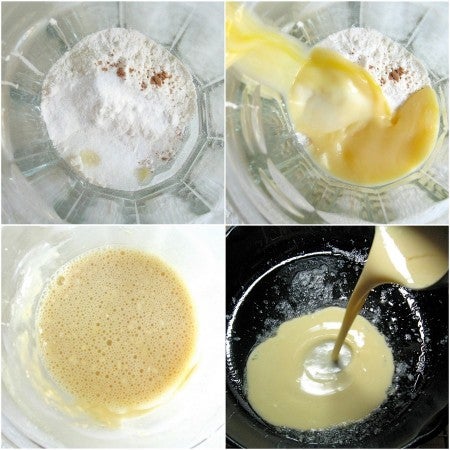 Whisk together the following:
1/3 cup (39g) King Arthur Unbleached All-Purpose Flour
1/8 teaspoon salt
1 teaspoon granulated sugar
In a separate bowl, whisk together the following:
1/4 cup (57g) milk
1/2 teaspoon vanilla extract
2 large eggs
Whisk the wet ingredients into the dry ingredients until fairly smooth.
Add 1 tablespoon melted butter, and whisk again. A few small lumps are OK.
Pour the batter into the pan, atop the melted butter.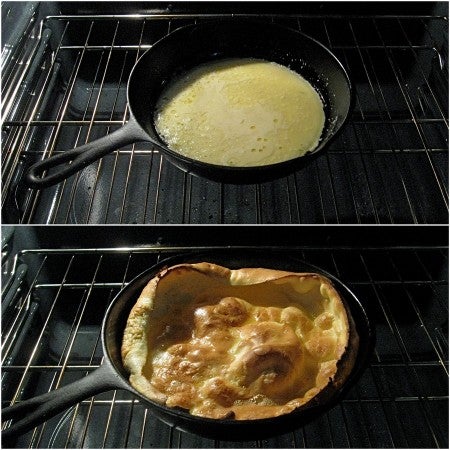 Bake the pancake for 15 minutes in the cast iron pan, 20 minutes in the cake pan, or until it's puffed and golden, with deeper brown patches.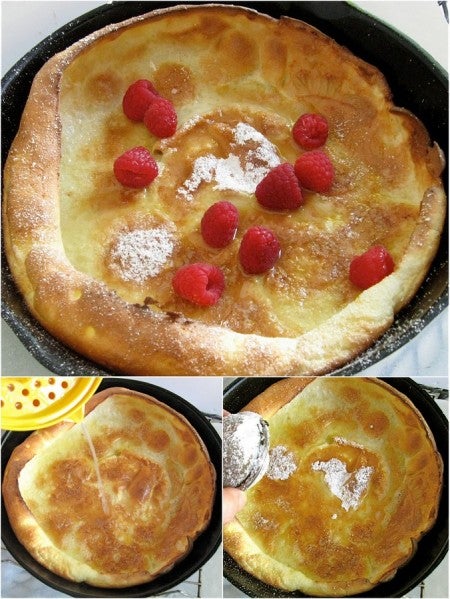 Remove the pancake from the oven, and sprinkle with 1/2 to 1 tablespoon lemon juice, then confectioners' sugar.
Use more sugar than you'd think you need; since the pancake itself is basically unsweetened, and you're adding lemon juice, be generous.
Sprinkle the pancake with berries, if desired. I always desire; they're just so pretty, red raspberries or blackberries or blueberries on a golden pancake. Also tasty, of course.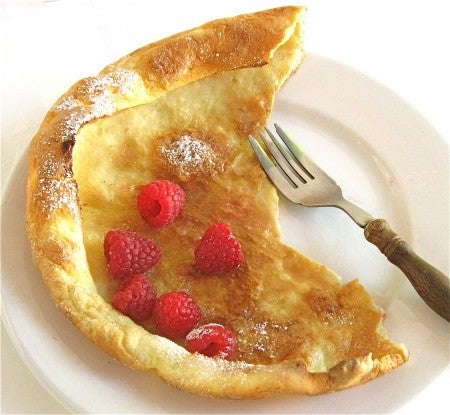 Serve immediately.
This pancake serves two, as part of a larger breakfast (e.g., fruit salad, yogurt, etc.)
Or enjoy the entire thing yourself; it's so light, you won't feel like you've eaten a 9" pancake!
Note: This recipe is easily doubled. If you don't have more than one skillet, use a combination of skillet and cake pan; or simply use two 8" round cake pans.
Also, if you have a large cast iron skillet – e.g., 11" straight-sided, or 12" with sloping sides – here's the classic version of this recipe:
2 tablespoons butter, melted in the pan
1/2 cup (60g) King Arthur Unbleached All-Purpose Flour
1/4 teaspoon salt
small pinch of nutmeg, optional
1 tablespoon granulated sugar
1/2 cup (113g) milk
1 teaspoon vanilla extract
2 large eggs
Read, bake, and review (please) our recipe for Lemon Puff Pancake with Fresh Berries.
Jump to Comments