Chocolate Icebox Pie
Confessions of a pie burglar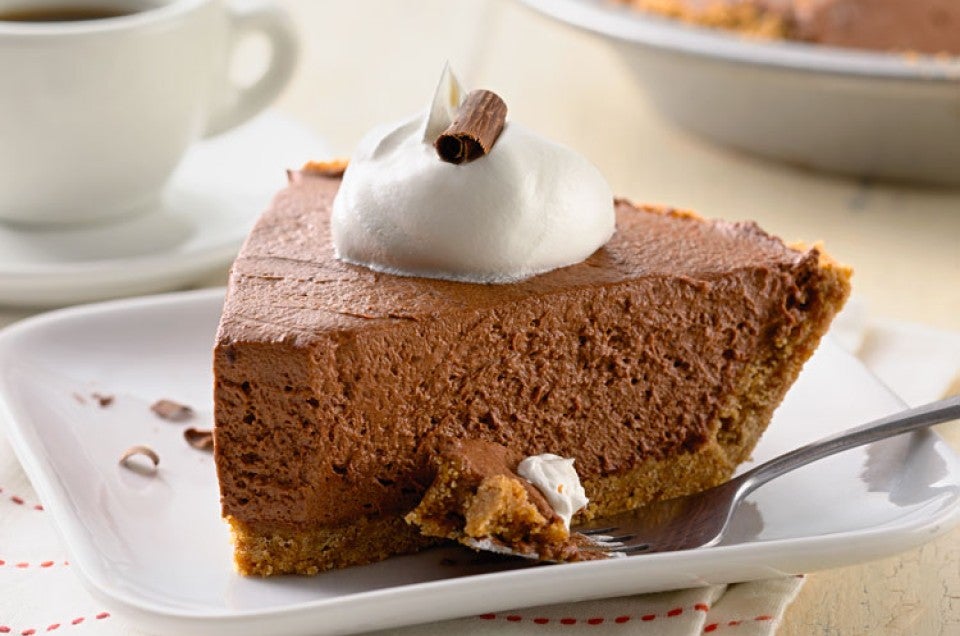 For those of you who are frequent visitors to this blog, you know one of my favorite eateries is our local diner. Nothing is better than ending a week with a plate of fresh fried chicken, REAL mashed potatoes and gravy and, of course, a piece of chocolate cream pie to go. The slice of pie is at least 4" high, with three layers of chocolate and cream. It's a sight to behold, and often takes me 2 days to finish.
Not long ago, as my husband and I were leaving with our treasure of pie, we ran into Deb, a KAF coworker, and her two little girls. We chatted for a bit, and I showed the girls my slice of pie and told them to be sure to get one before they left. We said our goodbyes and headed out the door.
Imagine my horror and chagrin the next day when Deb told me that when the girls ordered their pie, they were told it was sold out for the night. In fact, we had just walked out the door with the last two pieces! Bitter tears they cried, and I've felt like a pie thief ever since.
Well, Deb, the time has come for me to make a pie, a chocolate creamy pie. No boxed pudding mix here. This pie will have real dark chocolate, and plenty of real cream. You tell me when, and I'll deliver this piece of pie perfection to your little ladies.
In case you too have found yourself in a pie predicament, follow along with me and we'll make Chocolate Icebox Pie.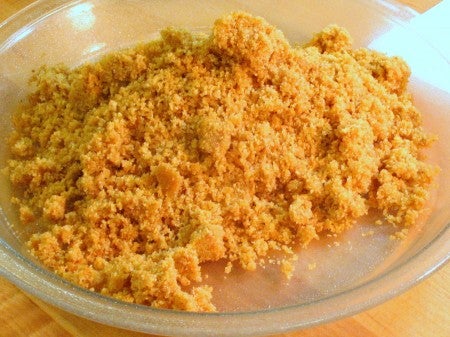 Preheat your oven to 375°F.
In a small bowl, mix together:
1 1/4 cups (177g) graham cracker crumbs
1/4 cup (50g) sugar
5 tablespoons (71g) melted butter. I
f you like a cinnamon crust, feel free to add 1/2 teaspoon cinnamon as well.
Combine the crumbs, sugar, and butter until well moistened. Pour into a greased 9" pie pan.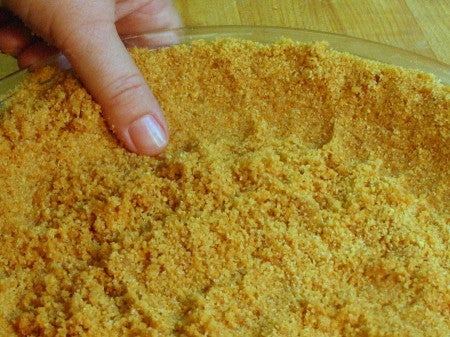 Spread the crumb mixture evenly in the pan before pressing the crust down with your fingers. This saves you from having to pry up sections of crust to cover bare spots.
To prevent over-browning, freeze the crust in the pan for 15 minutes. Bake in the hot oven for 8 to 10 minutes. Cool completely on a wire rack while you work on the filling.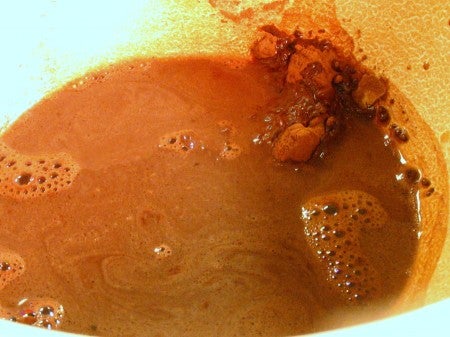 In a medium-sized bowl mix together:
1/3 cup (74g) hot water
2 tablespoons (11g) King Arthur All-Purpose Baking Cocoa or Double-Dutch Dark Cocoa
1 tablespoon vanilla
Whisk until smooth.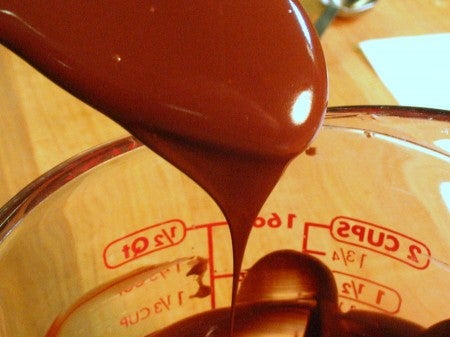 On the stove top or in the microwave, melt 1 1/3 cups (227g) bittersweet chocolate. For milk chocolate lovers, I'm sure our milk chocolate would work beautifully too.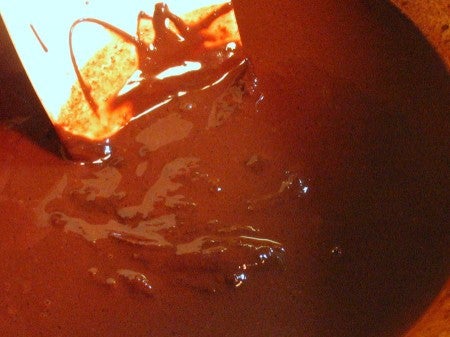 Combine the melted chocolate with the water/cocoa mixture, and blend together. It will slosh around and not combine at first, but keep at it.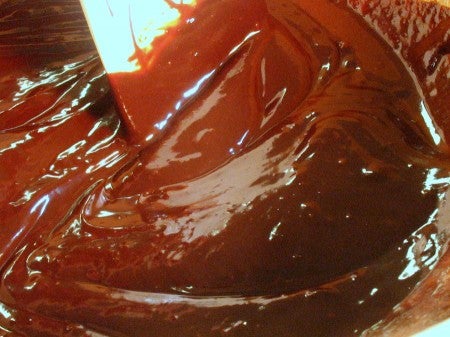 There you go! It will be the consistency of thin chocolate pudding. Set aside until the mixture is room temperature or cooler.
If you want to jazz up your filling, now's the time to add 1/2 teaspoon extract or 1/4 teaspoon extra strong flavor.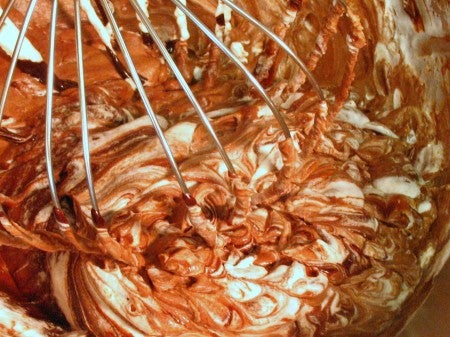 When the chocolate has cooled, whip 1 cup (227g) heavy cream with 2 tablespoons (14g) confectioners' sugar and 1/8 teaspoon of salt to soft peaks. Detach the whisk and fold in the chocolate by hand until no streaks of white remain.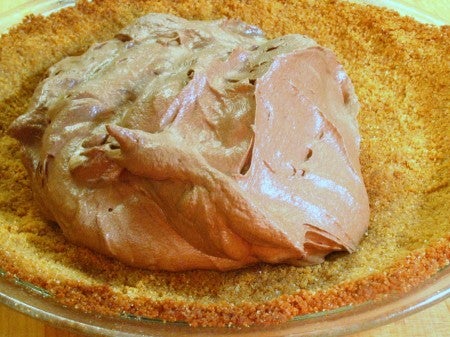 Scrape the chocolate cloud-y goodness into the cooled crust.
It fills the crust right up to the top; pictured above is only half of the batch. Good thing I only stopped to take one photo, as test kitchen maven Sue Gray would have made off with the rest of my filling!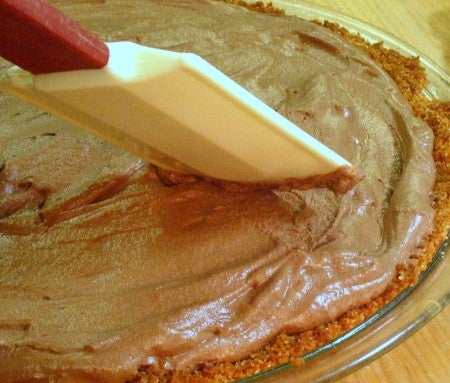 Spread the filling evenly over the crust, right up to the edges. Chill the pie for 1 to 2 hours before serving, or up to overnight.
I'm not sure where my mind was this particular morning, as I spaced out and forgot the whipped cream topping layer! The sweetened cream definitely helps cut the richness of the filling, so be smarter than me and add that topping post haste.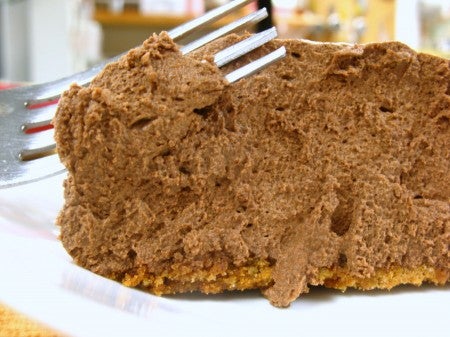 Okay, so maybe we couldn't resist and cut the pie a little early. The filling is still slightly soft, but delightfully fluffy and airy. At first bite, your mind is transformed. Everything you think you know about chocolate cream pie has changed. Not too sweet, not too bitter, just the right blend of creamy with the finish of crispy, crunchy crust.
I will say this pie is much richer than other cream pies. I made one for my husband and myself while our daughter is in France. We only managed small slivers over a couple of nights, and the leftovers came to work with me to share. Talk about how to win friends and influence people!
Next time you're thinking deep, dark chocolate, give this pie a try. You'll wind up in chocolate cloud heaven with a halo of good pie karma around you.
Please make, rate, and review our recipe for Chocolate Icebox Pie.
Jump to Comments