Move over hot fudge and butterscotch, we're breaking the rules and giving you a run for your money. Sprinkles and whipped cream need not apply.
You must dare to try this unlikely combination of sweet and savory: a delicate drizzle of dark, tangy balsamic reduction with sweet, ripe, local strawberries mellowed by the cool, creamy, rich constant of vanilla ice cream and just the right jump from a few cracks of black pepper.
My instructor in culinary school called this concoction Heaven and Hell, and if I remember correctly, my classmates and I were all a little hesitant to try it.
The best way to showcase this dynamic fusion of flavors is with a well-rounded, custard-rich vanilla ice cream, freckled with real vanilla bean seeds. I'm using our recipe for Vanilla Bean Ice Cream, which features a combination of vanilla extract and vanilla bean paste to offer a full flavor effect and the speckly visual appeal.
For best results, the ice cream base should be refrigerated overnight; so planning to make it a day ahead will ensure more success when it's turned in the machine. Place your maker's bowl into the freezer at least a day or two ahead of time so that it's deeply frozen.
Ice cream only needs to be turned in the machine until it's a soft-serve consistency, as it will set up the rest of the way in the freezer; however, if the bowl isn't fully frozen, you run the risk of fats separating from the water before the custard comes to the proper consistency. This would result in a very unpleasant mouthful of ice crystals and butter.  The colder the ice cream base and maker, the happier the emulsion.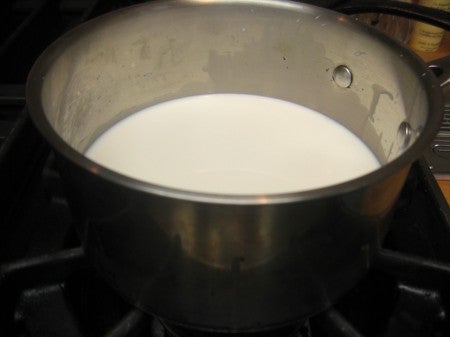 Over a burner at medium-high heat, bring 2 cups (454g) milk to a simmer.
Add 1 tablespoon vanilla bean paste, and let stand off the heat for about 30 minutes.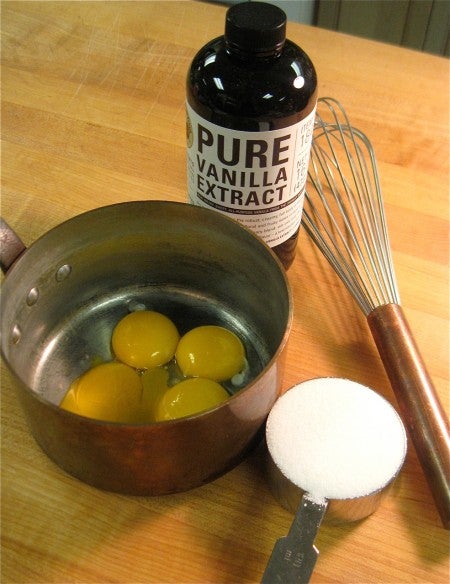 In a separate saucepan or bowl, whisk 4 large egg yolks, 1/2 cup (99g) granulated sugar, and 1/2 teaspoon King Arthur Pure Vanilla Extract.
Beat briskly until you see the yellow of the yolks lighten in color and thicken to a ribbon consistency.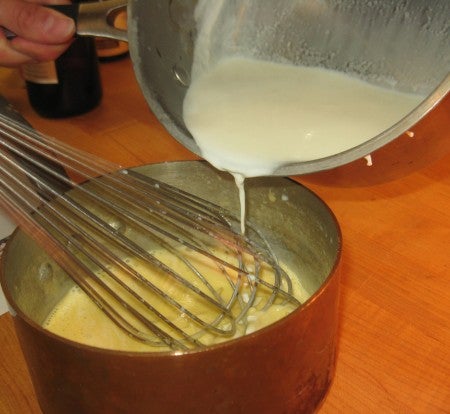 Stir the slightly cooled milk mixture into the yolks...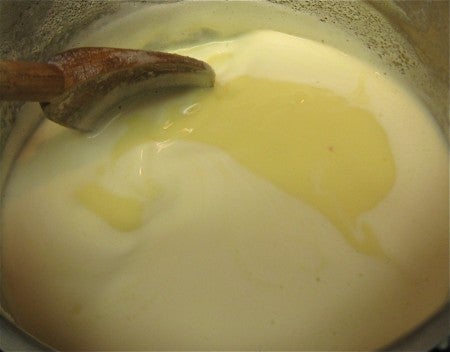 ...and return to low heat, stirring constantly with a wooden spoon or heat-resistant spatula until the mixture thickens enough to coat your utensil. Remove the pan from the heat immediately.
I always strain my custard base, since there may be a trace of coagulated egg yolk here and there. You never know.
Cool the ice cream base to room temperature and then refrigerate for at least 2 hours, though overnight is ideal.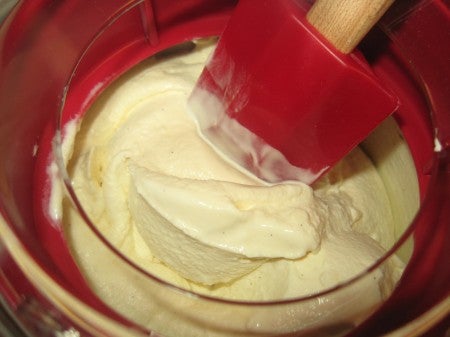 Stir 2 cups (454g) heavy cream into the base, then pour into your ice cream maker and freeze according to the manufacturer's instructions. When the ice cream reaches soft-serve consistency, it's ready to go into the freezer.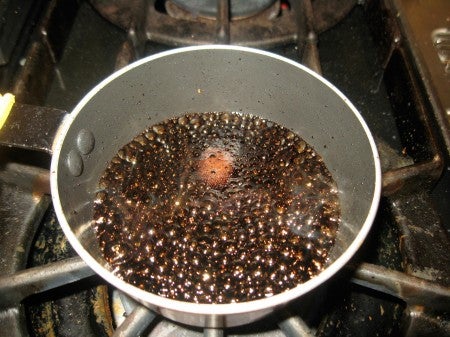 To make the balsamic reduction, bring 1 cup balsamic vinegar to a boil over medium-high heat.
The longer the vinegar boils, the larger the bubbles become. This is due to there being more resistance as the vinegar reaches a higher viscosity.  At 216°, the bubbles are close to the size of pencil-eraser heads. Bring the vinegar to a temperature of about 225°.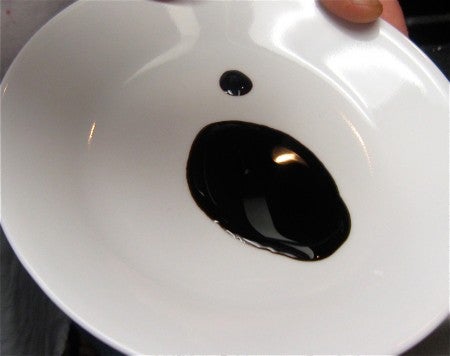 The best way to tell if you have a good syrupy consistency is to spoon some onto a tilted plate...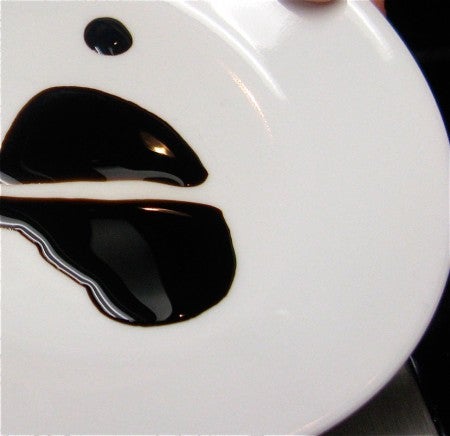 ...and run your finger through the center. If the line is undisturbed by flowing vinegar, then you're in good shape!
On the other hand, if you reduce the vinegar too much, it will become taffy when it hits the shocking chill of the ice cream.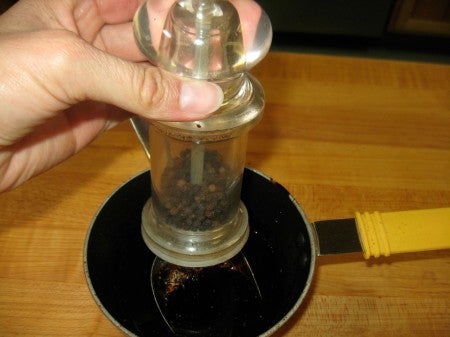 About four good cranks on the pepper grinder are just enough to balance the reduction for a perfect accompaniment to ice cream and strawberries.
Immediately spoon about a tablespoon of this hot, lightly spiced reduction onto a few scoops of ice cream topped with 1/2 cup halved strawberries. Not only will you have an amazing experience of flavors, but you'll also have my favorite dessert contrast of hot and cold.
Ice cream and bread pudding, anglaise and souffle, warm pie with whipped cream, and this rather unorthodox combination. Love it all.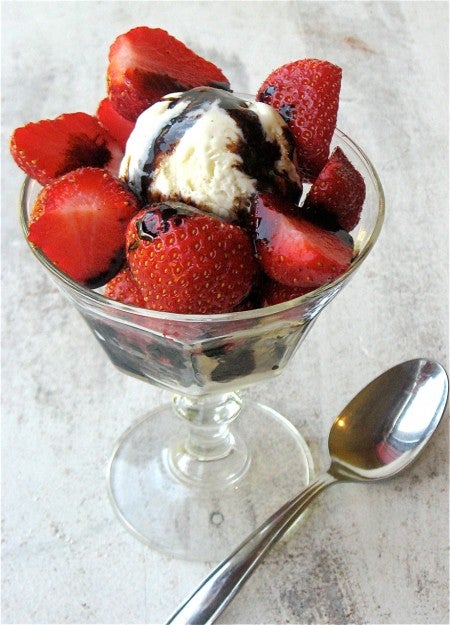 Our Vanilla Bean Ice Cream is the perfect base for this splendid dessert.
Jump to Comments