A few weeks ago, Baking Sheet writer and editor Susan Reid and I were discussing our latest projects. This often leads to our discussing our latest dinners too, and often turns into an all-out "You've GOT to try this!" festival.
I think Susan is one of the most creative cooks I've ever met and she has called me "devil woman" on several occasions for my contributions. On this day, however...
...we were definitely in sync.
Me: "I've been making this great pizza lately with bratwurst, it's like a breakfast type thing."
Susan: "Really? I've been working on a breakfast pizza for the Baking Sheet. What do you use?"
Well, cue the bell at Churchill Downs, we were off and running.
Turns out I was using bratwurst over a bechamel sauce; Susan was adding scrambled eggs to hers and using breakfast sausage. I skipped the peppers but added hot sauce on top; Susan made her eggs almost like a Denver omelet.
Seeing as the two recipes were going to be published in two different places, we decided we'd be fine each going forward as planned. I liked the part about the eggs in the white sauce, so I boldly stole that idea (right after Susan said it was OK).
Let me tell you, the taste testers were in heaven for the next couple of weeks as we made pizza after pizza. But just WAIT until the end of the post – I'll tell you the funniest part. While you're waiting, let's make a Breakfast Pizza.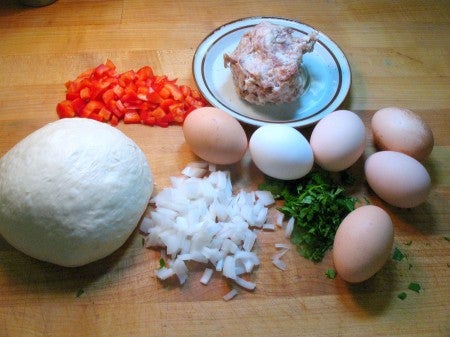 Let's check the pantry. Sausage? Check. Farm-fresh eggs? Check. Peppers and onions for the scramble? Check. Batch of your favorite pizza dough? Checkadee, check, check, check.
Yes siree Bob, we are making Breakfast Pizza. I know, we've all had leftover cold pizza for breakfast at some point in time, usually when we were between 15 and 22 years old, but this is pizza that's MEANT to be eaten for breakfast. Hot, spicy, juicy, and delectable.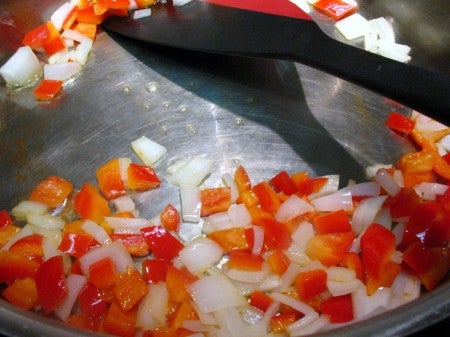 First step, sauté up your veggies. You'll need to use about a cup total of diced veggies. Here I used onions and red pepper. I'm not a huge fan of cooked green pepper, but for most people it's a requirement for an omelet. Do what makes you happy.
When the veggies are beginning to get tender, add the sausage and cook until it's done but not overly browned. You don't want it drying out in the oven.
I'm a HUGE fan of bratwurst and think it makes the perfect breakfast pizza, but on this I stand nearly alone on my island. I bowed to popularity and used breakfast sausage but again (as always) do what makes you happy.
Set the cooked filling aside and give the pan a quick swipe with a paper towel. You'll cook the sauce in the same pan, so no need to wash.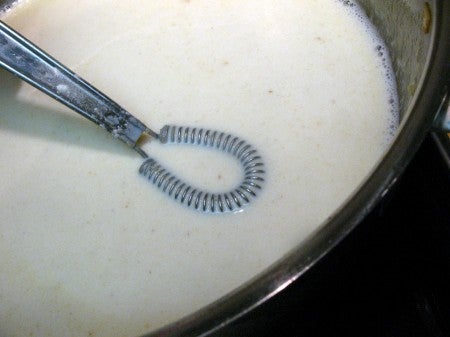 To make the sauce, cook 3 tablespoons (43g) butter with 3 tablespoons (23g) King Arthur Unbleached All-Purpose Flour for about 4 minutes, stirring so that it doesn't brown too much.
Remove the pan from the heat and pour in 1 cup (227g) of milk while you whisk constantly. Return the pan to the heat and continue to whisk as the sauce thickens.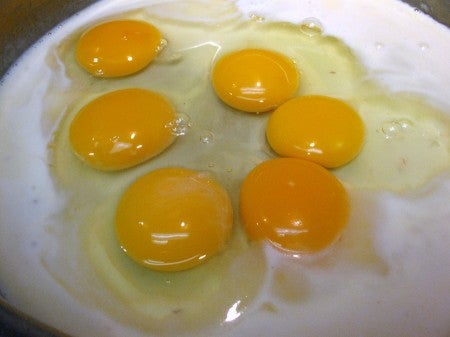 When the sauce is about as thick as mustard, crack in 6 eggs. I have 13 lovely chickens at home (well, 12 lovely chickens and Cartman. She's not very nice), so we get great eggs at home. I couldn't resist bringing in a few; the color and flavor is SO amazing.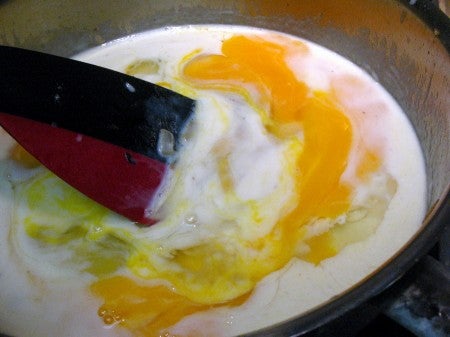 Switch to a spatula and scramble together the eggs and sauce. The eggs will thin the sauce out, and then it will start to cook up like soft scrambled eggs.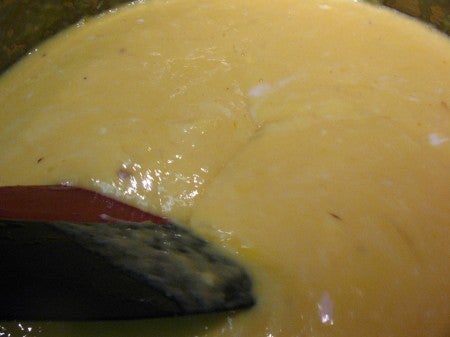 Getting there...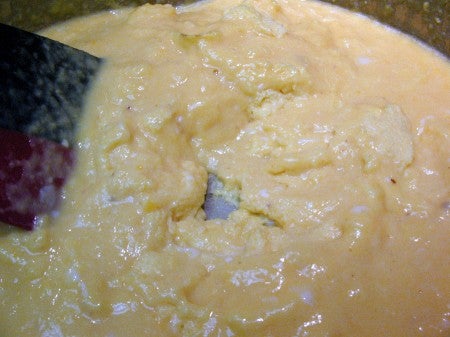 Almost done. You're looking for a slightly wet scramble that will still have moisture when it goes in the oven. If you dry the eggs out on the stovetop, they'll be rubbery on the pizza.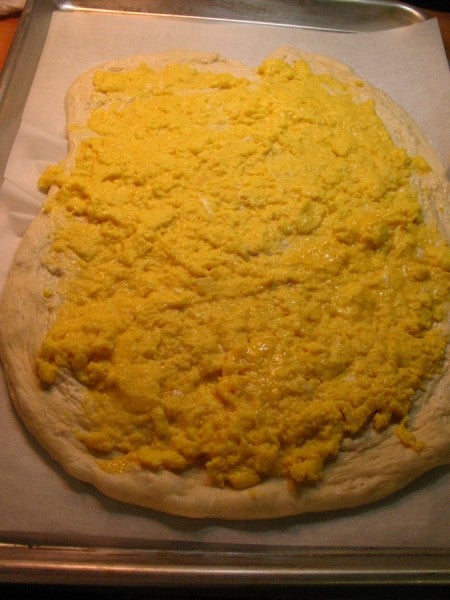 Spread the egg mixture over your rolled-out pizza crust. If you have extra eggs left over, don't pile them on top. Just save them for tomorrow's breakfast. Too much egg will cause the pizza to be soggy instead of juicy and creamy.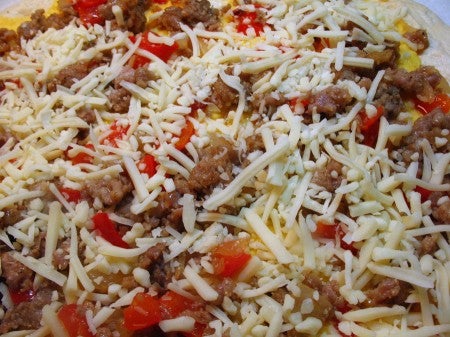 Add your sausage, pepper, and onion filling, and top with your favorite pizza cheese. I used a combination of shredded sharp cheddar and mozzarella on my pie. I like the bite of the cheddar offsetting the eggy filling.
Bake the pizza on a stone or in a pizza pan in a preheated 400°F oven for 15 to 18 minutes, or until golden brown and bubbly all over.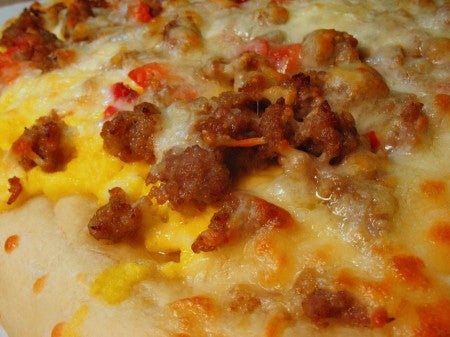 Almost there...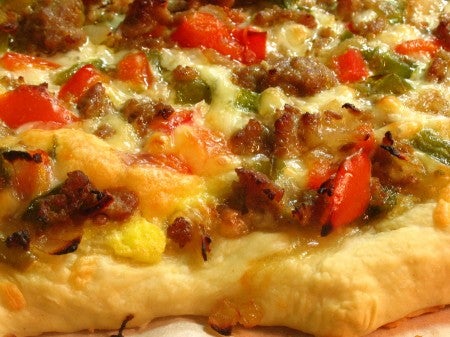 Oh yeah, that's the ticket! A crunchy crisp crust is music to the ears as your pizza wheel slices through.
Grab a bottle of hot sauce, a stack of napkins, and shinguards to fight off the crowds – this baby is going to go fast!
What's the funniest part? In all that time and after all those pizza tests, I've never had a bite of Susan's version, and she's never gotten to try mine! We were each so busy with our own pies, we never got to trade slices. *sigh* I guess we each need to make just one more.
Please bake, rate, and review our recipe for Breakfast Pizza.
Jump to Comments