All right, I'm about to ask a potentially heretical question:
How come my homemade cake is never quite as moist (and therefore as compelling) as cake made from a typical boxed mix?
Maybe it's simply the way most of us are brought up – me included. I mean, we grow up believing that moistness is the single leading characteristic that distinguishes a so-so cake from one that's truly worthy of frosting and birthday candles.
Remember back in the '70s, when Pillsbury came out with its Pillsbury Plus cake mix? The callout splashed across the front of the box read, "There's pudding in the mix, to give you the moistness and flavor of scratch cake."
Pudding in the mix, huh? Well, THAT certainly sounds moist. Bring it on!
These days, the leading national brands on your supermarket shelf include Betty Crocker's "SuperMoist®" cake, as well as Duncan Hines' "Moist Deluxe."
And how about Pillsbury's current bow to moist cake?
Try "Moist Supreme."
When you get right down to it, American' tastes in cake are far different than Europeans'. An Austrian Sacher Torte, without its layer of apricot glaze and thick cover of fudge icing, is actually rather dry. And this is true of most Continental cakes I've sampled; the cake seems to serves simply as a rather austere base for frosting and filling.
Now, serve a cake like that to a typical American, and s/he'll smile politely, hide a stealthy grimace, and politely push the plate aside.
Thus, my quest for the past year or so: bake a perfectly moist cake. A yellow cake, to be precise. With chocolate frosting.
Now, I wasn't after soggy-moist; "sodden" isn't an adjective I'd happily pair with "cake."
But I did want a fine, moist crumb, one that didn't feel like sawdust in my mouth. I wanted to take a bite of cake, and not immediately seek relief with a glass of milk.
And, you know what? I've tinkered around with a bunch of recipes and found one I really like.
Butter, eggs, and yogurt or sour cream seem to strike the perfect moist note: not too heavy, but not at all dry or sawdust-y.
A generous amount of vanilla (and a touch of almond) bring out the flavor of this simple cake. And pourable chocolate frosting, which sets to a fudge-like consistency, is the perfect complement.
First, let's check out a couple of new ingredients-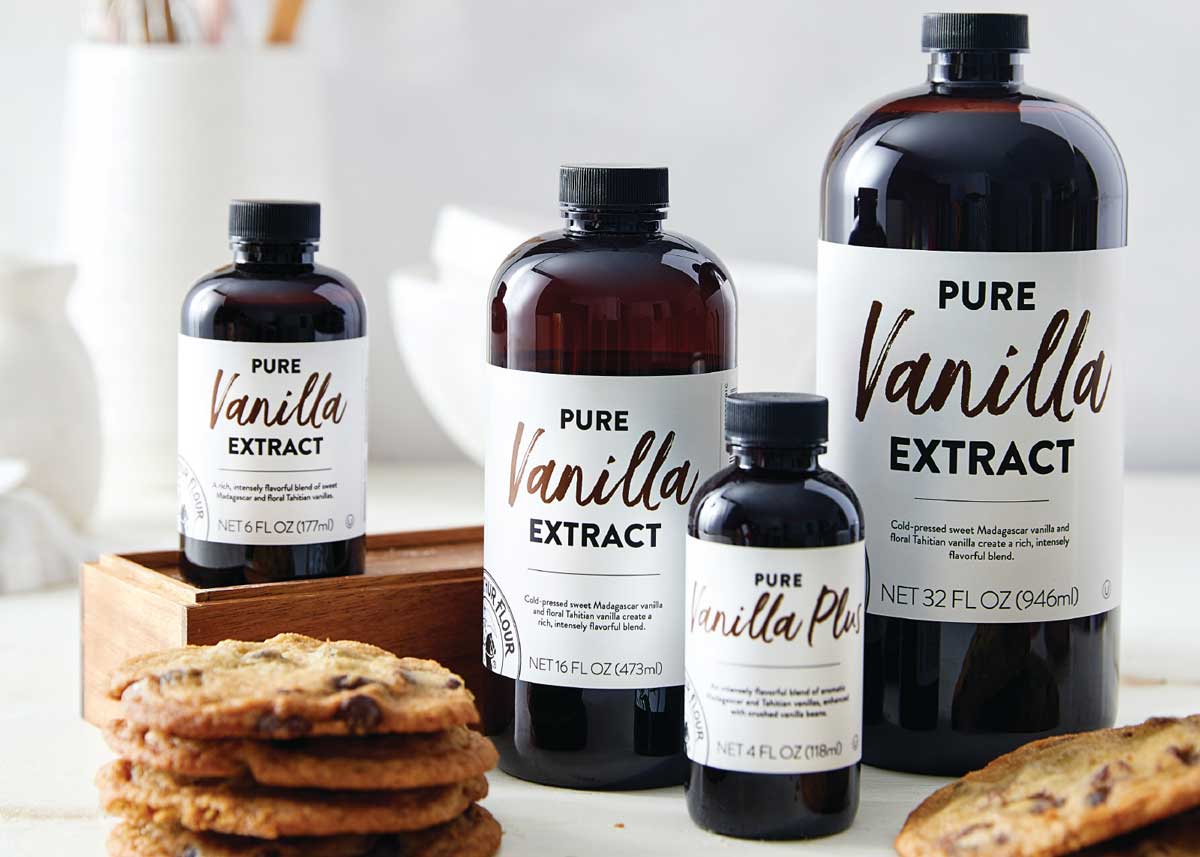 Our new vanilla is a proprietary blend of full-bodied Madagascar Bourbon vanilla, and aromatic Tahitian vanilla. Stronger and more concentrated than run-of-the-mill vanillas, its rich, distinctive vanilla flavor comes through beautifully in all your favorite baked treats.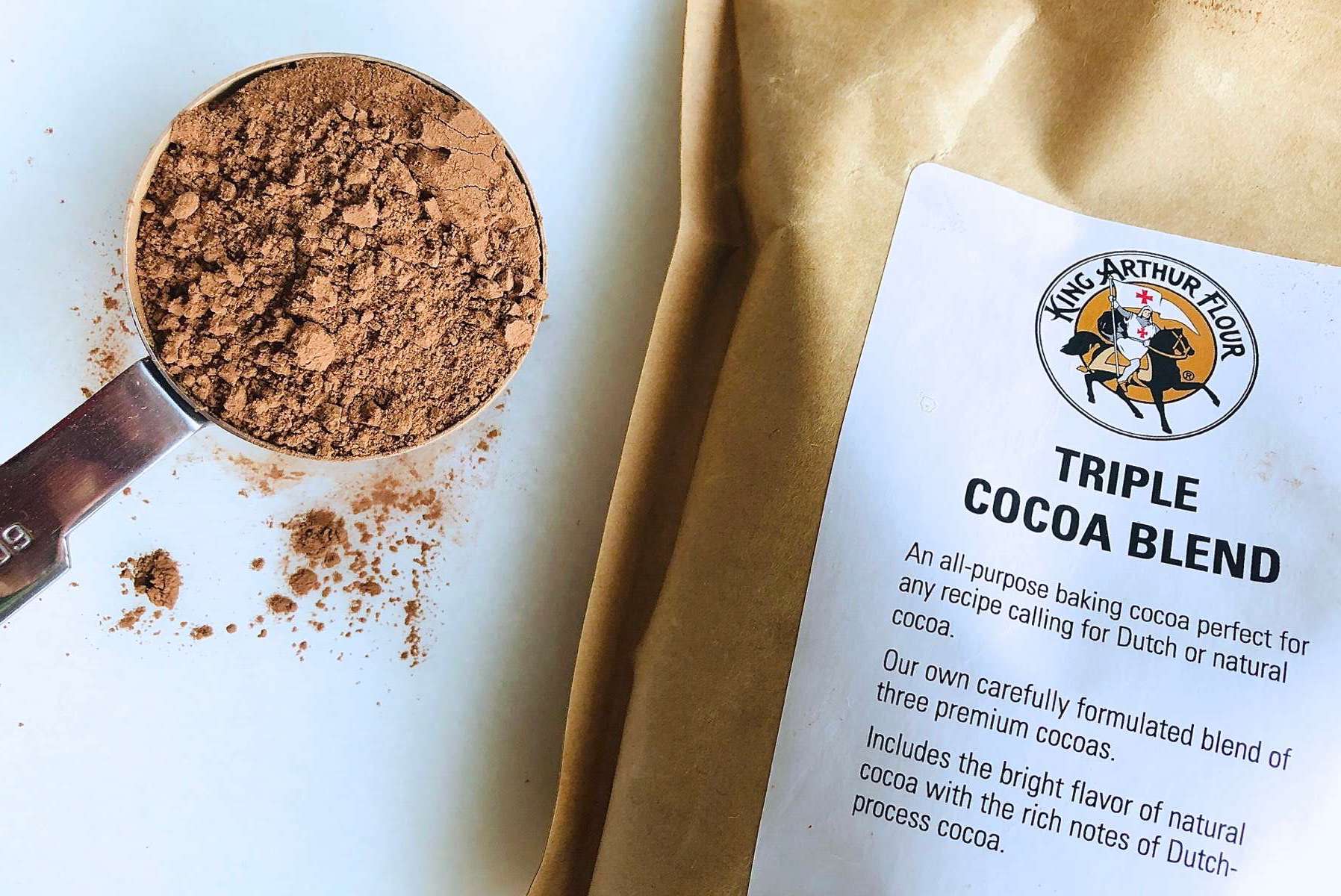 Our new all-purpose baking cocoa is perfect for ALL of your cocoa recipes; no more having to choose between different cocoas. Our blend of natural and Dutch process cocoas features the bright, bold, "pure chocolate" flavor of natural cocoa; and the rich, mellow notes of Dutch-process. Use it in cake and cookies. Use it in fudge sauce and ganache. Enjoy it everywhere.
Preheat the oven to 350°F. Lightly grease a 9" round cake pan that's at least 2" deep; for extra protection against sticking, line the pan with parchment, and grease the parchment.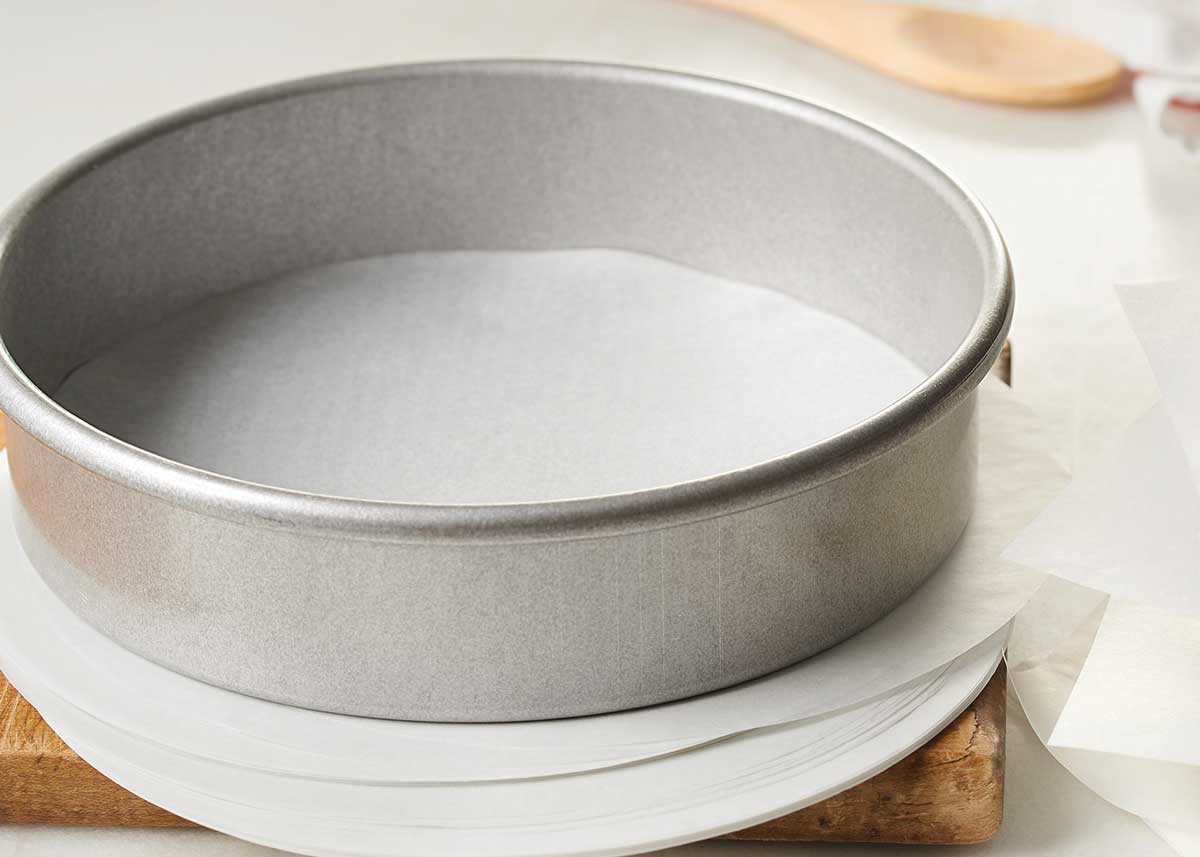 Put 1 cup granulated sugar and 1/2 cup room-temperature unsalted butter in a mixing bowl, and beat until very well combined.
Add 2 large eggs one at a time, beating well and scraping the bowl after each. After you've added the second egg, beat at high speed for 2 minutes; the batter will lighten in color and become fluffy.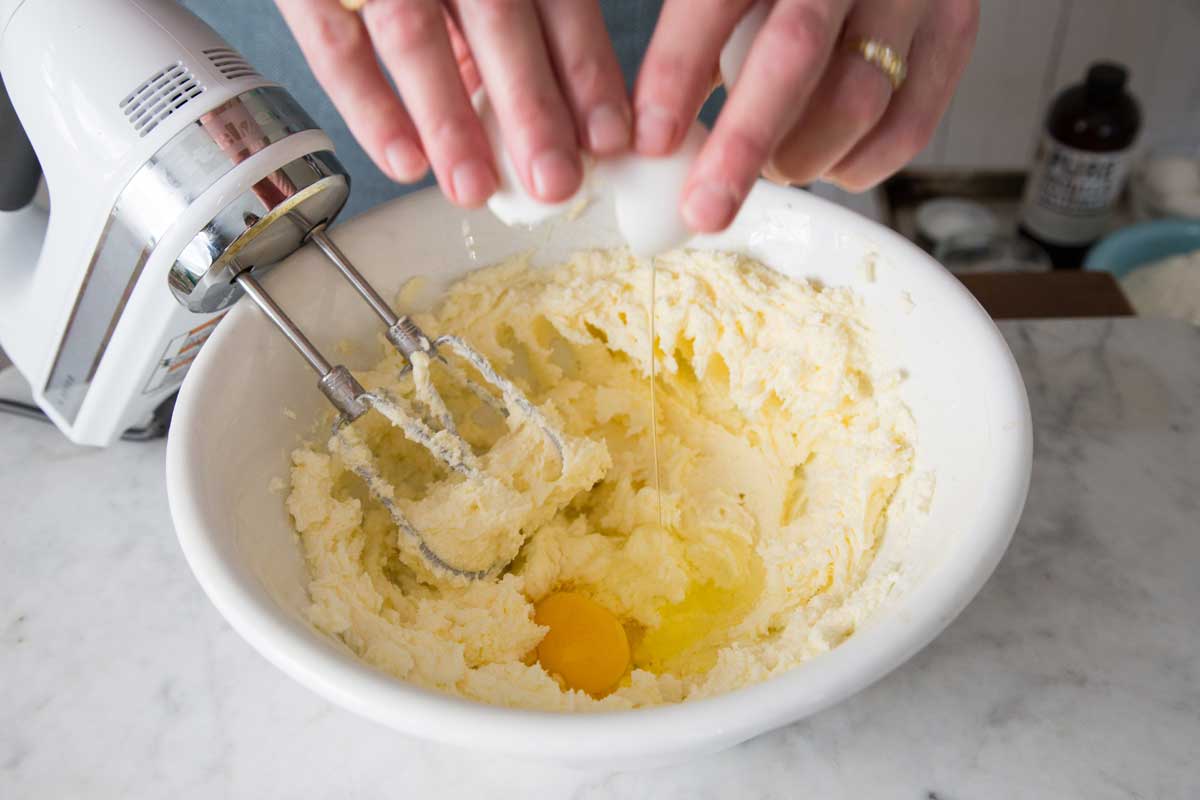 Add the following, stirring to combine:
1 tablespoon vanilla extract
1/8 to 1/4 teaspoon almond extract
3/4 teaspoon salt
2 teaspoons baking powder
3/4 teaspoon baking soda
Next, you're going to add 1 2/3 cups (7 ounces) King Arthur Unbleached All-Purpose Flour, and 1 cup plain or vanilla yogurt; low-fat is OK, but please don't use nonfat.
Can you substitute sour cream for the yogurt? Sure. Full-fat is best; and low-fat is OK, but avoid nonfat – the cake's texture will suffer.
Now, don't just dump the flour and yogurt into the bowl and beat; here's how to do it:
Starting and ending with the flour, alternately add 1/3 of the flour, half the yogurt, 1/3 of the flour, the remaining yogurt, and the remaining flour. Beat gently to combine after each addition. Scrape the bottom and sides of the bowl, and beat briefly.
Spoon the batter into the prepared pan. Bake the cake for 30 to 35 minutes, until it's golden brown on top.
How can you tell for sure that the cake's done? (Psst ... we wrote a whole blog post about it.) 
A toothpick inserted into the center will come out clean, or with a few moist crumbs clinging to it; and the edges will have pulled away slightly from the sides of the pan.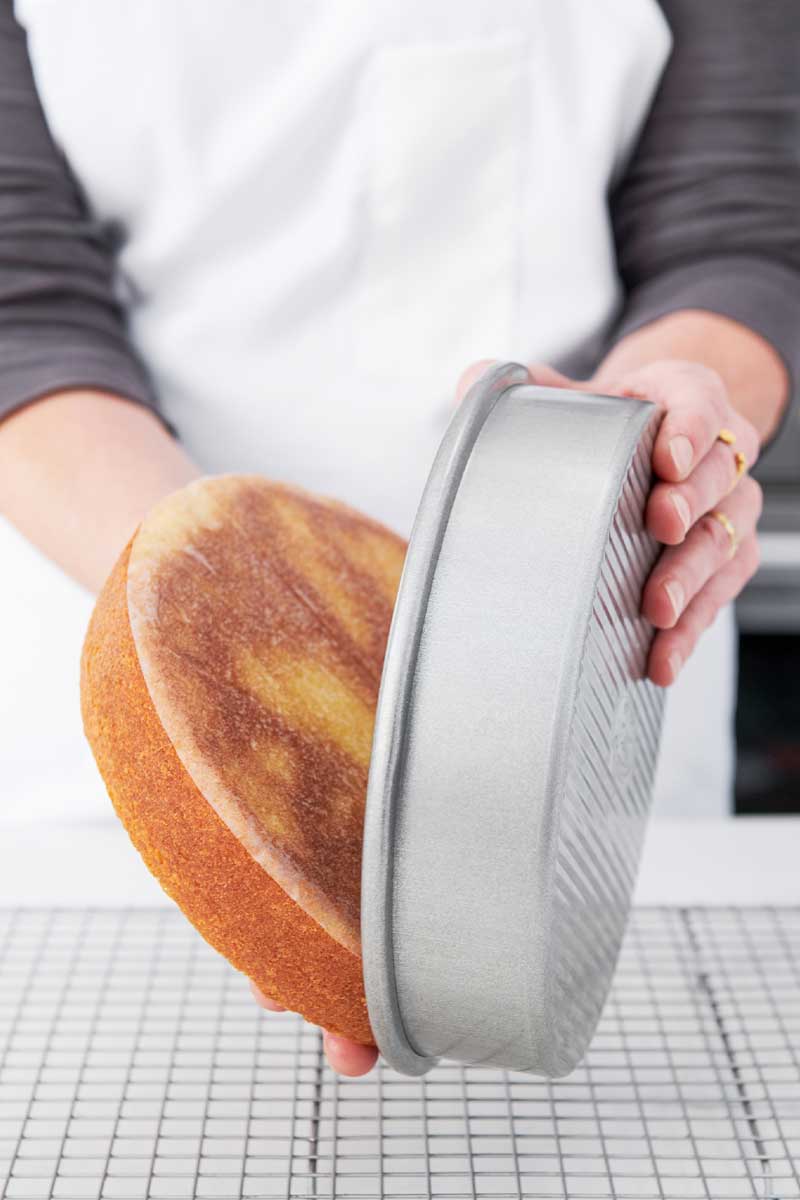 After 10 minutes, turn the cake out of the pan, and peel away the parchment.
Set the cake onto a rack to cool completely before frosting.
To make the frosting: Sift 2 1/2 cups confectioners' sugar into a bowl.
Do you REALLY have to sift it? Yes, you do. If you don't have a sifter, just shake it through a sieve. You don't want any hard little nuggets or lumps.
Melt 5 tablespoons butter in a small saucepan set over medium heat. Add 3 tablespoons cocoa, natural or Dutch-process (our new cocoa blend works well here); and 1/4 cup plain or vanilla yogurt (low-fat is fine).
Bring the mixture to a boil, then remove from the heat. Stir in 1 teaspoon vanilla extract and 1/4 teaspoon espresso powder (optional, but it really brings out the icing's flavor, without adding any coffee flavor of its own).
Add the chocolate mixture to the confectioners' sugar in the bowl; beat until smooth.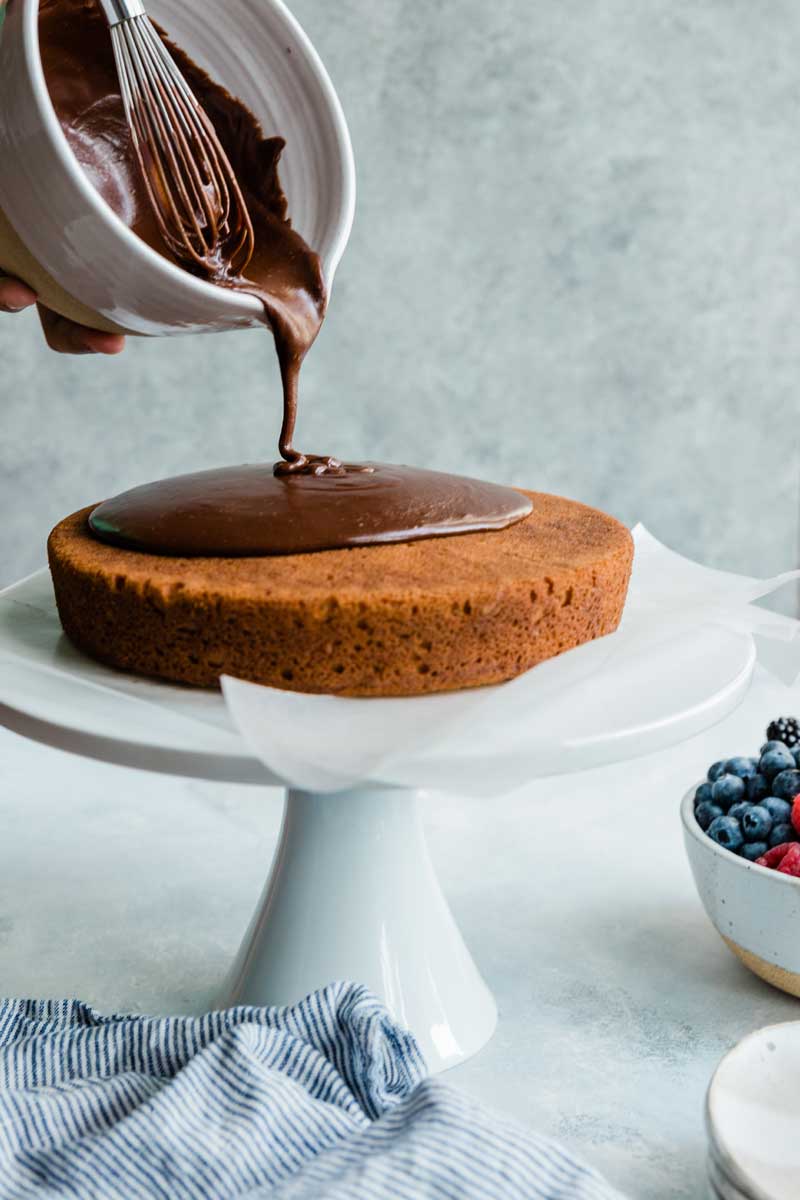 Quickly pour the hot frosting atop the cake.
Note that you need to work quickly once you add the hot butter mixture to the confectioners' sugar. The frosting pours easily when warm, flowing across the cake and down its sides, then drying to a glossy sheen.
If you dub around, though, and let it cool, you're going to be applying frosting to cake with a spatula. It'll still taste just dandy, but it won't be nearly as pretty.
The frosting recipe makes a generous amount. It'll flow over the sides of the cake and pool a bit around the edge of the plate. To keep things neat, slip strips of parchment or waxed paper between cake and plate; frost the cake; and when the frosting is done oozing, gently tug the strips of paper out, taking the frosting with them and leaving a clean plate. Enjoy the extra frosting on ice cream.
Or simply run your finger around the edge of the cake and... c'mon, I KNOW that's what you're thinking!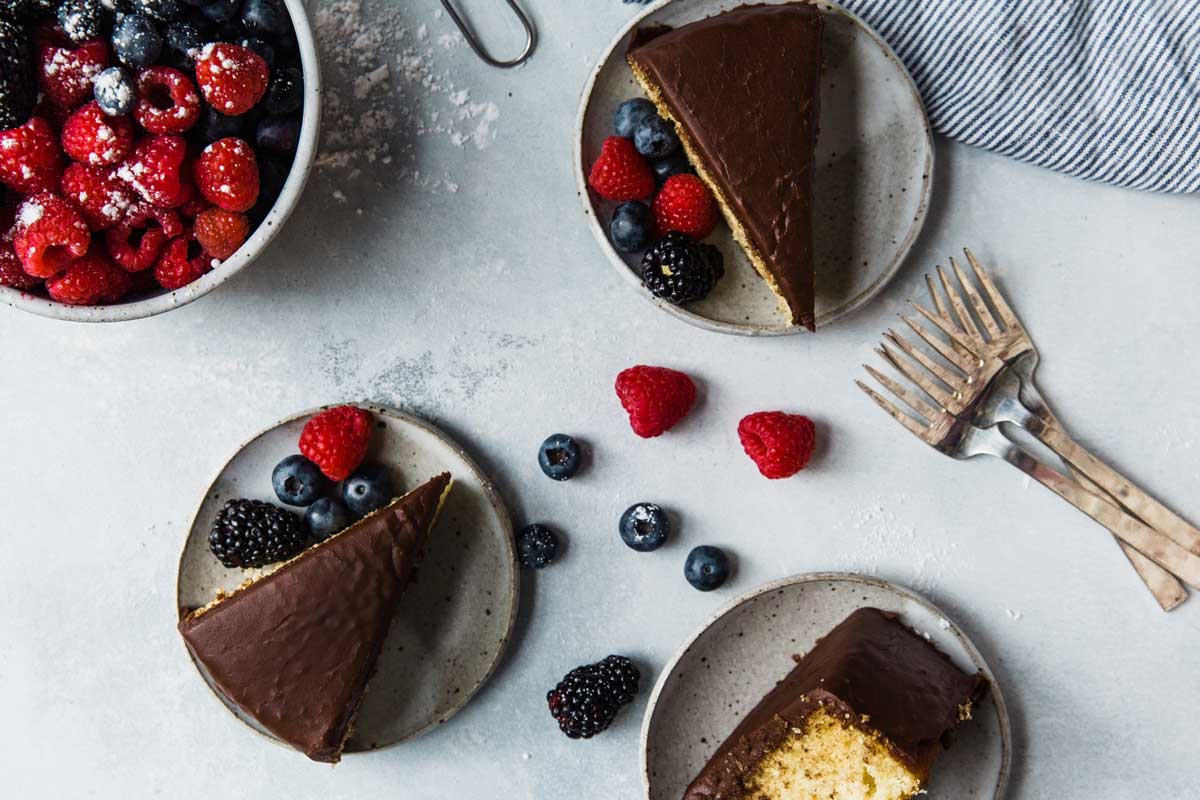 Slice the cake, serve, and enjoy an absolutely classic American-style, moist yellow cake. With deep-dark, fudgy chocolate icing.
Oh, and by the way - one small tweak transforms this recipe into one for Boston Cream Pie. Split the cake into two rounds before frosting; fill with about 2 cups of your favorite pastry cream filling or vanilla pudding, and frost as directed.
Read, bake, and review (please) our recipe for Classic Yellow Cake with Chocolate Frosting.
Jump to Comments