Flaky Buttery Crescent Rolls
The best of both worlds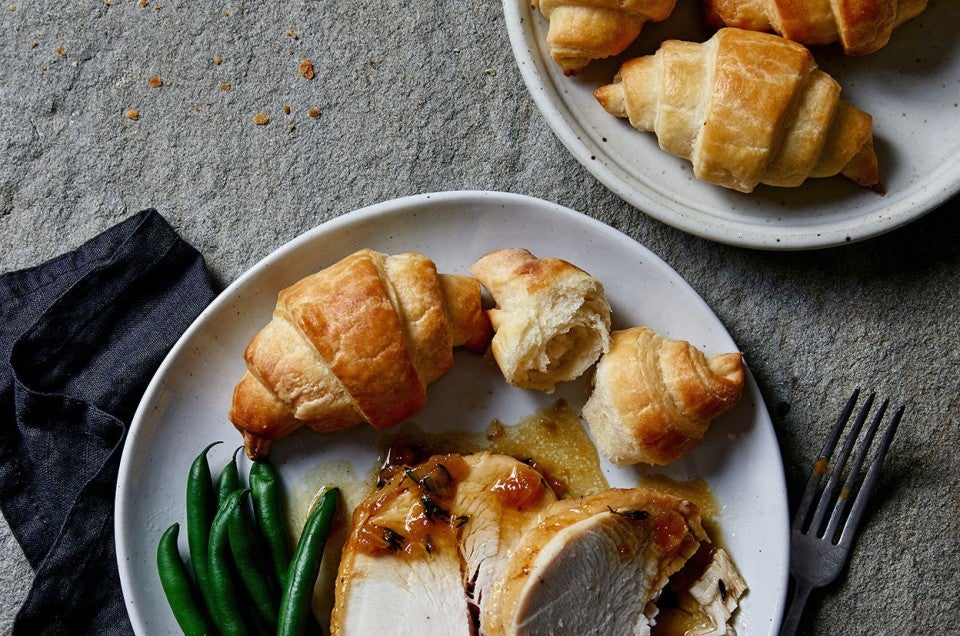 Awhile back, I did a quick poll on our Facebook page asking readers for their preference in crescent rolls:
Crisp/flaky... or soft/yeasty?
And guess what, dear readers? You were split right down the middle, with half going for a soft yeast roll that unravels into a buttery strip; and half preferring a crisper, baking powder-based roll, one that shatters apart into buttery shards and flakes when you bite into it.
"Hmmm," I thought to myself. "Wonder if we can have it both ways?"
And the answer is...
...a resounding YES.
After pondering the pluses of both yeast rolls and baking powder biscuits, I decided to do a combo: I was after the flavor of yeast bread, and the flakiness of a well-made baking powder biscuit.
Add LOTS of butter (think puff paste; think a crisp/flaky turnover), and you get the quintessential crescent roll: flaky, tender, crisp, yeasty, and buttery.
Did I succeed? Yes, I think so. But I'll let you be the judge.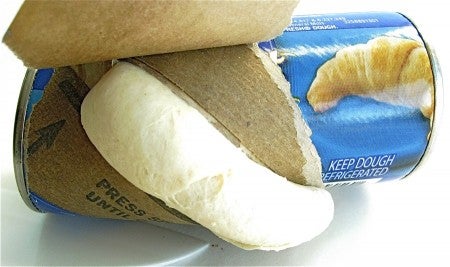 Would you rather go the easiest route, and pop open a can, like this?
Or gather six simple ingredients, and make your own Flaky Buttery Crescent Rolls?
Let's get started. First, whisk together the following:
3 cups (361g) King Arthur Unbleached All-Purpose Flour
1 1/4 teaspoons salt
1 teaspoon baking powder
2 teaspoons sugar
2 teaspoons instant yeast
*If you use salted butter, reduce the salt to 3/4 teaspoon.
Next, cut 20 tablespoons (283g) cold unsalted butter into pats. Or flatten with a rolling pin, like this: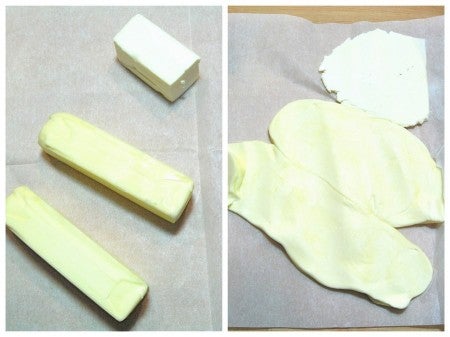 Lay the butter on a piece of parchment. Cover with another piece of parchment. Whack with a rolling pin until flat and malleable. All it takes is a few good strokes, and you're there.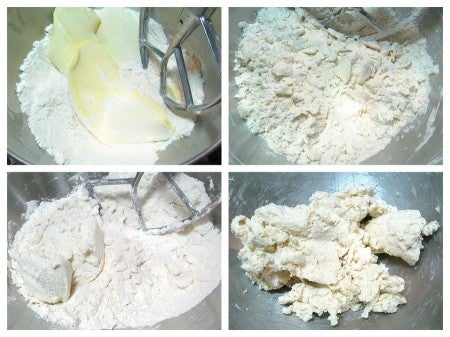 Work the butter into the dry ingredients until the mixture is unevenly crumbly.
Add 1 1/2 cups (340g) ricotta cheese, full-fat or part-skim; stir until the dough comes together.
Don't want to use ricotta cheese? Substitute 1 cup sour cream for the 1 1/2 cups ricotta. Be aware sour cream will lend your rolls a tangy, sourdough-like flavor different than that of a classic crescent roll.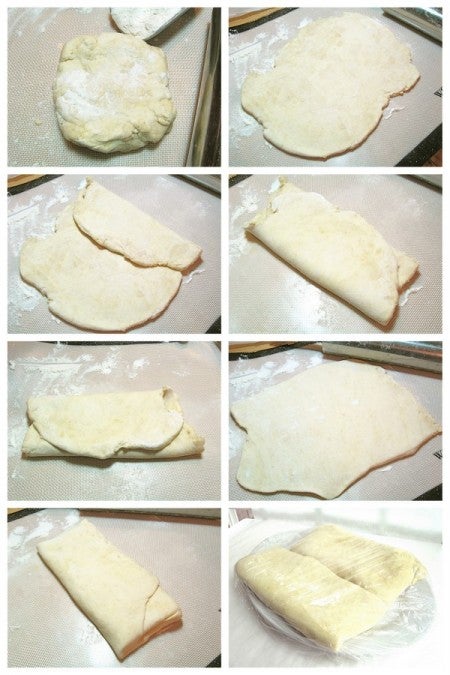 Turn the dough out onto a well-floured surface, and bring it together, if necessary, with a few quick kneads. Divide the dough in half.
Working with one half at a time, pat the dough into a rough square, then roll it into an 8" x 10" rectangle. Starting with one of the shorter (8") ends, fold it in thirds like a business letter. Turn it 90°, and roll it into an 8" x 10" rectangle again. Fold it in thirds, wrap in plastic, and place in the refrigerator to chill for at least 30 minutes (or overnight) before using.
Repeat with the remaining piece of dough.
If desired, freeze the dough for up to 1 month before using. When you're ready to bake, let the dough or rolls thaw in the refrigerator overnight, covered, before using. Then let them rest at room temperature for several hours after shaping and before baking, as the recipe directs.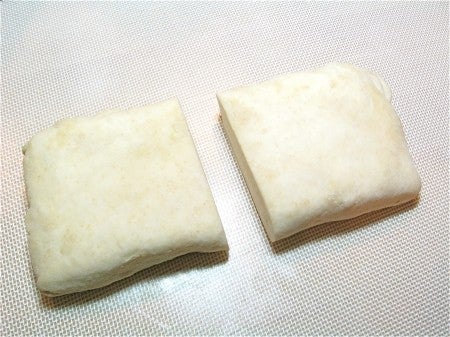 When you're ready to shape the crescent rolls, remove the dough from the refrigerator. Allow it to warm and soften for about 10 minutes at room temperature; this will make it easier to work with. Working with one piece of dough at a time, cut it in half.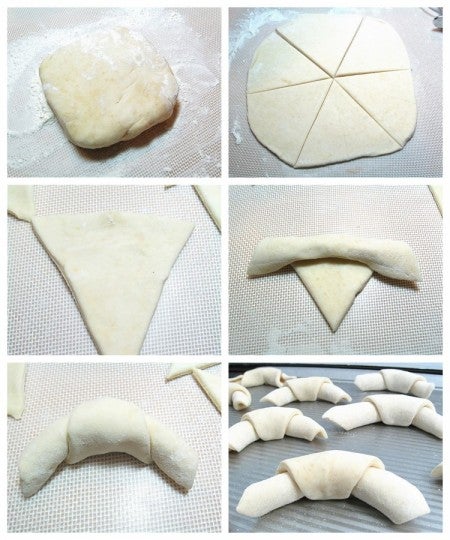 Again, work with one piece of dough at a time. Round its corners, and roll the dough into a 9" circle. Cut the circle into 6 wedges. Note: If you're working on a silicone rolling mat, as I'm doing here, cut carefully! You don't want to mar its surface.
To shape a crescent roll, begin at the base of a wedge; roll towards the point at the top. Place the roll on a lightly greased or parchment-lined baking sheet, with the tip underneath. Gently bend the roll into a crescent shape.
Repeat with the other half of the dough; then with the remaining dough. If you've chosen to use the entire batch of dough, you will have rolled and cut four pieces of dough, to make a total of 24 rolls.
Cover the pans, and let the rolls rest for 3 to 4 hours. They won't rise noticeably; that's OK. Towards the end of the rest period, preheat the oven to 375°F.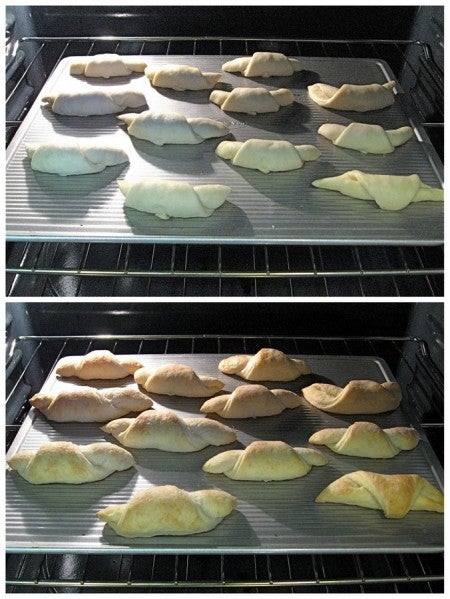 Uncover the rolls, and bake them for 20 to 25 minutes, until they're golden brown.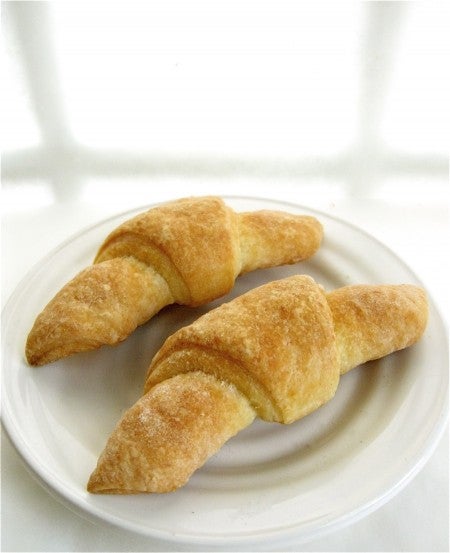 Remove from the oven, and serve warm, or at room temperature.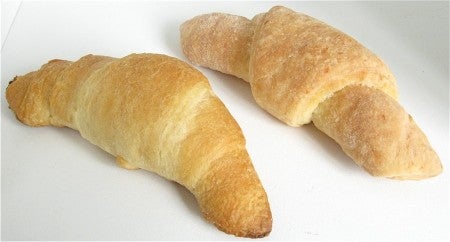 So, here's the comparison – canned-dough crescent roll in front, homemade in the back.
One difference? The canned roll has more "twirls."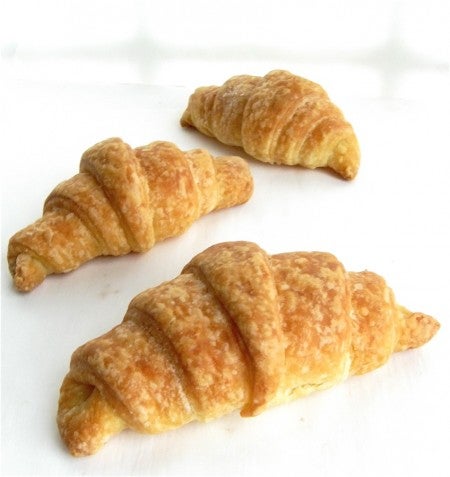 For homemade rolls with more layers, roll each half of dough into a 7" x 9" rectangle, rather than a 9" circle. Cut the rectangle into 3 rectangles, each 3" x 7"; then cut each rectangle in half diagonally, to make six 7" long triangles, with a 3" base. Starting with the short base, roll towards the tip, and proceed as directed in the recipe.
These crescents were made from dough I'd had frozen for nearly 2 months - so yes, you can freeze the dough longer than a month, though as you can see it's apt to bake "spottier" rolls, not sure why...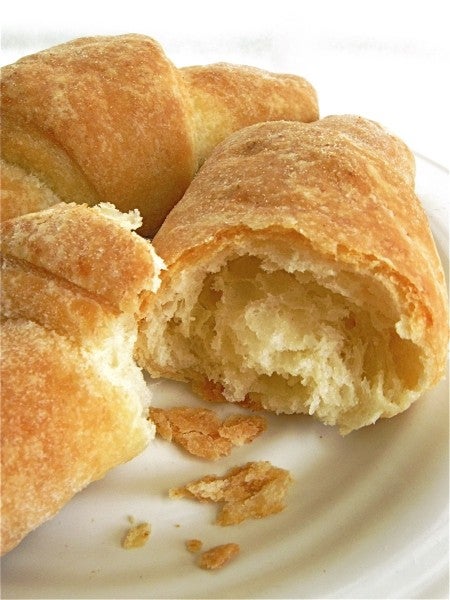 Ah, but check out the buttery flakiness of your homemade rolls.
And look at the simplicity of their ingredients: King Arthur unbleached flour, butter, yeast, salt, baking powder, and ricotta cheese.
Compared to what's in the canned rolls: Enriched Flour Bleached (Wheat Flour, Niacin, Ferrous Sulfate, Thiamin Mononitrate, Riboflavin, Folic Acid), Water, Partially Hydrogenated Soybean and/or Cottonseed Oil, Sugar, Baking Powder (Baking Soda, Sodium Acid Pyrophosphate, Sodium Aluminum Phosphate), Contains 2% or Less of: Dextrose, Vital Wheat Gluten, Salt, DATEM, Potassium Chloride, Xanthan Gum, Yellow 5, Red 40 and Other Color Added.
Yes, canned crescents are fast and easy. But with a bit of planning, your homemade crescents can be pretty easy, too – and simply delicious.
Now, for the inevitable question: "Can I make these with whole wheat flour?"
Well, maybe a bit; say, 1/2 cup to 2/3 cup whole wheat substituted for the same amount of all-purpose flour. Any more than that, we fear the rolls would lose their wonderful texture. But experiment with a higher percentage of whole wheat, if you like; taste is always personal.
Bake, rate, and review (please) our recipe for Flaky Buttery Crescent Rolls.
Jump to Comments