AJ Quigley, a regular on King Arthur's Baking Circle community, emailed us this recipe with the following message –
"I ran across one of my favorite sugar cookie recipes years ago in one of those 'company' fundraiser cookbooks, and have used it quite often since then. I checked KAF's recipes and there's not one like it, so I thought I'd share. It makes a tender-crisp, melt-in-your-mouth cookie."
Well, I'd been looking for the "perfect" sugar cookie recipe for a long time. Since about 1967, to be exact, the last time I tasted a sugar cookie from the Colonial Bakery in Glastonbury, Connecticut...
Remember when everything (except church) was closed on Sunday?
Well, not QUITE everything. After all, there had to be somewhere to go after church.
Some families went out to eat; others simply went home to a big Sunday dinner.
Our family fell in between those two poles; we didn't go out to eat, but we did stop at Franklin's drugstore, for a nickel's worth of candy; and the Colonial Bakery, for a cookie or cupcake.
Even back then, I was a chocolate-lover. While my nickel at Franklin's went towards bubblegum cigars or Lik-M-Aids, my treat of choice at the Colonial never varied: it was chocolate cupcake with chocolate icing all the way. The only decision involved the color of the sprinkles on top.
My big brother Mike, however, was a real vanilla guy. He inevitably spent his nickel on baseball cards (with their peculiarly chalky, stiff sheet of bubblegum); and just as certainly, his bakery choice would be a sugar cookie.
Now, these Colonial Bakery sugar cookies were big, bigger than the palm of a kid-sized hand. A very pale cream color and sprinkled with crunchy sugar, they were crisp around the edges, but just a bit soft in the center.
And, even though I'd be firmly clutching my chocolate cupcake in its square of waxed paper, and clearly had more than my share of sweets, my brother would give me a bite of his cookie.
Thanks, Mikey.
Now, here's the main question sugar-cookie fanciers have to answer: crunchy, or chewy?
Interestingly, this cookie can go either way, texture-wise: crisp-crunchy, or soft-chewy. If you store them airtight, the cookies will remain crisp. But if you prefer soft sugar cookies, simply leave them uncovered overnight; they'll soften nicely.
Ready to try this tweak on a delicious classic? Let's bake Vanilla Sugar Cookies.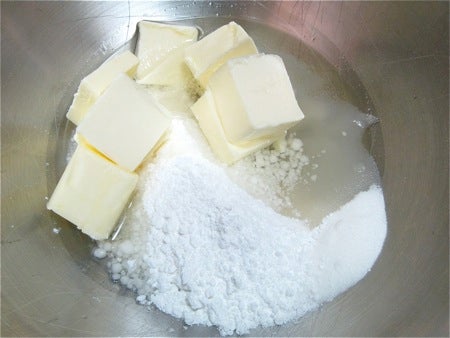 Put the following in a bowl, and beat until smooth:
1/2 cup (99g) vegetable oil
8 tablespoons (113g) unsalted butter, softened
1/2 cup (57g) confectioners' sugar
1/2 cup (99g) granulated sugar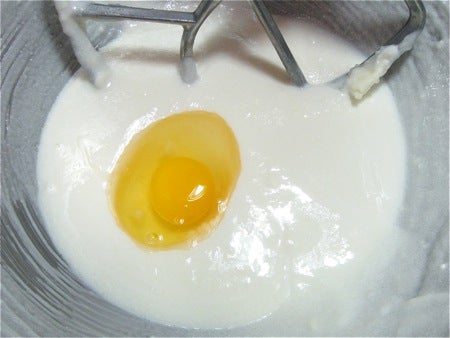 Add 1 large egg, again beating until smooth.
Now comes the good part –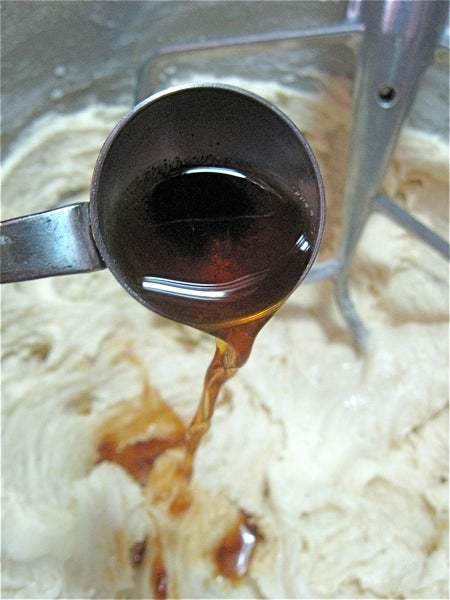 Vanilla! Use 2 to 3 teaspoons, to taste.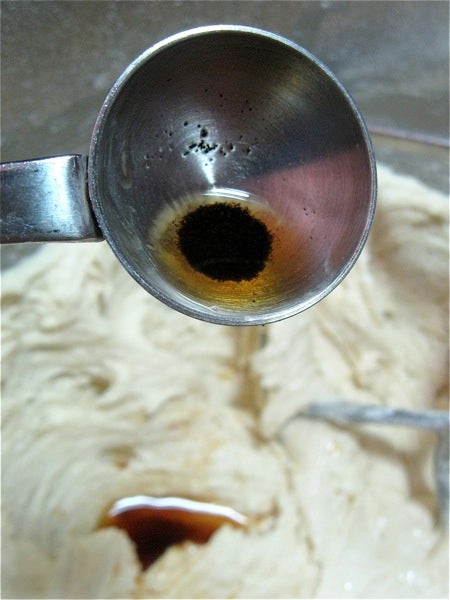 I happen to love our Vanilla Bean Crush - it's full of crushed vanilla pods and seeds, and has a wonderfully aromatic, "vanilla-y" flavor.  See the residue in the spoon? That's the seeds and pods; they'll add lovely vanilla flecks to whatever you're baking.
Now's the time to add 1/4 teaspoon almond extract, as well; it's optional, but gives your cookies that certain sugar cookie je ne sais quoi.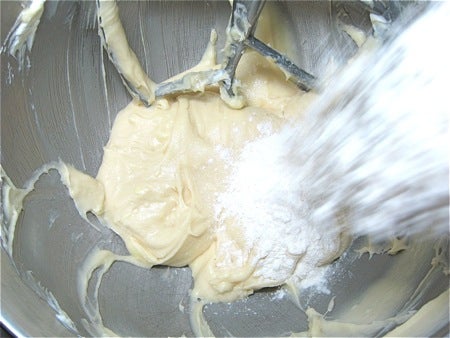 Stir in the following:
scant ¼ teaspoon baking soda
¾ teaspoon baking powder
½ teaspoon salt*
1/8 to ¼ teaspoon ground nutmeg, to taste
2 cups (241g) King Arthur Unbleached All-Purpose Flour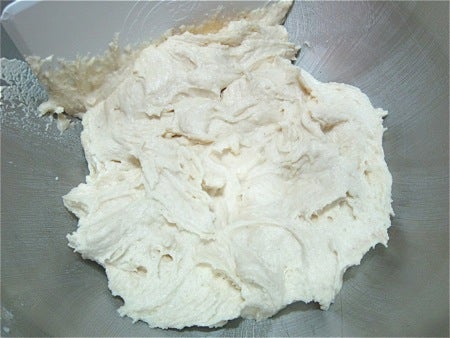 Scrape the dough into the center of the bowl. Cover the bowl and refrigerate the dough for at least 2 hours, until it's stiff enough to scoop easily and hold its shape; overnight is fine.
Just before shaping the cookies, preheat your oven to 350°F. Lightly grease (or line with parchment) 2 or 3 baking sheets.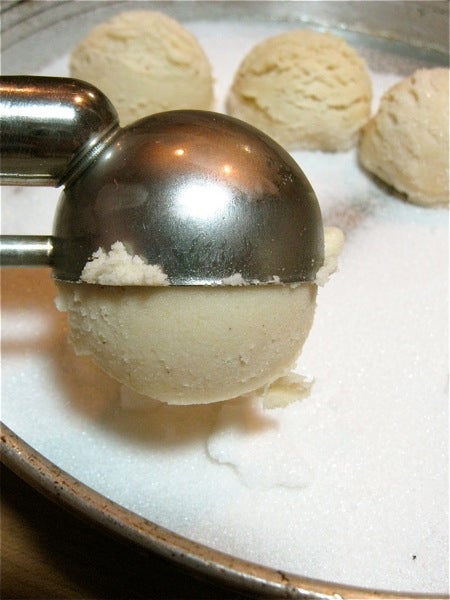 Place some granulated sugar or coarse white sparkling sugar in a shallow pan, and scoop the chilled dough by the tablespoonful into the sugar, rolling to coat. A tablespoon cookie scoop works well here.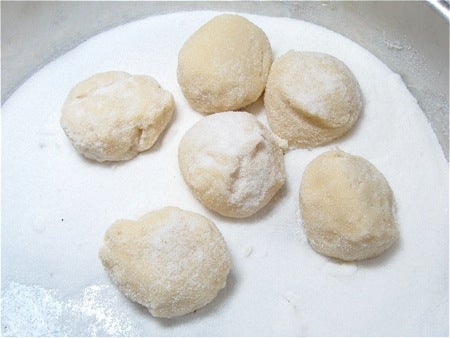 Once the balls are coated with sugar, roll each one into a round in your palms. The dough softens quickly; refrigerate it between batches.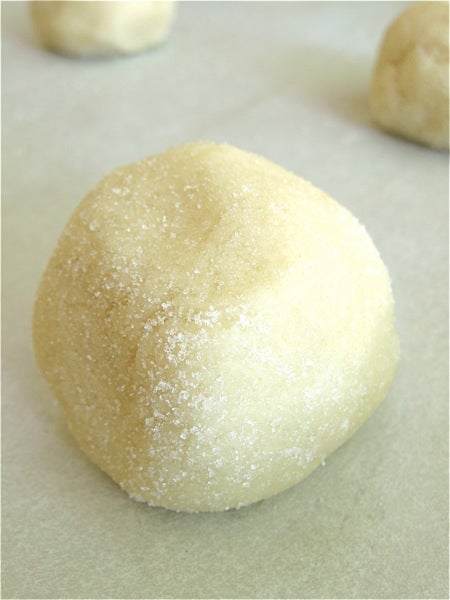 Place the cookies on the prepared baking sheets.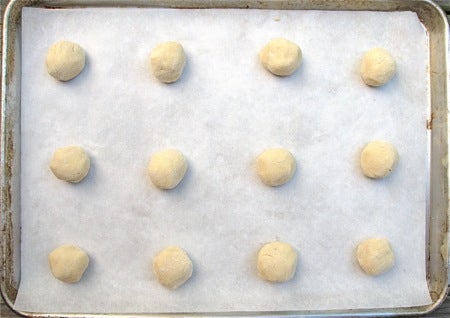 They'll spread, so be sure to leave enough room between them.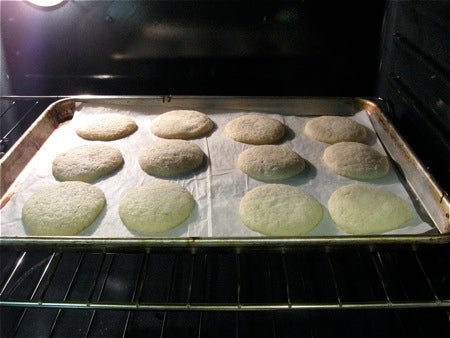 Bake the cookies for about 13 minutes, until their edges are just beginning to brown. Bake slightly longer for a crisper cookie.
Remove the cookies from the oven, and cool on the pan for at least 10 minutes before transferring to a rack to cool completely.
As soon as the cookies are completely cool, store them airtight, to retain their crunchy texture. For soft cookies, allow them to rest uncovered overnight before wrapping and storing.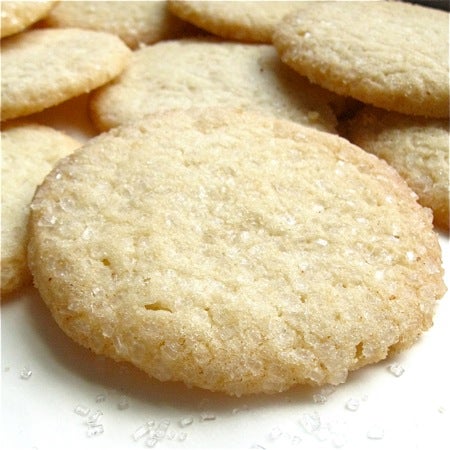 Doesn't this cookie fairly sing VANILLA?
While vanilla is obviously the most important flavor in these cookies, we suggest nutmeg and almond extract, as well. Nutmeg will give the cookies a distinctive, old-fashioned "sugar cookie taste." And we feel a small amount of almond highlights vanilla's flavor, without adding any flavor of its own.
By the way, we've changed AJ's recipe slightly (baker's prerogative!), but feel it's still true to its origins. Thanks again, AJ!
Read, bake, and review (please) our recipe for Vanilla Sugar Cookies.
Jump to Comments