Ah, Thanksgiving!
One of my favorite holidays.
What's not to like? A day spent with family and friends; football; and, best of all, comfort food galore.
Think about it: everything about Thanksgiving food is soft, mild... comforting.
Creamy potatoes. Soft, buttery white rolls. Tender turkey. To say nothing of your Aunt Marie's famous green bean casserole, and your cousin's marshmallow-topped sweet potatoes.
Cranberry sauce stands out from the crowd, with its bright color and vibrant flavor. But rather than being a black sheep, it's a welcome complement to the mellow players around it.
And besides, you just can't celebrate Thanksgiving without cranberries. Along with pumpkin, it's the holiday's quintessential flavor.
So, now that I've waxed eloquent about traditional foods, let me take a 180° turn and share with you a remarkably untraditional way to make them.
Your Zojirushi bread machine.
No, I'm not kidding. Everything you see in the picture at the top of this post was made with the help of the Zo – with the exception of the turkey. And I have no doubt that, given a moment to think about it, I could have used my Zo to roast that, too.
Plus I'll definitely be using my bread machine to bake up a batch of turkey tetrazzini on Black Friday.
Thanksgiving dinner from a Zo – have I piqued your interest?
Since cranberry sauce is easily made ahead and refrigerated for several days, let's start with that.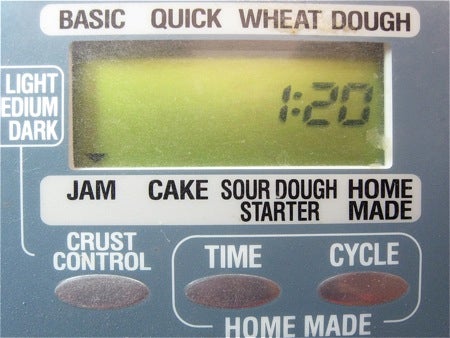 Select the jam cycle on your Zo. Leave the paddles in the bucket.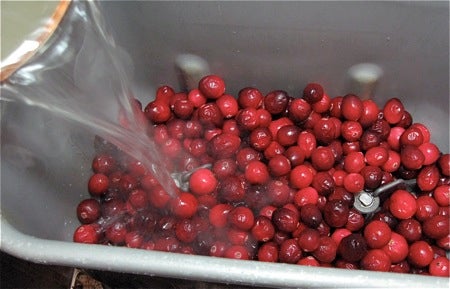 Pour a 12-ounce bag of fresh cranberries (or thawed, if they've been frozen) into the bread machine bucket.
Bring 3/4 cup sugar, 1/8 teaspoon salt, and 3/4 to 1 cup water to a boil atop the stove; use the greater amount of water for softer sauce, which is what I'm making here.
Pour the boiling water over the cranberries.
Press Start. Walk away.
Put your feet up. Read a magazine.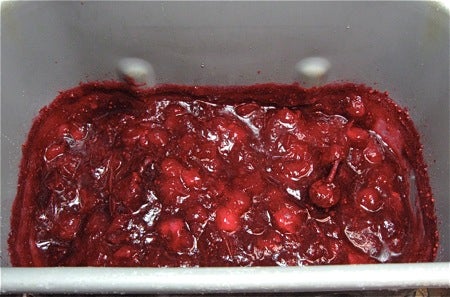 Come back 80 minutes later.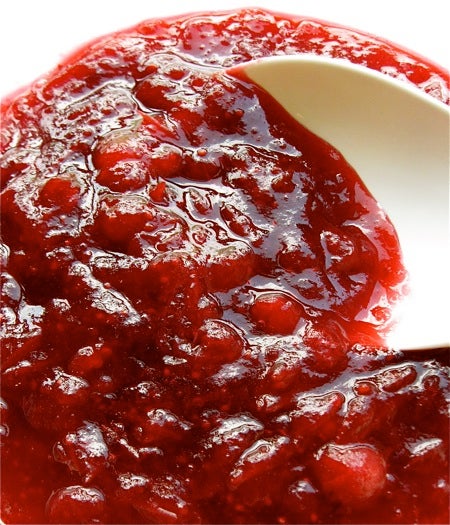 Cranberry sauce!
It'll thicken overnight. So this sauce, somewhat thin when hot out of the Zo, is just how I like it.
Next, the dinner rolls.
Select the Dough cycle on your Zo.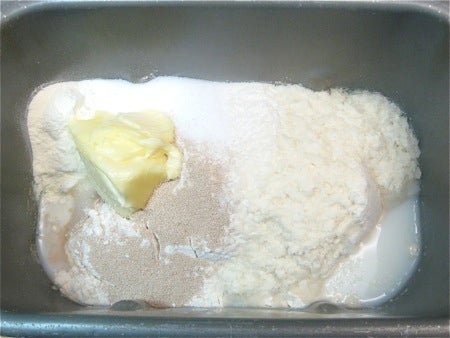 Put the ingredients for Golden Pull-Apart Butter Buns in the bucket.
Press Start.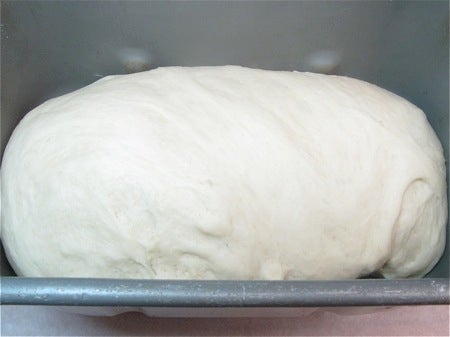 Just about 90 minutes later, you have risen dough.
The pre-set Dough cycle includes a rather useless warm-up period, so long ago I set one of my three Homemade cycles for a dough cycle with no preheat; it takes 90 minutes – without the preheat.
Next, shape the buns, let them rise, bake...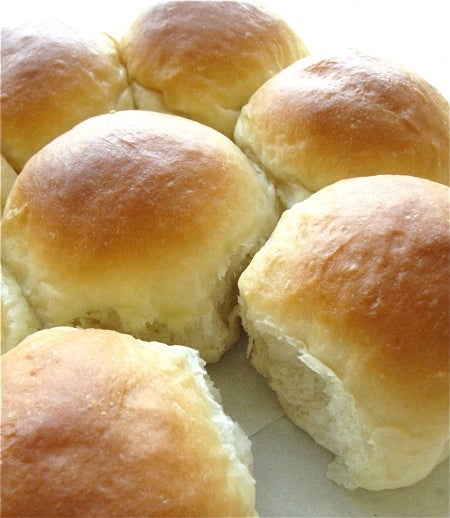 ...and 90 minutes after you've pulled that risen dough out of the Zo, you have Golden Pull-Apart Butter Buns.
No, these buns don't bake in the machine; you need to divide the dough, shape into buns, put them in a couple of 8" or 9" round pans, and bake.
But isn't it nice to have risen dough all ready for the end game?
The dough for any of your favorite rolls or yeast breads can be prepared in the Zo using the Dough cycle. Up to about 4 cups of flour, the dough can rise right in the machine. For 4 to 6 cups, it's best to remove the dough once it's kneaded, and let it rise in a bowl (so that it doesn't pop the top on your Zo!)
Next up – scalloped potatoes.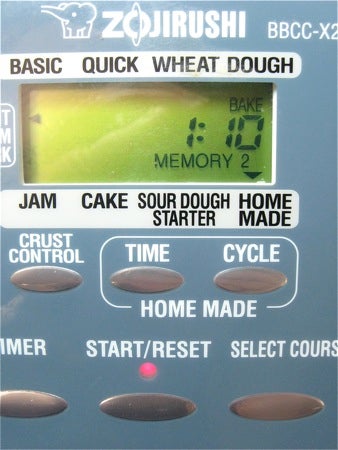 Program your Zo for a 70-minute bake; include the "keep warm" option at the end.
If you've never used the Homemade cycle, where you can program in your own times, check out our step-by-step directions for programming your Zojirushi.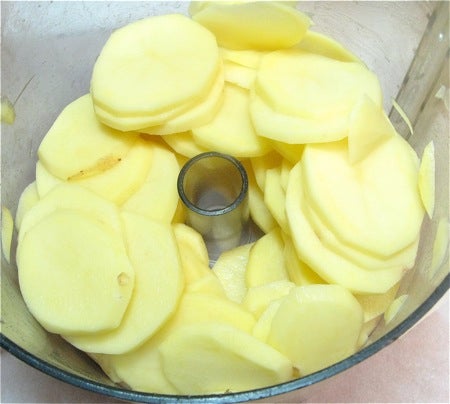 Start with 2 pounds of Yukon Gold potatoes.
Can you use some other type of potato? Yes, I'd wager any boiling potato would work; but don't use a baking potato – e.g., Russet. You want a thin-skin, "waxy" type potato, like chef's potatoes, red potatoes... anything with a noticeably thin (rather than thick and "dusty" looking) skin.
Peel the potatoes, and slice them 1/4" thick. If you have a food processor with slicing discs, the 4mm disc is perfect.
Bring 2 quarts of water to a boil on the stovetop. Add 2 teaspoons salt, and the potatoes. Start timing as soon as the potatoes hit the water; when 5 minutes is up, immediately remove the potatoes from the stove, and drain them.
Heat 1 1/4 cups half & half, milk, light cream, heavy cream, or a combination. The cream should be very hot, though not boiling.
Melt 2 tablespoons of butter.
In a tiny bowl, mix 1/4 teaspoon salt, 1/8 teaspoon ground white pepper (optional), and 1/4 teaspoon onion powder (also optional, though tasty).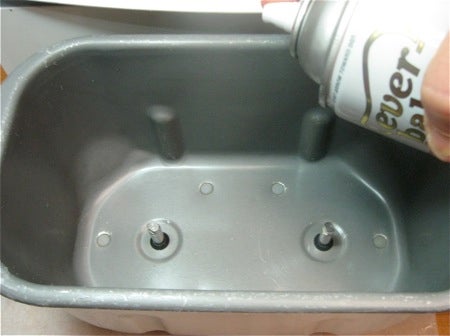 Remove the paddles from the bread machine bucket, and spray the bucket with non-stick vegetable oil spray. We use Everbake in the test kitchen.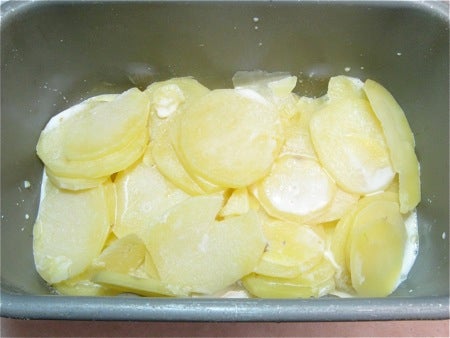 Layer 1/3 of the parboiled potatoes in the bucket. Sprinkle with some of the salt, pepper, and onion powder. Drizzle with some of the butter, then 1/3 of the hot cream.
Repeat the layers three times, ending with the cream.
Press Start. At the same time, set a kitchen timer for 35 minutes.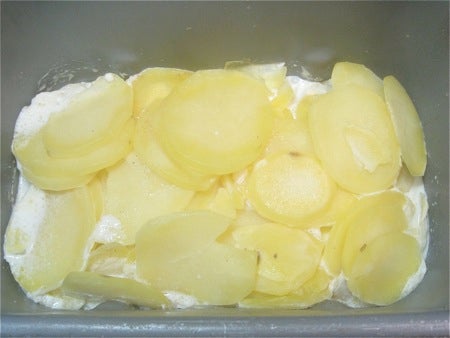 After 35 minutes, the milk/cream should be bubbly.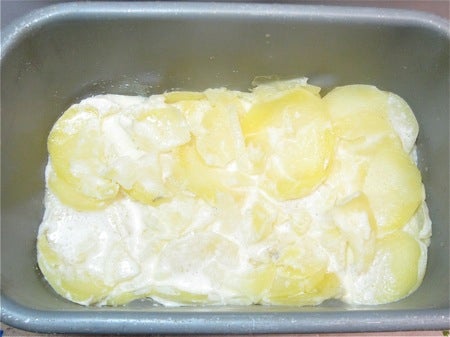 Gently press the potatoes down into the liquid.
Reset your timer for 65 minutes.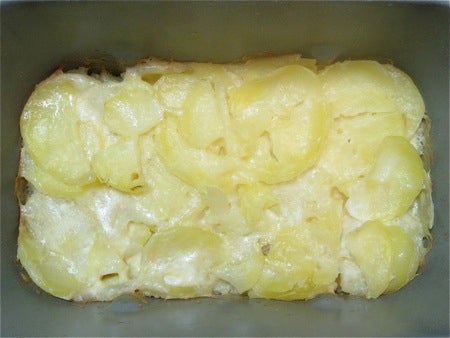 When it goes off again, your potatoes are done.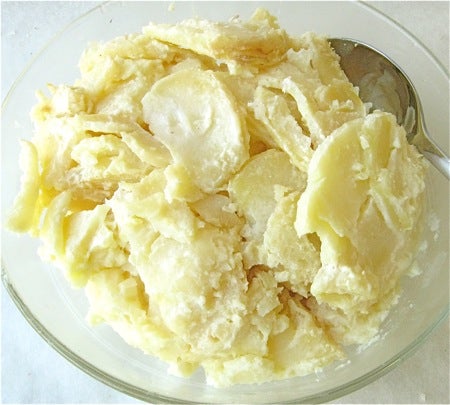 For nicest presentation, scoop them into a serving bowl. Kind of tacky serving from your bread machine bucket, wouldn't you say?
So there you have it: cranberry sauce, golden dinner rolls, and scalloped potatoes – with a big helping hand from your Zojirushi.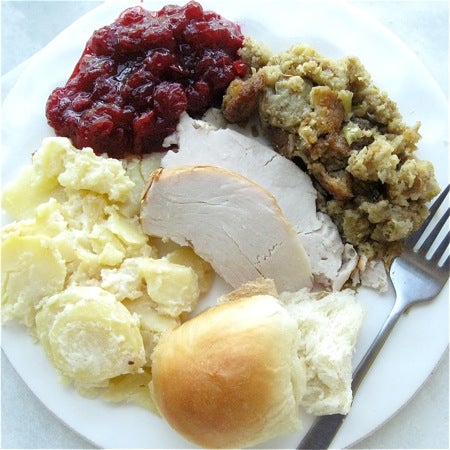 Let's take one more look - mmm, MMM!
Now, let's see... There MUST be a way to bake turkey in the Zo...
Again, if you're uncomfortable with technology, check out our step-by-step directions for programming your Zojirushi.
Note: All of these recipes were tested in the Zojirushi Home Bakery Supreme bread machine (BBCC-X20, or BB-CEC20). The cranberry sauce recipe should work in the Zo Mini, as well, since it has a jam cycle; but the remainder of the recipes require the larger, programmable Zo.
Jump to Comments