Simply Perfect Pancakes
Guaranteed to please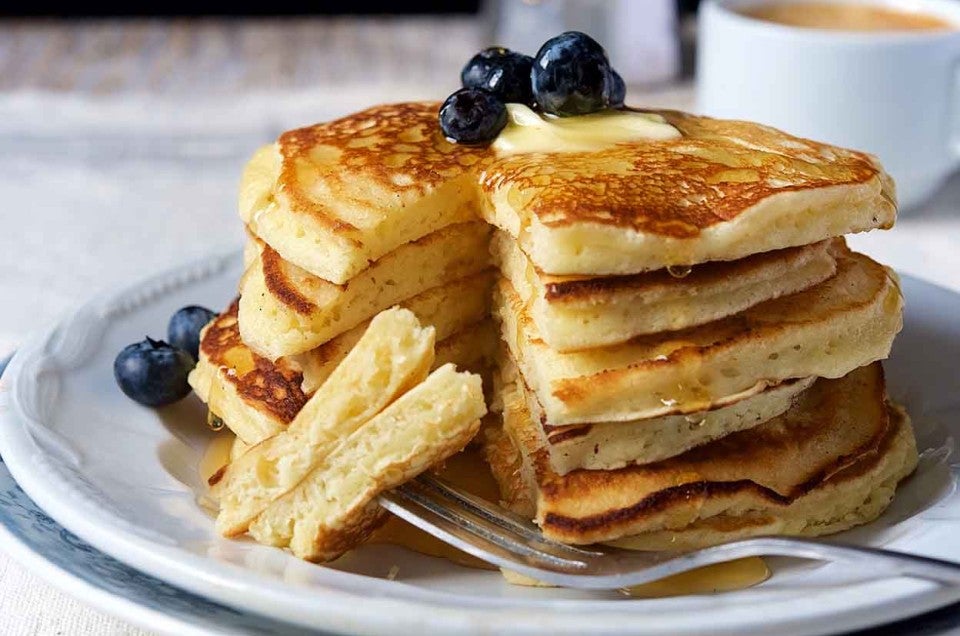 Perfect pancakes.
Fact, or fiction?
For such a simple dish – flour, milk, salt, butter, eggs, and leavening – there are certainly a plethora of recipes out there. And not just variations (read: blueberry, chocolate chip); but hundreds and hundreds of recipes for just... plain... pancakes.
And it seems no one is content with the recipe they have. It's a big game of musical chairs out there: Let's go round and round and round on Google, and when the music stops - grab a recipe, any new recipe!
Maybe that's why our guaranteed Simply Perfect Pancakes is one of the top recipe landing pages on our online recipe site.
To mark today's launch of our newly redesigned site, I decided to determine the recipe with the most customer "hits" that hadn't yet been blogged.
And this is it: pancakes.
Simple, everyday pancakes.
Maybe we never blogged it because we figure everyone knows how to make pancakes, and already has a favorite recipe. But given the number of people searching this site for "pancake recipe" - well, we must have figured wrong.
So here it is: yet another pancake recipe. But this one is for "perfect pancakes" – Simply Perfect Pancakes.
And what's the secret to these particular pancakes?
The perfect balance of ingredients: King Arthur Flour for body, baking powder for rise, eggs for structure, butter for richness, and milk to bring it all together.
Plus a certain "secret ingredient" –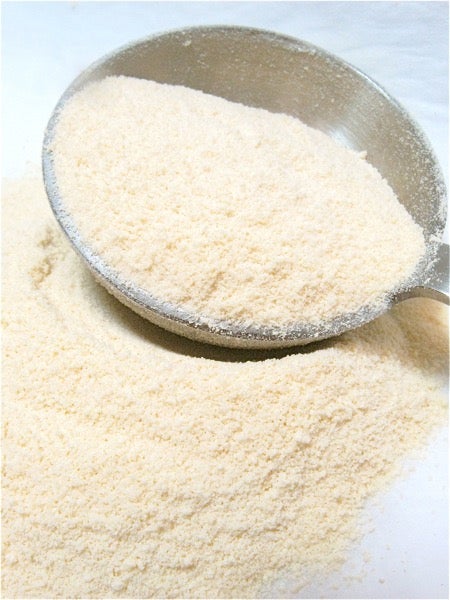 Malted milk powder, a richly flavored sweetener that gives these cakes a certain diner-style je ne sais quoi.
Still hunting for the ultimate pancake recipe? Well, the music has stopped; grab a chair, and give this recipe a try. Your long search may finally be over.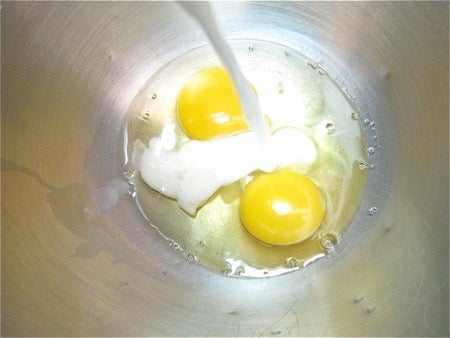 Put the following in a mixing bowl:
2 large eggs
1 1/4 cups (283g) milk*
*Start with just 1 cup milk if you're baking under hot, humid conditions, or if you're going to let the batter rest longer than 15 minutes. Use up to 1 1/4 cups milk in cold, dry conditions.
What's the difference? Depending on the amount of milk used the pancake batter will be thicker/thinner, and thus the cakes will be thicker/thinner.
In summer, or when it's stored in hot, humid conditions, flour acts like a sponge, soaking up moisture from the atmosphere. Thus you'll usually use less liquid in your recipes in summer, more in winter.
And how about resting the batter? The longer it rests, the more it thickens, as the flour gradually absorbs the liquid.
Bottom line: If you prefer thicker pancakes, go easy with the milk. You can always thin the batter with more milk – but it's hard to use less milk once you've already added it!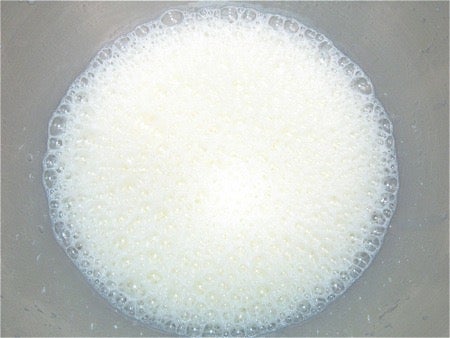 Beat the eggs and milk until light and foamy, about 3 minutes at high speed of a stand or hand mixer.
Whisk together the following:
1 1/2 cups (184g) King Arthur Unbleached All-Purpose Flour
3/4 teaspoon salt
2 teaspoons baking powder
2 tablespoons (25g) sugar or 1/4 cup (35g) malted milk powder
Stir into the milk/egg. Don't beat; some lumps are OK.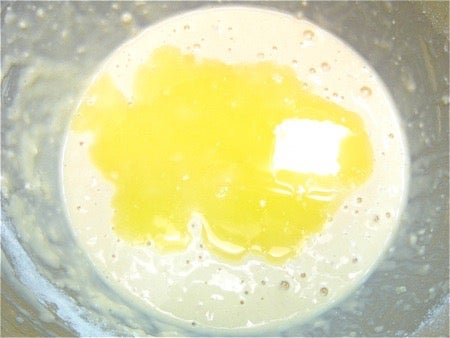 Add 3 tablespoons (43g) melted butter or vegetable oil. Stir it in.
Note: If you read our online recipe for these pancakes, it tells you to add the melted butter/oil to the milk/egg, prior to adding the dry ingredients. I use melted butter (rather than oil), and when I add warm butter to cold milk/egg, it coagulates into little globules that, in my opinion, don't blend into the batter very nicely. Thus I add the melted butter at the end, when the room-temperature flour has warmed the batter up a bit.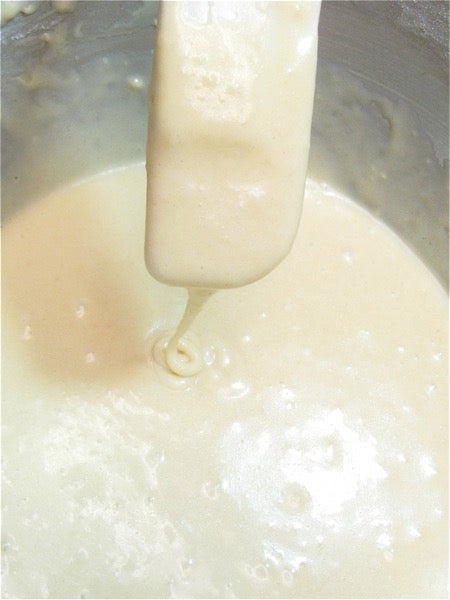 Notice how this batter drips off the spatula in a narrow stream; it's pretty thin. I'm going to let it rest for at least 15 minutes, while my griddle is heating; it'll thicken slightly.
Even after a rest, though, the batter will be fairly thin, and the pancakes I make will be on the thin side – which is the way I like them.
Heat a heavy frying pan over medium heat, or set an electric griddle to 375°F. Lightly grease the frying pan or griddle. The pan or griddle is ready if a drop of water skitters across the surface, evaporating immediately.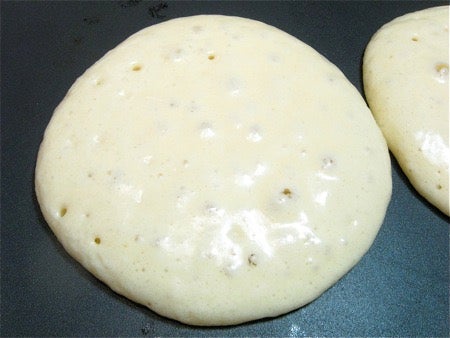 Drop 1/4 cupfuls of batter onto the lightly greased griddle.
Cook on one side until bubbles begin to form and break, about 2 minutes.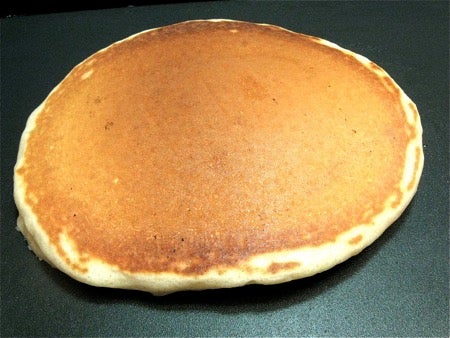 Then turn the pancakes and cook the other side until brown, about 1 1/2 to 2 minutes.
Turn over only once; lots of flipping will yield tough pancakes.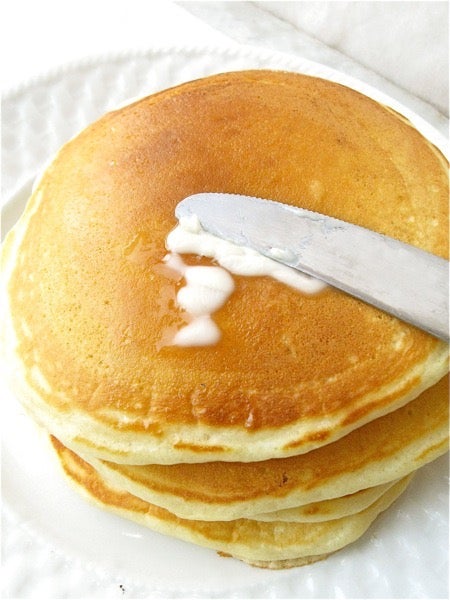 Serve immediately. First comes the butter...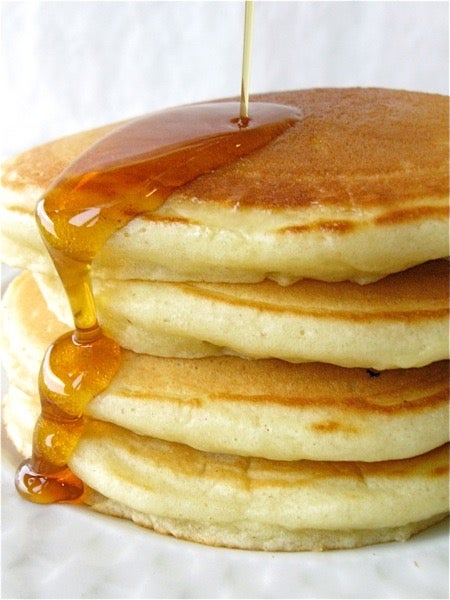 ...then the maple syrup.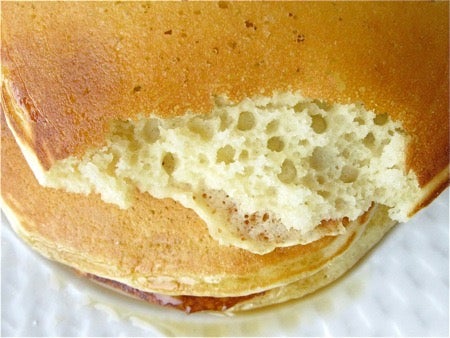 Look at that lovely interior! Nice and light.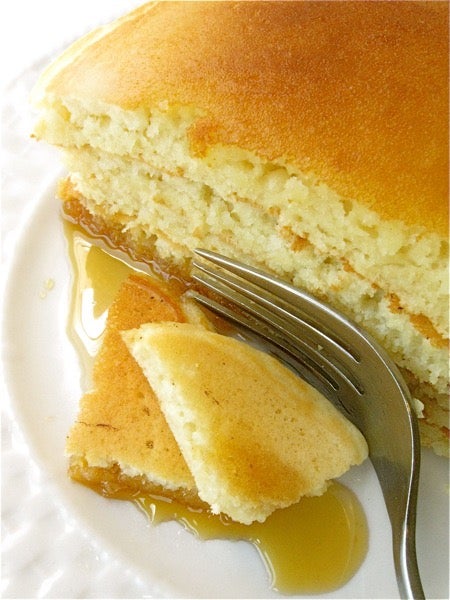 Anticipation...
Can't you just taste these warm, buttery pancakes, with their drizzle of sweet maple syrup?
The weekend's here – bookmark this recipe on our new site, and give it a try.
Then add your review – we'd love to hear what you think.
Jump to Comments