Sam's Pulled Pork & Coleslaw
Heaven on a bun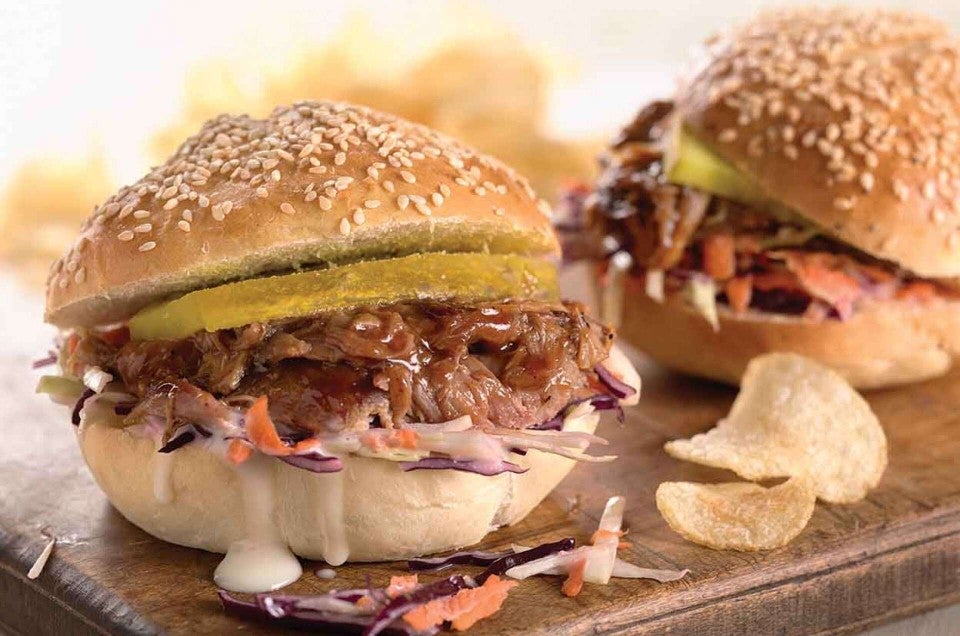 Pork shoulder, simmered for hours in a vinegar/brown sugar broth, fall-off-the-bone tender.... this is barbecue at its best.
It's so readily available in the South and Midwest; so UNAVAILABLE in most of the rest of the country.
Oh, sure, there's probably good barbecue in metropolitan areas all over. And there may be pockets of barbecue scattered around, say, South Dakota.
And some expat may have set up his or her pit in Vermont – someone like Curtis Tuff, who's been selling chicken and ribs at Curtis' Barbecue (a.k.a. Curtis' All American "9th Wonder of the World" Barbecue) in Putney, Vermont for years.
But for authentic barbecue in much of the country – well, you just have to make your own.
Is homemade barbecue "authentic"? Depends on your definition. It won't be the same as Arthur Bryant's in Kansas City, or The Rendezvous in Memphis, or even Curtis Tuff's in Putney.
But if it tastes good, who cares? Sometimes authenticity just has to take a back seat to availability. And in the case of pulled pork - well, it's REALLY hard to make "bad" pulled pork.
We realize there are many versions of pulled pork out there; lots of opinions about what type of roll it should he heaped on; and whether it should be accompanied by coleslaw on top, or on the side.
Our thanks to Richmond, Vermont native Sam Libby for sharing his Northern take on this Southern classic with us. We make no claims to authenticity; the only thing we can say for sure is, it truly tastes good!
Let's buy the meat first.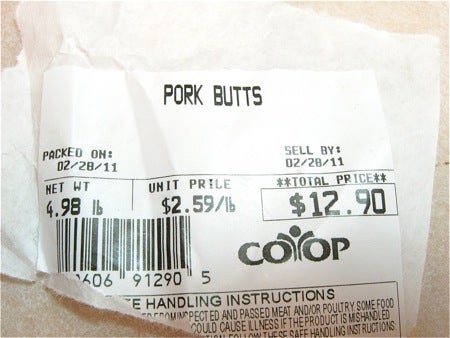 Ask your butcher (or look for) pork butt or bone-in pork shoulder. It's a relatively inexpensive cut, so it won't set you back too much, considering how many sandwiches the meat will make.
It's best to make pulled pork the day before you want to serve it. It takes about 9 hours to cook, if you use a slow cooker as I do here; and the resulting broth should be chilled to remove the fat before you use it to make sauce. So plan ahead.
Speaking of planning ahead, choose your rolls. A double batch of these Deli-Style Hard Rolls makes 12 rolls. You'll end up with about 12 cups of pulled pork, and 3 cups of coleslaw; so 12 rolls is just right.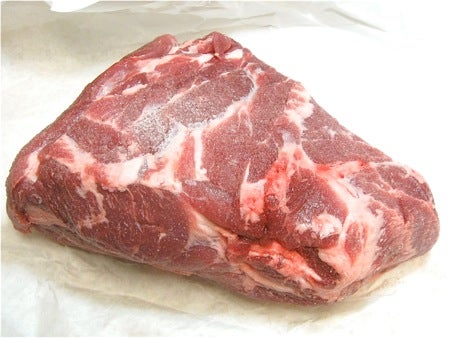 When you're ready to cook the meat, sprinkle it generously with salt...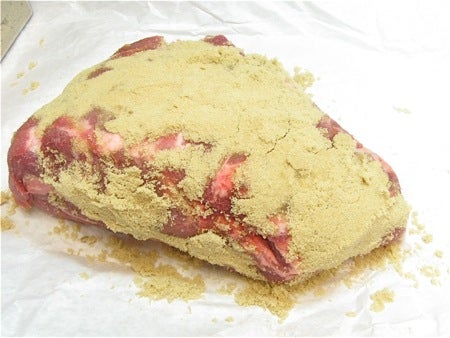 ...then coat it heavily with brown sugar, patting it on as best you can. Some will fall off, obviously, as you turn the meat; that's OK.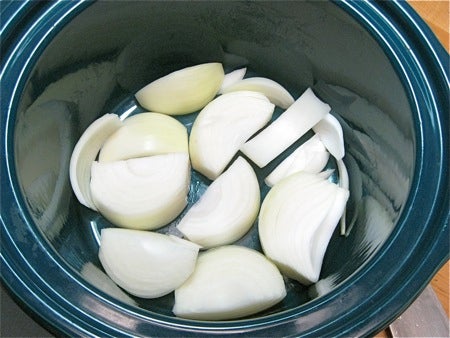 Place 1 large onion, peeled and cut into chunks, into the bottom of a slow cooker.
If you don't have a slow cooker, you can cook the pork over a very low burner (preferably with a flame tamer), or in an oven just hot enough to keep it simmering. A slow cooker is the easiest bet here, though.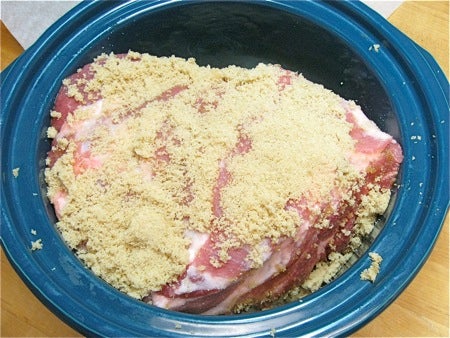 Place the pork shoulder on top of the onion.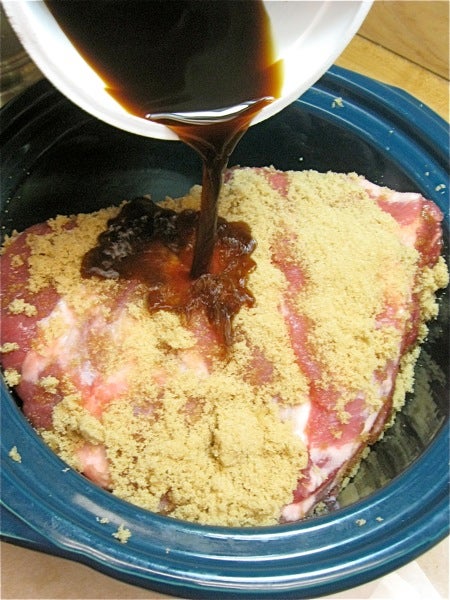 Drizzle in 1/2 cup apple cider vinegar, and 1/3 cup Worcestershire sauce.
Next, it helps to give your slow cooker a head start. If the cooker has a removable, microwave-safe insert, place it in your microwave and cook for 5 minutes or so, to warm the meat and other ingredients.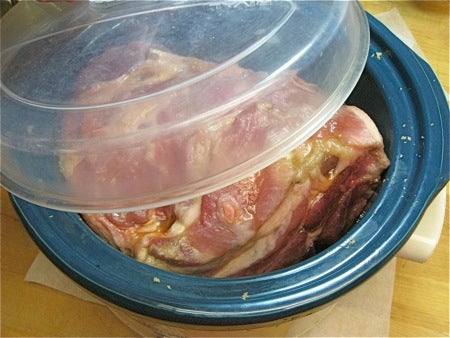 Put the lid on the insert, replace it in the slow cooker, and turn the cooker to high.
Let the shoulder cook for 3 to 4 hours.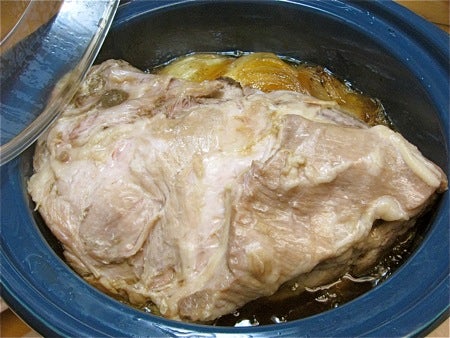 The meat will have lost its pink color...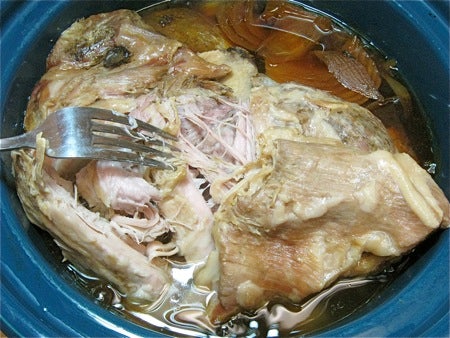 ...and you should be able to pull it apart somewhat.
But it's not done yet; we're going for ultra-tender here.
So – reduce the heat to low, and cook for an additional 5 hours or so, until the pork falls off the bone and shreds apart easily when you poke it with a fork.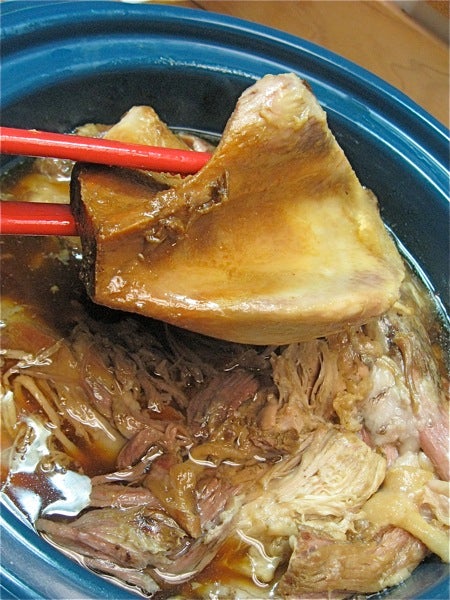 See how soft the meat is now? Remove the bone and any whole pieces of fat. Gently stir the pork, until it starts to fall apart.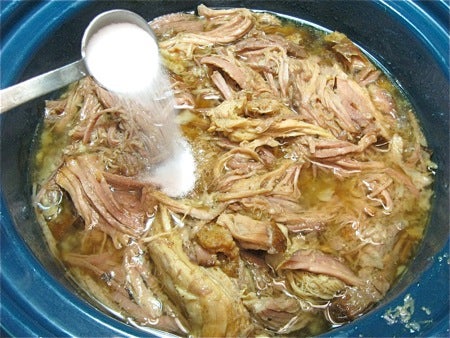 Season to taste with additional salt (up to about 1 1/2 teaspoons, depending on how much you used initially).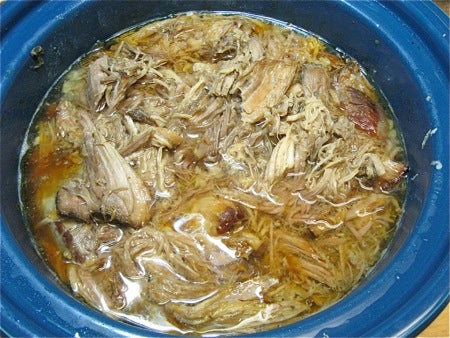 And there you have it – tender pork swimming in a tasty broth.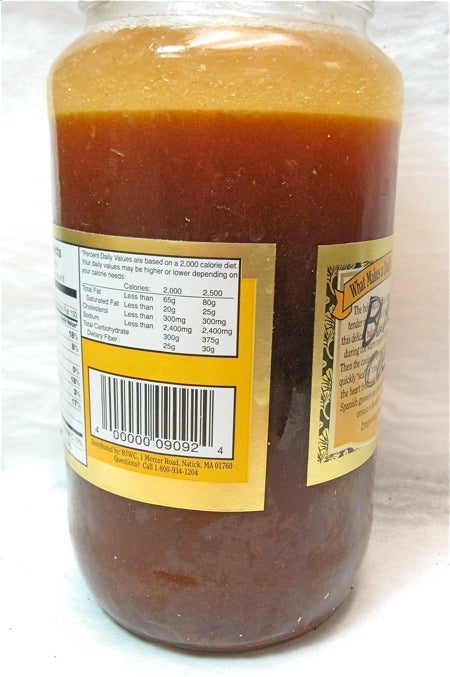 Drain the pork, saving the broth. Refrigerate it until you're ready to use it make sauce, or simply to moisten the drained pork.
Next up: my grandma's coleslaw.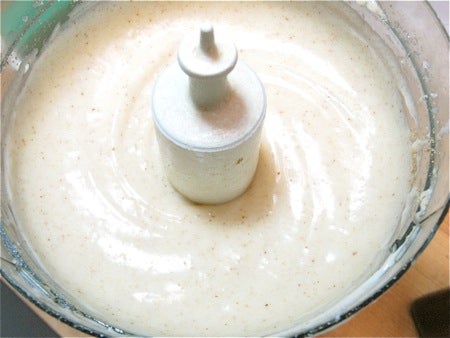 Place the following in a mini food processor or blender:
1/4 cup granulated sugar
1 teaspoon celery salt
1 teaspoon dry mustard
3/4 cup mayonnaise
2 1/2 tablespoons white vinegar
Process until smooth. A stick blender works well here, too.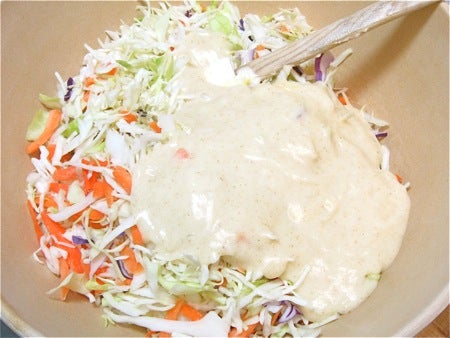 Pour a 1-pound bag of coleslaw vegetables into a bowl. Or shred a pound of cabbage and carrots (or your favorite coleslaw vegetables) into a bowl.
Top with the dressing.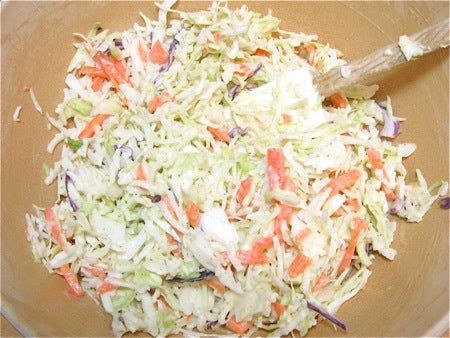 Toss to combine. Refrigerate until ready to serve.
Now, if you want to make sauce out of the reserved broth, here's what to do: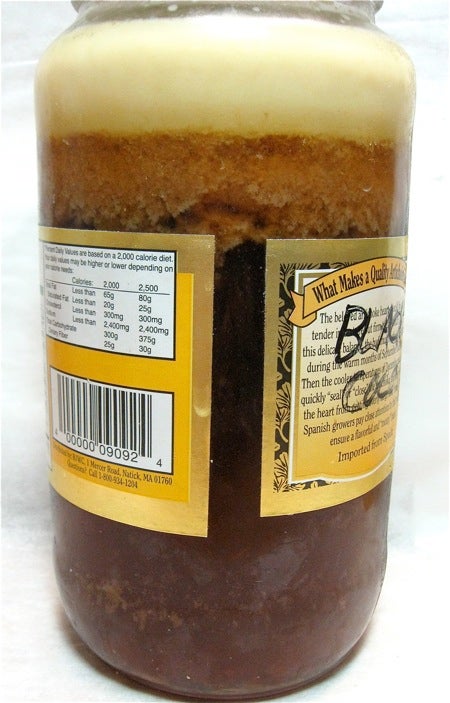 See the solidified fat on top of the broth? Pull it off and discard.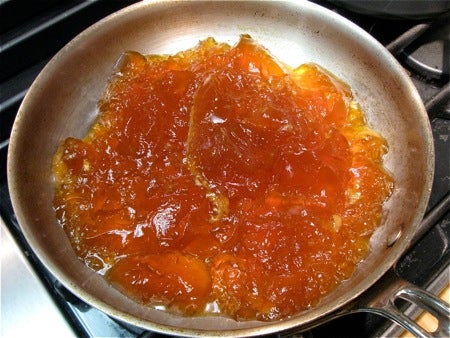 Spoon the gelled broth into a large, shallow saucepan.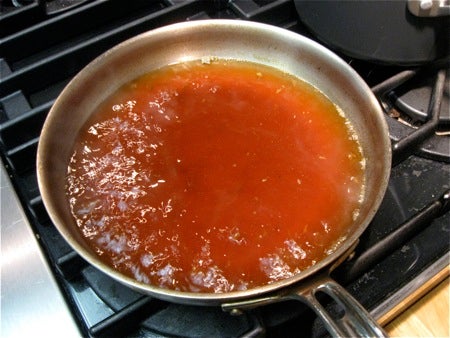 Bring to a boil, then reduce to a simmer. Cook for 10 minutes.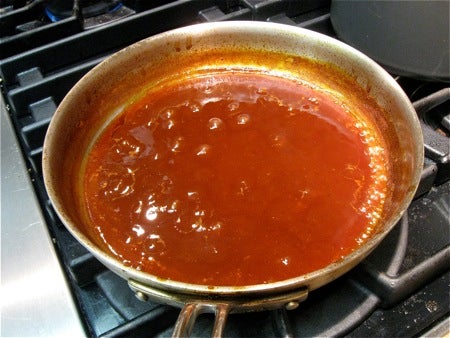 Add 1/2 cup ketchup, 1 teaspoon hot sauce, and 1 teaspoon liquid smoke flavoring, if desired. Simmer for an additional 10 minutes, or until the sauce is somewhat thickened and reduced to about half its original volume.
It's not as thick as a really thick barbecue sauce; but it's definitely glaze consistency.
At last! Let's make sandwiches.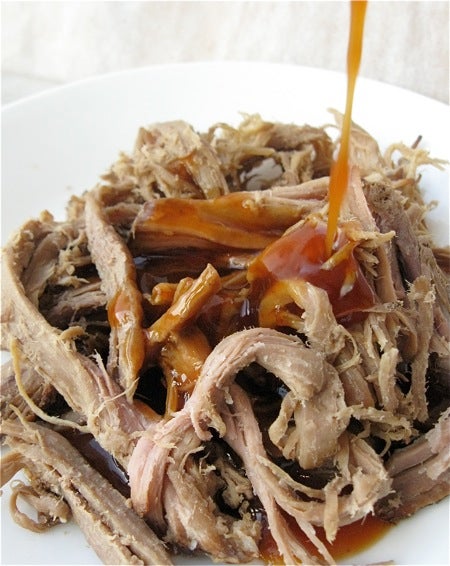 Reheat the pork until hot, then drizzle with the glaze, if desired.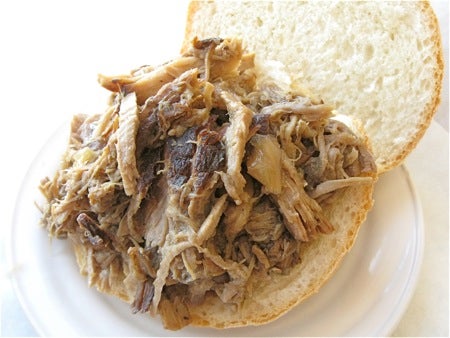 Split each roll. Heap with pork...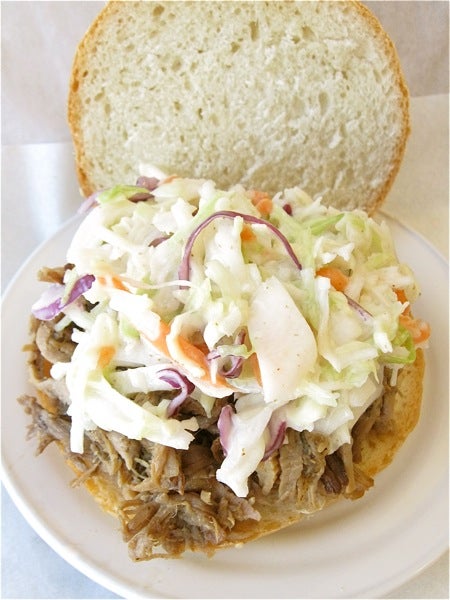 ...and top with coleslaw. A dill pickle slice is optional.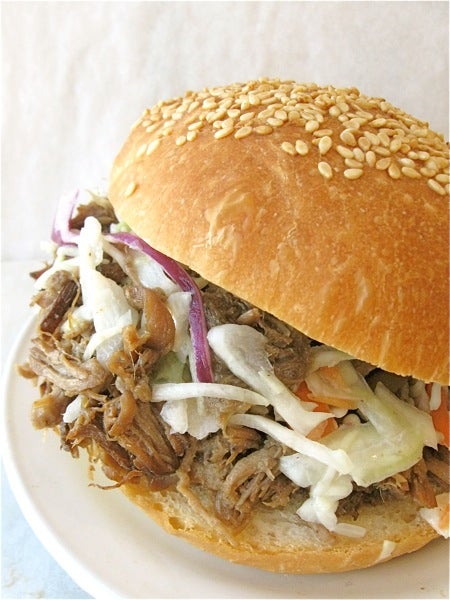 Chow down!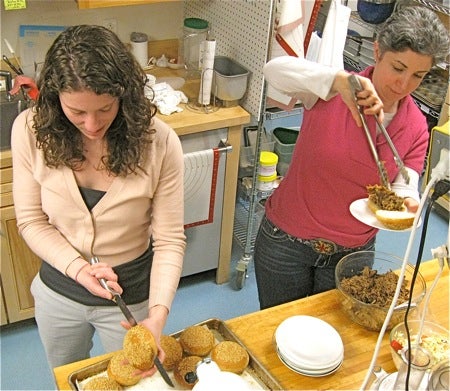 And we did. Liz (left, above), one of our product managers, is a North Carolina native. While she says this Northern version of pulled pork is "totally wrong" – it's sweeter than what she's used to – she added it's also "totally delicious," and gave it her blessing.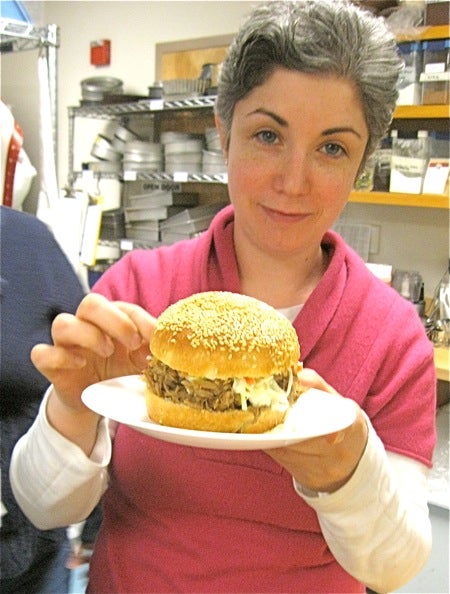 Halley, our director of online services, shows how to stuff a bun.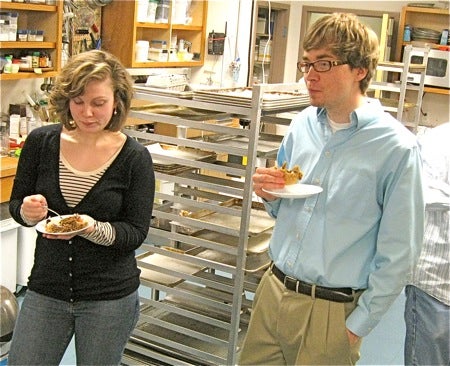 Brook (left), a member of our product team, eats gluten-free, so she's enjoying just the pork. Ben, our Web designer, had TWO sandwiches.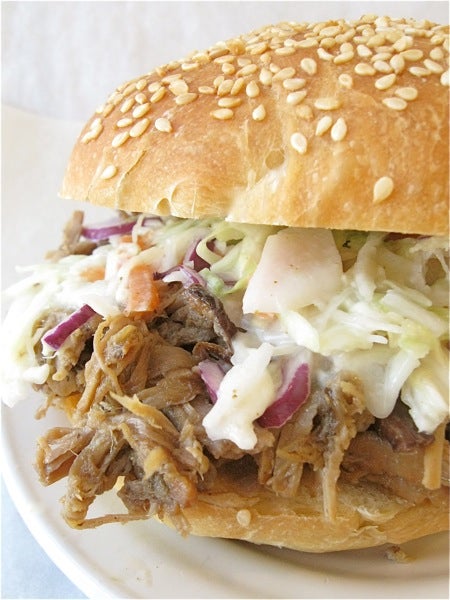 Luckily, I grabbed one to take a picture before everything disappeared...
Read, make, and review (please) our recipe for Sam's Pulled Pork Sandwich and Coleslaw.
Jump to Comments