Ah, gelato, newest pop star of the fancy ice cream crowd.
So, what IS gelato, exactly?
Ice cream.
Italian ice cream, to be exact. But it's a bit more complicated than that...
The ancient progenitor of ice cream, a simple combination of Alpine snow, sweetening, and flavor, was created in Roman times. Modern ice cream was invented in Italy in 1565, followed by the first ice cream machine, in 1686 - also in Italy.
Clearly, the Italians know ice cream. And gelato. And sorbet, a dairy- and egg-free subset of gelato.
But what, exactly, distinguishes Italian gelato from American ice cream? Inquiring minds want to know!
It's not just a language difference. Gelato has a lower butterfat content, and slightly less sugar, than most American ice creams. While top-quality American ice cream is typically made from heavy or whipping cream, Italian gelato is based on milk, with egg yolks added for richness, and perhaps nonfat dry milk stirred in for body and texture.
In addition, gelato is mixed differently. Due to the way most manufacturers choose to freeze it, American ice cream might include up to 50% air. Italian gelato, frozen quickly in small batches, includes much less air; it's denser and heavier than American ice cream and thus, despite its lower butterfat, often comes across as creamier and richer.
So the question is, when you make the following pineapple-coconut gelato without benefit of a gelato freezer – is it truly gelato?
Well, it's made with gelato-type ingredients: milk rather than cream, with egg yolks for richness. But it's made in an American-style ice cream maker – or stirred together by hand. Either way, you won't get gelato's signature dense texture.
Still, why quibble over nomenclature? A rose by any other, etc. Bottom line, the following pineapple-coconut gelato/ice cream is both delicious... and attainable at home.
Oh, and one more thing: do you need an ice cream maker to make ice cream?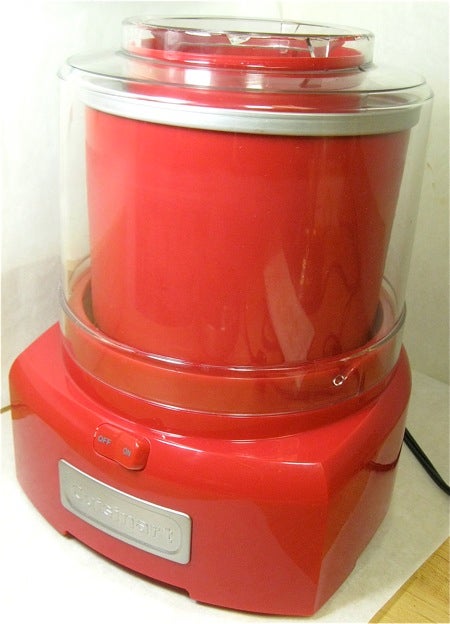 It definitely helps. This Cuisinart is a fixture in our hectic test kitchen. Simply add the ingredients, push a button, walk away, and come back less than 30 minutes later to find wonderfully creamy, perfectly frozen ice cream.
Can't beat that!
Still, you can definitely make this "gelato" without an ice cream maker; check out the tip accompanying the recipe.
First step: pineapple.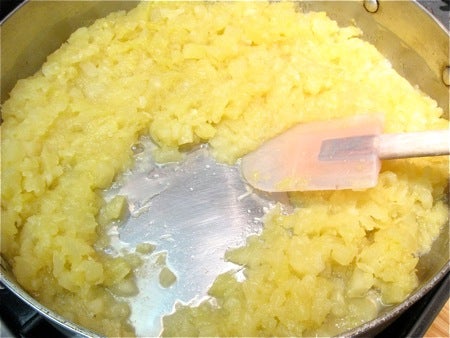 Let's start with a 20-ounce can of crushed pineapple. To get rid of the liquid and concentrate the flavor, we'll simmer it for about 20 minutes in a large saucepan, until most of the liquid has evaporated.
If you want to skip this step, simply drain the pineapple, pressing to remove as much juice as possible, and discard the juice. Refrigerate the pineapple while you prepare the rest of the gelato base.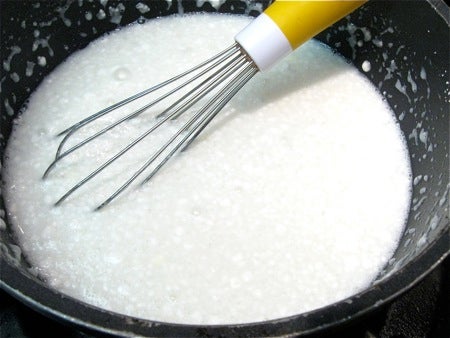 Whisk together the following in a saucepan:
1 cup (8 ounces) coconut milk ("light" is fine)*
1/2 cup (99g) sugar
2 tablespoons (43g) nonfat dry milk granules (NOT Baker's Special dry milk)
*You'll need a 13.6-ounce can coconut milk; you'll use 1 cup here, and the remainder later on.
Cook over medium heat, stirring frequently, until the mixture begins to simmer. It won't be totally smooth, but whisk to remove as many lumps as possible.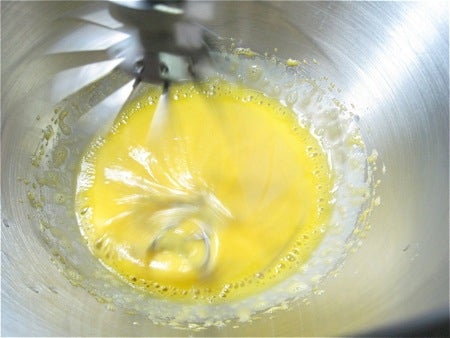 While the milk/sugar mixture is heating, put 2 large egg yolks in a bowl, and whisk to combine.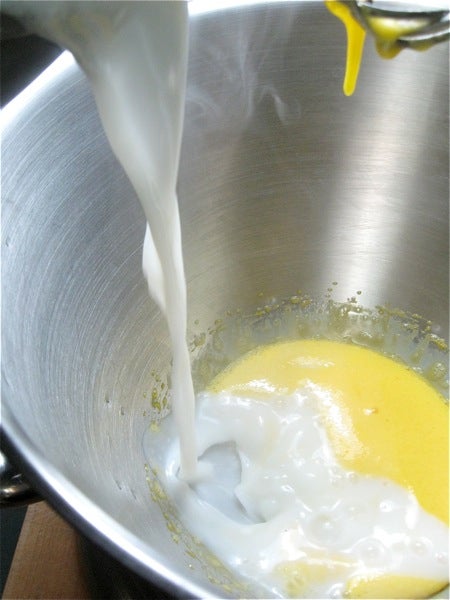 Gradually pour about 1 cup of the hot mixture into the bowl with the egg yolks.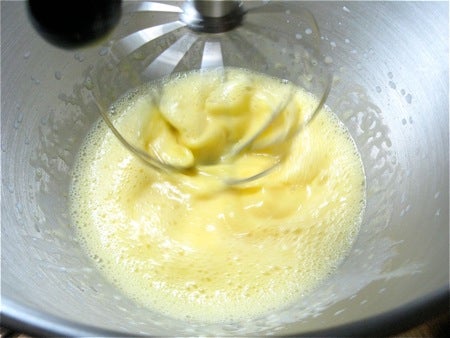 Whisk to combine...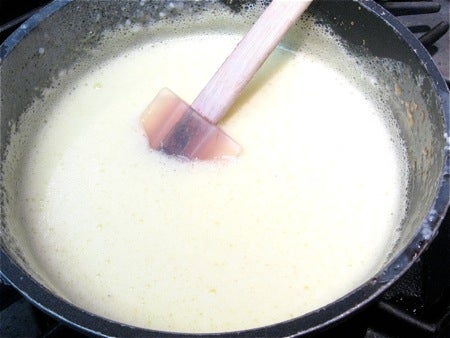 ...then transfer the egg yolk mixture back to the saucepan.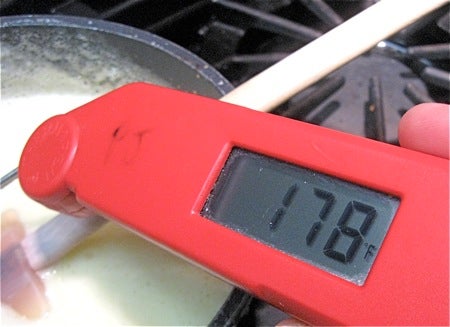 Stir the custard over medium-low heat for a couple of minutes, until it thickens a bit; it should be about as thick as heavy cream. If you have an instant-read thermometer, the temperature should reach 178°F.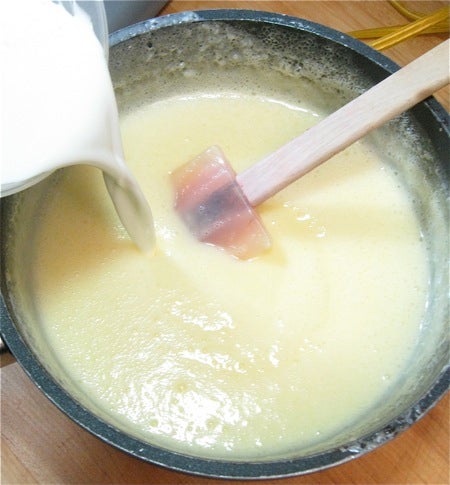 Remove from the heat, and stir in the remaining 2/3 cup (approx.) coconut milk.
And now, for a little flavor boost, courtesy of some extra-strong flavors. I've chosen coconut today; pineapple or banana would be equally tasty, methinks.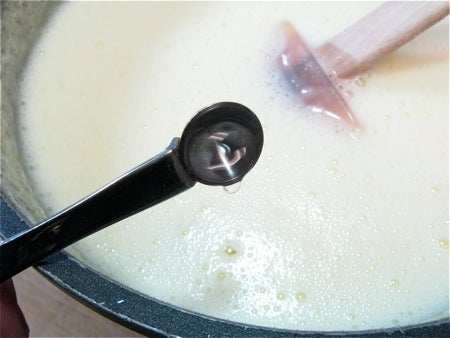 Add 1/8 teaspoon extra-strong flavor; or 1 teaspoon vanilla extract.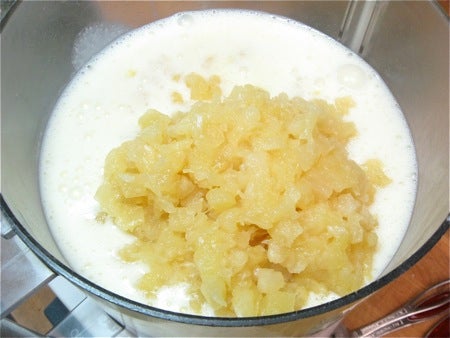 Transfer the custard to a food processor or blender, add the pineapple, and process until it's as smooth as possible.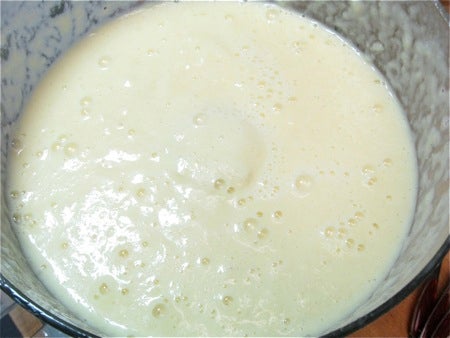 The pineapple won't become a purée, but there shouldn't be any large chunks.
Transfer the custard to a covered container and refrigerate overnight. Make sure the canister of your ice cream maker is in the freezer, too.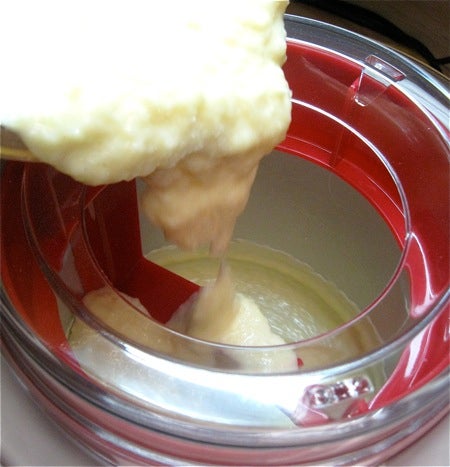 Within about 4 hours of when you want to serve the gelato, pour the custard into the canister of the freezer, turn on the machine, and let it work for about 20 minutes.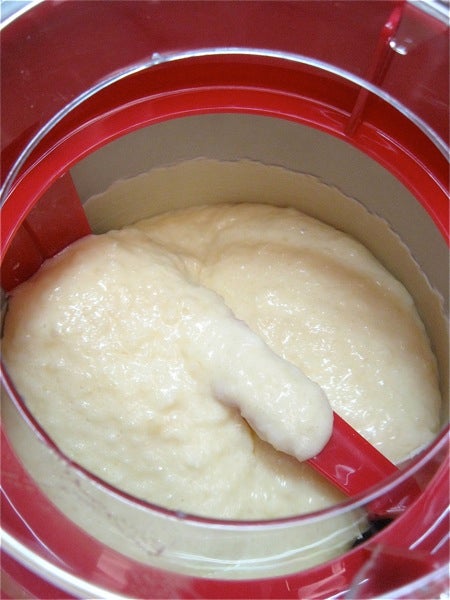 You'll see the gelato gradually begin to thicken.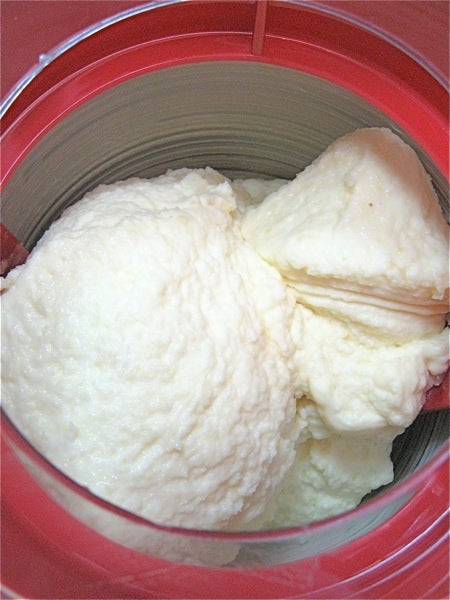 Looking good!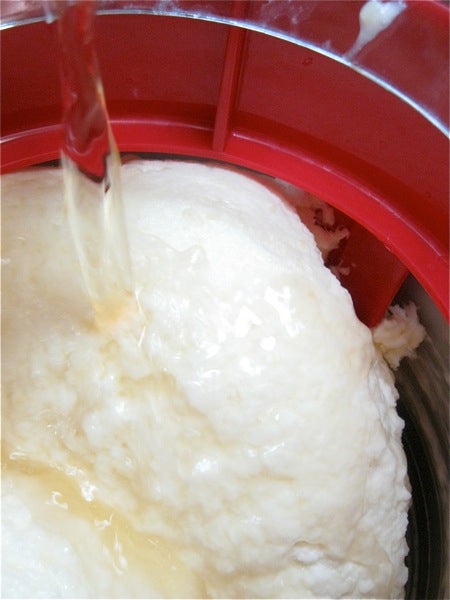 When it's thick enough to mound on a spoon without dripping, add 1 to 2 tablespoons (14g to 28g) rum, or your other favorite spirit, if desired. The rum not only adds its own tropical flavor; like all alcohols, it's a flavor carrier, enhancing the taste of all its surrounding elements.
Can you leave the rum out? Of course. But oh, my, it surely adds a tasty touch! Plus, if you use the full 2 tablespoons, the rum will prevent the gelato from becoming rock-hard in the freezer. Even after a week (if it lasts that long), it'll be beautifully scoopable.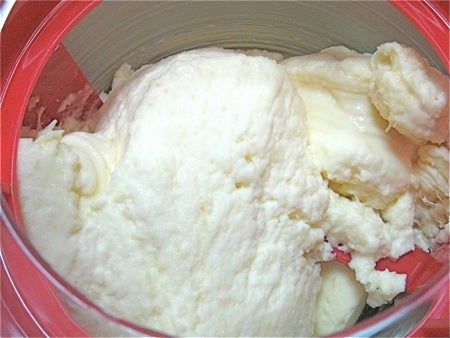 Continue to mix briefly, until the rum is fully incorporated.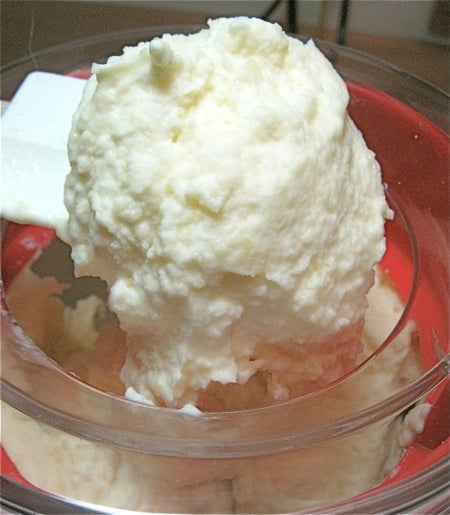 Enjoy the gelato immediately, if you like; it'll be the consistency of soft-serve ice cream.
For firmer texture, place the gelato in your refrigerator's freezer compartment for 3 to 4 hours. If it gets too hard, simply let it sit at room temperature for about 20 minutes, or until it's soft enough to scoop.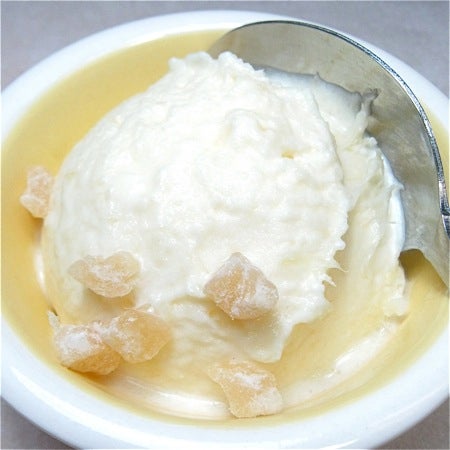 A garnish of diced dried pineapple is a nice touch, both taste- and texture-wise.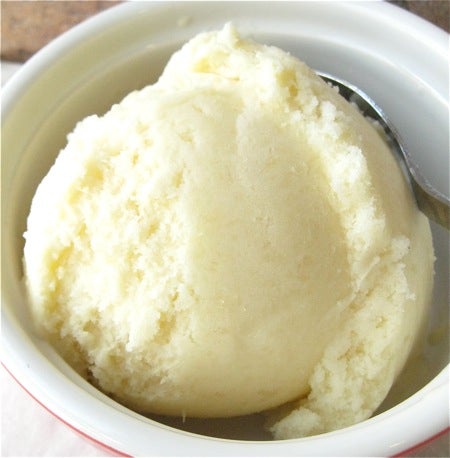 Here's the gelato after it's been in the freezer for a few days. Because of the rum, it's still nicely scoopable, not ridiculously hard.
And the flavor – I'm not a huge fan of tropical-type ice creams, my taste running more towards caramel swirl mocha chocolate chunk and its ilk. But the pineapple and coconut in this gelato... well, they're just pure blue-water, white-sand, Coppertone bliss.
Jump to Comments