I cannot tell a lie... I really love cherries. Sweet cherries, tart cherries, candied or covered in chocolate. OH yum!
When our beloved Andréa, test kitchen baker and wunderkind, was testing this recipe for Cherry Cupcakes, I fully admit to cruising through the kitchen more often than I normally do. I'd be hoping there was a batch coming out of the oven, or headed for the tasting plate. Let's be frank, I was not above licking the occasional spoonful of batter, either.
What do I love so much about this particular recipe? It's sweet enough, but not cloyingly sweet. The cherry flavor is pronounced, and there are actual bits of dried cherries in the batter, along with cherry concentrate. Talk about a big bang of flavor for your buck!
I adore the way that the sugar crust on the top of the cupcake gets a tiny bit crusty and a tiny bit chewy under the icing. Please sir, I want some more.
Bring on the Cherry Cupcakes.
Preheat the oven to 350°F.  Spritz a 12-cup muffin tin with cooking spray, add cupcake papers, and spritz the papers. This double-spritz will ensure that your cupcake papers pull away smoothly.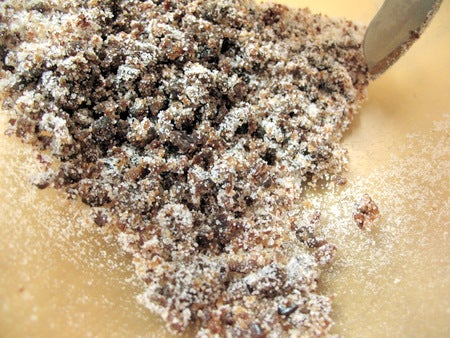 In a food processor, process 1/4 cup (35g) dried cherries with 1/4 cup (50g) granulated sugar. Pulse until the cherries are finely chopped.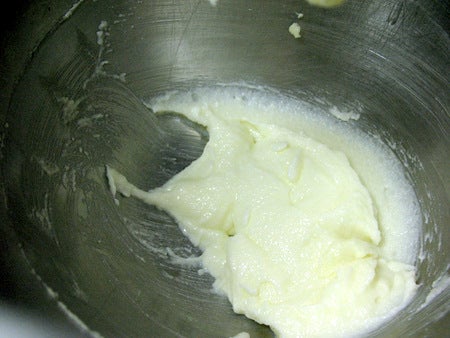 In the bowl of your mixer, combine 4 tablespoons (57g) unsalted butter, softened and 1/2 cup (99g) granulated sugar. Beat for about 90 seconds, until lightened in texture; then add 2 tablespoons (25g) vegetable oil. Beat for another minute, until well combined.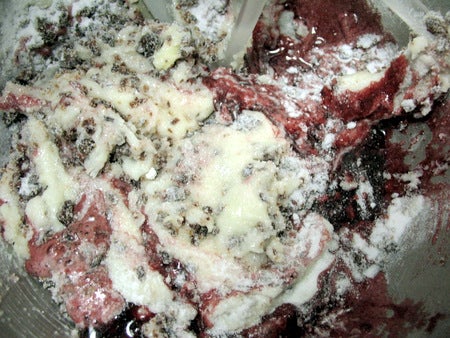 To the butter/sugar/oil add:
all of the sugar/cherry mixture
2 tablespoons (14g) Cake Enhancer, optional
¼ teaspoon salt
1 teaspoon baking powder
½ teaspoon baking soda
1/8 teaspoon almond extract
3 tablespoons (64g) cherry concentrate
Blend for about 1 minute.
OK, let's talk substitutes for a moment. If you don't have the cake enhancer, you can leave it out. You know from reading our blogs and recipes that we love the lift it gives our baked goods, and how well it keeps them moist and fresh; but it's not a deal breaker here.
If you have almond oil instead of extract, stick with half of the amount.
And now the biggie, cherry concentrate. Cherry concentrate is to cherries what maple syrup is to maple sap. The very essence of hundreds of cherries has been compressed into a syrup you can pour into any number of sweet or savory dishes. If you don't have the concentrate, search out the best cherry juice you can find and use an equal amount. You'll miss out on flavor, but your cupcakes will still be quite good.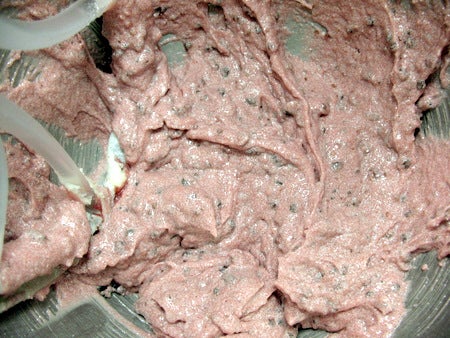 Check out the funky pink batter.
Beat in 2 eggs, one at a time, blending well after each.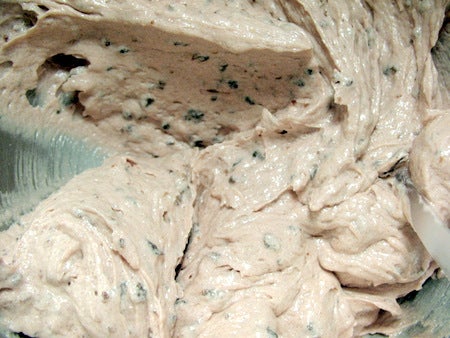 To finish the batter, you'll add 1 1/2 cups (180g) King Arthur Unbleached Cake Flour Blend and 2/3 cup (152g) room-temperature milk. Alternate half of each, beginning with flour. Flour, milk, flour, milk. Blend for about 30 to 60 seconds between each addition.
Don't beat the batter too hard at this point; you don't want to get tunneling in your cupcakes. Tunneling is when you get holes in your cakes, making it look like little miners have been hard at work making Swiss cheese out of your lovely cupcake. Stick to a medium speed and you should be just fine.
No Cake Flour Blend? You can use all purpose flour, just expect the cupcakes to be a bit less tender and fluffy.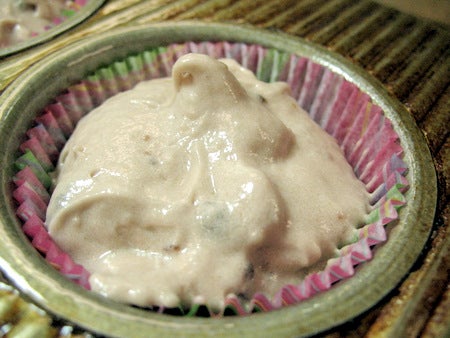 Fill your muffin cups about 2/3 full of batter. This will allow the cupcakes to dome slightly, but not overflow onto the top of the muffin tin and stick.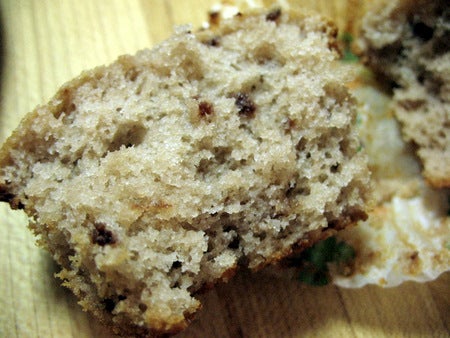 Bake the cupcakes at 350°F for 15 to 18 minutes, until the tops begin to brown slightly and a cake tester comes out clean. Cool completely before frosting. For a pretty pink icing like in the photo, make our Quick Buttercream Frosting, using 2 tablespoons of cherry concentrate for 2 tablespoons of the milk in the recipe.
For me, this cupcake recipe is one I know I'll return to again and again. Variations are already forming a line in my mind, fighting to see who'll get made first. Here's just some of what I've been thinking about:
Cherry Vanilla Cupcakes w/ vanilla buttercream icing
Chocolate-Covered Cherry w/ mini chocolate chips and fudge icing
Cherry-Blueberry with cherry-berry icing
How about you? Let us know your favorite cherry combo – it might become the next cupcake sensation!
Please bake, rate, and review our recipe for Cherry Cupcakes.
Jump to Comments