Chocolate fruitcake
A truly delicious oxymoron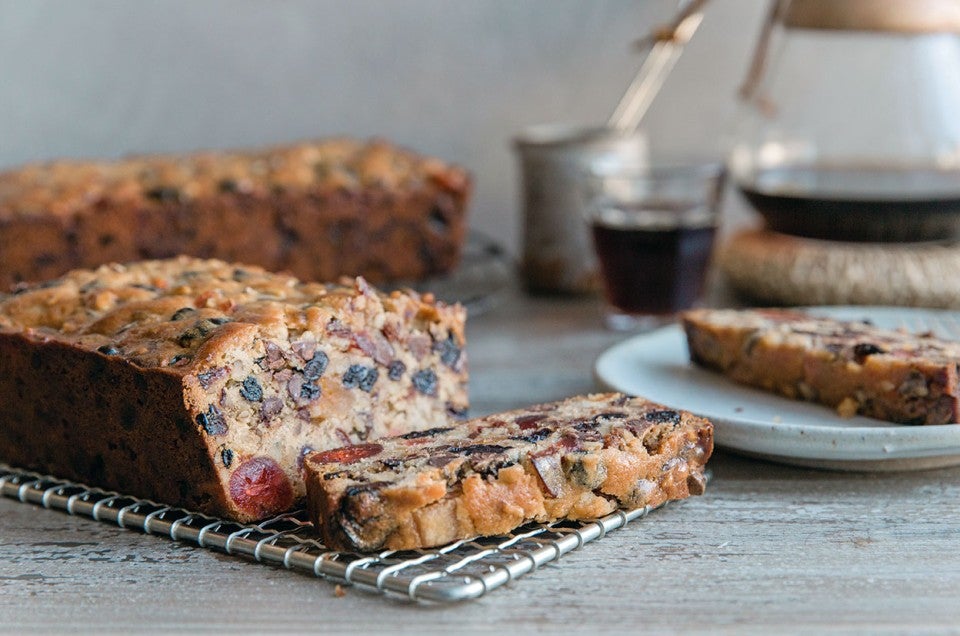 Oh, no...
NOT another post about FRUITCAKE!
Well, we figured you'd be out at the mall shopping today, and maybe we could slip this one past you.
Or not.
If you've managed to get past the word FRUITCAKE, read on. This chocolate chunk, pecan, cherry/cranberry version might just be the recipe that finally tickles your fruitcake fancy–
Chocolate Cherry-Berry Fruitcake.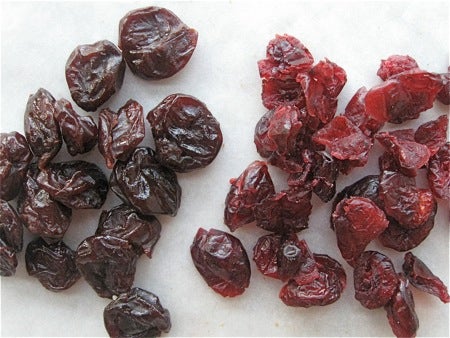 Dried cherries on the left; dried cranberries on the right. While the cherries are wonderfully tasty, if your budget can't handle them, definitely go with the cranberries. Or a combination, as I'm doing here.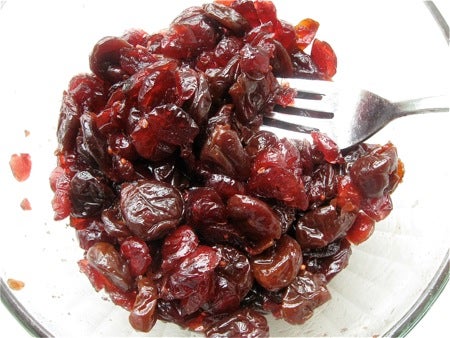 Combine the dried cherries or dried cranberries with 1/2 cup brandy or rum, or 1/3 cup water.
Cover and microwave for 1 to 2 minutes (or bring to a simmer on the stovetop), stir, then set aside to cool to room temperature, about 1 hour.
Preheat the oven to 325°F. Lightly grease the pans of your choice: two 8 1/2" x 4 1/2" loaf pans; five 7" wooden bakers; six 7" paper bake & give loaf pans (which is what I'll be using here); one 12-cup bundt-style pan, or two 6-cup bundt-style pans.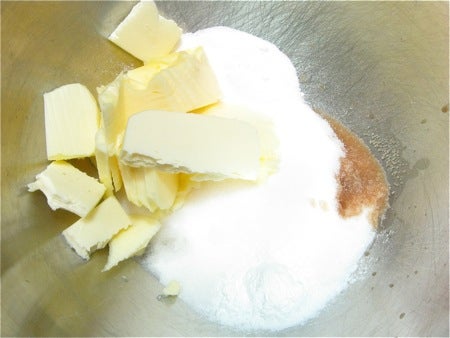 Put the following in a large bowl:
3/4 cup unsalted butter
1 1/2 cups sugar
1 1/2 teaspoons baking powder
1 teaspoon salt
1 teaspoon vanilla extract
¼ teaspoon almond extract, optional
2 tablespoons Cake Enhancer, optional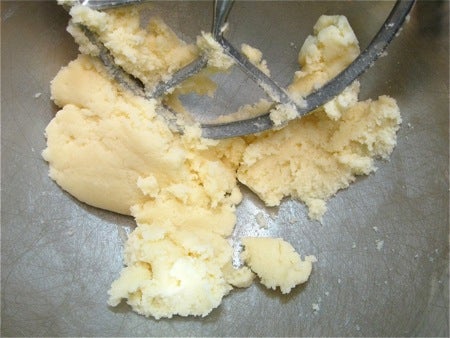 Beat until smooth.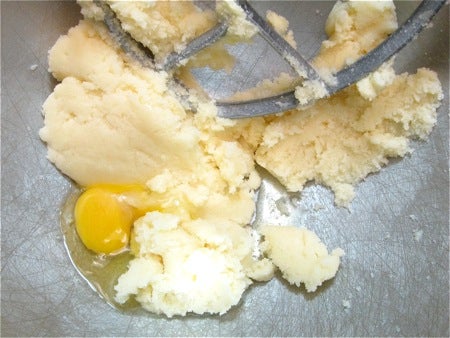 Next, you'll add 3 large eggs, one at a time, with the mixer going. Obviously, the mixer isn't going here; do as I say, not as I did. Add 1 egg, beat to combine, stop and scrape the bottom and sides of the bowl. Add the second egg, beat to combine, stop and scrape the bottom and sides of the bowl, etc.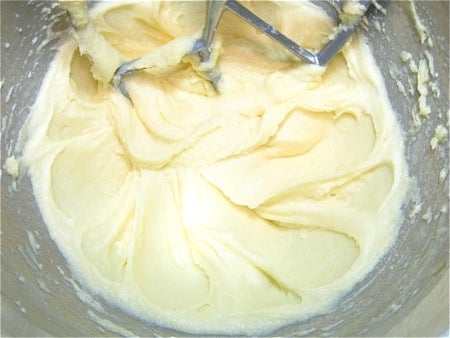 The batter will lighten noticeably, both in texture and color.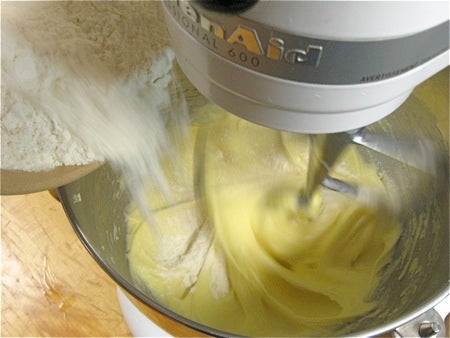 Next, you'll add 2 1/2 cups (10 1/2 ounces) King Arthur Unbleached All-Purpose Flour and 3/4 cup milk, at room temperature. Start with about 1/3 of the flour...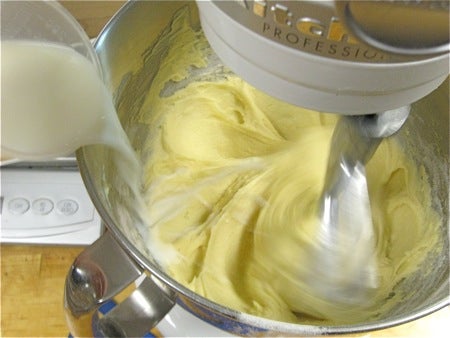 ...then half the milk, then another 1/3 of the flour, etc. Continue in that manner until both flour and milk have been completely added.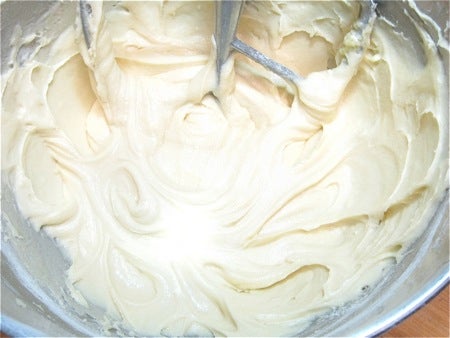 Your batter will be even lighter and thicker.
Next, the add-ins.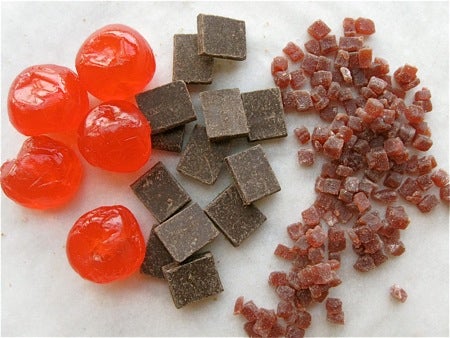 You'll need 1 1/2 cups candied red cherries (l); 1 1/3 cups Raspberry Jammy Bits or Blueberry Jammy Bits or a combination (r); and 2 cups chocolate chips or chunks (center). I'm using Peter's Burgundy Chunks here, because I like their balanced flavor – not too bitter, not too milky-sweet.
So, what are these Jammy Bits, anyway? Tasty bits made from a blend of raspberry (or blueberry)  juice, apple juice, sugar, and pectin. They hold their shape and soft, chewy texture when baked; and don't "bleed" into batters. They're also quite yummy.
Can you substitute some other dried fruit or nuts? Of course, be my guest.
Mix the fruit and chocolate with 2 1/2 cups diced pecans or walnuts.
Don't like nuts, or can't use them? Leave them out, or substitute more dried fruit.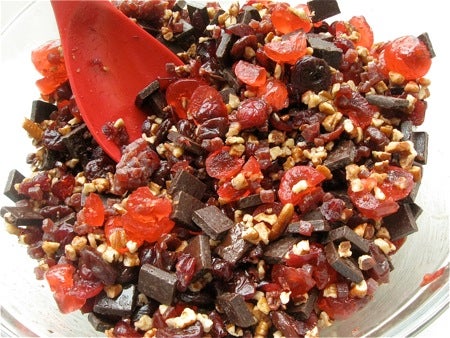 Stir the dried cherries (and/or cranberries) and their liquid into the fruit/nut mixture.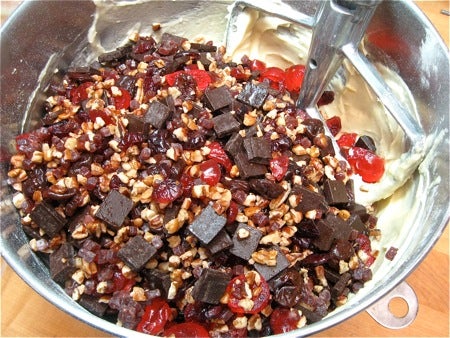 Stir it all into the cake batter.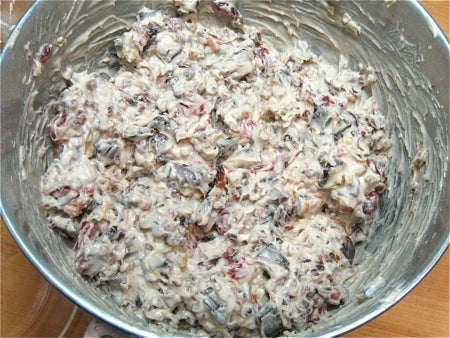 A stand mixer (or lots of arm strength) comes in very handy here!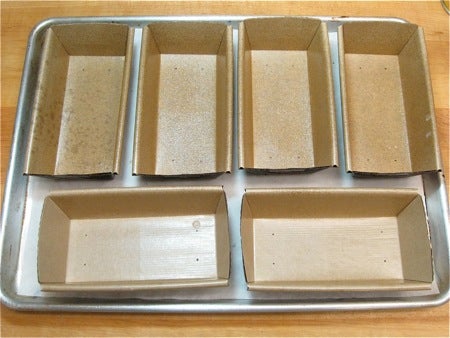 Here are the bake and give pans I'm using. I'm trying an experiment: the ones on the top I've lightly greased; the ones on the bottom, no spray; we'll see how they do, stick-wise.
If you're using small pans, it helps to put them all on a larger baking sheet.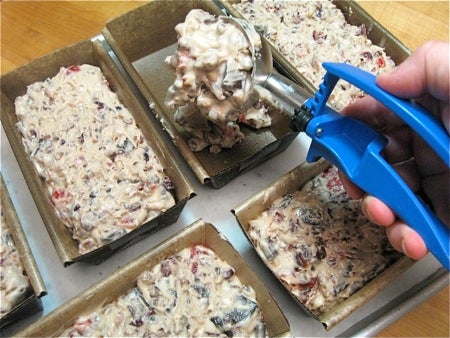 Spoon the batter into the pans, filling them about three-quarters full. A muffin scoop is a good tool for this job.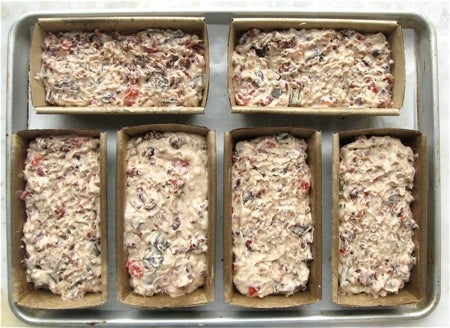 Pat the stiff batter gently with your wet fingers, to smooth it.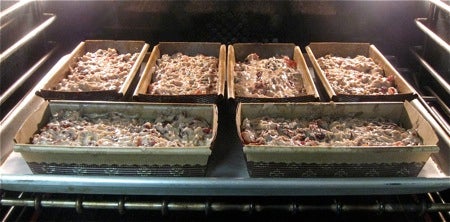 Bake the cakes for 50 to 53 minutes, until they're a light golden brown all over, and a cake tester inserted into the center of one comes out clean.
Larger cakes will bake longer amounts of time – up to 100 minutes for the full-size bundt cake.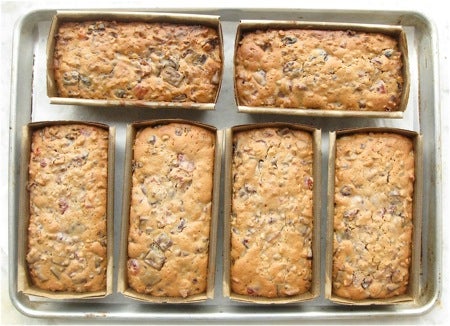 Remove the cakes from the oven. If you're removing them from the pan(s), wait about 10 minutes, then turn them out onto a rack. If you've baked them in paper pans, they can stay right in the pan.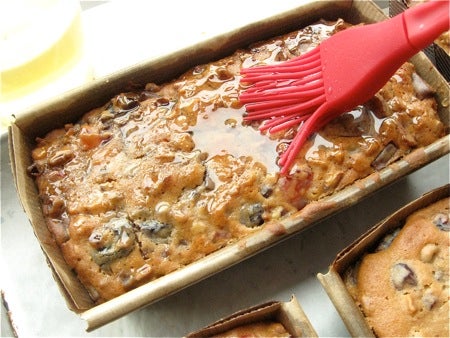 Brush the cakes with 3/4 cup simple syrup, or the flavored syrup of your choice. Alternatively, brush with brandy or rum, or a combination of liquor and syrup.
How much syrup, how much liquor? Up to you; mix 'em together until they taste right to you.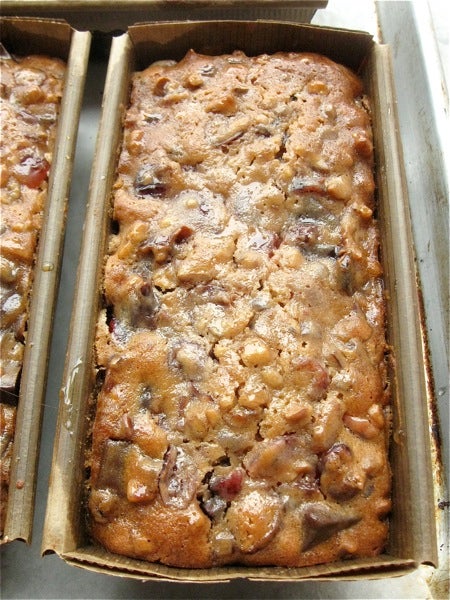 This will seem like a lot of syrup/liquor, but just keep brushing; this is what keeps the cakes nice and moist until Christmas.
Decorate with candied cherries, if you like.
When completely cooled, wrap well and let rest at least 24 hours (or for up to 6 weeks or so, brushing with liquor or syrup weekly), before serving.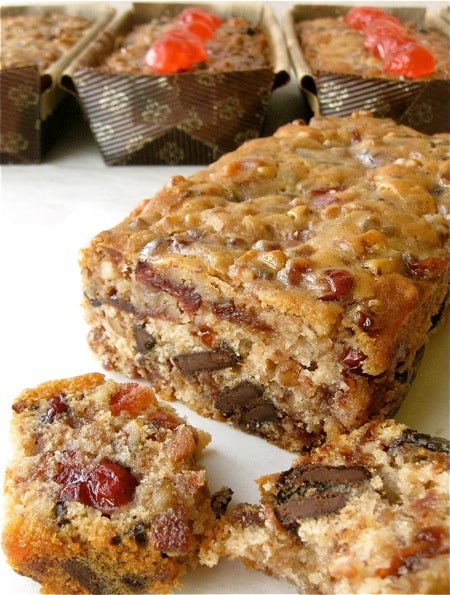 Oh, boy... Love those chunks of chocolate with the cranberries/cherries, don't you?
And, remember the "grease" vs. "no grease" experiment with the pans? These slick bakeable paper gift pans don't need to be greased; they peel away from the baked cake quite nicely all on their own.
Read, rate, and review (please) our recipe for Chocolate Cherry-Berry Fruitcake.
Jump to Comments