The easiest peach cobbler around
(Do I dare to eat a peach?)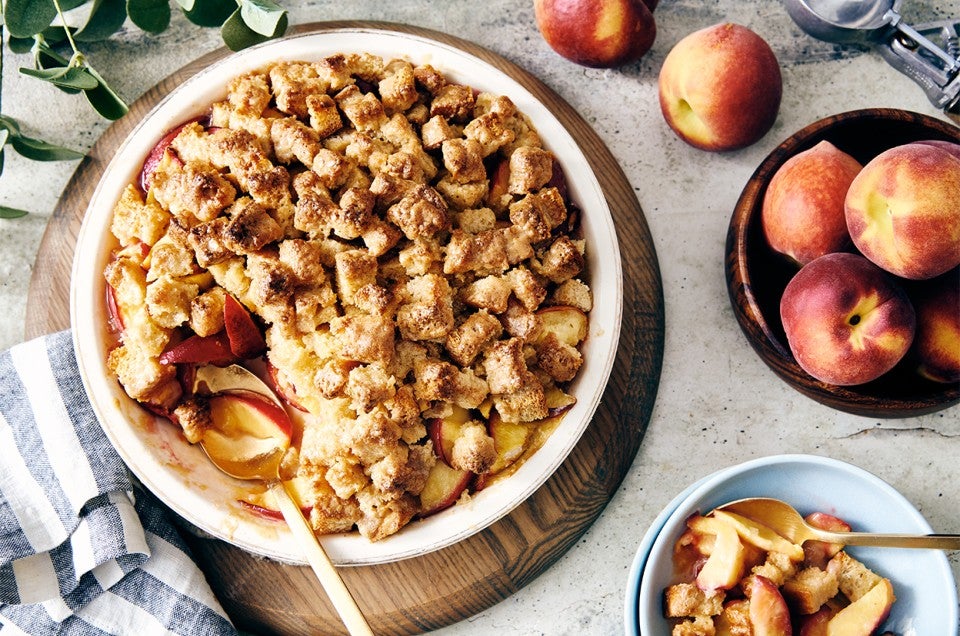 Peach cobbler.
Yours, your mom's, Cracker Barrel's, Hardee's...
Which is "real?"
STOP RIGHT THERE. Put your spoon down, your hands at your sides, and listen.
The Recipe Police have left the building.
There are those who swear a true cobbler can only be topped with a rolled pie crust. Others say biscuit dough – rolled, or plopped – is "correct."
Still other bakers claim cake batter poured over the fruit, so that fruit and cake become a cohesive whole as the cobbler bakes, is the "right" way to do it.
And I say - WHATEVER. As in, whatever makes you happy, tastes good, and floats your boat.
History tells us that cobbler was first mentioned in print – at least in this country – in the early 1800s. The crust of choice back then? A "thick paste." Well, that's revelatory.
Further research leads me to believe that one thing common to cobblers down the decades is the thickness of the crust on top. None of this delicate, flaky 1/4"-thick stuff; cobbler is topped with something substantial, either biscuit dough, or a thick pie crust.
The following recipe is made not with a thick pie or biscuit crust, but with a topping of cubed bread. It's the fastest, EASIEST way to hot, bubbly peaches with crust on top.
But is it "peach cobbler?"
Well, uh, hmmm...
I plead the Fifth!
If you're willing to cast aside long-held assumptions about what constitutes authentic cobbler, give this Just-Too-Easy Peach Cobbler recipe a try. Or Just-Too-Easy Apple Cobbler, or berry... this recipe is ripe for tweaking using the fruits or berries of your choice.
First, preheat your oven to 350°F.
Choose your pan: a 9" pie plate; or a 9" round cake pan, or 8" square pan.
The pie plate should be at least 1 1/2" deep; the cake or square pans, a minimum of 2" deep.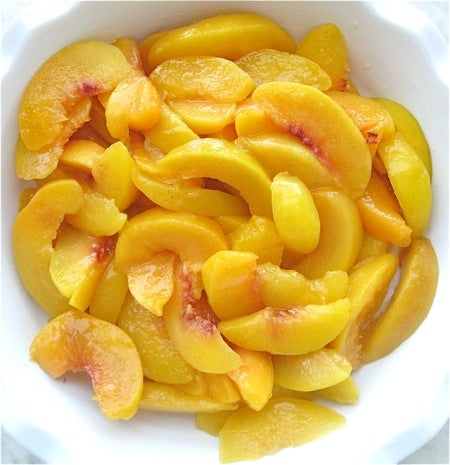 Let's start with the peaches. You'll need 6 to 7 medium-sized peaches (2 pounds), peeled and sliced, OR 2 large (1 pound, 15 ounce) cans sliced peaches, drained. Or two 1-pound bags of frozen peaches, thawed; which is what I'm using here.
These peach slices were super-large, so I pulsed them briefly in a food processor, to cut them into bite-sized pieces.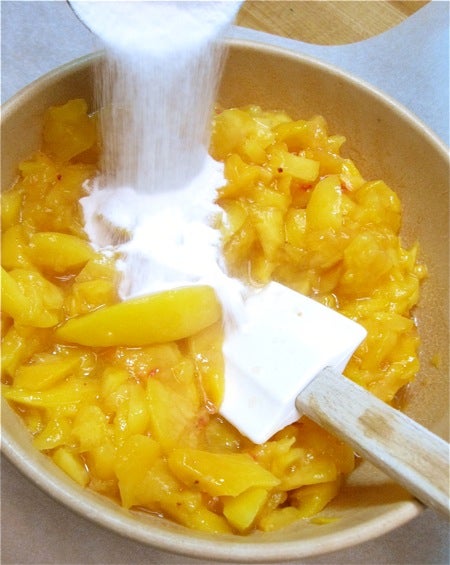 Add 1/4 cup Pie Filling Enhancer to the peaches. I love this enhancer for all kinds of fruit fillings. With starch for thickening, a bit of sugar for sweetness, and a touch of ascorbic acid for color and a flavor-boosting citrus note, it does wonders for pies and crisps featuring apples or pears, berries, or stone fruits.
You can also simply thicken the cobbler with cornstarch: 2 tablespoons for fresh or canned fruit, 3 tablespoons for frozen.
Can you make this cobbler without any thickener at all?
Sure. The filling will just be thinner.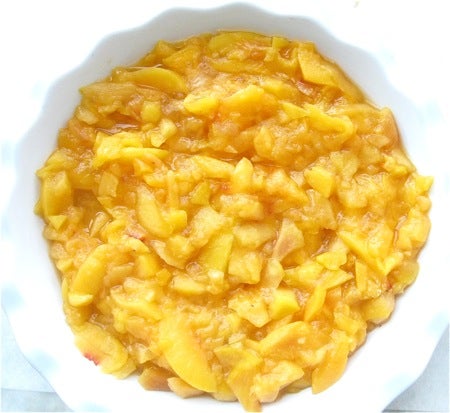 Spoon the filling into your chosen pan.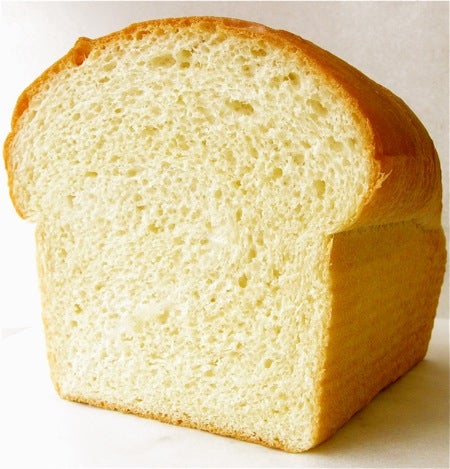 Next - bread for the topping. Use a firm, moist, sandwich-type bread, for best results. King Arthur's Classic White Bread is my go-to loaf.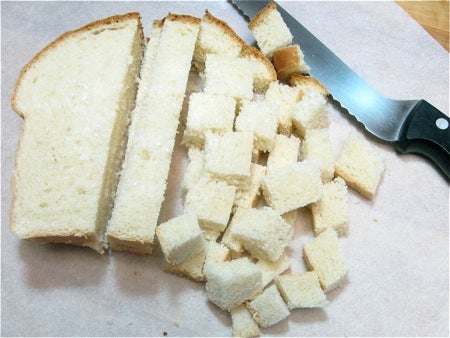 You'll need 3 to 5 slices of bread, depending on how tall your loaf is. Your goal is about 4 cups (5 ounces) bread cubes. No need to remove the crusts.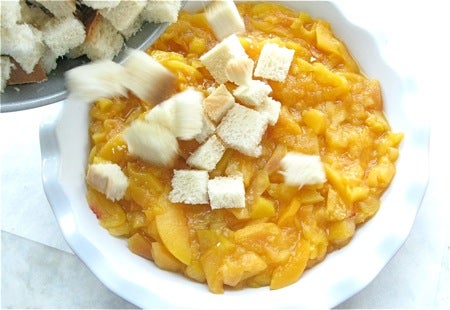 Pour the bread cubes onto the filling.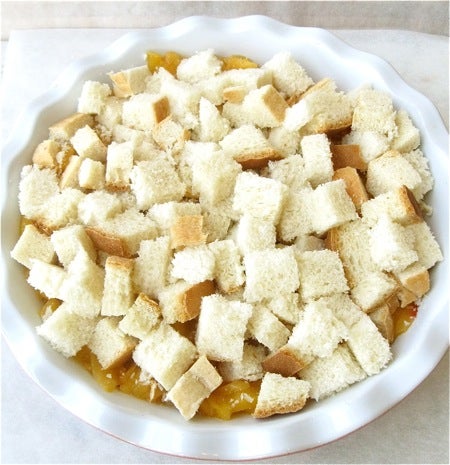 Distribute evenly, pressing down gently.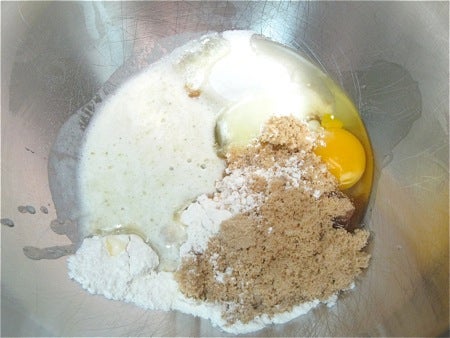 Next, the topping that brings this dish together.
Put the following in a bowl:
2/3 cup (142g) brown sugar
1/4 cup (50g) granulated sugar
1/4 teaspoon salt
2 tablespoons (14g) King Arthur Unbleached All-Purpose Flour
1 large egg
8 tablespoons (113g) melted butter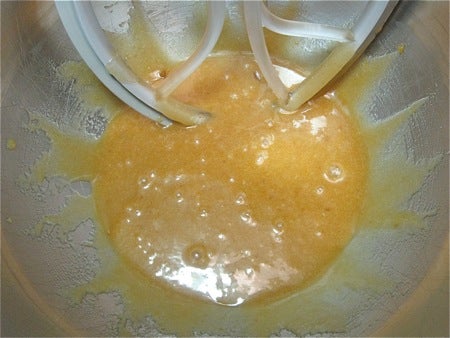 Mix to make a thick syrup.
Drizzle over the bread cubes.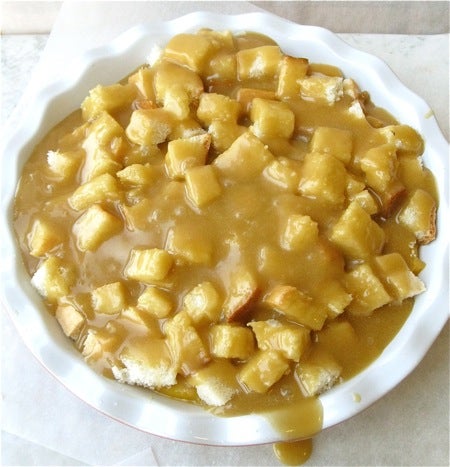 Yes, there's a lot, and it may run over a bit. That's why I've set the pie plate on a piece of parchment.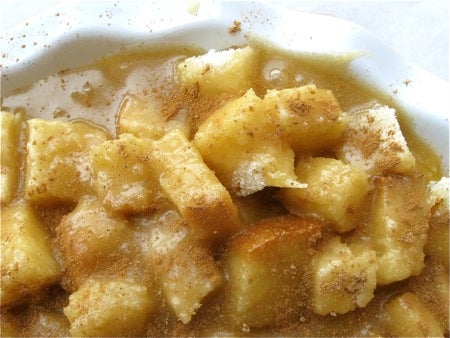 Sprinkle with 1/4 teaspoon nutmeg or cinnamon, if desired.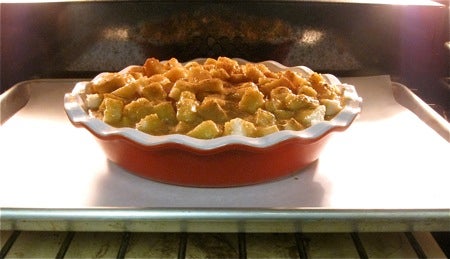 Bake the cobbler in a preheated 350°F oven for 45 minutes...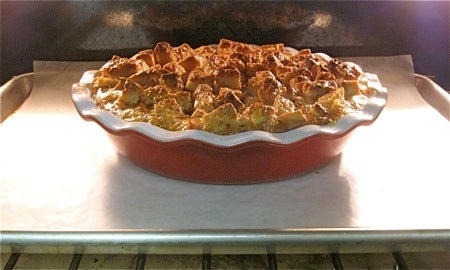 ...until it's golden brown.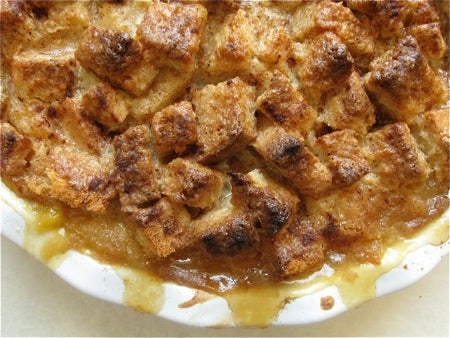 Remove it from the oven; the juices should be bubbling.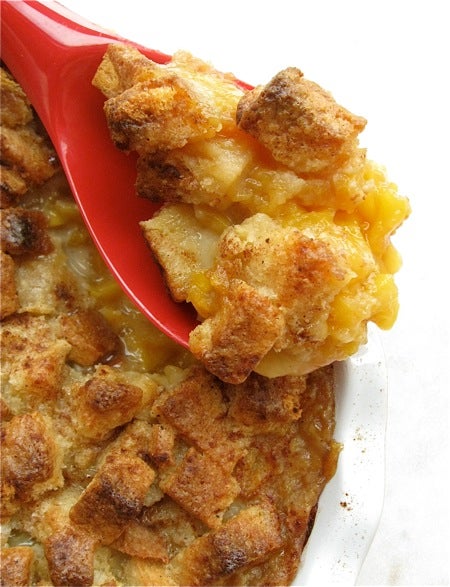 Serve it hot or warm, with vanilla ice cream or whipped cream, if desired.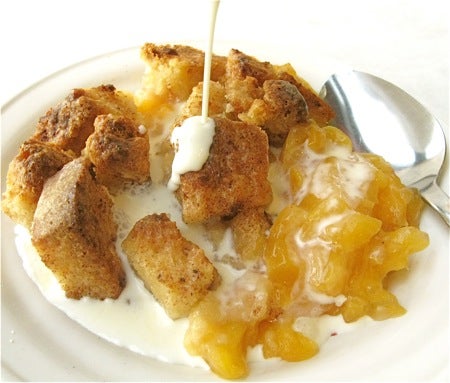 Or with plain heavy cream. Ah, peaches & cream...
Read, rate, and review (please) our recipe for Too Easy Peach Cobbler.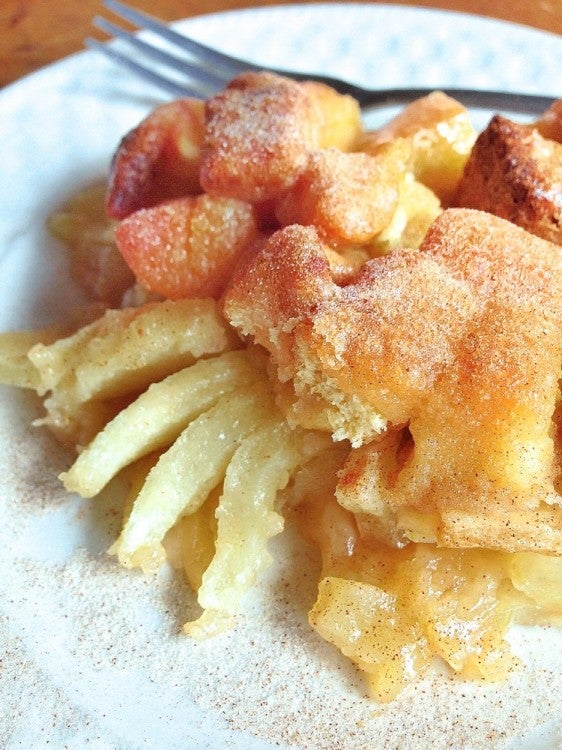 P.S. As I continued to experiment with this recipe, I found it works equally well with other fruits. This apple version, made with leftover dinner rolls, hit the spot on a chilly autumn afternoon.
Jump to Comments