One of the most common queries we get via our Bakers' Hotline is this:
"I hate discarding a cup of sourdough starter every time I feed it. Isn't there something else I can do with it, besides just throw it away?"
Ah, we're all thrifty New Englanders at heart, right? And I agree – it just feels wrong to throw flour (starter) in the trash bucket. Luckily, there's plenty you can do with excess starter besides dump it. So here goes:
Really, you can use that sourdough in a whole variety of recipes. Think of it this way: sourdough starter is basically equal parts flour and water, by weight. So 1 cup of flour (4 1/4 ounces) + 1/2 cup water (4 ounces) = 1 cup starter. (No, I'm not arithmetic-challenged! We don't quibble about the 1/4 ounce.)
Back to that about-to-be-discarded starter: do you have another bread recipe you'd like to make? Substitute 1 cup starter for 1/2 cup of the water and 1 cup of the flour. Keep in mind your loaf may be slightly tangier than usual. Most savory-type yeast loaves (rye, whole wheat, artisan breads of all kinds) will do great with this substitution.
Beware of substituting willy-nilly in recipes that are chemically leavened, e.g., anything using baking powder/baking soda. Why? Because the starter will throw off the acid balance these leaveners depend upon to work. However, if the recipe calls for buttermilk or yogurt (both acidic, like sourdough), you could try replacing 1/2 cup of the buttermilk and 1 cup of flour with 1 cup unfed sourdough starter.
So why even bother to feed sourdough, if you can just go ahead and use it unfed? First, to keep it alive. And second, without being fed, sourdough doesn't have much leavening ability. It's the feeding that gets the yeast going. Use unfed starter in a yeast bread recipe strictly for flavor (and to use up the starter); not for its leavening power.
OK, are we straight here? You don't HAVE to throw away that cup of starter prior to feeding your sourdough.
But neither do you have to use unfed starter in the following recipe. Fed, unfed... both will work.
What will the difference be in the final product, you ask? The fed-starter crust will be slightly lighter-textured.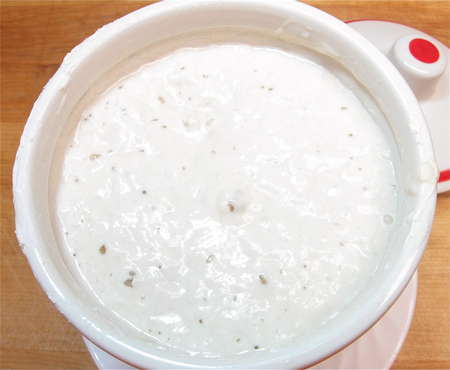 We're going to begin this recipe with sourdough starter.
I'd just fed this sourdough the night before, so it looks very happy. (I took the unfed starter and made overnight waffles.)
Happy, fed sourdough looks glossy and "full" and bubbly. It smells "wheaty," and mildly of vinegar/alcohol.
Spoon 1 cup (227g) of fed sourdough starter into a mixing bowl. Or 1 cup of unfed sourdough. Don't worry, there's enough added yeast in this recipe to make up for any lost leavening power.
Not into sourdough? You can still make this flatbread. Simply substitute 1/2 cup King Arthur Unbleached All-Purpose Flour and 1/2 cup lukewarm water for the 1 cup of starter.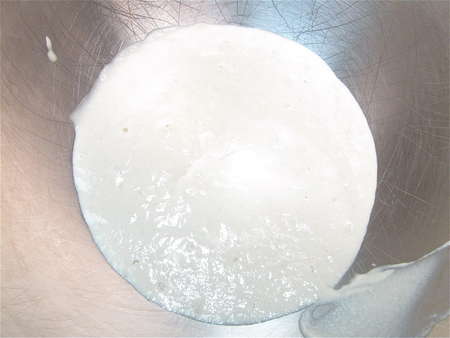 Here's the starter in the bowl.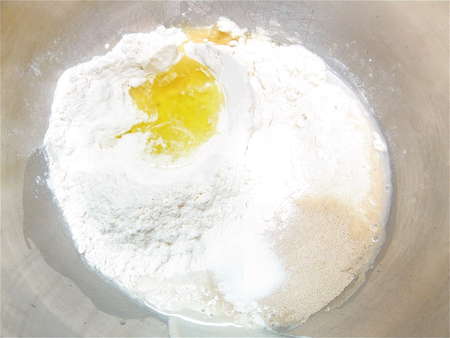 Add the following:

3/4 cup (170g) lukewarm water
2 teaspoons instant yeast
3 cups (361g) King Arthur Unbleached All-Purpose Flour
1 1/2 teaspoons salt
2 tablespoons (14g) Baker's Special Dry Milk or nonfat dry milk
3 tablespoons (35g) olive oil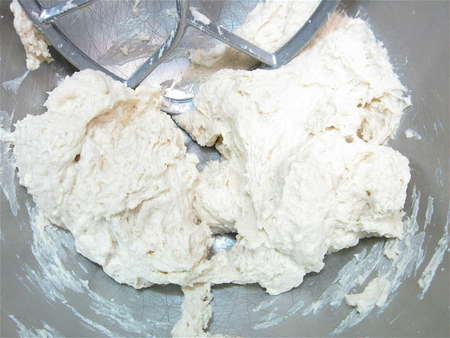 Mix till cohesive...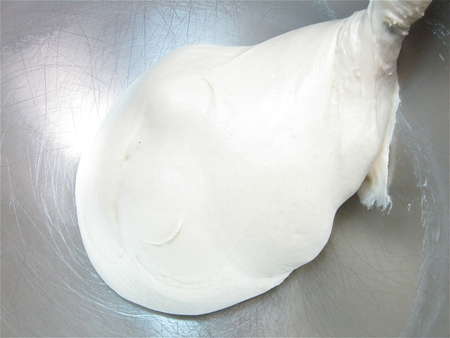 ..then knead till smooth.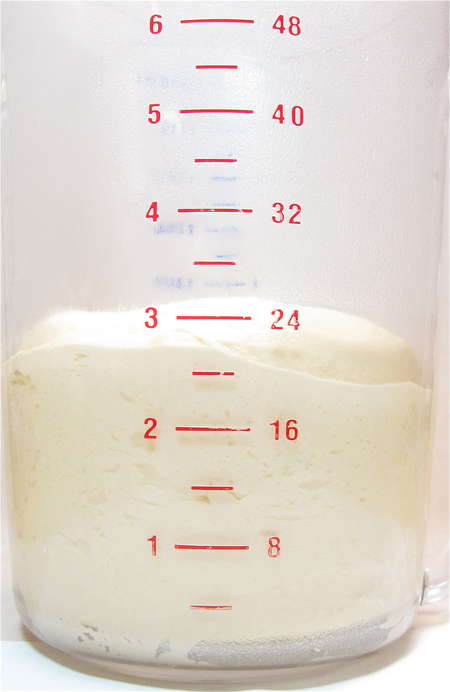 Place the dough in a lightly greased bowl or large measuring cup...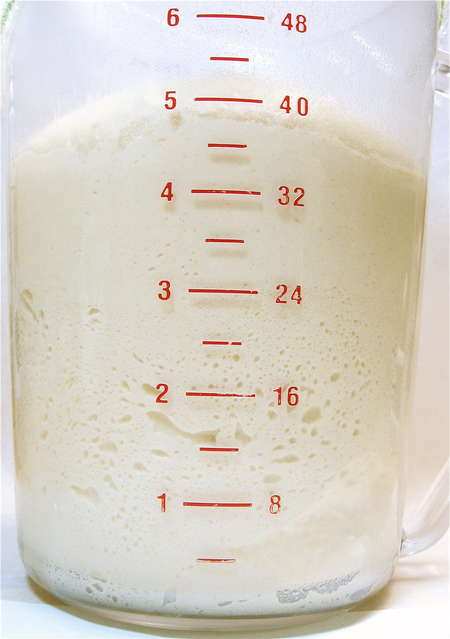 ...and let it rise for 1 hour. It will have become puffy, but probably won't have doubled.
Gently deflate the dough, and allow it to rise for another hour.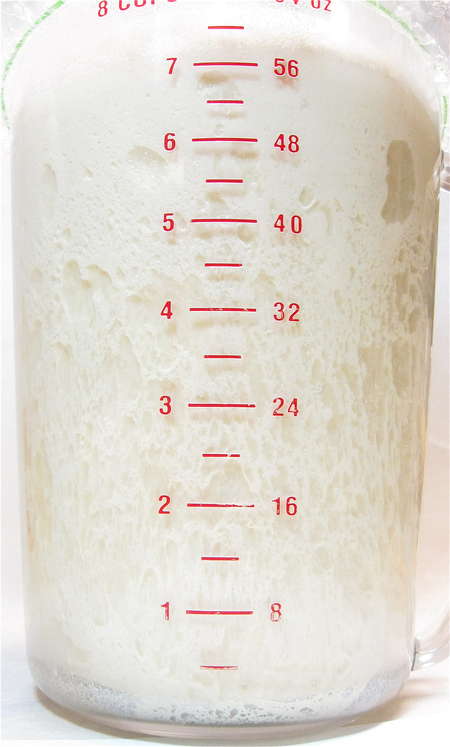 The dough should have at least doubled in bulk, or come close to it. While the dough is rising, prepare the topping.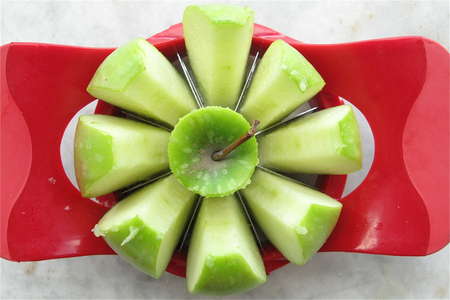 Core 4 very large, firm, unpeeled apples (about 2 pounds; 907g). Cut each apple into 8 wedges; an apple corer/slicer works well here.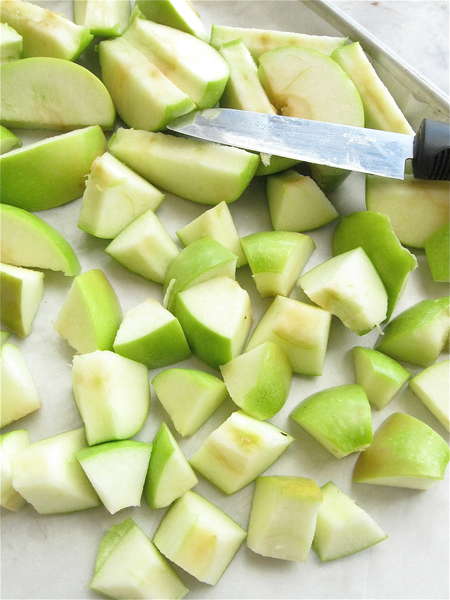 Cut each of the wedges into 3 pieces; you'll have 7 to 7 1/2 cups (about 27 ounces) of apple chunks.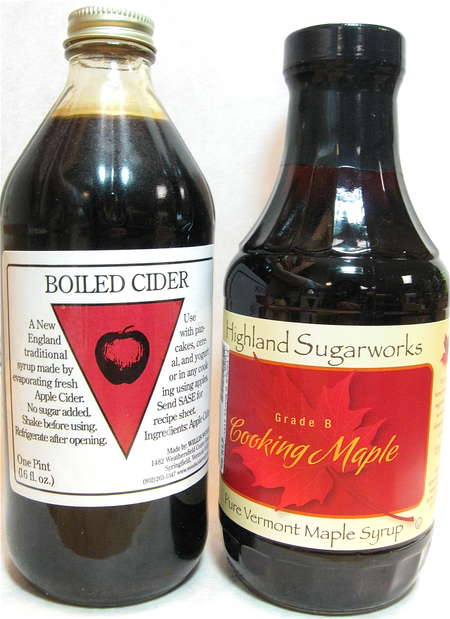 Two of my favorite apple ingredients: boiled cider, and "cooking maple" maple syrup.
Boiled cider is a thick syrup boiled down from fresh apple cider. No extra sweetener is added – but none's needed. Tasting intensely of apples, it's the perfect final touch for any kind of apple dish.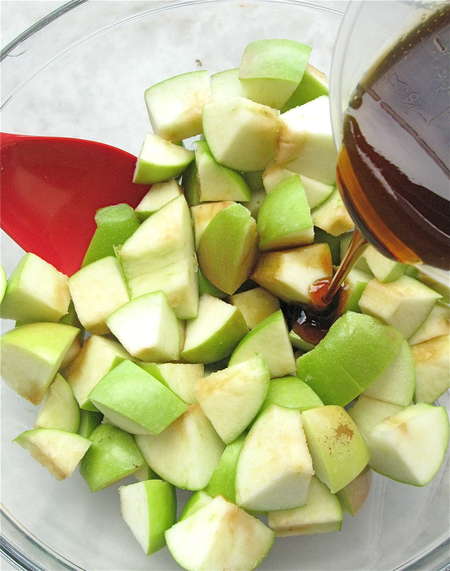 Put the chunks in a shallow microwave-safe bowl, and drizzle with 1/4 cup (85g) boiled cider and 1/4 cup (85g) maple syrup. Don't have boiled cider or maple syrup? Drizzle with 1/3 cup honey, 1/4 cup agave syrup, or the sweetener of your choice.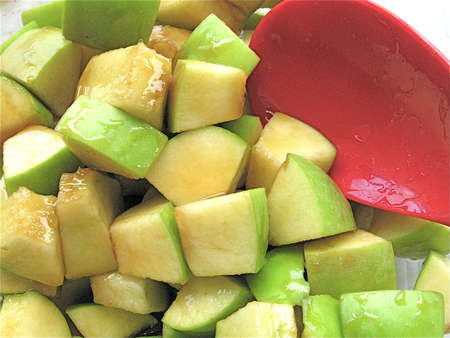 Toss till the apples are coated with the syrup.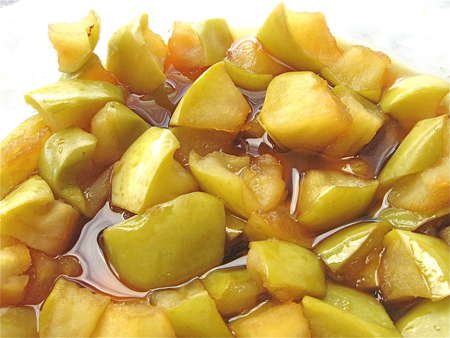 Cover the bowl, and microwave the apples till they've softened, but still hold their shape. In our microwave here, that took about 9 minutes.
Can you do this on the stovetop? Sure. Cook gently till the apples are al dente – not crisp, but still able to hold their shape.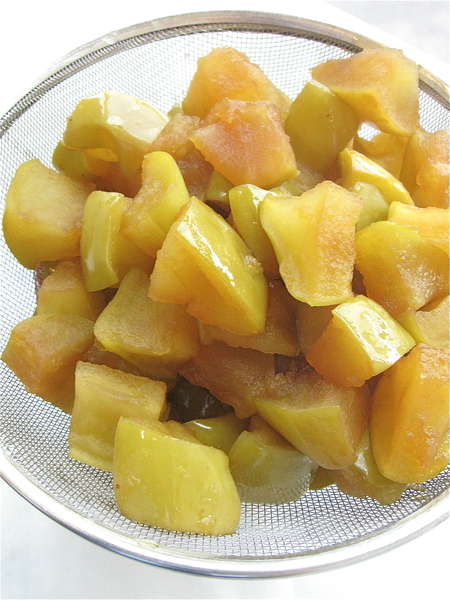 Drain the apples, reserving the juice. Set them aside to cool while the dough is rising.
Lightly grease an 18" x 13" rimmed baking sheet (half-sheet pan), or two 9" x 13" pans.
Drizzle olive oil atop the spray; the spray keeps the bread from sticking, while the olive oil gives the bottom crust great crunch and flavor.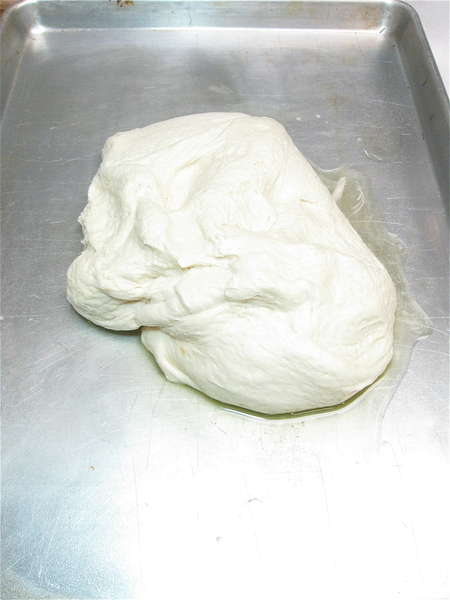 Gently deflate the risen dough, and place it in the pan. (Or divide it in half, and put in the two smaller pans.)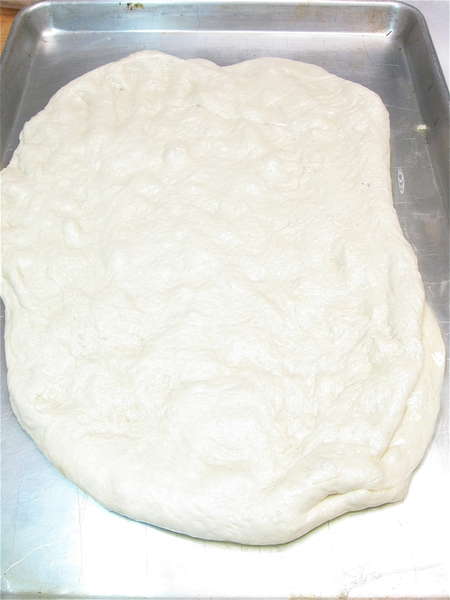 Pull and shape the dough into a rough rectangle. Pat and stretch it towards the edges of the pan.
The dough will shrink back; as soon as it does, cover it and walk away for 10 to 15 minutes.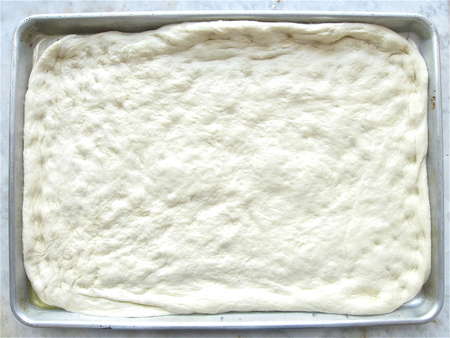 Return, and pat it towards the edges of the pan again. You may have to give it another rest; that's OK. Your ultimate goal is to stretch the dough to cover the bottom of the pan, with perhaps just the very corners uncovered.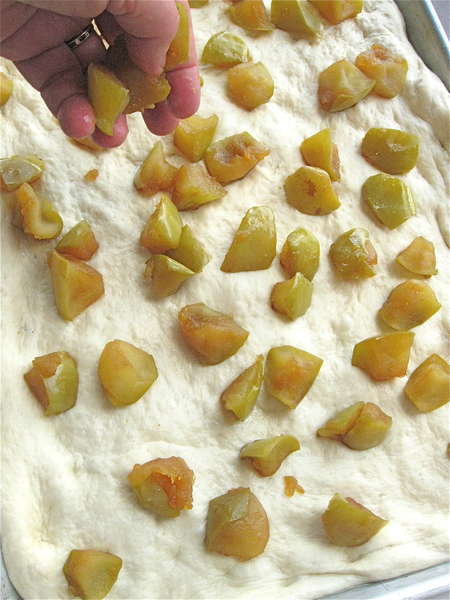 Arrange the apple chunks atop the dough.
Mix 1/4 cup (85g) of the reserved syrup with 1/4 cup (46g) Baker's Cinnamon Filling or 1/4 cup (46g) cinnamon-sugar. The Baker's Cinnamon Filling will yield a richer, creamier topping.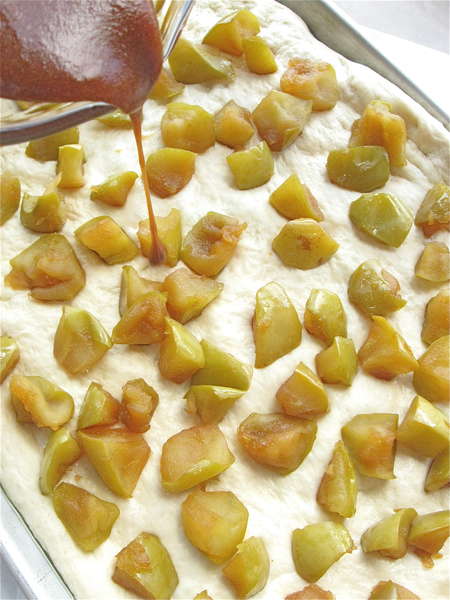 Drizzle the syrup over the apples.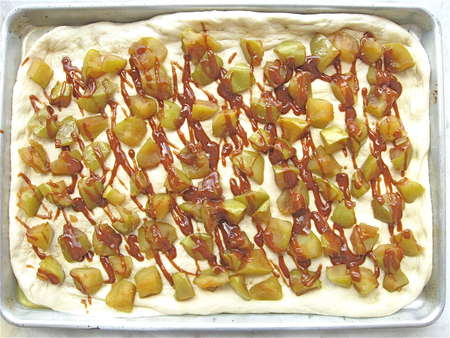 Try to drizzle as evenly as possible. I made kind of a puddle in the middle – the  hazards of trying to drizzle with one hand, and take an action photo with the other!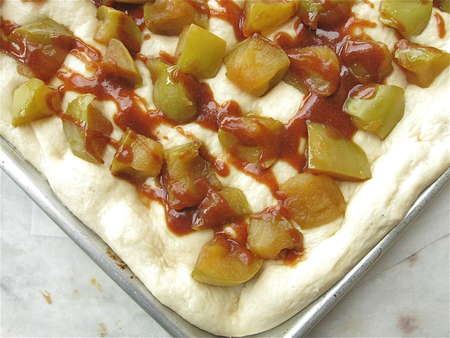 Cover the bread, and let it rise for 1 hour, till it's nice and puffy. See how the edges have started to puff up around the apples?
Towards the end of the rising time, preheat the oven to 425°F.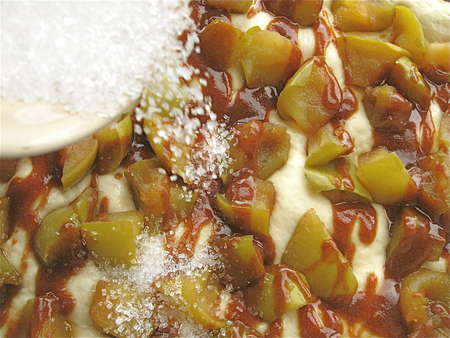 Sprinkle 2 to 3 tablespoons white sparkling sugar over the apples.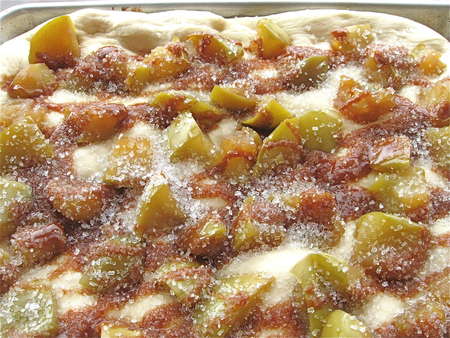 This flatbread is really looking good, isn't it?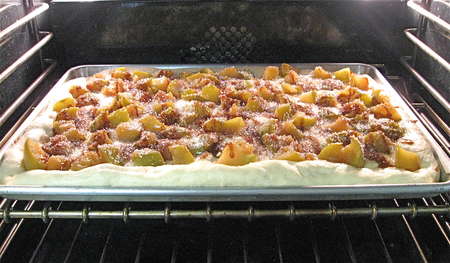 Bake it for 25 to 30 minutes, till the crust is golden brown around the edges and feels set in the center.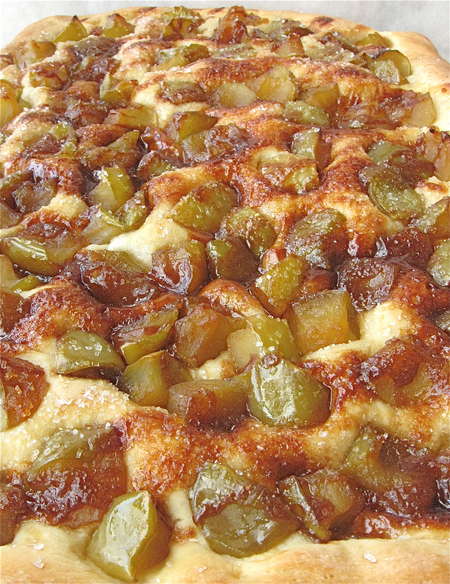 Remove the bread from the oven, and turn it out onto a rack.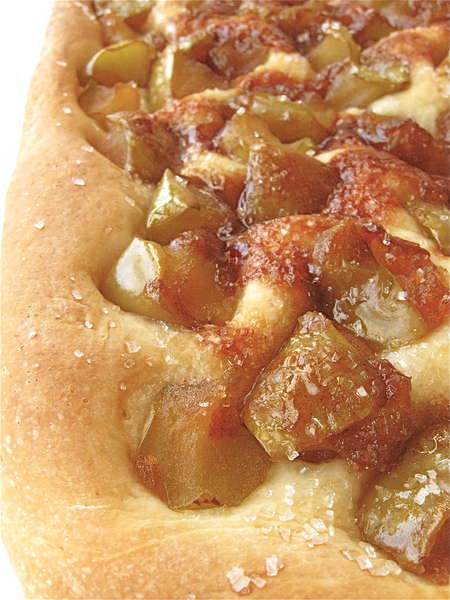 Serve warm.  Room temperature is fine, too.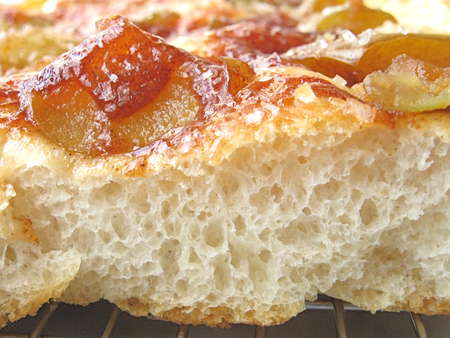 Here's how sourdough helps with this bread's texture – it's truly lovely. Crisp on the outside, light and soft within.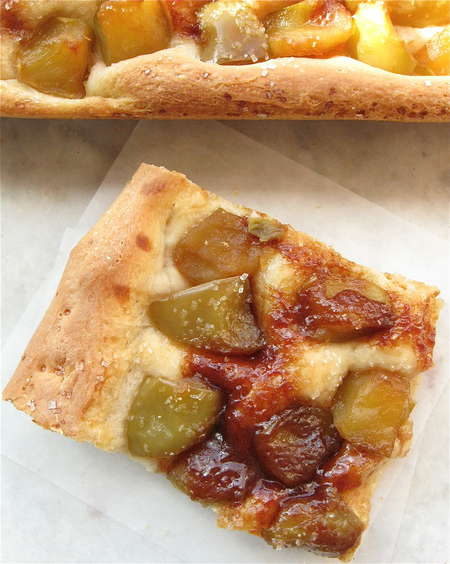 One more look... dig in!
I got so enthused with this crust, I decided to make pizza.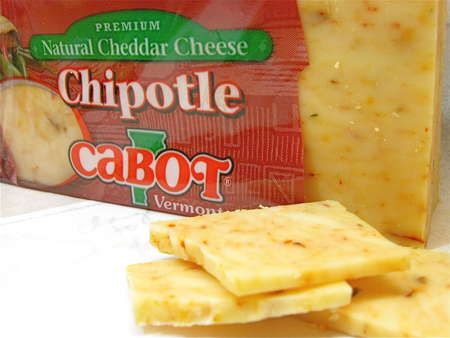 Cabot chipotle cheddar...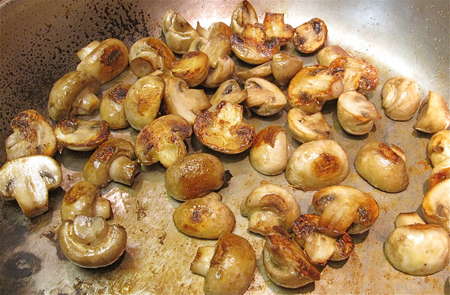 ...sautéed mushrooms...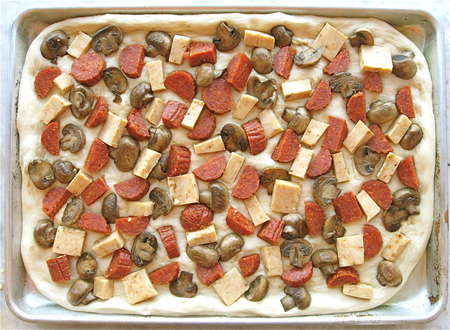 ...and pepperoni, layered on top before rising.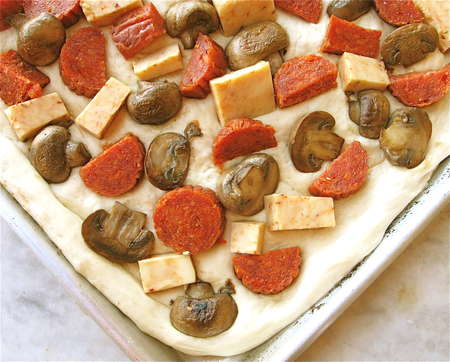 Let the dough rise up around the toppings, just as it did around the apples.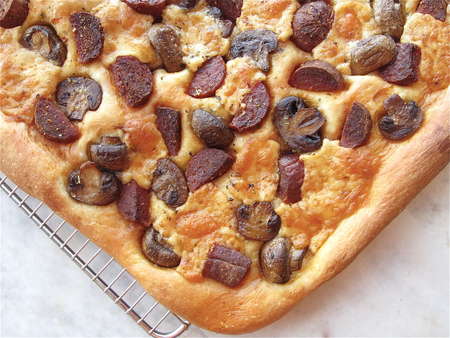 Bake till golden brown. The result is pizza with the toppings partially embedded in the dough; a stuffed pizza, of sorts.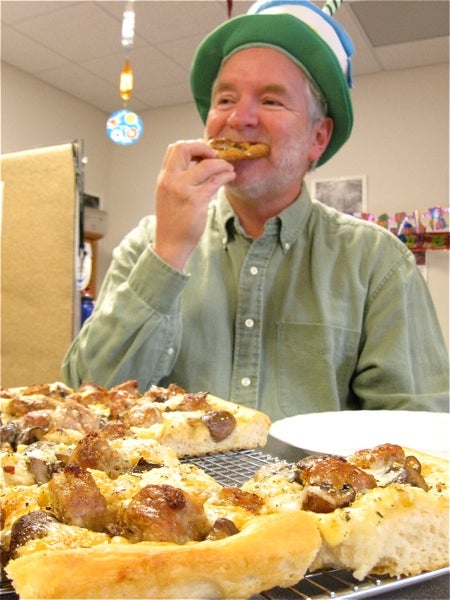 Party time! Seems like we always celebrate birthdays with pizza. Jim, our Web designer, got to wear the birthday hat and enjoy the first piece.
Read, rate, and review (please) our recipe for Cinnamon-Apple Flatbread.
New to sourdough? Find the help you need for all of your sourdough baking in our Sourdough Guide.
Jump to Comments