Simple things are often the best.
Think of the first yellow crocus that pushes its way up through the soggy mulch covering your garden. In a late-winter landscape of browns and grays, that bright splash of gold is probably the loveliest sight you've seen in months.
And your toddler learning to walk: the memory of that first simple step will live in your heart forever.
We often get carried away in the kitchen. And it's perfectly OK. Satisfying, utterly delicious bread can be simply fashioned from flour and water, salt and yeast. Or the list of ingredients can grow like a tsunami, reaching into every part of your pantry to gather in herbs and cheese, fruits and nuts, sugar and spice, and many, MANY "things nice."
Ditto cookies. The list of ingredients for Cranberry-Raisin-Oatmeal Cookies is 20 items long, ranging from spiced rum and boiled cider to cranberries, pecans, ginger, oats... And then you have the simplest of shortbreads: flour, sugar, butter, salt (if you like). Vanilla if you're feeling really frisky.
The following cookies take shortbread one step further: each cookie is topped with a dollop of jam. Yet this simple touch takes plain (albeit delicious) shortbread from everyday to elegant. Use a variety of jams and preserves: golden apricot, deep-dark black raspberry, bright strawberry, orange marmalade. Array the cookies on a pretty plate. WOW. What did I tell you?
Simple is beautiful.
Preheat the oven to 375°F. Lightly grease a baking sheet, or line it with parchment.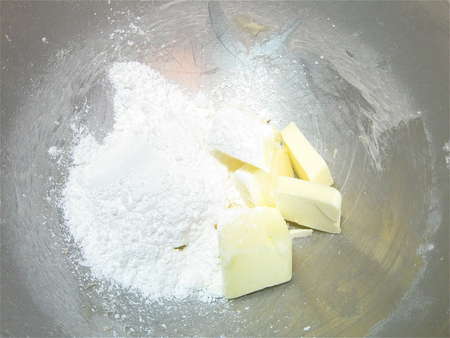 Place the following in a mixing bowl:
1/2 cup (57g) confectioners' sugar
8 tablespoons (113g) unsalted butter, at room temperature
1/4 teaspoon salt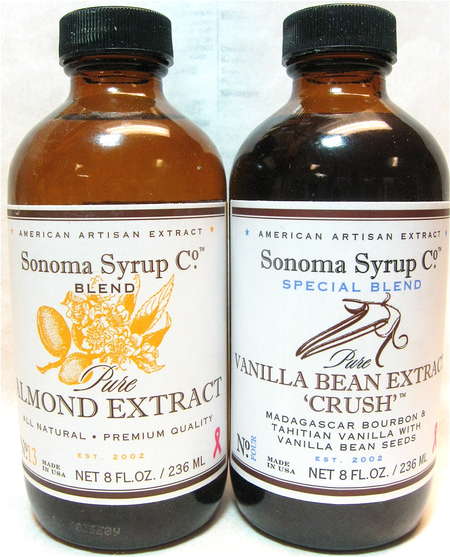 Add 1 teaspoon vanilla extract, and 1/4 teaspoon almond extract. Here are my favorites, both from Sonoma Syrup. See the little pink ribbons on the label? Dave, Sonoma's owner, supports breast cancer research. Thanks, Dave!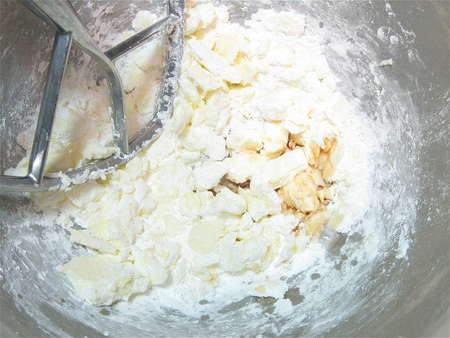 Beat till smooth. This isn't even close; keep beating.
Now THAT'S smooth!
Add 1 cup (120g) King Arthur Unbleached All-Purpose Flour, and beat till smooth again. The dough will be quite stiff, like shortbread dough. Which is basically what this is.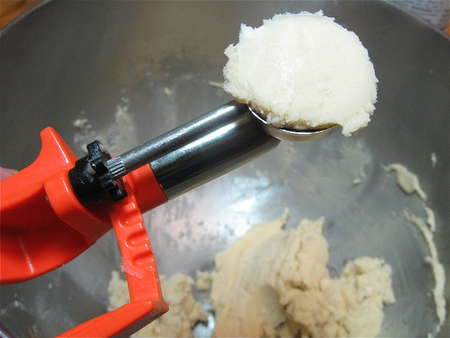 Scoop out 1" balls of dough; a teaspoon cookie scoop works perfectly here.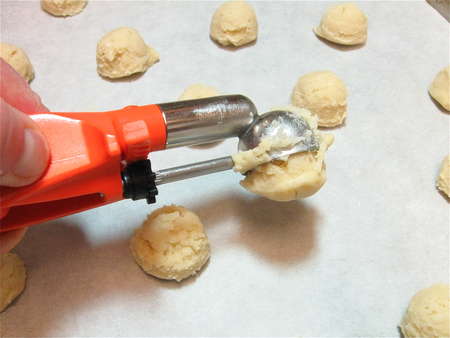 Drop the dough balls onto the prepared baking sheet, leaving about 1 1/2" between them.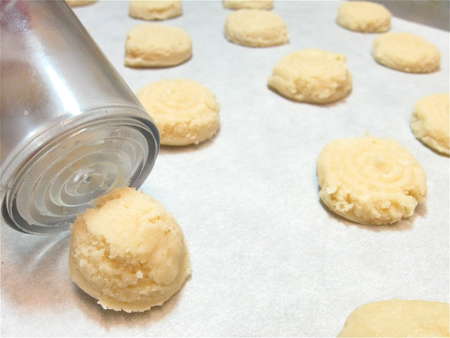 Using the flat bottom of a glass or measuring cup (or the pusher of a food processor, as I'm using here), flatten the balls gently, to about 1/4" thick.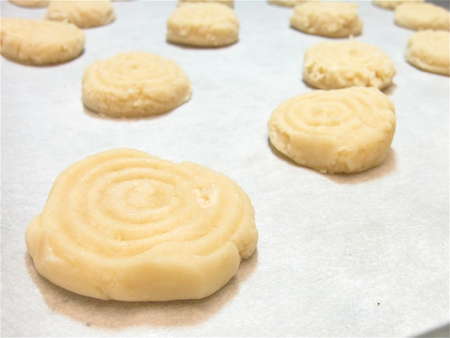 Like this.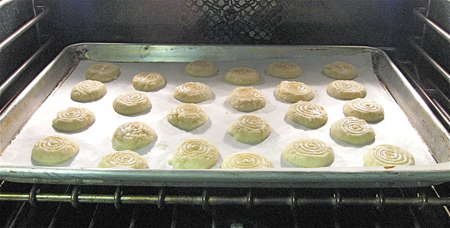 Bake the cookies for 10 minutes, till their edges are just starting to brown.
While they're baking, find a flat bottle lid or other round, flat object about 1 1/4" in diameter, to press indentations into the baked cookies.
And select your jam or preserves. I'm using various here – blackberry, California apricot, and orange marmalade – and boy oh boy, are they ever tasty...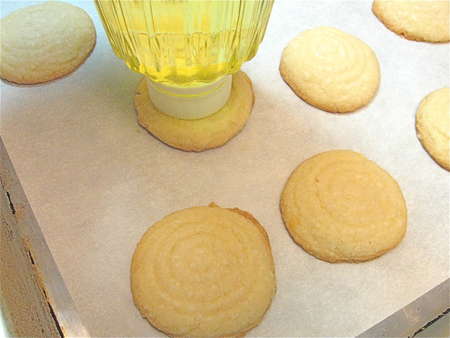 Remove the cookies from the oven, and working quickly, firmly press straight down into their centers, to make a shallow indentation about 1 1/4" across. I simply upended a bottle of vegetable oil and used the screwed-on cap to make the indentations.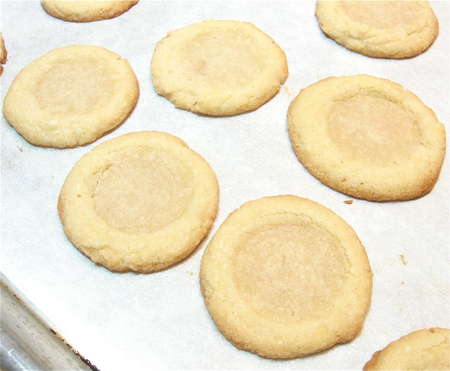 As I said, you have to work quickly; otherwise, the cookies will crack around the edges as you make the wells. Don't fuss around trying to make each one perfect; just do it, as Nike would say.
The point of this step is to contain the fruit. If you just spread jam atop each cookie, it might slide off. Creating these small (albeit distinct) boundaries prevents this slippage.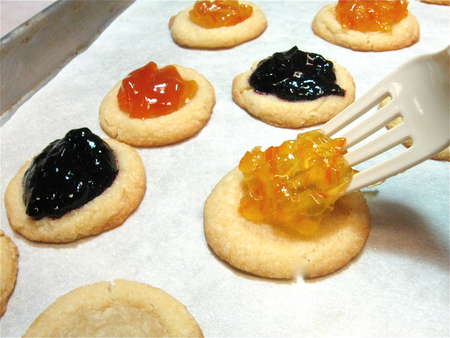 Dollop 1 level measuring teaspoon of jam or preserves into the center of each cookie, spreading it to the edges of the indentation, if necessary.
Cross-section of a blackberry preserves-topped cookie. See how the indentation is just deep enough to contain the jam?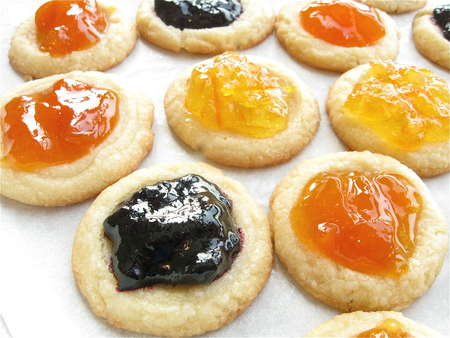 Let the cookies cool completely right on the pan.
Store any leftovers on a plate covered loosely with plastic wrap; or slide the plate into a bag, ballooning it up so the bag doesn't touch the jam. You can also store these cookies under a cake cover – if there are any left after the first go-around.
Read, rate, and review (please) our recipe for Jam Blossoms. If you want to get extra fancy, try adding the glaze detailed on the recipe page! 
Jump to Comments