December 21, the official start of winter, is the shortest day of the year – the winter solstice. And for those of us up North, this means a scant 10 hours of weak daylight – and over 14 hours of darkness.
It's no wonder that northern Europeans used to gather on December 21 and burn bonfires all night long, imploring the sun to return. In Scotland, the tradition was enhanced with the addition of oat shortbread – baked in a round, and notched around the edge to resemble the sun's rays.
The buttery shortbread we serve these days is a far cry from that original oatcake. But it's still just about the simplest cookie you can make: flour, butter, and sugar, enhanced with a touch of salt, maybe vanilla. That's your basic shortbread.
But when do we ever stick to basics in our holiday baking? Ginger, one of winter's signature flavors, makes a wonderful shortbread.
Mind you, we're not talking dark, molasses-y gingerbread here. Instead, finely minced crystallized ginger is added to standard "blonde" shortbread to make a cookie that's just slightly darker – and a whole lot more complex in flavor: sweet, spicy, and ever so slightly HOT.
And at this time of year – when days are short, nights are long, and the sun struggles to find its way above the horizon – HOT is good.
Welcome, winter! Let's bake some celebratory Solstice Shortbread.
Start by preheating the oven to 325°F. This shortbread comes together quickly, so give your oven the time it needs by turning it on right at the start.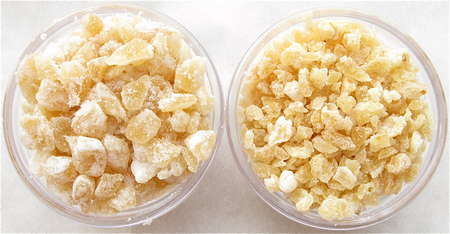 That's medium diced crystallized ginger on the left, and mini diced crystallized ginger on the right. Either is appropriate for this recipe, as would be soft diced ginger, a lovely cross between crystallized ginger and ginger in syrup.
Place 1 cup (120g) of King Arthur Unbleached All-Purpose Flour in a food processor with 2/3 cup (123g) crystallized ginger.
Process until the ginger is finely minced; this may take up to 1 minute.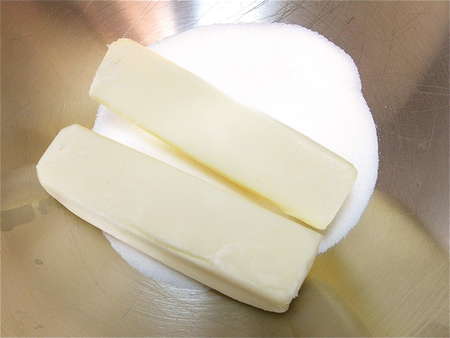 Combine 16 tablespoons (227g) unsalted butter, 1 teaspoon salt, 3/4 cup (149g) sugar, and 1 teaspoon vanilla extract (optional) in a mixing bowl.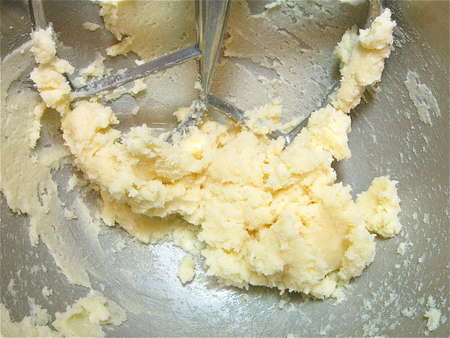 Beat till smooth.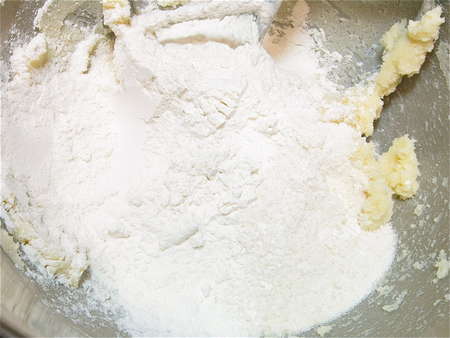 Add the flour-ginger mixture, plus an additional 1 1/3 cups (160g) flour, to the butter-sugar mixture.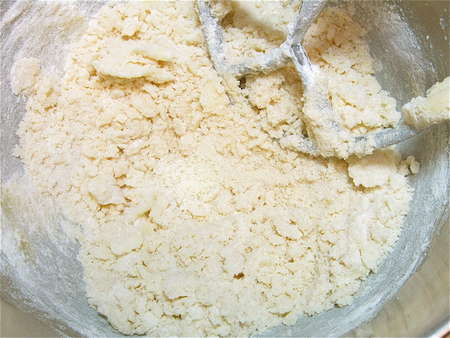 Beat to combine. The mixture will seem stubbornly crumbly at first; just keep beating...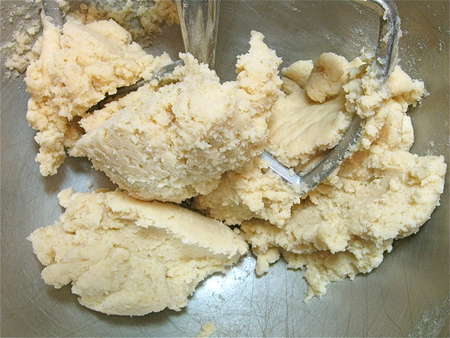 ...and all of a sudden it'll come together quite nicely.
Divide the dough in half; this is easily done using a scale.
Why, what do you know, there's another of my favorite new pans: our USA Pans 9" round pan.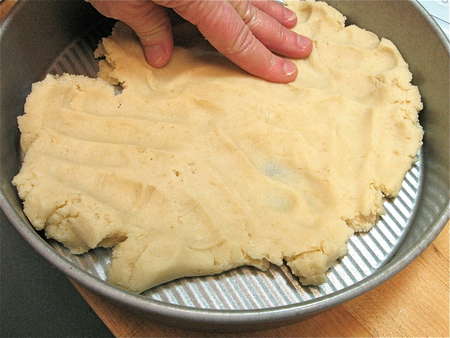 Press the dough into the bottom of the pan.
Love the corrugations – they help brown the crust, and release the shortbread easily.
You can also use an imprinted stoneware shortbread mold. Any mold about 8" or 9" diameter will do. Be advised that you'll need to bake the shortbread about 15 minutes longer, if you bake in stoneware.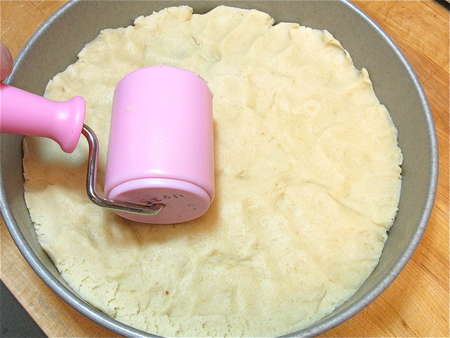 Once you've pressed the dough all the way to the edges of the pan, you can smooth it with a pastry roller. I find this silicone mini roller is very handy for small jobs like this.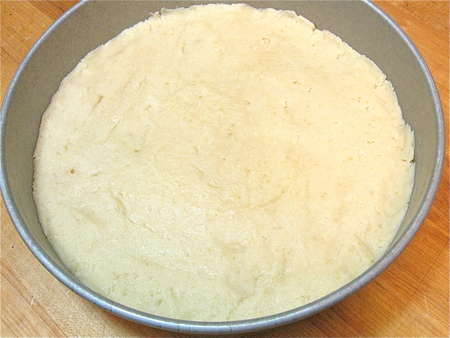 There!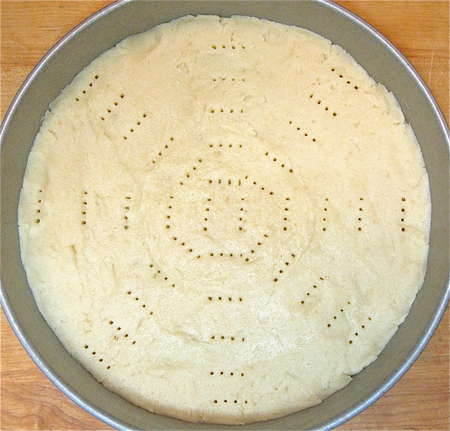 Prick the dough all over with a fork. A decorative design is fun to make, but it usually disappears by the time the shortbread is done baking, so don't worry if you just want to prick and poke at random.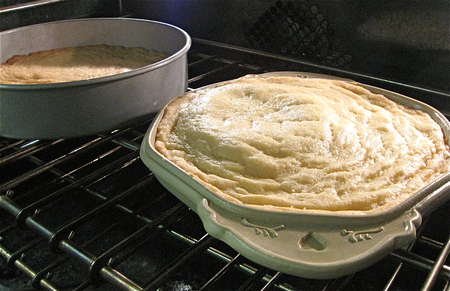 WHOOOOPS! "Someone" forgot to prick the dough in the stoneware pan.
No worries – if you see your shortbread ballooning, just poke it with the sharp tip of a paring knife.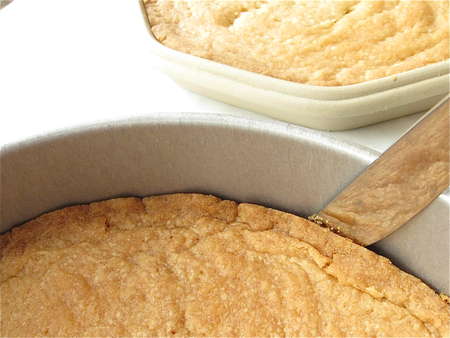 Bake the shortbread till it's golden brown all over, and a bit browner around the edges, about 35 minutes. Remove it from the oven, and immediately loosen the edges with a table knife or heatproof nylon spatula.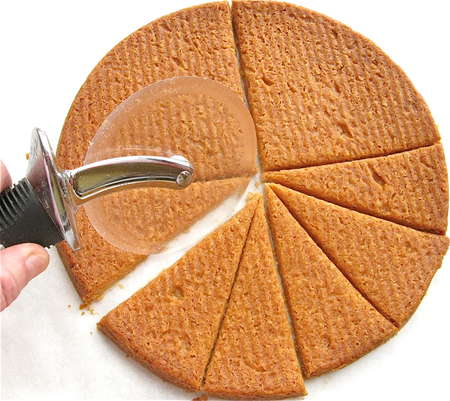 Turn the shortbread out of the pan, and quickly cut it into wedges. Don't let it cool; it's difficult to cut without crumbling when it's fully cooled.
Lovin' my acrylic pizza cutter, as always.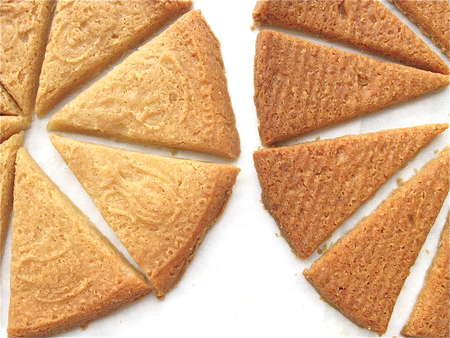 Now aren't those handsome! And tasty, too.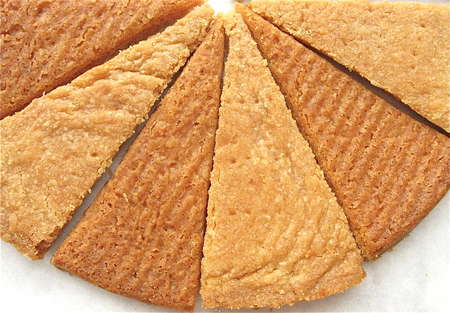 See the difference between top and bottom crusts? That's how nicely that USA Pan browns.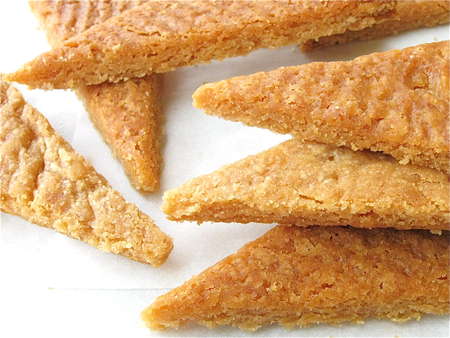 With an interesting tender/sandy-yet-chewy texture, and over-the-top sweet-hot ginger flavor, these shortbreads are a diabolically delicious way to greet winter.
Read, rate, and review (please!) our recipe for Solstice Shortbread.
Jump to Comments