"The frost is on the pumpkin."
Sure, we've all heard that expression (haven't we, class?) It comes from the title of a famous poem (well famous to us American lit. majors) by James Whitcomb Riley, a short bit of doggerel that begins like this:
When the frost is on the punkin and the fodder's in the shock...
I don't know about the fodder being in the shock, but I sure am. I finally took my summer vacation last week, down on Cape Cod in Massachusetts. Where the temperature was 20° below normal, the state was recording its earliest ever snowfall, and the frost was definitely on the punkin.
I'd envisioned mild 65°F days, gentle breezes, and lots of sun. And experienced instead a succession of gray/dark gray/darker gray days; and a Nor'easter packing 45mph winds (and kicking up 15' seas).
It was pretty; it was spectacular; in fact, it was pretty spectacular. But warm enough to walk the golden sands? Not without successive layers of wool, fleece, and Gore-Tex.
The cold weather did inspire me to think ahead, though, to my favorite baking holiday: Thanksgiving.  Between the soft white dinner rolls, cranberry muffins, stuffing bread, and pie, I get to cover my favorite carb groups all in one glorious day.

Flavors of the season
Do you like cinnamon? I do. And I love the assertive flavor of our Cinnamon Sweet Bits. I know, wacky name (and yes, they look like pet kibble); but these little nuggets of sugar, flour, and cinnamon pack a healthy hit of cinnamon.
Combine the following in a mixing bowl:
1 cup (227g) pumpkin purée
2 large eggs
1/2 cup (106g) brown sugar, packed
3 tablespoons (35g) vegetable oil
1 tablespoon (21g) molasses
1/2 teaspoon salt
1 1/2 teaspoons Apple Pie Spice or Pumpkin Pie Spice; or 1/4 teaspoon cloves + 1/4 teaspoon ginger + 1 teaspoon cinnamon
1/2 cup (113g) milk
1 cup (170g) cinnamon chips or 1 cup (142g) cinnamon sweet bits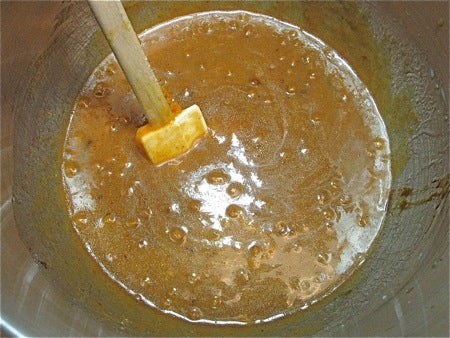 Stir till smooth, scraping the sides and bottom of the bowl to combine thoroughly.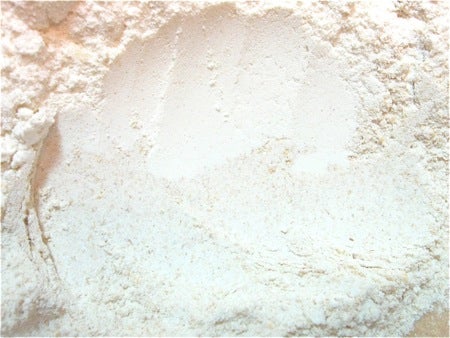 Next you'll combine the dry ingredients, starting with 1 1/2 cups of flour. We like a combination of all-purpose and white whole wheat flours. Use all AP (for a higher rise), or all white whole wheat (for more fiber and a lower rise), if desired. I've decided on 3/4 cup (85g) King Arthur Unbleached All-Purpose Flour, and 3/4 cup (85g) King Arthur White Whole Wheat Flour.
Notice the AP flour on the top, whole wheat on the bottom; very little difference in look or texture, eh? That's because white whole wheat is a lighter, milder whole wheat flour than its red-wheat counterpart. I often use it in muffins and cookies, because you really can't tell the difference; try anywhere from 50% to 100% of the total flour.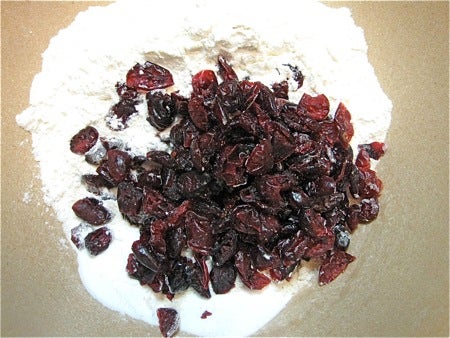 Add 1 teaspoon baking powder, 1/2 teaspoon baking soda, and 1 cup (113g) dried cranberries. Whisk to combine.
Add to the wet ingredients, and then stir to combine.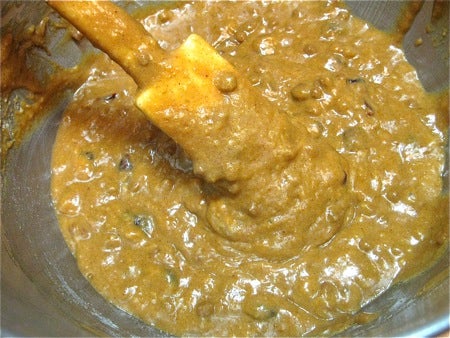 No need to beat; stirring with a spatula is fine.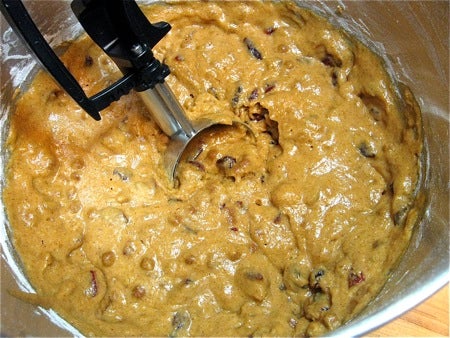 Cover the bowl, and let the batter rest for 30 minutes, while you preheat your oven to 400°F. You'll notice the leavening has started to work during this resting period; the batter will have lightened and become a bit "spongy."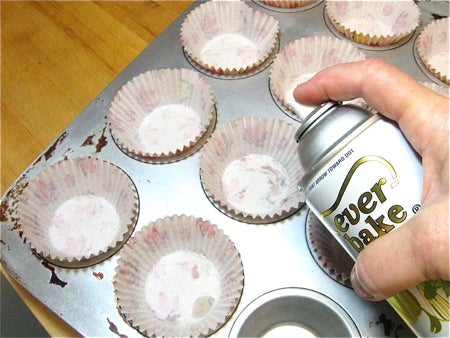 Grease 12 wells of a standard muffin pan; or line with papers, and grease the papers.
Note: This recipe makes a generous amount of batter. If the cups in your your muffin pan are on the small side, you may have to bake a couple of extra muffins in a second batch. OR cut back the cranberries and chips to 2/3 cup each. The pan I'm using here has cups that are 2 5/8" across the inside top, 1 3/8" deep.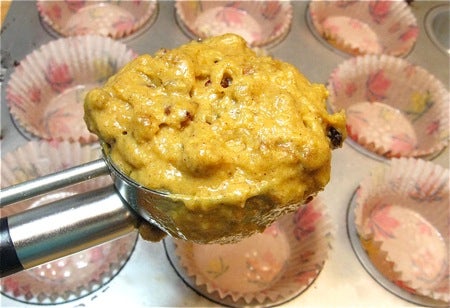 Deposit the batter by the generous 1/4-cupful (a slightly heaped muffin scoop works well here) into the prepared pan. If you have a scale, each muffin will be about 90g, about 3 1/8 ounces.
Next, choose your topping sugar. I love Swedish pearl sugar. It's bright-white, and makes a big visual statement.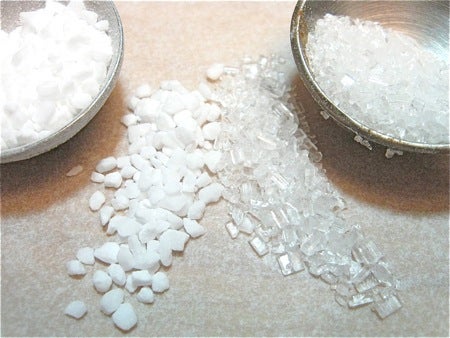 Here's pearl sugar on the left, coarse white sparkling sugar, my decorating standby, on the right. The pearl's a tiny bit bigger.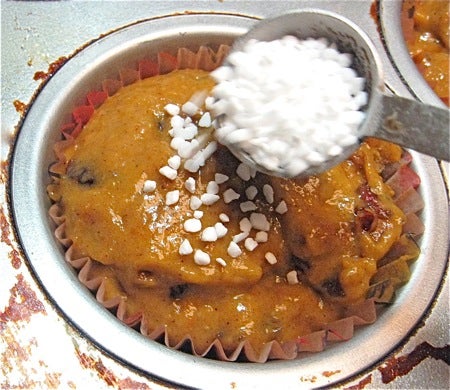 Sprinkle the top of each muffin with about 1/2 teaspoon sugar.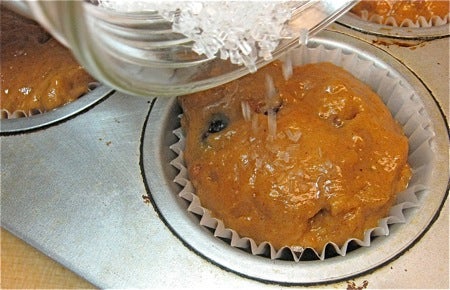 Here's the sparkling sugar going on – right out of the jar. I usually don't bother to measure; just sprinkle till the top of each muffin is completely coated.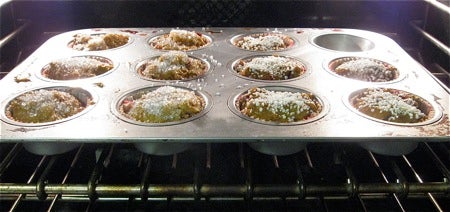 Place the muffins in the preheated 400°F oven. Yeah, there's one missing here; I was doing some kind of experiment, the nature of which now escapes me...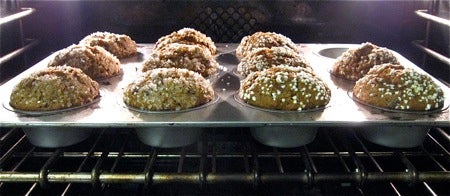 Bake the muffins for 20 to 21 minutes, till a toothpick or cake tester inserted into the middle of a center muffin comes out clean.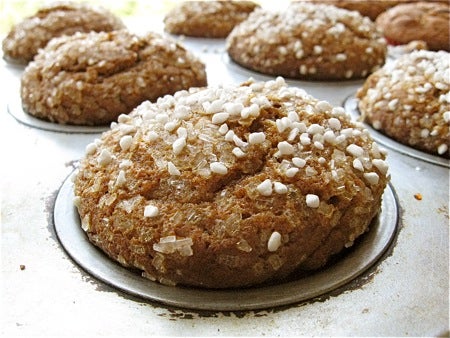 They'll rise nicely. Notice this muffin is topped with both pearl and sparkling sugars; can't help myself, I'm a confirmed "what if" type of baker.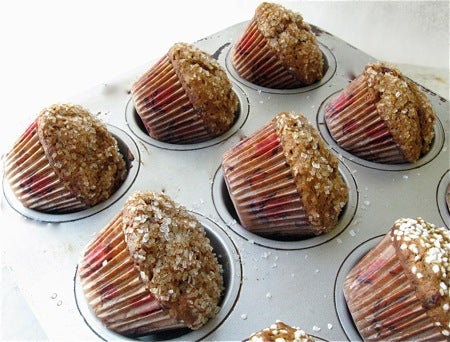 Tip the muffins in the pan to cool; this prevents their bottoms from steaming and becoming soggy.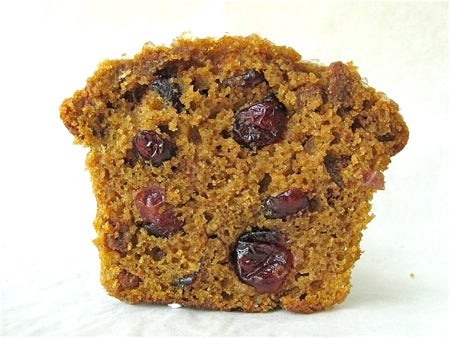 Now that's one good-looking muffin, huh?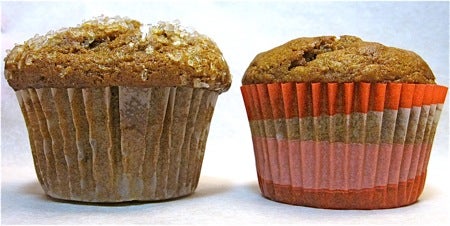 Here's what happens if you don't give the muffin batter a rest prior to baking. The taller, "rested batter" muffin is on the left; non-rested on the right. The rest both softens the Flav-R-Bites, if you use them; and gives the baking powder and baking soda a chance to get going.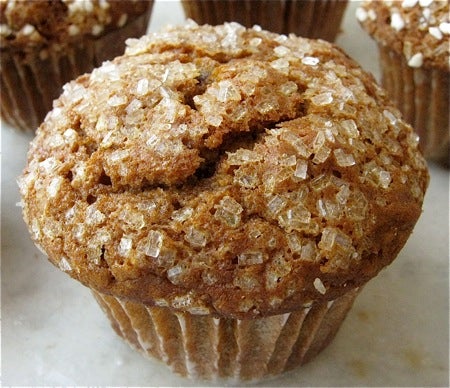 Here's one with a plain coarse sugar topping. I love the glitter of sparkling sugar.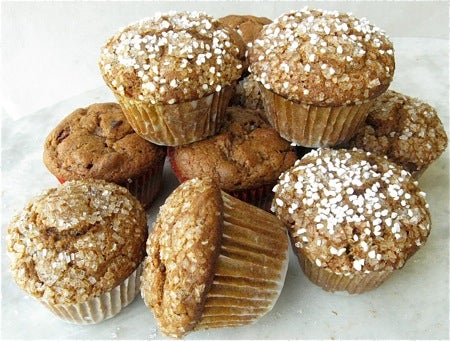 And here they are, in all their sugar-topped incarnations - even some plain Janes without. Trust me, they're all good.
And if our taste-testers here at King Arthur are any indication, they'll disappear fast!
Read, rate, and review (please!) our recipe for Thanksgiving Muffins.
Jump to Comments