English Muffin Toasting Bread
A toast for new beginnings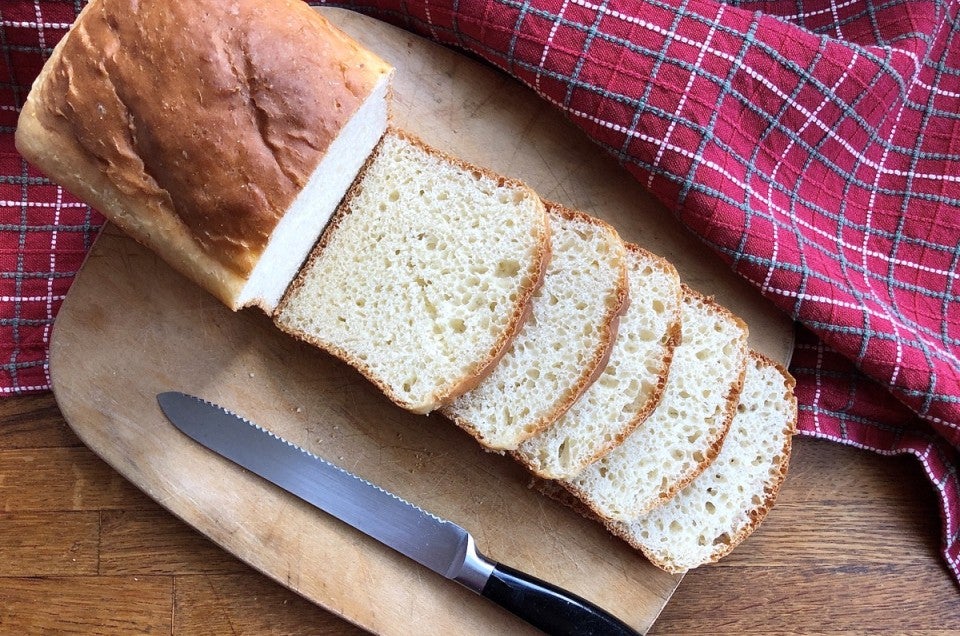 You know how you always remember the first time you experienced something? First time behind the wheel of a car, first leap off a diving board, that first sweet kiss…
This bread was the very first experience I ever had with yeast. And it opened up a world of interesting possibilities, many of which I've explored over the past 30 years. From salt-rising bread to baguettes to sandwich rye, I've taken many journeys in the company of yeast.
Yet I keep coming back to this first simple loaf.
Perhaps it's the comfort-food factor: this bread makes the best toast ever. Its craggy holes capture melting butter, while its texture offers a toasted slice with soft interior, and crisp-crunchy exterior. Add cinnamon-sugar or jam, and enjoy a blissful toast experience.
Or maybe it's the ease of preparation. No kneading. No shaping. Just mix, plop in the pan, rise, and bake. Ninety minutes after the tantalizing thought of toast first crossed your mind, you can be pulling fresh, hot bread out of the oven.
Now that the holidays are (mostly) over, it's time to slow down and relax. Allow yourself an hour to nestle into a comfortable chair with a good book. And a cup of tea. And — of course — a slice or two of freshly buttered toast.
Ahhhhh ... yes. Let's do this.
3 cups (361g) King Arthur Unbleached All-Purpose Flour
1 tablespoon (14g) sugar
1 1/2 teaspoons salt
1/4 teaspoon baking soda
1 tablespoon instant yeast
1 cup (227g) milk
1/4 cup (57g) water
2 tablespoons (25g) vegetable oil or olive oil
cornmeal, to sprinkle in pan
This bread is simple, but you do need to perform each step correctly.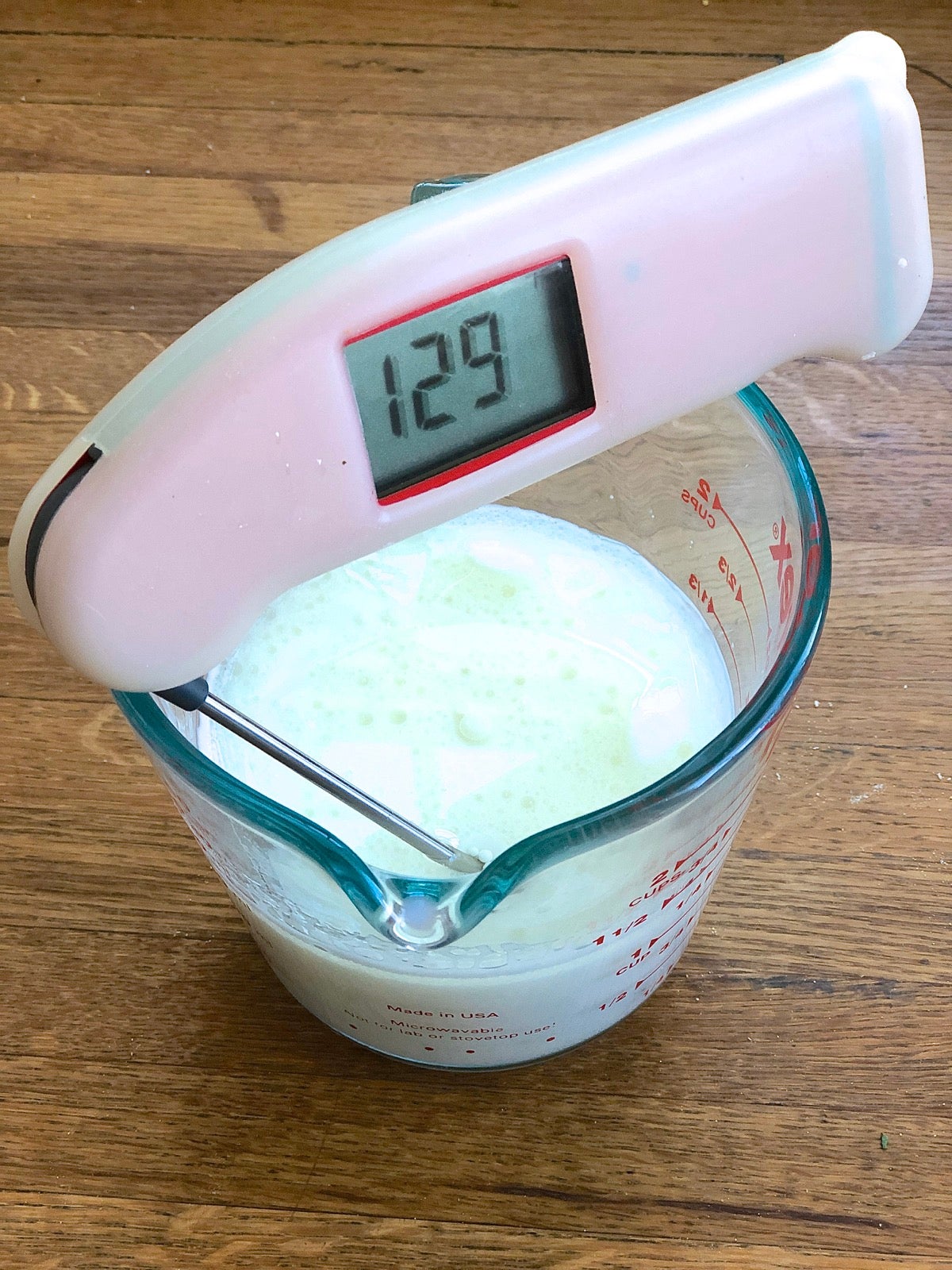 First, heat the milk, water, and vegetable oil to between 120°F and 130°F. This will feel very hot on your skin. Just as a basis for comparison, the hottest tap water from your faucet will be around 120°F (unless you have ridiculously, dangerously hot tap water).
Whisk together the flour, yeast, sugar, salt, and baking soda. Pour the hot liquid on top, and mix, using the flat beater of your stand mixer.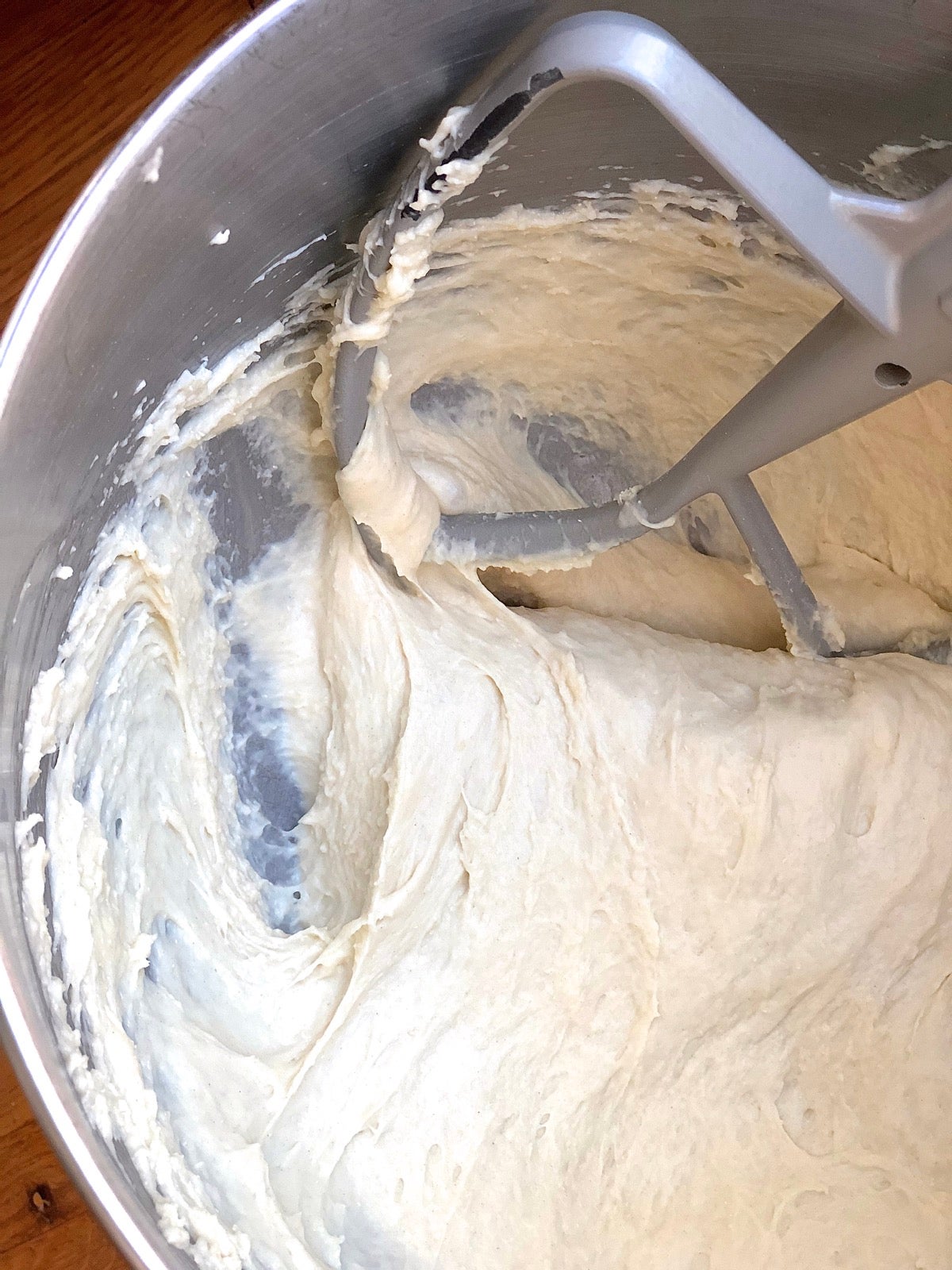 Mix until thoroughly combined, then mix at high speed for 1 minute. The dough won't be liquid enough to pour, but it won't be stiff enough to knead, either.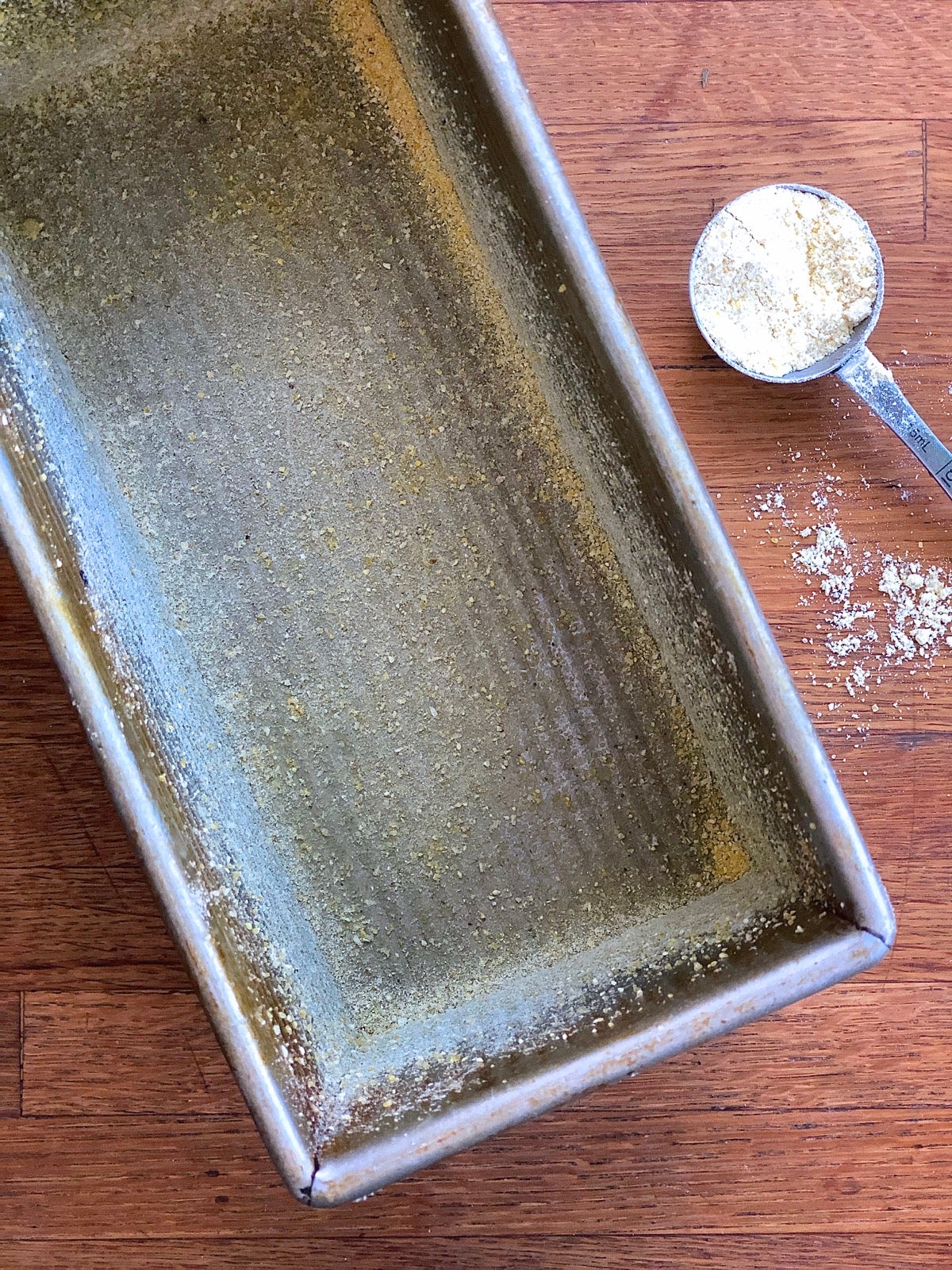 Grease an 8 1/2" x 4 1/2" loaf pan, and sprinkle with cornmeal. This makes the crust very lightly crunchy, perfect for either toast or sandwiches.
Alternatively, choose a 9" x 4" pain de mie (Pullman) loaf pan (a.k.a. gluten-free loaf pan), as I've done here. Frankly, I've completely switched from 8 1/2" x 4 1/2" or 9" x 5" loaf pans to my all-purpose 9" x 4" pan.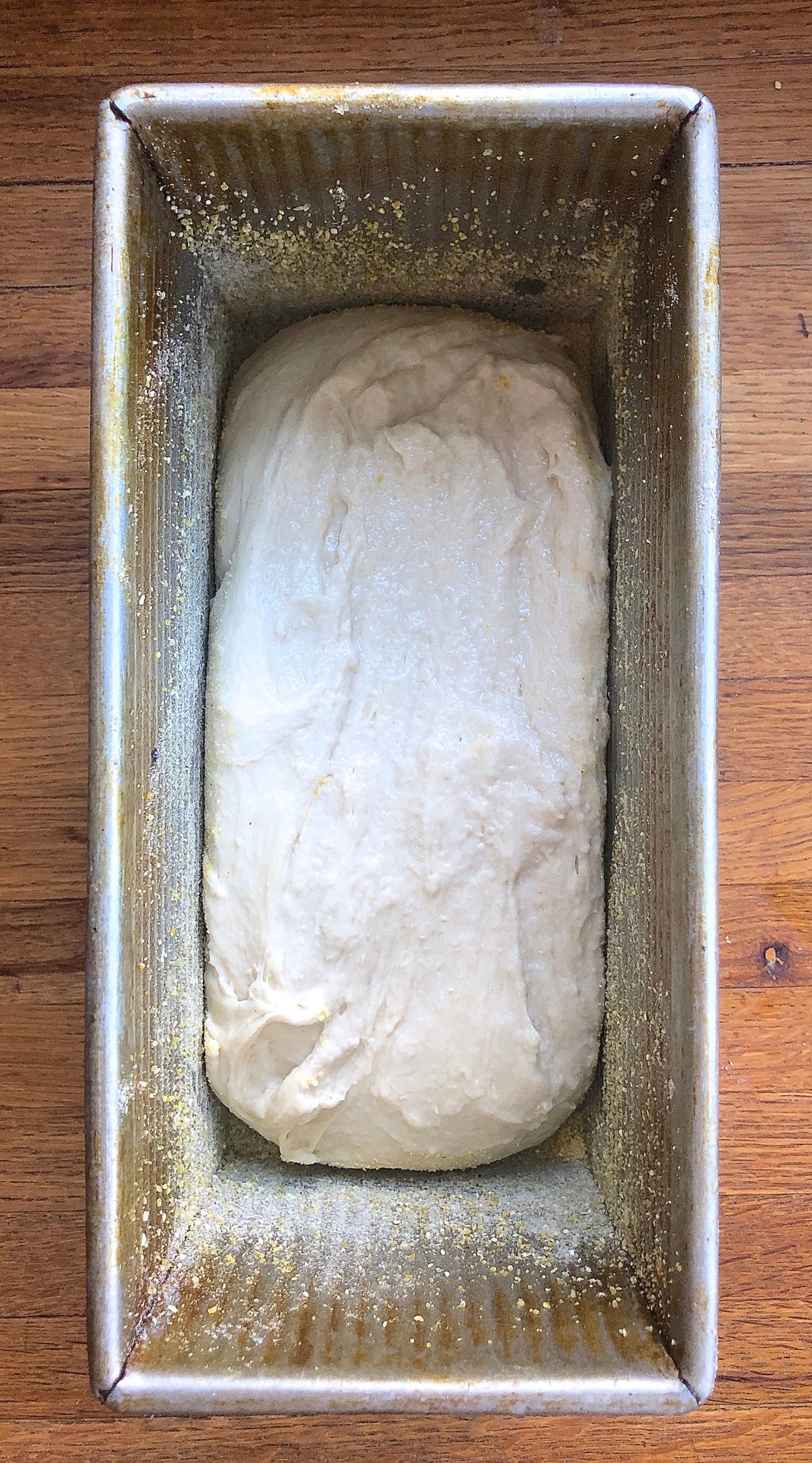 Scoop the soft dough into the pan, leveling it as much as possible. Cover the bread, and let it rise for about an hour.
It should just be crowned over the rim of the pan—if you're using an 8 1/2" x 4 1/2" loaf pan. If you use a 9" x 4" pan, the dough will be about 1" below the rim of the pan.
If you use a 9" x 5" loaf pan, which has 15% more capacity, the dough probably won't crown over the rim. Neither will the loaf be shaped as nicely.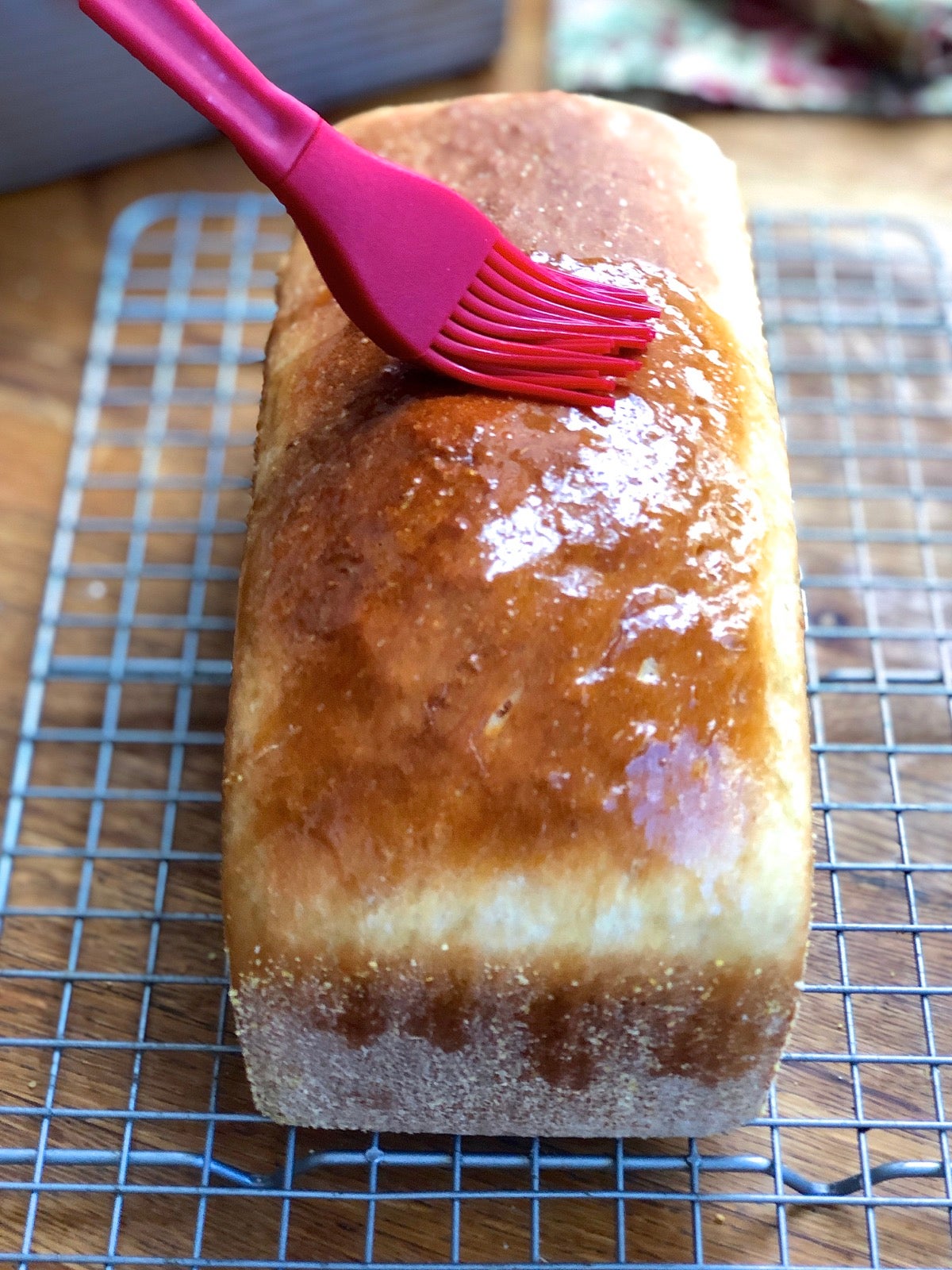 Bake the bread in a preheated 400°F oven for about 22 minutes. Really, just 22 minutes. The interior of the loaf will read 190°F on a digital thermometer. If it doesn't, let it bake till it does, but don't over-bake; this bread is designed to be moist inside.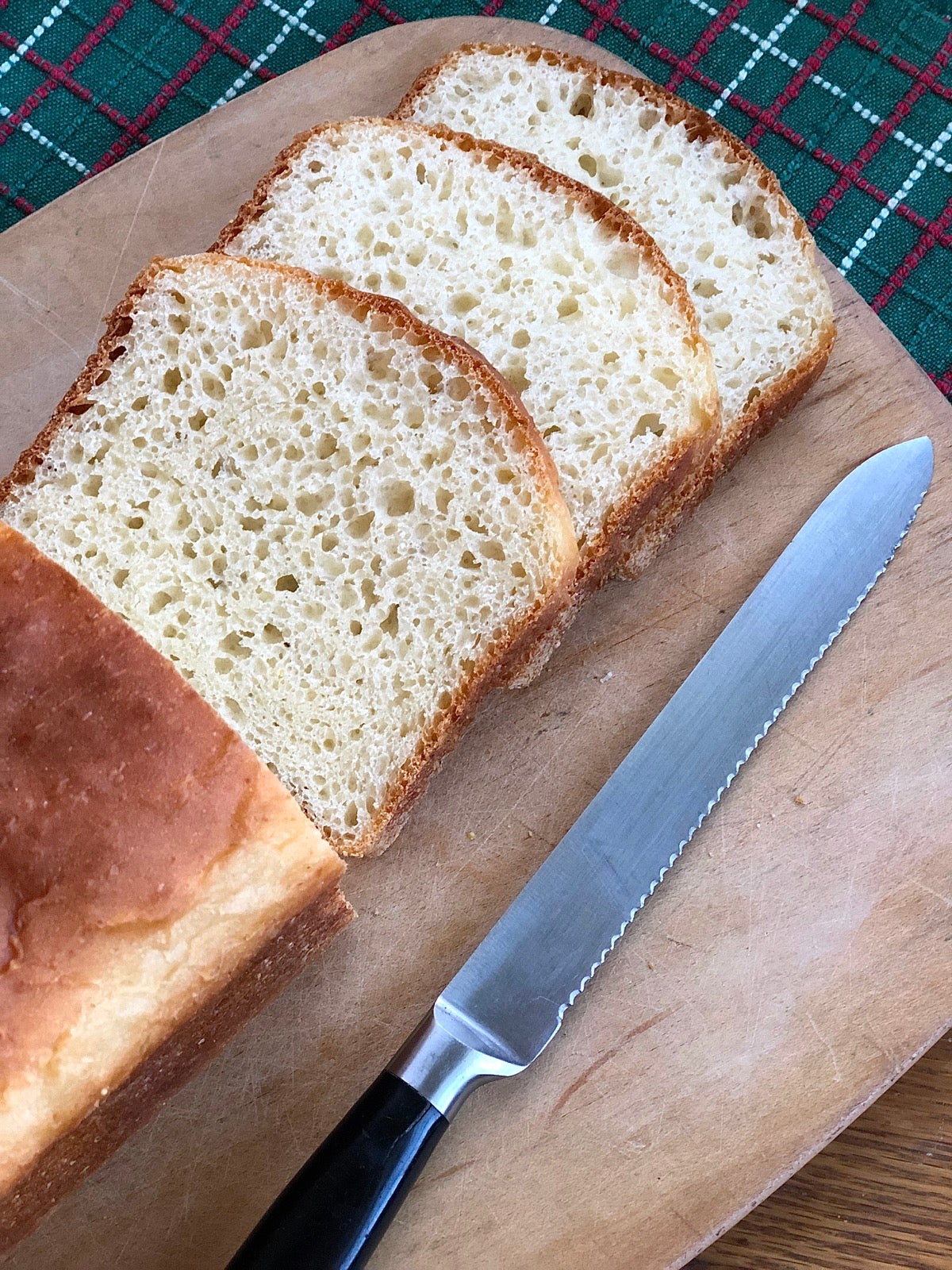 Let the loaf cool completely before slicing. Cutting into a loaf of hot bread can give the whole thing a gummy texture. Patience is a virtue!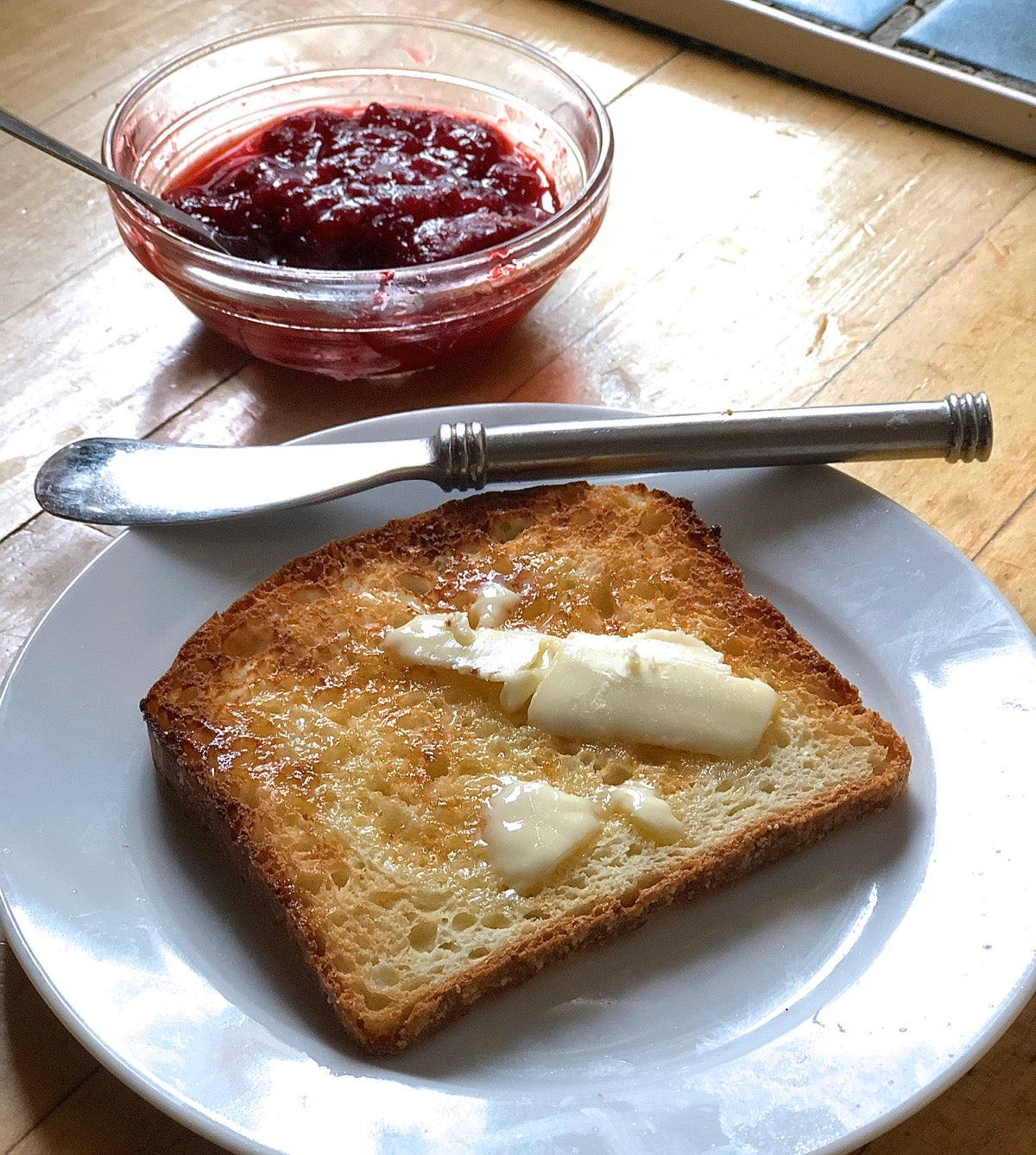 Spread with butter. Or toast, and spread with butter. Doesn't this look like the best toast? It is.
Read, rate, and review (please!) our recipe for English Muffin Toasting Bread.
Jump to Comments