I have a thing about sandwiches.
I mean, I've always been fascinated by the bread-filling-bread dynamic, the happy marriage of stuffing and stuff-ee. What could be tastier than peanut butter and honey on oatmeal bread? Salty-nutty PB, sweet honey, nutty-sweet bread—see how they balance one another?
And then there's ham and Swiss on light rye: a whiff of caraway blending with the slight smokiness of the ham, the barely-there nuttiness of the cheese…
Did you know that ham-and-cheese is America's #1 sandwich? The plain white loaf is the most popular sandwich bread. For you anglophiles, cheese is the #1 sandwich filling in England. But for me, the #1 sandwich is ANYTHING between the halves of a crusty roll.
There's Italian pan bagna, aromatic anchovies, olives, peppers, onions, tomatoes, piled atop garlic oil-brushed ciabatta. And its French cousin pan bagnat: similar, but substituting grilled tuna for the anchovies. And then there's the (choose your regional preference) hoagie, grinder, submarine, Italian, hero, wedge, torpedo, zeppelin, or muffaletta, all variations on the crusty long roll/meat-cheese-veggie theme.
And my new best friend: the Cuban sandwich, a crusty roll layered with ham, Swiss, roast pork, and dill pickle slices, then flattened/grilled. They're a specialty of Miami street vendors, as well as a mainstay of Cuban restaurants across the country.
As it turns out, the Cuban sandwich is ideal for a car trip. You know how you go to eat a sandwich with one hand on the wheel, and the filling falls out in your lap, and you're trying to pay attention to the road while you're desperately attempting to keep olive oil stains off your clothes? The Cuban sandwich, grilled and then chilled, is virtually crumb-less, let alone a lap hazard. Enjoy with impunity: the melted, cooled cheese cements everything in place. And if you're not traveling, but enjoying one of these straight off the grill—ah, then you've achieved sandwich bliss, truly.
When I made Cuban sandwiches last week to share with my officemates, they met with universal approval. One Webbie even said it was the best sandwich he'd ever had. Fair praise indeed from a man whose wife is a passionate baker of sourdough rye (which is the perfect vehicle for liverwurst and onions and sweet-hot mustard, in case you didn't know). If you're a sandwich fan looking to branch out, give this Miami specialty a try.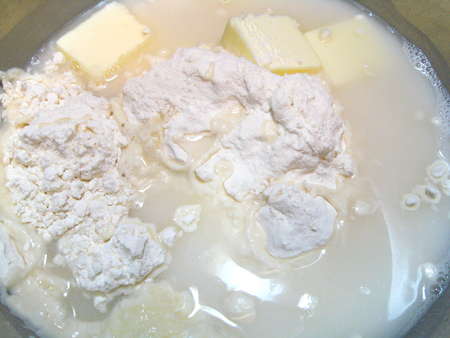 As usual, we'll start with the bread. All of the ingredients go into the mixer bowl.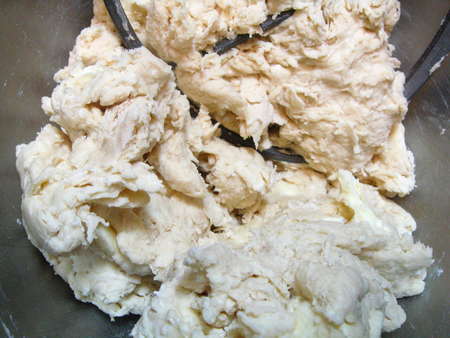 Mix to make a shaggy dough.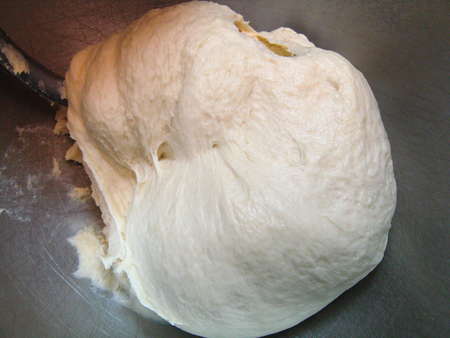 Then knead till soft and smooth and a tiny bit sticky.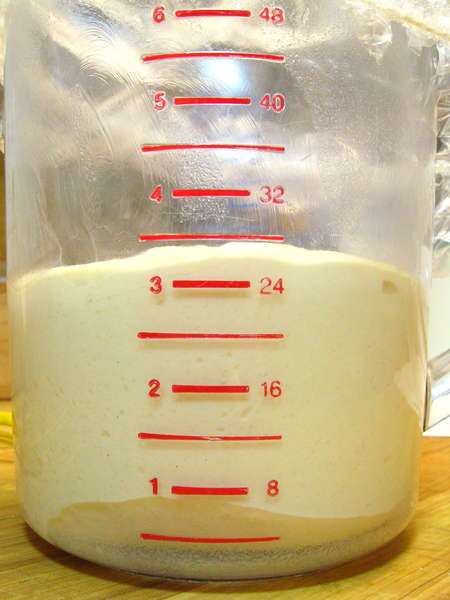 Put in a greased bowl or, for easiest tracking, an 8-cup measure.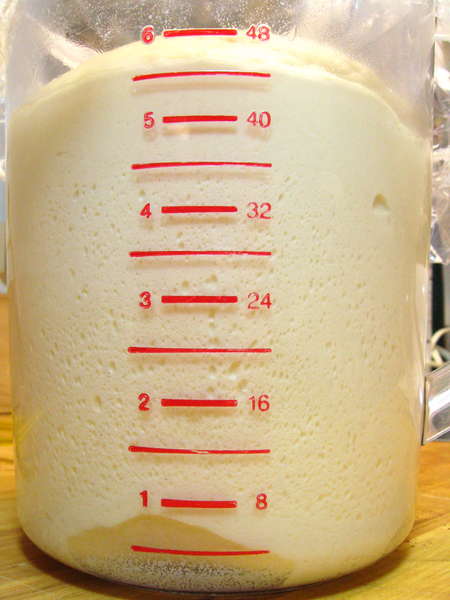 The dough will nearly double in about an hour.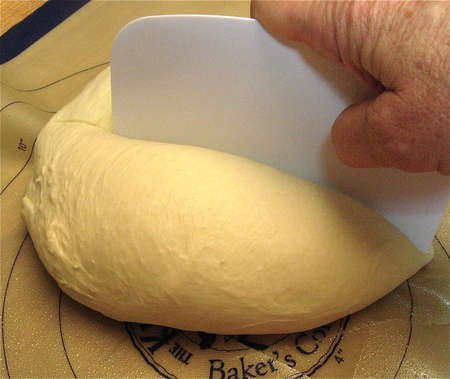 Gently deflate it, and cut it into six pieces.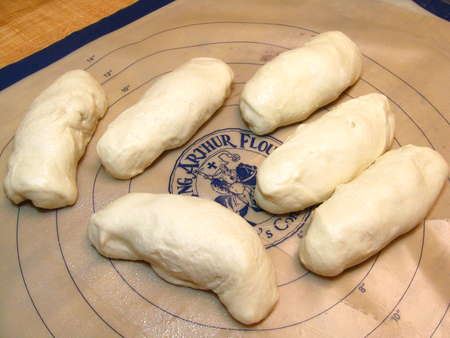 Shape the pieces into rough logs, and let them rest for 10 to 15 minutes. This rest relaxes the gluten, making the rolls much easier to shape.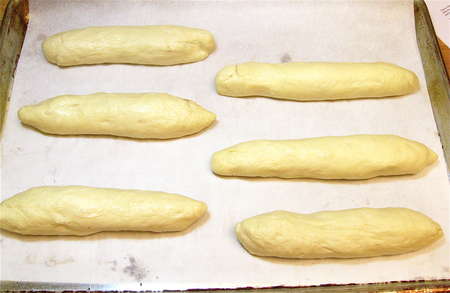 Shape the logs into long sandwich rolls. Notice I'm not the best shaper in the world. Understand that any shaping imperfections will disappear once you stuff these babies and slap 'em on the griddle. Cover the rolls, and let them rise for an hour or so, while you get the filling ready.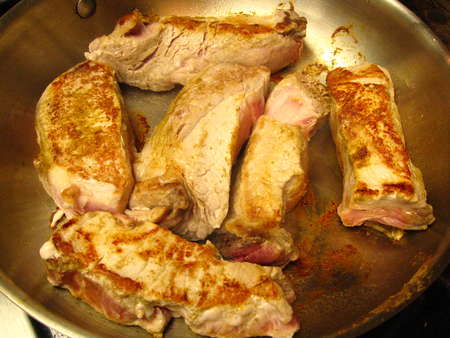 You can marinate a pork tenderloin and roast it. Or grill boneless chops on the barbecue. Or, as I'm doing here, sauté boneless ribs till they're barely cooked through, still nice and juicy and barely pink in the center.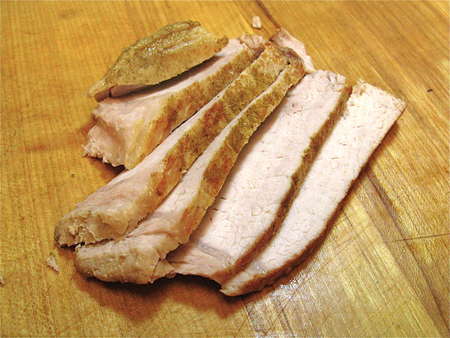 Once they've cooled, cut in slices.

Prepare your pickle slices. I use a couple of those big pickle-barrel pickles, as they make nice long slices.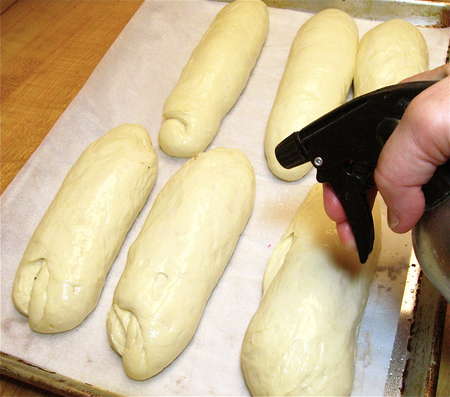 The rolls are risen, ready to pop into the oven. Spray them with water; this helps give them a light, slightly crunchy crust.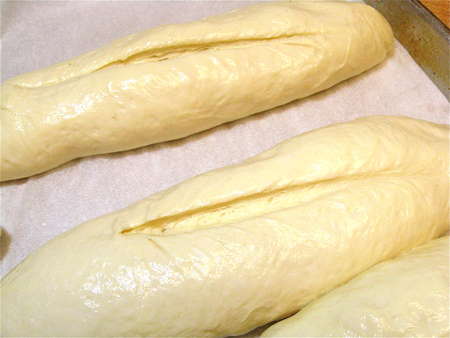 Using a sharp knife, slash each one right down the center. Work quickly; don't fuss. Once you slash, you want these in the oven fast, so they don't deflate.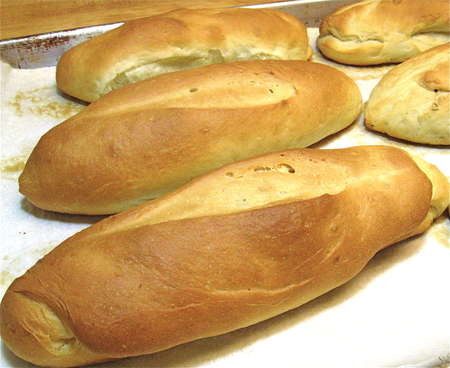 Bake the rolls till they're golden brown. Let them cool before moving on to the next step.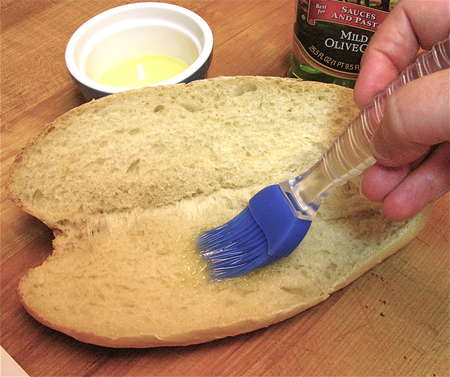 Split each roll lengthwise, and brush with olive oil.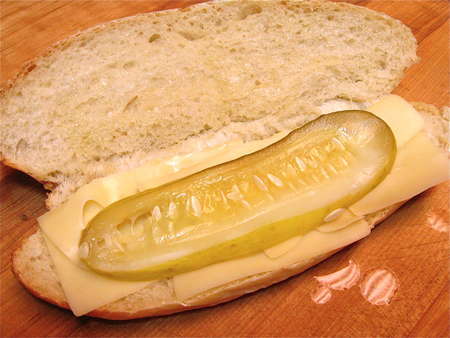 Layer on thin-sliced Swiss cheese, and a long dill pickle slice.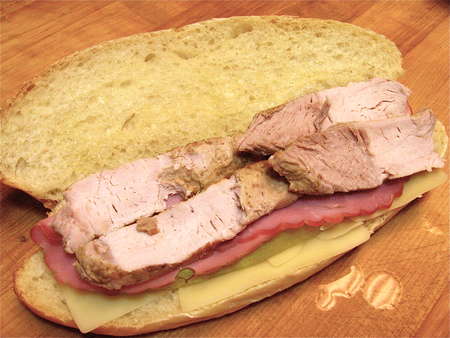 Add a piece of ham; two pieces, if one piece won't stretch from end to end. Lay the roast pork slices atop the ham.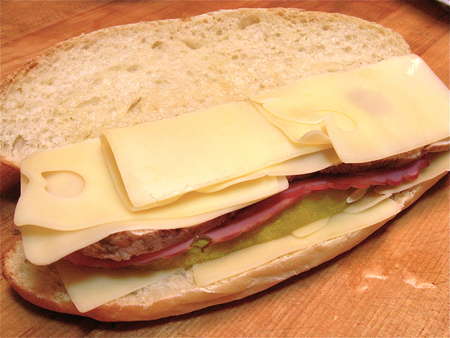 Top with more cheese. This is the glue that will hold the sandwich together.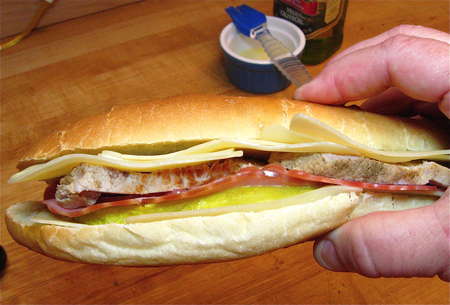 Good enough to eat. But wait—there's more!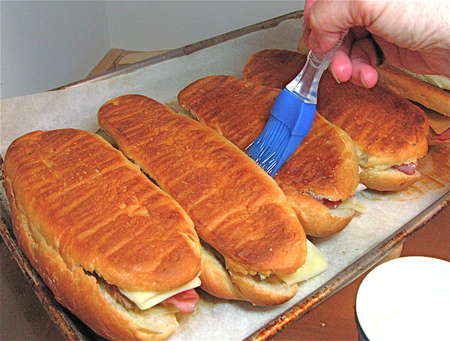 Turn the sandwiches over, and brush their bottoms with olive oil (or melted butter). The TRUE Pan Cubano is quite greasy; go there at your own risk.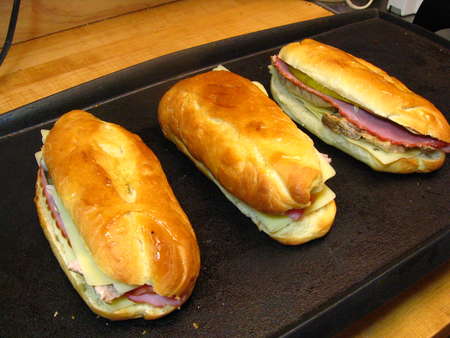 Put the sandwiches on a griddle heated to about 325°F. Can you do these in a panini grill? Sure. The crosshatch markings aren't traditional, but who'll ever know (unless you're in Miami)? You can also make these in a waffle iron using the flat plates (if your waffle iron comes with flat plates).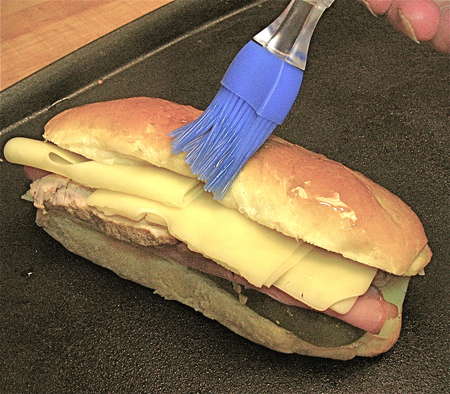 Brush the top of each sandwich with more oil or melted butter. Or not; your choice.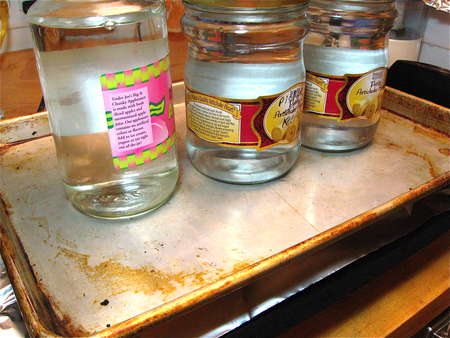 Now comes the fun part. Lay a piece of foil atop the sandwiches, and place a cookie sheet over the foil. Weigh the sheet down; you want to press these sandwiches as they cook. I've used jars of water here. Maybe you have a couple of bricks lying around?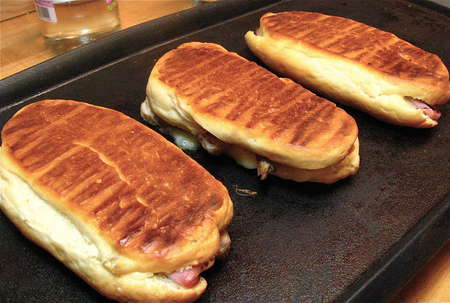 After several minutes, enough time for the cheese to start melting and the crust to begin to crisp, turn the sandwiches over. Put the weights on again, and cook till the cheese is very melty and the sandwiches are heated through.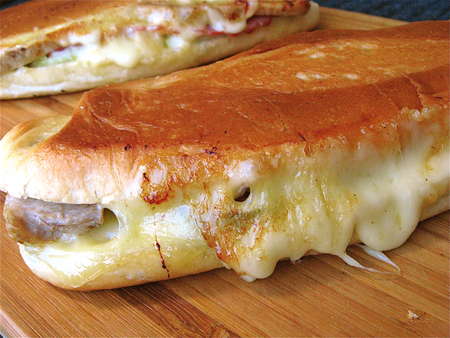 They'll look like this. Are you beginning to understand why I find these so compelling?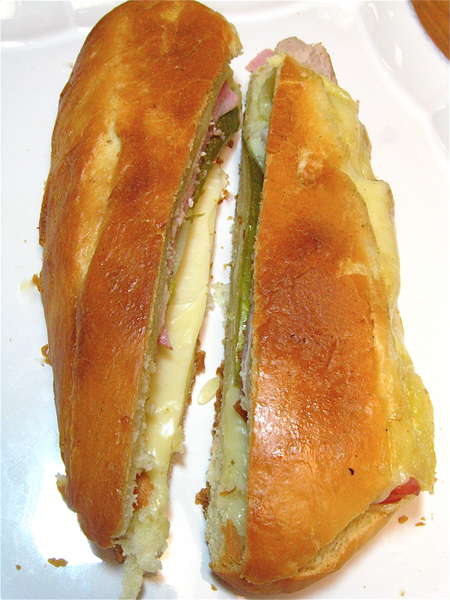 To serve, slice sandwiches on the diagonal.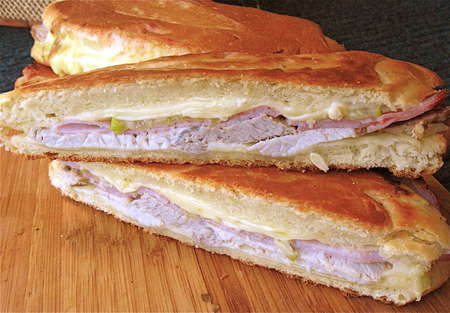 Enjoy hot off the griddle. Or let cool, refrigerate, and bring with you on your road trip. Surprisingly, these are nearly as good cold as piping hot, so you're really not sacrificing a lot by chilling them.
Read, review, and rate (please!) our recipe for Cuban Sandwich.
Jump to Comments