Flourless chocolate cake
Perfect for Passover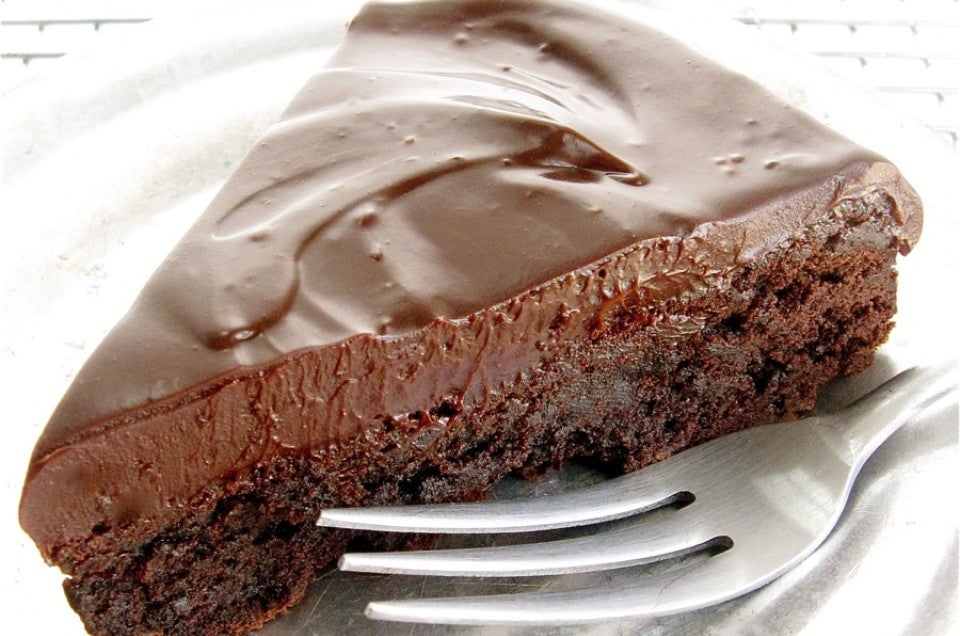 For those of us who don't celebrate Passover, it's a mystery.
We know it's a major Jewish holiday. We're pretty sure it's a happy one. We think it goes on for a few days.
But more than that – as I said, mystery.
Oh, and one more thing: certain foods are forbidden. Like flour. And leavening, as in yeast, baking powder, baking soda…
Now, for those of us who bake, that makes Passover a pretty challenging occasion, culinarily speaking.
Start with "no flour." OUCH. How many baked goods can YOU think of that don't include flour? A fruit-filled meringue pavlova is one. Lemon soufflé is another. And then there's…. hmmm…
You can find recipes using matzoh meal in place of flour. Or variations on the meringue theme, incorporating chocolate chips, nuts, and other tasty add-ins.
And then there are the recipes where ground nuts stand in for the flour (which works in a low-flour, high-sugar, high-fat, high-egg recipe, such as brownies). But most sound a little forced. Like, too bad we can't use flour, but we'll substitute x-y-z instead and it'll be pretty good.
At the end of the day, there's one flourless dessert that was born to be flourless. A special treat that doesn't require compromise, doesn't need the "almost as good as" label. And that's Flourless Chocolate Cake.
Chocolate, sugar, eggs, and butter. Salt and – if your Passover dietary laws allow it – vanilla and espresso powder. These simple ingredients create magic together, the alchemy of eggs and sugar providing structure, the vanilla and espresso and salt adding flavor, and the chocolate lending its own special qualities: a bit of structure, sumptuous mouth-feel, and the undefined yet intensely compelling quality we all love: CHOCOLATE.
Serve this dense, rich, flourless/unleavened cake at Passover, where it's the perfect finale to the Seder. But don't relegate it to once-a-year status. Although it doesn't have King Arthur Flour's favorite ingredient, it's still one of our favorite desserts.
Preheat the oven to 375°F.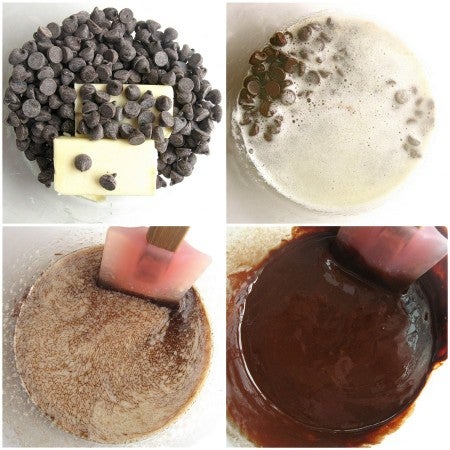 Put 1 cup (170g) semisweet or bittersweet chocolate chips and 8 tablespoons (113g) unsalted butter in a microwave-safe bowl, and heat until the butter is melted and the chips are soft. Stir until the chips melt, reheating briefly if necessary. You can also do this over a burner set at very low heat. Transfer the melted chocolate/butter to a mixing bowl.
Can you tell this is going to be one rich cake?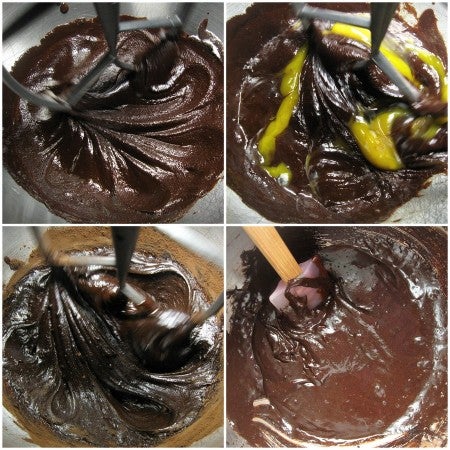 Stir in the following:
3/4 cup (149g) granulated sugar
1/4 teaspoon salt
1 to 2 teaspoons espresso powder, optional
1 teaspoon vanilla extract, optional
Espresso enhances chocolate's flavor much as vanilla does; using 1 teaspoon will simply enhance the flavor, while 2 teaspoons will lend a hint of mocha to the cake.
Add 3 large eggs, beating briefly until smooth. Finally, add 1/2 cup (43g) cocoa powder, and mix just to combine.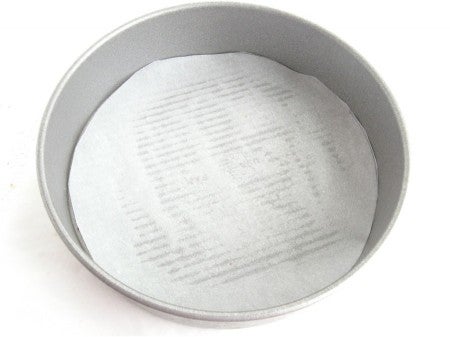 Grease an 8" round cake pan, and line it with parchment. Cut it to size by laying the pan atop the parchment, drawing a circle around it with a marking pen, then cutting it out. Lay the parchment in the pan, and grease the parchment.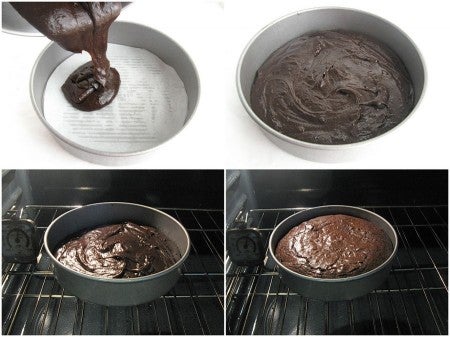 Spoon the batter into the prepared pan.
Bake the cake for 25 minutes; the top will form a thin crust, and it'll puff up nicely.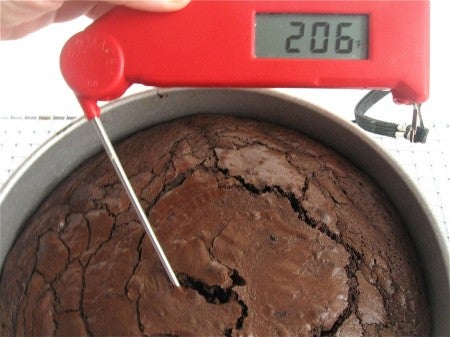 Remove the cake from the oven; it should register at least 200°F on an instant-read thermometer inserted into its center.
This cake is actually a bit over-baked; I should have lowered the temperature a couple of minutes, because I was using a darker (dark gray) pan.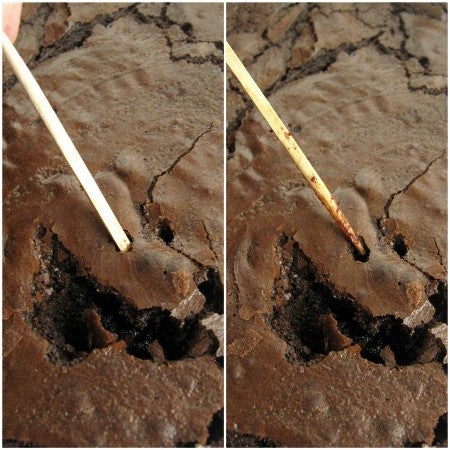 A toothpick inserted into the center of the cake should come out with moist crumbs clinging to it; again, this is slightly over-baked, as evidenced by the paucity of crumbs.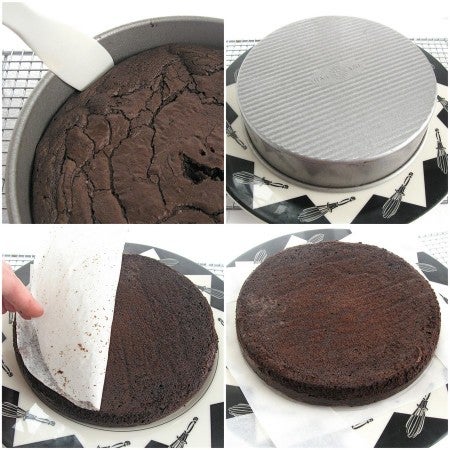 Cool the cake in the pan for 5 minutes, then loosen the edges with a table knife or nylon spreader, and turn it out onto a serving plate. The top will now be on the bottom; that's fine. Also, the edges may crumble a bit, which is also fine.
Allow the cake to cool completely before glazing. When ready to glaze, slip strips of parchment under the edges of the cake, to catch any drips.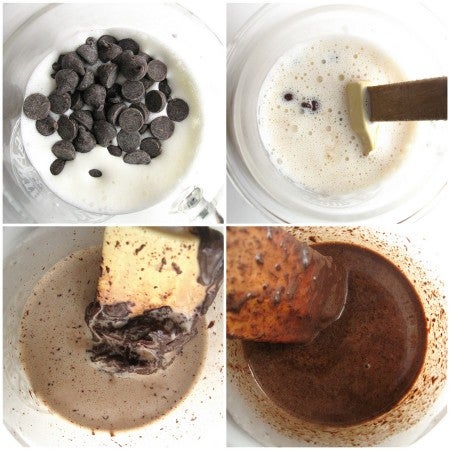 To make the icing/ganache, heat 1 cup (170g) semisweet or bittersweet chocolate chips and 1/2 cup (113g) heavy cream together until the cream is steaming. Remove from the heat, and stir until the mixture comes together.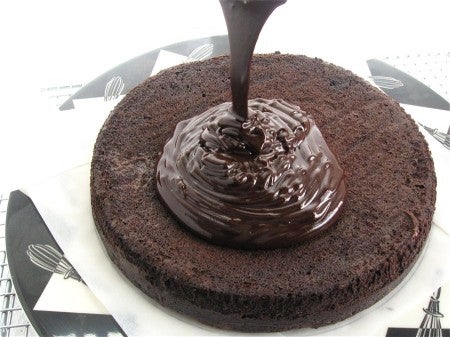 Keep stirring; don't give up. All of a sudden, you'll have beautifully smooth, creamy chocolate icing, a.k.a. chocolate ganache.
Immediately pour the ganache over the cake.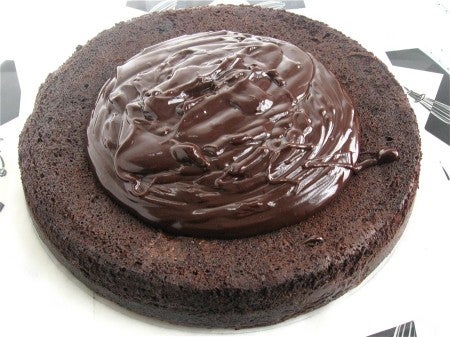 Isn't that beautiful?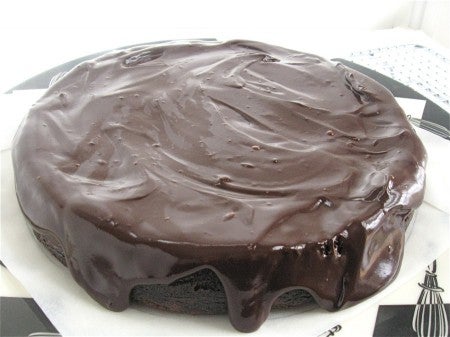 Spread the ganache to the edges of the cake, encouraging it to drip down the sides. It doesn't need much encouragement once you push it to the edge.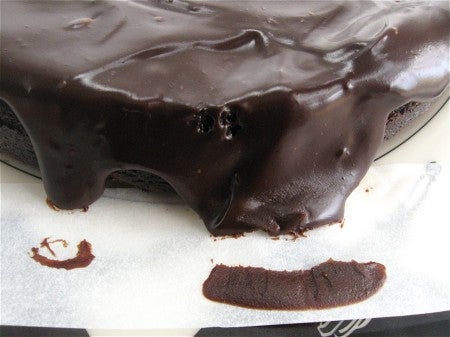 Once the ganache sets, gently pull away the strips of parchment; you'll be happy at how neat and clean your plate looks.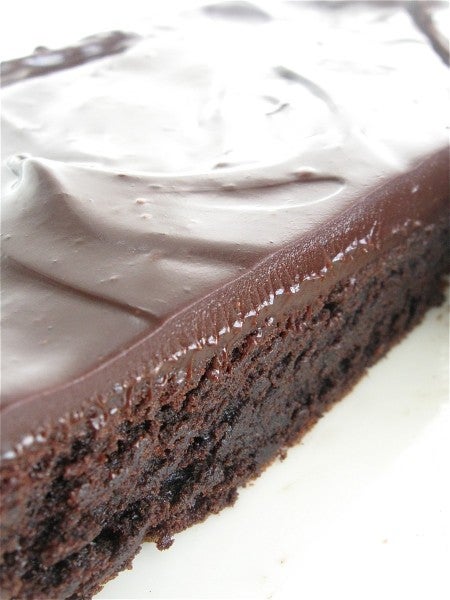 For cleanest slicing, use a sharp knife dipped in hot water and wiped dry. Repeat dipping knife in hot water and wiping dry for each slice.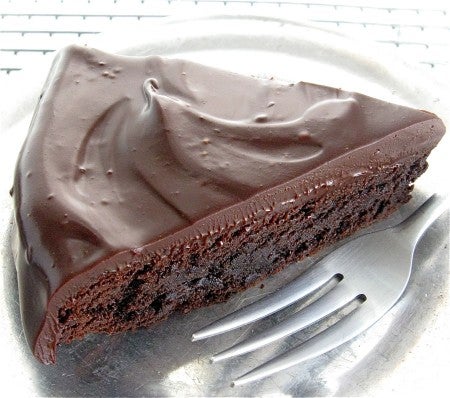 Serve with whipped cream or ice cream; or just as it is, in all its chocolate-y splendor.
If you're celebrating Passover, I hope you enjoy a lovely family celebration. If not – well, go ahead and enjoy this cake anyway!
Read, bake, and review (please) our recipe for Flourless Chocolate Cake.
For more chocolate-filled indulgences, check out our collection of Best Chocolate Recipes.
Jump to Comments