The 43rd annual Pillsbury Bake-Off® Contest is coming up April 13-15. Devoted tracker of food trends that I am, I figured I'd better go cruise the Pillsbury Web site, read the 100 finalists' recipes, and see what's hot with home bakers this year. Chocolate, sure. But how about fancy cakes? Cookies? Gourmet muffins, maybe?
None of the above. The top 100 recipes run to entries like "Philly-Goes-Mexican Cheese Steak," where the baking consists of opening two cans of "Pillsbury® refrigerated crusty French loaf," spreading with seasoned butter, and plopping into the oven for 30 minutes. And "Mexican Pesto-Pork Tacos," whose only "baking" is warming the taco shells in the oven before filling them.
Go ahead, call me a baking snob, a gal who's not down with the way America really bakes. But to me, if you're not using flour, in some way, shape, or form, you're not baking. I mean, making a meatloaf is baking. So is putting together lasagna. But it's just baking; not BAKING.
Me, I love the act of beating butter and sugar and eggs, then watching as flour gives this rather intense yet thin mixture some heft; some body and soul and spirit. A little vanilla, some salt and baking powder, a shower of chocolate chips, and 15 minutes later I'm passing melty-warm chocolate chip cookies around the office.
And then there's the transformation that happens when I combine flour, water, and the tiniest pinch of yeast—I mean, probably 1/32 of a teaspoon—and let it "rest" overnight. Rest is hardly what happens. Next morning, my calm little smear of dough has turned into a bubbling, expansive pillow, begging to be made into bread. Love that, the way yeast and flour and water go from barely there to HERE I AM, with the addition of the simplest, least expensive of ingredients: time.
That's the fun of baking: taking a bunch of simple ingredients and making them into something that's far more than the sum of its parts. And it all depends on flour. Unless you're baking macaroni and cheese. And then you're not BAKING.
Back to Pillsbury's contest. Kudos to all the participants; hey, at least they're spending time in the kitchen rather than idling in the takeout lane at McDonald's. Believe it or not, King Arthur Flour sponsored two baking contests, back in the early '90s. And I played a very important role in one of them: Julia Child was a judge, and I got to trail in her wake with a paper cup, so she could "taste and spit" with aplomb, as befits culinary royalty. But that's a story for another day. (One clarifying thought, though: Julia was one of the friendliest, most down-to-earth, just plain nicest people I ever met.)
The junior grand-prize winner of King Arthur's 1991 WinterBake (apropos; it's almost always winter up here in Vermont) was Sarah Nist of Montpelier, Vermont, whose Chunk Wild Cookies took the blue ribbon. Her recipe has held up very well over the years. If you like to bake—in the finest sense of the word—you'll love these kid-friendly cookies.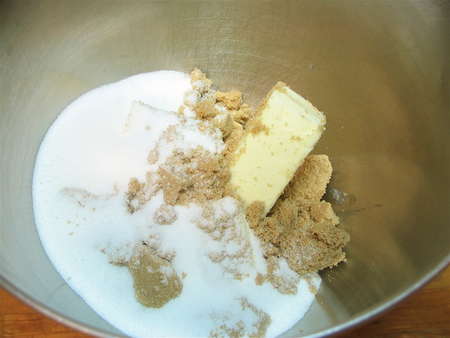 First, the usual suspects: butter, sugar, salt, and leaveners.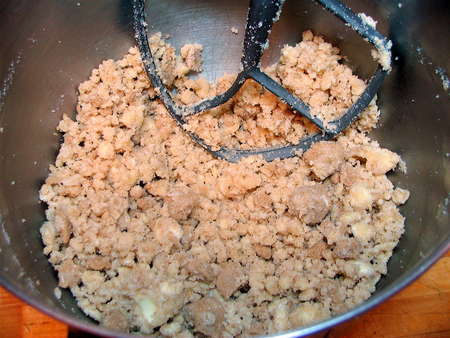 "Cream" them together. If you don't know what "cream" means, in a baking sense—this ain't it! It's a good start. But for something to be fully creamed, it should look like this: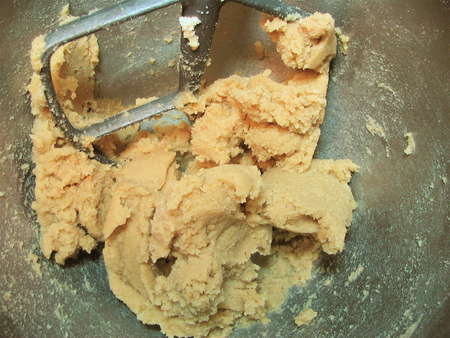 Smooth, no lumps. One even color. That's creamed.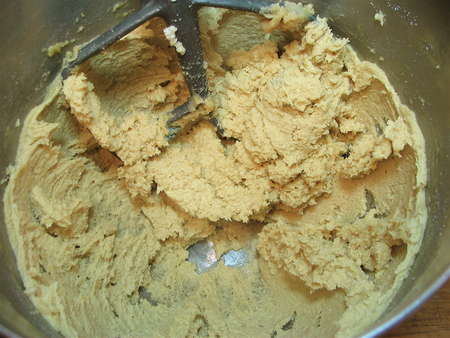 Notice how beating in two eggs makes it even creamier—more satiny, richer looking.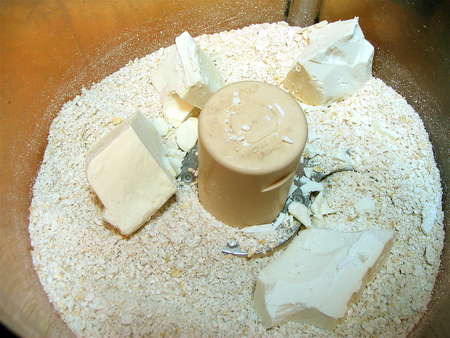 Next, we grind some oatmeal in a food processor (I've use a mini processor here), till it's pretty finely ground. Then add white chocolate chunks or chips, and grind again, just till the large chunks have disappeared.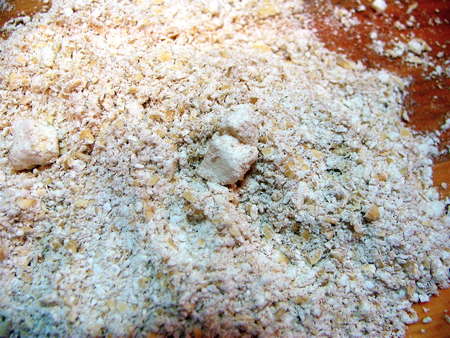 A few small chunks are OK; don't over-process just to grind down every last little chunk of chocolate.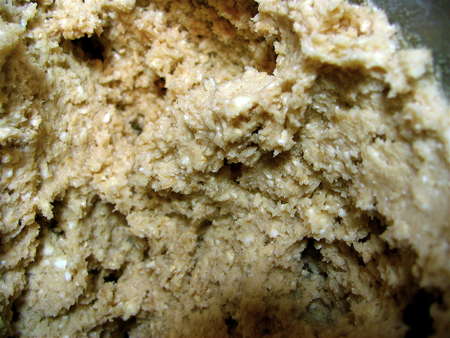 Here's the dough with the oats, white chocolate, and flour added; that white chocolate is going to add a certain "mmm-MMM!" to the finished cookies.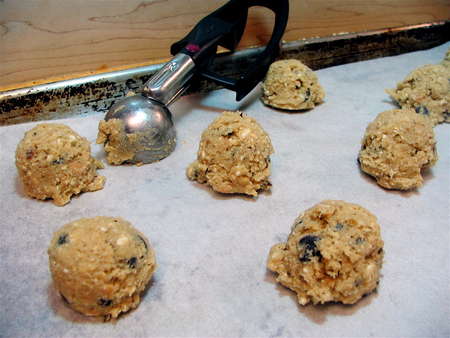 Once you've added the chips, scoop the dough onto parchment-lined or greased baking sheets. A tablespoon cookie scoop works well for this task. Be sure to leave 2" between the dough balls.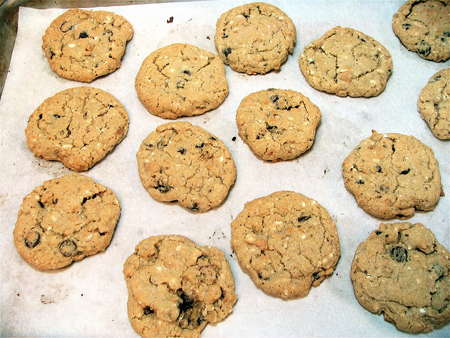 See why you leave enough space between the cookies? They spread as they bake, and you don't want them running into each other.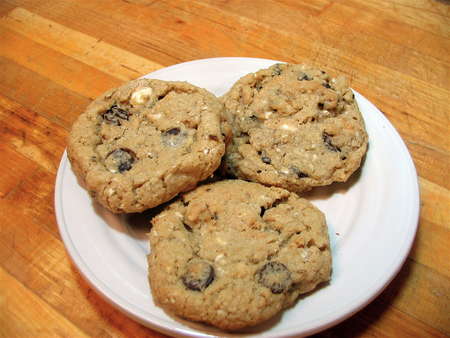 Yum! All that's missing is the glass of cold milk. Enjoy-