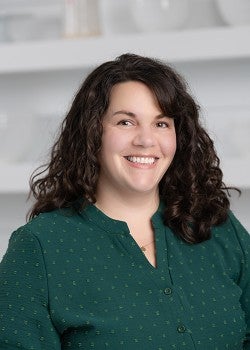 About Lydia Fournier
Employee-owner since 2018
Ecstatic doesn't come close to describing Lydia Fournier's happiness in her position as a King Arthur Recipe Tester. Where else could she apply her passion and skills as a baker, honed over a lifetime, in a company that shares her interests and promotes her ownership in the adventure? From the hours spent in the kitchen baking with her grandmother when she was a child (where her baking passion first ignited) to attending culinary school at New Hampshire Community Technical College, to working in small bakeries, Lydia has had wonderful experiences with baking that have prepared her for working in the test kitchen and our photo studio, where Lydia puts her exquisite cake making and decorating skills and food styling abilities to good use.
When baking for a family birthday celebration, Lydia's go-to is King Arthur's vanilla birthday cake, which she considers to be the most perfect yellow cake recipe she has found. Right now, she is super excited about Joy Huang's amazing Taiwanese Bakery Sourdough Focaccia, and she always keeps a batch of King Arthur's chocolate chip oatmeal cookie dough, her favorite, in her freezer at all times 
 A native Vermonter, Lydia enjoys spending time with her family and cooking and baking for them. When she is not baking, Lydia paints (watercolors and acrylics) and draws, spends her summers kayaking and travels as much as possible.  
Posts by Lydia Fournier
Recipes by Lydia Fournier