Our Gluten-Free Pizza Flour has all the qualities you'd expect from traditional wheat flour but without gluten! Made with certified gluten-free wheat starch, it's ideal for making perfectly airy, crisp crusts with incredible rise – ready to use in all your favorite recipes, including Neapolitan-style pizza.
recipes
Pizza Night Starts Here
Featured Article
The best (gluten-free) pizza you'll ever make 
We've figured out how to make the best gluten-free Neapolitan-style pizza you've ever tasted. After half a year of trial and error, King Arthur's R&D team has finally unlocked light and chewy pizza with their latest innovative flour.
Our secret ingredient
What is Gluten-Free Wheat Starch?
Great pizza doesn't need gluten. Our Gluten-Free Pizza Flour delivers high-rising, crisp crusts thanks to a special gluten-free wheat starch. This pizza flour is backed by gluten-free testing using both the R5 ELISA Sandwich and R5 ELISA Competitive methods. Once produced, the final Gluten-Free Pizza Flour is tested again to ensure a strict gluten-free standard of less than 20ppm, with a target of less than 10ppm. Learn more about King Arthur's food safety practices through our Allergen Program.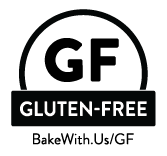 best sellers
Shop Gluten-Free