Chocolate Pecan Slab Pie
Definitely decadent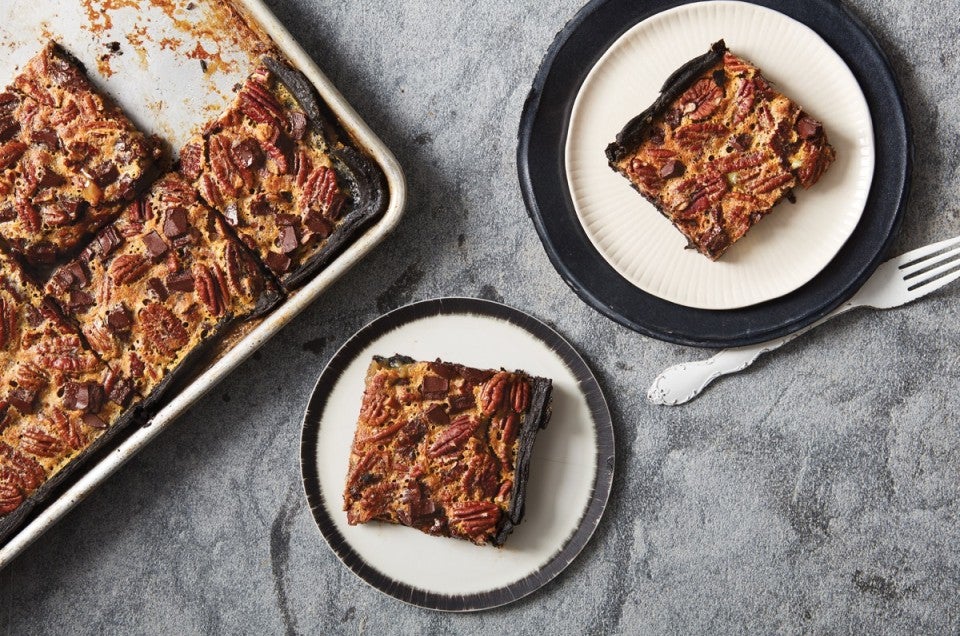 I bake a lot of pies. I bake them for work; you may have seen some of them, including this tempting Chocolate Pecan Slab Pie, in Sift magazine or inside the pages of your King Arthur Flour catalogues.
I bake them for occasions — I haven't had a birthday cake since I was a kid, and Thanksgiving is my very favorite holiday because there's a designated pie course at the end. I bake them to eat; did I mention I seriously love pie?! No matter how many pies I bake, though, I'm always looking for ways to make them easier and quicker because sometimes I need to be able to go from zero to pie as quickly as possible.
Slab pie is big: baked on a half sheet pan, slab pie can feed a crowd (something I don't take for granted come holiday time). Because it's thin, slab pie is also a bit quicker to bake and cool. But best of all, it's easy: I use a par-baking technique that's effortless and produces a delightfully crisp crust all over.
One of my favorites is this decadent Chocolate Pecan Slab Pie. It starts with a chocolate pie crust – that's right, a chocolate pie crust. Then it gets a generous layer of pecans and some chopped dark chocolate. Finally, a simple custard (think traditional pecan pie) is poured over the whole thing. It's an epic pie, but it's so easy to make.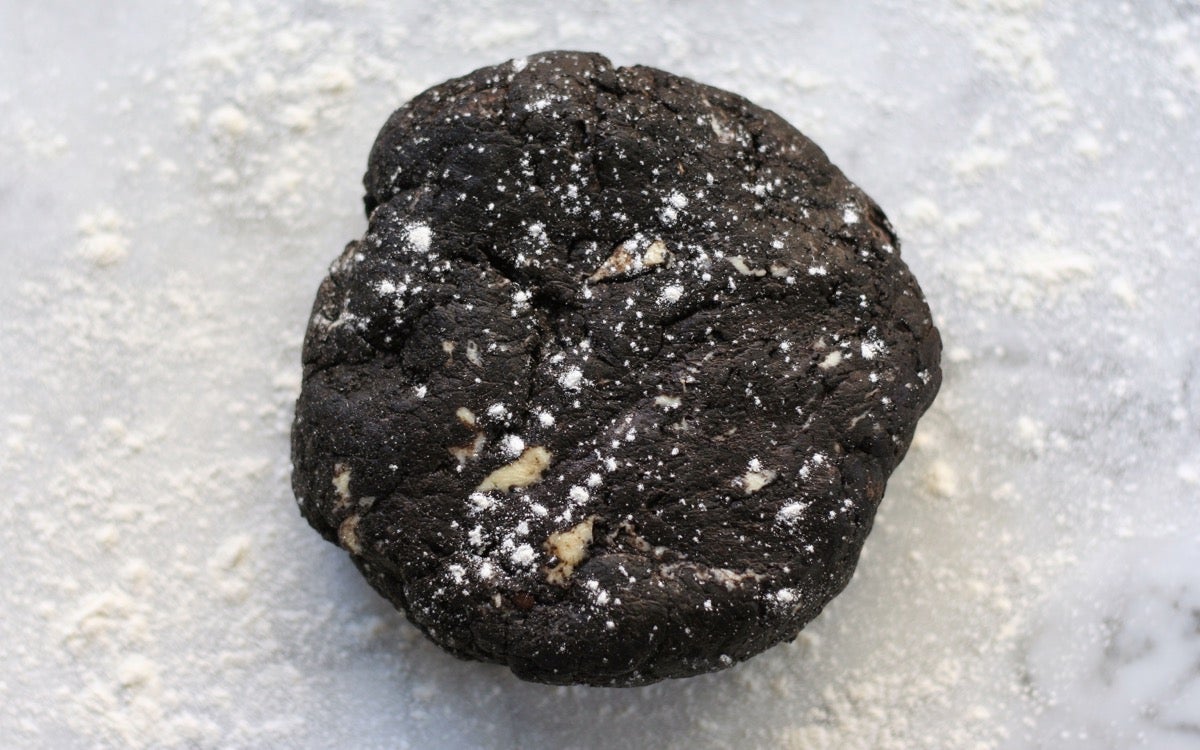 Gather your crust ingredients
The crust: A good crust is the foundation of any good pie, and this one is no exception. I like to use the following crust recipe for this slab pie; it uses some extra-strong black cocoa powder to make an exceptionally decadent chocolate crust.
2 1/2 cups (10 1/2 ounces) King Arthur Unbleached All-Purpose Flour
3/4 cup + 1 tablespoon Dutch-process cocoa, or a combination of Dutch-process and black cocoa*
heaping 1/4 teaspoon salt
20 tablespoons (1 1/4 cups) cold unsalted butter, cut into pats
7 to 8 tablespoons ice water, plus more as needed
*1/2 cup Dutch-process cocoa + 5 tablespoons black cocoa makes a crust that's dark without being overly bitter.
Make the crust
Start by whisking together the flour, cocoa, and salt in a medium bowl. Toss the butter in the flour a few times until each piece is well coated; separate any big clumps with your hands.
Cut the butter into the flour by pressing the pieces between your fingertips. The goal is to flatten the cubes into big shards, then toss them again with the flour to coat. Continue to work the butter until it's about the size of peas.
Make a well in the center of the flour-butter mixture, and add 7 tablespoons of the ice water. Mix to incorporate, then add more water 1 tablespoon at a time, just until the dough comes together. Chocolate dough is extra prone to becoming sticky if too much water is added or if it's over-handled at any stage. Try to mix and handle minimally, and be sure to allow plenty of chilling time after mixing to stay out of trouble.
Form the dough into a rectangle about 1″ thick and wrap tightly in plastic wrap to chill for 30 minutes.
After 30 minutes, ready your pan: you'll need a half sheet pan (about 13" x 18" outside dimensions). On a lightly floured surface, roll the dough into a 20" x 15" rectangle. The dough will be thin, only about 1/8" thick (and potentially even thinner in some areas). No need to be precise, you'll trim away any excess, but you want the dough to be able to come up the sides of the pan, so at least 2" extra all the way around is good. Use your pan as a guide while you work.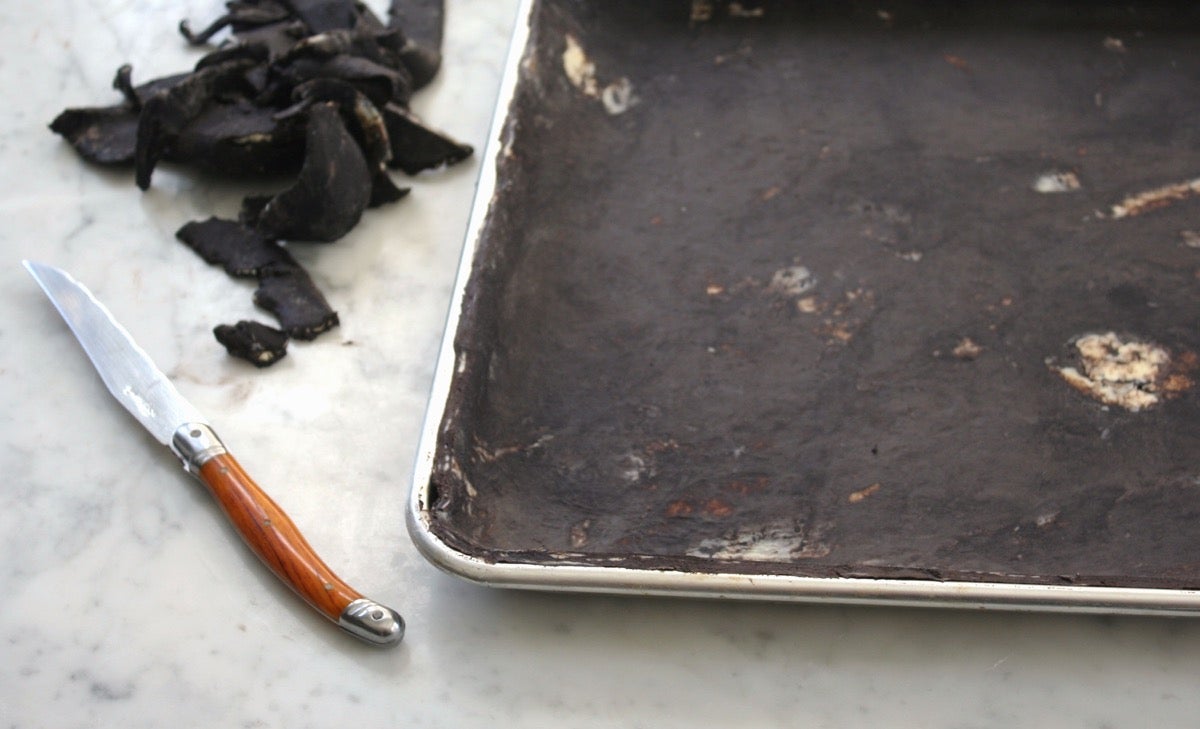 Prep the crust
When the dough is the right size, roll it up onto your rolling pin, and gently unfurl it over the ungreased pan. If you want, you can line the pan with parchment to help with any cleanup.
Gently press the dough into the edges and corners of the pan, allowing any excess to hang off the edge. Refrigerate for at least 15 minutes, or until nicely chilled and firm.
Use scissors or a paring knife to trim away the excess dough flush with the edge of the pan – no crimping required! Prick the bottom of the crust all over with a fork.
Par-bake the crust
In order to make sure this thin pie gets a nice crispy crust, par-baking is essential. Luckily you don't need anything but some parchment and a second half sheet pan to make this happen (no pie weights needed).
Preheat the oven to 425°F; you can do this while the crust is chilling. If you have one handy, it's nice to put a baking stone on a rack towards the bottom third of the oven. If you don't have one, never fear; it can help ensure crispness but isn't a deal-breaker.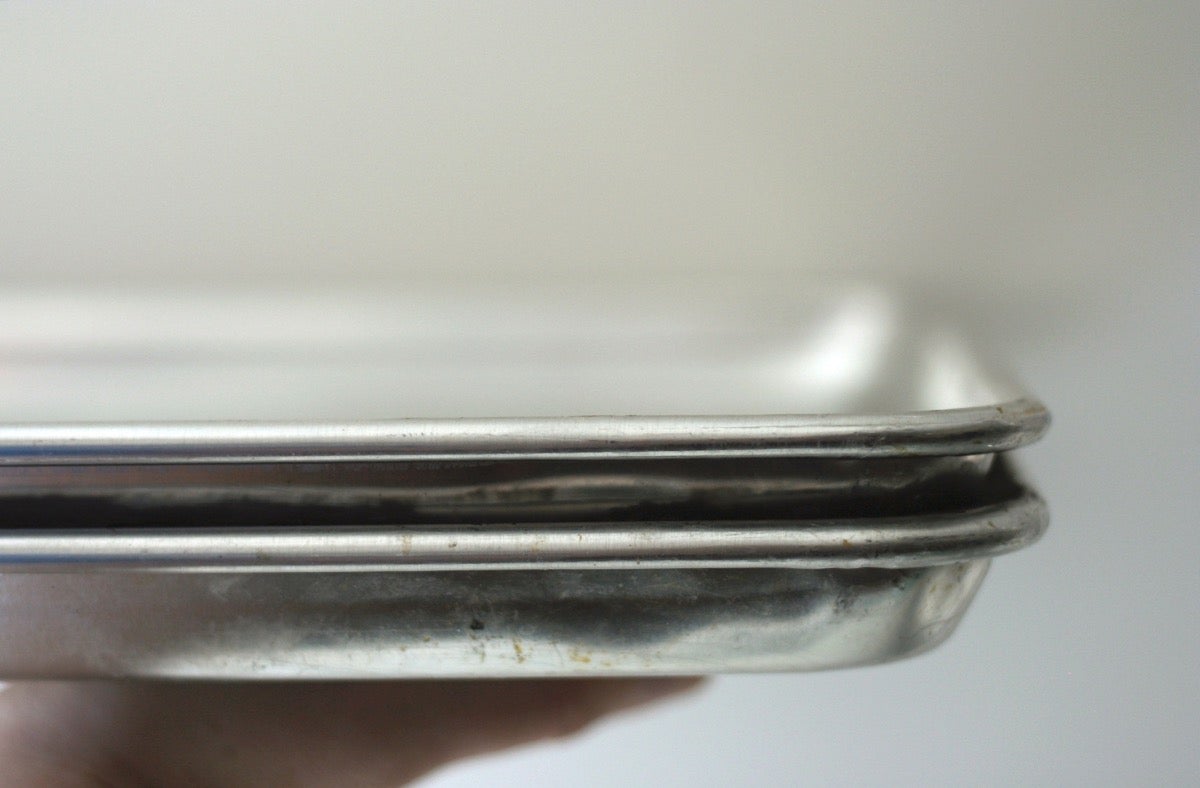 Place a piece of parchment paper on top of the prepared crust, and nest another pan on top. The pans should nest snugly, the top pan evenly weighing the crust down all over.
Bake the crust until it appears firm and set, 15 to 17 minutes. At this point, carefully remove the top pan and parchment from the crust and return it to the oven, baking until it appears dry, 2 to 3 minutes more. If the crust puffs up at all during the second stint in the oven, just use a fork or the tip of a paring knife to gently deflate any problem areas.
Remove the crust from the oven, and let it cool completely.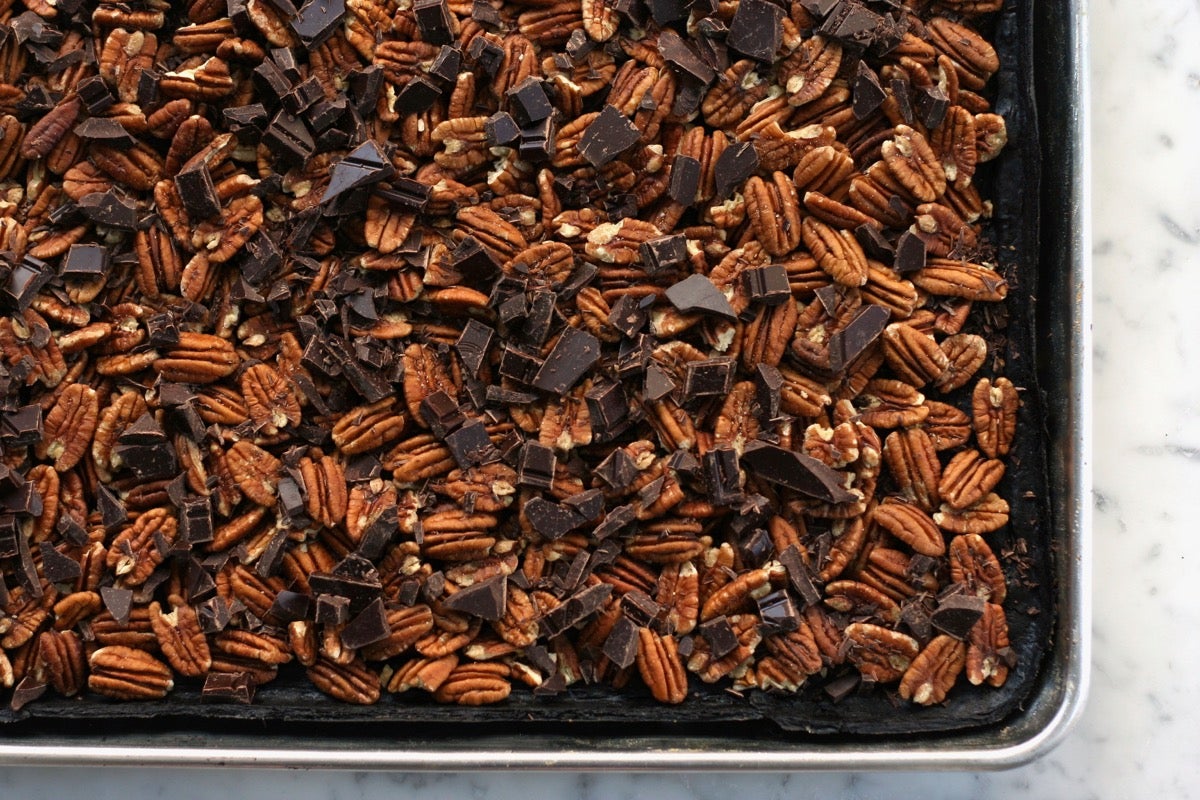 Make the filling
The filling for this pie is super easy, but tastes like a million bucks. Here's what you'll need:
4 cups pecan halves
1 cup chopped bittersweet chocolate (I use 60%) or chocolate chips
1 1/4 cups packed light brown sugar
1 cup light corn syrup
6 large eggs
1/2 teaspoon salt
1 1/2 teaspoons vanilla extract
large pinch of salt
Scatter the pecan halves and chopped bittersweet chocolate over the par-baked pie crust;  try to arrange them in an even layer.
In a medium bowl, whisk the light brown sugar, light corn syrup, eggs, vanilla extract, and salt together until well combined.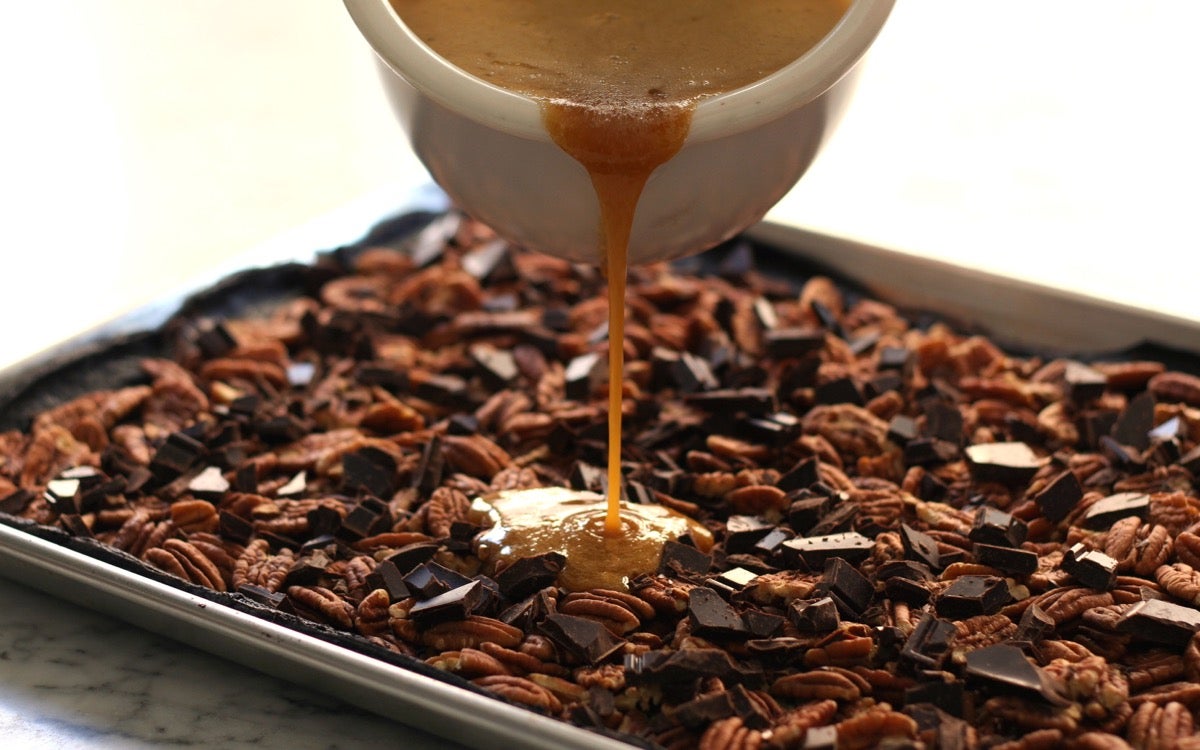 Pour the egg mixture into the crust. That's it!
Bake the pie
Reduce the oven temperature to 375°F and place the pie in the oven (on the stone again, if you're using one). Bake until the custard is set around the edges, but still slightly jiggly in the center, 25 to 28 minutes.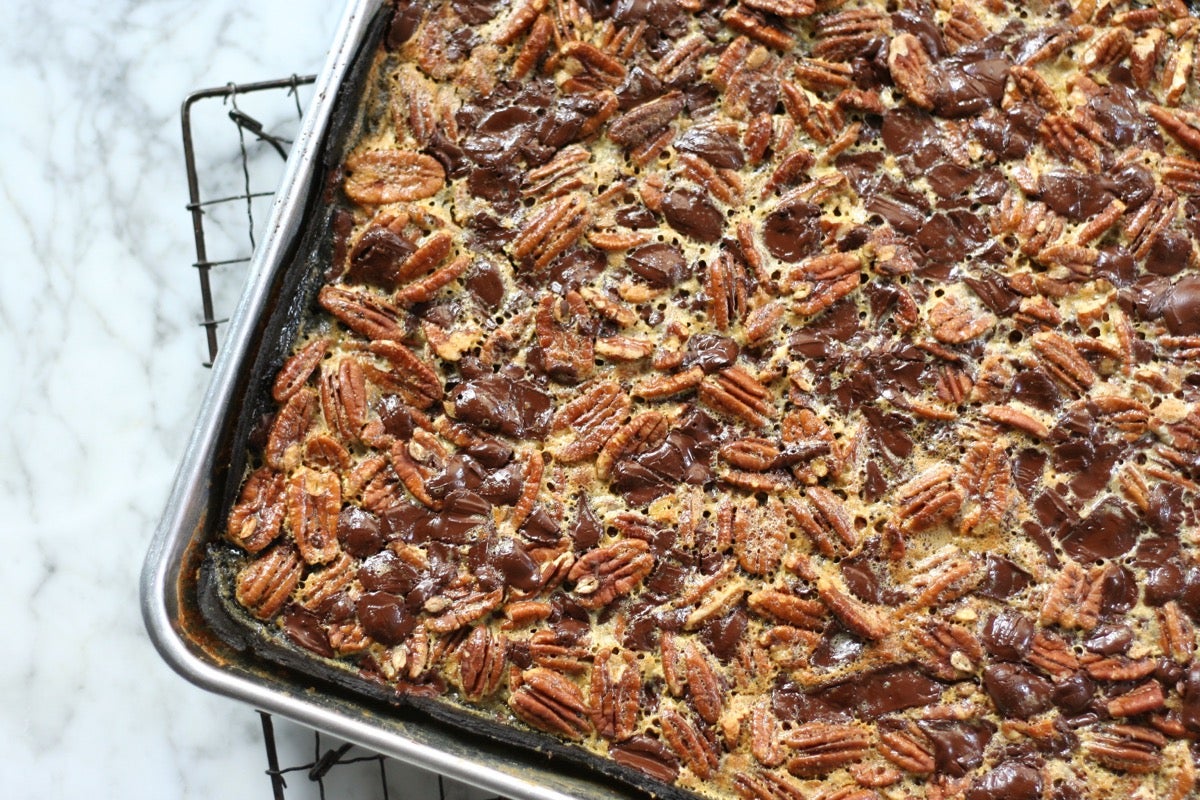 Your masterpiece is done!
Cool the pie completely in the pan before slicing and serving. It's especially good with a hefty dollop of whipped cream.
If you have leftovers, you can make particularly decadent homemade pop tarts, of sorts, by toasting slices in a 300°F oven for 12 to 14 minutes.
If you're looking for more unique pies and tons more desserts (plus all the details on why the recipes work!), check out my new book: The Fearless Baker.
Jump to Comments