Gluten-Free Focaccia two ways
A slice of Italy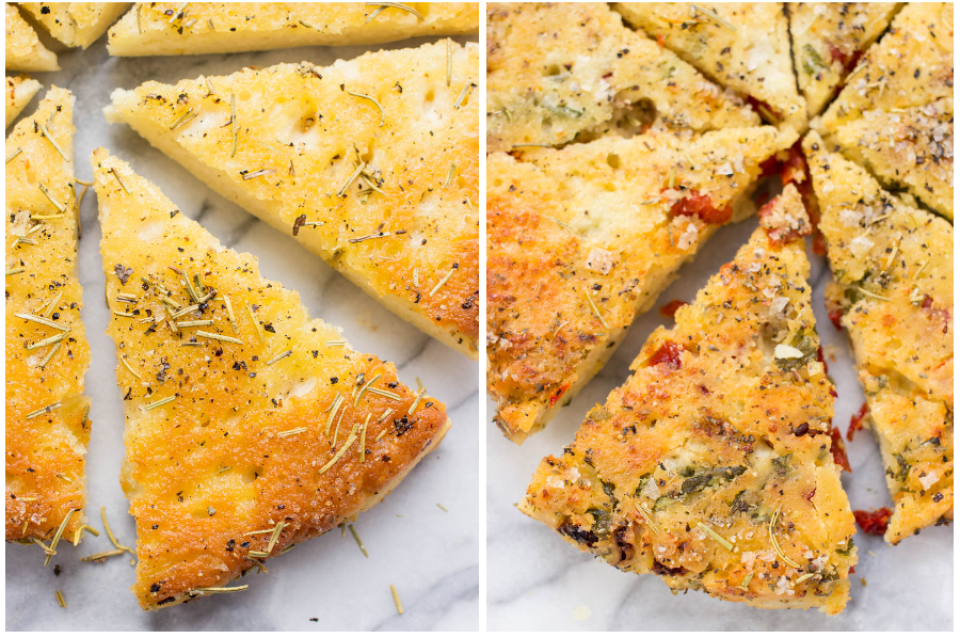 Today we're sharing our gluten-free spin on this month's Bakealong challenge! August's challenge is to create a Pane Bianco, and we wanted to give those of you who are gluten-free, or are cooking for someone gluten-free, an option that is every bit as satisfying and delicious.
We're making gluten-free focaccia not one, but two different ways. We'll start with a plain version, so you have a simple base to go from; and then we'll show you how to make a filled version that uses the same flavors as our Pane Bianco. It tastes like a slice of Italy!
If you've never made focaccia before, it might look very similar to pizza, and actually it is. Focaccia is an Italian-style flatbread that's thick, soft, and fluffy, and might remind you of a thick-crust pizza without the toppings. Focaccia is a wonderful side to soup or salad, but can also be enjoyed at brunch or used as a dip picker-upper.
And just like our gluten-free pizza crust recipe, this gluten-free focaccia recipe is easy to make. So without further ado, let's go ahead and dive in.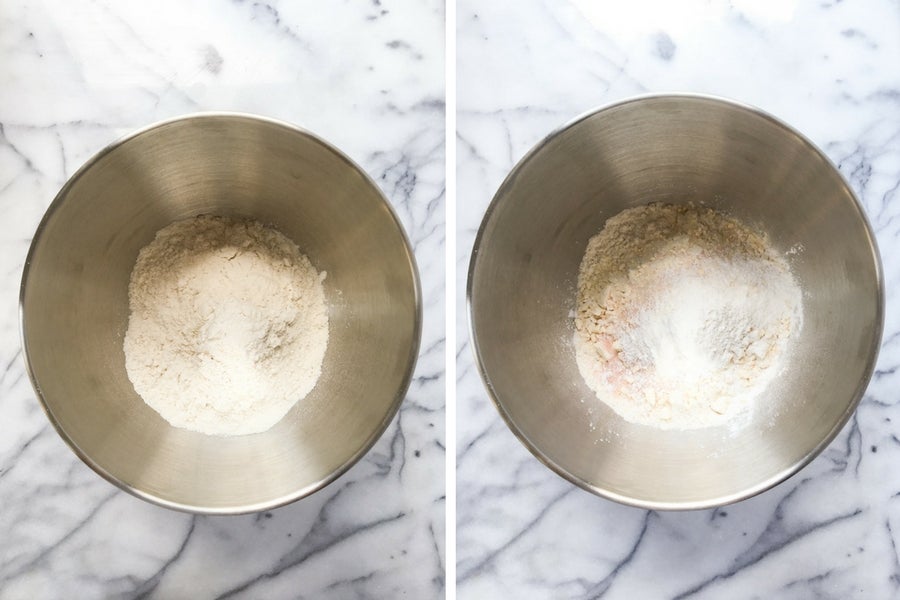 We'll start by making our dough. Place the following ingredients into a large mixing bowl:
2 1/4 cups (351g) King Arthur Gluten-Free Flour
3 tablespoons (27g) buttermilk powder or nonfat dry milk powder (35g)
1 teaspoon baking powder
1 1/4 teaspoons (8g) salt
1 1/2 teaspoons xanthan gum
1 tablespoon (14g) sugar
Mix until thoroughly blended.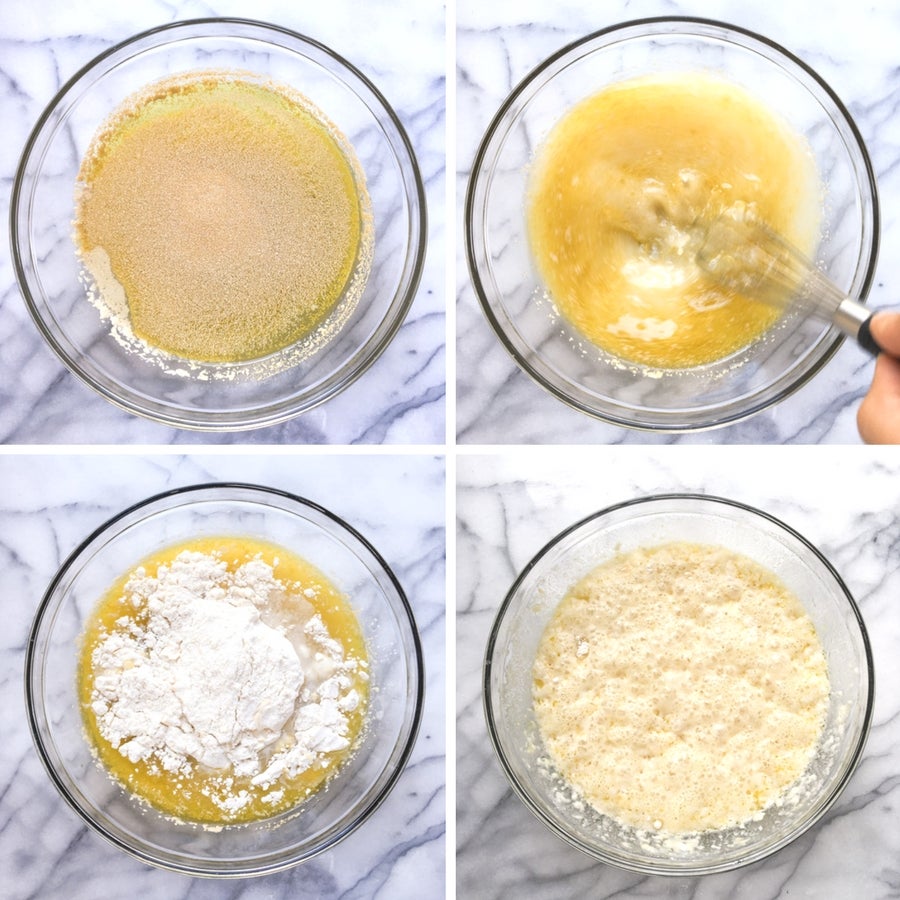 In a separate mixing bowl, whisk together:
2 1/4 teaspoons instant yeast
1 1/2 cups (340g) lukewarm water
3 tablespoons (35g) olive oil
Add 1 cup of the dry mixture to the bowl and stir to combine; a few lumps are OK. Set aside for 30 minutes or so, until the mixture is bubbly and smells yeasty.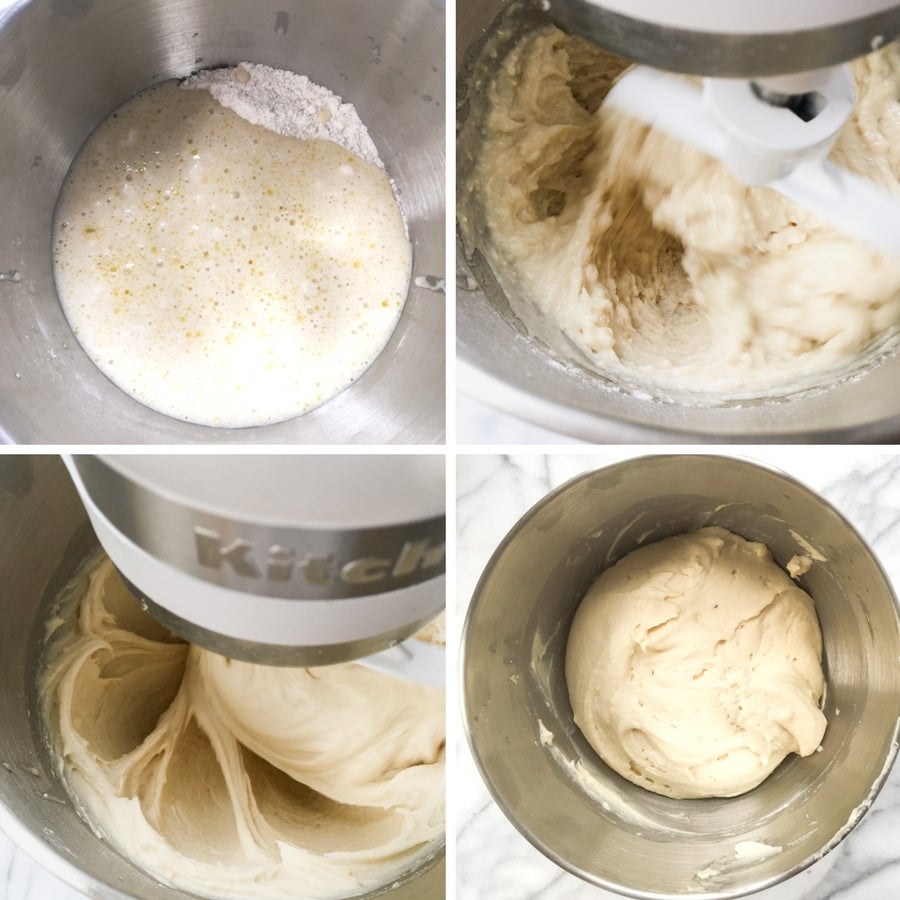 Add this mixture to the dry ingredients, and beat on medium-high speed for 4 minutes. The mixture will be thick and sticky, but not elastic; it won't feel like regular yeast dough. (Note: you must use an electric mixer to make this dough; mixing by hand doesn't do a thorough enough job.)
Cover the bowl, and let the dough rest/rise for 30 minutes or so.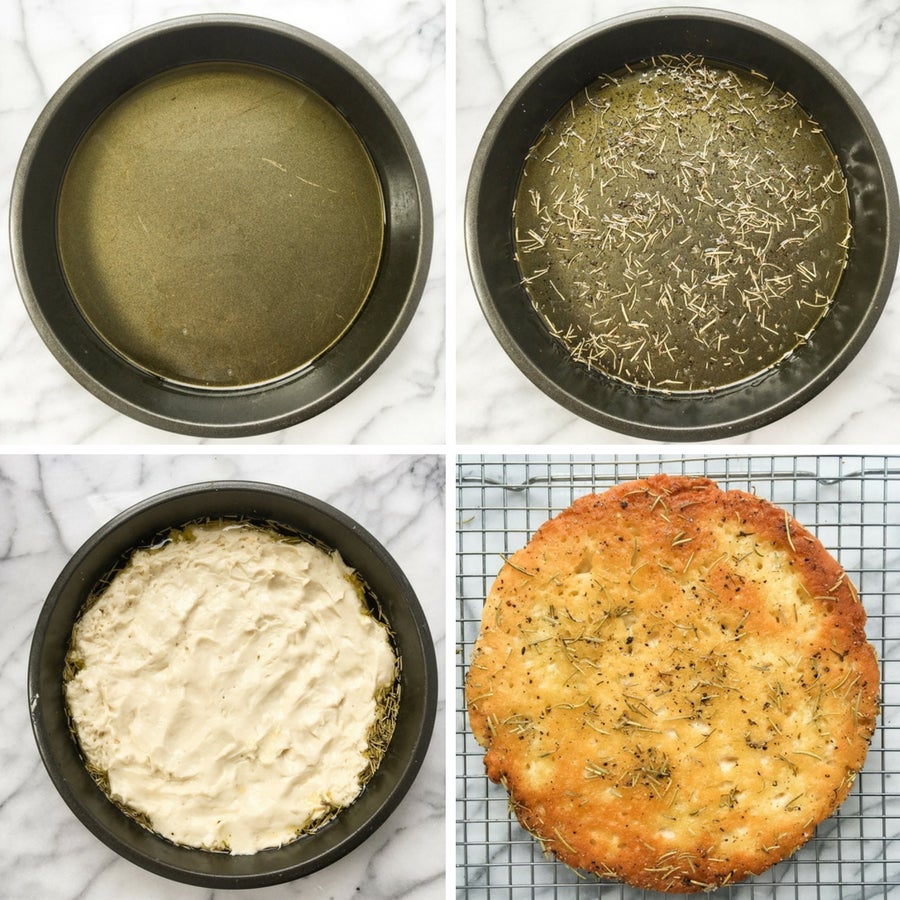 Preheat the oven to 375°F. Drizzle 2 tablespoons olive oil into a 9" x 13" pan, or divide it between two 9" round pans. Tilt the pan so the oil coats the bottom; it doesn't have to be an even coating.
Sprinkle your choice of herbs (and pepper, if desired) into the pan. Don't add sea salt yet; that comes later.
Scrape the dough from the bowl into the 9" x 13" pan, or divide it between the two 9" round pans.
Using your wet fingers, start at the center of the dough and work outward toward the edges, pressing the dough to fill the bottom of the pan. Let the dough rest, uncovered, for 15 to 30 minutes, until your oven is thoroughly preheated.
Bake the focaccia for 20 to 23 minutes, until it's set and the top springs back when pressed. It probably won't be brown. Note that the bottom ends up as the top; since the top doesn't brown and the bottom (in the pan) does, when you turn it out of the pan leave it bottom crust up, to display its brown bottom rather than its pale top.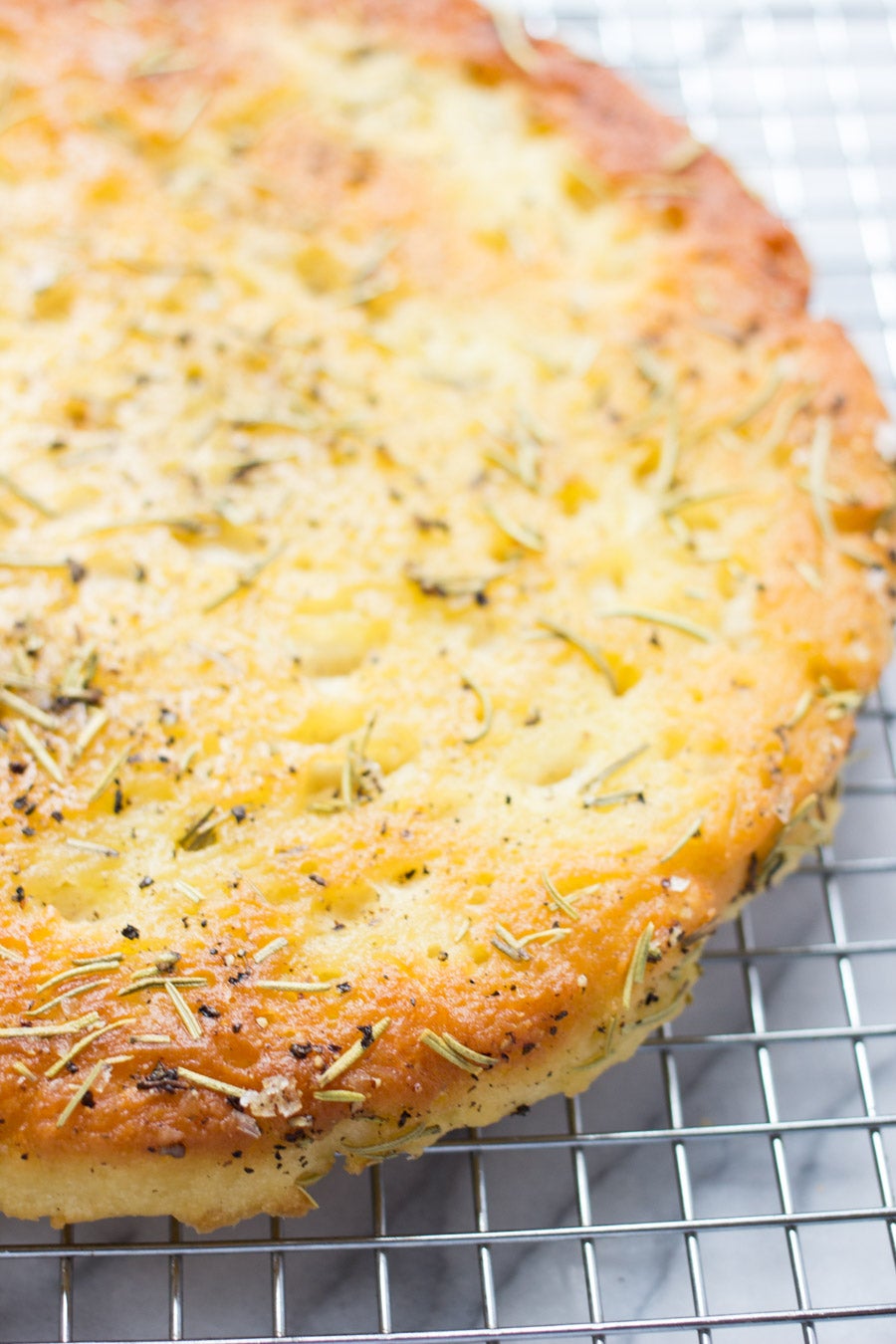 Remove the focaccia from the oven, and immediately turn it out of the pan onto a cooling rack. Sprinkle with coarse salt, if you're going to enjoy it immediately. Note: if you're going to reheat and serve it later, or serve it at room temperature, don't apply the salt until just prior to reheating/serving.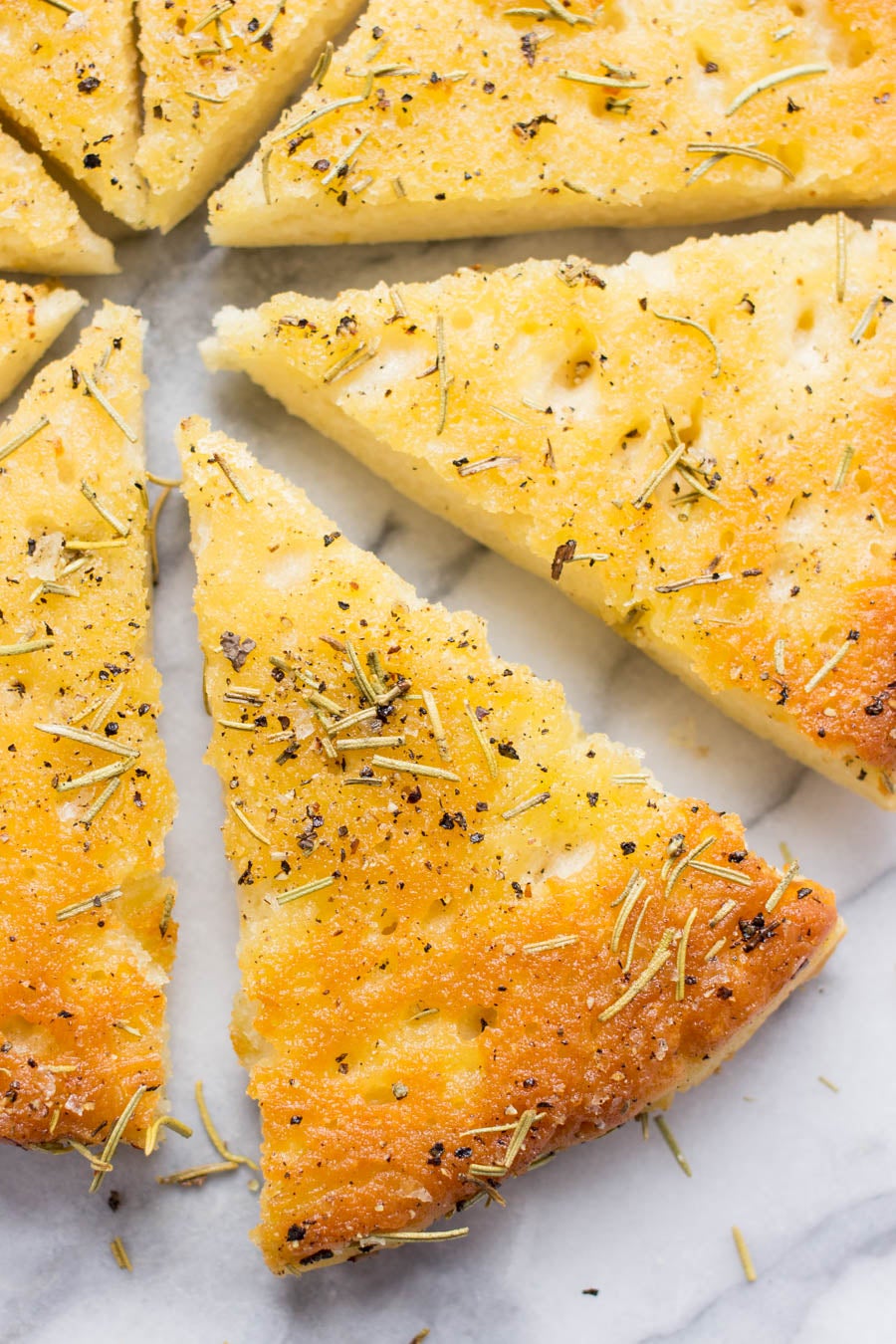 Cut the focaccia into squares or wedges, and serve. Store any leftovers, well wrapped, at room temperature for a day; freeze for longer storage (up to a month).


How to make filled gluten-free focaccia
The recipe above makes a plain gluten-free focaccia. If you'd like to give yours a bit more flavor, we have this delicious option that, just like our Pane Bianco from the Bakealong challenge, includes sun-dried tomatoes, fresh basil, and a touch of Italian cheese.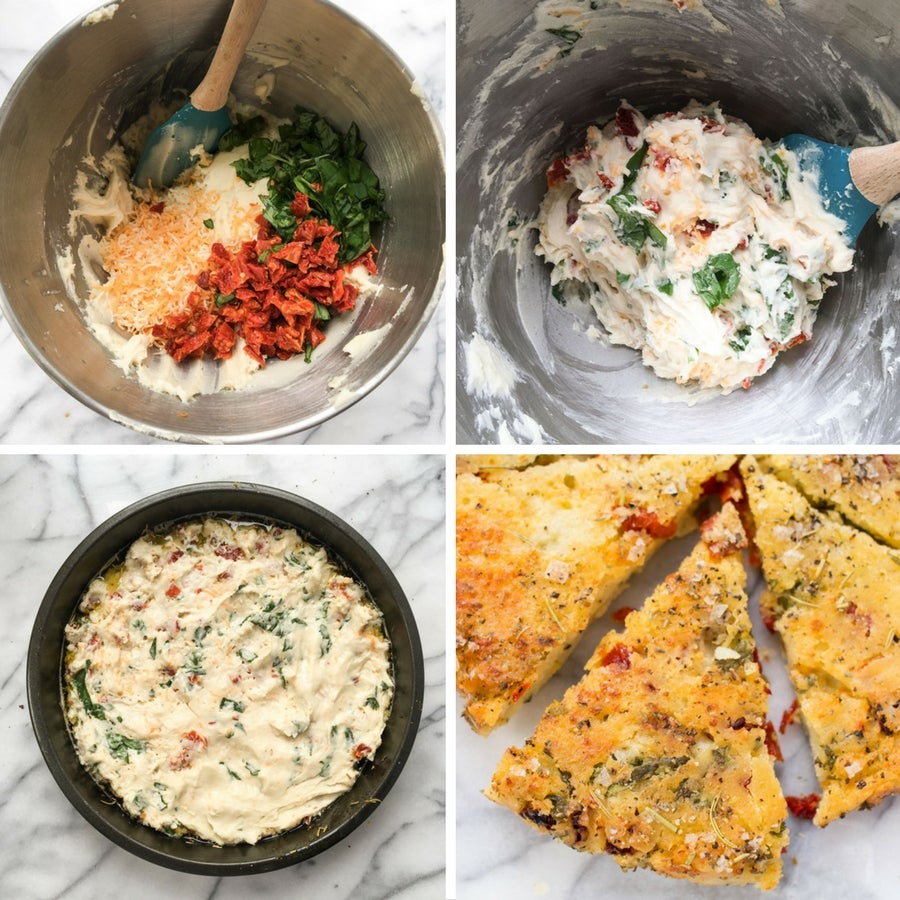 To make a filled focaccia, prepare the dough as directed above. Stir the following ingredients into the dough:
3/4 cup (85g) shredded Italian-blend cheese
1/2 cup (113g) oil-packed sun-dried tomatoes, drained and chopped (or 1/2 cup of your own oven-roasted tomatoes, chopped)
1/3 cup (14g) minced fresh basil
Allow the dough to rise for 30 minutes, then bake as directed; either in a 9" x 13" pan or two 9" round pans. Add about 3 to 5 minutes to the recommended baking time.
Serve as you wish and enjoy!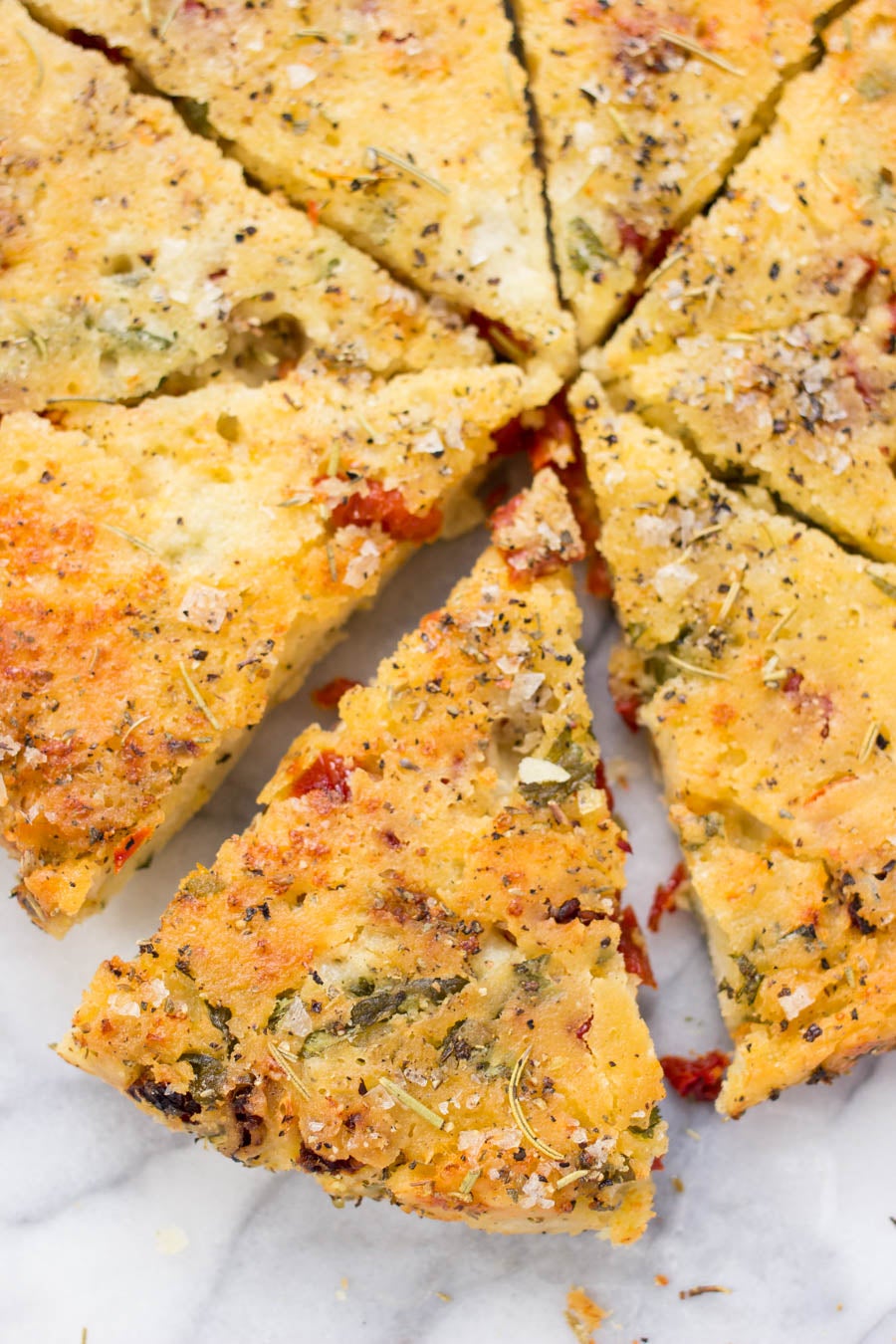 Read, bake, and review (please) our recipe for our Gluten-Free Focaccia.
If you'd like to learn more about the Bakealong Challenge, check out our information page. You can also follow along on social media using the hashtag #bakealong; be sure to check out our blog because we'll be sharing a new recipe each month. Sept. 1 will be our second challenge, another "looks expert, totally simple" treat featuring a favorite fall flavor: pumpkin.
Jump to Comments