Gluten-Free Biscuits
Our 4 best baking tips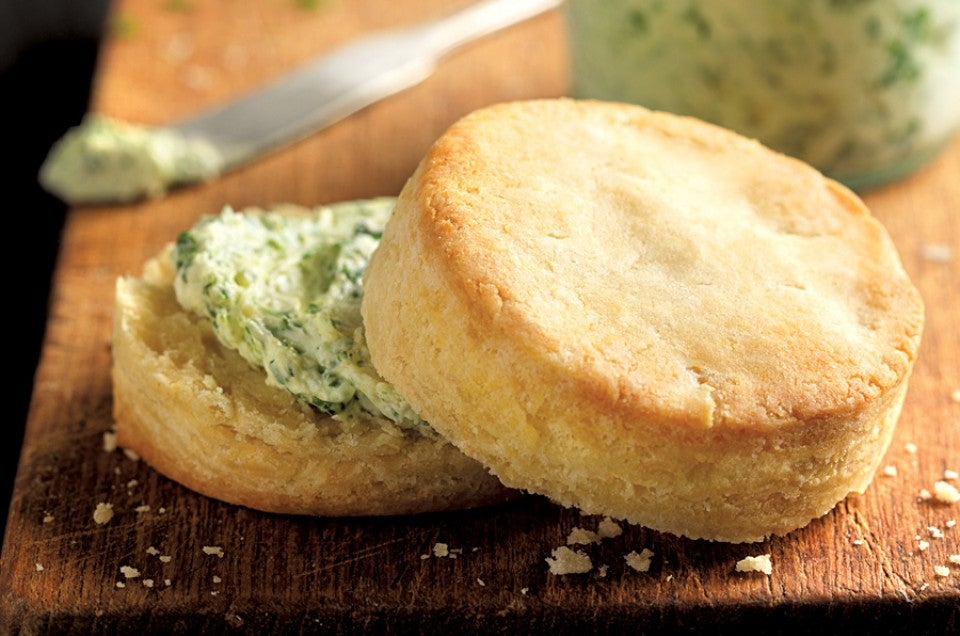 A warm, flaky biscuit, fresh from the oven, one that bursts with steam when you open it? It's pretty hard to beat. Almost perfection, if you ask me.
Everyone seems to have their own way of making the perfect biscuit. Whether it's an old family recipe, or maybe it's a trick that your grandmother uses that she won't tell anyone else, getting a biscuit just right definitely takes a little practice.
Luckily for all of the gluten-free bakers in the world (including yours truly), making the perfect biscuit is easier than you might think. Today I'm not only going to share our newest gluten-free biscuit recipe (it's simply amazing!), but I'm also giving you a few simple tips that will help you master the art of perfect gluten-free biscuits.
1. Use a high quality flour blend
Blend is the operative word here. In order to give your biscuits the lift, texture, and crumb that you desire, you need to make sure you're using a blend of flours and starches. If you use 100% of one flour, your biscuits will likely be crumbly and dry.
My recommendation is to start with our gluten-free flour. Not only because we've tested for close to five years in our test kitchen, but because our blend uses both flours and starches in the mix. Once you feel comfortable, you can test other flours; but I always think starting a reliable basic is the way to go.
2. Use cornstarch to dust your work surface
This might seem like an obvious tip, but it's especially important for gluten-free biscuits: dust your surface with a non-gluten starch (we prefer cornstarch). Gluten-free dough tends to be a bit more sticky, so if you don't work on a dusted surface, then you'll probably end up with a big sticky mess on your hands... literally!
We suggest using a piece of parchment paper or waxed paper that's been dusted with cornstarch over using a gluten-free flour because the unincorporated flour can compromise the texture of the biscuit's exterior. If you don't have cornstarch (tapioca starch or potato starch will also work) on hand however, in a pinch you can use any gluten-free flour. And don't skip the paper – you'll need it for our next tip.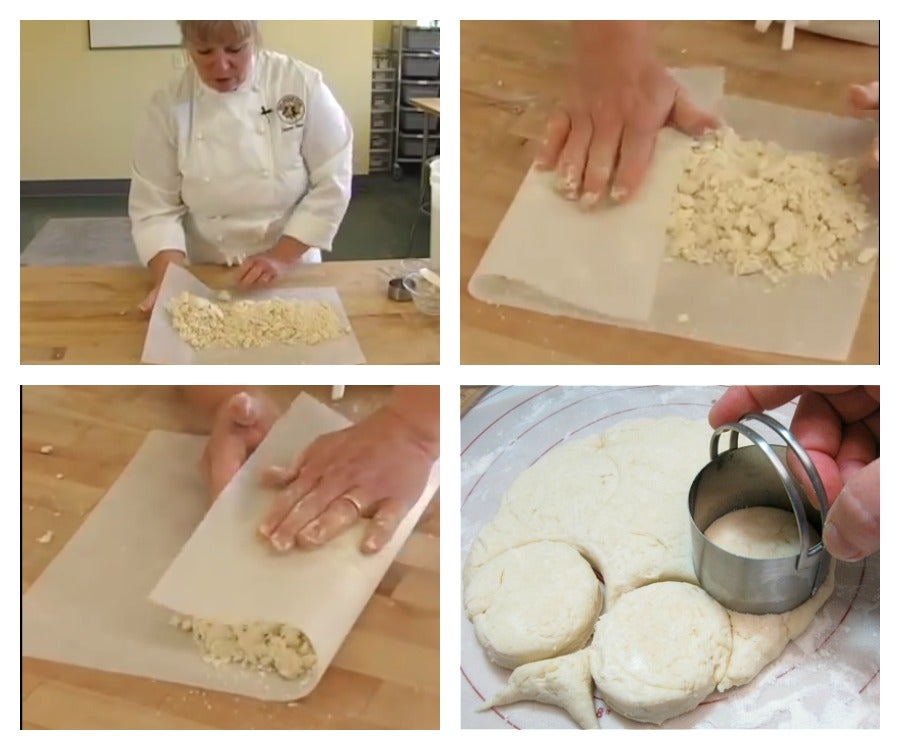 3. Fold rather than knead
Just like with traditional biscuits, you don't want to over-mix your gluten-free biscuit dough. Our preferred method is to stir the dough until the ingredients begin to come together, but still have some dry crumbs remaining. From there you dump the crumbly mixture onto your dusted parchment or waxed paper, and use the paper to help you fold the dough over onto itself about eight times. The folding technique will help ensure that your biscuits have those lovely, flaky layers that make them so perfect.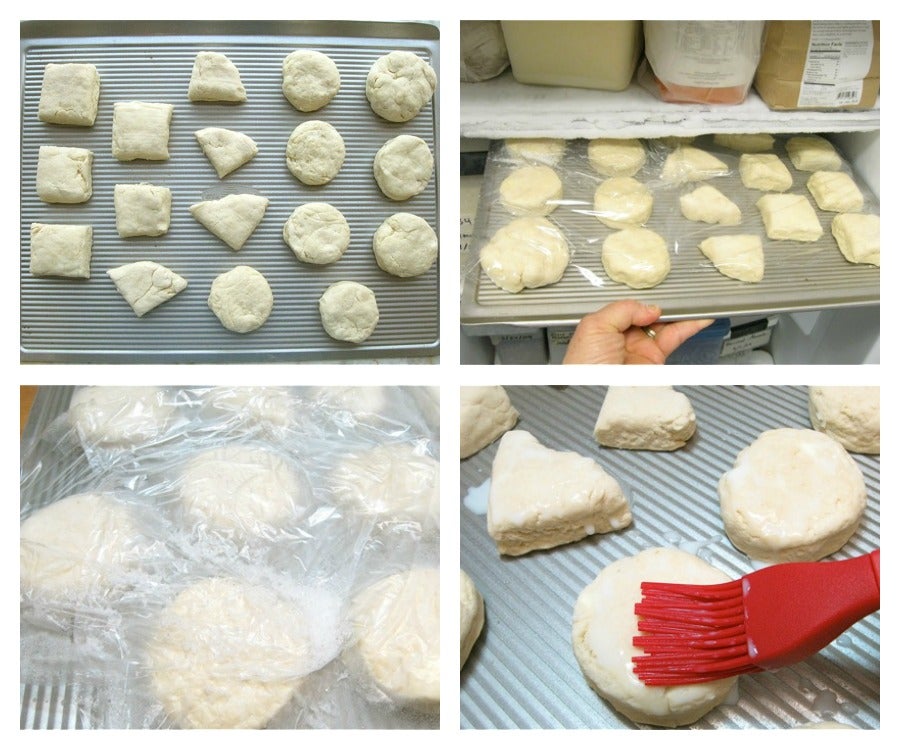 4. Freeze before baking
This tip might seem a little strange, but after testing we have found that freezing our biscuits prior to baking resulted in a flakier, higher rising biscuit. This is because the fat (in this case butter) is frozen and keeps its structure long enough for the biscuit to rise and set.
Once you've shaped and cut your biscuits, you simply place them on a parchment-lined baking sheet and freeze them while the oven preheats. Ready to bake? Brush the biscuits with some milk and pop them in the oven for about 15 minutes, and they'll puff up beautifully.
Another great thing about freezing your unbaked biscuits is that it allows you to bake as many as you want at the time. Making breakfast for one? Or dinner for two? No problem! Just bake what you need and save the rest for later. And in case you're wondering, yes, I love keeping biscuits in my freezer! Saves so much time for those nights where I'm strapped for time but really am craving something floury and delicious.
Perfect Gluten-Free Biscuits Recipe
And now we'd love to share our recipe for perfect gluten-free biscuits with you. We tested multiple batches in our test kitchen and these were the clear winner. They were tender, flaky, and buttery, perfectly balanced between moist and crumbly.
Oh and that spread? It's sensational. It's an herbed butter made with basil, sea salt and butter.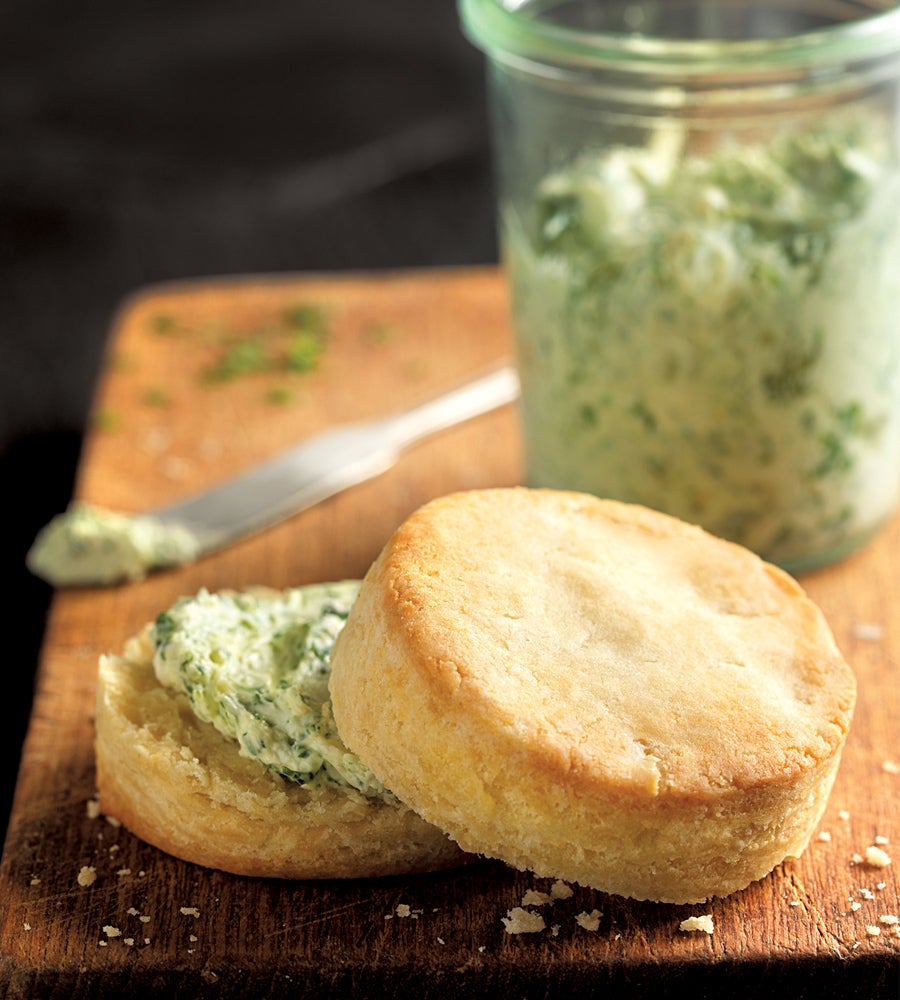 We'd love you to bake, taste, and review our recipe for Gluten-Free Biscuits!
Jump to Comments