Gluten-Free Calzones
Light, crisp, and golden brown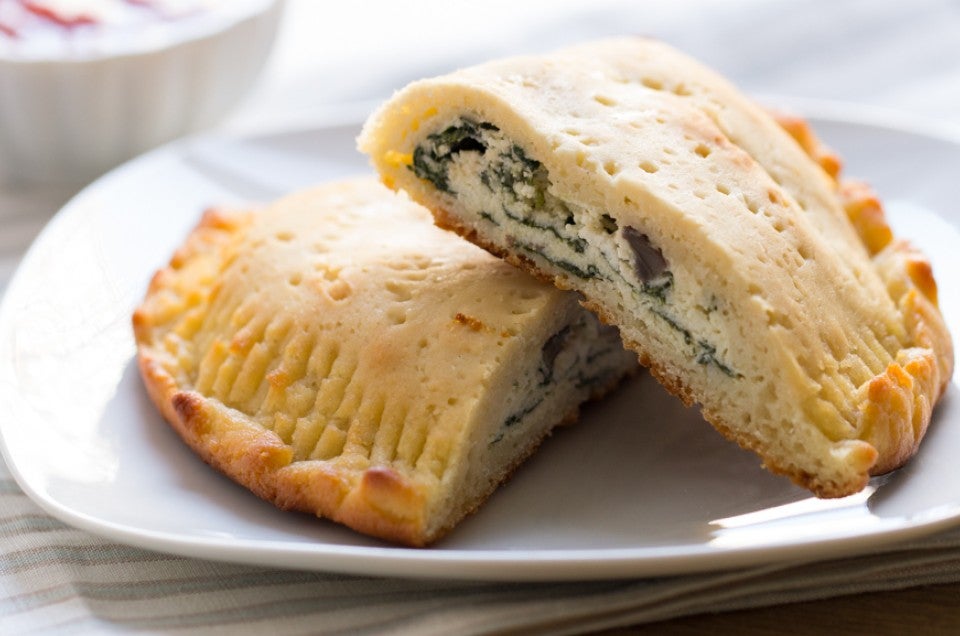 When I was growing up calzones were a such treat. We didn't have them often, but when we did, it was always special. They were one of my absolute favorite meals, and my mom's were the best (in my opinion, of course).
She'd make the dough from scratch and would fill them with a fluffy ricotta and vegetable mixture, usually containing spinach and mushrooms. We rarely had ours with meat; we were a cheese kind of household.
There was something about eating calzones that was really fun. It was probably the fact that we got to eat them with our hands and dunk them in tomato sauce. Actually, thinking about it now, that's exactly what it was. Pretty much a kid's dream meal.
In all honesty, I haven't really thought about calzones lately. I mean sure, I see them on pizza menus or remember my mom's, but making them at home? And making them gluten-free? No thank you. Feels like too much of a chore, since the gluten-free pizza crusts that I make are never pliable enough for calzones.
But as I started thinking about it more, I realized that you didn't necessarily have to roll out the dough to make the perfect gluten-free calzone. You could still use your hands to spread it out, then use parchment to flip the dough over on itself to form for the crescents.
With gluten-free calzones in sight, I set off to experiment.
I decided to add just a few more tablespoons of flour to our gluten-free pizza crust recipe so it would be a little thicker, and got to work. I followed the recipe exactly and chose this filling (with mushrooms and an egg) – and it totally worked. On the first try!
I've since remade them and they're still every bit as delicious: light, tender, crisp on the outside, with a soft, pillowy filling. I'm in calzone heaven. And I can't wait for you to taste them, too!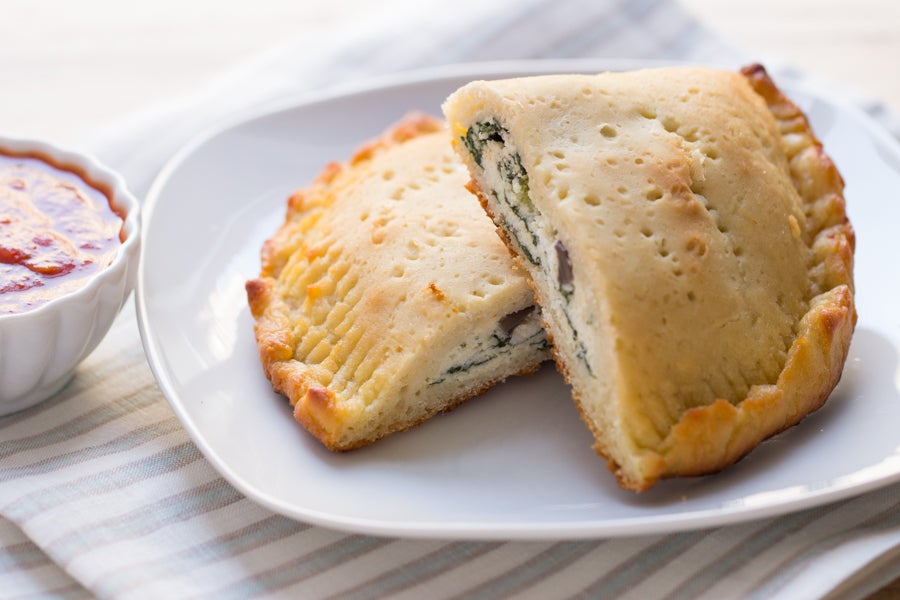 Start these calzones by preparing our gluten-free pizza dough. Mix together the following ingredients in the bowl of a stand mixer:
1 1/2 cups + 2 tablespoons King Arthur Gluten-Free Flour
2 tablespoons buttermilk powder (or Baker's Special dry milk, or nonfat dry milk powder)
1 teaspoon baking powder
3/4 teaspoon salt
1 teaspoon xanthan gum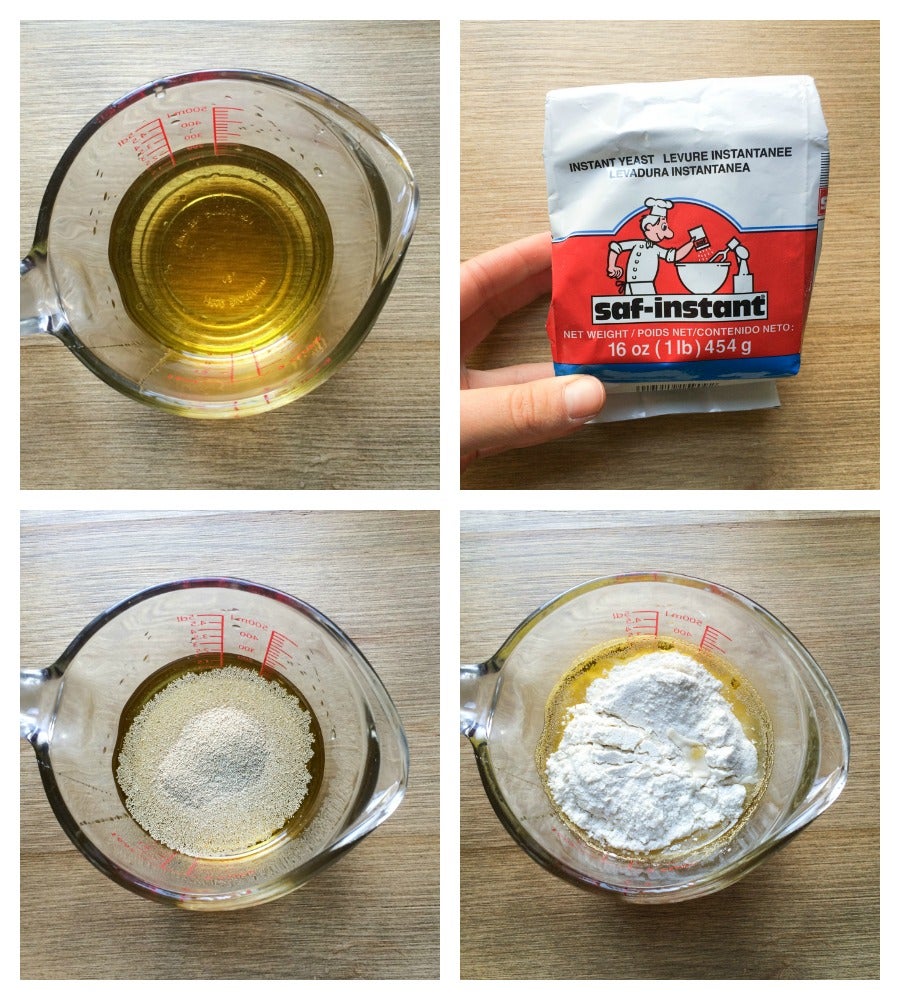 In a separate mixing bowl (or glass measuring cup) whisk together the following ingredients:
1 1/2 teaspoons instant yeast
1 tablespoon sugar or honey
1 cup warm water
2 tablespoons olive oil
1/2 cup of the dry ingredients (that you mixed above)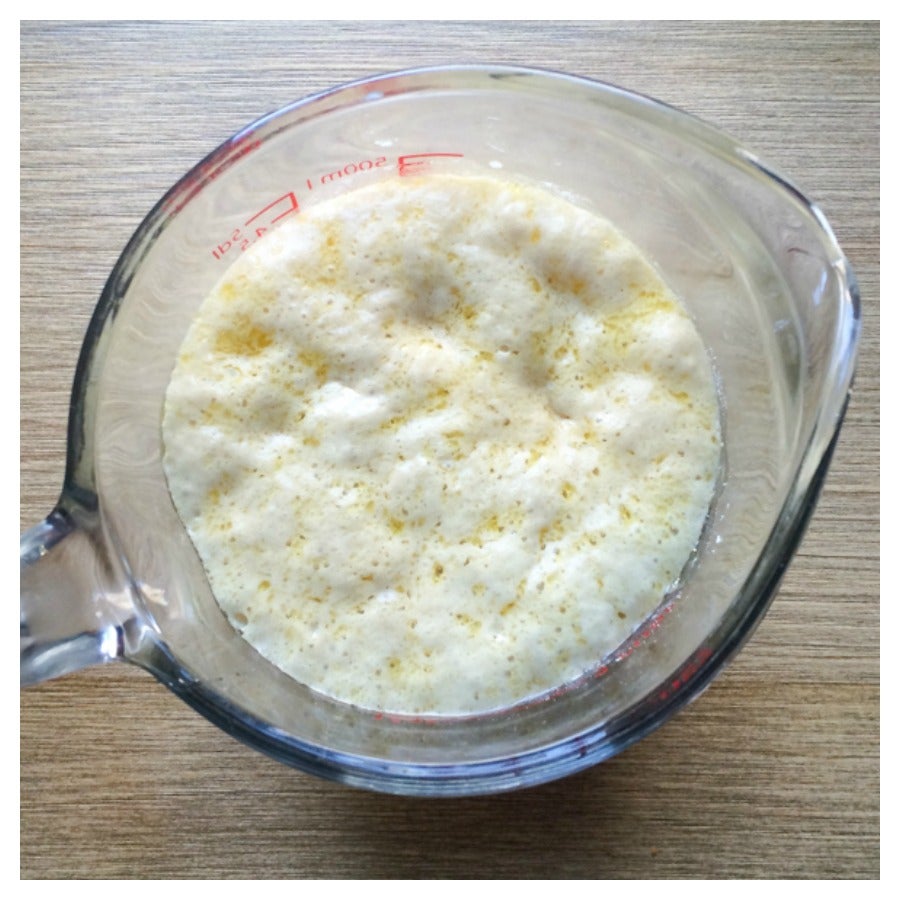 Set aside for 30 minutes or so, until the mixture is bubbly and smells yeasty. It will look nice and fluffy, as shown above.
Add this yeast mixture to the remaining dry ingredients, and beat on medium-high speed for 4 minutes. The mixture will be thick and sticky. Cover the bowl and let the dough rest for 30 minutes.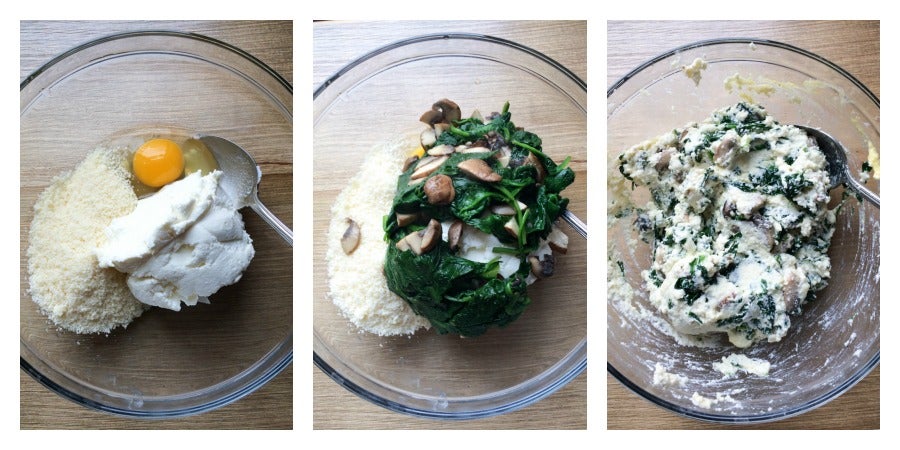 While the dough is resting, prepare your filling. In a mixing bowl stir together the following:
1 cup ricotta cheese, whole-milk or part-skim
1/2 cup freshly grated Parmesan cheese
1 large egg
5 cups fresh spinach, steamed, drained, and squeezed completely dry
1 cup mushrooms, chopped and lightly sautéed
1/4 teaspoon grated nutmeg
1/2 teaspoon salt
Set this aside (near where you're going to make your calzones) and start to get your dough ready.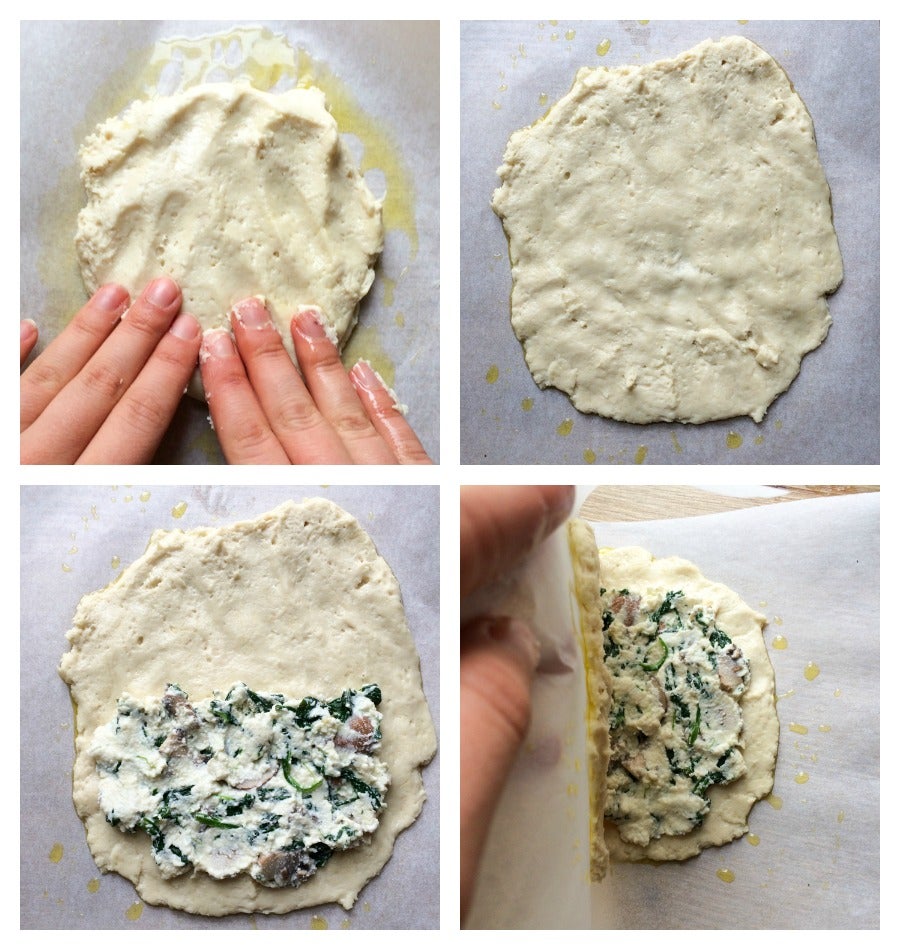 Cut four small pieces of parchment paper (I cut my half sheets in half once, so about 8 1/2" x 12") . Lay the first down on a flat surface, and coat it with 2 teaspoons olive or vegetable oil. Using your wet hands, take 1/4 of the dough and place it in the center of the parchment. Spread the dough out with your fingers and shape it into a circle, about 1/4" thick.
Spoon 1/4 to 1/3 cup of filling onto one side of the dough, and spread it over half the dough, as pictured. Take the parchment paper and fold the other half of the dough over the filling. Repeat this process with the remaining dough, making four calzones in all.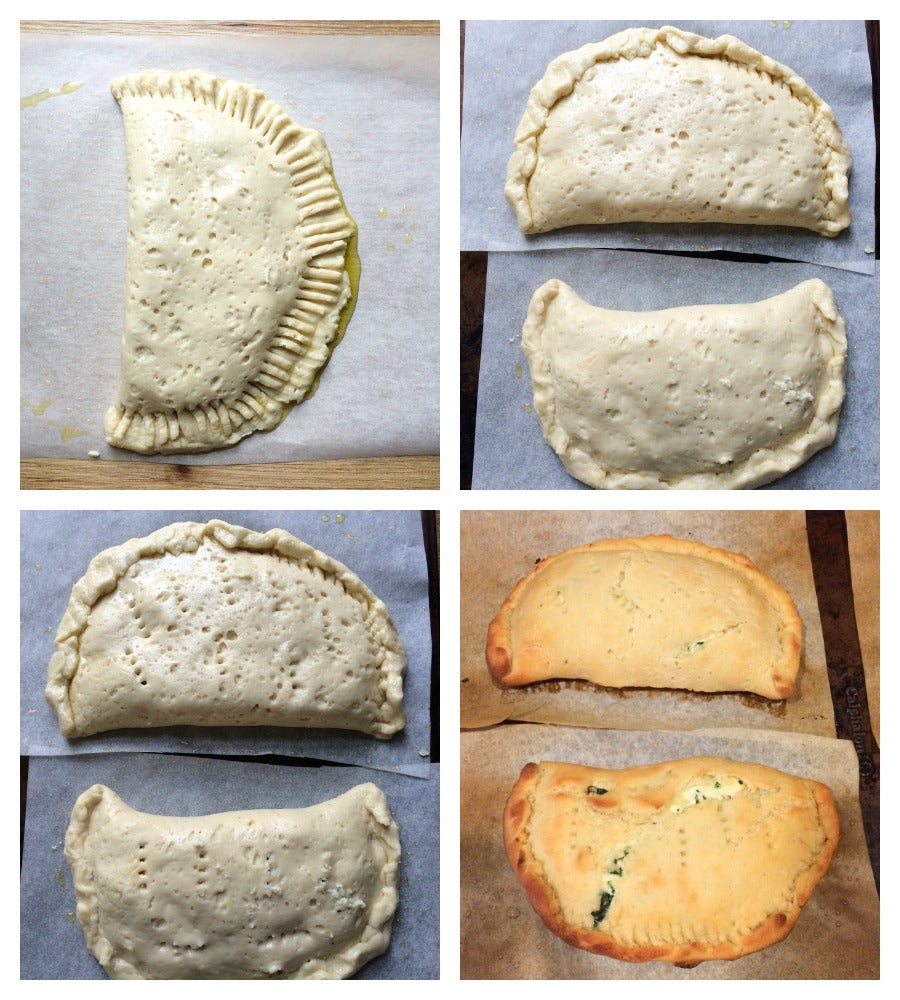 Seal the edges with the back of a fork, then roll the edges up. Transfer the calzones (and their parchment paper) to a baking sheet and prick each calzone with a fork a few times – this will let the air escape, and help ensure the edges don't pop open.
Let the calzones rest, uncovered, for 30 minutes, while you preheat your oven to 425°F. Brush them with a little olive oil before you bake them, if you like.
Bake the calzones for 18 to 20 minutes, until they're golden brown and the crust feels crisp.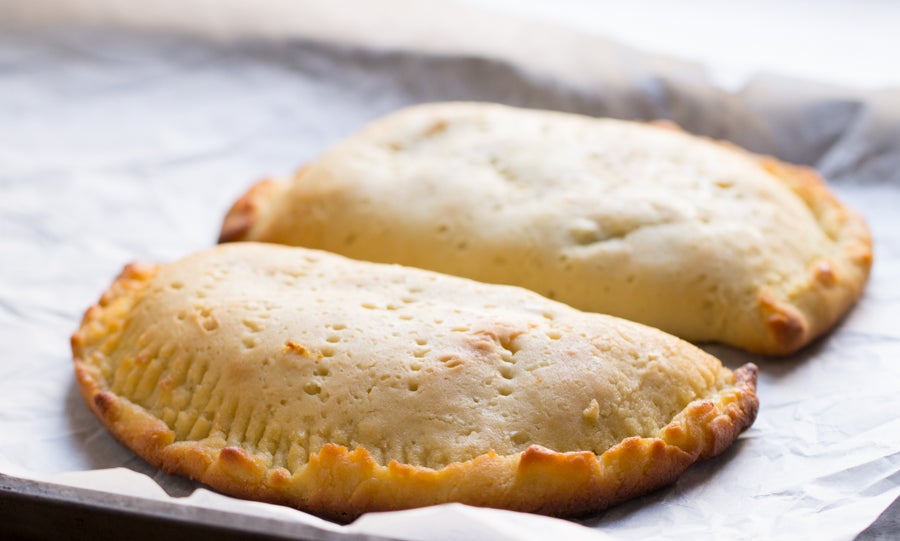 Remove the calzones from the oven, and let them rest for 5 minutes. Slice them in half, and serve them with some warm marinara sauce for dipping!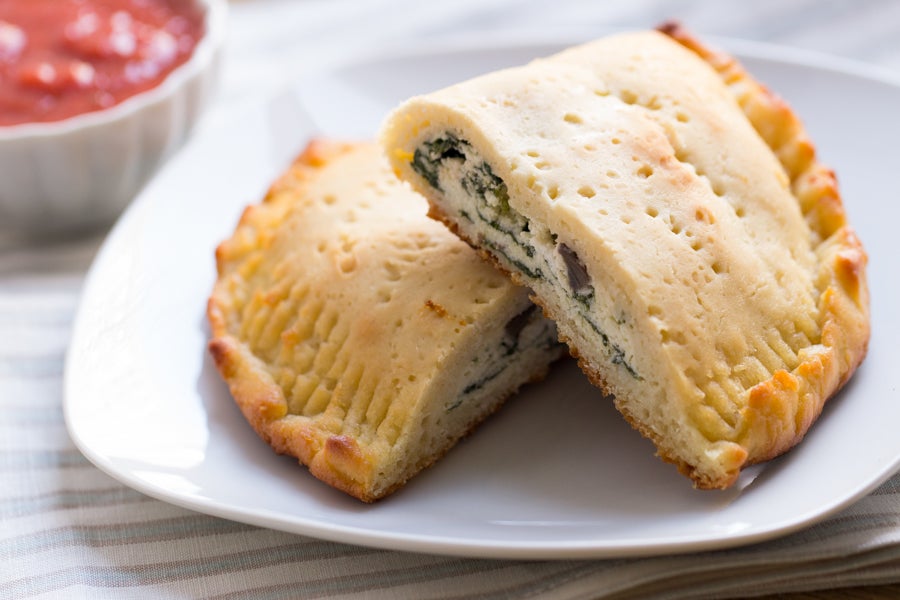 Please bake, rate, and review our recipe for Gluten-Free Calzones.
Jump to Comments