It was easy to divi up the Christmas cookies in my family when I was younger. My brother gorged himself on the chocolate chip, while my dad snuck the snickerdoodles and butter cookies (the ones my mom would curse as she struggled to get the dough out of the press in anything more comprehensible than a blob) to his room.
I was a little less impulsive than dad, but would still anxiously await the day when mom would make her ginger molasses cookies- a recipe from an old bed and breakfast they had stumbled upon on one year while in Maine. They were bendy-chewy and stuck to your teeth just right.
I loved everything about them; the fact that they tasted like Christmas with all of the spices and the signature cracks on top. I would use these lines to break them up before drowning each bite in cream-topped milk.
The best thing, though? I was the only one in my family who truly loved and appreciated these treats. They were my cookies and I didn't have to share them.
I know it sounds like more of a selfish ritual rather than a seasonal tradition, but the smell of these baking embodied the holidays for me each year; I'd have them all to myself while decorating the tree.
I was inspired to develop a gluten-free molasses cookie recipe to include the all-time favorite love, chocolate. It's not in the spotlight focus, but lends a subtle depth to the flavor of the molasses. Shall we make these cookies a little early this year? You don't have to twist my arm!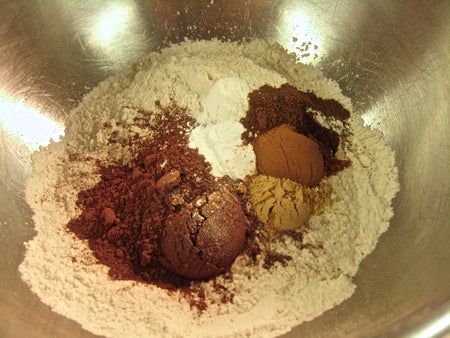 Start with your dry ingredients. In a medium-sized bowl, whisk together:
1 3/4 cups (273g) King Arthur Gluten-Free Multi-Purpose Flour
1/4 cup (21g) Dutch-process cocoa
1 teaspoon baking soda
1 teaspoon baking powder
1/4 teaspoon salt
1 1/4 teaspoon cinnamon
1/2 teaspoon ginger
3/4 teaspoon cloves
3/4 teaspoon xanthan gum
Set this mixture aside.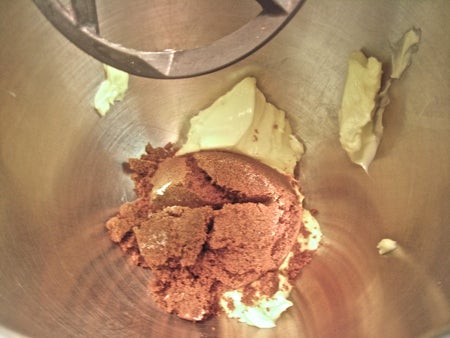 Cream 12 tablespoons (170g) room temperature unsalted butter and 3/4 cups (159g) brown sugar until the mixture is light and fluffy making sure to scrape the sides of the bowl.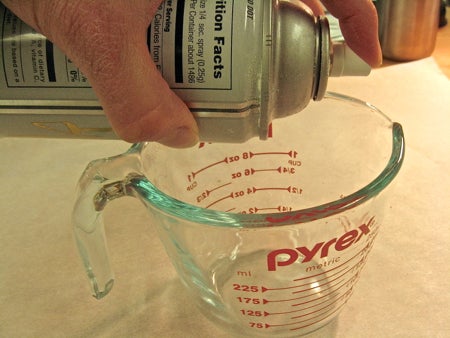 Just a friendly tip I learned: when measuring something sticky such as corn syrup, molasses or honey, give your measuring vessel a light spray with oil.  The measured amount will come out easily without scraping- more simple AND accurate!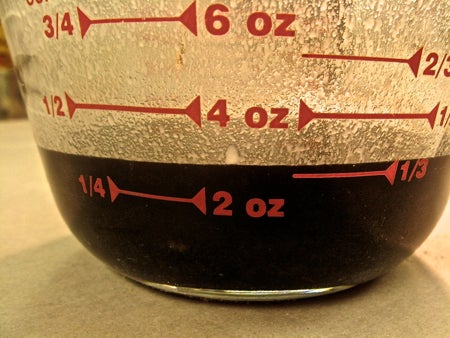 It's just like me to go a hair over the line. Not so accurate.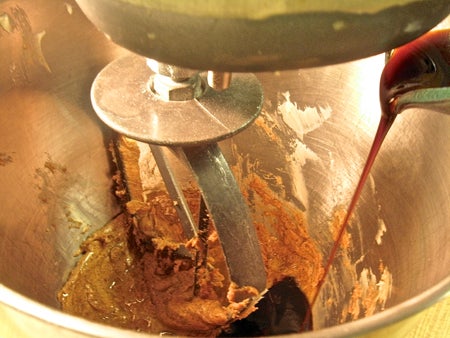 Add the egg and 1/3 cup (113g) molasses at a low-medium speed, scraping the bowl between and after additions.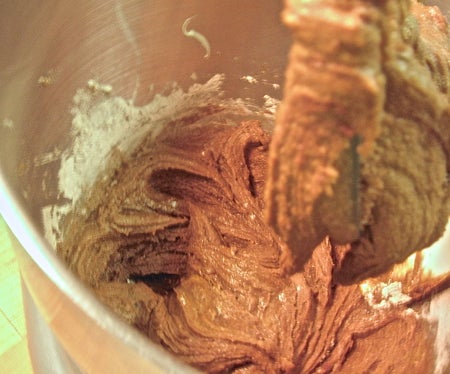 Stir in dry ingredients until just combined- scrape any remaining flour from the sides and stir into the dough. Cover and refrigerate the dough for an hour at least, or overnight for optimum results. Gluten-free cookie doughs benefit from a long, cold rest to allow the xanthan gum to fully hydrate and provide the best possible texture when the cookies are baked.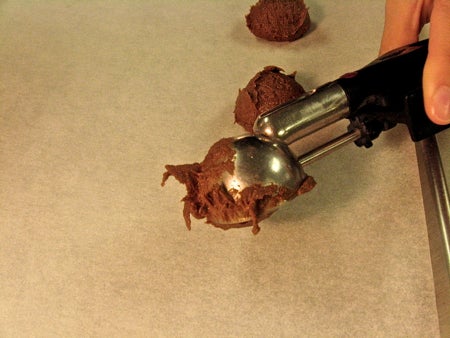 Drop dough by tablespoon sized scoops onto a parchment-lined baking sheet.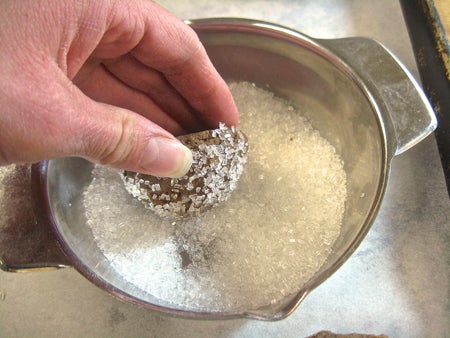 Roll the tops of each ball in granulated or sparkling sugar. Bake at 350°F for 8-10 minutes and cool on a rack. Please privilege yourself to eat one when it is still warm. Milk is always welcome but not necessary.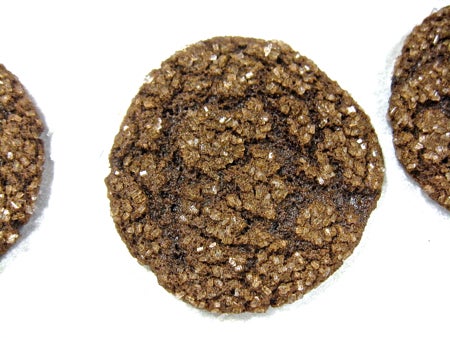 This is molasses cookie chewy-crater-crunchy-sugar perfection. Whether you need to be gluten-free or not, this cocoa version could find it's way into your collection. Uggh, I'm rhyming. That's a rap ... I mean, wrap.
Please read, bake and review our recipe for Gluten-free Cocoa Molasses Cookies.
Jump to Comments