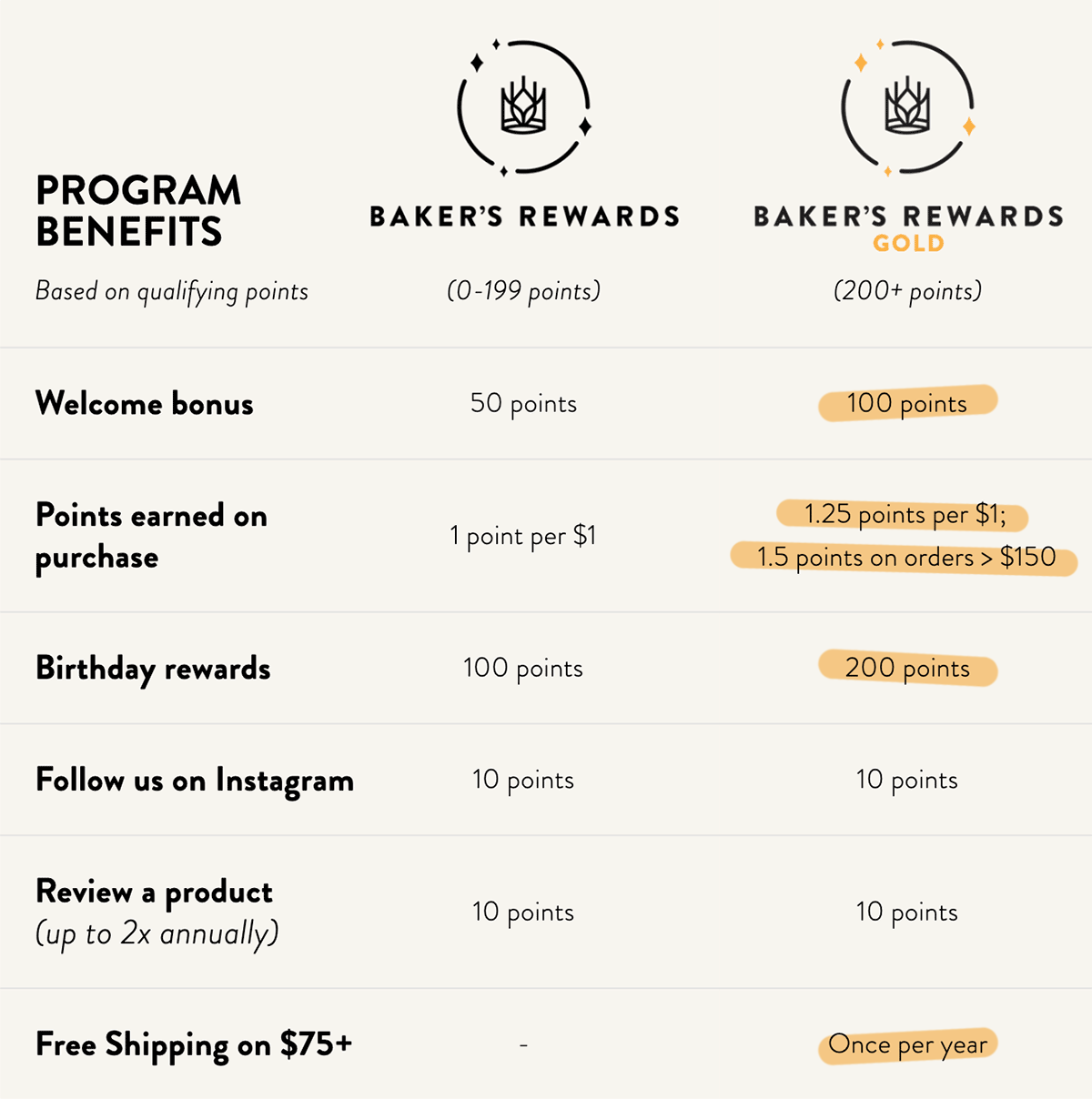 Baker's Rewards Gold
Baker's Rewards Plus is being retired! With this change comes an exciting addition to our Loyalty Program: Baker's Rewards Gold. As a Gold member, you'll earn points faster for even sweeter rewards. Enjoy 100 welcome points just for joining Baker's Rewards Gold, 1.25 points for every dollar spent shopping, and earn points through other activities like connecting on Instagram.
What happens to Baker's Rewards Plus memberships?
Existing Baker's Rewards Plus members will retain the benefit of free shipping for orders exceeding $25 until your program expiration date. If you are uncertain about your expiration date, we encourage you to reach out to our customer service team for assistance. Please note that Baker's Rewards Plus memberships will not be automatically renewed after their annual expiration date. Additionally, we are currently not accepting any new Baker's Rewards Plus memberships. However, we are excited to introduce you to Baker's Rewards Gold, which offers enhanced perks for passionate bakers like you.
How to become a Baker's Reward Gold member
Current Baker's Rewards Plus members as of June 2023 will enjoy a one-time, automatic enrollment in Baker's Rewards Gold. For all other Baker's Rewards members, you will be automatically upgraded to Baker's Rewards Gold if you've earned at least 200 points on purchases within the calendar year. All Baker's Rewards Gold memberships will be reassessed annually on January 1. If you have not met the threshold of an annual points earnings of 200 points or more, you'll be automatically changed to a Baker's Rewards member.
Additional point activities
You can earn a one-time upgrade bonus of 100 points upon enrollment into Baker's Rewards Gold. As a Baker's Rewards Gold member, you'll receive 200 bonus points on your birthday. To be eligible for the bonus points, your birthday date must be provided via your Rewards Dashboard two days before your birth date. See below for full program benefits.
Do I still have free shipping?

You will continue to receive free shipping on orders over $25 until your current membership expires. Your membership will expire 1 year from your last renewal date. Please reach out to customer service for an exact date.

How do I make sure my orders still qualify for free shipping if my Baker's Rewards Plus membership is active?

Just like before, to receive free shipping you'll need to make sure you're signed into your account and your merchandise total is over $25 before shipping/sales tax. If your membership is active and both these requirements are met you should see free shipping at checkout.

Will I be charged my annual renewal fee this year? Can I still renew if my membership expired?

We are no longer collecting payments for Baker's Rewards Plus or accepting new subscriptions to the program.

How can I still get free shipping once my membership has expired?

Baker's Rewards Gold members will receive one coupon per year for free shipping on orders over $75. We also continue to offer free shipping promotions regularly throughout the year.

What are the benefits of this new program?

With Baker's Rewards Gold you receive 1.25 points on every $1 and 1.5 point on every $1 for orders over $150. You also receive one free shipping coupon per year. This new program requires no paid membership fee. To be eligible for Gold status you must earn 200 or more points per calendar year.

What will happen to the points that were in my Baker's Rewards Plus account?

They rollover into your new Baker's Rewards Gold account.