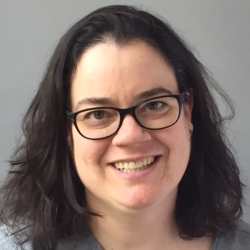 About Andrea Brown
Employee-owner since 2005
Employee-owner Andrea Brown's path to King Arthur was indirect. She grew up participating in her family's German and Scotch baking traditions, and during college worked in bakeries during the summer. But she left baking for academia, pursuing a Ph.D. in Molecular Physiology and completing a post-doctoral fellowship at Dartmouth. During this time she baked countless batches of scones and lemon bars to delight her classmates and de-stress by letting her hands do the work.
Eventually, however, baking called, and so this time Andrea left academia for baking, first becoming an intern in the pastry department of the bakery, then joining the Research and Development team, where she could combine her bench skills with her molecular insight, working on the development of our gluten-free mixes and sourcing. Andrea also helped support the inception of the sensory team, which she later led, and now does project management, sensory training and analysis, product development, food science and ingredient sourcing for the company. 
Currently, Andrea's favorite things to bake are bread, cinnamon buns, and pancakes. (Her preferred ratio of flours for pancakes is half King Arthur Unbleached All-Purpose Flour and half freshly ground whole wheat flour.) She also loves baking with any fruit that's local and in season.
When she's not baking, you might find Andrea volunteering with Willing Hands, a non-profit that helps recover fresh food in order to reduce waste and help neighbors in need. She's also been seen whizzing by on her recumbent trike around the Upper Valley, which she often rides to work.