Apple Muffins
Giving an everyday fruit the attention it deserves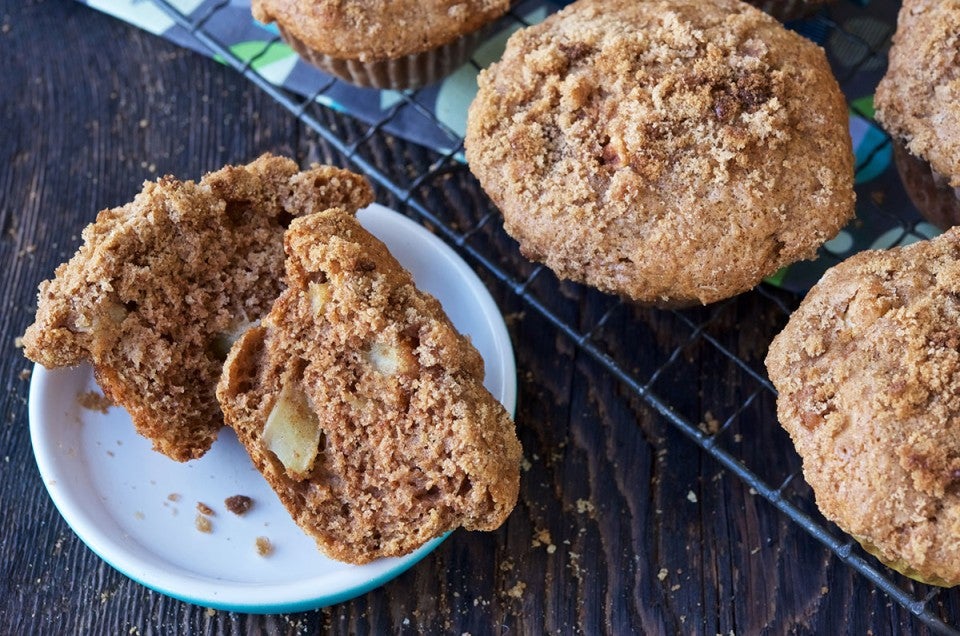 One of the things I love most about baking is how it can elevate simple ingredients to mouth-watering treats.
Take the humble apple. It's tossed into handbags, crammed into school lunchboxes, and always present in fruit bowls. It often gets passed over for something more tempting, like a pear or freckly banana. But once that apple becomes part of a pie, tart, or – better yet – apple muffins, it becomes irresistible.
Our Apple Muffins recipe is a year-round favorite of mine. Apples, even local ones, are typically available during each season since they can be stored for long periods of time.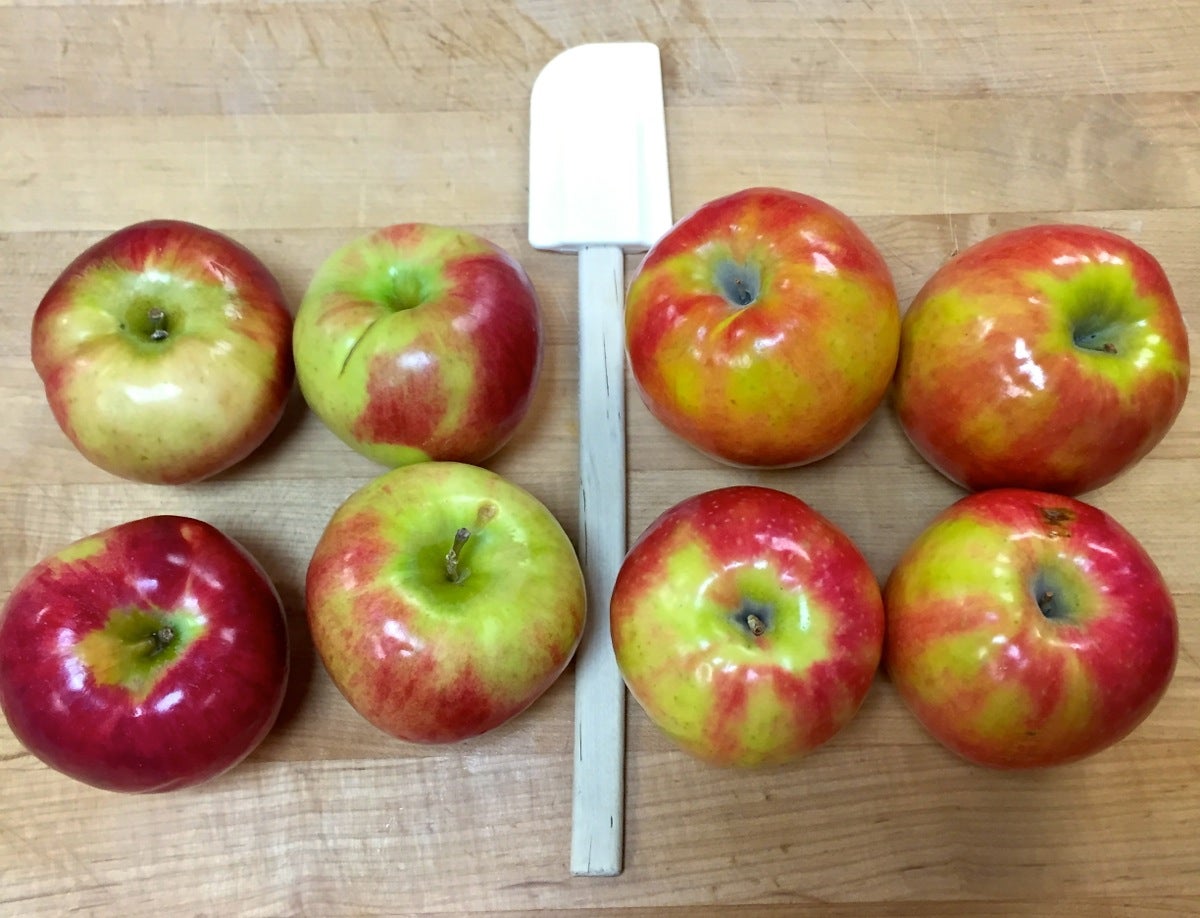 I like using a combination of Cortland and Pink Lady apples in this recipe for their juiciness and crunch. They make these apple muffins the perfect morning treat or afternoon snack: moist, slightly sweet, and packed full of freshness.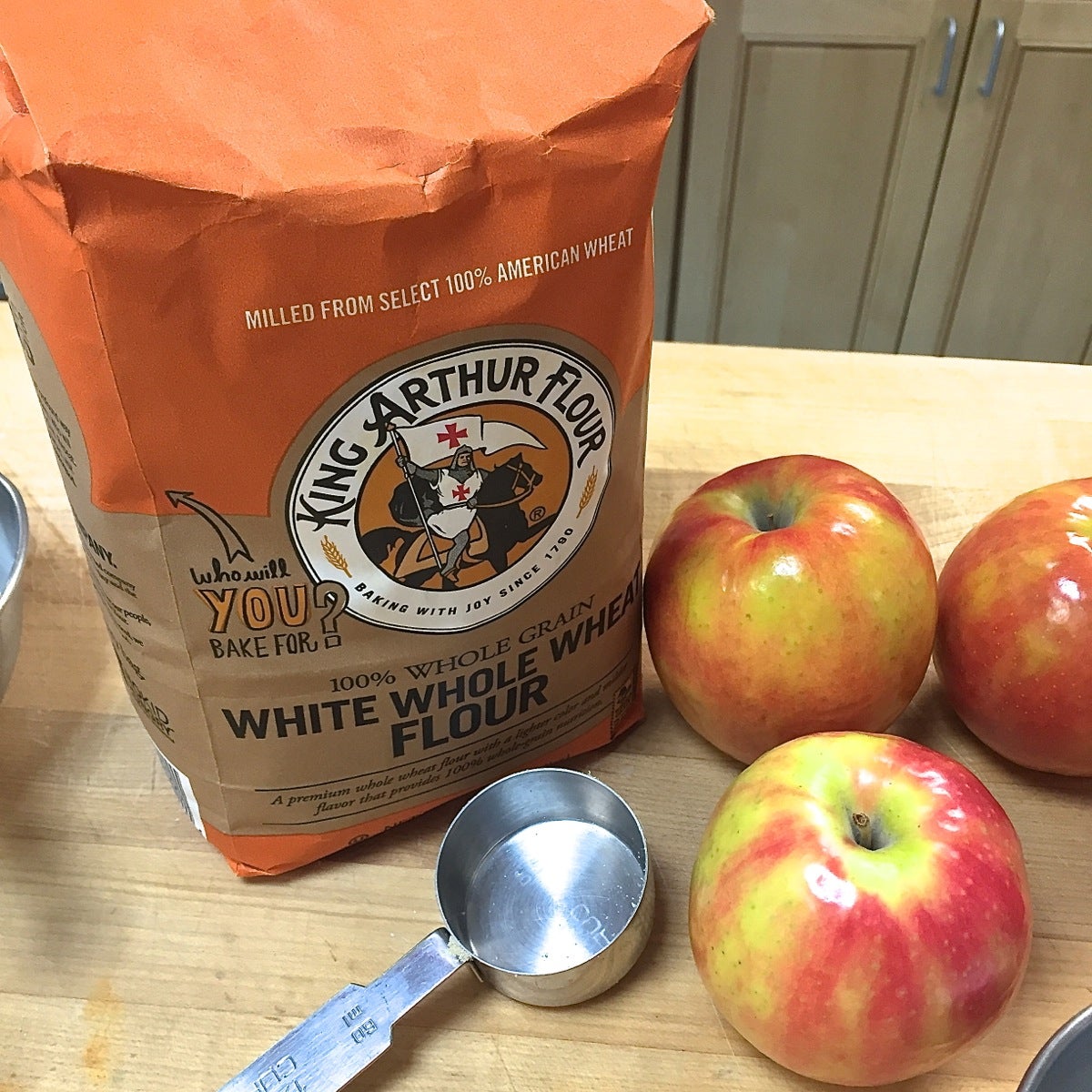 Another reason to love this recipe? It's 50% whole grain. The original recipe calls for 1 cup of white whole wheat flour and 1 cup of all-purpose flour. But since I can't get enough of the earthy, nutty flavor of our white whole wheat flour, we're going to see what happens when we use only white whole wheat to make 100% whole wheat muffins.
And we won't forget about white whole wheat's counterpart: traditional red whole wheat flour, a.k.a. King Arthur Premium 100% Whole Wheat Flour. We'll see how that holds up in a 100% whole-grain muffin as well.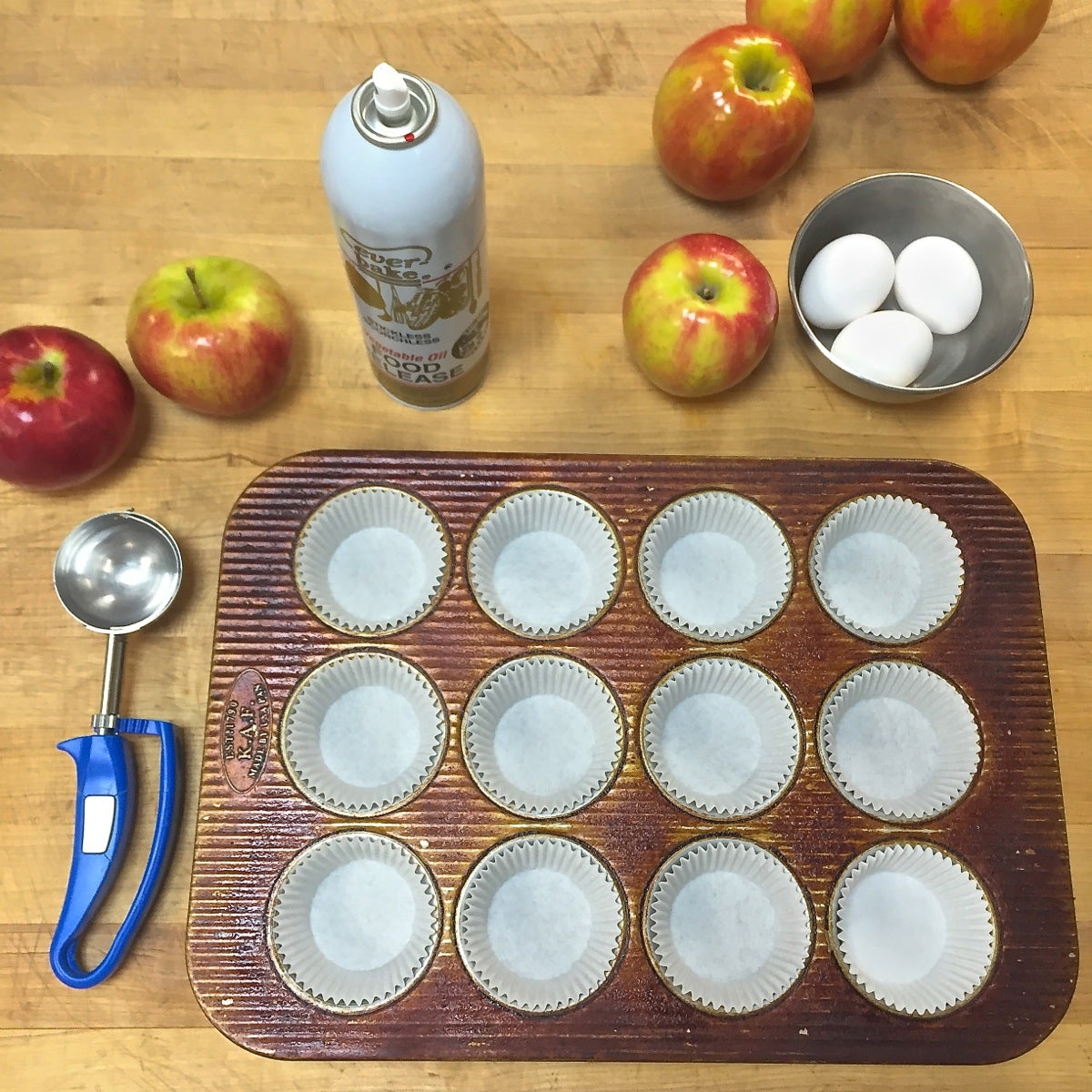 To get started, preheat your oven to 375°F. Grease and flour a 12-cup muffin pan or line it with papers.
Spraying the inside of the papers with non-stick spray will ensure an easy release. Our Everbake Pan Spray is a lifesaver when it comes to getting baked goods out of the pan.
Next, use a large mixing bowl to beat together the following ingredients until light and fluffy:
8 tablespoons (113g) unsalted butter, at room temperature
1/2 cup (99g) granulated sugar
3/4 cup (53g) brown sugar, divided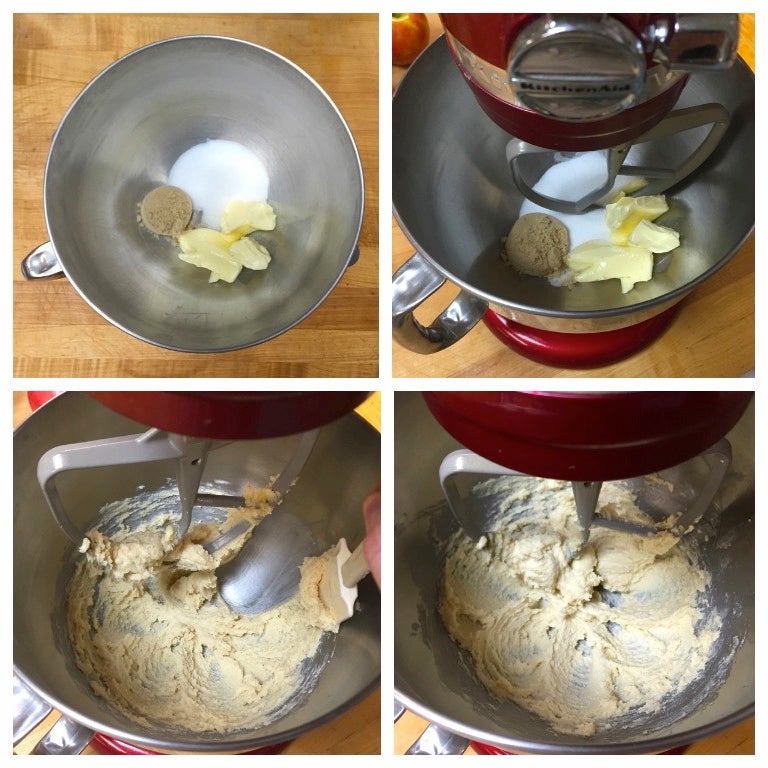 It will take about 2 to 3 minutes for the mixture to turn a light, creamy color using a stand mixer. (A hand mixer may take about a minute more.)
Be sure to scrape down the sides of the bowl at least once during mixing to make sure all of the ingredients are incorporated.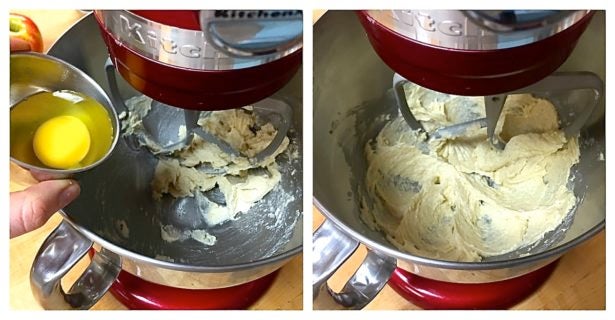 Add 1 large egg and mix well, scraping the sides of the bowl after about 30 seconds. The mixture will turn golden yellow and should look smooth.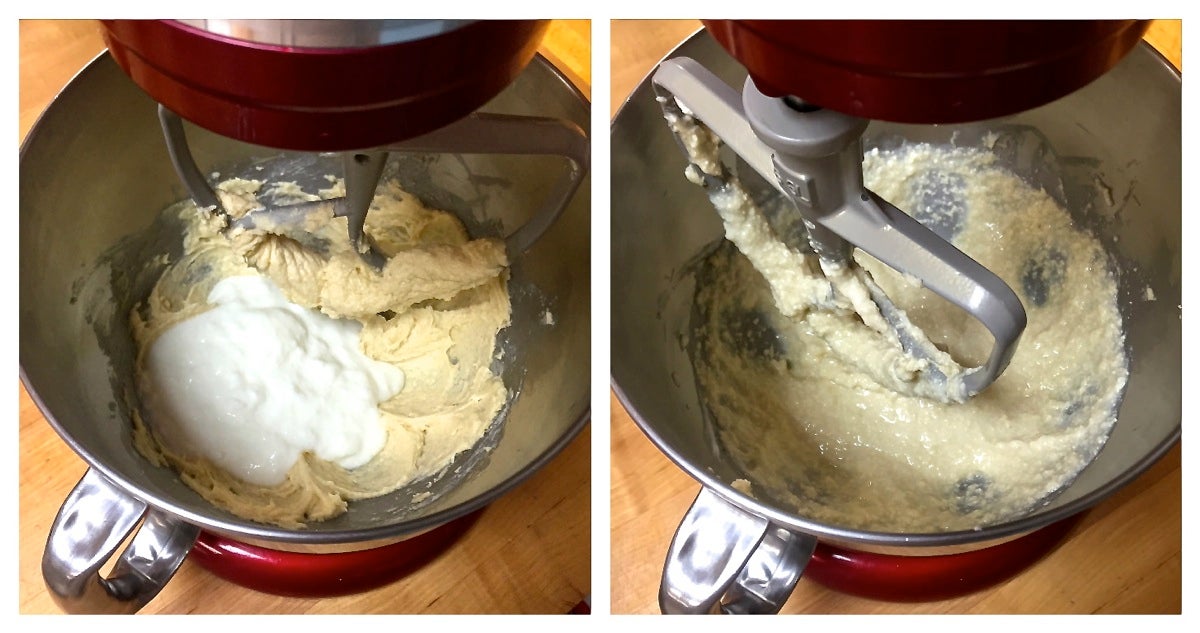 Next, mix in 1 cup (227g) of buttermilk or 1 cup (227g) plain yogurt. You can use any store-bought 2% or whole-milk, plain, unsweetened yogurt; higher fat content makes the muffins more tender.
If you stock your fridge with Greek yogurt, you can use that, too; just thin it out by combining 3/4 cup (170g) Greek-style yogurt + 1/4 cup (57g) milk.
The batter may look a bit curdled after you add the yogurt or buttermilk. This is OK. Once the dry ingredients are added, it'll smooth out.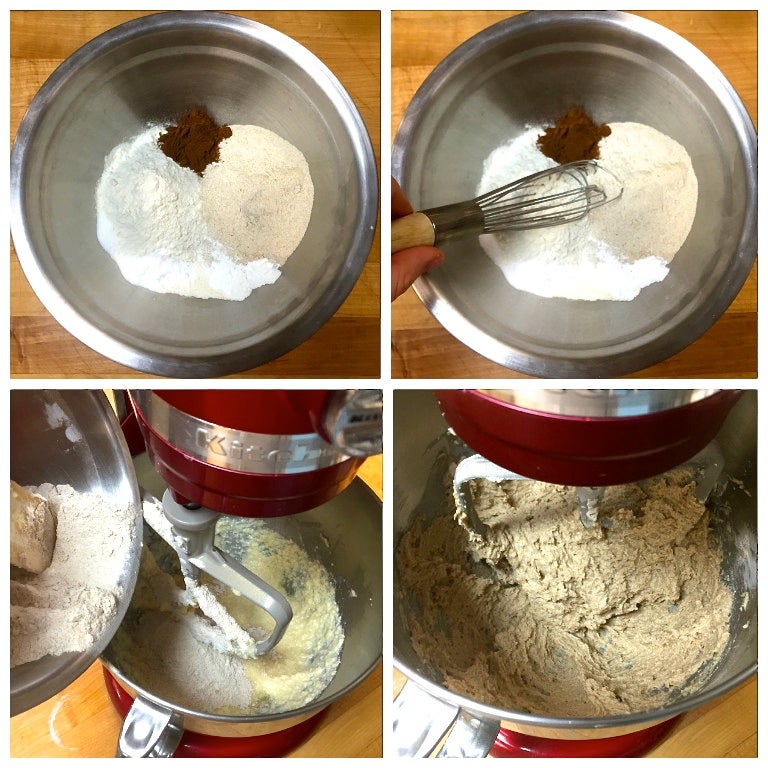 In a separate bowl, whisk together the dry ingredients below.
Why dirty another bowl, you ask? Stirring the dry ingredients together first allows you to mix the final batter less. Less mixing = more tender muffins.
1 cup (113g) King Arthur White Whole Wheat Flour
1 cup (120g) King Arthur Unbleached All-Purpose Flour
1 teaspoon baking powder
1 teaspoon baking soda
1/4 teaspoon salt
1 tablespoon ground cinnamon
Mix on low speed just until the ingredients are incorporated. Don't forget to scrape!
Now it's time for the star of the show – the apples. You'll need about 2 cups (213g) of peeled, cored, and chopped apples. Depending on the size of your apples, it will take between 2 and 3 apples (about 3/4 pound of whole apples).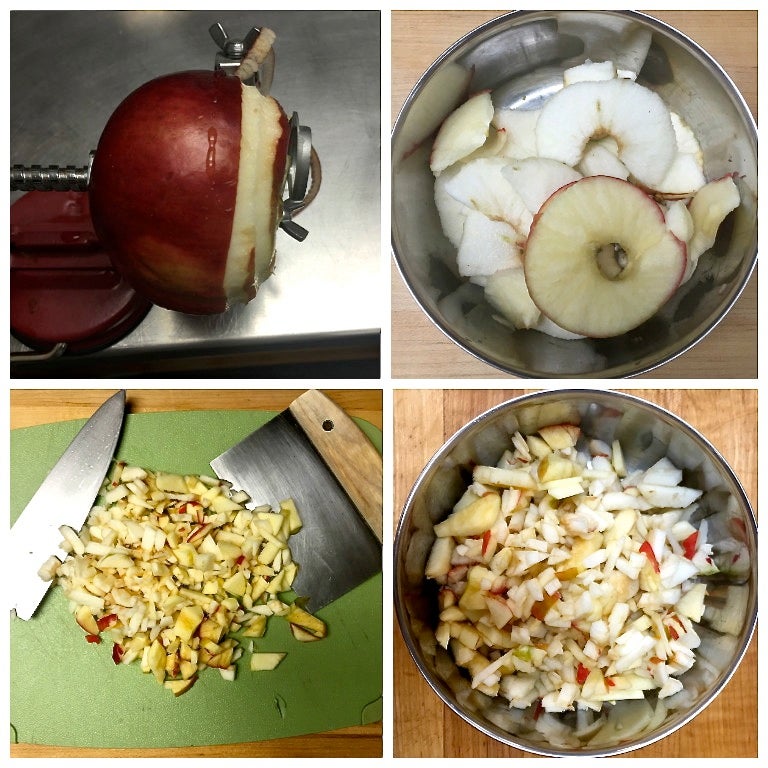 To save yourself time and energy you can use an apple peeler, which not only peels, but also cores and slices the apples in one go.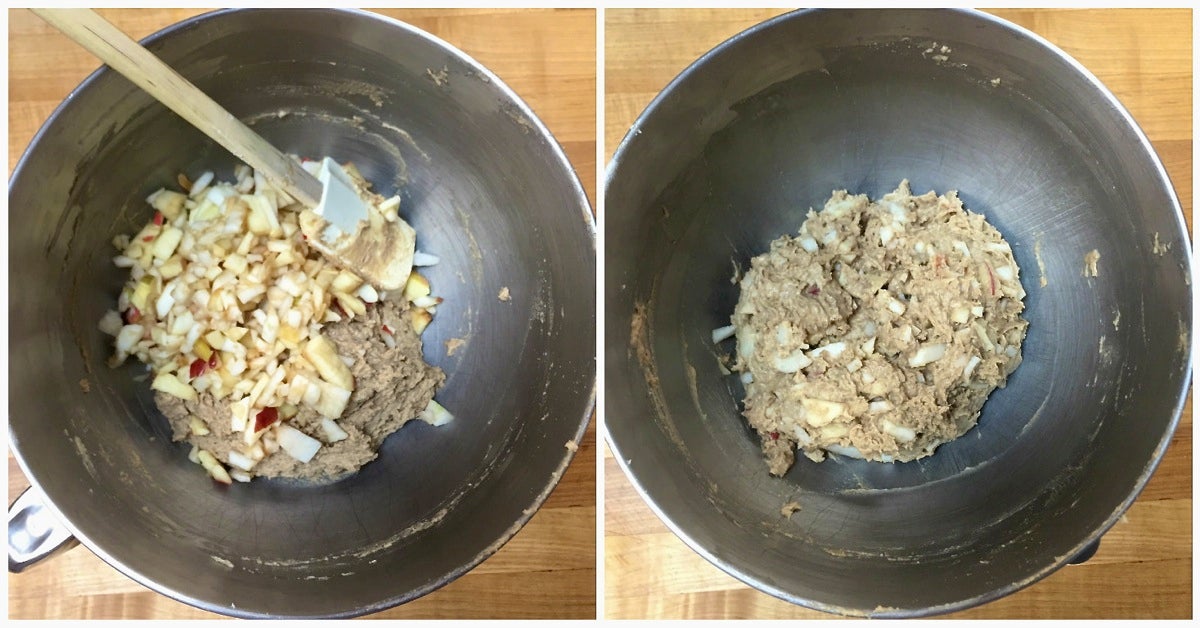 Fold the chopped apples into the batter.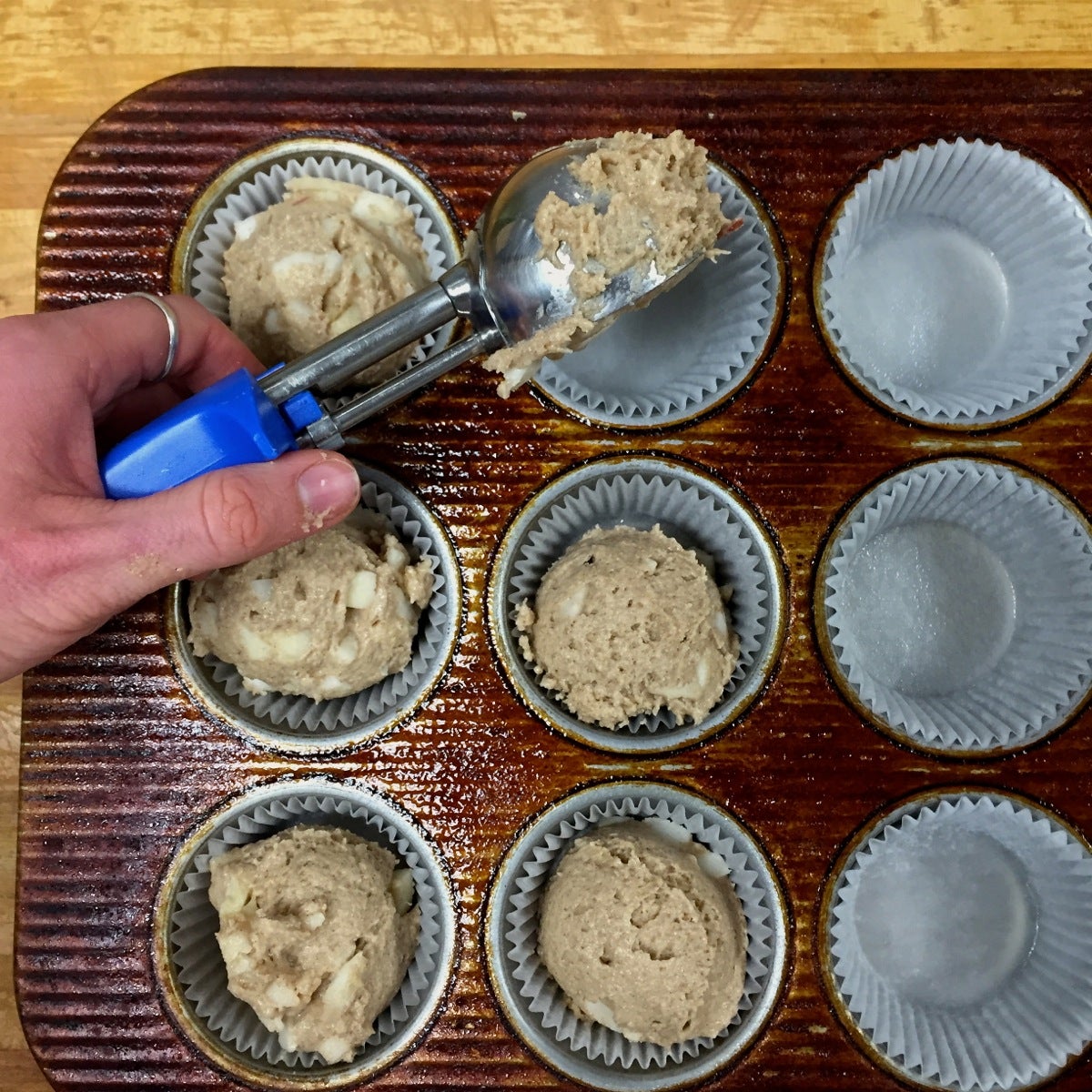 Divide the batter evenly among the 12 muffin cups. Our scone and muffin scoop is just about the right size (or use a heaping 1/4 cup of batter for each muffin). You can wet your fingers with water and smooth out the tops to make smooth, nicely domed muffins.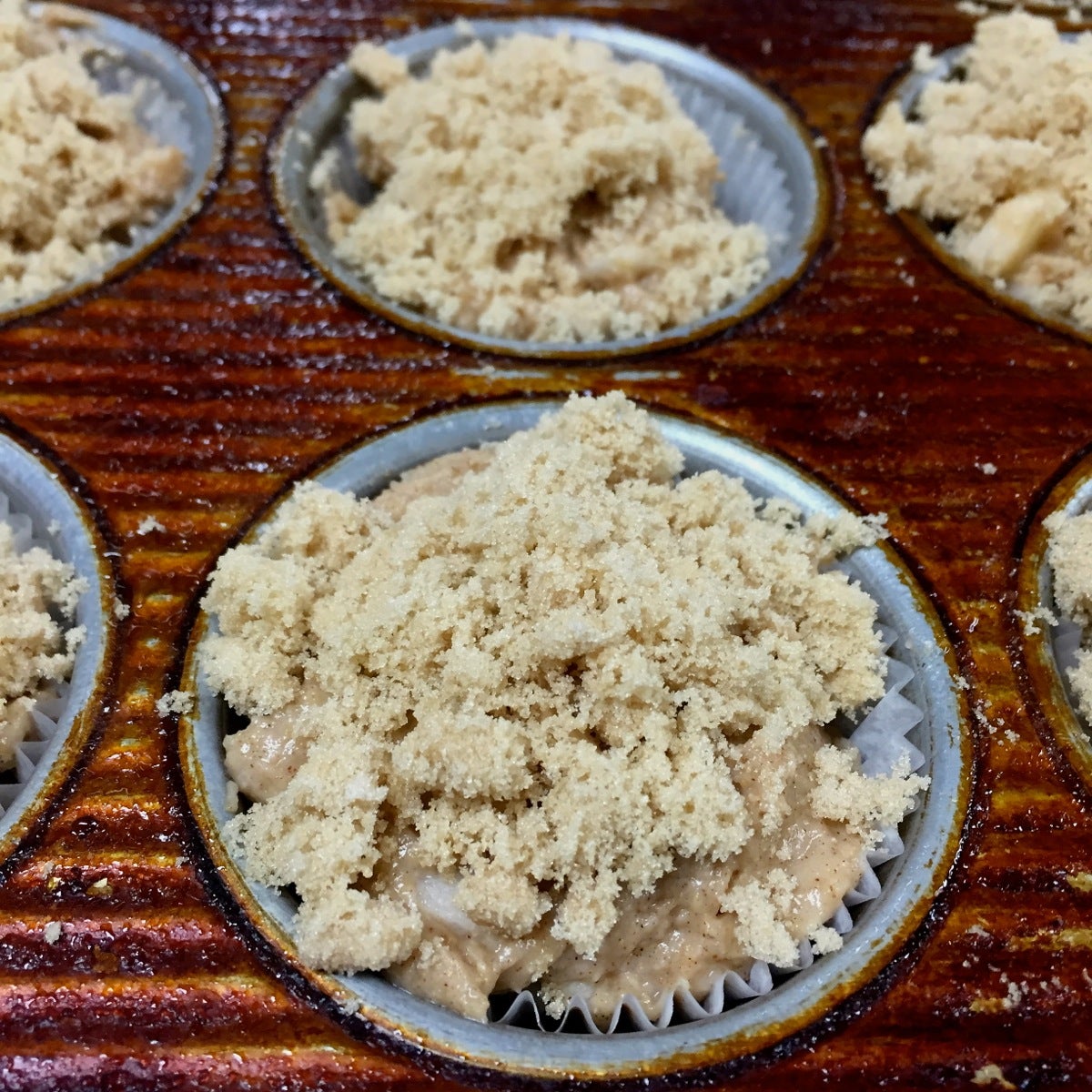 Did I mention these apple muffins have a sweet crunchy topping of brown sugar? Sprinkle the remaining 1/2 cup brown sugar evenly over the top of the muffins, making a streusel-like topping. Biting into the crackly top is my favorite part.
Bake the muffins for 25 to 30 minutes, or until a toothpick inserted into the center comes out clean and the brown sugar turns a caramelized golden color.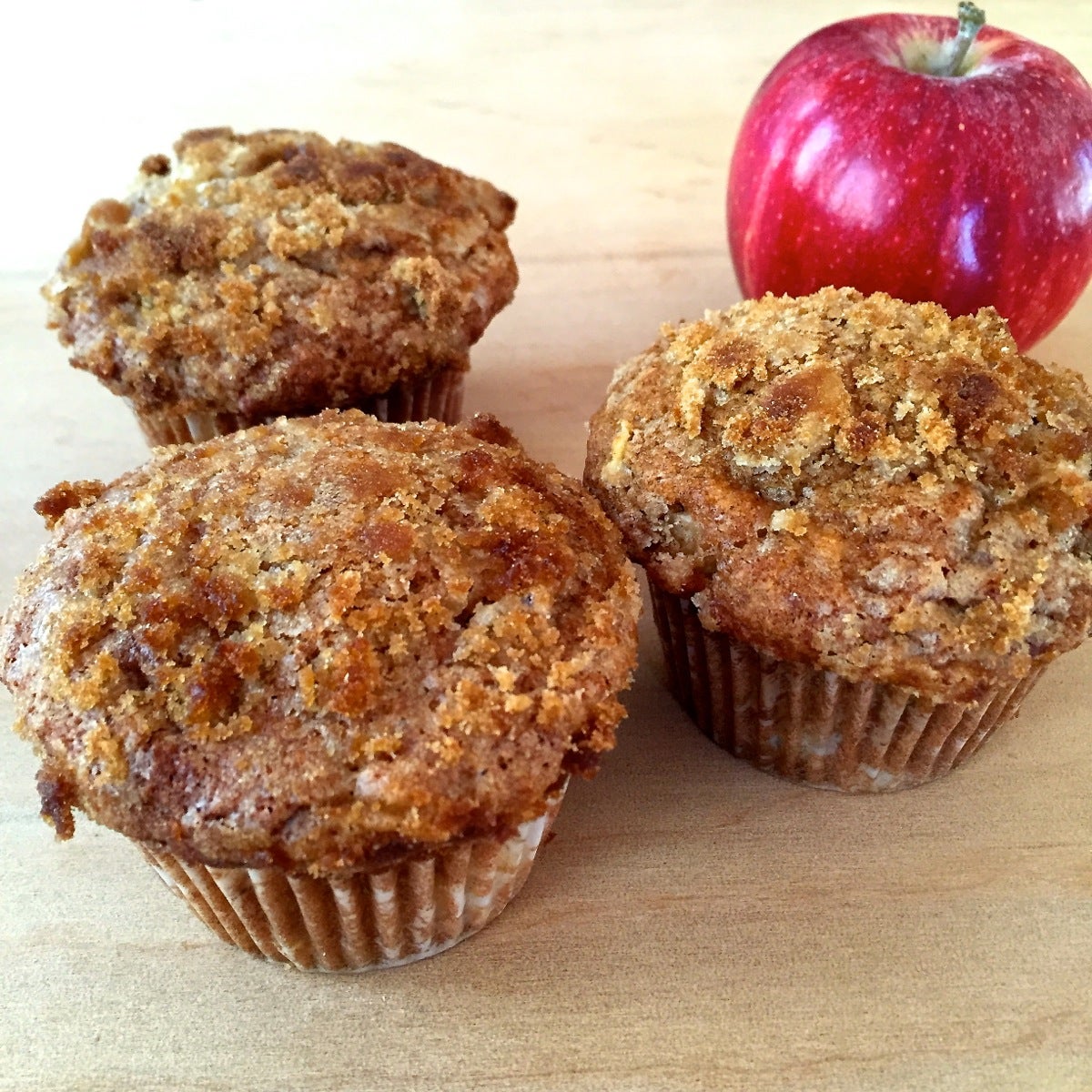 There's so much to love about these apple muffins as they are: just the right amount of sweetness with a tender, moist crumb. But some of you whole grain-lovers may not be satisfied using only 50% whole wheat.
I was curious, too, about what would happen if the recipe was made using only whole wheat flour. I put both of our whole wheat flours to the test by making two versions of the recipe: one batch using our White Whole Wheat Flour, milled from white wheat; and the other using our Premium Whole Wheat Flour, milled from red wheat.
The results? The batters were similar in texture: a bit thicker than cake batter, but still easily scoop-able.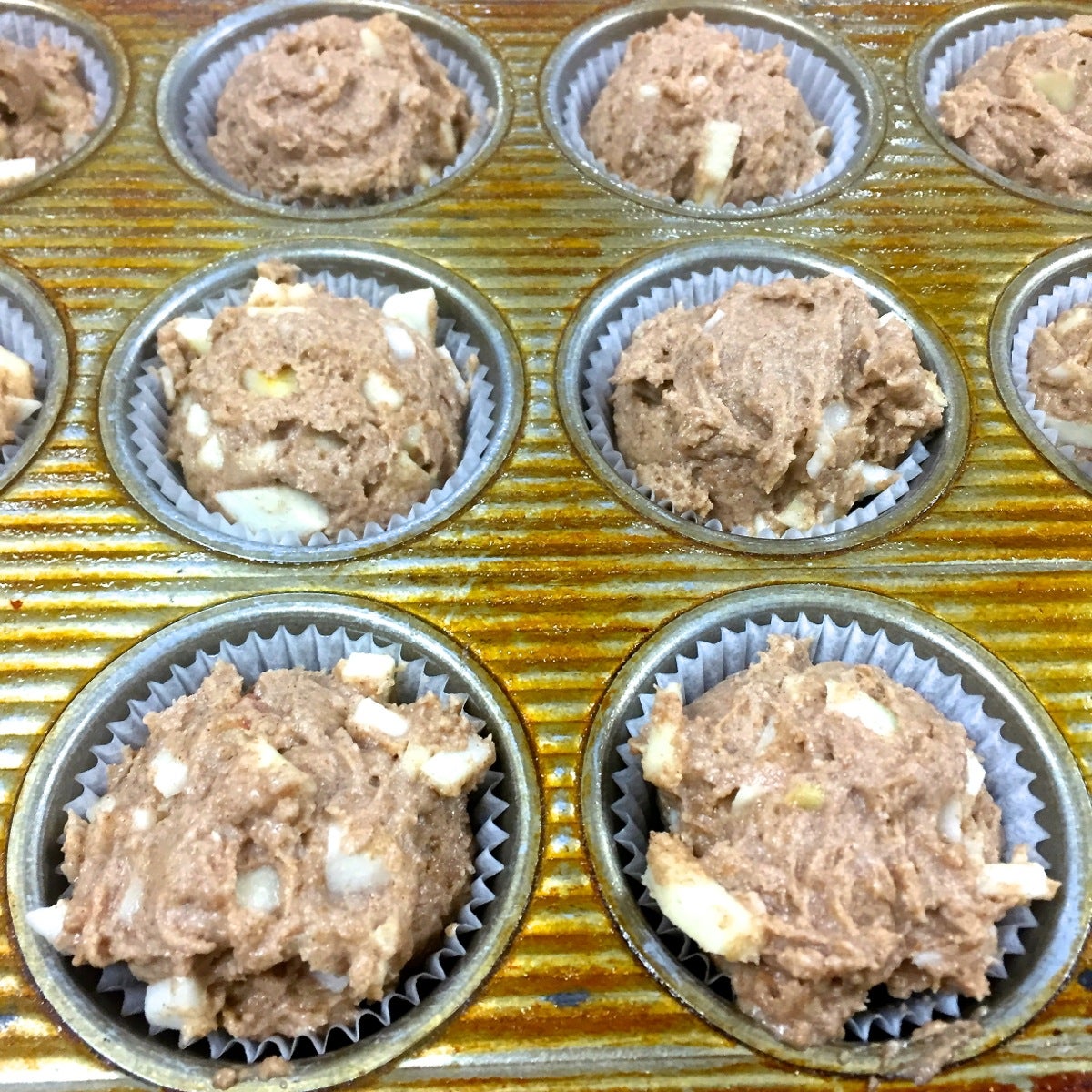 One difference between the two test batches was the color. Red whole wheat flour is known for being less discreet than its lighter relative, white whole wheat. It's more assertive in "wheaty" flavor, and has a slightly reddish-brown hue.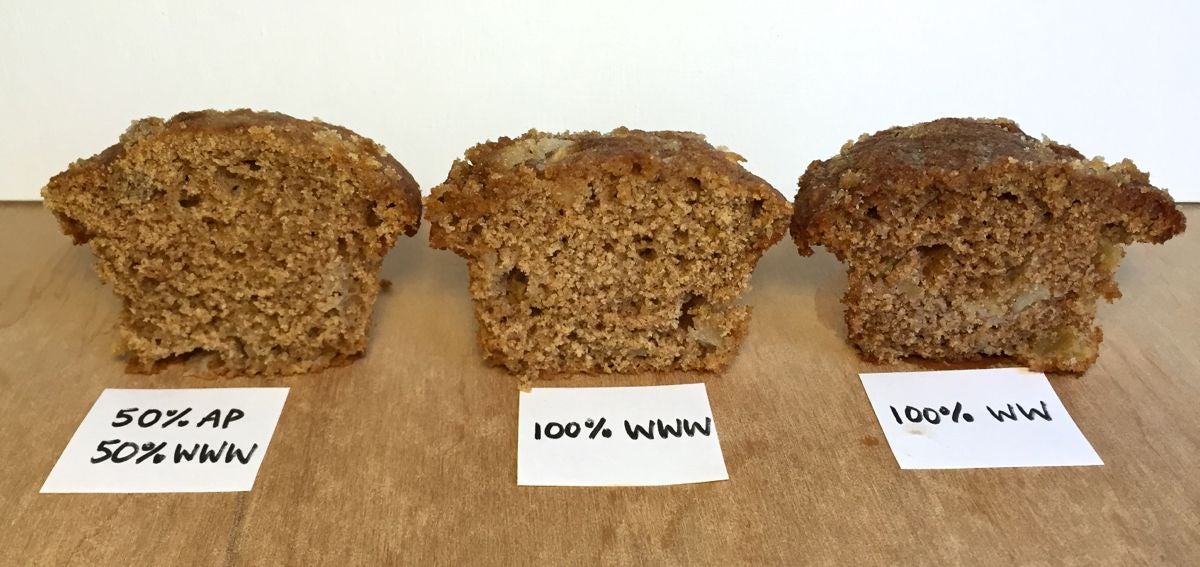 Not only was the red whole wheat batter darker in color, but the resulting muffins were notably darker, too.
Let's check out the rise: the 100% white whole wheat version rose slightly less than the 50% all-purpose version did, but the color, texture, and flavor of these two were almost identical. (And equally delicious!)
The two batches made entirely from red whole wheat or white whole wheat rose about the same amount. For a whole-grain muffin, they were unexpectedly light – pleasantly delicate I'd say, and just as moist as the original. Whole-grain success!
One notable difference: the 100% whole wheat muffins were a bit more crumbly than those made with 50% all-purpose flour. That's because the bran that's present in whole wheat flour damages the gluten, the network of proteins that holds everything together. I would recommend using paper liners if you're making 100% whole wheat muffins, to help you catch (and then eat!) any crumbs.
What about the flavor of the red whole wheat apple muffin? The earthy, nutty flavor of the flour made it stand out from the other two. The whole wheat complemented both the sweetness of the apples, and the molasses flavor in the brown sugar topping. This muffin won the taste contest in my book.
Bottom line: if you love whole wheat flavor, our Premium 100% Whole Wheat Flour is for you. But if you're not a fan of whole wheat's assertive taste (though still want its nutritional benefits), choose our milder, lighter White Whole Wheat Flour.
The same goes if you're trying to sneak more whole grains past skeptical kids or picky eaters: definitely choose the white whole wheat apple muffins. In a taste test, it's hard to tell the difference between muffins made 50/50 with all-purpose and white whole wheat flours, and those made entirely of white whole wheat.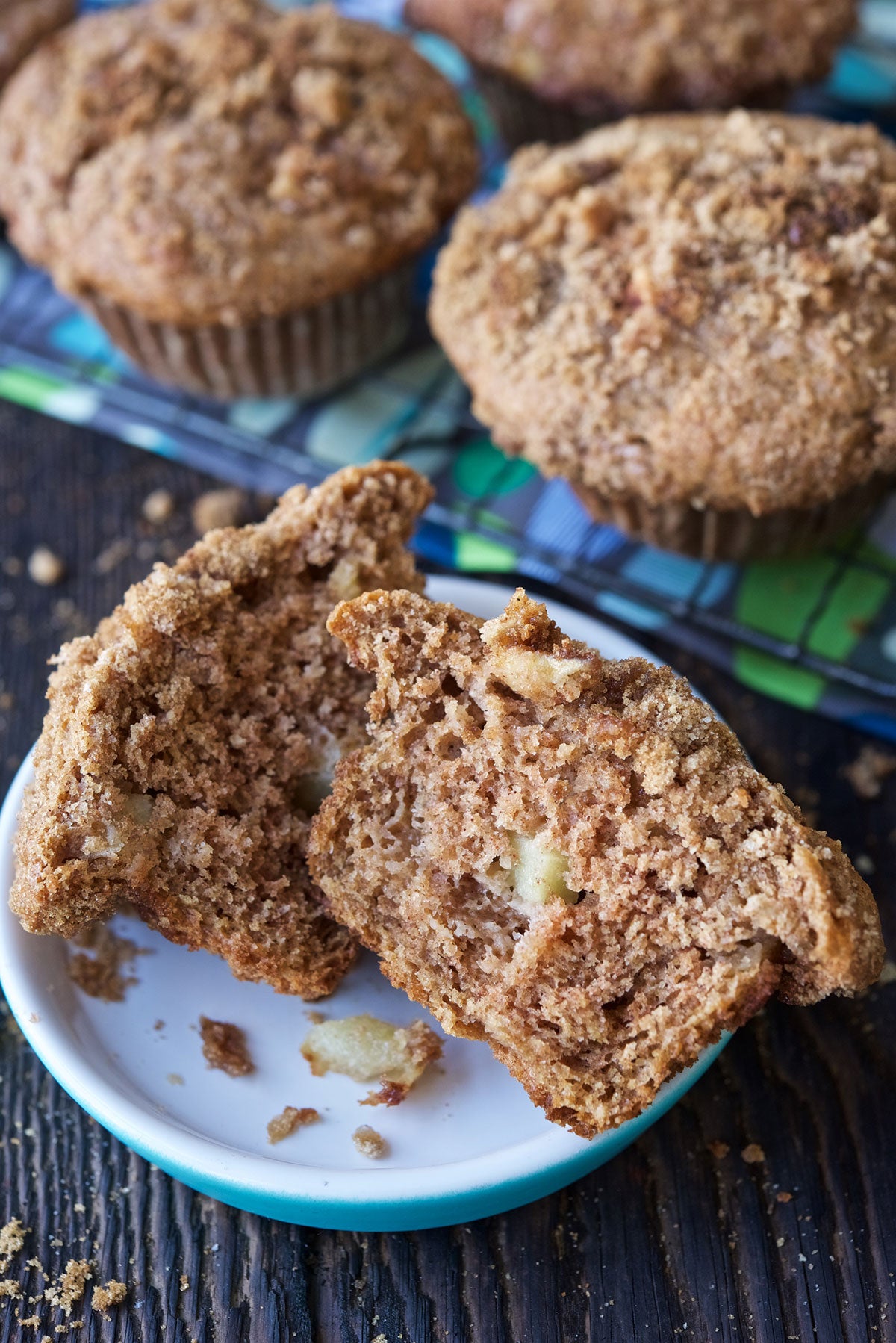 In the end you really can't go wrong, no matter which version you choose: a whole wheat/all-purpose flour blend, or 100% whole wheat, either white or red. Anyone lucky enough to get their hands on a few apple muffins will gobble them up with no complaints, guaranteed.
If you find yourself hooked on using our white whole wheat flour in your baking, be sure to check out our Complete Guide to White Whole Wheat Flour for information on how to use it in your favorite recipes.
And the next time you see a few lonely apples in the fruit bowl, give them the treatment they deserve. These brown-sugar topped apple muffins are a treat you'll keep coming back to, no matter what season it is.
Please read, bake, and review our recipe for Apple Muffins.
Feel free to share your favorite way to elevate the everyday apple into mouth-watering treats in comments, below.
Jump to Comments