"Wow!! I've been gluten-free for 4 months and I thought my other recipes were as good as it was going to get... This tastes like the REAL thing! My picky non-celiac husband said it tasted like real pizza!" – Ingrid, Maine
"Oh my word!!! My son has been gluten-free for 10 years. I have made every variation of every pizza crust attempt and this outweighs them ALL! He has eaten 5 pizzas in 5 days... and would have had more but his poor mother can't make them fast enough! Thanks King Arthur Flour!" - Jen, New Jersey
"This is one of the best pizza crusts I have tried." - Diana, Montana
"I was a bit dubious whether the dough would bake up nicely, as it looks, feels and handles differently than a gluten dough. I never should have doubted you King Arthur! The crust turned out beautifully light and crisp! Best of all, my husband is happy! Again, a thousand thanks!" - MZH, North Carolina
Our readers say it best – if you need to bake gluten-free, this pizza crust recipe is going to make you very, very happy indeed. Without further ado, let's make a GF pizza.
Now, you have two choices for flour here. Our Gluten-Free All-Purpose Flour is pre-blended, so you can use it "straight" – no need to combine multiple flours. It's a carefully tested blend of white rice and whole-grain (brown) rice flours, tapioca starch, and potato starch.
This blend is not only handy; it includes ingredients that reduce the grittiness sometimes found in gluten-free baked goods. It also increases the shelf life of your treats, keeping them fresh longer. Which really isn't key for pizza... so let's move to the  homemade option.
If you'd rather make your own blend of GF flours, the following brown rice flour blend, featuring stabilized brown rice flour, works well when substituted for our GF all-purpose flour; and it tastes better than a blend using regular brown rice flour. The recipe below makes 9 cups, so you'll have plenty for future GF baking projects.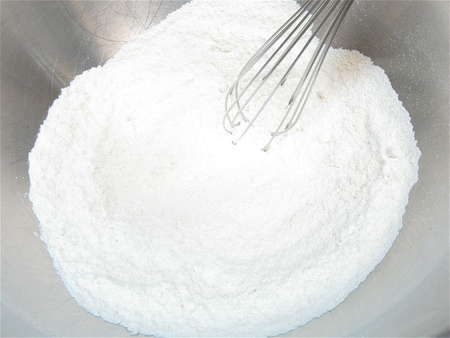 Whisk together 6 cups (32 ounces) stabilized brown rice flour; 2 cups (10 3/4 ounces) potato starch; and 1 cup (4 ounces) tapioca starch or tapioca flour. Store airtight at room temperature. Note: You can substitute white rice flour for the brown rice flour if you like; it'll make your baked goods grittier (unless you manage to find a finely ground version).
Now, on to our crust.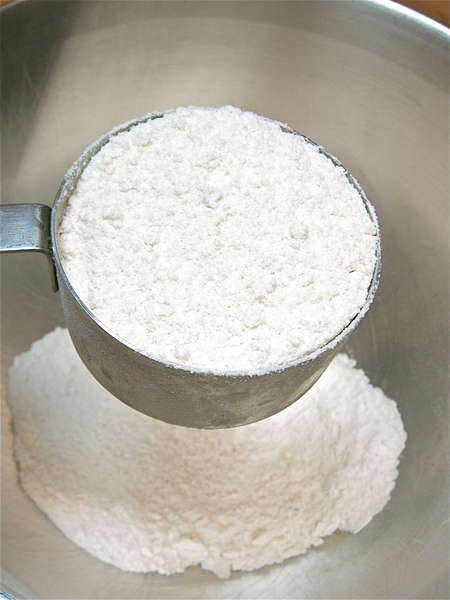 Put the following in a mixing bowl:
1 1/2 cups Gluten-Free All-Purpose Flour or brown rice flour blend
2 tablespoons buttermilk powder or nonfat dry milk powder
1 tablespoon sugar or honey
1 teaspoon baking powder
3/4 teaspoon salt
1 teaspoon xanthan gum
Whisk to combine.
Aw, do I REALLY need the xanthan gum? I don't have any. What happens if I leave it out?
Your pizza crust falls apart. Yes, you really do need xanthan gum; it steps in for the missing gluten to provide baked goods with their structure.
If you're going to be baking gluten-free, bite the bullet – buy some xanthan gum.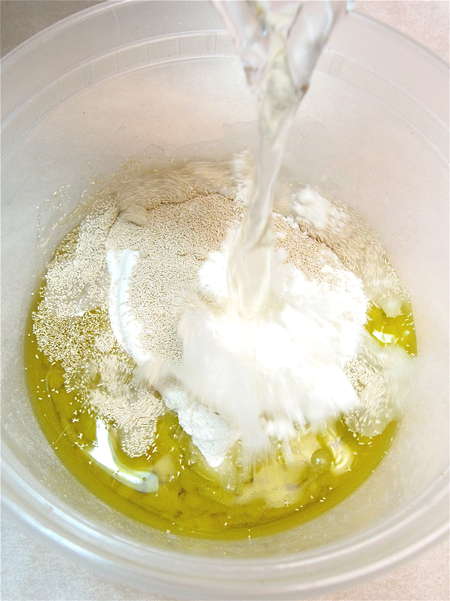 In a separate bowl or measuring cup, combine the following:
1 1/2 teaspoons instant yeast
1 cup warm water
2 tablespoons olive oil
Scoop 1/2 cup of the GF all-purpose flour or brown rice flour blend from the other bowl, and add it to this liquid mixture.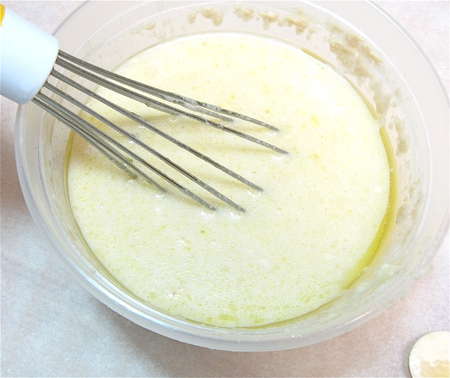 Stir to combine; a  few lumps are OK.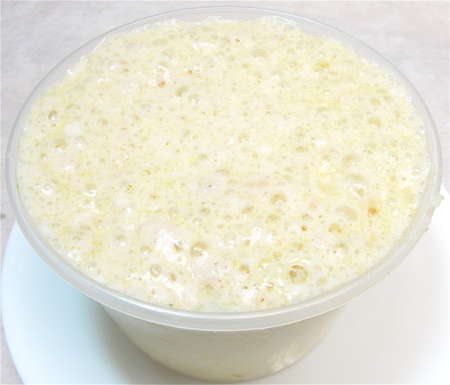 Set aside for 30 minutes or so, until the mixture is bubbly and smells yeasty.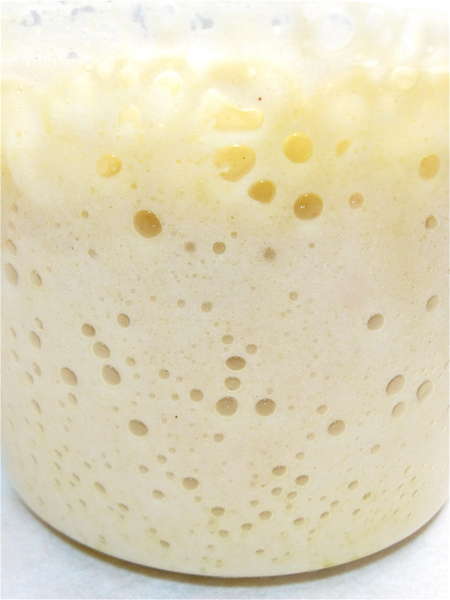 Look at that yeast go!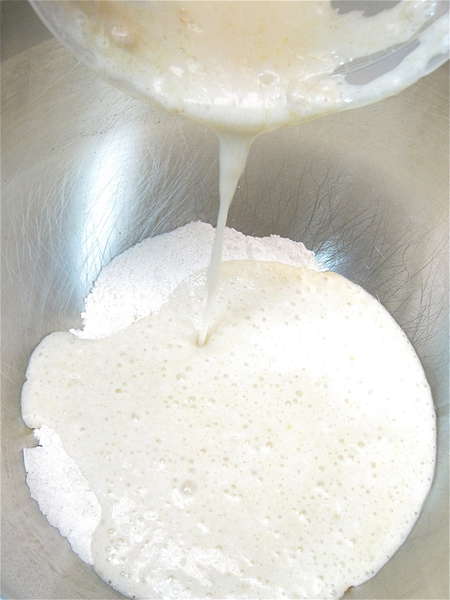 Add the yeast mixture to the dry ingredients you stirred together earlier.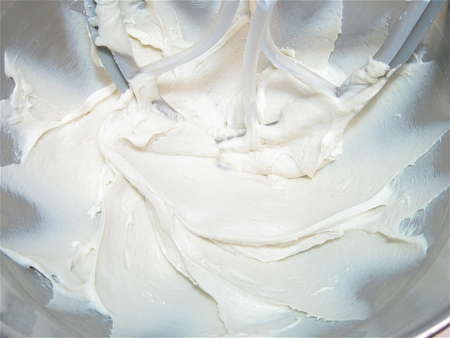 Beat on medium-high speed for 4 minutes, using an electric mixer. Yes, you must use a stand mixer or electric hand mixer to make this dough; mixing by hand doesn't do a thorough enough job.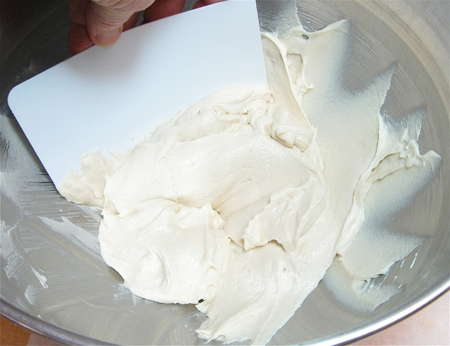 The mixture will be thick and sticky; if you've ever applied spackling compound to a wall, that's exactly what it'll look and feel like.
Cover the bowl, and let the dough rest for 30 minutes or so.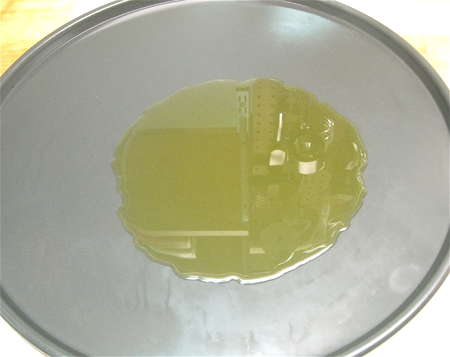 While the dough is resting, grease a baking sheet or ≈ round pizza pan, and drizzle 2 tablespoons olive oil into the center.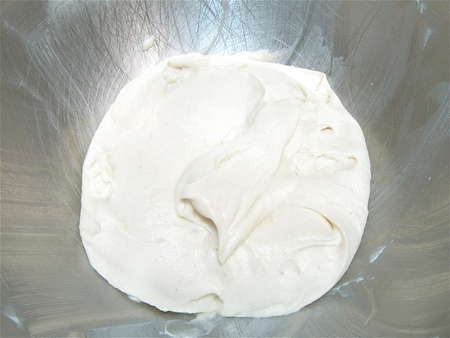 Let's go back to the dough. It doesn't look like it's done much, does it?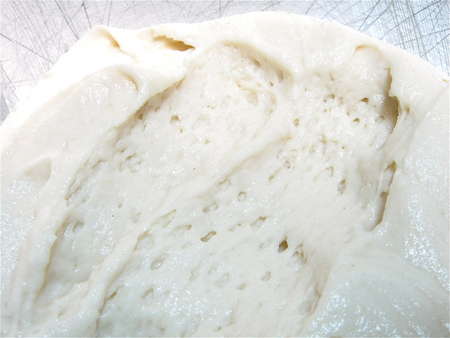 But take a peek underneath the surface – the yeast is doing its thing.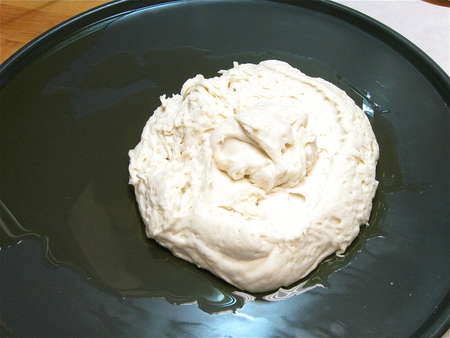 Scrape the dough from the bowl onto the puddle of oil.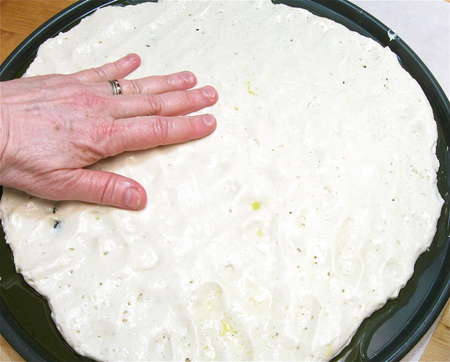 Using your wet fingers, start at the center of the dough and work outwards, pressing it into a 12" to 14" circle.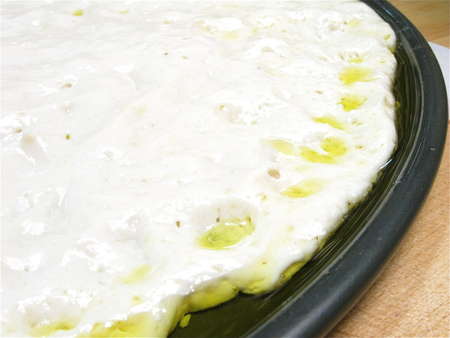 Let the dough rest, uncovered, for 15 minutes. As you can see, there's plenty of oil to keep it moist.
Don't like using so much oil? Your choice. But all of us here at King Arthur much preferred gluten-free pizza with an ultra-crisp bottom crust, an attribute only oil can give. And besides, 2 tablespoons of oil divided by 8 slices is less than 1 teaspoon per slice.
Preheat the oven to 425°F while the crust is resting.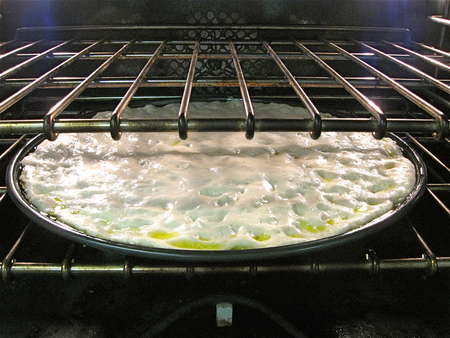 Put the pan on a lower rack, and bake the crust for 8 to 10 minutes, just until it's set.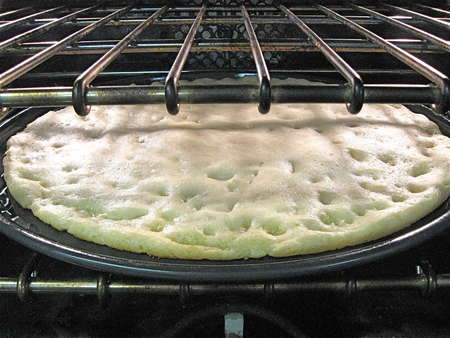 The surface will go from shiny to matte.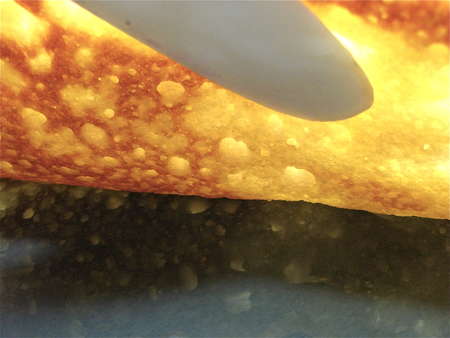 Remove the crust from the oven, and take a look underneath; it should be browning nicely.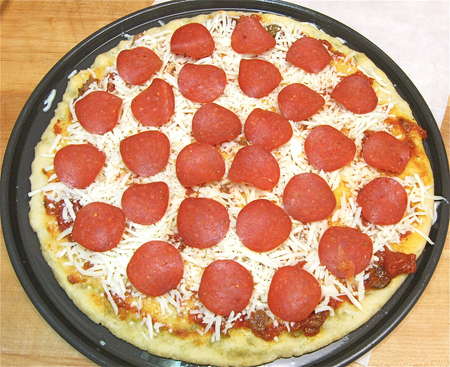 Top crust with whatever you like. Here we're using classic red sauce, mozzarella, and pepperoni.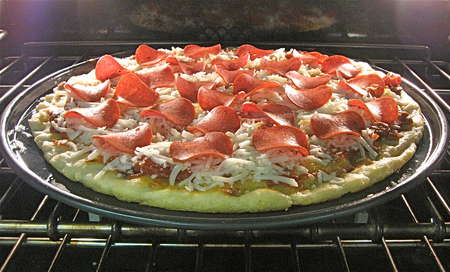 Return to the oven to finish baking, about 10 to 15 minutes depending on the toppings you've chosen.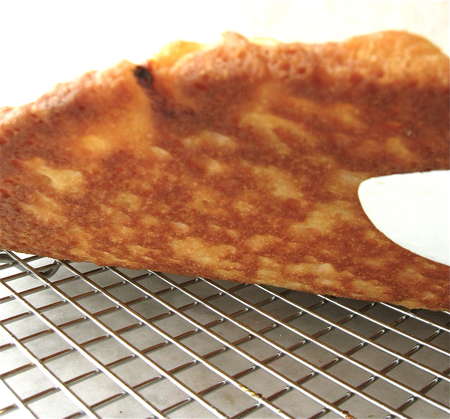 Remove from the oven. Gluten-free baked goods can tend towards gumminess; this crust, with its beautifully crisp, brown bottom avoids that pitfall.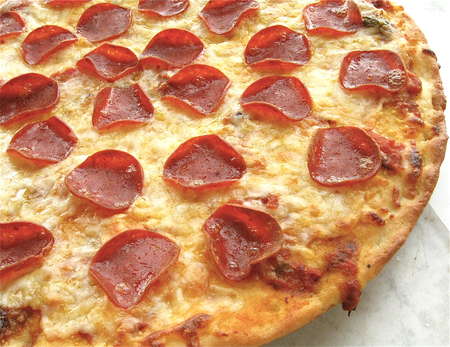 Serve warm – with kudos from your GF friends.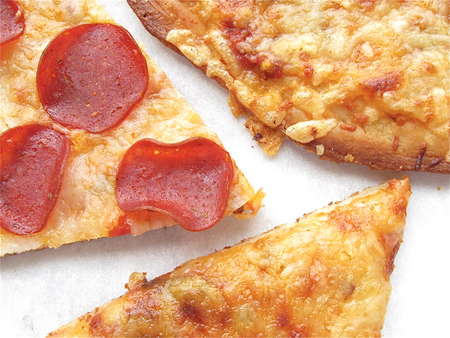 A plain cheese version is fine for your vegetarian buddies.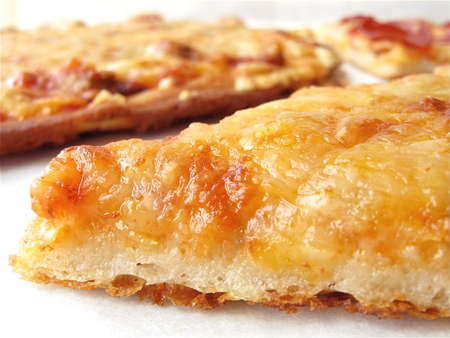 And, feel free to make the crust a bit thicker, if you like. After all, not everyone likes "thin 'n' crispy."
Read, rate, and review (please) our recipe for Gluten-Free Pizza Crust.
Jump to Comments