When you think scones, what flavor immediately springs to mind? If it's cream tea, I'd wager you're a devoted Downton Abbey fan. If cinnamon, you may have had your first scone experience at Starbucks. Perhaps you're already in autumn mode, eager for your first pumpkin scone. But I'm betting not too many of you think, "Ah, peach scones…"
Peach scones? Well, why not? Apple scones rule in September; strawberry scones make us swoon in June. And seasonally speaking, mid- to late summer is prime time for peach scones.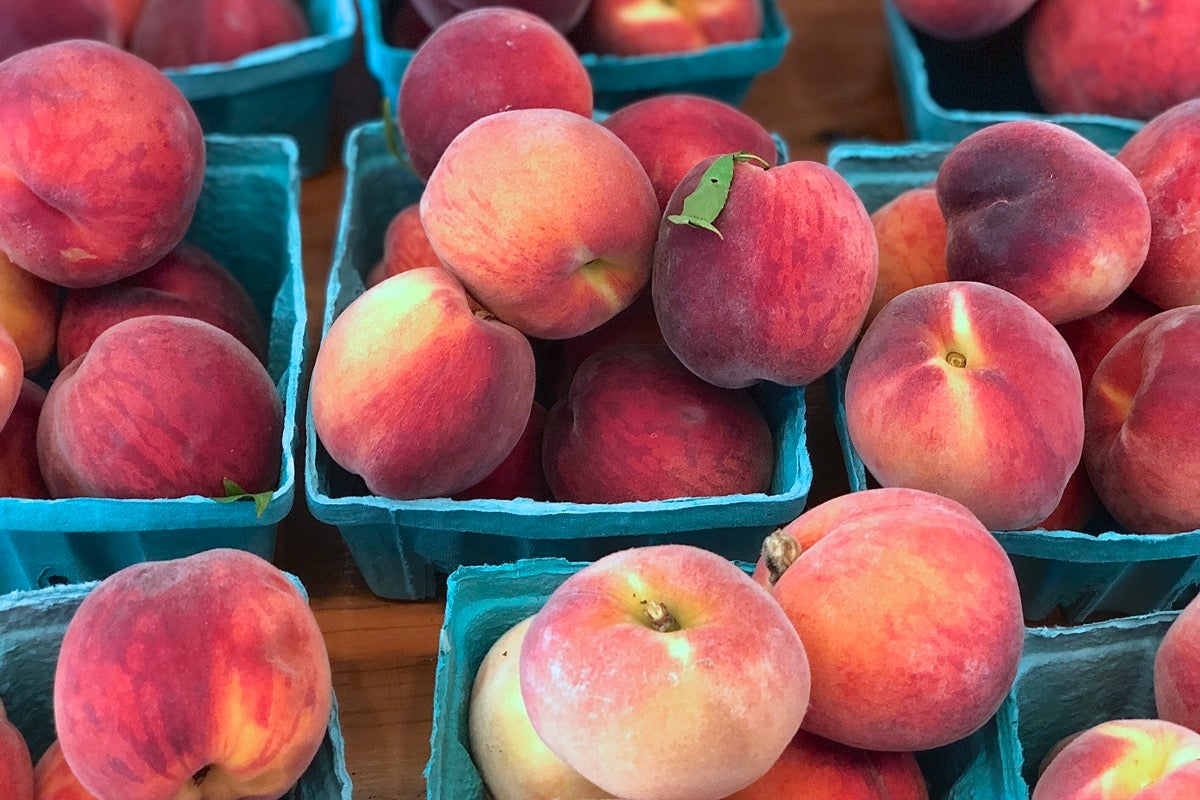 In fact, fresh peaches have just come into season up here in the Northeast, and cobbler and crisp will have to wait. I'm psyched to make these rosy beauties into Tender Peach Scones. 
Tender Peach Scones: the basic formula 
First, let's go through this recipe step by step; you'll see just how easy it is.
Preheat the oven to 375°F with a rack in the upper third. Lightly grease a baking sheet, or line it with parchment.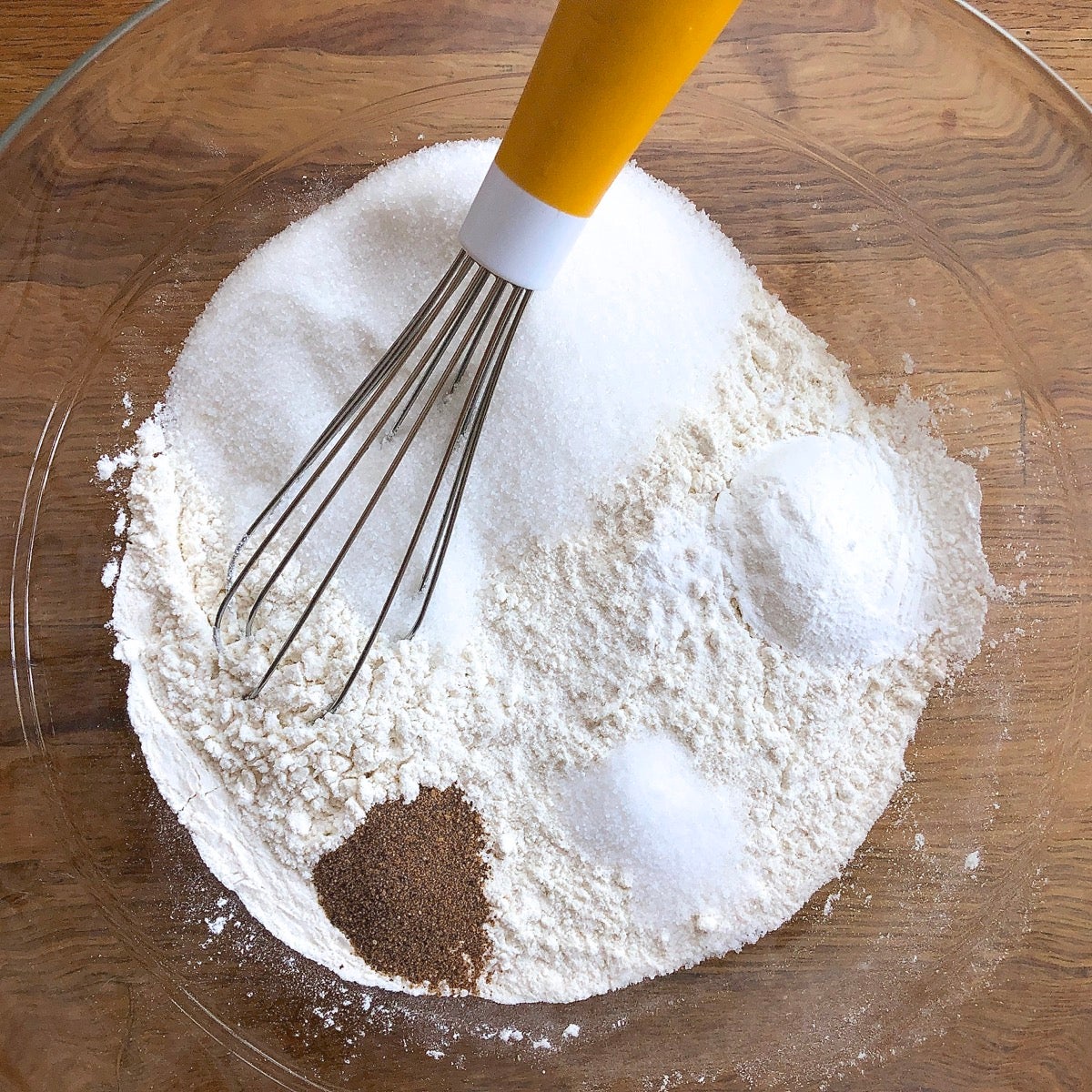 Mix the dry ingredients
Place the following ingredients in a medium-large mixing bowl:
*Don't like nutmeg? Substitute ground cinnamon, or simply leave out the spice altogether.
Whisk everything together thoroughly.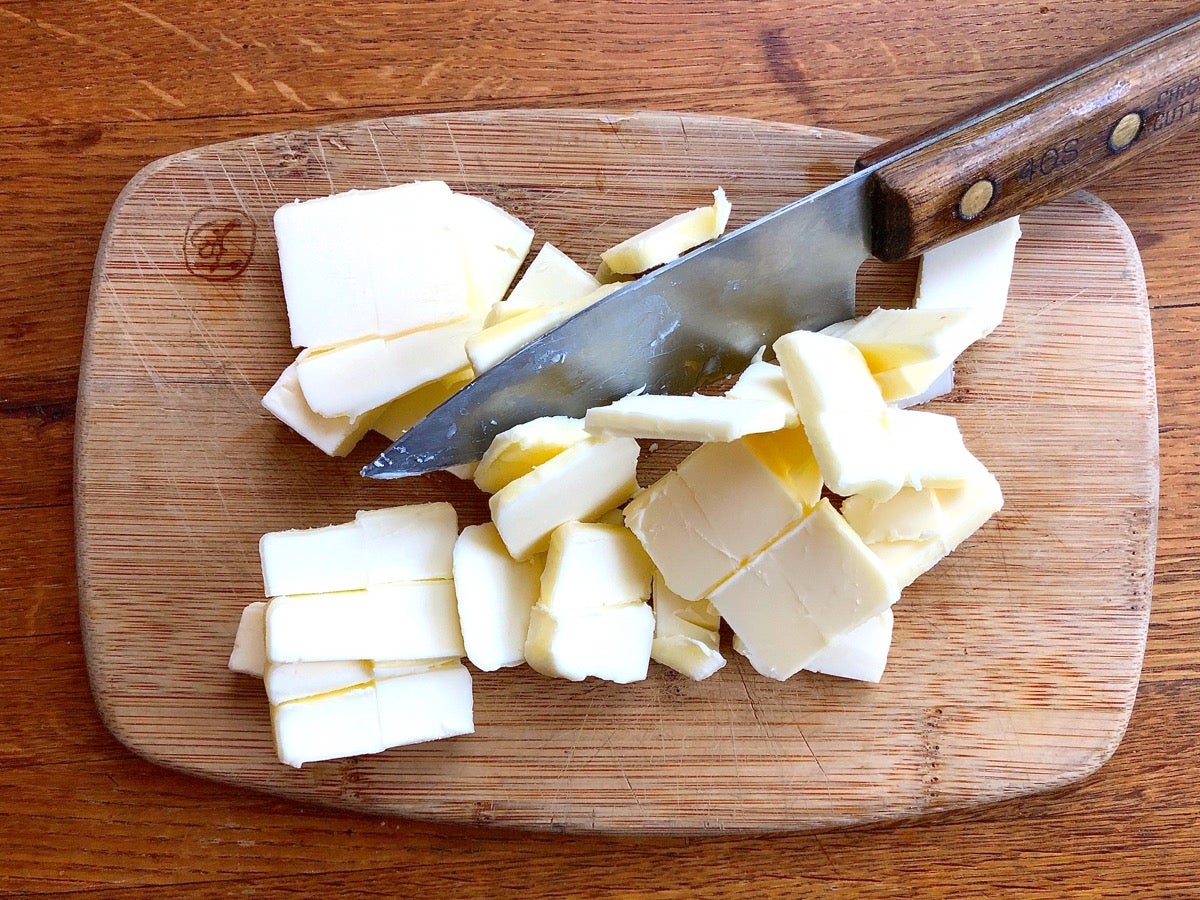 Cut 6 tablespoons (85g) cold unsalted butter into thin pats or small cubes.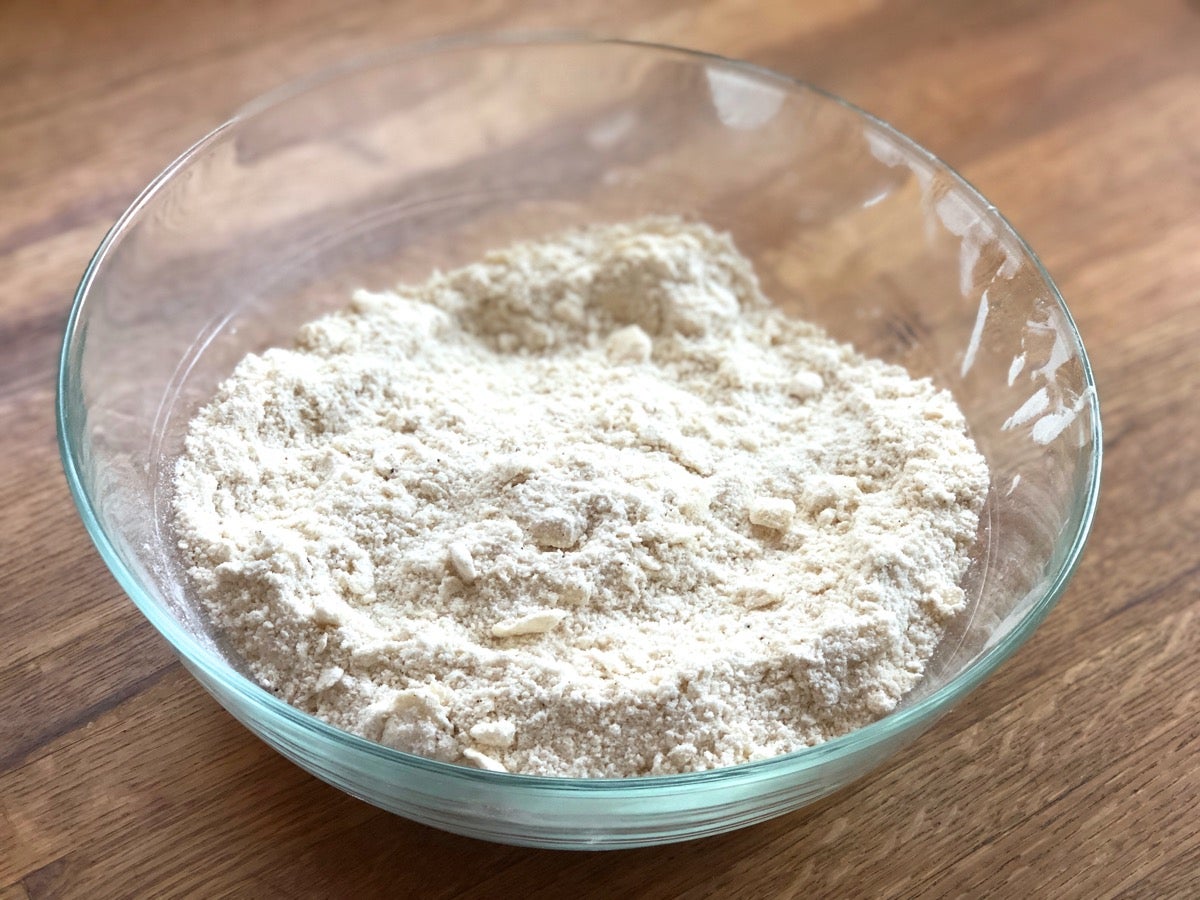 Work in the cold butter
Mix the butter into the dry ingredients using a pastry blender, fork, or your fingers; you can also do this in a stand mixer. The resulting mixture shouldn't be even-textured; you should be able to see some larger (pea-sized) chunks of unincorporated butter. By not overworking the mixture at this point you help preserve tender texture in the finished scones.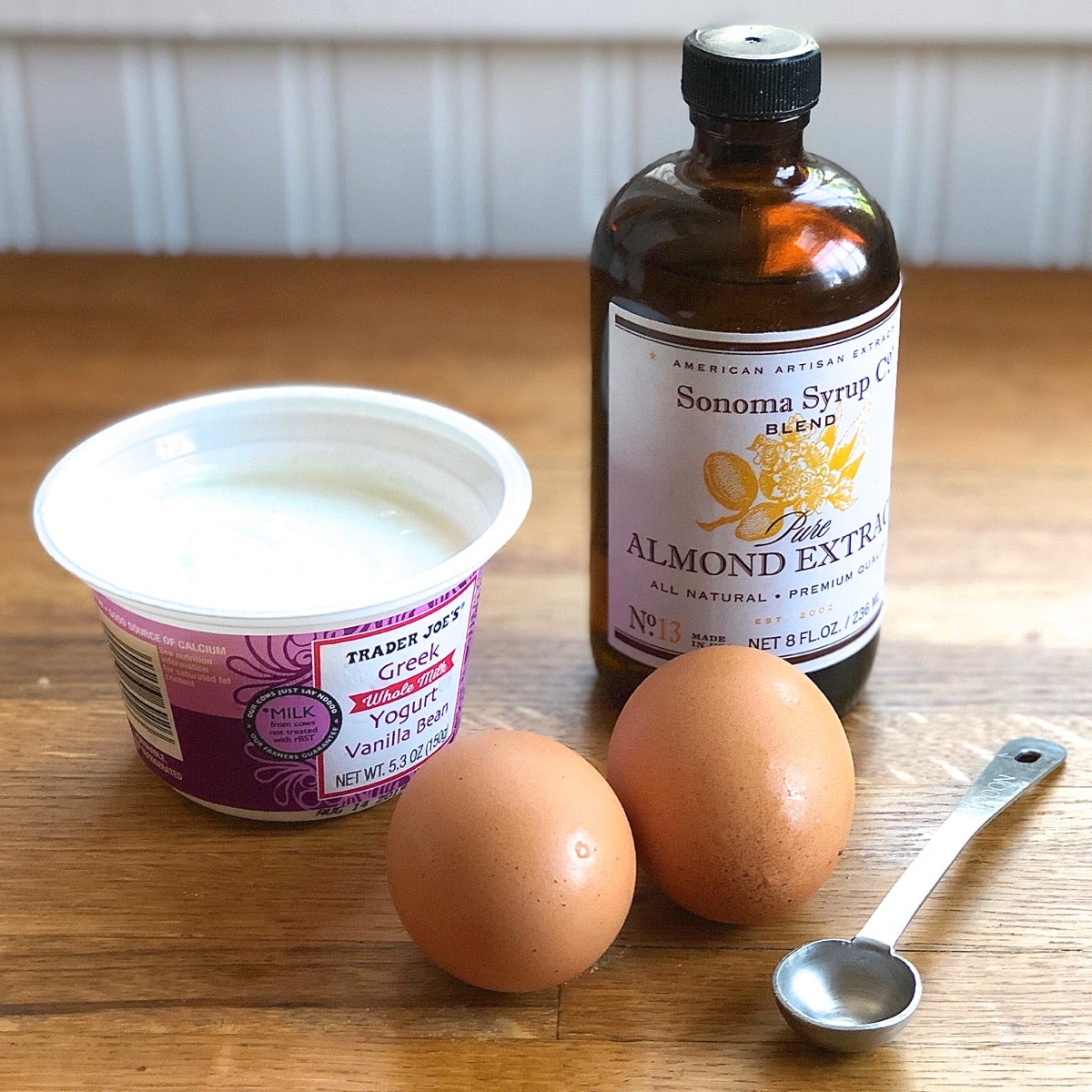 Next, gather your liquid ingredients. Here's what you need:
2 large eggs

1/3 cup (74g) plain or vanilla yogurt* or sour cream

1/2 teaspoon almond extract
*For best results choose whole-milk or low-fat yogurt, not nonfat; Greek yogurt is fine. With just 1/3 cup yogurt, using vanilla vs. plain doesn't really make any flavor difference; feel free to use whatever you have on hand.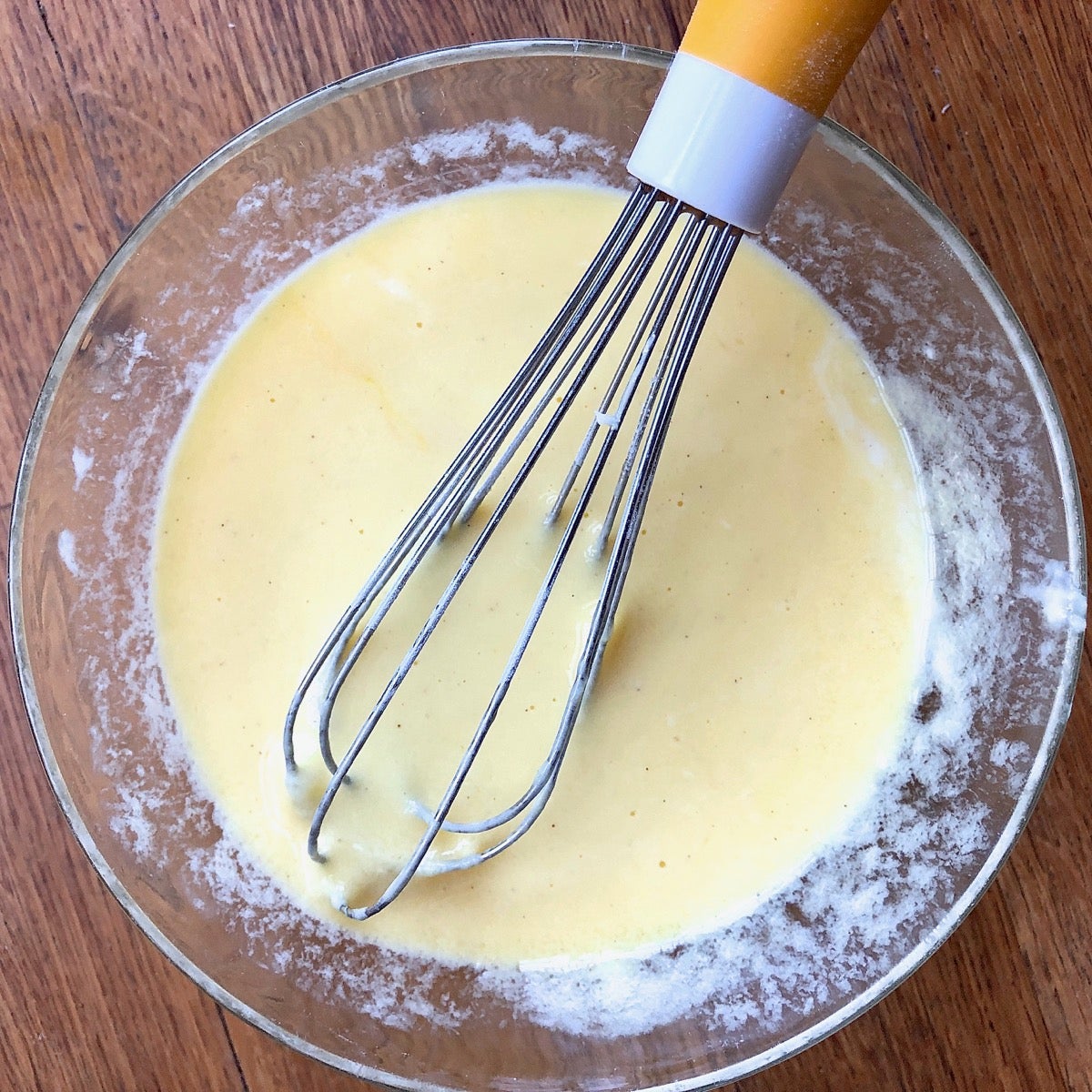 Combine the liquid ingredients
Whisk everything together until fairly smooth; you shouldn't see any streaks of egg white or yolk.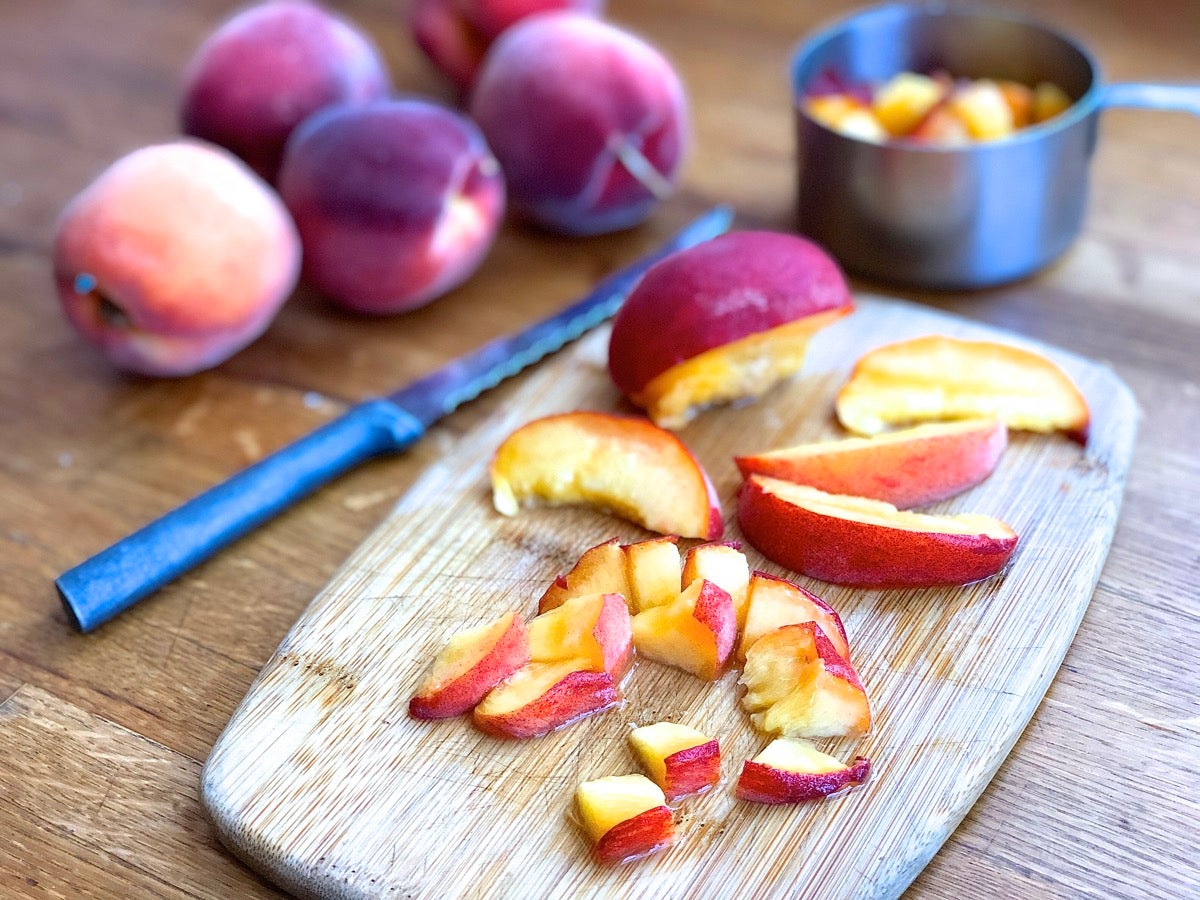 Prepare the peaches
Now for the star of the show: fresh peaches! You'll need 1 cup (142g) of diced peaches — which, depending on size, may be a couple of smaller peaches or one behemoth.
You can peel the peaches if you like, but I prefer to leave the peel on; it adds both color and texture.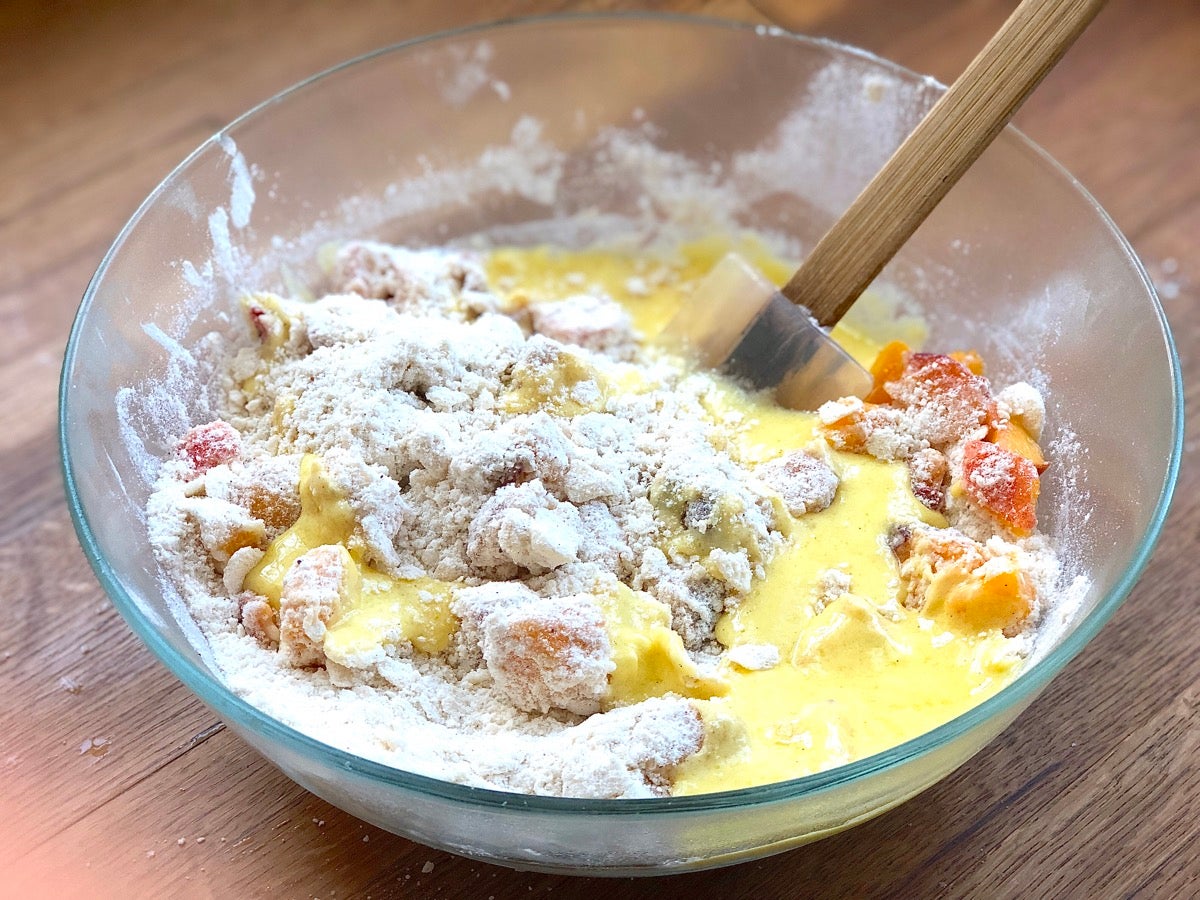 Mix everything together
Stir the wet ingredients into the dry ingredients along with the diced peach.
Notice I said stir, not beat; a spoon or rubber spatula does a fine job. You don't want to overwork the dough; the more you stir flour once liquid is added, the stronger its gluten becomes. Which is fine for yeast bread; you want strong gluten for a good rise and sliceable structure. But scones prefer a tender touch.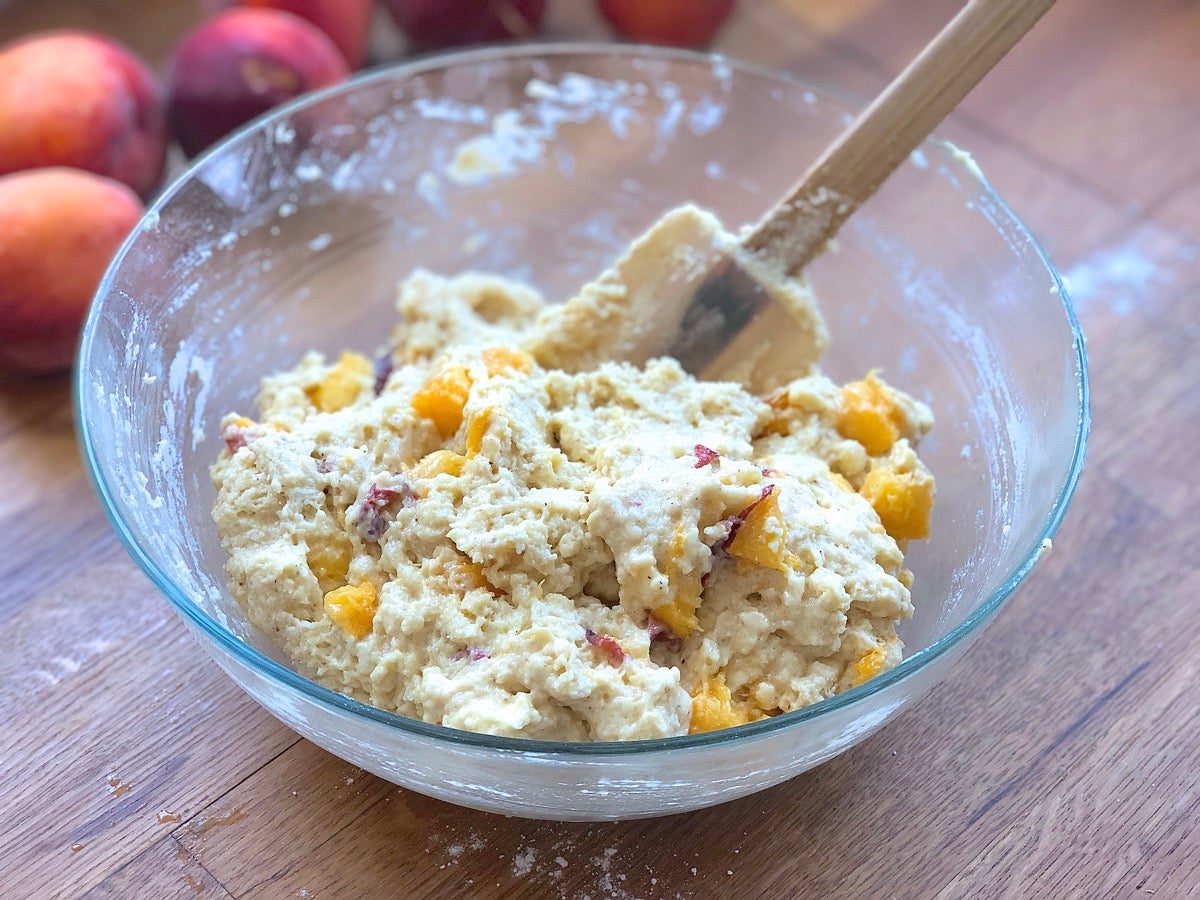 Notice how sticky the dough is; it's probably a stickier scone dough than you're used to. That's because we're not going to shape these scones into a disk and cut them into wedges; we're going to drop them right onto the baking sheet like a drop cookie.
What's the difference between drop scones and shaped scones? Drop scones are generally more moist and cake-like than shaped scones, which are made from a drier dough and tend toward a delicate crumbliness.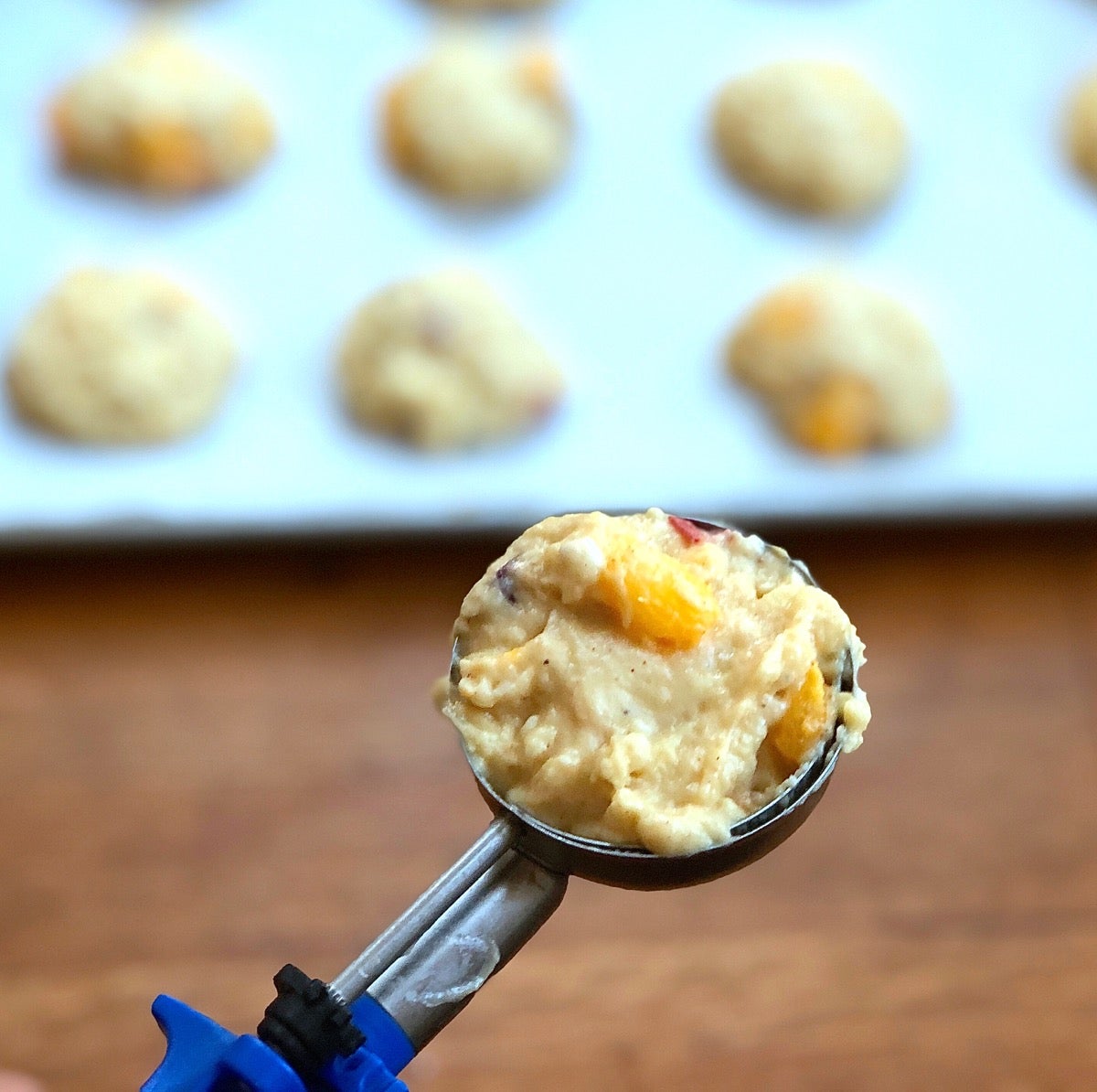 Scoop dough by the 1/4-cupful; a very slightly heaped muffin scoop works well here.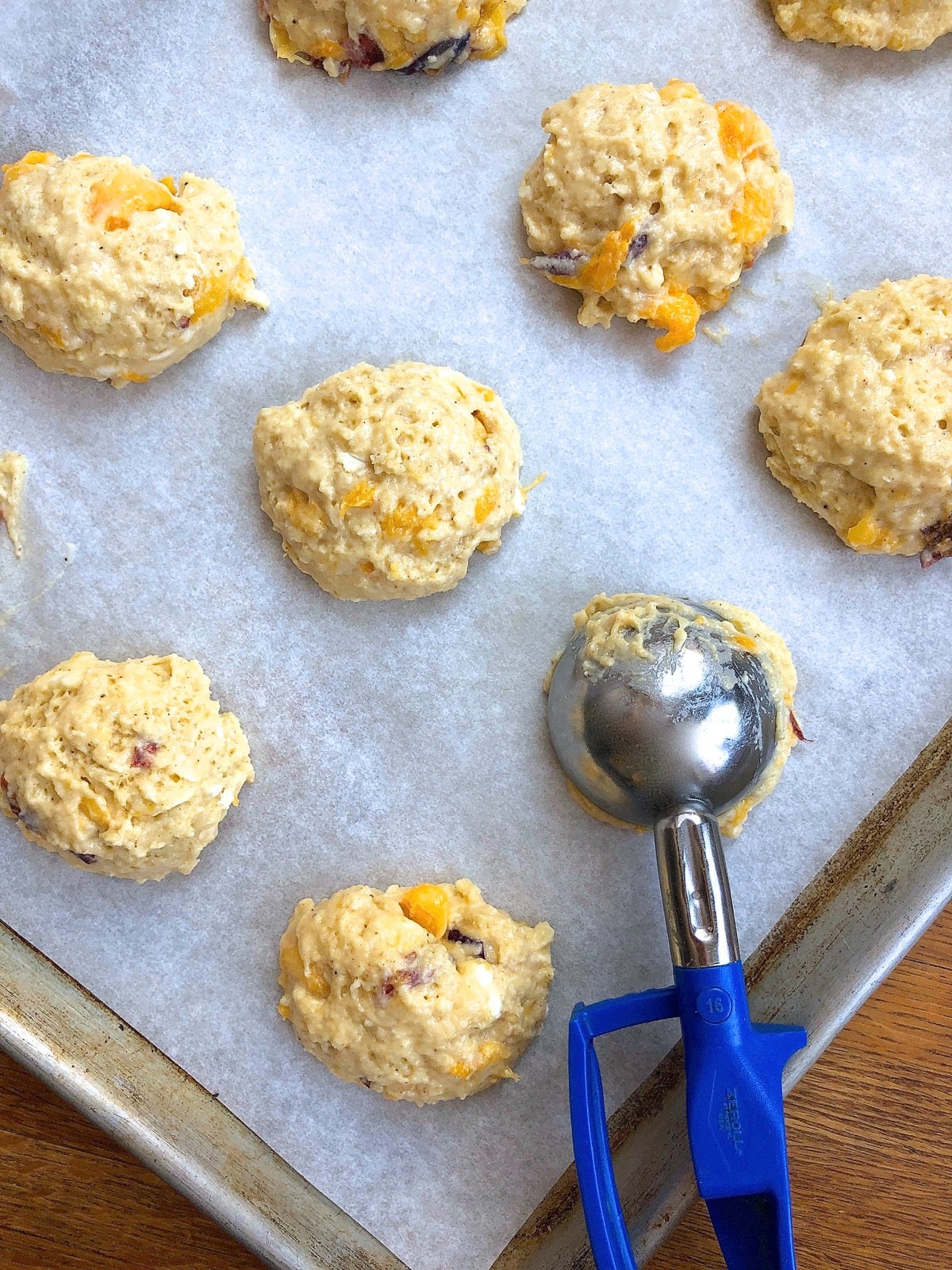 Drop the dough onto the prepared pan
You'll make 12 scones. Space them out evenly; three rows of four works well.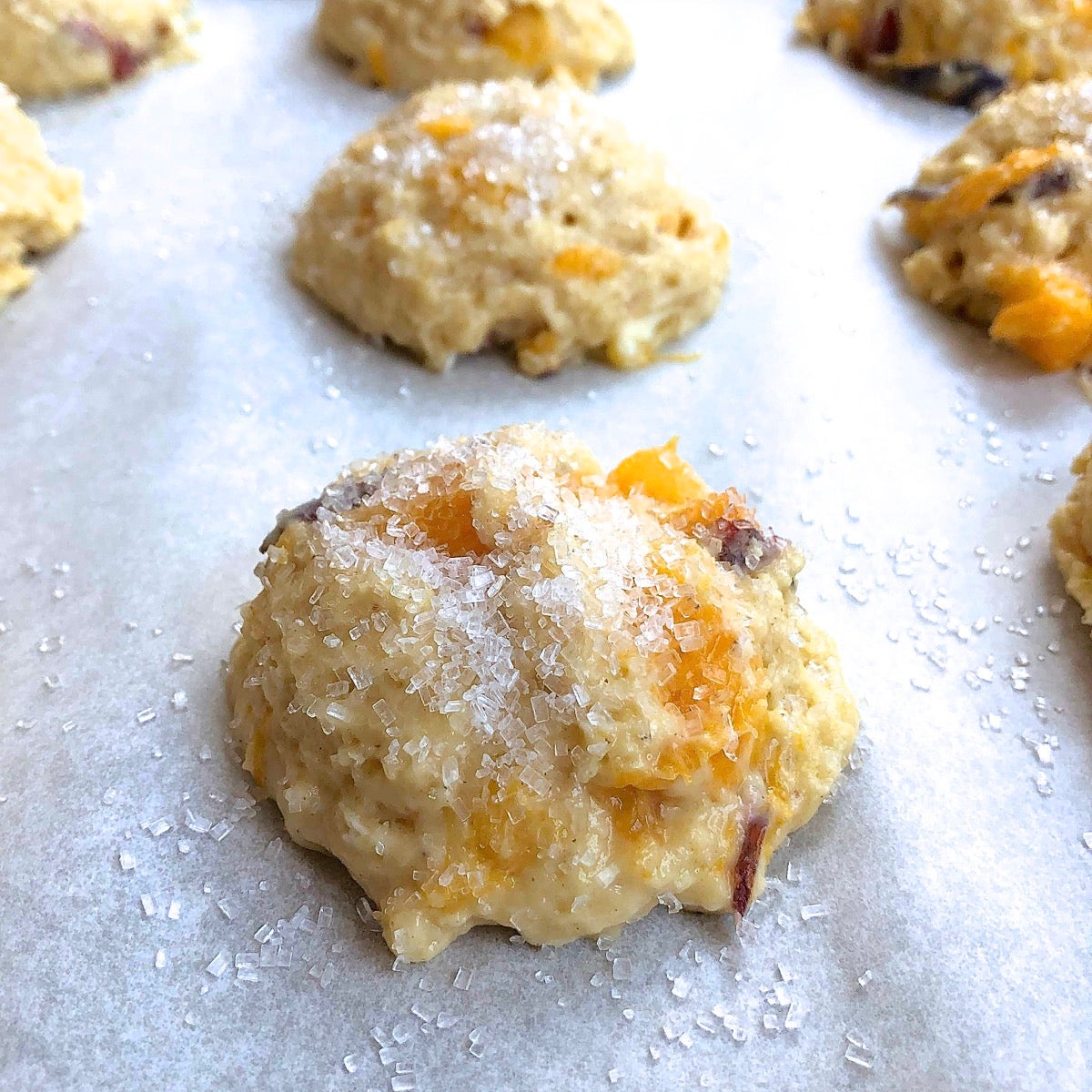 Sprinkle the scones with coarse white sparkling sugar, if desired.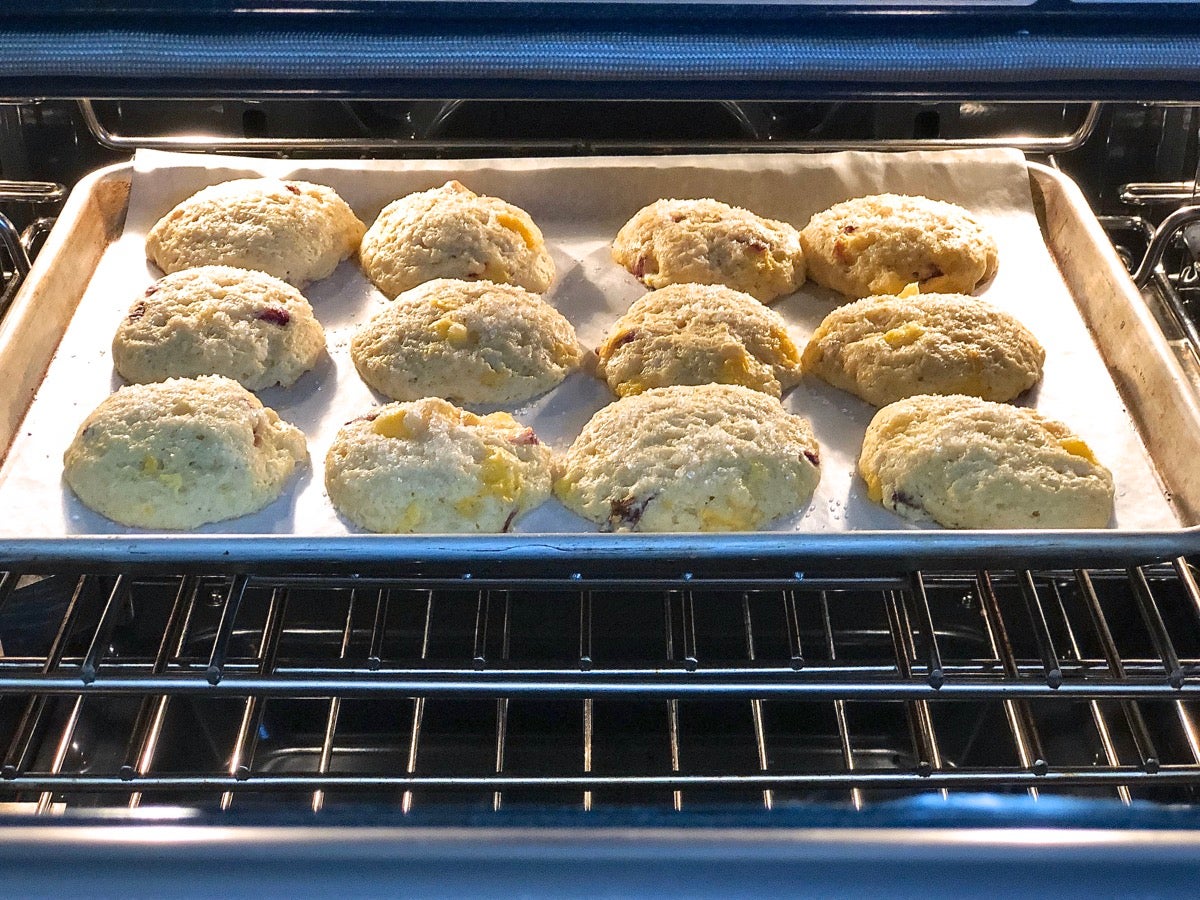 Bake until just done
Bake the scones in the upper part of the oven (not the top rack; more an upper-middle rack) for 20 to 25 minutes, until you see perhaps a mere hint of golden brown; you don't want to overbake these. That's why you bake in the upper part of the oven, as it helps the scones brown a bit without drying them out.
Remove the scones from the oven, and let them cool on the pan for a few minutes before transferring them to a rack to cool completely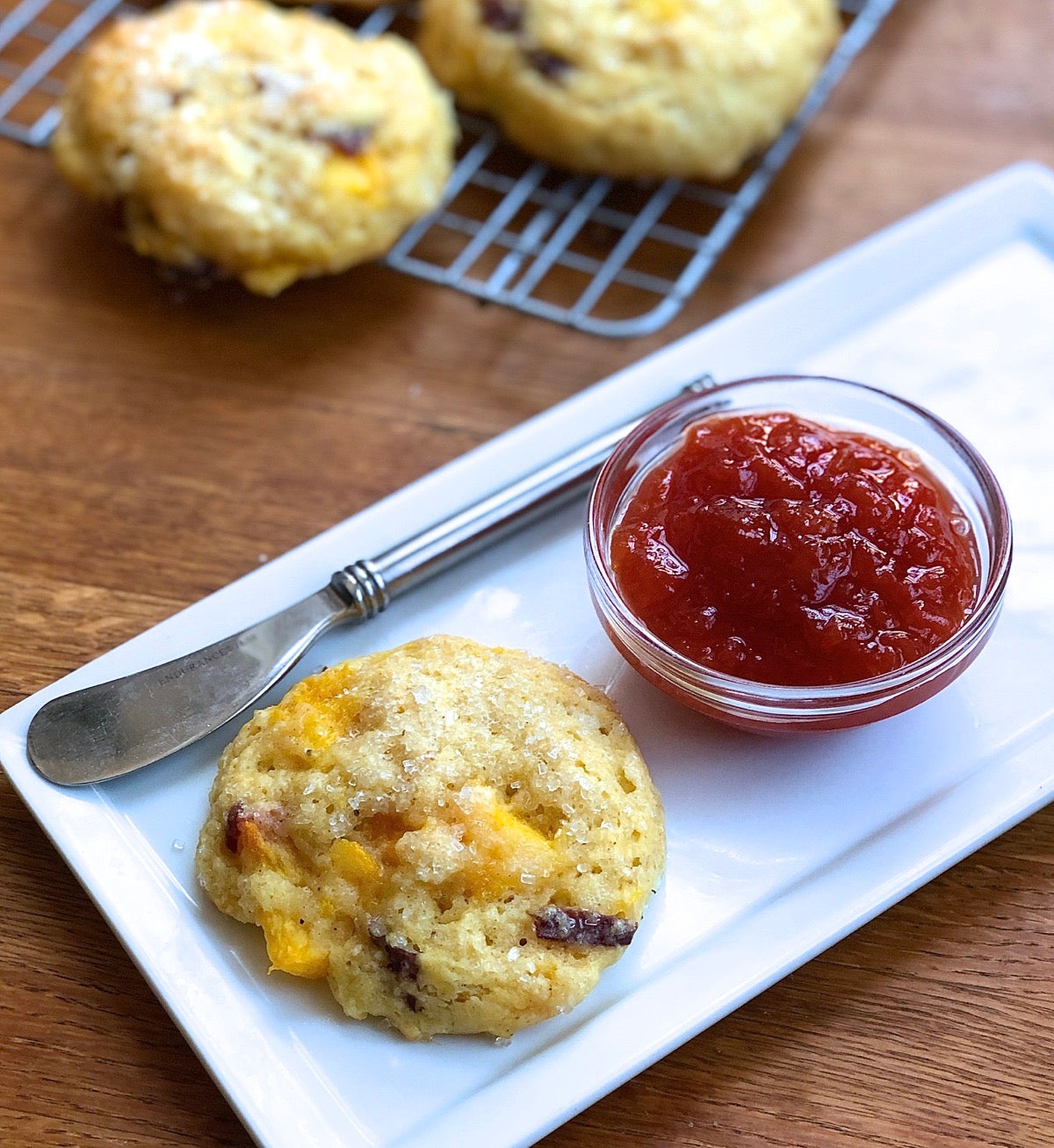 Serve scones plain, with butter, or with your favorite jam. 
I love homemade peach preserves and, since I know you'll ask, here's my easy recipe: Mix 10 ounces (283g) diced unpeeled peaches, 3 ounces (85g) sugar, 1/8 teaspoon salt, and 1 ounce (28g) freshly squeezed lemon juice in a microwave-safe bowl.
Cook in your microwave (standard heat) for 15 minutes, stirring every 5 minutes; the mixture should be slightly syrupy rather than completely liquid. Cool and refrigerate; preserves will thicken as they chill.
This recipe makes about 2/3 cup of preserves. It's easily doubled; you'll just have to cook the preserves probably 5 minutes longer to reach that syrupy state.
Tender peach scones: tempting variations 
Here's a peach scone variation I absolutely love: using oven-roasted peaches in place of fresh. Roasting peaches both intensifies their flavor and releases some of their juice — juice that might otherwise collect a bit inside the scones, making them a tad soggy.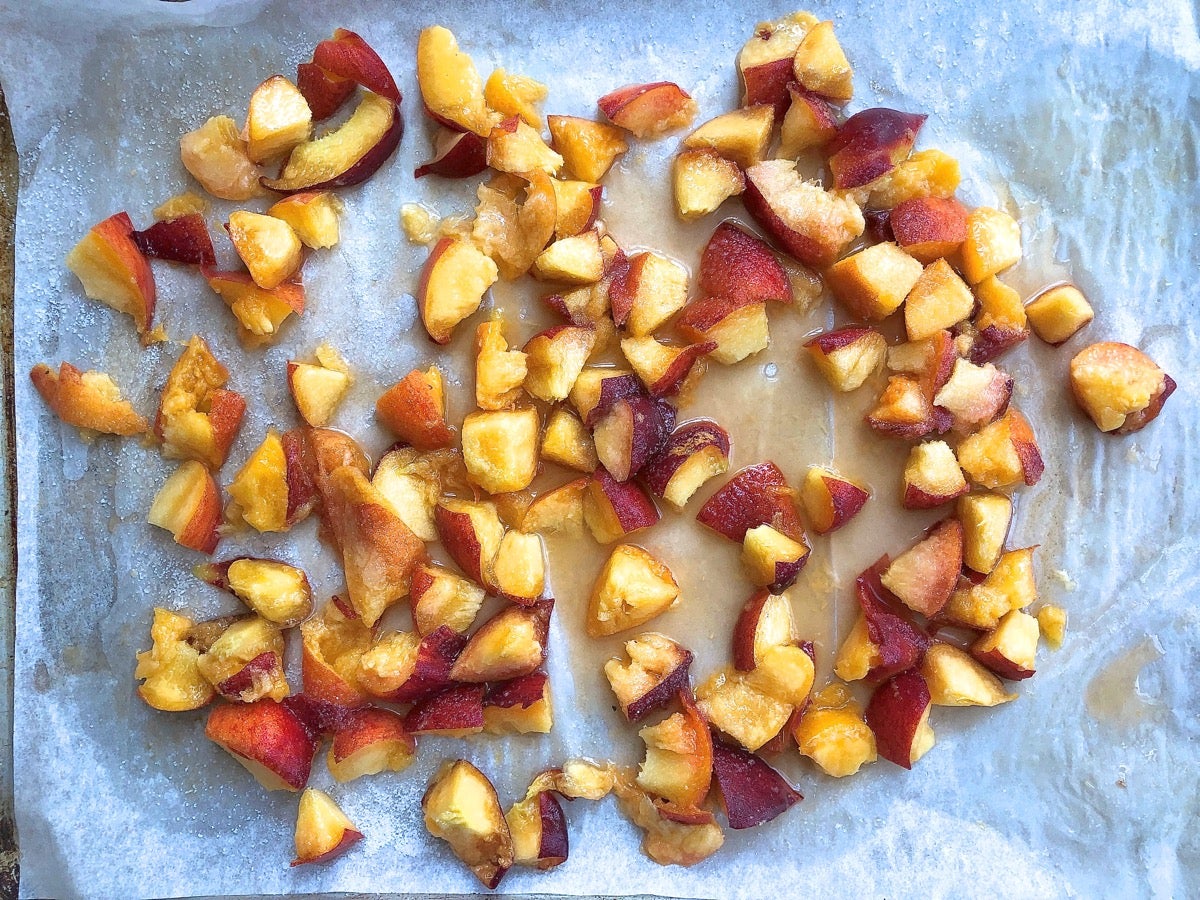 For a generous 1 cup of roasted diced peaches, start with about 2 1/2 cups (494g) of diced fresh unpeeled peaches. Spread them on a parchment-lined baking sheet.
Roasting peaches ramps up their flavor and gilds them with a shiny sheen of peachy syrup.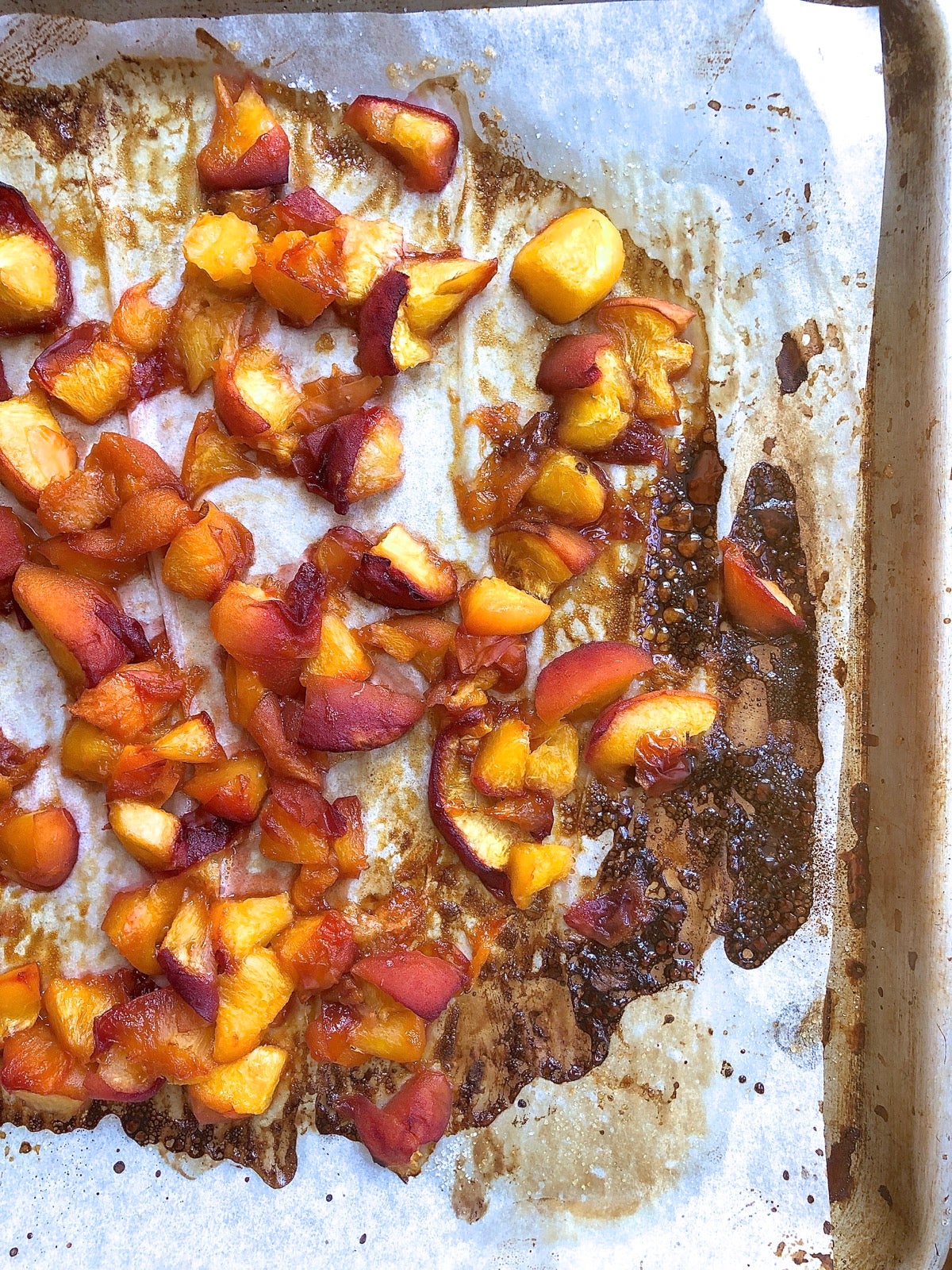 Roast the peaches in a preheated 400°F oven for about 40 minutes, until they've shrunk noticeably, and are starting to brown a tiny bit. Scrape them off the pan (careful: they're soft) and let them cool before adding them to your scone dough.
For more on this technique see our blog post, Roasting and Grilling Fruit for Baking. Understand that I like to roast my peaches longer than what the post says; each to his own!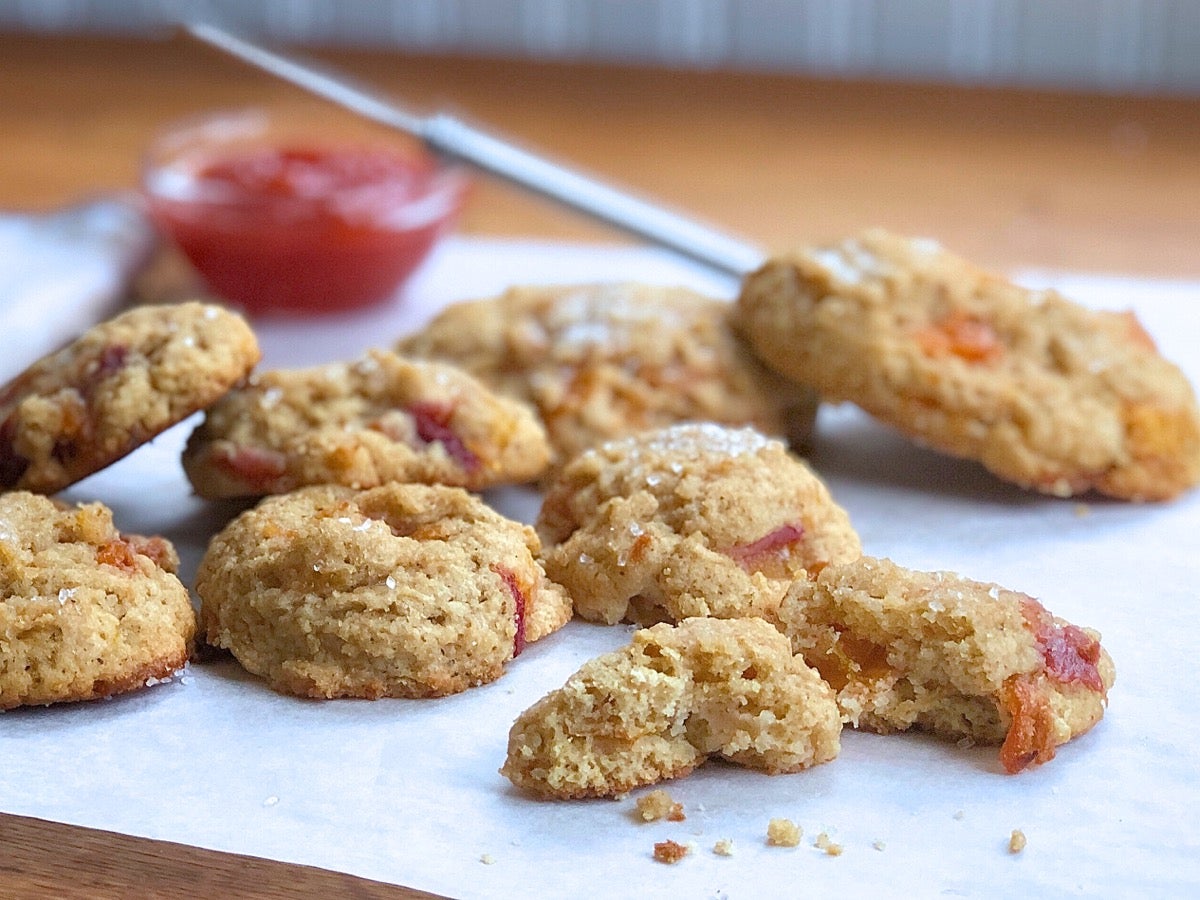 Whole grain peach scones? Absolutely delicious
Want to make these scones with whole wheat flour? You can do that! I've used entirely whole wheat flour here; if you're a bit skittish, start by swapping out just half of the all-purpose flour for whole wheat.
I actually love this version even better than the original. Substituting King Arthur White Whole Wheat Flour 1:1 (by volume) for the all-purpose flour in the recipe yields scones with delightfully nutty, earthy flavor, which blends wonderfully with the taste and texture of fresh peaches.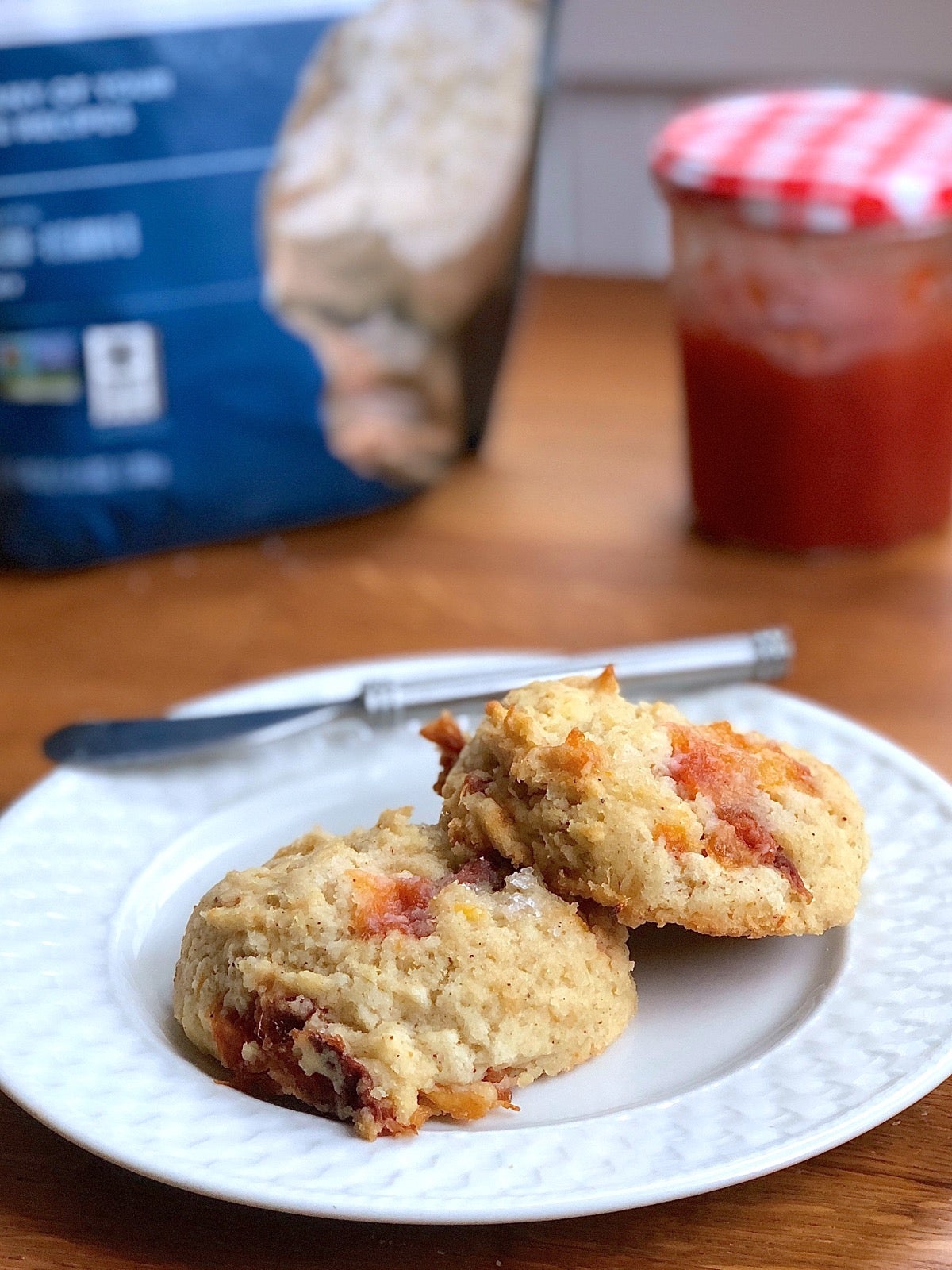 Gluten-free peach scones: easy as can be
Substitute our Gluten-Free Measure for Measure Flour 1:1 for the all-purpose flour in the recipe. Bingo! Gluten-free scones.
Be sure to bake your gluten-free peach scones thoroughly; gluten-free baked goods often need a bit more time in the oven. Start checking at 20 minutes, but I'm betting you'll want to bake them for 25 to 27 minutes. When you think they're done, break a scone open; it should look moist inside, but not at all wet or doughy.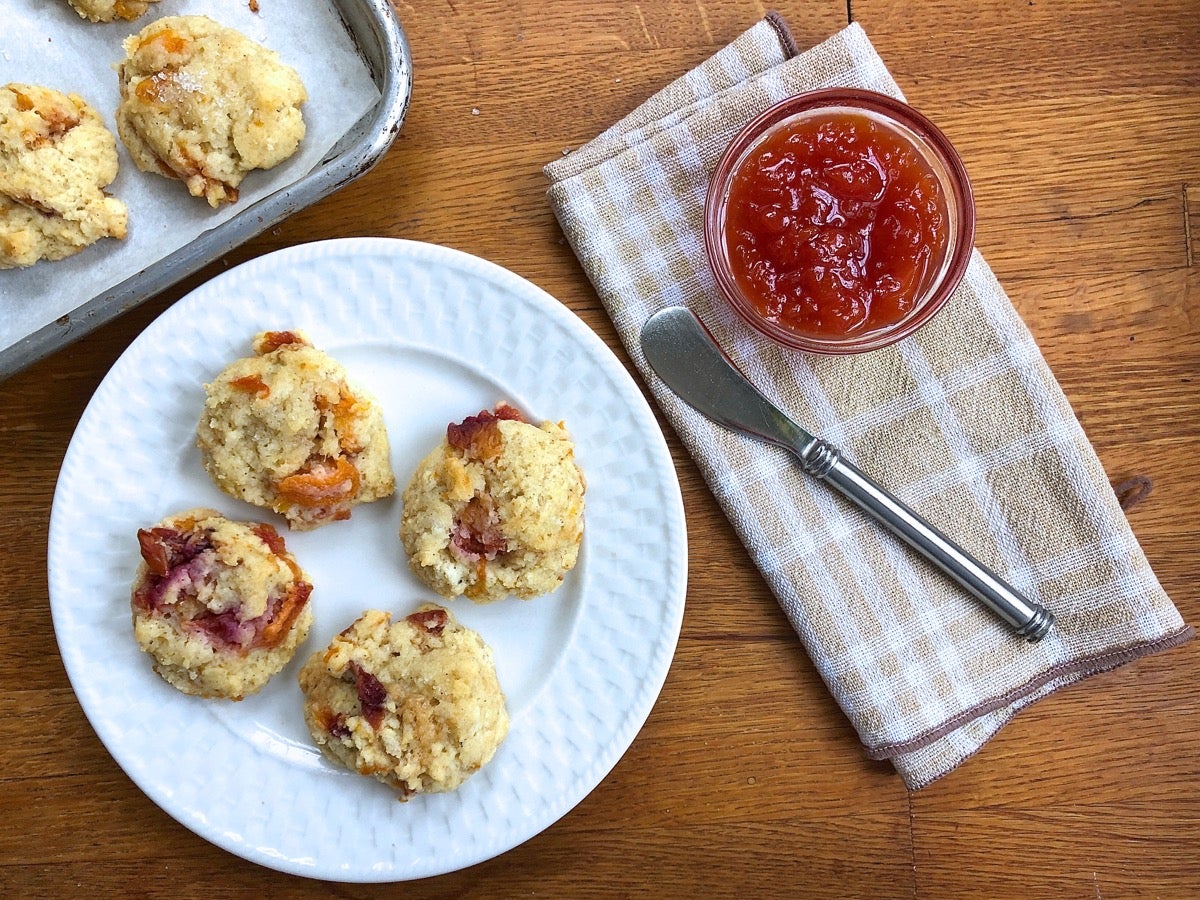 Peach mini scones: simple and elegant
When your appetite (or diet) tells you full-sized scones are a bit much, make minis. You know that muffin scoop you used to portion out the scone dough? Trade it for a generously heaped tablespoon cookie scoop (desired volume: about 2 tablespoons), and make two dozen two- to three-bite mini scones. You'll want to bake these for just 15 to 18 minutes.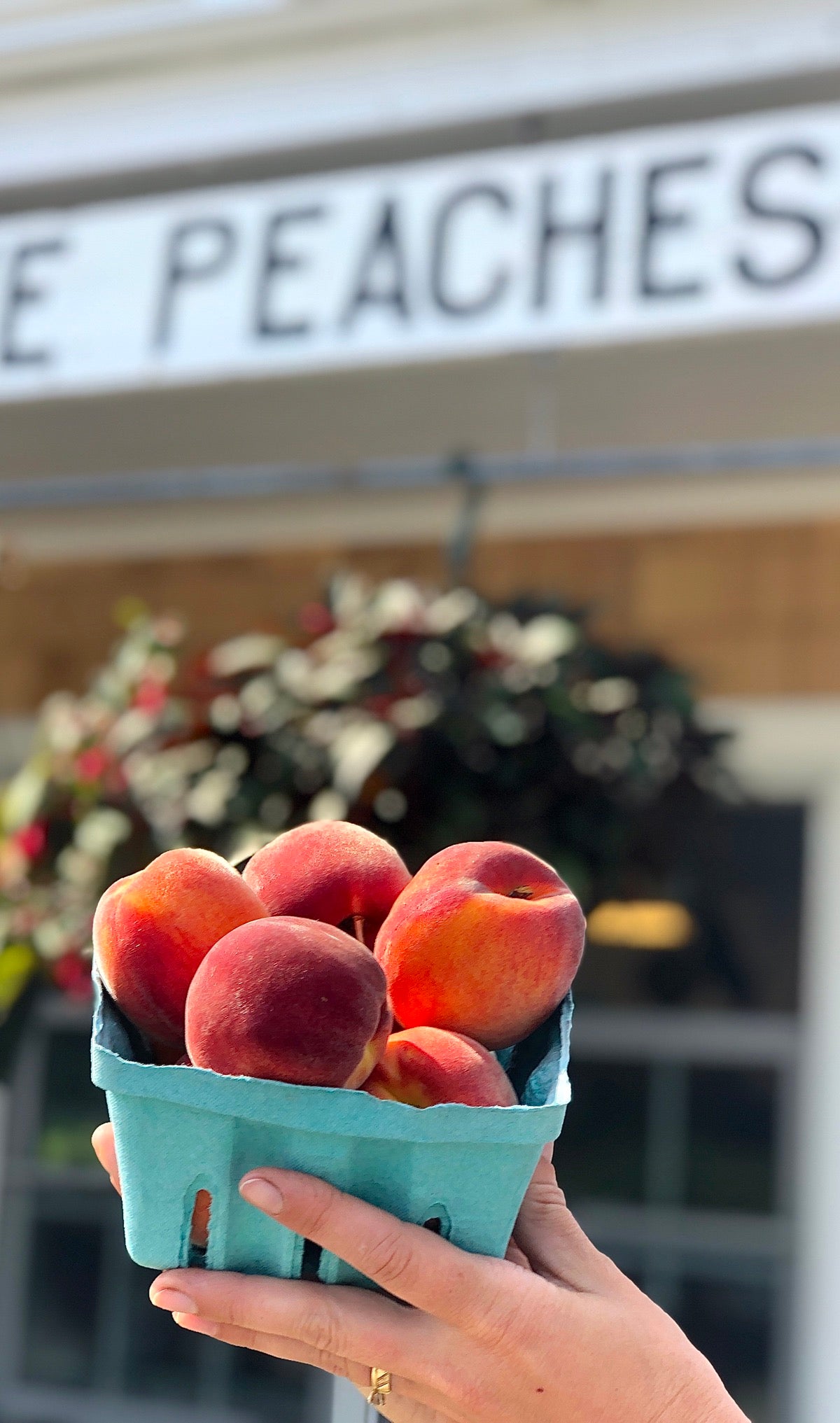 The corn is high, berries are ripe, and fresh peaches are plentiful — celebrate summer with Tender Peach Scones. Or tell us about your favorite peach dessert. For me, it has to be this Just-Too-Easy Peach Cobbler; it's not only "just too easy," but delicious as well!
Jump to Comments