"I love throwing away two-thirds of my sourdough starter every time I feed it." Said no one ever.
And yet, I spent decades feeding my sourdough starter and throwing away the "extra" —  that excess starter left in the jar after I'd portion out only a small amount to feed and keep.
My excuse? I just didn't know any better. No one told me you could take your "discard" starter and make all kinds of yummy treats with it, from pizza crust to pancakes and biscuits to blueberry muffins — even carrot cake!
Honestly, if you're caring for a sourdough starter, there's simply no reason to regularly toss a cup or so of it away — not when it can easily become the base for another tasty treat, like Sourdough Crackers.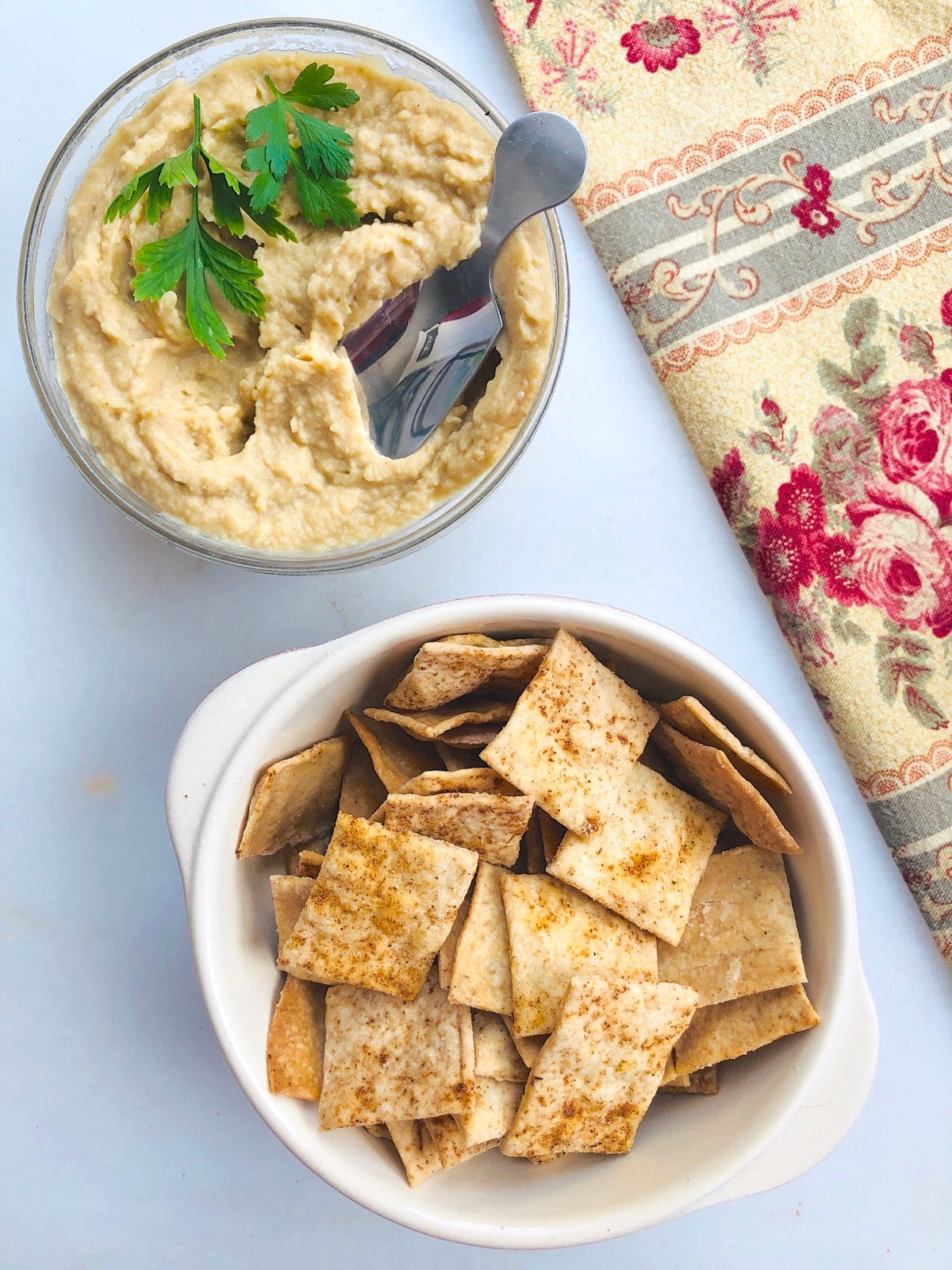 With over 500 5-star reviews, this is our most popular "discard starter" recipe by far. I recently made these crackers for the first time, and yes, I can see what all the excitement is about.
Despite the fact that you need to haul out your rolling pin (an instrument of torture for some of you, I know), it's really quite simple to combine starter, flour, butter, and seasonings, roll out the wonderfully pliant dough, and bake crackers. The result are snapping crisp, tangy little morsels topped with your favorite seasonings and awaiting a smear of soft cheese or a quick dip in hummus.
Yes, you can go to the store and buy crackers. They're not in short supply (yet). But you can also make your own, thereby killing two birds with one stone: filling your countertop cracker jar with something homemade and wonderful — and not filling your compost with discard sourdough starter. Win-win!
Ready to roll? Let's go. 
Here's your short and simple ingredient list:
1 cup (113g) King Arthur White Whole Wheat Flour
1/2 teaspoon salt
1 cup (227g) sourdough starter, unfed/discard
4 tablespoons (57g) unsalted butter, room temperature
oil, for brushing
coarse salt (such as kosher or sea salt) for sprinkling on top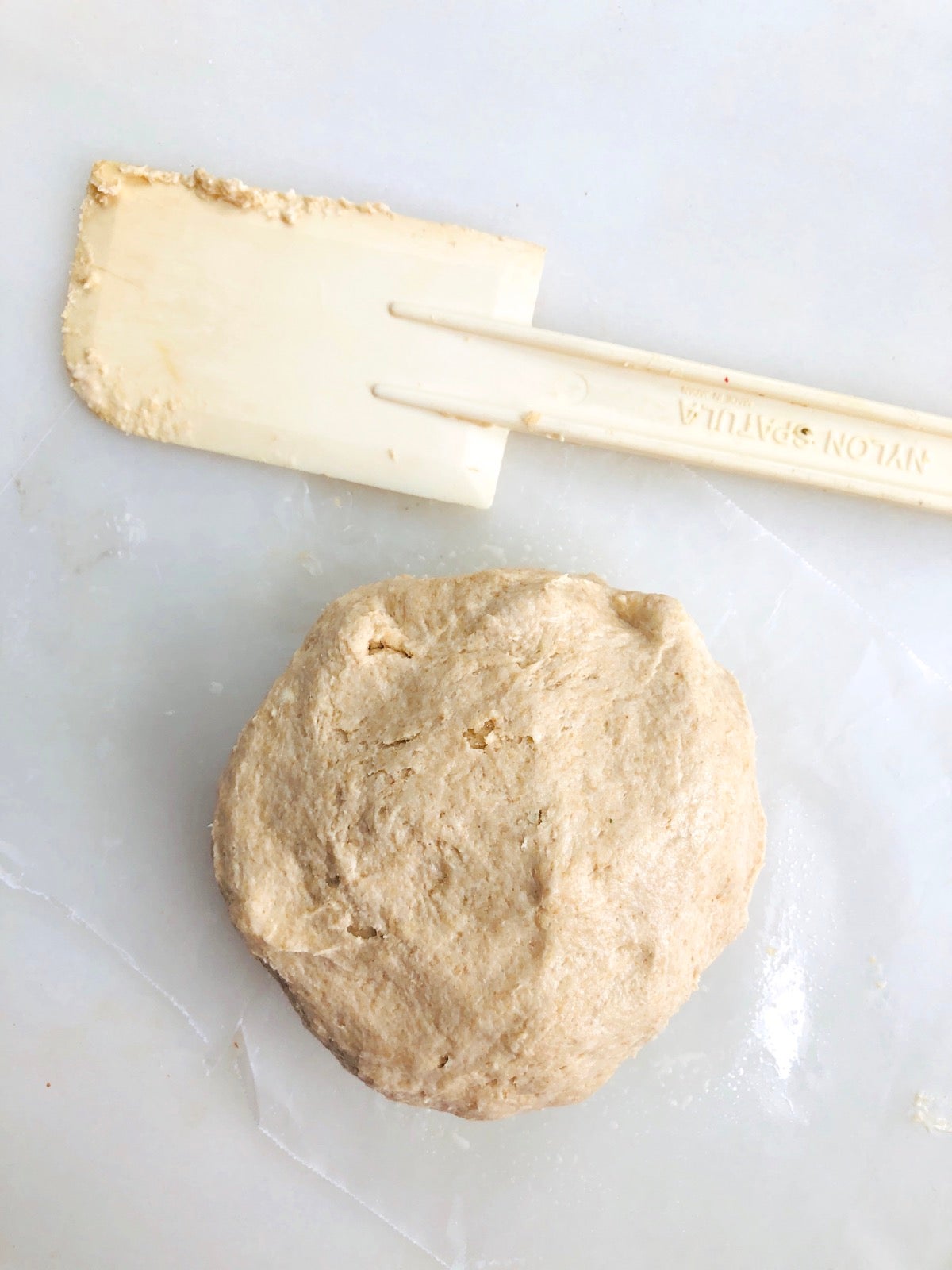 Mix together the flour, salt, sourdough starter, butter, and any optional add-ins (see ideas under "Make them your own" below). Stir to make a smooth (not sticky), cohesive dough.
One tip: try mixing the flour, salt, and butter first, before adding the starter. Butter coats the flour with fat, which translates to a more tender cracker. This is also a great recipe for your food processor. First process the flour, salt, and butter into an evenly sandy mixture, then add the starter and process just long enough for the dough to come together. Super simple!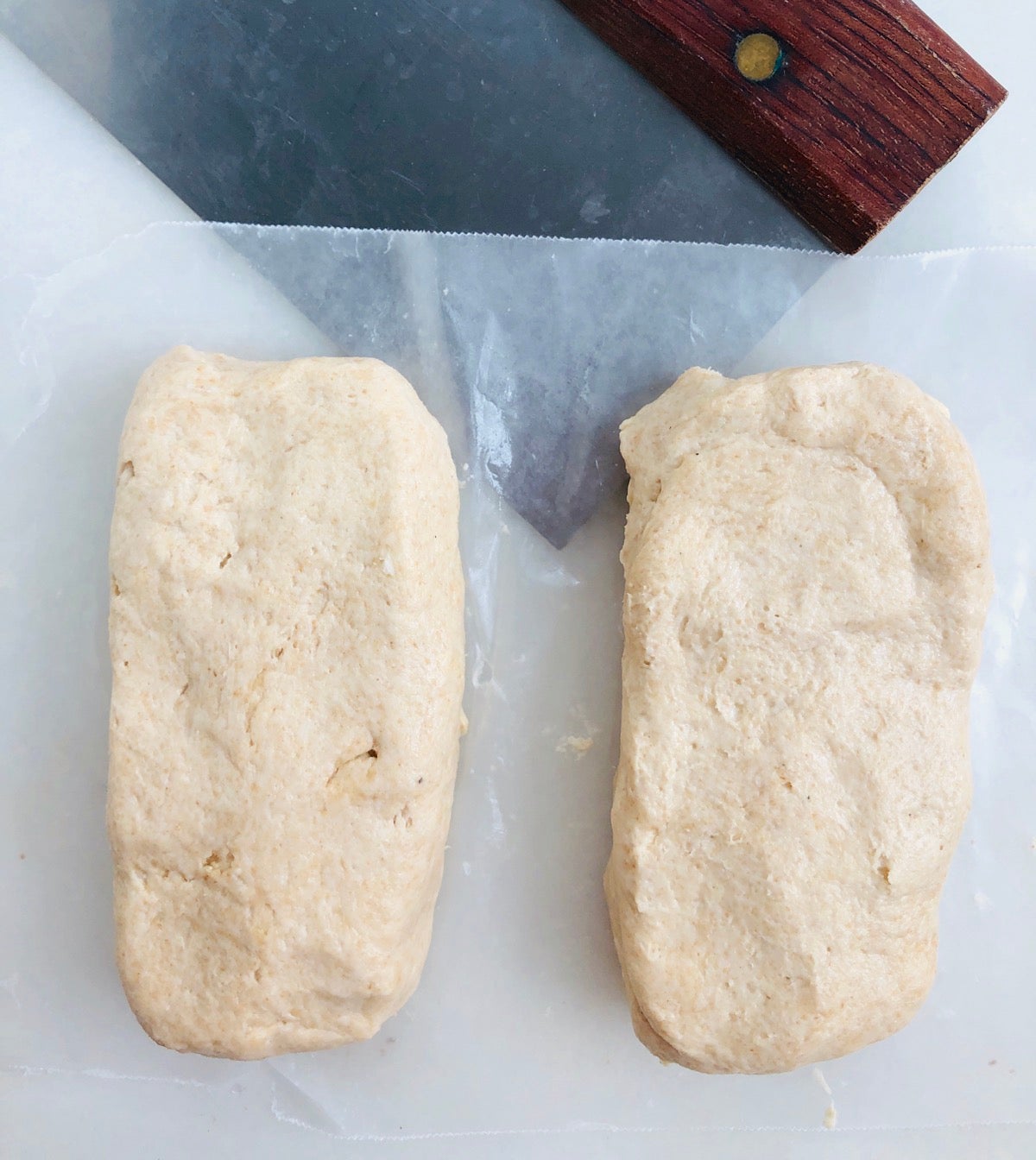 Divide the dough in half and shape each half into a small rectangular slab. (I find it easier to roll and handle smaller pieces of dough, so I divide the dough into four pieces rather than two.) Cover with plastic wrap, and refrigerate for 30 minutes, or up to a couple of hours, until the dough is firm.
Preheat the oven to 350°F.
Very lightly flour a piece of parchment large enough to fit a half sheet pan or other large baking sheet. Flour your rolling pin and the top of the dough as well.
Working with one piece at a time, roll the dough about 1/16" thick on the parchment paper. The dough may have ragged, uneven edges; that's OK.  
What happens if you roll your dough 1/8" thick instead of 1/16"? No worries. Thinner dough (1/16") will give you snapping-crisp crackers: think Wheat Thins. Dough rolled 1/8" thick will give you sturdier but still crunchy crackers: think Stoned Wheat Thins.
Lightly spray or brush the dough with oil and sprinkle with salt, or the seasoning of your choice.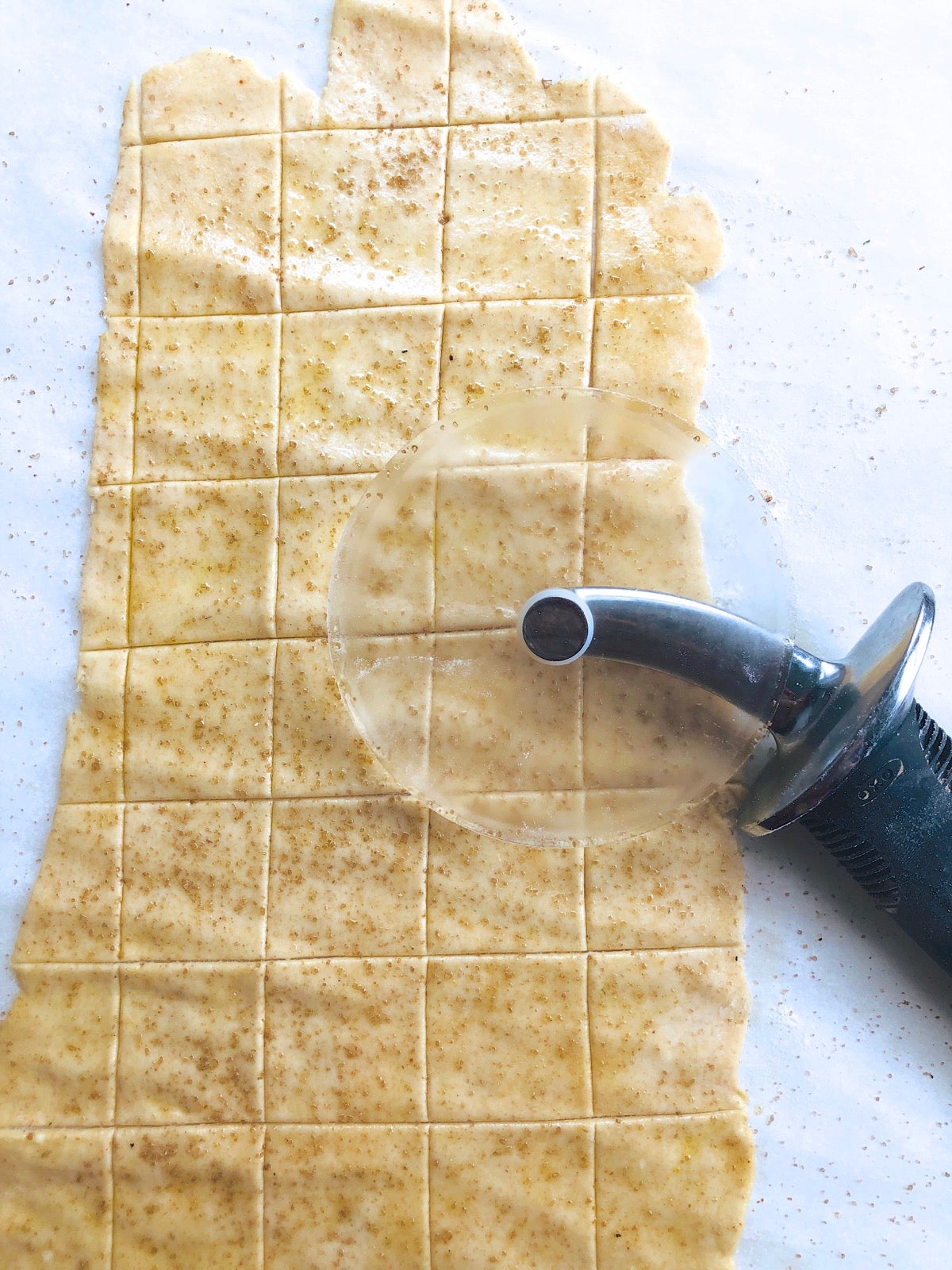 Cut the dough into 1 1/4" squares; a rolling pizza wheel works well here. Don't separate the squares; they'll separate themselves as they bake.
If little squares don't excite you, it's fine to experiment with different sizes and shapes of crackers. Cut triangles, rectangles, or diamonds, and make them any size you like. Since there will be less heat-absorbing edge exposed on larger crackers, though, you may have to bake them a bit longer.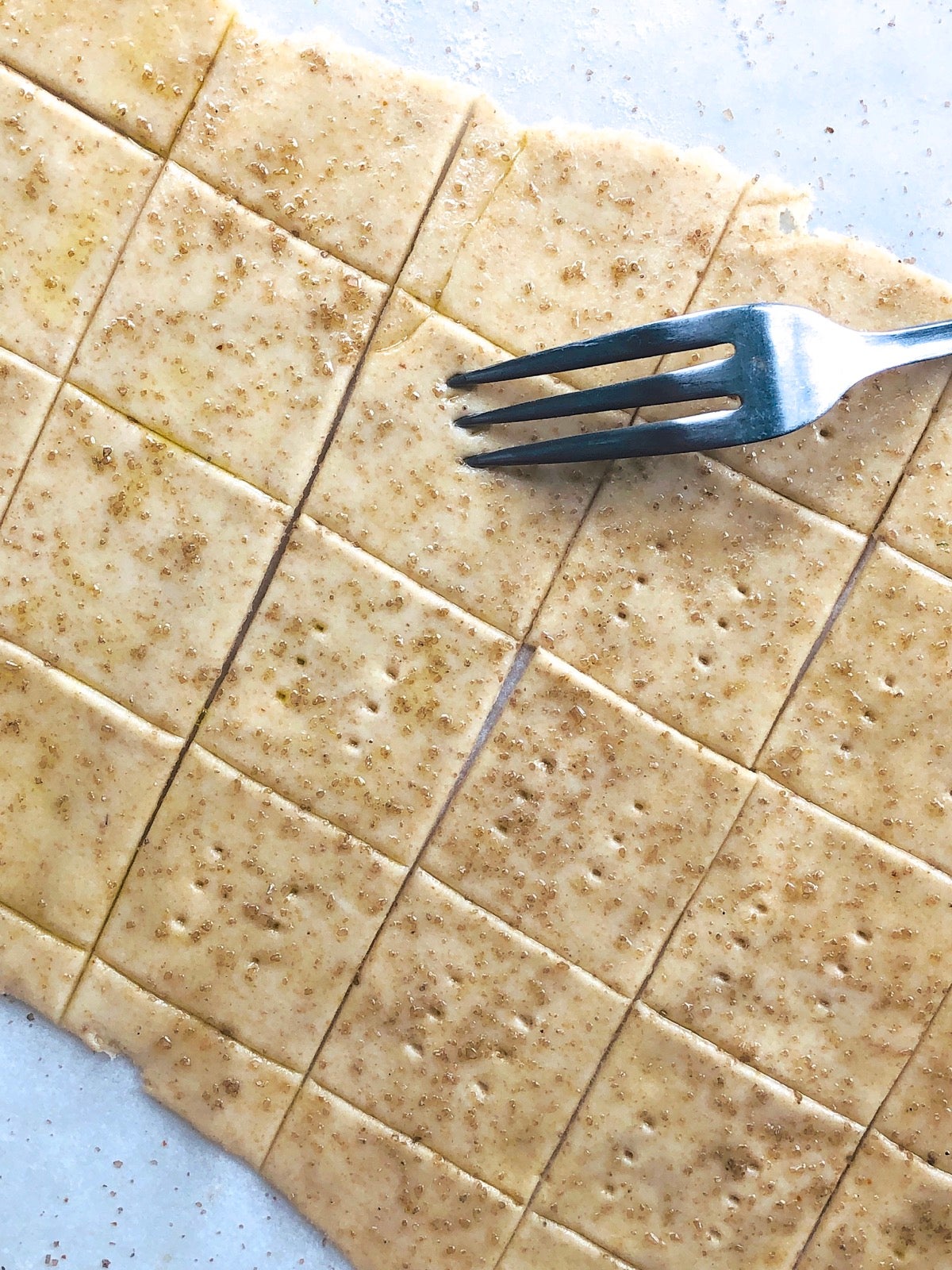 Prick ("dock") each square with the tines of a fork, if desired. This will keep the crackers flat; if you don't mind a few of them puffing into little "pitas" as they bake, go ahead and skip the pricking.
Transfer the crackers and parchment together onto a baking sheet.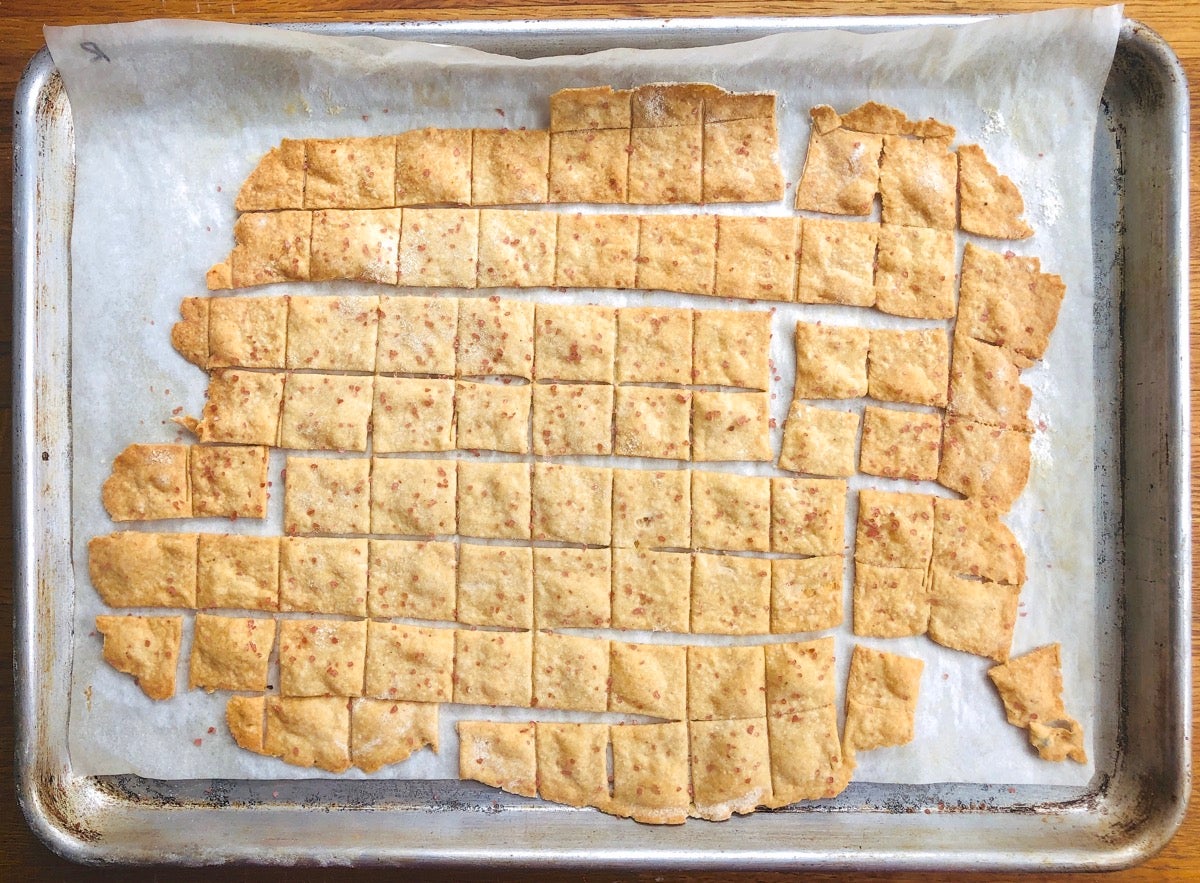 Bake the crackers for 20 to 25 minutes, reversing the baking sheets (top to bottom, front to back) midway through. The crackers should be very lightly browned, with those around the edges a deeper brown. Thicker crackers should be baked 30 to 35 minutes in order to dry out fully.
Remove the crackers from the oven, and transfer them to a cooling rack. Store airtight at room temperature for up to a week; freeze for longer storage.
Make them your own
I'm not one to follow a recipe — not even the first time — without asking, "What if … ?" Thankfully, this recipe is so forgiving it's no problem to take it in different directions, both flour- and flavor-wise.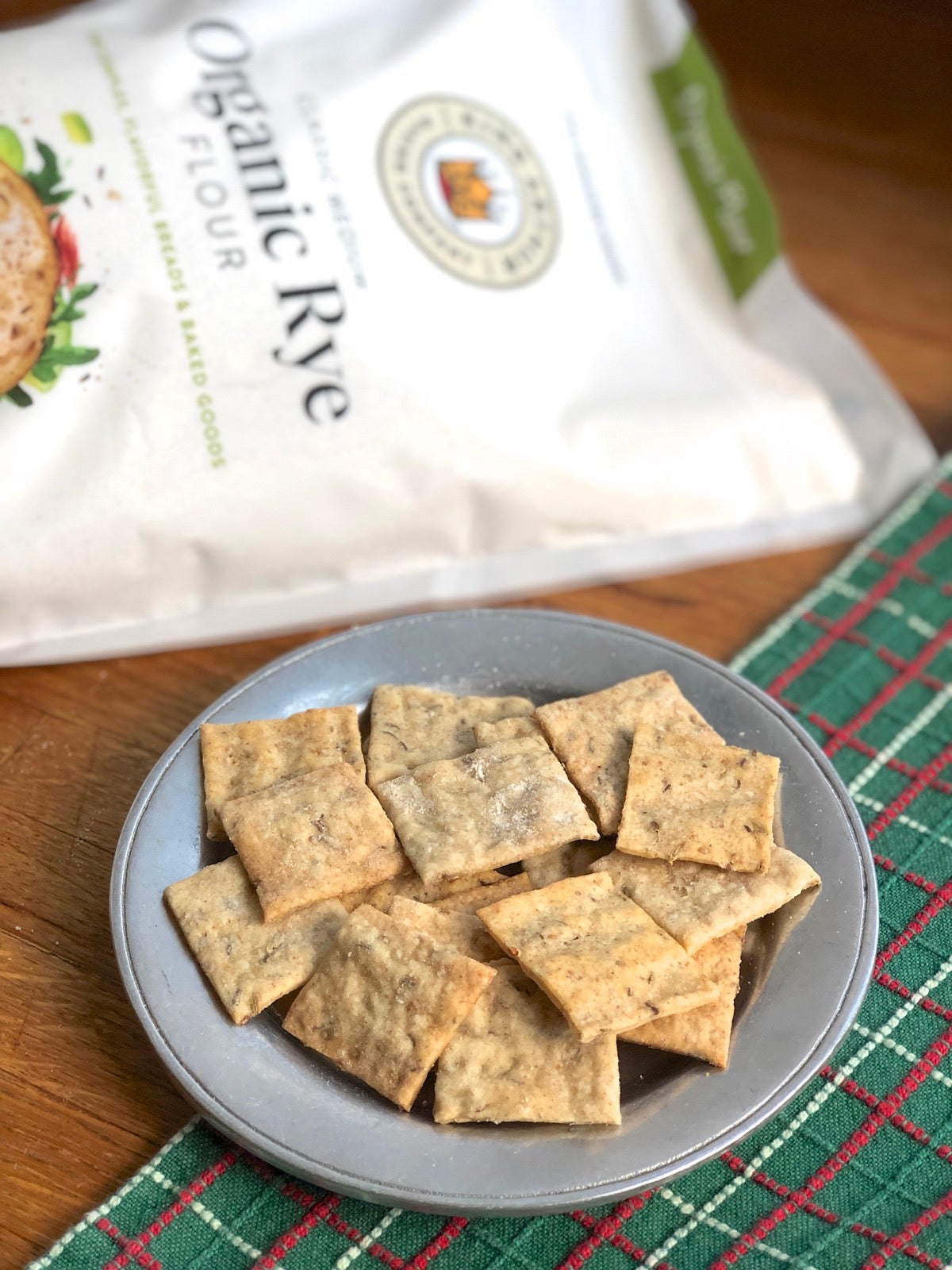 Try different flours
Whole wheat gives these crackers a rich, hearty flavor that complements sourdough beautifully. But feel free to try different flours beyond white whole wheat; I've successfully used all-purpose flour, medium rye, and a 50/50 blend of all-purpose and rye.
All-purpose flour makes a cracker with fairly neutral taste beyond the tang of the sourdough. This makes a great blank canvas for adding flavor with an assertive mix-in or topping. 
Rye flour yields earthy, grain-y flavor — equal to whole wheat in its complexity, but a slightly different profile that's delicious in its own way. 
A blend of all-purpose and rye or whole wheat flours, not unexpectedly, yields crackers whose flavor falls midway between "blank palette" and grain-y/hearty.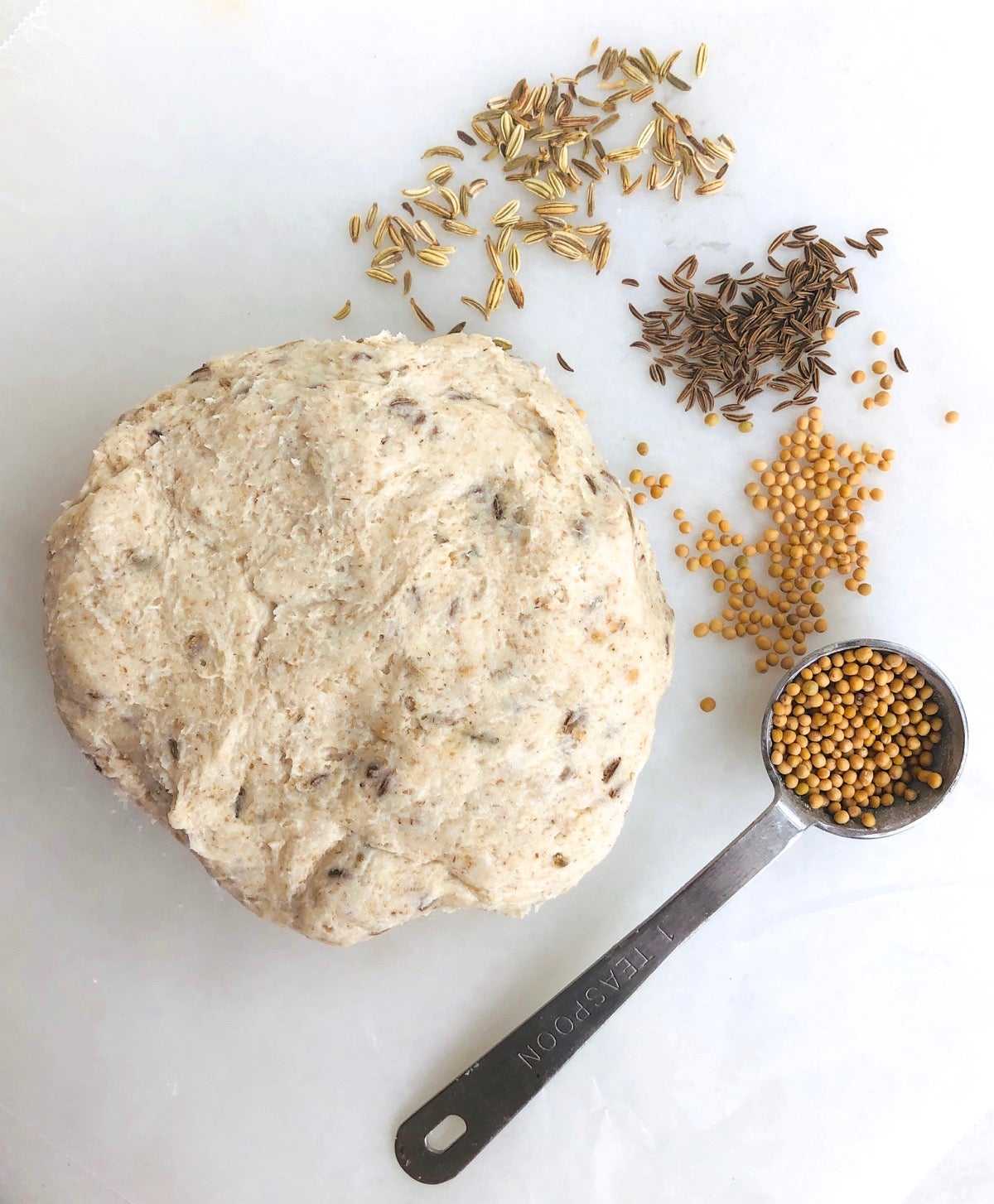 Mix in flavor
If you'd like to boost the flavor of your crackers, you can add all sorts of mix-ins to the dough along with the dry ingredients. Some suggestions include:
Up to 2 tablespoons (18g) aromatic seeds (a mix of fennel, mustard, and caraway seeds is particularly nice with rye crackers); or Everything Bagel Topping
Up to 2 tablespoons dried herbs, or 1/4 cup (11g) finely chopped fresh herbs  
4 teaspoons (9g) Pizza Dough Flavor, especially good with cheesy crackers (see below)
About 1 tablespoon of your favorite garam masala blend   
Make them cheesy
Add 1/4 to 1/3 cup (28g to 38g) finely grated hard cheese (Parmesan, Asiago, extra-sharp aged cheddar) along with the dry ingredients. The more assertive the cheese, the more evident its flavor in the crackers.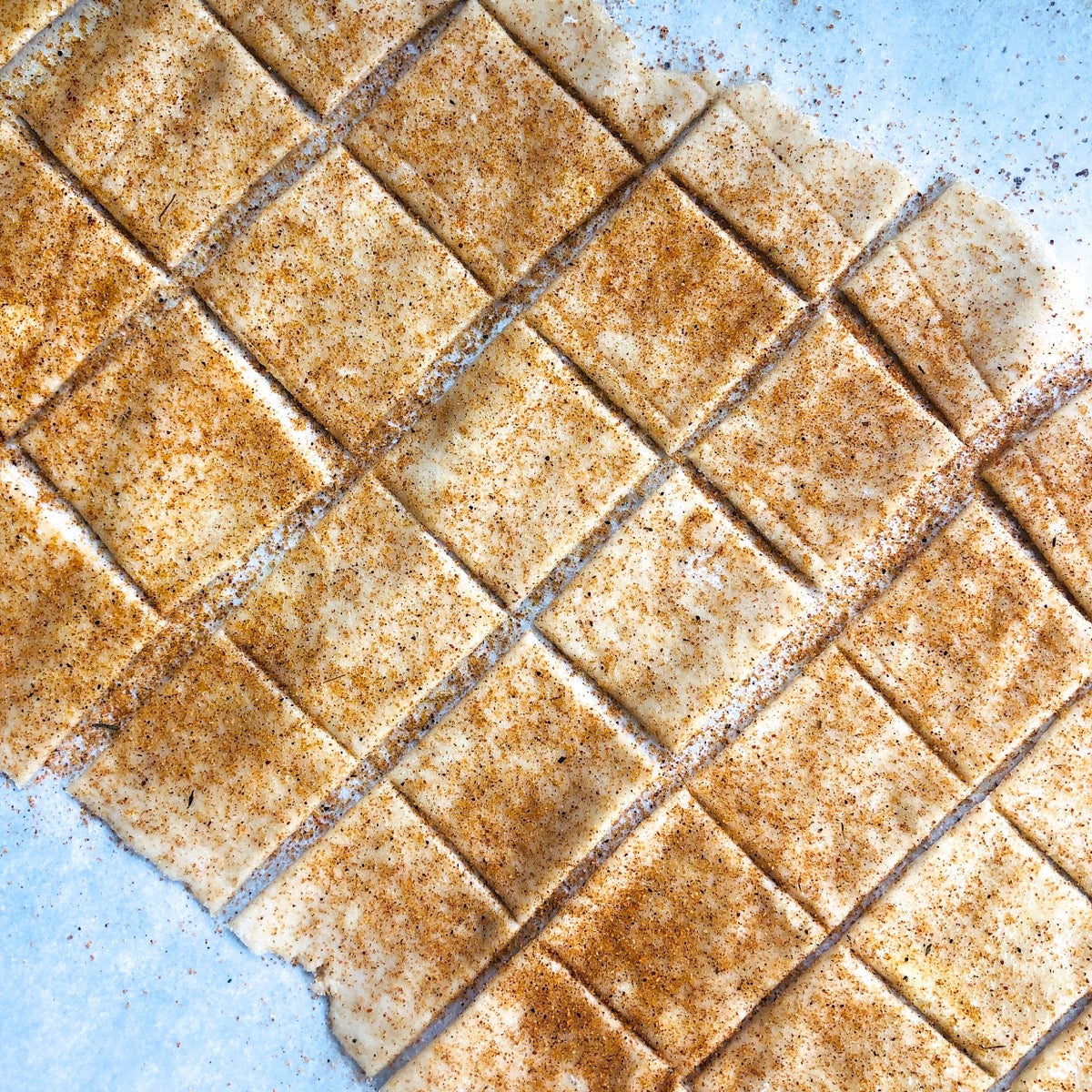 Season with toppings
Salt — plain or coarse; sea, seasoned, or smoked — is a natural. Just sprinkle it judiciously on top as directed in the recipe; a quick once-over with the rolling pin will help "tack" the salt to the dough.
But don't stop at salt. Try a dash of ground cumin, coarse black pepper, turmeric, smoked paprika, or … scan your spice shelf! Sprinkle multiple toppings on different areas of the rolled-out cracker dough prior to baking, then see which you like best for next time.  
Among others, I tried smoked salt, umami seasoning, Italian seasoning, barbecue-seasoned salt, and "Ameden Secret Spice," a blend from my fellow blogger and pal Kye. (Don't even ask what's in this blend, with its hint of heat and touch of sweet; Kye is sworn to secrecy!)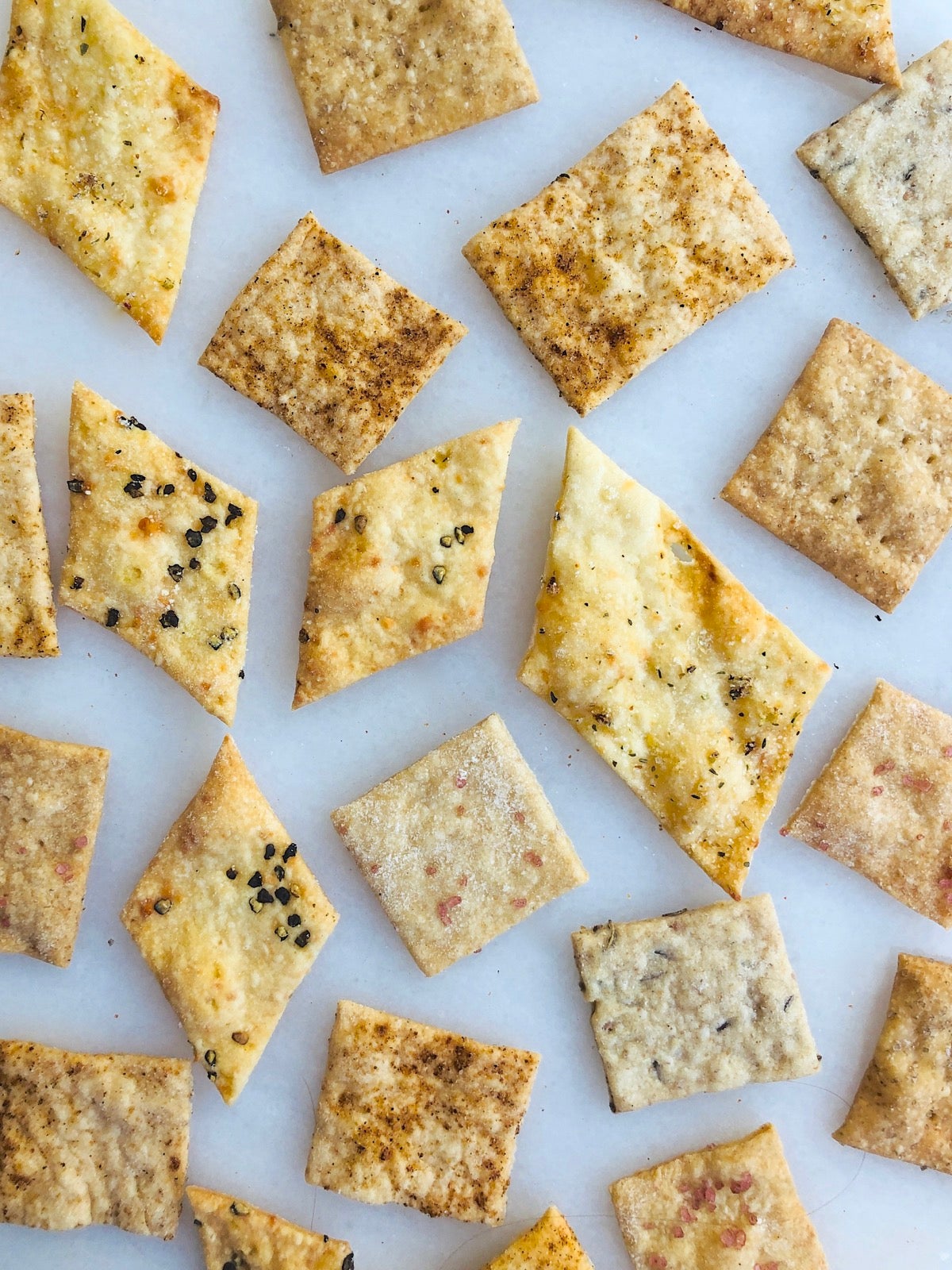 The next time you notice your sourdough starter staring at you hungrily from the back of the refrigerator, don't slam the fridge shut and feel guilty — take that starter out and feed it! And use the discard in these glorious crackers.
If you haven't already, I urge you to watch King Arthur baker Martin Philip and his son, Arlo, bake these crackers. Martin has some cool tips, and Arlo demonstrates that if a kid can handle rolling out the dough, then you can too!
Jump to Comments