The holidays are a time to celebrate what we love most — family, friends, health, and … chocolate! A single bite of chocolate can fill you with warmth and happiness, while a beautiful dessert can be a simple delight even in the darkest of times. A gorgeous chocolate dessert is basically edible joy, which is why it most certainly deserves a place at your table this holiday season.
While there are lots of fantastic recipes that showcase chocolate, there's one that truly embraces all chocolate has to offer: our Flourless Chocolate Cake. It's fudgy, dense, dark, and utterly satisfying. The only thing that's debatably lackluster is its one-note appearance. This holiday season, that's about to change!
Bring a little extra joy to your holiday table this year by making a beautiful dessert that's both festive and gorgeous.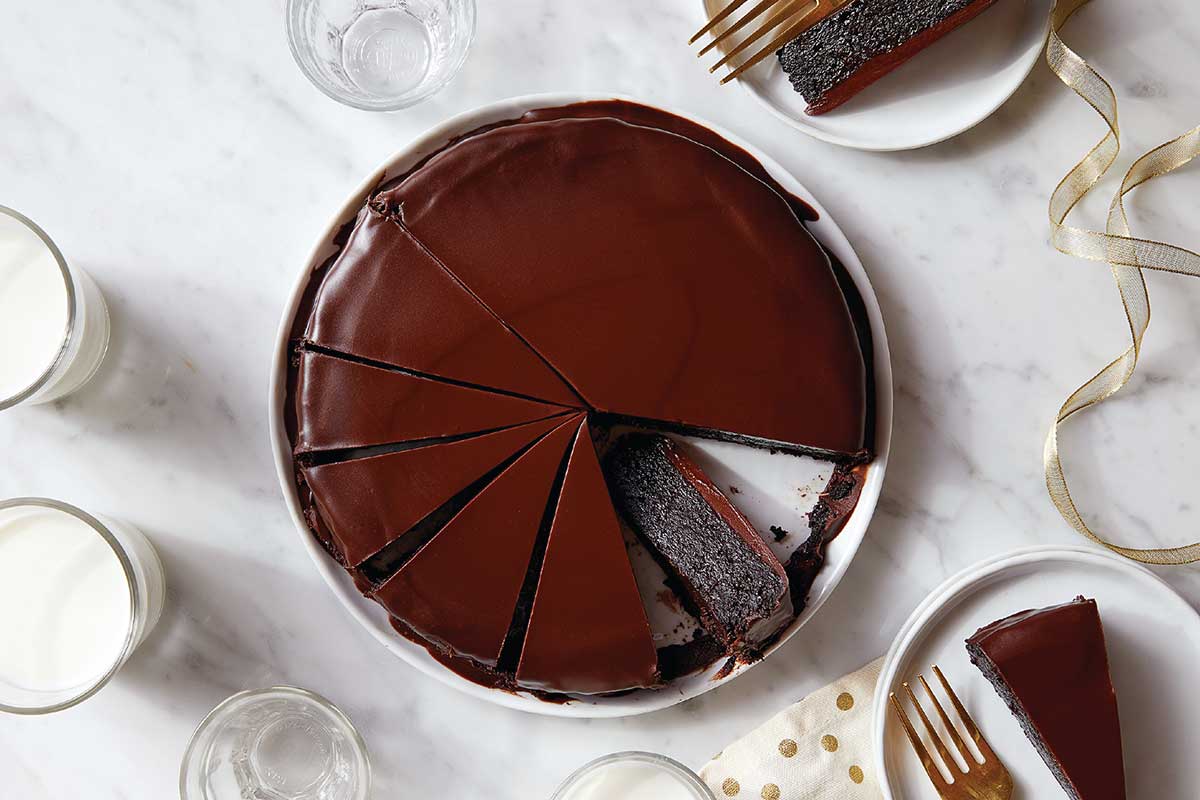 Start with the base recipe
Our Flourless Chocolate Cake recipe starts with a few pantry staples, plus a couple of optional ingredients. It also calls for chocolate in two forms — Dutch-process cocoa and chocolate chips — to ensure the chocolate flavor shines.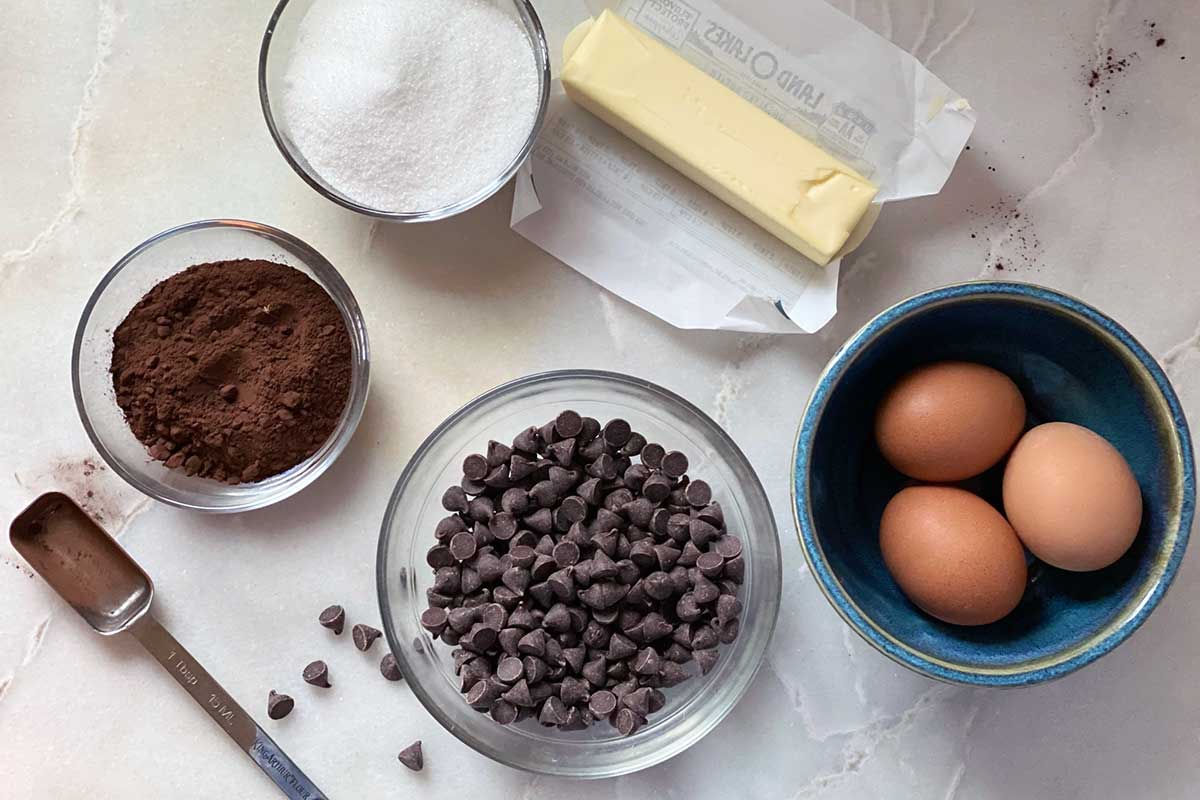 The base recipe also calls for these optional ingredients:
Before you add them to the mix, consider the full personality of your dressed-up Flourless Chocolate Cake. To incorporate seasonal flair, there might be even more delicious flavors you want to add ...
Add a festive flavor
Instead of the espresso powder and vanilla, you can substitute a full range of other ingredients. Embrace whatever flavors say "happy holidays!" to you.
Here are just a few ideas, complete with a recommended range for how much to add — it'll vary quite a bit based on your flavor preferences, so tweak the amounts you stir into the cake batter accordingly:
1/2 to 1 teaspoon mint extract or 3 to 4 drops peppermint oil
1/4 cup (66g) eggnog
2 to 3 tablespoons (29g to 43g) spiced rum or brandy
1 to 2 tablespoons (14g to 29g) Grand Marnier (or another orange-flavored liquor)
1 to 1 1/2 teaspoons cinnamon or Gingerbread Spice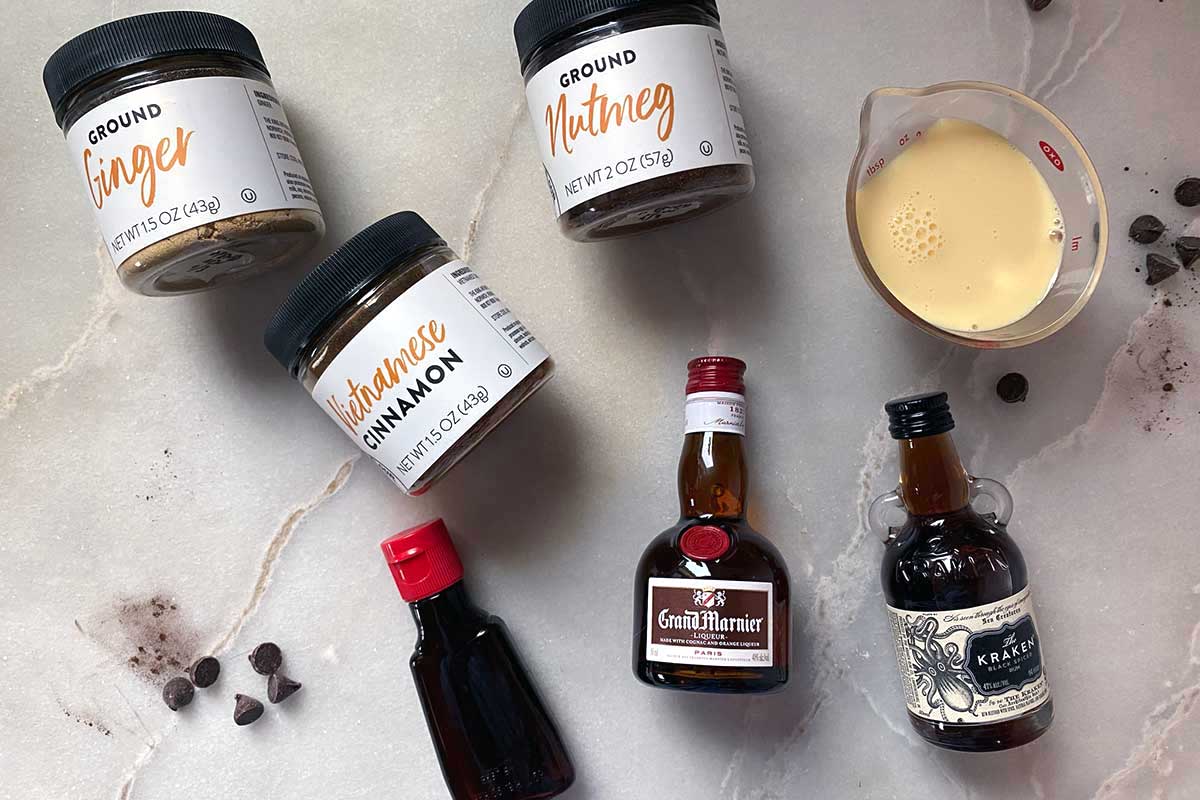 Feel free to use what's in your pantry, tweaking the amounts to taste. Just be sure not to add more than 1/4 cup (57g) of additional liquid; that's about all this batter can handle before it starts to compromise the cake's texture.
Give it a red hue
If you celebrate a holiday where red is an iconic color (like Christmas), you can give your Flourless Chocolate Cake a slightly red tint. (Think Red Velvet Cake!)
If food dye is welcome in your kitchen (either traditional or natural), simply swirl in some red coloring once the batter is prepared. Tip: Follow the recommended ratios for achieving a red color based on the manufacturer's instruction; the amount needed will vary by brand.
Or if you're looking for a more subtle red tint, use Burgundy Cocoa Powder (also known as cocoa rouge), which has a beautiful reddish glow to it. In addition, add about 3 tablespoons (43g) tart cherry concentrate (made from real cherries, simply boiled down) or pomegranate juice to the batter before baking.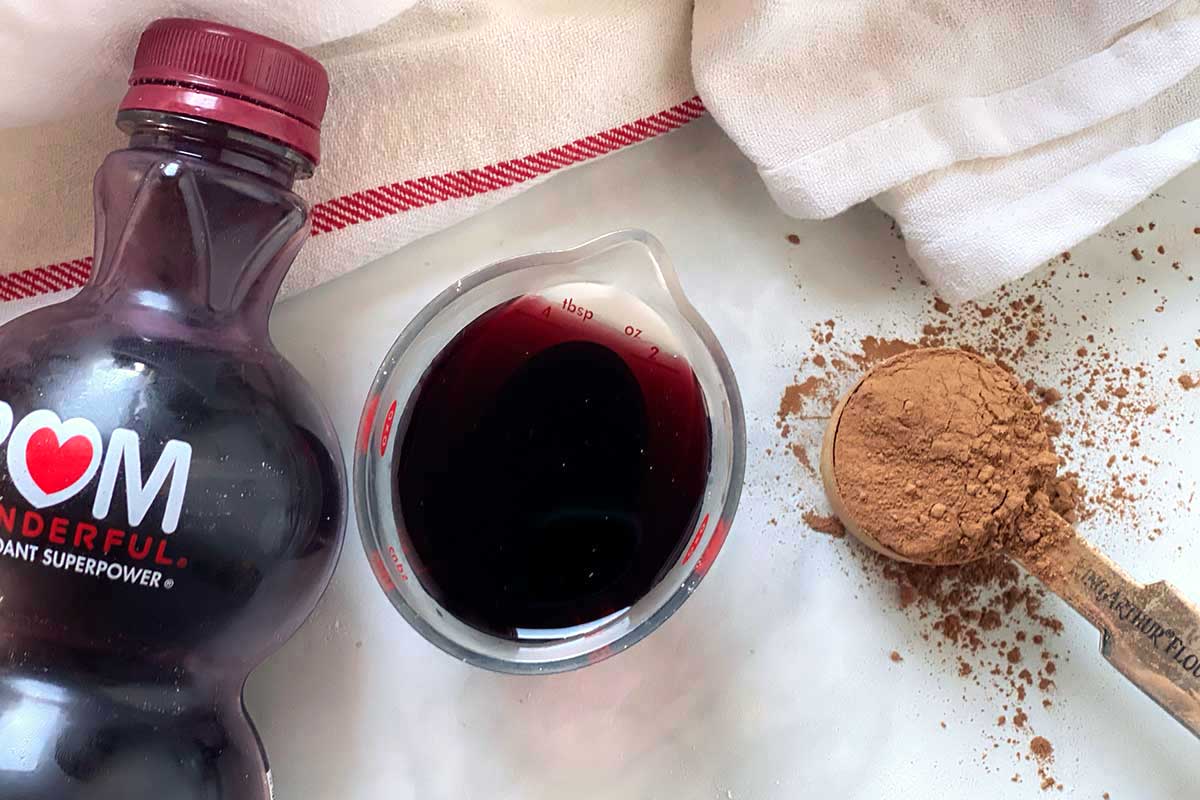 Ganache glaze
However you end up flavoring your Flourless Chocolate Cake, you're going to want to include the luscious chocolate topping called for in the recipe: a basic ganache. With just two ingredients, chocolate and cream, you'll wonder how anything could taste so divine.
After you've chosen the flavors for your cake and allowed it to cool, make the ganache. You'll need:
1 cup (170g) semisweet or bittersweet chocolate chips
1/2 cup (113g) heavy cream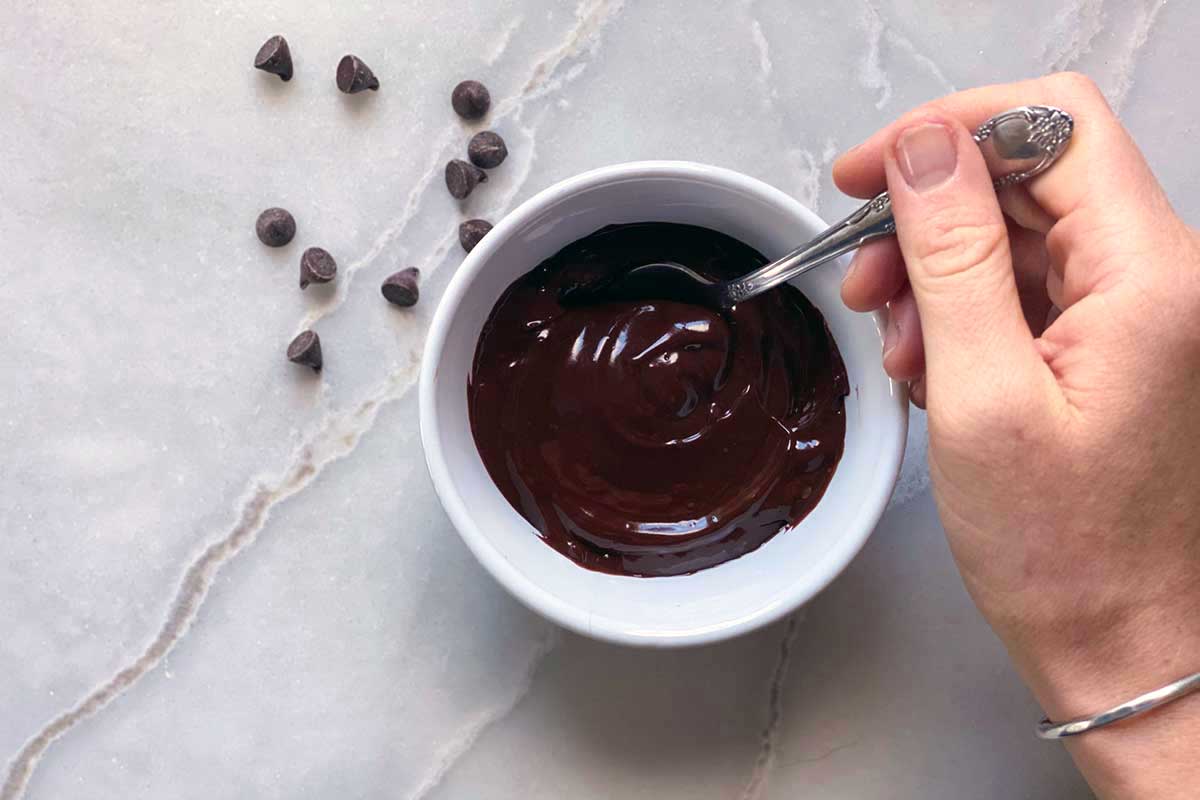 This is another place where you can amp up the cheerful flavors by adding one or two additional ingredients to the prepared ganache. You won't need much – here's the maximum amount you'd want to use of any of the following ingredients (you can always use less for a more subtle approach):
1/4 teaspoon of strongly flavored extracts and oils
1 teaspoon of rum, brandy, or other liqueur
1 tablespoon of non-concentrated liquids like eggnog and pomegranate juice
Use the same flavoring ingredients that are in the cake, as you don't want flavors competing. (No one likes fighting on the holidays!)
Stencil a design on top
Once your cake is baked, cooled, and glazed, it's time to get creative. And the easiest way to make this cake look extra-fancy? Use a stencil to add a decorative design.
To make a custom stencil, you'll need a sheet of sturdy paper (card stock is ideal), a pair of scissors, a small sifter, and preferably Snow White Non-Melting Sugar (or confectioners' sugar if that's all you have on hand).
Start by tracing the cake pan onto your piece of paper so you know how large the design can be. Then draw a simple shape or design within the circle, keeping in mind you'll have to cut it out with scissors. (Don't go overboard!)
Solid shapes are best: A Christmas tree, Santa hat, the star of David, mini menorah, or family initials are all fun ideas.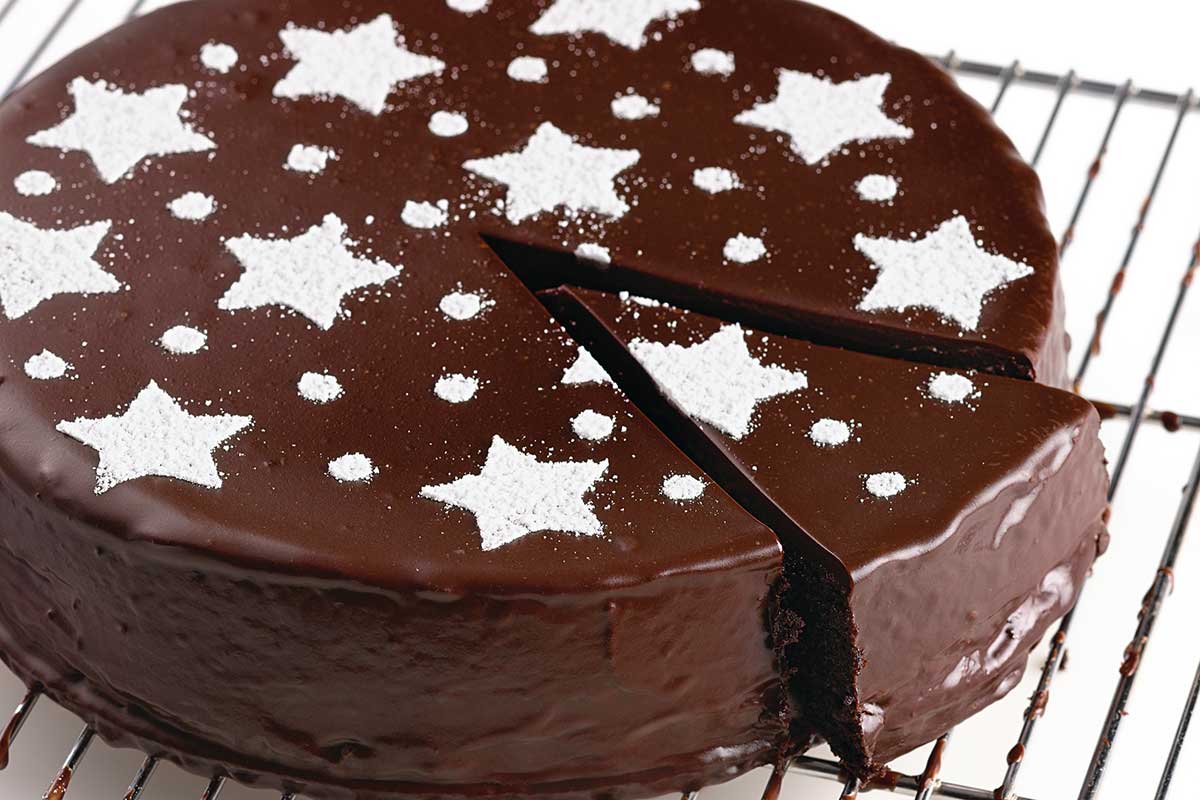 Using scissors or a sharp knife, cut out your design so that the shape becomes empty space.
When you're ready to add the design on top of your cake, first make sure the ganache is set. (If not, either wait a bit longer or chill it in the fridge to encourage faster setting.)  
Gently set the stencil down on top of your cake, or recruit someone else to hold the stencil steady, hovering about 1/4" above the cake.
Use the sifter to evenly cover the design with a thin layer of Snow White Non-Melting Sugar, making sure the shapes you've cut out are completely filled in.  
Carefully remove the stencil to reveal your gorgeous design.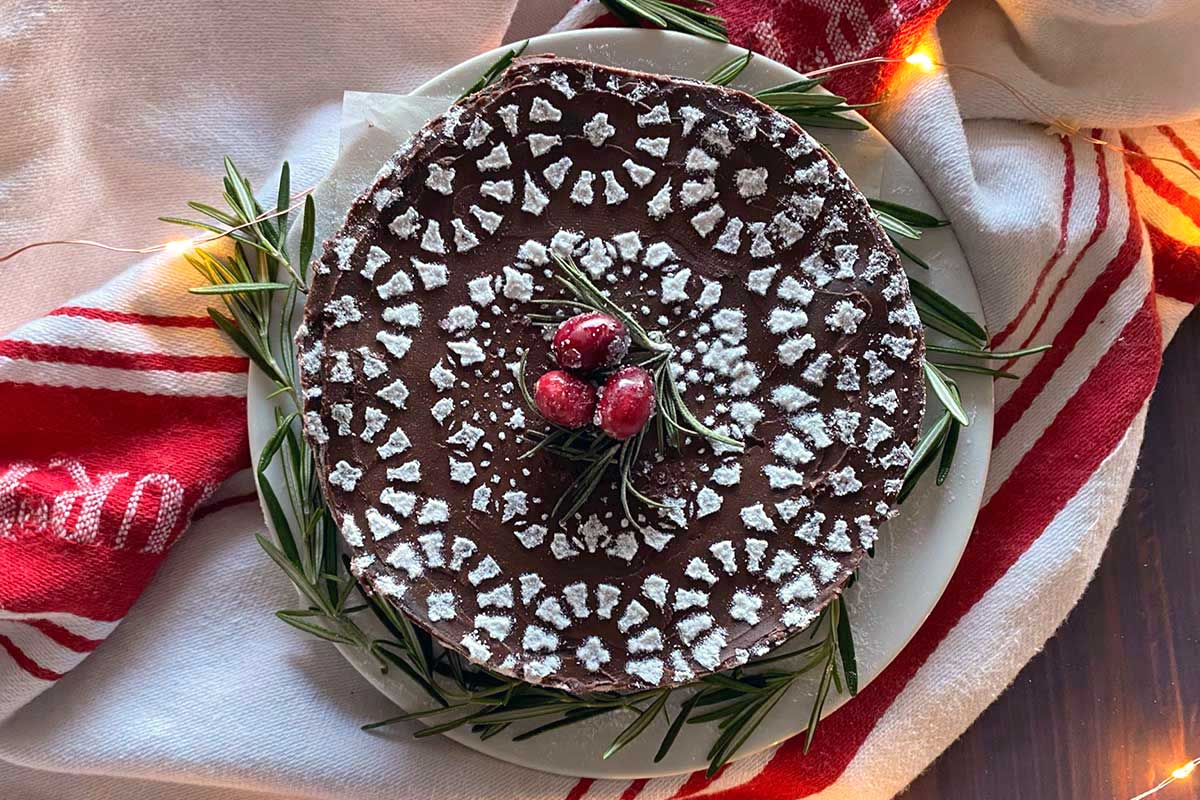 Creative garnishes
Now it's time to add another layer of flavor and visual appeal – you're going to present your cake with style!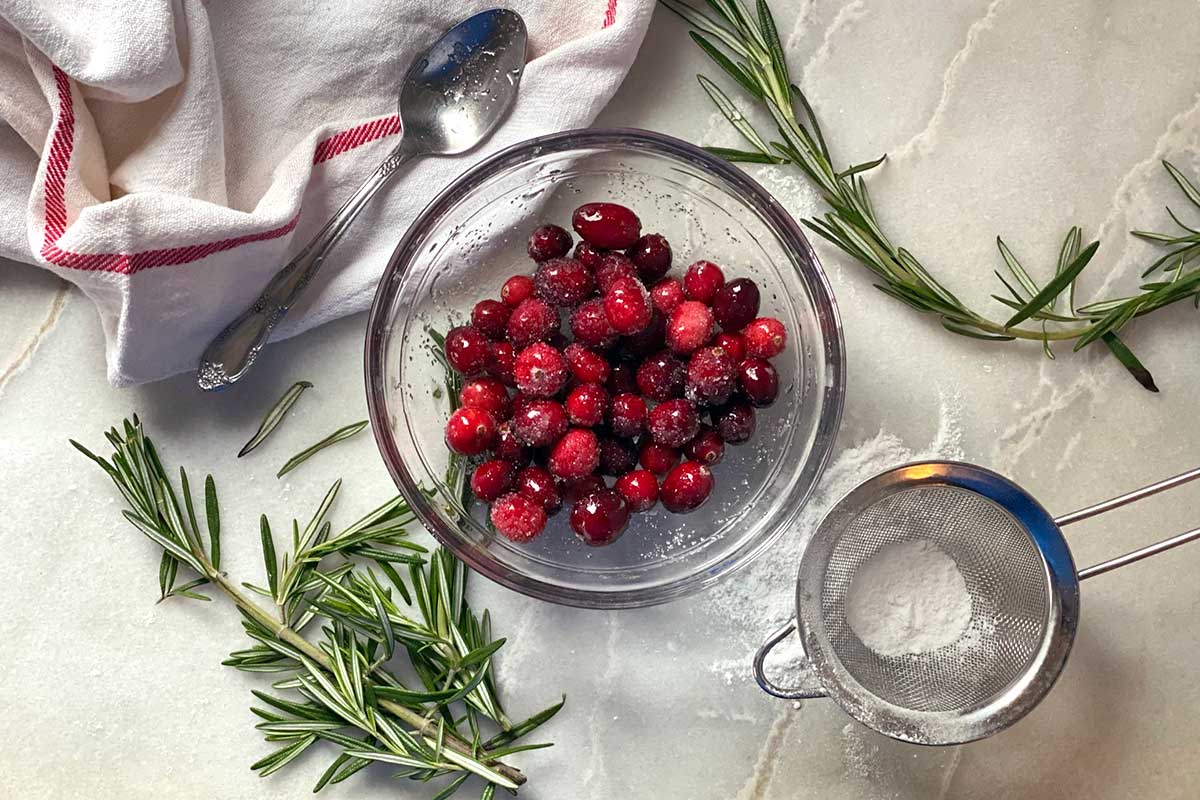 To top off your cake, use an edible garnish that will complement the flavors in your cake. Here are some seasonal ideas:
Sugared cranberries (use the instructions for making sugared cranberries in our Lofty Layered Fruitcake recipe)
Chopped mint-chocolate candies sprinkled around the border, or sugar-coated mint leaves
Candied citrus (my fellow blogger, Rossi, outlines how to make your own in this candied citrus post)
Fresh berries dusted with Snow White Non-Melting Sugar or confectioners' sugar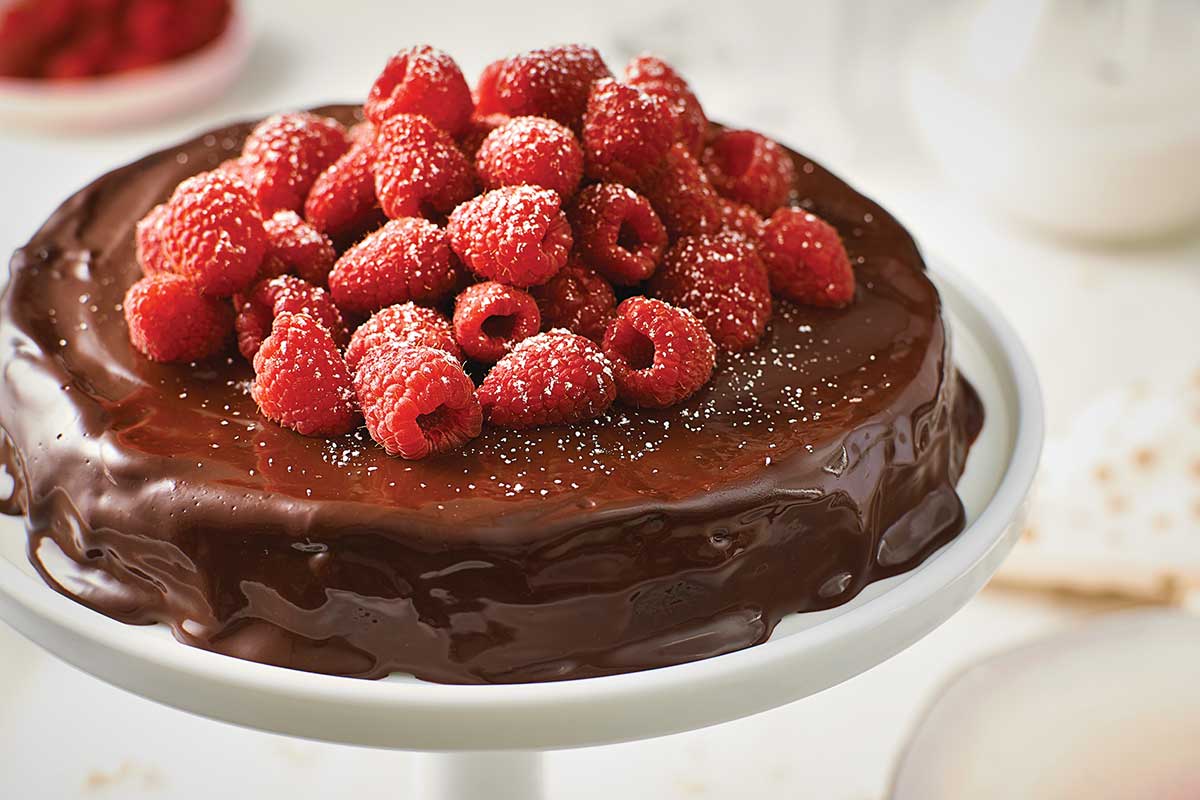 Or you can use other festive props to elevate the look of your dessert. Here are some options:
Rosemary sprigs tucked underneath and around the edge of the cake
Set it atop a cake stand wrapped with twinkling lights
Surround the cake with gelt (chocolate coins wrapped in gold foil) because, well, more chocolate!
Present the cake on a festive platter or light a small menorah beside it
Whatever will bring you and your family joy, go for it! Get creative here.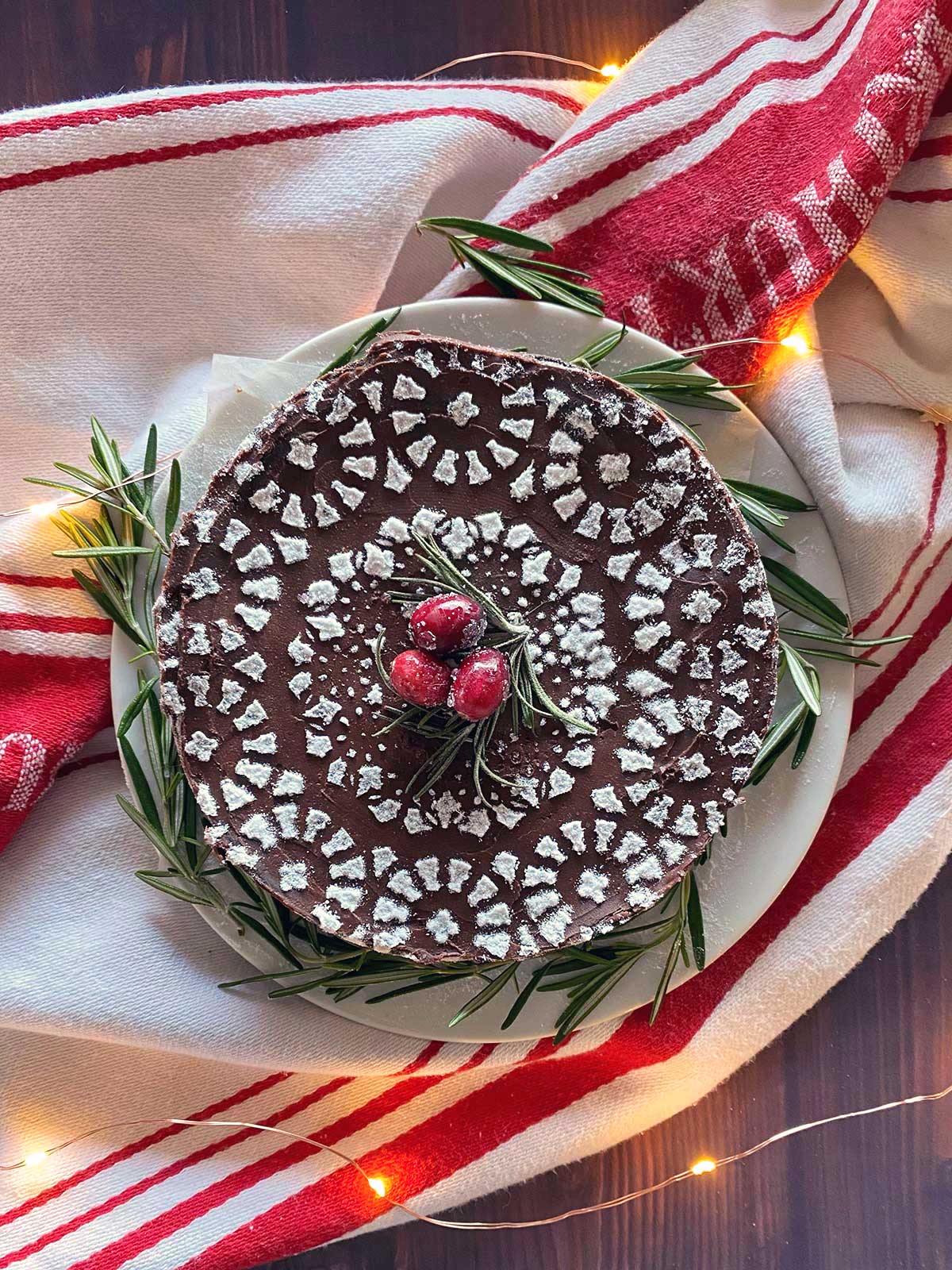 Combine your approaches
You're most certainly not limited to using just one of these techniques in your next Flourless Chocolate Cake. On the contrary, we encourage you to mix and match! Dream up your ideal chocolate cake, combining flavors with visual appeal, and complete the experience with a gorgeous presentation. Make something so beautiful you must take a picture.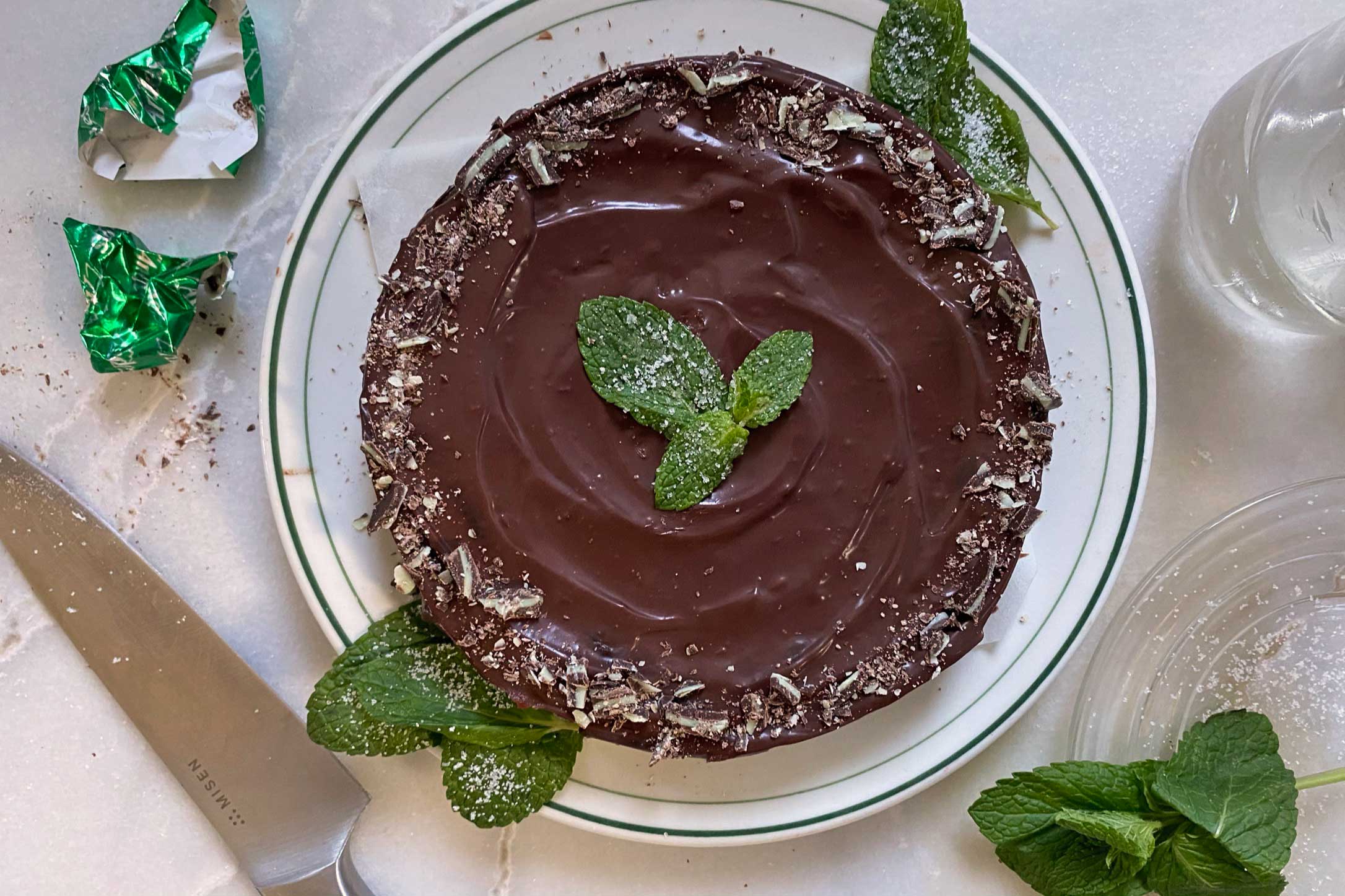 Here are some ways you can combine the approaches:
Mint extract + Christmas tree stencil + border of chopped mint candies
Burgundy Cocoa + tart cherry juice + sugared cranberries on top
Spiced rum + border of sparkling sugar + rosemary sprigs garnish
Grand Marnier + candied citrus garnish + presented on a cake stand
Star of David stencil + border of gold-wrapped gelt + presented with Hanukkah candles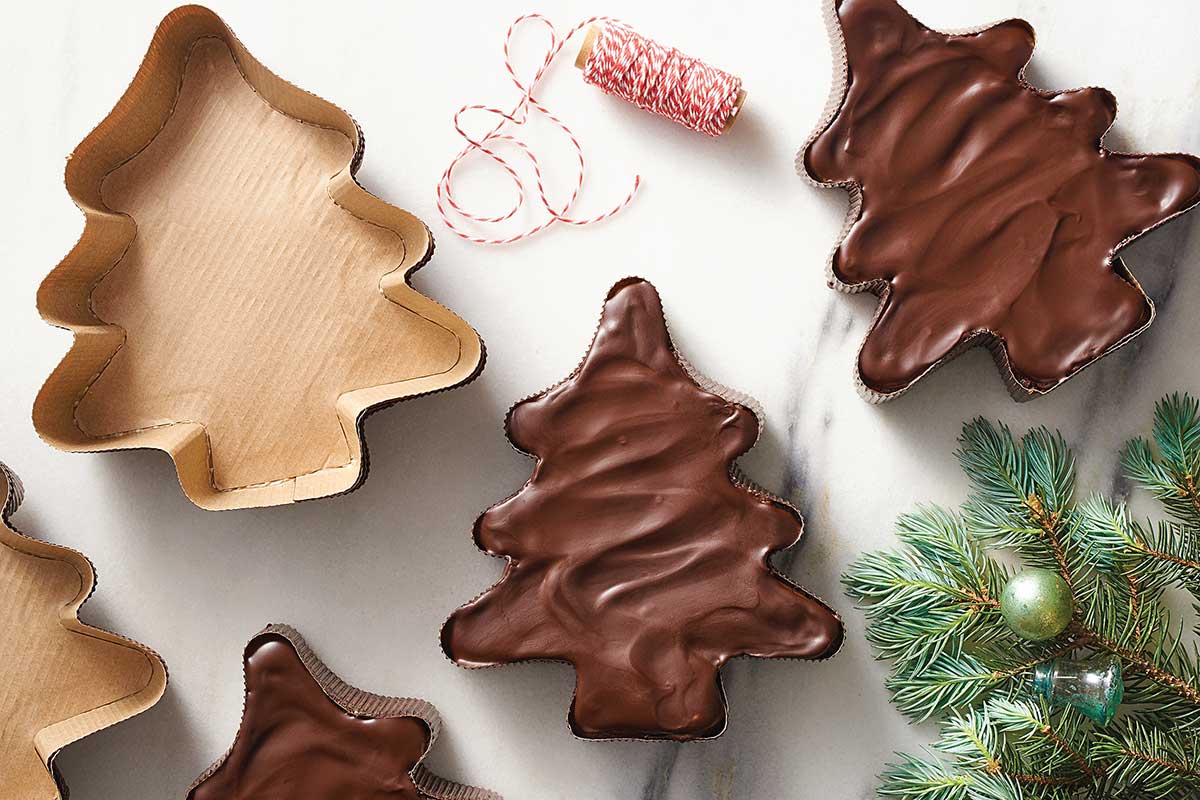 These are just a few of the ways you can dress up a Flourless Chocolate Cake with festive flair. The possibilities are endless. Choose what works for your taste buds, style of baking, and the holiday you're celebrating. Enjoy and happy holidays!
Let us know what dessert you're most excited to bake this season in comments, below.
Jump to Comments